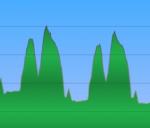 Well today it didn't look like we would see any extended period of sunshine. I wanted to ride out and decided to do a climbing session on a track I use frequently when I want to put some stress on my legs.
Let me take you through it. The loop forms roughly a figure 8 .

The first climb starts just past the "Kluis" in Sint Joris Weert, it follows the same track as the Meerdael BLOSO does - I think its the Blue trail here - going upwards on an average slope of 13% through a very nice valley. There are more or less 40 heightmeters to be gained and the climb gets tougher near the end. The end is also rooty and since it was wet care had to be taking not to let the tyres slip. But the excellent Continental Mountain Kings in 2.2 version are great on these kinds of trails.


The forest trails would soon become even wetter because not long after reaching the first downhill it started to rain slightly. This downhill is a tricky one, starting out on a singletrack and becoming steeper and brutal near the end. The last bit is also very rooty with steps , so care has to be taking when and how long you apply the brakes. Near the end is a turn to the right , with some more slippery roots, giving way to a sandy track I follow to the right along the camping 'la Hetraie'.

At the end of the track I turn to the left, riding straight through the camping towards the tarmac road between Sint Joris Weert and Nethen. I follow this road for a couple of hundred meters - the only spot where you can relax a bit on this loop - before turning 90 degrees left again, into a really small trail positioned between two entry roads. People who know the area will know the spot.
The first bit is very steep with some roots, 16% for a short while. Then it mellows out a bit, crosses another trail, steepens again and continues on up the slope , with roots making it more difficult. Near the end the slope lessens , giving way to a big forest road.


I go straight on this forest road for a quick downhill towards the BLOSO trail, where I start the loop anew. Each of these loops is about 2400 metres long and counts 76 to 80 heightmeters spread over 2 climbs.

Today I did this loop 10 times. I had to stop quite a few times because of a shower breaking through. Luckily the forest is dense here so I could take shelter under the foliage while the shower faded. Two laps from the end the trails were already pretty dry again, before another shower made them wet and slippery again. I returned home along the Kluis, stopping briefly to take a picture of the Bosprotter. I had a good but tough workout today.


Ride Stats : 36.5K and 820/830 heightmeters in 2h30mins

4898/47375
08-07-2009, 19:54 geschreven door Big Bad Wolf