Tales from the Woods
08-10-2006

Meerdael BLOSO Routes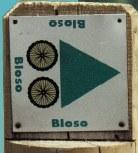 Had to vote today so my morning rhythm was kinda upset and broken. Finally decided to stay at home and do the nearby Meerdael BLOSO's one more time. I have 2.0 Nokian NBX tyres on the Litespeed now, which make it a little bit less comfy but quicker on the climbs. And since the hardpack season is over and the autumn is setting in, I get more comfort from the ground anyway.
The circumstances were ideal and I quickly found a good rhythm which I was able to maintain throughout the entire ride. No wind, trails damp but never too wet, sun warming up the passages outside the forest, really ideal circumstances to get a good ride in. Some people find the Meerdael BLOSO's boring but I have ridden them so many times and riding through the forest is never boring, just up the tempo and it becomes an entirely different ride. Look around and enjoy nature, but don't look around too much because the trail is full of little traps . With the week of the forest coming up lots of people were enjoying the sun and I had to slalom along walkers, slower riders and jockeys.
Had nearly 56K and 485 heightmeters and it took me just 2h30 to complete the ride averaging just under 22kph.

08-10-2006, 14:15 geschreven door Big Bad Wolf
07-10-2006

Mixed Ride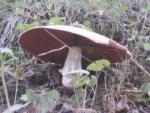 Lots of rain yesterday evening and during the first part of the night. I had to wait until noon for the last of the showers to drip out.
But then I set off, riding over tarmac and some fieldroads towards the Foret de Soignes near Brussels. This forest is usually rather dry due to the road being covered with fine grain pebbles. I stopped at Filip Sport in Hoeilaart to discuss titanium fullies and then set off again to do parts of the Overijse BLOSO routes and finally head into Meerdael forest to put some tension on my muscles on some short steep climbs.
In total I did 60.6K and 545 heightmeters. I stopped in a descent near Overijse to take some pictures of what was easily the biggest toadstool I've seen this year. Click the pic near the top of this article to check it out.
As for tomorrow, I'm still not sure where to ride. I would like to go to Tilff but I've heard from a reliable source that they also had a downpour last night, although not as much as in my region.
I also could go and do a recon with the organizers from the Meerdael 2000 organized ride, ride that I always like to do and I help them out by checking the arrowing on the trail in the early morning.
Another option is to join a few guys who will ride the Wavre TT again, having the track on GPS. What I will not do is go to Braine. But I have to check , there might be other rides in the Ardennes region.
As usual, I will decide tomorrow morning
:P
07-10-2006, 16:46 geschreven door Big Bad Wolf
05-10-2006

Road ride

So as was forecast, during the early part of the day the rain disappeared, making it possible to get a decent ride in. No offroad ride since I didn't fancy cleaning a bike, but instead I set off on a 50K loop which is arrowed by BLOSO and starts at Heverlee, passing through Blanden, Vaalbeek, St-Joris Weert, St Agatha Rode, Ottenburg, Terlanen, Huldenberg, Leefdaal , Korbeek Dyle and back to Heverlee.
The route passes close to where I live so I ride it regularly. There is also a 30K version . Rode the Hilset again, which had been sitting idle these last few months because of the emphasis on offroad rides I always put during the summer months.
The Hilset is only used for road training and the occasional winter offroad blast. Nevertheless I already have more then 5600K on it this year. Average temperature of 16°C made me reach for my long sleeves. The occasional sunray put a smile on my face though.
The ride stats: 56.5K and 505 heightmeters.
05-10-2006, 15:13 geschreven door Big Bad Wolf
04-10-2006

Going nowhere but at least I was fast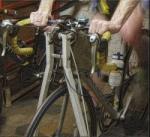 Damn weather keeps me inside. I wanted to go out for a quick 1h offroad ride or even a 2h road spin, but the rain decided otherwise.


So I stayed in and spend an hour on the rollers.. a bit boring but I got a good workout, warming up reading the latest Mountainbike Plus magazine for about half an hour and then riding just under my aerobic treshold for another 30 minutes. My legs felt good. I hope the weather stays dry tomorrow so I can get a road ride in.



04-10-2006, 20:02 geschreven door Big Bad Wolf
01-10-2006

Mazy
The Ride
So I decided to go to Mazy and ride the

5th 'Vallee de l'Orneau'

organised ride. After last nights' thunderstorm I wasn't sure if Braine would've been spared (it wasn't ) , and since I hadn't been in Mazy for a while and I knew that organized ride was bound to be less crowded , I made a last minute decision to ride there.
Had a bit of trouble finding Mazy ( I really need to get out my map sooner instead of just riding along in the wrong direction ) but I arrived around 11am and found some parking space very close to the start. The first riders were already back at the start and I heard some complaints about the last 10K being a lot of tarmac.. Oh great.. :(
But then I had been here before, for the "Randonnée des 5 Chateaux" , a classic ride passing - you would never have guessed - along 5 of the areas' very beautiful castles. I also did the "Sauvenieroise" , another race starting in not-so-far-away Sauveniere and I knew I would be hard pressed to get a Hill Factor of more than 10 out of this ride.
Payed 5€ at the start and soon enough I was on my bike and ready to go.. All of a sudden someone comes riding up next to me and I am pleasantly surprised to see an old friend. Someone I was in the LCMT with a couple of years ago.
Also a titanium freak we take some time checking out each others' Litespeeds while he also informs me the last 15K are rather flat and dull.. Great x 2 .. :(
On my way then and there are some nice tracks straight away. No rain here so most of the trail is dry and bone-hard. The Orneau is a small river we will see quite a few times. The offroad sections near that river - and the trails descending towards it or climbing away from it - are really nice. Pity that there is also a lot of tarmac, or dull fieldtracks, to get from one nice trail to the other. I more or less ride together with a guy with a Cannondale Rush and I am amazed at his ability to really make speed on the heavy pothole-ridden field tracks. He can remain seated and really put down the hammer while I have to get up from time to time to avoid being hammered in my back. This is the kind of ride that makes even the most ardent hardtail freak long for a full suspension bike. I really have to look at that Titus Racer-X I have been thinking about for a while now.
On the uphills I have the advantage though, due to my lighter bike I can power away from him. So we kept on passing each other during the entire ride. As was being mentioned, the last 10K or so was on the plateau, and the wind was blowing fiercely in our faces to even make it more tough. Only one last quick descent towards Mazy and we are back at the start, only 2h35 after I left.

As was to be expected, after

54K there are only 590 heightmeters

on my Polar (

Hill Factor of 10.9

) .
Still there were some really nice sections and I am not alltogether unhappy I chose this ride.

The Lowdown
What I liked:
- 2 well stocked rest stops, spread evenly along the ride, friendly people.
- arrowing was sufficient, white background plaques with red tip indicating direction, some chalk and arrows on tarmac.
- some nice sections along the river and at least one great downhill just before the 2nd rest stop
- police at busy roads stopping traffic , making crossing these roads very easy and safe

What I didn't like

:


- long tarmac sections or dull field tracks between the more interesting sections
- no discount for licencies.
- could have used some more offroad sections near the end. Looks like they concentrated on distance, not on content.



Synopsis


The area has potential, but between the interesting sections, and there

really

were some very nice tracks around, there is too much tarmac or field roads to really make this ride (or this region) stand out. The Randonnee des 5 Chateaux is better but they get permission to pass on privately owned trails, something the organisers of this ride did NOT get. Also note that this region is to be avoided after heavy rainfall , the dull field tracks then becoming sticky with mud.



The bare facts


I have uploaded the ride's profile HERE
and you can find a map of the 52K distance HERE






01-10-2006, 16:28 geschreven door Big Bad Wolf
30-09-2006

Carpe Diem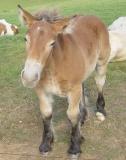 If there is one phrase that fits today it's the one in the title. A little rainfall tonight but just enough to settle the dust. This morning saw the sun shining bright and a warm southern wind made the temperatures very bearable.
So I set out on the Moots again (please remember Green Pen color = Moots, Red Pen color = Litespeed and Black Pen color = Hilset) and rode through Meerdael forest, Nethen and Pecrot towards Archennes where I joined the BLOSO routes of Overijse and rode them in the opposite direction.
They are a bit tougher that way with one near impossible climb on the Red Route (the one with the steps) and another tough one near 'het Bisdom'. I made them all and added a few more along the way .
The smell of autumn really had me enjoy this ride. The forest colors are starting to change and the beautiful sunshine made for some nice backdrops while I took some pictures along the way. I paused a long time at the little pathway overlooking Huldenberg, and made some pictures of a young 'Brabander' fowl and it's mother.
When I rounded the loop I rode back whence I came and at home I had 53K and just over 705 heightmeters. The Overijse BLOSO's themselves are 32K and just shy of 480 heightmeters.
If the weather holds I will ride the Braine organised ride tomorrow, but todays' ride might just as well be the last one this weekend if it starts to rain tonight. Weather forecasts are still unclear for tomorrow.

30-09-2006, 15:34 geschreven door Big Bad Wolf
28-09-2006

Let's go crazy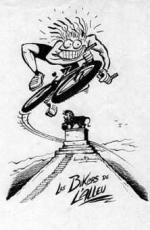 Another day, another ride. The weather is holding up nicely so I was keen to get in another ride this evening. Took the Moots again and set out on the Dylelandroute, a mixed underground ride that I spiced up with some offroad bits here and there.
When I was back in Meerdaelwoud, I set in the direction of Nethen to do some of the steep uphill sections there.
I see-sawed up and down for a while along Meerdaels' finest singletracks , accumulating heightmeters and getting tension on the leg muscles.
Back home I had 41.4 K and just shy of 500 heightmeters. Not bad.

Meanwhile I am thinking of heading towards Braine l'Alleud next sunday. The "Bikers d'Alleu" have a good reputation and I've been in the region several times but never did the organised ride. Longest distance is 55K which would suit me fine, giving a fine opportunity to discover some more interesting tracks in the area.
Check out their website
28-09-2006, 19:04 geschreven door Big Bad Wolf
27-09-2006

Moots Dash
Quick dash with the Moots in Meerdael Forest , more or less following the Red Bloso. Here and there I followed a little deviation, mostly hilly and singletracky to add some spice to the route.
I had to hurry to get out of the forest before dusk and mist rolled in.
Just 24K and 230 heightmeters gave me enough opportunity to work off the stress of a bad hair day at work.

Meanwhile, the weather forecast for this weekend isn't making me very happy either, possibly rain on Saturday..


Still, another 2 days to go so things can change




27-09-2006, 19:29 geschreven door Big Bad Wolf
25-09-2006

Thorny Hedges
Plans for next weekend:
On Sunday October 1st , there is an interesting ride in Aubel , as part of the Gileppe Hautes Fagnes challenge.
| | | | | |
| --- | --- | --- | --- | --- |
| WHERE | DISTANCES | START | CONTACT | PRICE |
| Aubel (Lui) | 8.5-15-25-35-45K | 8.00-12.00am | GHF 087/686989 | 3-5€ |


The Aubel area is characterized by its thorny hedges, so I will take enough spare tyres and a good pump with me.

The area is not as hilly as Theux but I should envision a hill factor close to 20 nevertheless.

Climbs will be shorter and less steep . Also, not as much rocks and stuff..more meadows and some forest areas but mostly open areas.

Talking of Theux: since I suffer from a severe case of Theux addiction I am planning to go to the region again
next saturday (september 30) to do a combination of the Green and Blue Route..
I did this combo last week but this time I won't go into the Ninglinspo area this time

Tentative shedule:

leave at the Chateau de Franchimont at 10am

45-50K ride (with 1100 heightmeters at least) should take about 3-4 hours

Lots will depend on how the weather holds.
25-09-2006, 20:25 geschreven door Big Bad Wolf
24-09-2006

Aywaille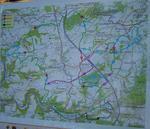 The Ride
Today saw another ride in the Ardennes region, not far from Theux or the Ninglinspo for that matter. So I was pretty eager to get over there. The weather looked good, 21 degrees on average during the ride, as I saw later, scattered showers were possible but not a drop actually fell during the ride. Dropping down from the N25 into the Ambleve valley one cannot but be in awe for the sheer height of the wooded cliffs surrounding this river. I was expecting a lot of climbing, at least getting out of this valley should prove quite a task and one hell of a warmup.
I was not disappointed. After inscribing (2 € I think it was ) I got a little sticker for the rest stops, with on it a phone number in case of emergency. A good point this one. Especially in these areas an accident is practically waiting around every corner and it only costs little to provide each and every participant with a working emergency number. But not all is good, read on.
This ride was organised by the "Velo Club de la Redoute" (a well-known hill from road racing ) and fell under the Adam Smol Challenge. It was obvious when I entered Aywaille that there was a lot of attendance.. not a parking space in sight in a 500-meter radius from the Inscriptions, which where at the Espace Sports at the rue de la Heid. Luckily one of the regionals gave me the golden tip to head back into Aywaille and park in the neighborhood of the train station. It added an extra K to my mileage but who cares.
So, lets ride. The arrowing consisted of yellow fields with black arrows, no arrows on the ground. The arrows are very visible and I can safely say the arrowing was first class. What I did not like was the fact that there where no 'danger' signs before the really 'bad' downhills, nor were there any signs indicating a road crossing, and we did cross a few very busy governmental roads.. Very dangerous

As I expected (hoped for actually) the first climb was a masterpiece. After about one K of gently following the river, all of a sudden things got serious pretty quickly. Up it went and very steep, coupled to some wet rocks and other various slippery stones. I saw a lot of people already pushing their bike. Oh dear, this was gonna be a long ride for them
I should at this point mention that there were 4 distances offered. An 8K "kids" ride, and the bigger distances, being 15K, 30K and 45K. Or as it would turn out, 1 , 2 or 3-hour rides if you were fit enough.
After a climb which took us in 6 kilometers and in 3 stages all the way up to 320 metres (from 150 metres at the starting point) things just kinda flowed one into the other. A climb along a meadow in slippery grass was followed by a wet downhill and not far into the ride, the 15K already took its own way back to Aywaille. The pushers from the first climb will be happy with that I'm sure.
A 30K-45K split took the 45K into what I consider to be the most hazardous of descents I've done this year. Dropping down some 80 heightmeters in about 800 running meters and on wet rocky underground ! I remember thinking to myself a few minutes before, "where are the rocks?" , so I was being served, and well served.
The rocky-wet-hollow-road drop into Flagothier was awesome, and I admit at one point I walked a little bit, not being helped by seeing a guy losing it and smack down against the rocks. He was OK (at least, he said so ) but he made me loose a bit of my mental drive. I had to pull out all registers, and NOT pull too much on the brakes to make it down.. wow, this is the real stuff.
After that drop, I had to climb back up a parallel hollow road (which accounts for the wetness of the rocks) and again I had to put a foot down when the sheer steepness of the climb, combined with the slippery underground stopped me in my tracks. Walk a few meters to a dryer spot, saddle up and 'hop-hop-hop' there we go again. Marvelous.
Not far after this one we came back on the 30K loop and the first rest stop arrived just in time for most of us, with 17K on the counter.
It was well stocked and very friendly people gave me something to drink while I helped myself to some cake. No power bars like last week in Theux, but I brought my own so I gobbled one down while drinking some powerdrink.
I was getting into the rhythm now and I had the impression the height differences were mellowing down a bit . Mellow down, yes, but they were steep still, and care had to be taken in the downhills, each and every time.
The track made a big loop around Aywaille , clockwise , going towards the North now as far as Dolembreux and Gomzé Andoumont (home of the "Bataille des Ardennes" ) . Rocky stuff, and some nice views, but watch it, keep your eyes on the trail !
Some nice passages in the forest followed here. Great downhill followed by a real teethgrinder uphill. Mellowing out again as we arrived at the second reststop, some 30K into the ride.
Here, again, I was handed a drink and helped myself to some cake. I tried all the flavors, some green, red and yellow beverage - the yellow tasted best - and got going again.
Another 45K-only loop brought us all the way east to Adzeux and here we got our second great rocky downhill of the day. Being dry, I had no trouble whatsoever and kept the speed high, internally screaming with joy.
They reserved a really great finale for us, after rejoining and leaving the 30K loop again, we went into the Bois de Wernoumont for a long uphill, not very steep, but in the forest we could meander through the trees to avoid the only water puddles I saw during the entire ride. We were not far from the top of the famous "La Redoute" but we followed the forest rim on a really nice track with (dry) roots and lots of them. It amuzed me I had no trouble whatsoever following a full suspension rider (I was on my Litespeed hardtail) who speeded along trying to get rid of me, which he couldn't , roots or not.
Then came an a-w-e-s-o-m-e rocky downhill, dry and with big lacets dropping steeply down all the way back into the valley. This was really the best downhill of the ride, and I wouldn't mind riding it in the other direction (ie uphill) , just not today thank you.
I passed a few more bikers on full suspension bikes, which only made me grinning more. All the way down I noticed I used up to 75mm of travel from my 80mm fork, which kinda indicates how fast it went, and with the rocky drops this really was a great downhill. I would NOT want to ride this one in the rain though, as most rocks go, they become very slippery with only limited room for deceleration.
After we were back at the river Ambleve, a 2K ride along some footpaths and over some meadows saw me safely back at the start.

The lowdown
What I liked:
-great tracks, one really long uphill, some great rocky downhills, especially that last one - wow
-arrowing was without fault thoughout the entire ride
-distance splits were very well announced, as well before as after the split, confirming the distance you were on.
-everyone got a sticker with emergency number on it
-rest stops where reasonably stocked
-friendly people at rest stops and at inscription
-enough choice of beverages at rest stops ; water and various powerdrinks, Red Bull ( + girls) at first stop
What I did not like:
-no danger signs before downhills
-no danger signs before road crossings
-no powerbars or bananas at rest stops
-not enough really long climbs
-why not go towards Nonceveux and get an extra 300 heighmeters there , on a 55K ride ?
Synopsis
In all, this is a great ride , as you will see from looking at the profile, the climbs are of moderate lenght (except the first one) but mostly pretty steep and sometimes very slippery, on grass, on rocks or on roots. Hill factor of 20.6 really tells the tale.
We are in the Ardennes here, so the underground is of the rocky kind. This means some suspension and fat tyres (I was on 2.25 Big Jims) are handy. Downhills are always to be treated with respect on these rides, as they can change from a gently dropping meadow road into a rocky nightmare behind every corner.
The bare facts
:
47.3K and 975 Heightmeters (Hill Factor 20.6)
More Info:
Organisers Website
GPS track on Google Earth
24-09-2006, 00:00 geschreven door Big Bad Wolf
21-09-2006

Dreamland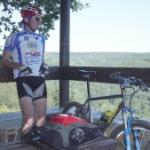 So, today was the big day. Weather forecast called for unclouded skies and around 26 degrees for this first day of the Fall. Hop into my car and around 10.30 I'm at the Chateau Franchimont overlooking Theux. 3 more bikers are preparing to leave, I question them about their plans and mention that they shouldn't leave without a map. Seems they have an NGI map but when they went to the Tourist Office this was closed because of illness of the proprietor.
No problem, I give them my map and they copy the outline of the Red Route (their plan for today) on theirs.
I bid them a good ride and leave , taking the Green loop which follows the Red for a while but then descents rather quickly into Polleur. Nice downhill, the rocks are a bit wetter than last weekend so I take care not to brake too much up front. Crossing Polleur things get serious with a long rock-strewn ascent into the majestic Bois de Staneu. A long one but it is soon followed by a tricky descent towards the Ri de Chawion, a little river I briefly follow then cross to get on the Blue Loop. Care must be taken here, because there are also blue signs from the Spa routes. But the Theux signs are marked 'Theux'.. Nice touch.
Another steep and long climb makes me feel my legs, which aren't feeling too good, oh dear and I still have about 45K to go. Worries for later, I try to find a good rhythm which isn't easy with all the little rocks, pebbles and roots trying to topple my bike over while I advance at an awesome 7kph.. this climb is long.. but as always, the reward is a great downhill meandering towards 'Le Marteau'. The signage on the Green and so far on the Blue is flawless. Let's hope it stays that way.
Down at Le Marteau I cross the busy N62 and quickly disappear into another trail going upwards again towards Le Haftai. Loose rocks again, but this is Theux, so better get used to them really quick. I come upon the Red Loop now which I will follow up to La Porallée. The wind is quite strong on this high point, but it bears a sweet scent of pine forest with it and actually is quite warm.
At La Porallée I begin the downhill towards La Sedoz. I have to get out the map and check a couple of times but once I've crossed the Ruissau des Blanches Pierres (after a very steep rocky but mostly dry descent) I just have to follow footpath Number 21 all the way down.
First I stop at the Point de Vue Drouet, at little cabin with a marvellous view over the Ninglinspo valley. Some 250 metres below I spot an open patch of field amongst the pine trees.. I will pass that patch on my way up later.
Take some piccies and move on, the road is meandering steeply downhill, but the rocks are mostly dry and I have no trouble at all to keep on riding. Just take it easy in the corners and catch some speed on the straights..
When I reach the Rue Sedoz I have dropped nearly 255 meters and now awaits the part I fear most, the uphill along the Ninglinspo river. But although it is steep (averaging 8% or otherwise put you gain 250 meters in 3K) and rocky, it is manageable on the middle ring and the river crossings (4 or 5) are easily taken on the bike. Sometimes a little trickle of water makes the rocks a bit slippery but I was never in any trouble.
Taking some pictures along the way, but although I would have loved to stay a bit longer, relaxing while listening to the gentle sounds of the water on the little cascades, I had to keep moving, still a few hours to go. I also make the very steep last 500 metres and am back where I started some 40 minutes earlier , on the Theux Red Loop .
This part of the route I still know by heart from last week, and I even spot some signage I didn't see back then. I take a few pics of the Charmille du Haut-Maret, the longest of its kind in Europe I'm told.. and speed along the plateau to drop back down again and rejoin the Blue Loop, this time I will follow this loop until the end.
Some nice uphills follow, a very nice little loop around the Chateau de l'Ourlaine, with a very difficult rocky descent followed by another rocky climb, there is no time to relax on these routes, at least not when you are on your bike.
I take a little break to gobble down some food and then head towards Hobdomont for the last 10K of the loop. Lots of tarmac now, which suits me fine, I'm getting a little bit tired. The views remain great though.. while speeding down at some 50kph I spot the Chateau de Franchimont on my right, some 3 to 4K away, as the crow flies..
Crossing the N62 again and finally dropping down towards the river Hoegne. Now there is but one climb left, up towards the Chateau de Franchimont. You can either take the 300 meters version (fiendishly steep) or opt for the 1500 meters version which I did. Nice singletrack with some scary drops next to it, look at the track, look at the track now..
At last I'm back at the Start, with 58K and just shy of 1300 heightmeters this is another beautiful trip. A Hill Factor of 22.4 is indicating that these trails are not for the meek.
But I've been to Dreamland, and made it back in one piece.
I'm very satisfied of this ride. I started out feeling a bit tired, but once I was back out of the Ninglinspo valley I felt like I could let myself go a bit faster. Stopped twice to eat something and my drink bottle was empty some 5k before the end.

You can check out the pics I've made by CLICKING HERE

21-09-2006, 20:23 geschreven door Big Bad Wolf
20-09-2006

My Kingdom for a BLOSO arrow ..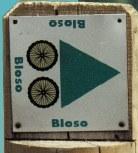 Today saw me riding the Moots around the Blue and Red BLOSO routes of Meerdael. I wanted to do an easy ride in view of tomorrows' tough one and the BLOSO routes provide just that.
The ride went well, I had 39.8K and 405 heightmeters with an average heartrate of 118bpm. Piece of cake .

It's the second time this week I take out the Moots because I have not ridden it as much as other years . I usually get around a 1000K out of it each year but this year has seen me a lot on the Litespeed and the Hilset, and less on the Moots. It's probably due to the bad weather last August (I only ride the Moots when it's dry - I haven't had to wash it in the 3 years I have it) but September is turning out to be a real dry and warm month so we'll get there.

Was a bit pissed to see that after more than 2 months, there are still at least two arrows missing on the Red Loop. I'm gonna email the Sports Representative (SR) of Oud-Heverlee later on and tell him exactly what is on my mind.
The BLOSO routes are meant to be checked at least once a month by a so-called "Parent" . The Meerdael BLOSO has 2 of those Parents but since the beginning it was obvious that they were not doing there job.
That coupled with the fact that they don't answer (or even read ?) their emails doesn't make it very easy for the users of the routes to report missing arrows , other fallen trees and such..

Normally, the Parents gather the complaints , bring these to the SR, who in turn alerts the BLOSO community. The BLOSO then takes the necessary steps to return the route to its original condition.
I don't know where the trouble lies in this "chain of events" , but in Overijse for example (where I know the "Parent" personally ) I usually see that when an arrow is reported missing, it is replaced within a fortnight, sometimes even within the week !

Well as I said, I wil email the SR , with the elections coming up in less than a month, they tend to listen a bit more to their citizens.

And now it's time to relax a bit and watch the time trial events of the World Championships in Salzburg
20-09-2006, 15:07 geschreven door Big Bad Wolf
19-09-2006

Brooding on my next ride

So, I decided to create a Blog.. Why ? It's easier to be able to communicate some stuff without having to email around.

For the moment , I'm pretty excited to go back to Theux again. For those not familiar with what I do and what Theux means in that respect, check out these links :

http://redridinghood.fotopic.net/c1082029.html

and

http://redridinghood.fotopic.net/c1077328.html

I want to go back, and plan to do so on thursday, to check out the combination of the 18K and 37K routes. Starting out from the Chateau Franchimont again I would first choose the 18K route (route Nr 7) climbing into the Bois de Staneu and descending towards the little Ry de Chawion. There I would hop over on the 37K route (route Nr 8) and follow this one further on
At the furthest western point I would like to briefly hop on the 57K route (route Nr 9) to reach the Porallée area.
Why?
Well, I would like to descent from the Porallée area towards Noncevaux (260m drop ) and climb back up again following the Ninglinspo river. This area is one of the most beautiful in Belgium. Google it to find out more .
This would yield a 50K ride with well over 1100 heightmeters. More than enough to keep me busy for 4 hours or thereabouts. I hope to be able to get some nice shots too of the area.
A little plan of the Ningslinspo area and the route I want to follow can be seen by clicking HERE






19-09-2006, 00:00 geschreven door Big Bad Wolf
Gastenboek./.Guestbook
Druk op onderstaande knop om een berichtje achter te laten in mijn Gastenboek. / Press the button below to write in my Guestbook.
Email Me
Press the button to send me a mail