Tales from the Woods
07-04-2011

KBC MTB Club ride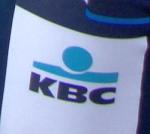 Today the first ride of the new season with the KBC mountainbike club started at the Heverlee army barracks. The pace was easy and we did a loop through the Army grounds before entering Heverleebos. From Heverleebos we then reached the Zoete Waters where we made the connection with Meerdael Forest for some more technical and steeper bits. The group counted 9 men and one woman and the pace was accomodating to the slowest rider. Near the end we had to stop frequently to wait for the slower riders on the hills but in all everything went fine. A good easy training for me, and the trails were dry and fast. A little bit of wind made it not as warm as yesterday evening but I wore arm and leggings. The Moots YBB got a good cleaning on tuesday so it performed flawlessly throughout the ride.

Ride Stats : 27K and 245/290 heightmeters (Polar/Garmin) in 1h30mins

1184/13095
07-04-2011, 20:48 geschreven door Big Bad Wolf
06-04-2011

Springtime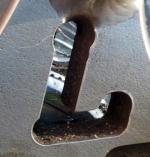 With temperatures around 23 degrees C I was a bit overdressed in my 3/4th pants and long jersey sleeves but I only felt thirsty, not overheated during the ride. I took the Vortex out for another local ride, doing my lap 7 times. I had figured out that this would net me around 40K and one hour and a half of riding time. The extra half hour did not bother me in the least, the bikes' comfort got me through the ride. With tyres on 10 bars the comfort comes from the frame because I don't think the Campagnolo Neutron wheels are built for comfort, they are built for speed. The seatpost seems to be anchored to its place because it didn't move during the last couple of rides. I am now waiting on the delivery of a Camelbak Rogue backpack and another Blackburn Frame Pump to try for a slightly longer ride and further away from home. I also found some CO2 cartridges that might prove handy to have around should I flatten. The Lezine patch kit and Lezine tyre levers are already delivered. These can also be used for mountainbike purposes but my aim is to have a seperate backback - the Rogue - for my road bike outings so that I don't have to shift gear from one backpack to another. Obviously I will also take a spare inner tyre on my longer outings. I leave you with another detail picture of the bike.

Ride Stats : 41K and 390/395 heightmeters (Polar/Garmin) in 1h33mins

1157/12805

06-04-2011, 18:52 geschreven door Big Bad Wolf
04-04-2011

Recovery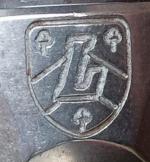 Vortex time again. There was quite a bit of wind when I left home for another ride in the vicinity of my home. I got the spare tyres and the patches today, but the frame pump I ordered was just a cm too short. Bummer. It would not fit ANY of my bikes so I had to order the bigger size and will try to sell the other one. Sending it back would cost me at least 10€ .
The ride went pretty uneventful, the bike zoomed along with the wind in my back and I had to pedal a bit stronger when riding with the wind in my face. Luckily this was happening mostly when riding downhill or on the flat. I made a couple of close-up pictures with my phone upon returning home, some of them even turned out quite good.


Ride Stats : 30.5K and 300 heightmeters (Garmin) in 1h9mins

1116/12410
04-04-2011, 18:50 geschreven door Big Bad Wolf
02-04-2011

Hallerbos extravaganza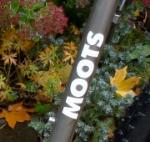 Today I had my mind set to ride towards the Sept Fontaines area in Dworp and do the 35K Hallerbos/Lembeekbos GPS track. The day announced itself quite sunny and warm so it was in good spirits that I rode towards the Sonian Forest, taking the easy route over Korbeek Dyle and Duisburg. There was a dry wind blowing from the south and I was glad to be encapsulated by the majestic trees of the forest. Riding straight through the Sonian to reach the Middenhut, from where it is only 7 or 8K to the Sept Fontaines.
I started at the field entry of the GR route and immediately it was wet and I had to take care not to slip and slide where I did not want to slip and slide. There seems to be water everywhere in this area - that is probably why it is called Sept Fontaines - and the long climb into the outskirts of Hallerbos was also along a very wet track. Then some tarmac and a long way up to reach the Hallerbos. I immediately noticed that the only flowers which were in bloom where the white forest anemones. Here and there I could already spot the blue hue of a bluebell but the great mass of them will probably bloom somewhere next week
The GPS track is a pretty good one, even though at some places the track and the road don't fall together. But it is pretty obvious which track you have to take. Into Braine Le Chateau and the track guides me through narrow Pistes Cyclistes . Some of them very steep, and always meandering up and down. Crossing a busy road and then I reach the Lembeekbos where I can relax during a long downhill through this forest. But what goes down must come up again and indeed, before long I am grinding teeth and struggling on my lowest gearing to make the grade. Nice track and I am through Lembeek forest , taking a break to eat something.
The temperature has risen to an ungodly 21 degrees and my water is almost out. Before long I cross the busy road again and now follows another piece of Hallerbos, always going up and down through its many vales. Lots of white flowers left and right from the track but no bluebells yet. A Japanese couple halts me and we talk a little. They want to know if this is the famous blue forest and I tell them that this is indeed the place but that they should come back next weekend for the bluebells. They are very enthusiastic and very friendly as we part our ways. I still have about 40K to go and from Dworp I make my way back to the Sonian Forest. A little stop at the 2 Stooges before I enter the forest.
At Duisburg I can score a Cola from a shop and I guzzle it down, its coolness and sugar give me a much needed rush to complete that last 20K of my ride. I am pleased with the overall average but I felt pretty tired at some places. Perhaps a lack of hydration? I did eat 2 Isostar bars, and stupidly lost another one out of my backpack side pocket somewhere on the track !
Now its time to recuperate . The muscles felt tight and strong today but like I said , also some tiredness possibly due to the warmth and the lack of drinking.

Ride Stats : 115.5K and 1195/1390 heightmeters (Polar/Garmin) in 6h8mins30secs

1085/12110
02-04-2011, 17:44 geschreven door Big Bad Wolf
01-04-2011

Vortex around the church again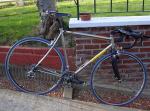 Yesterday it rained so I stayed home, but today I couldn't resist riding out for another ride through Blanden and Haasrode. Doing my laps, I begin to get accustomed to the road bike. Obviously it is fast, a lot faster than a mountainbike with slick tyres, the rolling resistance is so much less and the bike accelerates very fast, due to the top frame and wheels. I could have done a lot more kilometers should I have wanted but I wouldn't strain myself too much. So I stopped at 5 laps and just over 32K. The temperature was a nice 20 degrees but I did feel some rain from time to time. But at the end of the ride the sun came peeping through the clouds. Tomorrow promises to be a warm day with possible thunderstorms in the late afternoon. And sunday is the Ronde Van Vlaanderen day, a holy day for sure.

Ride Stats : 32K and 315/320 heightmeters (Polar/Garmin) in 1h13mins

970/10720
01-04-2011, 18:34 geschreven door Big Bad Wolf
30-03-2011

Round the church tower again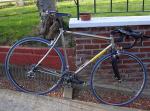 Rain forecast today but the sun was shining when I rode out with the Litespeed Vortex for another exploratory ride, getting familiar with the way it behaves. The shifting already went a little better, learning that you need to hear the click to be sure that the shift is complete. If not, the chain might drop off the selected cog again. Click click click.
My little parcours was the same as last monday, this time the laps were a little bigger and there were three climbs in every lap. Nothing eartshattering but I did 4 laps making it a good hours' ride.
I noticed my - carbon - saddlepost was slipping, just a couple of mm but enough to make me loosen the nut and tighten it a little faster. Carbon is always tricky and I'm keeping my eye on that post.
The rest of the bike behaved like it should and I did not flatten this time either. Good thing because I'm still awaiting my inner tyres and a full-sized pump. I will take those with me on the longer rides in the future.

Ride Stats : 27.5K and 260/270 heightmeters (Polar/Garmin) in 1h5mins

938/10400
30-03-2011, 12:37 geschreven door Big Bad Wolf
29-03-2011

Haasrode TT Base loop fast mode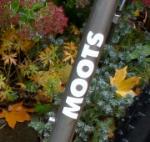 The weather was good and warm when I set out for another lap around the Haasrode TT Base Loop for 2011. I was on the Moots YBB this time so this meant a little more comfort. Which was needed because the tracks were dry as a bone and hard tothe wheels. I felt good so could keep up a good pace from the beginnings. Setting a couple of markers along the way. 30 minutes to the Mollendaal shelter, 1 hour to the road crossing with the N91 just above Hamme Mille. Then cam the tough climb in Gottechain and after 1h30 I was entering Bossut and taking the small track behind the school. Into Meerdael Forest again for the last stretch until I reached the place where I had picked up on the lap, just past the bridge of the Naamsesteenweg. I reached home with a good feeling in my legs and a time well under 2 hours. A good ride by all accounts. I checked the Chris King ISO hubs for play and found that I could tighten the rear one just a little bit. That will perform even better during the next ride. I noticed I passed the 10000 heightmeters mark. Not bad after the first couple of months of this year being rather empty kilometre-wise due to medical problems.

Ride Stats : 39K and 420/490 heightmeters (Polar/Garmin) in 1h56mins

910/10130
29-03-2011, 00:00 geschreven door Big Bad Wolf
28-03-2011

Light Speed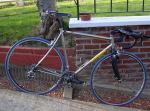 The Litespeed Vortex was built and delivered this weekend and when I had an hour to spare today I couldn't resist checking it out. I did not have any spare inner tyres yet so I decided on a loop through Blanden, up and down towards Haasrode and then making a figure eight through Bierbeekstraat, Milsestraat, Kartuizerstraat and Blandenstraat. That way if I did flatten, I would only be within walking distance from home.
It had been a while since I rode a road-bike and I was amazed at the agility and nervousness of this kind of bike. The speed was amazing and the bike felt light and agile. The Brooks saddle was still hard and will need a lot of kilometers to settle in, I'm aware of that. I relaxed on the uphills, letting the bike do the work and trying to get the hang of the shifting. The Campagnolo Chorus group shifts well but I need to focus on which side of the shifter I need to use to shift up and down, in front and in the rear. On the downhills I was a bit scared to let the bike go at full speed, not being used to this nervousness and the way it seemed to pick up the speed very quickly so I took it relatively easy, grabbing the handlebar in the curve with the brakes within easy reach.
I wore Campagnolo overshoes in sky blue color which miraculously matched the color of the Vredestein Fortezza tyres that ran across the Campagnolo Neutron wheels I bought off Gregory Joseph, a young "Topsport Vlaanderen" pro . The brakes also took some getting used to, but they seem strong and grippy.
The position on the bike seems to be spot on, I don't think I will have to change anything. Obviously the ride was short, maybe longer rides will demand some positional changes but it doesn't look that way. The bike weighs in just a tad over 8 kg and it feels that way as well.
The only thing that needs to be done now is attach the Litespeed head badge, but Filip Sport is waiting for special glue to do that. I leave you with a family shot taken saturday from the 2 Litespeeds I now own. The Obed mountainbike, date of birth 1999, and the 'new' Vortex which was made in 2001.

Ride Stats : 24.5K and 190/225 heightmeters (Polar/Garmin) in 1h1min

871/9640
28-03-2011, 18:51 geschreven door Big Bad Wolf
27-03-2011

Taalgrens roadbook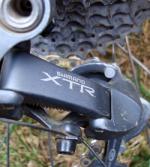 Moots Time ! Yesterday I cleaned the Litespeed Obed and put it under covers. It should remain there until late fall, when the weather will be foul again. Now the Moots and the Merlin come out, for those epic spring and summer rides.
Wanting to do a long ride , but not too much heightmeters, I chose the O2 Bikers Taalgrens roadbook. This is 80K long and couples forest and field together in one long ride.
With the Moots I also have disk brakes and No Tubes, which means I can go faster downhill without worrying too much about flattening my tyres . Sure, it can still happen , but not as easy.
The first 20K of this roadbook is a great succession of forest and hilly fieldtracks. Starting at the Zoete Waters the trail goes into the Meerdael Forest for some nice lesser-used tracks, coupled to a tricky descent here and there. Unfortunatelt, forest exploitation is still going on and on one track I had to find a way around a jungle of fallen trees.
It is here that a GPS is of invaluable worth. Just check for alternative trails and you quickly find one that brings you back on the track. But the alternative trail was also very difficult , lots of deep tractor and heavy machinery ruts . But the Moots is a fine little bike. The Chris King rear hub gives it near-instantaneaous reaction to pedalling movement, so you can really be very confident on twisty and difficult trails. So I zigzagged around fallen trees, through deep ruts and over crosstrails. I emerged near the Hercules Salon where I was treated to a magnificent downhill towards the La Hetraie camping. Crossing the road and into Beaumont for another great section of hills, hollow roads and cobblestones taking me up towards Bossut and then back down towards Nethen.
Crossing another big road and I am in the fields of Gottechain. The sun has come out and is giving me a bit of warmth, much needed because it isn't really that warm. A little breeze is blowing from the northeast . It will keep me company throughout the ride. Nice passage in and out of Pietrebais and I'm into the fields. Every now and then there is a challenge in the form of deeply rutted trails - you DON'T want to do this roadbook when it has rained ! - or a descent in a deep hollow road. The field tracks are dry, dusty and hard on bike and man. The trail here as a major tendancy to loop around in search for extra kilometers. They might have wanted to focus on ding some more technically challenging stuff but obviously they did not want to make it too difficult - besides it being 80K which really is difficult and challenging enough for most.
But my aim today is getting a long ride in, so I accept this. Grabbing the occasional technical passage with both hands, just to have something else to do than avoiding potholes on the endless field roads.
On a beautiful descent in a hollow road I am stopped again by what looks to be a jungle of fallen trees. No way through, and no way around.
So I have to ride back up out of the track - yippee, extra heightmeters - and do the descent on a cobble road. Bummer. Into St Remy Geest and then onwards to join the track again back into the fields. A nice loop down a deep hollow road again, followed by a long climb back upwards, in another hollow road. And then more field roads. After what feels like a 100K of desert I see at last Meerdael Forest looming on the horizon. Phew, I made it. So glad to see some trees again and ride in the shade. I do a little dance upon entering Meerdael Forest. I really wanted to get off my bike for a couple of minutes because my neck and shoulders are painful from the hammering on the field tracks.
With renewed spirits I complete the last 10K in Meerdael Forest. There are a lot of walkers, bikers and horses about but everyone is very friendly when greeted. In the fields around Lathuy and Jodoigne I was passed or crossed several times by jeeps, which seemed to be on some kind of GPS tour. They all were very attentive, stopping when I crossed them (to avoid the dust ! ) and at one point I just was faster on a deeply rutted downhill than they were. Ah, a small victory from man and bike over machine and horsepower.
Upon arriving at the Zoete Waters I only had 5 more K to ride back home. A good long ride and I am very pleased with my average and heartrate. Ok, trail conditions were nearly perfect, dry and fast, but still I rode well. Two 5-hour rides this week. Need to relax a bit next week for sure.

Ride Stats : 94K and 790/900 heightmeters (Polar/Garmin) in 5h14mins

847/9415

27-03-2011, 18:10 geschreven door Big Bad Wolf
25-03-2011

Under a warm californian sun.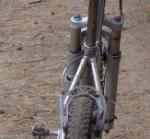 Had a day off from work and it looked like a sunny day was in the making when I rode out around 9.20am. I wanted to do a long ride, and score some heightmeters, so I chose the O2 Bikers Grez Doiceau roadbook. Obviously not the original track but my version of it. To be exact, I have been honing and tuning this track throughout the years and this was the 5th version of it, aptly named "Julie 5".
Getting to the start in Grez already had me riding through Meerdael Forest and the fields of Bossut. Then dropping into Grez where I set off for this 56K loop that would net me close to a 1000 heightmeters. I looked up the track on my Garmin Edge 705, pressed navigate and I was underway.
The tracks were perfect and the succession of climbs and descents were slowly wearing me out, like they are supposed to do. At some places there had been a lot of forestry activity and I had to clamber over fallen trees on many occasions. The trail sometimes went straight through a field but don't worry, its there and it will stay there. It struck me how open everything still was; no nettles, no ferns, no high grasses, no leaves on the trees. Perfect for riding on the trails.
Stopping for a first snack high above Chaumont Gistoux, some 2 hours on the lap. From here, things were getting pretty hectic. Difficult climbs, technical and steep, followed by tricky descents, and then another climb having my grind my teeth and looking for the smallest gears. Welcome in Accro Bike country !
At the Chapelle du Cheneau, after a long climb, I decided to stop and have another little snack. I would need it for the remainder of the trail. I was getting tired and I know the track stays relentless until the very end.
I had a lot of time to think about a lot of things while I was riding. Near the end I began to feel the bumps more and more and I figured I might have taken the Moots YBB which has suspension in the rear as well. But its time will come during the summer months. The Litespeed Obed is light and agile and is a strong weapon in the hands of an able rider
Arriving back in Grez after a little more then 4 hours I was still not home. I needed to ride back to Meerdael Forest, this time I chose to ride to Archennes and climb out of that towards Bossut and Nethen. Arriving into Meerdael Forest near Les Claines and then making my way past the Warande pond towards the Prosperdreef which I would follow past the Dovo army barracks. I noticed a lot of beautiful little white flowers and couldn't resist taking a picture of them.
Arriving home with more than 80K and close to 1300 heightmeters I was feeling very satisfied with my ride. With an average temperature of 16 degrees C I could dream away whilst humming the Ramones tune 'California Sun' . I include a link to the GPS track. If you decide to ride it, remember it is a succession of climbs and really takes a lot out of you. I would also appreciate any feedback you might want to give.

Ride Stats : 83K and 1205/1285 heightmeters (Polar/Garmin) in 5h10mins

753/8515


25-03-2011, 17:53 geschreven door Big Bad Wolf
22-03-2011

Base Loop Haasrode TT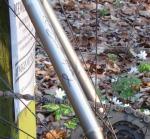 Another tuesday, another loop incorporating the Base Loop of the Haasrode TT for 2011. This time I decided to ride it in the other direction, or counterclockwise as it turned out. I have been riding this loop for 3 tuesdays in a row now and I like it very much. It is 38K and incorporates a good mixture of forest, field and single tracks. The weather was great today, with and average temperature of 15 degrees throughout the ride. This made the trails very fast .
But I also feel I'm getting in better shape, slowly but surely. The first time I did this lap, 2 weeks ago , it nearly took me 2h30. Today, as it would turn out, I was back home almost within 2 hours. And I probably would have made it in 2 hours if I didn't take a wrong turn in the fields of Gottechain. Stopping, riding back and turning in the right trail took me just about the minute I lacked to make it 2 hours flat. But obviously the time is secondary to the fun I had doing these trails. In and out of Meerdael Forest, looping to Gottechain and then back over Nodebais and Valduc into the Meerdael Forest again.
There were lots of small white flowers already in bloom and the trees also seemed ready to sprout what will become leaves. The bike performed flawlessly and like I said before, there was not a puddle in sight throughout the entire ride. I felt very satisfied and relaxed when I arrived home, even though the pace had been pretty high, especially near the end of the ride from Haasrode back to Blanden through Meerdael Forest again.

Ride Stats : 38K and 425/450 heightmeters (Polar/Garmin) in 2h1min

670/7230
22-03-2011, 19:15 geschreven door Big Bad Wolf
20-03-2011

Classic Hills revisited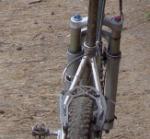 After yesterdays' long ride I had some doubts if I should do this ride today but around 11am I decided to go for it and see how it went along the way.
The track I did today is the hilly section of the 100K Meerdael Classic, roughly starting at the train station in Pecrot and finishing near Pecrot again some 37K and 650 heightmeters later. My legs felt tired thoughout the ride but I just relaxed on the hills and tried to stay focussed on the many downhills. The trails were fine, just a little moist from fridays' rain but my bike was clean when I arrived home, so no mud at all on these trails.
From time to time I came across the arrows - and the bikers - of the Oud-Heverlee SVK ride which was also taking place today. I hesitated for a long time if I shouldn't do the 70K but the way I see it, I did nicer trails today, have more heightmeters and didn't have to pay 6€ for the pleasure. Obviously I had no rest stops but I didn't mind feeling hungry near the end of the ride . I can stock up on calories afterwards just as well.
Nearing Pecrot again and crossing both Marbaises my trail came to an end and I had to wing it from here onwards. So I chose a little loop into Beaumont forest where I sat down to take a rest after a steep climb that led me towards the little pink chapel.
When I descended into Nethen and took a small road called the "Rue de la Houlotte" , I was stopped by one of the people living there. She told me I was on private property and I should walk instead of riding my bike. I was confused and told her that as far as I know, I was on a public road and could ride my bike. I will have to find out the truth about this because I pass here very frequently. Obviously, if she is right I will have to find another connection from Meerdael to the Beaumont area.


Grotere kaart weergeven
I drove home incorporating another climb up to the Hercules gallery and then down towards the Kluis and along the Dentergem path back towards the Weertse Dreef and beyond. Just below a 1000 heightmeters, if I had known I would have done another climb to make it an even 1000.

Ride Stats : 57.5K and 865/960 heightmeters (Polar/Garmin) in 3h39mins

632/6780



20-03-2011, 15:37 geschreven door Big Bad Wolf
19-03-2011

Pounding the World - like a battering ram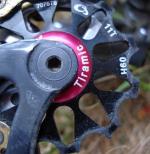 Yesterdays' rain made me decide to ride on the road today. The skies were clearing out but a cold northerly wind would be my annoying companion during the first part of this ride. Making my way towards the Hoegaarden area, passing through Haasrode, Bierbeek, Neervelp,Willebringen , Hoksem and Oorbeek to reach the Goudberg geosite. A little further I stopped for my usual break at the Marollen chapel, taking the time for a couple of pictures. The sun was coming out more and more but the wind was still cold.
From here I would have it in my back though, as I sped towards l'Ecluse, La Bruyere and Beauvechain. Deciding to go for 60K I cut short the Haasrode Tour over Nodebais and Hamme Mille. Just another little loop through Nethen and Sint Joris Weert before reaching the Zoete Waters and finishing my ride through Vaalbeek and Blanden. Good feeling in the legs and when the wind was my ally I could keep my heartrate in a reasonable area. The title? Oh just an old Judas Priest tune that kept going through my head during the entire ride.

Ride Stats : 60K and 460/520 heightmeters (Polar/Garmin) in 2h49mins

574/5820
19-03-2011, 14:07 geschreven door Big Bad Wolf
17-03-2011

Red and Blue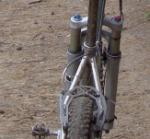 Wow, only 5 degrees C this evening, what a big contrast with the 17 degrees of 2 days ago. I was late to start and still I wanted to ride the Red and Blue Meerdael Bloso routes, in the opposite direction. And while I was doing that, I had a couple of extra loops in mind.
I did all of that, and then some more, which meant that near the end of the ride, it was getting seriously dark. Luckily it was still bright enough to see the outlines of the trails but near the end I had to take off my glasses to see what I needed to avoid.
Had a great ride, with a lot of heightmeters, and I felt reasonably well during the ride as well. My shoulder hurt a bit from yesterdays' mangling by the kine but nothing that hampered my biking. The trails were great with just a little moisture from a fine drizzle that fell from time to time. It was a clouded and misty evening and darkness fell early. Good thing I was home just in time.

Ride Stats : 43.5K and 535/620 heightmeters (Polar/Garmin) in 2h46mins

514/5290

17-03-2011, 19:58 geschreven door Big Bad Wolf
15-03-2011

Locker Fahren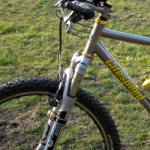 Almost 17 degrees C today. The plan was to ride the Base Loop of the 2011 Haasrode TT again, hopefully this time I would be a little faster and also would be able to get my heartrate down. Locker fahren, as the Germans would say. So I concentrated on that, trying to ride easily and let the bike do the work. The loop was very agreeable, I didn't have to hesitate because I only rode it last week so I knew it by heart. I made all the climbs, even the very steep one in Gottechain. I was very proud about that, since it really is a difficult climb with a little but of mushe ground down below which makes it difficult to get any speed for the really steep part. But I made it and a little further I could also enjoy the technical passage with ruts and slippery grounds in Gottechain before looping back to the village.
The wind was blowing from the East . In the fields of Hamme Mille I had the wind in my back today, which was an advantage I had as opposed to last week. My average heartrate was down 16 beats compared to last tuesday (125 against 141bpm) and I was 15 minutes faster around the loop. So I am feeling a little optimistic about my form returning slowly but surely. I need to slow down now so as to not overdo it. But today I had a great and very fullfilling ride. Nice weather, good feeling in the legs and great trails.

Ride Stats : 38K and 425/460 heightmeters (Polar/Garmin) in 2h11mins

471/4670
15-03-2011, 18:56 geschreven door Big Bad Wolf
14-03-2011

In between doctor visits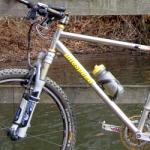 Had an appointment with the surgeon that extracted my kidney stone 2 months ago to check up how I was doing. Looks like everything is fine and the next kidney stone is still nowhere to be found. So I can rest assured on that front.
When I arrived home I decided to go out for a quick run around the Green BLOSO route in Meerdael Forest. The trails were dry to moist and good for easy riding. The Green is not the most difficult with only a couple of climbs and I avoided the mud traps next to the E-40, taking instead some singletracks on a parallel route. Still had a good ride with 25K and and hour and a halfs' worth of biking.
When I got home I had to prepare for my second doctor visit of the day. This time to check my shoulder and have another round of 9 kine visits prescribed. The work of the kine is helping, my shoulder is a lot looser than it was a month ago and the stretching exercises are keeping the stress away. Still there is some work to be done because it still is not without pain. But the pain is less acute and sets in later than it used to do a couple of weeks ago. The temperature was mild today and I rode with a long-sleeved jersey and a couple of layers of underwear. Also wore normal globes as opposed to the heavy winter gloves.

Ride Stats : 28k and 195/225 heightmeters (Polar/Garmin) in 1h28mins

433/4210
14-03-2011, 20:21 geschreven door Big Bad Wolf
12-03-2011

Extending the range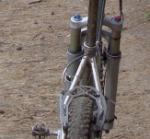 Beautiful day, sunny and dry, so I decided to do a longer ride. Taking the Litespeed I set forth towards the Sonian Forest. Riding through Meerdael Forest and over the Smeysberg ridge, making my way towards Duisburg and entering the Sonian Forest at the Kapucijnenkelder. The trails were perfect and I made my way towards Jezus Eik. Here I did a loop some Swedish girl invented a lot of moons ago. Taking me towards the Rouge Cloitre were I paused for a snack, face basking in the sun. The ponds were willed with geese, duck and swans.
Some of those birds looked pretty exotic. When I finished eating my powerbar I moved on, taking the remainder of the hilly loop back towards Jezus Eik.
From here I made my way back towards the edge of the forest and Duisburg. Upon riding through Eizer I spotted a small track I decided to follow, very narrow and steep and leading me towards the plains above Huldenberg. Dropping down into the Ijse valley and then climbing back over the Smeysberg I arrived back in Sint Joris Weert. Only a couple of kilometers to go, my legs began to feel heavy and I had trouble keeping my heartrate at bay. But I opted for a little loop into Meerdael Forest, taking me towards the Kluis and the back along the Paddenpoel, following the Denteneer Path towards the Weertse Dreef. Crossing that I completed the last couple of K's taking me back home with a nice long ride that took me a little further from home, thereby extending my range of operations. Still a long way to go, but I feel that this week I have taking some small steps back towards being in the shape I had last year.

Ride Stats : 57K and 625/690 heightmeters (Polar/Garmin) in 3h9mins

405/3985
12-03-2011, 14:58 geschreven door Big Bad Wolf
10-03-2011

Meerdael Leisure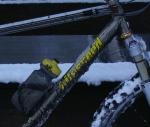 Windy and cloudy when I rode out this evening. It looked like it wanted to rain but luckily I did only feel a couple of stray raindrops throughout the ride. I wanted to do the Blue and Red BLOSO routes , adding a couple of extra loops because I wanted to check out some sections around the Kluis . I felt rather good but near the end of the ride I began to tire considerably. Not without reason because I did more than 40K and did not avoid the hilly sections.
To my amazement I noticed the Warande Pond seemed to be in the process of being drained. Somebody must have pulled the plug. I'm curious how this will develop
The wind luckily did not bother me much in the forest and in the field of Valduc it was blowing nicely in my back. My average heartrate was a couple of beats lower than last wednesday and it looked like my heartrate dropped a little faster during downhills or easy section. Still, 137bpm average is still too much. This should go down during the next couple of weeks. Also my resting heartrate is not back to its usual 45, instead hovering just above 50bpm. But the slimy remainders of my cold seemed to be slowly draining from my nose and lungs. So I'm living in hope. Taking the time to rest is now also very important.
The forest trails were great - just a little moist at places but mostly dry and fast. Bike performed flawlessly, I sometimes can hardly believe this frame dates from 1998. But that is the power of titanium for you. Timeless.

Ride Stats : 42K and 470/520 heightmeters (Polar/Garmin) in 2h28mins

348/3295

10-03-2011, 20:36 geschreven door Big Bad Wolf
08-03-2011

Heavier than thought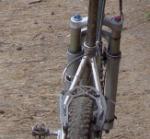 Today the temperatures were picking up and it was 11 degrees C when I rode out with the Litespeed to do an offroad ride. It has been a while again since I last saw a bike, this time the culprit was a cold that had me in shivers for more than a week.
I decided to try the base loop of the Haasrode MTB organised ride. They have changed the loop considerably and promised me 'some trails you might never have ridden before'. Yeah right, as if.
But they were right, there were 2 trails that were completely new for me. One in Gottechain where they changed the loop to go downtown and then go back up through a very narrow track straight up the slope. From the moment I saw the climb I knew I was not going to make it. My body is still recuperating and my heartrate was already much higher than I want it to be. So I declined myself to walk instead of ride it. But I will have my revenge soon.
I was being watched by a herd of what looked to be mouflon sheep. They were curious but they did not want to come too close. Took a picture before I attacked the hill. As said, on foot.
The loop then incorporates another new section, very tricky and with deep ruts which were just ride-able. There was not much mud but I can imagine a lot of walking here when it has rained. Back towards Gottechain and then crossing to Bossut. Here another newly-found track moved me between houses and gardens. The track then leads towards Nethen and into Meerdael forest .
Closing the loop I had nearly 40K which was more than enough for a first outing. I was not surprised to see almost 500 heightmeters on my Garmin. I think I will do this track again and I can recommend the Haasrode organised ride, it should take place around August the 15th.
With an average heartrate of 141 I still have some way to go back to becoming fit. But I hope a first step has been taking. I will have to wait how my body reacts to the stress put upon it. Tomorrow I have another appointment with the kine for my shoulder. It behaved quite well today but towards the end of the ride it began to bother me. So all is not well in that department. Stretching needs to be done and the stretches are long and deep.

Ride Stats : 39K and 450/490 heightmeters (Polar/Garmin) in 2h24mins

306/2775
08-03-2011, 20:31 geschreven door Big Bad Wolf
22-02-2011

Brooks England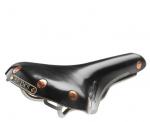 A while back I decided to put a Brooks Swift Titan saddle on my soon-to-be built Litespeed Vortex. I just was a bit hesitant about the color but at long last I decided on an easy black. I also ordered a matching set of bar tape in leather. This will surely add some comfort to the steering. The Brooks saddle must be among the most comfortable around although it takes a while to bed in and it also weighs in rather heavily at 390 grammes. But I am confident it will be a valuable asset to my road bike.
It was sunny but cold when I rode out late in the afternoon and I managed to get a good ride in. My heartrate was lower than it had been on comparative rides last week and also my shoulder seemed to be less painful. Thanks no doubt to the TLC applied by my kine and his young apprentice, who gave me a good massage yesterday evening.
With an average temperature of 3 degrees C I arrived just after dark. I noticed my tail light needed batteries so I changed those as soon as I got home. Safety is primordial when riding at dusk or in the dark and it is better to be safe than to be sorry.

Ride Stats : 37K and 235/275 heightmeters (Polar/Garmin) in 1h49mins

267/2285
22-02-2011, 19:35 geschreven door Big Bad Wolf
Gastenboek./.Guestbook
Druk op onderstaande knop om een berichtje achter te laten in mijn Gastenboek. / Press the button below to write in my Guestbook.
Email Me
Press the button to send me a mail