Tales from the Woods
20-03-2011

Classic Hills revisited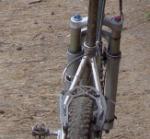 After yesterdays' long ride I had some doubts if I should do this ride today but around 11am I decided to go for it and see how it went along the way.
The track I did today is the hilly section of the 100K Meerdael Classic, roughly starting at the train station in Pecrot and finishing near Pecrot again some 37K and 650 heightmeters later. My legs felt tired thoughout the ride but I just relaxed on the hills and tried to stay focussed on the many downhills. The trails were fine, just a little moist from fridays' rain but my bike was clean when I arrived home, so no mud at all on these trails.
From time to time I came across the arrows - and the bikers - of the Oud-Heverlee SVK ride which was also taking place today. I hesitated for a long time if I shouldn't do the 70K but the way I see it, I did nicer trails today, have more heightmeters and didn't have to pay 6€ for the pleasure. Obviously I had no rest stops but I didn't mind feeling hungry near the end of the ride . I can stock up on calories afterwards just as well.
Nearing Pecrot again and crossing both Marbaises my trail came to an end and I had to wing it from here onwards. So I chose a little loop into Beaumont forest where I sat down to take a rest after a steep climb that led me towards the little pink chapel.
When I descended into Nethen and took a small road called the "Rue de la Houlotte" , I was stopped by one of the people living there. She told me I was on private property and I should walk instead of riding my bike. I was confused and told her that as far as I know, I was on a public road and could ride my bike. I will have to find out the truth about this because I pass here very frequently. Obviously, if she is right I will have to find another connection from Meerdael to the Beaumont area.


Grotere kaart weergeven
I drove home incorporating another climb up to the Hercules gallery and then down towards the Kluis and along the Dentergem path back towards the Weertse Dreef and beyond. Just below a 1000 heightmeters, if I had known I would have done another climb to make it an even 1000.

Ride Stats : 57.5K and 865/960 heightmeters (Polar/Garmin) in 3h39mins

632/6780



20-03-2011, 15:37 geschreven door Big Bad Wolf
19-03-2011

Pounding the World - like a battering ram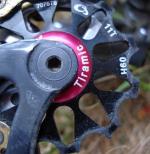 Yesterdays' rain made me decide to ride on the road today. The skies were clearing out but a cold northerly wind would be my annoying companion during the first part of this ride. Making my way towards the Hoegaarden area, passing through Haasrode, Bierbeek, Neervelp,Willebringen , Hoksem and Oorbeek to reach the Goudberg geosite. A little further I stopped for my usual break at the Marollen chapel, taking the time for a couple of pictures. The sun was coming out more and more but the wind was still cold.
From here I would have it in my back though, as I sped towards l'Ecluse, La Bruyere and Beauvechain. Deciding to go for 60K I cut short the Haasrode Tour over Nodebais and Hamme Mille. Just another little loop through Nethen and Sint Joris Weert before reaching the Zoete Waters and finishing my ride through Vaalbeek and Blanden. Good feeling in the legs and when the wind was my ally I could keep my heartrate in a reasonable area. The title? Oh just an old Judas Priest tune that kept going through my head during the entire ride.

Ride Stats : 60K and 460/520 heightmeters (Polar/Garmin) in 2h49mins

574/5820
19-03-2011, 14:07 geschreven door Big Bad Wolf
17-03-2011

Red and Blue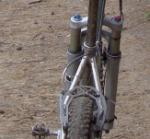 Wow, only 5 degrees C this evening, what a big contrast with the 17 degrees of 2 days ago. I was late to start and still I wanted to ride the Red and Blue Meerdael Bloso routes, in the opposite direction. And while I was doing that, I had a couple of extra loops in mind.
I did all of that, and then some more, which meant that near the end of the ride, it was getting seriously dark. Luckily it was still bright enough to see the outlines of the trails but near the end I had to take off my glasses to see what I needed to avoid.
Had a great ride, with a lot of heightmeters, and I felt reasonably well during the ride as well. My shoulder hurt a bit from yesterdays' mangling by the kine but nothing that hampered my biking. The trails were great with just a little moisture from a fine drizzle that fell from time to time. It was a clouded and misty evening and darkness fell early. Good thing I was home just in time.

Ride Stats : 43.5K and 535/620 heightmeters (Polar/Garmin) in 2h46mins

514/5290

17-03-2011, 19:58 geschreven door Big Bad Wolf
15-03-2011

Locker Fahren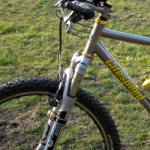 Almost 17 degrees C today. The plan was to ride the Base Loop of the 2011 Haasrode TT again, hopefully this time I would be a little faster and also would be able to get my heartrate down. Locker fahren, as the Germans would say. So I concentrated on that, trying to ride easily and let the bike do the work. The loop was very agreeable, I didn't have to hesitate because I only rode it last week so I knew it by heart. I made all the climbs, even the very steep one in Gottechain. I was very proud about that, since it really is a difficult climb with a little but of mushe ground down below which makes it difficult to get any speed for the really steep part. But I made it and a little further I could also enjoy the technical passage with ruts and slippery grounds in Gottechain before looping back to the village.
The wind was blowing from the East . In the fields of Hamme Mille I had the wind in my back today, which was an advantage I had as opposed to last week. My average heartrate was down 16 beats compared to last tuesday (125 against 141bpm) and I was 15 minutes faster around the loop. So I am feeling a little optimistic about my form returning slowly but surely. I need to slow down now so as to not overdo it. But today I had a great and very fullfilling ride. Nice weather, good feeling in the legs and great trails.

Ride Stats : 38K and 425/460 heightmeters (Polar/Garmin) in 2h11mins

471/4670
15-03-2011, 18:56 geschreven door Big Bad Wolf
14-03-2011

In between doctor visits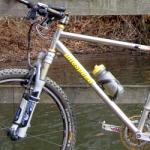 Had an appointment with the surgeon that extracted my kidney stone 2 months ago to check up how I was doing. Looks like everything is fine and the next kidney stone is still nowhere to be found. So I can rest assured on that front.
When I arrived home I decided to go out for a quick run around the Green BLOSO route in Meerdael Forest. The trails were dry to moist and good for easy riding. The Green is not the most difficult with only a couple of climbs and I avoided the mud traps next to the E-40, taking instead some singletracks on a parallel route. Still had a good ride with 25K and and hour and a halfs' worth of biking.
When I got home I had to prepare for my second doctor visit of the day. This time to check my shoulder and have another round of 9 kine visits prescribed. The work of the kine is helping, my shoulder is a lot looser than it was a month ago and the stretching exercises are keeping the stress away. Still there is some work to be done because it still is not without pain. But the pain is less acute and sets in later than it used to do a couple of weeks ago. The temperature was mild today and I rode with a long-sleeved jersey and a couple of layers of underwear. Also wore normal globes as opposed to the heavy winter gloves.

Ride Stats : 28k and 195/225 heightmeters (Polar/Garmin) in 1h28mins

433/4210
14-03-2011, 20:21 geschreven door Big Bad Wolf
12-03-2011

Extending the range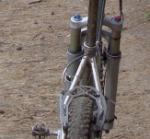 Beautiful day, sunny and dry, so I decided to do a longer ride. Taking the Litespeed I set forth towards the Sonian Forest. Riding through Meerdael Forest and over the Smeysberg ridge, making my way towards Duisburg and entering the Sonian Forest at the Kapucijnenkelder. The trails were perfect and I made my way towards Jezus Eik. Here I did a loop some Swedish girl invented a lot of moons ago. Taking me towards the Rouge Cloitre were I paused for a snack, face basking in the sun. The ponds were willed with geese, duck and swans.
Some of those birds looked pretty exotic. When I finished eating my powerbar I moved on, taking the remainder of the hilly loop back towards Jezus Eik.
From here I made my way back towards the edge of the forest and Duisburg. Upon riding through Eizer I spotted a small track I decided to follow, very narrow and steep and leading me towards the plains above Huldenberg. Dropping down into the Ijse valley and then climbing back over the Smeysberg I arrived back in Sint Joris Weert. Only a couple of kilometers to go, my legs began to feel heavy and I had trouble keeping my heartrate at bay. But I opted for a little loop into Meerdael Forest, taking me towards the Kluis and the back along the Paddenpoel, following the Denteneer Path towards the Weertse Dreef. Crossing that I completed the last couple of K's taking me back home with a nice long ride that took me a little further from home, thereby extending my range of operations. Still a long way to go, but I feel that this week I have taking some small steps back towards being in the shape I had last year.

Ride Stats : 57K and 625/690 heightmeters (Polar/Garmin) in 3h9mins

405/3985
12-03-2011, 14:58 geschreven door Big Bad Wolf
10-03-2011

Meerdael Leisure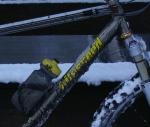 Windy and cloudy when I rode out this evening. It looked like it wanted to rain but luckily I did only feel a couple of stray raindrops throughout the ride. I wanted to do the Blue and Red BLOSO routes , adding a couple of extra loops because I wanted to check out some sections around the Kluis . I felt rather good but near the end of the ride I began to tire considerably. Not without reason because I did more than 40K and did not avoid the hilly sections.
To my amazement I noticed the Warande Pond seemed to be in the process of being drained. Somebody must have pulled the plug. I'm curious how this will develop
The wind luckily did not bother me much in the forest and in the field of Valduc it was blowing nicely in my back. My average heartrate was a couple of beats lower than last wednesday and it looked like my heartrate dropped a little faster during downhills or easy section. Still, 137bpm average is still too much. This should go down during the next couple of weeks. Also my resting heartrate is not back to its usual 45, instead hovering just above 50bpm. But the slimy remainders of my cold seemed to be slowly draining from my nose and lungs. So I'm living in hope. Taking the time to rest is now also very important.
The forest trails were great - just a little moist at places but mostly dry and fast. Bike performed flawlessly, I sometimes can hardly believe this frame dates from 1998. But that is the power of titanium for you. Timeless.

Ride Stats : 42K and 470/520 heightmeters (Polar/Garmin) in 2h28mins

348/3295

10-03-2011, 20:36 geschreven door Big Bad Wolf
08-03-2011

Heavier than thought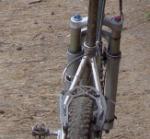 Today the temperatures were picking up and it was 11 degrees C when I rode out with the Litespeed to do an offroad ride. It has been a while again since I last saw a bike, this time the culprit was a cold that had me in shivers for more than a week.
I decided to try the base loop of the Haasrode MTB organised ride. They have changed the loop considerably and promised me 'some trails you might never have ridden before'. Yeah right, as if.
But they were right, there were 2 trails that were completely new for me. One in Gottechain where they changed the loop to go downtown and then go back up through a very narrow track straight up the slope. From the moment I saw the climb I knew I was not going to make it. My body is still recuperating and my heartrate was already much higher than I want it to be. So I declined myself to walk instead of ride it. But I will have my revenge soon.
I was being watched by a herd of what looked to be mouflon sheep. They were curious but they did not want to come too close. Took a picture before I attacked the hill. As said, on foot.
The loop then incorporates another new section, very tricky and with deep ruts which were just ride-able. There was not much mud but I can imagine a lot of walking here when it has rained. Back towards Gottechain and then crossing to Bossut. Here another newly-found track moved me between houses and gardens. The track then leads towards Nethen and into Meerdael forest .
Closing the loop I had nearly 40K which was more than enough for a first outing. I was not surprised to see almost 500 heightmeters on my Garmin. I think I will do this track again and I can recommend the Haasrode organised ride, it should take place around August the 15th.
With an average heartrate of 141 I still have some way to go back to becoming fit. But I hope a first step has been taking. I will have to wait how my body reacts to the stress put upon it. Tomorrow I have another appointment with the kine for my shoulder. It behaved quite well today but towards the end of the ride it began to bother me. So all is not well in that department. Stretching needs to be done and the stretches are long and deep.

Ride Stats : 39K and 450/490 heightmeters (Polar/Garmin) in 2h24mins

306/2775
08-03-2011, 20:31 geschreven door Big Bad Wolf
22-02-2011

Brooks England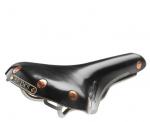 A while back I decided to put a Brooks Swift Titan saddle on my soon-to-be built Litespeed Vortex. I just was a bit hesitant about the color but at long last I decided on an easy black. I also ordered a matching set of bar tape in leather. This will surely add some comfort to the steering. The Brooks saddle must be among the most comfortable around although it takes a while to bed in and it also weighs in rather heavily at 390 grammes. But I am confident it will be a valuable asset to my road bike.
It was sunny but cold when I rode out late in the afternoon and I managed to get a good ride in. My heartrate was lower than it had been on comparative rides last week and also my shoulder seemed to be less painful. Thanks no doubt to the TLC applied by my kine and his young apprentice, who gave me a good massage yesterday evening.
With an average temperature of 3 degrees C I arrived just after dark. I noticed my tail light needed batteries so I changed those as soon as I got home. Safety is primordial when riding at dusk or in the dark and it is better to be safe than to be sorry.

Ride Stats : 37K and 235/275 heightmeters (Polar/Garmin) in 1h49mins

267/2285
22-02-2011, 19:35 geschreven door Big Bad Wolf
20-02-2011

2 hours
Cold and wet when I left for another ride this morning. It was drizzling very slightly but the temperature of 3 degrees C made it feel worse than it actually was. I wanted to do a 2-hour ride today so I set out for Ottenburg and then passed through Archennes. There was a mountainbike ride there and it looked like they had a good turnout. Someone on a road-bike passing me called out my name, but I did not recognize him, sorry for that. If you read this, let me know who you were.
Riding on through Grez and Cocrou and then passing in Pietrebais where I had to sit down on a very steep hill. I was trying to keep my heartrate down so had to ride really easy, making it a power-training. Back over Nodebais and Hamme Mille to reach Meerdael Forest again with the feeling of having done a solid ride, all things considered.

Ride Stats : 41.5K and 315/385 heightmeters (Polar/Garmin) in 2h8mins

230/2010
20-02-2011, 14:36 geschreven door Big Bad Wolf
19-02-2011

Wind and sun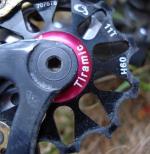 4 degrees and a shy sun accompanied me when I rode out in the AM. The wind was blowing fiercely from the north and it felt colder than yesterday. During the ride the sun disappeared but near the end it appeared again, and whilst the wind was now blowing more or less in my back I enjoyed milder temperatures with an average throughout the ride of 5 degrees C.
My heartrate is still too high for my liking, so I watched my Polar during the climbs to keep it below 138bpm. Or at least try to keep it there. I do recover quickly because as soon as it goes downhill my heartrate drops towards 120 or lower. But even on the flats it stays around 126 and I would rather have it below 120 at that time. But perhaps I need to be a little patient and allow my body to adapt from being sedentary for a month to being asked to perform during physical exercise.
The ride was uneventful, more or less the same parcours as yesterday with an added loop over Nethen and Sint Joris Weert and finishing with the Weertse Dreef.

Ride Stats : 35K and 240/275 heightmeters (Polar/Garmin) in 1h46mins

189/1625
19-02-2011, 13:22 geschreven door Big Bad Wolf
18-02-2011

Colder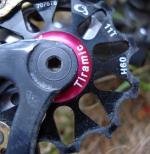 Only 3 degrees C when I rode out around 1pm for an easy LSD ride. Legs were fine and the shoulder was also feeling better. So I did my standard ride connecting dots with the names of Haasrode, Bierbeek, Bremt, Neervelp, Opvelp, Beauvechain, Tourinnes, Nodebais and Hamme Mille before arriving back home along the Naamsesteenweg. I passed chez Filip Sport earlier today and the Reynolds/Seven carbon fork will be shipped today. So all I need it a set of wheels to start the Vortex buildup. I have to wait for Gregory Joseph to return from the Tour of Oman to check out some Campagnolo Neutron wheels he has for sale. In the meantime I already ordered a pair of Continental Grand Prix Attack/Force road tyres. I hope they live up to their reputation of being puncture resistant and offering great mileage and good traction.

Ride Stats : 29.5K and 250/285 heightmeters (Polar/Garmin) in 1h19mins

153/1350
18-02-2011, 15:14 geschreven door Big Bad Wolf
16-02-2011

Sun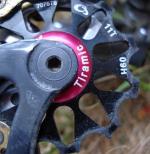 The visits to the kine are starting to bear fruit. My shoulder is definately getting looser and I can almost move it through the complete circle now. Still changing my position on a bike still sends pangs of pain down through the front of the deltoid. My doc thinks its originating from the supraspinatus muscle which I strained during a near-fall cleaning snow.
Anyways, I did a slightly longer ride again today and all went well with legs and lungs. Heartrate was still a bit high with 135bpm average but I had a bit more heightmeters also today with some sharp climbs. My legs are still not very strong on the climbs so I have to wait and work on that to regain that strength gradually without overdoing it.
The sun was out and with an average temperature of 10 degrees C the ride was a very pleasant one. At the end the moon was rising in the northern hemisphere.

Ride Stats : 37.5K and 305/360 heightmeters (Polar/Garmin) in 1h43mins

124/1065

16-02-2011, 18:31 geschreven door Big Bad Wolf
14-02-2011

Drizzle in the dark

Koen from Poco Loco came by to show me the titanium version they are developing to complement the Sandman range. This was only the prototype (#2 of 5) of a titanium Gobi but the build quality was excellent. Sandman uses the same titanium welder than Hilset used to do - the Chinese Chian Chang Da factory - but the Chinese have evolved a lot since the Hilset years. They have refined their craftmanship even more and just looking at the finish of the welds gives you a confident feeling they are really on top of this craft.
So after a good chat about titanium with Koen - who was leaving for China tomorrow to finalize a deal for 100 frames and wanted some background information on the art of titanium bikes - and some picture taking I was ready for a ride with my Hilset when darkness was falling.
I went for a relaxed ride along easy roads and it was raining very lightly throughout the entire ride. Seeing the Sandman Gobi and talking about titanium frames and craftmanship made me long even more for the buildup of the Litespeed Vortex I acquired last december. Filip Sport is waiting for delivery of a Seven/Reynolds carbon fork to start the buildup. I can hardly wait to have it finished and having a titanium roadbike for the spring and summer.
But for now my trusty Hilset lead me along the wet and dirty roads passing through Nethen, Pecrot, Eerken and Sint Agatha Rode. Then towards Sint Joris Weert and the Zoete Waters to finish my ride with a little bit more kilometers than yesterday.

Ride Stats : 29K and 185/220 heightmeters (Polar/Garmin) in 1h18mins

86/705

14-02-2011, 19:48 geschreven door Big Bad Wolf
13-02-2011

Back on the road again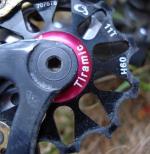 Long time no ride. First obviously the time needed to recover from my kidney stone and the removal of it, and then 2 weeks later the removal of the stent they inserted between my kidney and bladder to keep the kidney from being blocked again. And then I had to go to the kine to have a look at my shoulder which appeared to be blocked. I suffered a trauma when I slipped whilst cleaning snow and had to grab my shovel to keep me from falling. This happened the day before Christmas. Since then obviously I felt some pain and have been altering my posture to keep the pain to a minimum. This put some strain on other tendons and muscles and there you go..
After 3 treatments the shoulder feels better now and I am nearly back to full movement. But it is a process that will take some more time.
But in the meantime, I'm back on my bike again. My legs felt great after a month and a half of non-activity . Of course some of the strenght is gone but the fitness is still there and riding on the road there is no problem. I have to take it easy though, riding for short periods and gradually building up the pace and/or distance.
It was difficult to choose the right clothing because I have been "out of synch" with the weather for a while and I had to guesstimate the number of layers I would need. As it turned out I was just fine with 3 layers of shirts and a wind cover. My ride took me towards Heverlee, where I noticed the massive amount of bikers at the arrival of the Zoenk ride.
Adding a bit of spice to the ride I climbed up to the Park Abbey and then turned towards Heverlee and Oud-Heverlee to finish my ride along the Zoete Waters and Vaalbeek. My average heartrate needs to come down a bit but I'm sure this will happen during the next couple of rides.

Ride Stats : 23K and 165/195 heightmeters (Polar/Garmin) in 1h4mins

58/485
13-02-2011, 13:00 geschreven door Big Bad Wolf
20-01-2011

Sister Morfine
Thursday January 13th:
Lying in bed with sister Morfine. Does not sound like a lot of fun and indeed it is not.
Yesterday evening I had to be driven to the Emergency Room in a Leuven hospital with excruciating pains in the left kidney area and indeed it turned out that I suffer a kidney stone. At this time sister Morfine is keeping the pain at bay while the specialists are discussing the plan to move forward.
Wednesday January 19th:
After 3 days of pain, last friday the pain dimished to a vague throb. I had to drink a lot now hoping that the kidney stone would move out of the urethra and into my bladder. Sadly it did not. Yesterday I underwent urethoscopical surgery to have it removed. Surgery went fine but I had an allergic reaction to the drops they put in my eyes during narcose. Upon waking my eyes felt like they were filled with grains of sand, causing them to water constantly. I got a visit from the eye doctor and she gave me a soothing ointment. Last night was a long one.
Thursday January 20th :
Home again and starting a period of convalescence. I lost 3 kgs of weight but I'm feeling OK except for the pain when I have to urinate. This is normal and should diminish over the next couple of days. Time to catch up on some reading, watching TV and trying not to think about the cycling I'm missing out on.
20-01-2011, 11:01 geschreven door Big Bad Wolf
01-01-2011

New Year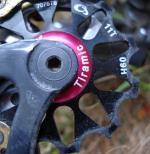 A new year, and I could not resist riding out to get last nights' dinner out of my system. It was 2 degrees C with a slight drizzle and some thaw mist. Not exactly pleasant conditions but there was no wind and I was riding a clean bike. Having cleaned the Hilset and the Sandman yesterday evening. I did a medium loop connecting the dots between Haasrode, Bierbeek, Opvelp, Beauvechain, Tourinnes, Nodebais, Hamme Mille, Nethen and Sint Joris Weert. Then on towards the Zoete Waters where I stopped briefly to take a picture of the fog over the ponds.
Arriving back home it was still drizzling and the temperature was still 2 degrees C. A very normal ride and looking around when I passed the forest I could see it had become wet with the thaw. The snow was still there, but very mushy and very difficult to ride though. The main roads seem to be clearing with mud taking the place of the snow. I hope it will start to freeze and that things will dry out. But with the two coldest months still ahead that should not be much of a problem.

Ride Stats : 34K and 250/290 heightmeters (Polar/Garmin) in 1h36mins

34/290

The New year then, let me take this opportunity to wish you , my reader, a very healthy, happy and fruitful 2011. May you spread joy and happiness wherever you go.
May the spirits of arrogance, egoism and intolerance be banned out of our lives. It seems like the world is gliding more and more into the hands of that motley threesome.
I wish people would be more patient, understanding and honest among each other. That would make a better world for sure.
For me 2010 will be remembered as the year 'I got Lyme' but I also see some good things. I am - generally speaking - healthy and fit and I also enjoy the honor to have some good and valued friends and a lot of acquantances . What would we be without them.
For 2011 I am hoping to 'get out' more. Take some opportunities and generally 'go for it' instead of turning the coin around and around without being able to take a decision. You only live once as far as I know, so you better make the most of it.

01-01-2011, 14:08 geschreven door Big Bad Wolf
29-12-2010

Goals and reaching them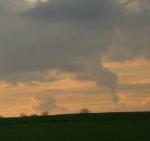 Took the Hilset out this evening over the snow-free roads. The bikepaths were still covered in 20cm of snow so I had to ride amongst the cars but I was carrying very visible lights in the front and back of the bike , lots of reflective clothing and a KBC-reflection gilet to top it off. The bike was still very dirty from its last outing a couple of weeks ago. With the winter offensive I have not been able to clean it. The hose with which I rinse my bikes is frozen solid. Have to wait until it thaws. I also have to clean the Sandman before I return it to its owner. But I hop I can use it in dry cold conditions one more time before doing so.
For today I decided to ride through SInt Joris Weert and Nethen to Pecrot and then onwards to Ottenburg on my quest for the last 100 heightmeters to reach my 2010 goal ; the 100.000 heightmeters mark. There was some thaw-mist forming and the temperature was above zero, around 2 degrees C on average. Felt colder though but that might have had something to do with the mist and the fact that I ride a little faster on the road than during my offroad quests of the last couple of weeks.
The month of december has not been an easy month for bikers, well at least for those who like to bike outside. Cold, lots of snow and icy conditions . So it almost seems like a small miracle that I biked 400K and 7500 heightmeters . I am very proud that I reached my goal, notwithstanding all the bad luck I had in september and with the weather conditions being what they were this last month of 2010. Now I can relax for a couple of days and allow my body to catch up on the recovery.

Ride Stats : 34K and 300/335 heightmeters (Polar/Garmin) in 1h39mins

9047/100235


29-12-2010, 20:31 geschreven door Big Bad Wolf
27-12-2010

Snow and Ice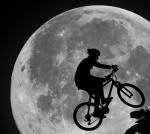 No snow today but with a maximum temperature just below 0 the snow didn't melt much either. Decided to ride to Nethen and do some climbing on the Beaumont crest before riding towards the Tienne Vincent for another couple of heightmeters. The 100.000 heightmeters mark is coming closer and I'm getting impatient to get there.But the weather is not exactly on my side. In normal circumstances I would have passed the mark a while back but now the very difficult weather conditions do not allow for 1000-heightmeter rides. So I have to be patient and not forsake my safety for a quick gain .
The track leading up to Beaumont was a lot icier than last saturday and I had to walk the steepest part. The many wheels had honed the track to a perfect icy mirror. Not much grip and it was difficult finding traction even when riding on the flat. But I managed to find some on the very edge of the car trails where some loose snow was covering the ice. Down the Rue de Pecrot which was also more dangerous now. And then back up the Ruelle du Cure for a couple of times to complete the first part of my quest.
Riding towards the Tienne Vincent then which I attacked 3 times, turning 180 degrees at the top and riding back to the bottom to make things easier . When I returned from the 3rd ascent I followed the road towards Hamme Mille for a while and then rode up the Bruyere du Wez. Luckily the middle part of the road was loose snow so I could make the 17% grade without much troubles. Riding down the Tienne Vincent again for another loop and then back up the Bruyere again. By now the sun had set behind the horizon and this effectively became a night ride.
I decided to ride back through Meerdael Forest. The first part was better then last saturday because the had bulldozered the forest road so I could ride in the middle of it and avoid the icy jeep tracks. But then there were only the jeep tracks left to ride in and things got very very difficult. The ruts were deep, icy and narrow. So I had to take care when pedalling not to touch the sides of the rut , and also not to slide away and ride through dark muddy puddles.
The bike behaved well although I was wishing for the narrower Q-factor of my ordinary bikes which is 3cm narrower compared to this one. I was glad when I reached the Weertse Dreef. This was still closed for regular traffic but there were good solid jeep trails here, not so deep and a lot wider. Also, less icy which was a relief after the struggle I just had. When I turned into the Prosperdreef there where no jeep tracks any more but I could follow the footsteps left by many walkers. This made for a wobblier ride but at least I could still ride. Reaching the Naamsesteenweg at last I was almost relieved to get out of the dark icy forest.

Ride Stats : 27K and 395/455 heightmeters (Polar/Garmin) in 1h58mins

9013/99900

27-12-2010, 19:38 geschreven door Big Bad Wolf
25-12-2010

There and Back Again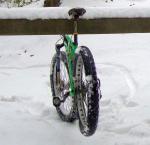 Sun was shining today and beckoning me out for a ride. With 30cm of snow I already knew that the plan would be simple. Only take roads where there were already trails drawn by jeeps or tractors. Riding up to the Kluis I quickly noticed the amount of snow on the trails was really huge. The jeep tracks were the only way where you could keep the bike rolling. Big tyres or not, getting though a layer of snow of a foot or more is simply not possible. Or at least not for hours on end. I had a little plan to do my climbing loop behind the Kluis but when I got there I quickly learned that the only way you stood any chance of getting through that snow was riding downhill.
I then decided to ride towards Nethen and try some of the small backroads. Passing over the Beaumont Hill I had my first glance of ice on the tracks. Due to the steepness of the hill I was forced to walk. I came to the big road between Pecrot and Nethen which was completely deserted except of some walkers with sledges and the occasional 4x4. Dropping down into Nethen along the big road gave me some time to relax. I climbed up the Ruelle du Curé a couple of times before I rode through Nethen to have a look at the Tienne Vincent and the Bruyere du Wez. Took the Bruyere first and it was really tough getting up because of the 17% slope and the icy on the tracks. Dropping down the offroad track into the Rue du Tienne Binard was a real kicker. Letting the bike find its way on the top section, having to avoid a fallen treebranch and then into the Tienne itself trying to stay away from the icy patches. Riding up the Tienne Vincent was easier. As far as you can call an 18% slope easy of course. The tarmac was visible through the snow on the tracks drawn by the cars. Obviously they had usd salt here. Back down through the Tienne Binard and I decided to ride towards the other side of Nethen again to do another couple of climbs up the Beaumont Hill. The second one, following the Rue du Bois Brulé was too much to ride. There was only a single jeep track and the steepness forced me to a standstill, having to walk the last section.
Oh well, I can accept defeat. From the Rue de Beaumont back down to Nethen along the Rue de Pecrot. Then up the Tienne Vincent one more time this time riding straight towards the La Trace forestry and into the Meerdael Forest. The road down towards the Naamse Steenweg was very icy in the tracks. I had some narrow escapes but managed to keep the big rubber tyres on the track. I followed the Naamse Steenweg out of the forest and back home. Had a good but very demanding ride. Both mentally and physically my forces were drained by the constant demand to be alert and the sheer difficulty of riding a bike through these conditions.
Again , I was very impressed with the Sandman although at time I wished the 3.8 Surly Larry tyres would have had a but more knobs. The Larry is a compromise tyre that performs great in most circumstances except the really bad ones demanding extra traction. Perhaps an Endomorph would have been more suited for this deep snow conditions.

Ride Stats : 29.5K and 410 heightmeters (Garmin) in 2h27mins

8986/99445

25-12-2010, 16:34 geschreven door Big Bad Wolf
Gastenboek./.Guestbook
Druk op onderstaande knop om een berichtje achter te laten in mijn Gastenboek. / Press the button below to write in my Guestbook.
Email Me
Press the button to send me a mail