Tales from the Woods
17-07-2010

Around Leuven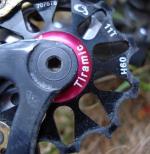 A pulled muscle in my lower back made me take it easy for a couple of days but today I wanted to see if I could ride again. So I set out , after it had rained a bit in the AM, for an easy recovery ride. Ride which took me through Heverlee and to the Parkpoort in Leuven. I then followed the rind around Leuven , pausing briefly to take a picture of the monument Rik Poot erected in front of the KBC Insurance buildings. It is called 'The Abduction of Europa' and pictures Europa being taken away by Zeus, in the form of a majestic bull.
I then continued along the ring around Leuven until I reached the Naamsepoort. Here I disappeared into the smaller alleys and my road then took me towards Heverlee and Oud-Heverlee. Along the Zoete Waters and further towards Sint Joris Weert and Nethen. From there it was only a small stretch towards Hamme Mille and Meerdael again. I felt Ok throughout the ride and now have to wait how the muscles will react to the strain of the ride.

Ride Stats : 37.5K and 250/290 heightmeters (Polar/Garmin) in 1h40

5355/56555
17-07-2010, 14:27 geschreven door Big Bad Wolf
14-07-2010

Birthday Ride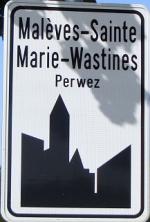 Rise and shine at 7.30am to beat the heat. I was planning to combine the 50K of the 1W Tour des Loups, with the 100K of the BizOnTheBike . Starting out in Pietrebais the 1W moves slowly towards Perwez. The wind was blowing hard from the south - a dry hot wind - and I struggled a bit in the beginning. Not wanting to stress myself too much in view of the lenght of the ride - I guessed it would be between 85 an 90K - I took it easy and tried to enjoy the sun which was already making its way like a speedy fireball towards the zenith.
Passing through villages with names like Maleves Sainte Marie Wastinnes I reached the outskirts of Perwez and took the 50K version of the 1W along the ravel towards Ramillies
Then the track turned towards Mont-Saint-Andre and Bomal. A bit further the track then is joined by the 90K 1W trail as it drops into Jauchelette.
A tough bit is the climb out of Dongelberg, where the sun is hammering on my back. After Dongelberg I reach Lathuy and when I cross the N240 and enter Melin I have to switch from the small 1W signs to the big blue BizOnTheBike arrows. My trail now leads me to Saint Remy Geest and Zetrud Lumay. I pause to take a picture of the Hoegaarden church before entering this village at the edge of the language border.
The trail now makes a loop towards Hauthem and the Marollen Chapel before entering Hoksem where I take a picture of its unique church with the two church roosters.
A long uphill and fast downhill takes me to Kumtich where the track at last turns towards Willebringen, Neervelp and Bierbeek. It turns out my guess was exactly right since the trail measures almost 90K. With a riding time of almost 4 hours I beat the midday sun. When I arrive home some small clouds begin to appear. Perhaps we will see some rain in the afternoon.

Ride Stats : 89K and 680/735 heightmeters (Polar/Garmin) in 3h59mins

5318/56265
14-07-2010, 14:02 geschreven door Big Bad Wolf
12-07-2010

Extra Meerdael Classic
This morning saw the passing of some thinderstorms with only mild rain. So in the afternoon I decided to try my luck offroad and headed out with the Moots towards Pecrot. I had decided on doing the extra loop the 100K meerdael classic did after the split from the 67K distance. I had noticed that this 37K loop had around 700 heightmeters, nearly half of the entire 100K distance. And of course my legs had also noticed the relentless succession of climbs and descents. So after a bit of work with Mapsource I had extracted that loop and loaded it in my Edge 705.
Starting in Pecrot with the infamous railroad singletrack followed by a climb and descent towards Florival station. Then the loop goes towards the Laurensart forest for a great loop followed by a passage through Ottenburg and down along the Oliestraat. 22% climb into St Agatha Rode Bos and then following the Overijse loop for a while before taking a right towards Terlanen and up through the Zandstraat. A first passage on the Smeysberg. The most difficult climb on the Overijse trails is also there, and at the top you have a beautiful lookout over Huldenberg. The Brabanders were there so I paused briefly to take a couple of pictures.
Then a fast downhill through a tricky hollow road into Huldenberg and a bit of recovery along the edge of the river Ijse. Not for long though because the trail then does 4 climbs in the Margijsbos. Yes, an amazing loop this one. Down towards the Langerode and then yet another long climb back up the ridge. At last a downhill towards the Langerode again and a passage through Sint Agatha Rode brings me towards the Marbaise where the trail ends . Amazing loop, and a tough one as well. You can find it on my Garmin Connect page where you also find the complete 100K if you should feel the need to ride that.
But if you only have a limited time I want to recommend this extra trail. It is one of the best loops I've done in a while in this region. There is not much I would add, given the already large amount of hills, descents and curvy singletrails. Be prepared for a 2h30-3 hours ride though.



Ride Stats : 60K and 810/885 heightmeters (Polar/Garmin) in 3h28mins

5228/55530
12-07-2010, 20:28 geschreven door Big Bad Wolf
11-07-2010

Huppaye
Despite the passing of a few thunderstorms, with some welcome rain, the temperatures were already rising towards 25 degrees C when I rode out a little before 9am. I wanted to do a substantial ride before it got too hot. I rode over Bierbeek and Meldert towards Hauthem and then descended into Hoegaarden. Following the Ravel just past Jodoigne to where it crosses the incoming track of the 1W ride.
This happens in Huppaye. From there I followed the 1W ride over Dongelberg, Lathuy and Melin to the N240. Here I followed that road towards Hamme Mille and then took a left towards Nethen for a last loop over SintJoris Weert and the Zoete Waters. By now it was nearly noon and the temperatures had risen to a comfortable 30 degrees C. Good thing there was a good breeze blowing from the west. When I arrived home I could see the first clouds forming on the southern horizon. More thunderstorms are forecast later today and tonight.

Ride Stats : 67,5K and 425/525 heightmeters (Polar/Garmin) in 2h57mins

5168/54645
11-07-2010, 13:22 geschreven door Big Bad Wolf
08-07-2010

Fighting Falcon
I started an hour earlier today to try and beat the heat but I still had 2 degrees more on average than yesterday. 29 degrees C that is. Good thing there was still a breeze blowing because there was not a cloud in sight to stop the sun from beating down. I did another 'in point' ride, riding out over Hamme Mille and then through the fields along the N91 towards Pietrebais and along the N240 passing the main entrance of the Charles Roman 1W Airbase. I then took a left towards Melin and then crossed the N240 again on my way to Lathuy. In the fields past Lathuy , one hour into the ride, I took a 360 degree turn .
I took the same way back but decided to have a better look at the General Dynamics F16 fighter that was recently put on display on the entrance of the Charles Roman Airbase in Beauvechain. I took a series of pictures that can be viewed HERE. Here is an example.
From there I took a turn towards the N240 again and followed my way back home along the same way I had ridden an hour ago. I also stopped by the little chapel outside Nodebais for a brief rest in the shade. I like to read the texts that have been written on its walls.
From Nodebais it was a short way through Hamme Mille and into Meerdael Forest to get home just past noon. It promises to be a very hot day and it really should rain because the fields are so dry the harvest is in danger. Maybe tomorrow some thunderstorms might reach us, but that is not the kind of rain the land needs. It really should rain for a day , soft and continuous. But that is not in the immediate future it seems.

Ride Stats : 48K and 365/465 heightmeters (Polar/Garmin) in 2h12mins

5101/54120

08-07-2010, 13:41 geschreven door Big Bad Wolf
07-07-2010

Notre Dame des Affligés
Sun is out, even with a stiff breeze blowing from the south things were heating up very fast. Rode out with no particular idea for a route in my mind. So I started by following some orange arrows that brought me to the Zoete Waters and then to Sint Joris Weert and St Agatha Rode, there I rode towards Terlanen and climbed up to Ottenburg. Here I decided to ride towards Basse-Wavre and connect to Gistoux and Chaumont, following the same route like the Tour de France did 2 days ago. Just past Gistoux I took a left turn and made my way towards Longueville. Here I paused briefly in the shade of the Chapelle du Cheneau, or as it is officially know, the Chapelle Notre-Dame des Affligés.
Riding along towards Heze and Grez Doiceau I felt the ultimate joy in cycling, a slight downhill with a gentle breeze and the sun in your back and overlooking some very beautiful landscapes. From Grez I took the direction of Hamme Mille, passing through Bossut on the way, and then back home.

Ride Stats : 58K and 510/550 heightmeters (Polar/Garmin) in 2h40mins

5053/53655
07-07-2010, 14:59 geschreven door Big Bad Wolf
06-07-2010

Paenhuys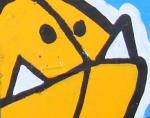 Took a day off to watch the passage of the Tour de France yesterday but today I was bike on the bike for a relaxing ride taking me along the Vlaanderen Fietsroute LF6 all the way to Hoegaarden. There, having ridden an hour, I turned the bike around and rode back along the same way. The weather was better than yesterday - look at the pictures I took from the Tour passing in Chaumont Gistoux on my Flickr account - with the sun back out. There was still a good breeze blowing and the occasional cloud prevented it from feeling too warm.

Ride Stats : 43,5K and 380/415 heightmeters (Polar/Garmin) in 2h4mins

4995/53105
06-07-2010, 13:59 geschreven door Big Bad Wolf
04-07-2010

18th Meerdael Classic 100K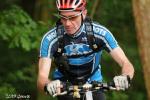 Been there, done that, got the T-shirt. Looks easy when you read this but this years' edition of the Meerdael Classic was not that easy. The weather had been very hot in the days leading up to the weekend , with a 33 degrees day on friday, and I didn't bike offroad since last monday. The fear of getting bitten by horseflies also kept me on the safe side of caution. Yesterday saw a little bit of rain during the day, but that was far from enough to change the dry conditions. This morning it was cool and fresh but it promised to be a good and sunny day.

The Ride :
Got out of bed at 6am and took my time preparing for the start. Around 7.27 I set off, having pre-inscribed I also had a T-shirt coming my way but I decided to pick that up after the ride. The first bit of the ride took us into a cool Heverlee Bos for what may be considered an easy warmup. The trail moves towards Korbeek Dyle, not before following a lesser known track to get to the Natur Natur center. The sun is out but luckily there are also clouds which keep temperatures bearable. Moving towards the Heverleebos again the trail takes us into Vaalbeek and then after 18K we arrive into Meerdael Forest at last.
The track through Meerdael Forest takes me over the Naamsesteenweg and towards Haasrode where a first rest stop awaits us at the Bremberg We are 23K into the ride. Lots to eat and drink but they might have offered something more Sports-people minded than cookies and chocolate bars. There is water and also some sports beverage.
After this welcome break the trail moves towards Bierbeek where we pass the start of one of the Meerdael Bloso trails. We also follow this trail, albeit in the opposite direction, and things are spicing up a bit now with the addition of a climb here and there in the Dikke Eik region. Passing the Naamsesteenweg again the trail now moves towards Nethen where more serious things await us. Starting with a nice singletrack followed by a technical descent into Nethen. A long climb over cobbles takes us up to the plateau but we descend right away back down and then venture into the Lianenklim. A local hotspot which consists of a long and technical uphill through a deep hollow road. Due to the dry conditions it is completely ride-able if you can deal with big sandstones, deep ruts and the occasional log. The trail then moves towards Bossut where a second rest stop is situated. 40K into the ride already. I borrow a pump to add some air to my rear tyre. Good thinking of the organisation to have a pump, chain lube and a small technical toolkit at every rest stop.
Down into Archennes for a first loop which leads us to a sandy uphill. I did not manage it, I believe few did. It takes us up into the La Malaise area where a tricky downhill has many a brake a-squealing. Back up and towards Nethen again after another stony and rutty descent. Having local knowledge of the trails certainly helps because I see a lot of people struggling trying to find the good path to take you down. Back up again through a long hollow road climb that leads us towards Pecrot. Here a first highlight of the Classic follows. Taking the railroad singletrack, followed by a long climb up the crest and then zooming back down along a man-made downhill with lots of berms and whoops. Down in Florival the 100K leaves the 67K for an extra loop.
The track now moves towards a beautiful long uphill along a very deep valley in the Bois de Laurensart. We are ride in file Indienne and it is impossible to pass the slower riders in front of me. I relax and take the moment to look around and gather my strenght. After a short stint on the plateau we drop down a very steep trail and arrive at the Gastuche side of Ottenburg. Slowly riding back up again between field and forest and we are set for a bit of fun next to Ottenburg. First a very small track leads me down to another track which takes me into a deep and lush valley. Covered with grass and surrounded by forest on 3 sides. A very beautiful spot. Here we meet the Red Overijse Bloso and they decided to take the next-to-impossible climb up the crest. They might have just followed the red and take the less steep climb instead. But no time to fret, we drop down again and I have to really dig deep to make the short steep uphill that follows. Crossing the road from Florival to Ottenburg for yet another climb. Crossing the road from Sint Agatha Rode to Ottenburg and down the tricky Oliestraat. I see a biker with a flat tyre. Careful here. Then follows the steepest climb of the day when we grind our way up the steep slope of Sint Agatha Rode Bos . I make it, lots of people don't. Crossing the road from Sint Agatha Rode to Ottenburg again, we did a loop , and a little further awaits the 3rd rest stop.
I meet someone I know from years back when he was still with the Blancs Gilets. We ride some time together but he is too strong so I let him move away. The sun is out more now, and when I ride up the Zavelstraat that takes us close to Huldenberg I begin to feel my legs. Obviously they could not leave out one of the trickiest uphills on the Overijse trails. I make this one as well. Kudos go to the Moots .
Down into Huldenberg again and then the trail follows the river Ijse for a while . A well - deserved break.
But not for long because now another highlight of this ride is upon us. They takes us into the Margijsbos and up the Smeyberg crest for no less than 5 climbs and downhills. Somewhere along those climbs we pass the 1000 heightmeters mark. Some nice singletrails here and they take advantage of every opportunity to make this 100K loop worthwhile. When we arrive in Sint Agatha Rode at last we get another easy bit before entering Marbaise and discovering the 4th rest stop.
Here the Red Bull girls are waiting for us. Pity their beverage doesn't do full justice to their looks. Its what Red Bull calls cola but besides it being cold it doesn't taste like much. I add it to what is left in my drinking bottle and move along for the last 12K or so. The trail now takes us back to Nethen where we enter Meerdael Forest again and have to tackle another couple of climbs. The zooming downhills now demand full concentration. With the strength fading from the legs, I tend to let things hang out a bit on the downhills. Not a good idea when they are dusty and full of ruts. Dipping into Sint Joris Weert for a little bit and then moving towards Meerdaelhof where a sign tells us what we already knew.
Only a couple of K to go now, before we reach the football field of the Zwarte Duivels, where I started some 6 hours ago for what proved to be one of the more difficult Meerdael Classics I have ridden. These are the facts as they appeared on my instruments after the ride.

When I got home I discovered I had been very lucky today. I had felt a bump with every turn of my rear wheel but I couldn't pinpoint its source. I thought it must have been because of my wheel being out of true. But then I saw this

. Scary to say the least. When you consider all the stones, lugs, cobbles, gravel and other nasties I have been riding over today its a small miracle that tyre didn't burst.

The Lowdown :
Not much can be added. Once again the Downhill Bikers have offered us a great ride. There were some new sections this year and - judging from the facts and the feeling in my legs - they made the ride more hilly. The organisers never fail to make the most of this region, without overdoing it. A subtle difference. Some new tracks - at leats for me - and several sections on the 100K distance that make this ride worth its while. This is the 18th version and of course this organisation is hard to fail. I might say they are nearly flawless.
If I am pressed to find a minus point I could say that they might consider adding some food that is more apt for Sports use. Cookies and chocolate bars only offer fast sugars, not the much needed slow ones.


What I liked :

+Great Trails, with attention to lesser visited tracks
+Arrowing was more than adequate and sufficient
+4 rest stops on the 100K
+Good signage before and after every split.
+Plenty of water and some sports bevarage, also Red Bull (+girls ! ) at the last rest-stop.
+Bananas and oranges are OK for Sports .
+Well organised bike-park with easy system to collect your bike afterwards

What I did not like:
-not enough variety in food offerings. Cookies and chocolate are not exactly energy food for Sports.



Ride Stats : 114K and 1380/1525 heightmeters (Polar/Garmin) in 6h14mins
TT Stats : 100K and 1490 heightmeters (Garmin)
Hill factor : 14,9

4952/52690
04-07-2010, 00:00 geschreven door Big Bad Wolf
01-07-2010

Biz on the Bike 57K
Temperatures are getting hotter every day now and today saw 31 degrees C as the warmest day so far this year. I waited until 8pm before I ventured out . The hot air forced me to ride very relaxed and low-paced. I decided to do the 57K version of the Biz on the Bike trail. Leading me from Vaalbeek to Sint Joris Weert, then on to the Smeysberg and down again into Terlanen where another climb took me to Ottenburg. From there I rode to Eerken and then in Pecrot I took the split to the left towards Nethen. From Nethen to Hamme-Mille, Tourinnes la Grosse and Beuvechain. From there the last loop took me to Opvelp, Bierbeek, Haasrode and Blanden. When I arrived home darkness began to fall and I still saw 27 degrees on my Polar.

Ride Stats : 47.5K and 335/375 heightmeters (Polar/Garmin) in 2h09mins

4838/51165
01-07-2010, 22:31 geschreven door Big Bad Wolf
28-06-2010

Imelda watch over me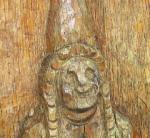 Holy hotness Batman !! Indeed, typical Belgian weather conditions, when its hot, its really hot and today the temperature went over 30 degrees in the shade. So the only option was to get the Moots out for a 'cool' ride into Meerdael Forest. Having dressed up in long sleeves and 3/4 pants and having sprayed my arms and legs with a mixture against horseflies - made by the wife of a colleague, wife that uses this spray also on her horse - I rode out into the forest.
I stayed on the main roads and rode a leisurely pace. Anything faster wouldn't be very healthy. For those that frown at the above, let me remind you that I am allergic to horsefly bites and usually around this time of year I get bitten and have to spend some time recovering from the ever more violent allergic reactions. So I try to minimize the risks by covering up and spraying on some DEET or other product to drive the biting flies away.
This year I have been bitten already once, through 2 layers of clothing on my leg. Luckily it was only a scratch, the culprit must have been driven away by the movement of the fabric. So I only suffered a little swelling for a day or two. But that was the sign to go into high alert mode.
I stayed on the main roads and stopped along the Walendreef to take a picture of Imelda, the good witch, who has been carved into a tree by Ad Wouters as part of his 12 workings.
You can check them out at this website : http://www.geocities.com/brabo.geo/boomverbeelding.htm .
After less than an hour - which was more than enough because even in the shade of the forest the average temperature reached 25 degrees C - I was back home and tried to cool down taking a lukewarm bath.

Ride Stats : 17,5K and 120/175 heightmeters (Polar/Garmin) in 00h53mins

4790/50790
28-06-2010, 00:00 geschreven door Big Bad Wolf
26-06-2010

Biz On The Bike 100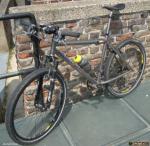 I had noticed some big blue arrows when I was riding the 1W tour earlier this week and today I wanted to see where they were heading. I noticed they also passed in Blanden so it was easy for me to pick up on them. At the Zoete Waters I noticed they were running double. In the direction on Korbeek Dyle and also coming from there. So I guessed the start must be somewhere near Leuven and followed the arrows towards Sint Joris Weert and further on. Quickly I noticed there were markings for something called the Biz On The Bike tour that seemed to be following the same trail as the big blue arrows. The trail meandered nicely in the region of the Smeysberg and then towards Ottenburg and Pecrot. Here there was a first split. 57K in one direction and 100 and 145 in the other. The heat notwithstanding I felt good and decided to try the 100K. After all, I would never reach a full 100K since I didn't do the coming and going from the start, right?
The trail kept on going up and donw in the region of Chaumont Gistoux and Longueville. Some very beautiful passages here and I was quite enjoying this. The sun was obscured by clouds from time to time and I had to use my one drinking bottle sparingly. I had passed a feed zone for this ride, just before the split in Pecrot, but obviously I was not allowed to stop there. I did not pay an entrance fee, I was merely following some arrows on the road.
Just before the crossing of the N91 in Incourt, there was another split. The 145K veered to the right and the 100K went straight ahead. I decided not to push my luck and stayed on the 100K.
The trail went into Dongelberg and then merged with the 1W route going towards Lathuy and Melin. In Melin the 1W veers to the left towards Sart, but this route turns right and goes on through Saint Remi Geest, with a passage on cobbles where I had the advantage over the guys with the racebikes. In Hoegaarden there was a second feed zone. From Hoegaarden the trail then climbs up on the crest and through smaller trails reaches Hauthem and makes a little detour towards the Marollen Chapel. Here I stopped but I noticed a lot of the racebike guys seemed to be taking a shortcut somewhere.
The trail then goes on towards Hoksem and Kontich before turning towards Willebringen. I really was getting though my drinking bottle and began to look around for places where I could score something to drink. But I found nothing. Moving through Neervelp and then towards Bierbeek I was only 10K from home anyways so I rode on. A car pulled up alongside me when I was climbing towards the World Globe in Bierbeek and my friend Roger emerged from behind the window. They had been to the Ardennes for a ride and he was asking if I wanted to join him tomorrow for an offroad ride. Honestly at this point I cannot say. I feel tired and will have to wait to see if I can recover sufficiently .
I have been trying a new product against horseflies . It is a recipe from a friends' wife, who uses it to protect her horses from the voracious insects. It smells like citronella and pickle juice but it seems to be working. I haven't tried it offroad yet. The smell is bad enough to scare away all living things. I have been using it for 2 onroad rides now . There have been no stains on my clothing and I haven't seen any insects on my clothing. Lets hope I don't react to any of the ingredients but so far nothing has happened.
Todays' ride was a good one. The trails from the Biz On the Bike event - I just learned they started in Heverlee - were great and offered a good alternative for future rides as well. You can check their website here : http://www.bizonthebike.be/ There are downloads offered for the 3 distances .

Ride Stats: 91.5K and 735/840 heightmeters (Polar/Garmin) in 4h10mins

4773/50615
26-06-2010, 16:28 geschreven door Big Bad Wolf
25-06-2010

Smell of cherries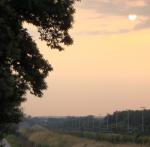 It was overcast but rather warm when I left in the late afternoon for an easy ride. The sun was shaded but I still had an average temperature of 23 degrees C. The summer is here and when I was riding towards Pellenberg and Lubbeek I was overwhelmed by the typical smells of hot weather. Freshly mown grass, cherries that were dropped and lie rotting under the trees, and sometimes also the sweet and heavy smell of rotting flesh when I passed some roadkill.
I took it easy today but still managed a nice average . Mainly due to the absense of wind and the fact that I had rested for 2 days.

Ride Stats : 53.5K and 390/405 heightmeters (Polar/Garmin) in 2h18mins

4681/49775
25-06-2010, 22:20 geschreven door Big Bad Wolf
22-06-2010

Route des Loups 50K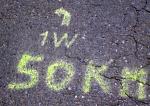 Beautiful day so I set out for a longer ride. I had noticed a distance split on the Route des Loups when I rode the 90K version on the 12th, so I decided to try and do the lesser distance today. I rode over Hamme Mille and then towards Pietrebais to pick up where the route starts coming from La Bruyere and the 1st Wing Airbase. There was much less wind than the last ime and I also felt a little better, possibly due to the clear and crisp weather. Since I already did this part I could make good speed and quickly arrived near the split just before reaching Perwez.
The 50K takes the Ravel back towards Ramillies and then turns towards Bomal and Jauchelette after which it reunites with the 90K for a superb last bit through Dongelberg and Lathuy towards Melin. It then veers off towards La Bruyere. When I reach the airbase entrance I noticed they put a an F16 on display. A real one. It nicely adds to the F 104 standing a bit further to commemorate the history of this military Airbase.

I looped over Beauvechain, Opvelp and Bierbeek to make it a nice little distance for an average weekday.

Ride Stats : 81K and 525/590 heightmeters (Polar/Garmin) in 3h29mins

4628/49370
22-06-2010, 18:19 geschreven door Big Bad Wolf
21-06-2010

Relax
After the cold weather this weekend the skies broke open today and when I rode out for a ride in the late afternoon temps were reaching 20 degrees C. My Polar failed to register my heartrate so I had to do without that for the entire ride. When I got home I switched batteries in the sender and it looked like that solved the problem. My next ride will tell for sure.
Today I settled on a good pace while I was battling agin a still strong wind in the fields above Leefdaal. I then rode towards Neerijse and onwards to Terlanen and Ottenburg before returning over Sint Agatha Rode and Sint Joris Weert.
Last saturday I got my first horsefly bite of the season. She bit through 2 layers of clothing - my trousers and a 3/4 pants underneath them - but luckily she didn't get the chance to do a proper job. Only leaving me with a mild swelling and some redness that seems to react well to Aerius medication. Looks like I was lucky. Nevertheless I will take my precautions the next time I venture offroad. As usual I didn't feel anything whilst I was being bitten. I only noticed a mild pain afterwards and didn't notice I was actually bitten until sunday morning when I woke up with the swelling.

Ride Stats : 40.5K and 295/365 heightmeters (Polar/Garmin) in 1h45mins

4547/48780

21-06-2010, 19:19 geschreven door Big Bad Wolf
19-06-2010

Nero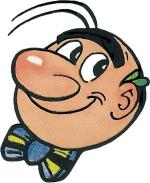 The weather had taken a turn for the worse overnight and when I rode out around 11am it was 13 degrees C and there was a cold wind blowing from the north. I wanted to ride towards the Sonian Forest today, and there do the local Bloso loop, affectionately called the Nero route. Nero, by the way, is a comic book hero in Belgium.
When I rode towards Duisburg, I could see the sun from time to time but there were also dark clouds gathering here and there. I wore a long sleeved jersey and was glad I did. In this first part though , I had the wind more or less in my back so that was an advantage.
When I arrived in the forest I noriced some droplets of rain but the thick foliage kept me as good as dry. The dropping barometric pressure added a couple of free heightmeters to my Garmin as I rode through Jezus-Eik and picked up on the Nero route just in front of the - infamous - railroad singletrack. There were - again - workings going on at the start of the track but the track itself was restored and felt quite good. Some little technical sections and then at the end they had added a couple of whoop-de-doos and berms. Nice section here.
The rest of the Nero trail was its usual self, fast forest lanes and 3 sections of interesting singletracks. When I neared the last one, alongside the Avenue Dubois, it had started to rain again and this, along with the darkness, made the singletrack a bit more difficult to ride. I was already thinking the way back would be a wet one when the rain subsided and when I came back to the railroad where I started, I had a bite to eat and waited for the clouds to disappear.
To my surprise, and this really was a stroke of luck, the north-easterly side of the Sonian Forest seemed to be almost dry. When I emerged in Duisburg and ventured into the fields leading me towards the Ganzepoel, I even saw the sun peeping through the clouds. Its warmth made me dry up fast and the wind seemed to have subsided as well. I rode towards the Margijsbos and the into Sint Joris Weert for some last stretches of forest and some nice tracks to finish off this ride.

Ride Stats : 76,5K and 770/1010 heightmeters (Polar/Garmin) in 3h58mins

4506/48415

19-06-2010, 16:35 geschreven door Big Bad Wolf
17-06-2010

Accro Bike 42K
Today I wanted to do the mother of all tracks in the Grez Doiceau region. The track that Laurent Saublens marked on a map for me almost 10 years ago. The track was then 42K long and was the scene of a chrono race in october every year. That race was organized by the Blancs Gilets, the club that I still belong to but that has changed its name to Royal Velo Club Ottignies Blancs Gilets after a merger with the Ottignies club 3 years ago.
The Accro Bike is no longer organised, too many troubles with the Chaumont Gistoux community which favors its own organisations and an unwillingness to organise a lame version of the original that stays on Grez Doiceau territority. But, as I have said before, I still have the original track buried deep into my brain and today I wanted to do the 'race' version. So I took the Moots to Grez and started out on this 42K long - 700 heighmeters trail that brings so many beautiful trails together. Hill after hill, in relentless succession and only offering some relief in the downhills and flat sections. Even so , some of the downhill are very treacherous with ruts, stones, gullies and other nasties that lie an await your mistake. The trails were bone-dry and I managed to ride each and every uphill. No mean feat considering the fact that there are a couple of 24% sections. But the Moots helped me with its flawless traction and perfect balance.
I noticed a lot of orange arrows and I believe these must belong to a Chaumont Gistoux or Wavre organised ride that has taken place in the last couple of weeks, judging to the freshness of the markings. I managed a good speed throughout the entire ride and I think I did the 42K in just under 2h30. When I think of the times the racers managed all these years ago - and in more difficult circumstances, october, remember - I had to shiver. I believe Filip Meirhaeghe himself still has the all-time record with 1h45 or thereabouts. Oops, thats an average of almost 24kph .
Nevertheless I did fine, considering the fact that I rode alone, had no incentive to put down 'a time' and am about twice as old as Filip was when he rode that time. Arriving back in Grez I rode home over Bossut and Hamme Mille, adding another 100 heightmeters to finish just over the 1000m mark.

Ride Stats : 67,5K and 890/1020 heightmeters (Polar/Garmin) in 3h45mins

4430/47405



17-06-2010, 16:09 geschreven door Big Bad Wolf
15-06-2010

whY Be Beat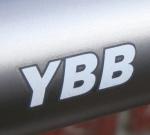 Sun was out and with a temperature of around 20 degrees C and a little wind I set out with the Moots YBB to cover the 3 Meerdael Bloso routes. I decided to do them in the opposite direction. Starting out with the Green in Blanden, then moving on the Blue in Vaalbeek and take the Red towards Bierbeek. The trails were perfect, the Moots was zooming and I was maintaining a good pace. I felt good and my legs didn't mind the pace. When I rounded the Red and moved on the Blue again there were a couple of hills waiting. I had crossed 4 or 5 bikers but when I reached the Nethen area I had the trails for me. Allowing me to let the bike go on the downhills and put on the power on the uphills. When I reached the Zoete Waters I hopped on the Green again. The worse of the hills was behind me now , a little nasty climb next to the railroad where I could once more enjoy the enhanced motricity the Moots YBB suspension offers. This bike now is 7 years old but it looks as new as when I bought it. Titanium does not corrode neither does it know any fatigue. At least not the kind susceptible by us mere mortals.
When I reached the E40 and followed the singletracks parallel to it I stopped to make a picture of where the trail has been altered. The old railroad crossing coming from the Oud Heverlee straat, is gone. You can see on the picture the arrow on the other side, pointing up the crest next to the E40. What you need to do when you get here is follow the Oud-Heverlee straat to the left for about 450 meters. There is a railroad bridge there where you cross the railroad. Take a right after the bridge and follow the road parallel to the railroad back down to the point where you arrive at the other side of the old crossing. Just after passing under the bridge where the E40 goes over. You can then follow the Green trails again.
Me I went in the other direction for the last section of the Green, taking me past the starting point in Heverlee and back into Heverleebos where I started my ride 2 and a half hours ago. I was surprised to see that I had a very nice average. Blame it on the bike and on my legs which were indeed very good today.

Ride Stats : 56.5K and 485/585 heightmeters (Polar/Garmin) in 2h39mins

4363/46385
15-06-2010, 21:35 geschreven door Big Bad Wolf
13-06-2010

Vespa meeting
Didn't sleep too well last night, possibly due to exhaustion. But this morning I did feel quite rested. After forfilling my duties as a Belgian citizen - casting my vote for the politicians which I feel are the less corrupted - I wanted to ride towards Haasrode and check out the Vespa Club which was having a big meeting there. So I took the Moots and mad my way along the edge of the forest towards the Deugniet where there were already many Vespa's on display. I took a couple of pictures and spoke to Fernand, member of the Downhill Bikers and also member of the VWB.
After a while I rode on and did a small loop inside Mollendaal forest, just relaxing my legs, not seeking any more tension on the muscles than absolutely necessary to keep the bike moving. It was a lot colder than yesterday and after a while I chose to ride out of the forest for a loop into the fields of Valduc, where the temperature was up a couple of degrees due to the sun trying to peek through the clouds. After a last loop into Meerdael Forest, always staying east of the Naamsesteenweg, I rode home.

Ride Stats : 22K and 180/280 heightmeters (Polar/Garmin) in 1h16mins

4306/45800
13-06-2010, 14:19 geschreven door Big Bad Wolf
12-06-2010

Route des Loups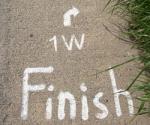 Thanks to Roger I got the GPS track from the "Route des Loups" (RDL) or 1st Wing ride, starting at the 1st Wing Airforce Base in La Bruyere. So why not try the 90K distance as a solid long distance ride. I started out and made the connection to the point where the RDL crosses the N240. The ride leads me first towards Roux-Miroir and Sart Risbart along the same roads as the Ludo Dierckxsens, a trail I ride very often. Then the RDL veers off to the left towards Opprebais where I stop to take a picture of a beautiful white windmill. The clouds are covered and at one point I feared it might start to rain but fortunately all I saw were some roads that were drying up after a little shower. I was spared from rain.
From Opprebais the RDL takes me now towards Maleves Sainte Marie Wastinnes and then into the town of Perwez. A little busy town where I have to look out for cars coming from all directions. After a couple of turns and carefully following the little ' 1 W ' signage I'm quickly out in the open again as I ride further south to Aishe-en-Refail and Mehaigne. The wind is still blowing in my back and the ride is a pleasant one so far. Some small hills and always ondulating up and down. The RDL now veers towards the East and more or less follows the river Mehaigne towards Wasseiges and Ambresin. Here some markers indicate a rest stop but obviously - since this ride took place last wednesday - I have to do without that. But I have my own food and drink and when the trail turns towards the north I begin to feel the wind. The clouds look like the sun will burst through any minute now and for a while I am riding on a plateau when I connect Merdorp to Thisnes. Then I am descending into the valley of the Petite Gette river and when I arrive in Orp-Le-Grand a long climb awaits me. The legs are beginning to feel the distance and furthermore the wind does its best to make it just that little bit more difficult. Near Marilles I stop to take a picture of some beautiful poppies next to the road. The sun does come out now and makes the wind a little less cold.
I am now back in places I have often been before and when I cross the Ravel 2 in Huppaye I stop for another bite to eat. Musn't let the energy levels fall down too much. From Jauchellete another descend in a beautiful verdoyant valley takes me towards downtown Dongelberg where I have to suffer another steep climb. Over Lathuy and Melin I then bike back towards the N240. Very beautiful region here, and the sun is now really burning a hole in my shirt. When I arrive in La Bruyere I stop the navigation on my GPS and head towards Beauvechain and Tourinnes to make my way back home. I had the track but with the GPS in my backpocket I only took it out when I wasn't sure of the signage. Still, its good to have this kind of backup, indeed in Opprebais at one point the signage was very confusing. For the rest I had no trouble at all following the little markings on the road. When I arrived home I was tired but also pleased with this ride. It was my longest so far this year.

Ride Stats : 112.5K and 720/845 heightmeters (Polar/Garmin) in 5h01min

4284/45520
12-06-2010, 20:34 geschreven door Big Bad Wolf
11-06-2010

Dyleland observer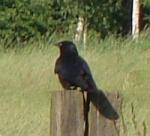 Took a couple of days' rest , while the weather wasn't too great - some rain and wind - and today I was very eager to ride out again. Looking for an easy ride so I set out on Moots for an exploratory ride though the Dyleland. Venturing into the Doode Beemde at 2 occasions, and making my way towards Neervelp and Loonbeek taking advantage of the nice trails through hollow roads and fields. The sun was out and it was a nice 20 degrees average with a little wind blowing to cool things up. I add some pictures taken in the Doode Beemde to share the beauty of this area with you, my reader.

Ride Stats : 35K and 360/400 heightmeters (Polar/Garmin) in 2h00mins

4172/44675
11-06-2010, 19:53 geschreven door Big Bad Wolf
Gastenboek./.Guestbook
Druk op onderstaande knop om een berichtje achter te laten in mijn Gastenboek. / Press the button below to write in my Guestbook.
Email Me
Press the button to send me a mail