Tales from the Woods
16-12-2006

Rain rain go away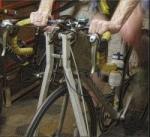 ..come again another day. Yeah, but it wouldn't so I took to the rollers for half an hour of loosening up the muscles.
News from the car side : The test drive with the Mazda 3 MPS was very satisfactory. It goes like a bomb and gives a very stable feeling in the corners, making for a very safe car at all speeds. At slow speeds it is really docile and there is no stuttering or hesitation when you apply the power.. the turbo kicks in , you are getting pushed deep into the very good sport seats and then it just goes Fast Forward , no spin, no veering off to any side, just straight where you point it. Braking power is enormous as it should be with such a car. All the electronics keep the car in perfect balance no matter what. I was really pleased with it. Will be continued I'm sure.
Ride Stats : 12K in 30 minutes
16-12-2006, 14:51 geschreven door Big Bad Wolf
15-12-2006

Darkness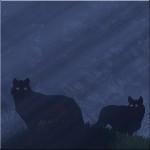 I
have been very cheerful today, collegues at work noticed me singing songs and humming to myself. I guess this is due to the fact that I have finally decided what car to get, or at least I'm 95% sure it will be the Mazda 3 MPS . Tomorrow I am invited to do a short test-drive with it , then all that needs to be decided is the color. No options on the list so that is easy. Either I go for another red one and then I will have to wait 5 months, or I go for the one they have in stock (one of 5 in Belgium) and then it will be Cosmic Blue, a nice mica color that makes this exclusive car a little less conspicuous, more sobre looking.
I will know more tomorrow when I actually see the car in its Cosmic Blue trim in daylight. Need to take some pics.
As for the biking, I forgot to charge my batteries after my last ride so I only had for about 2 hours of light. And indeed, near the end of the ride the light began to grow dimmer. Since most of the routes I take are shrouded in complete darkness I had to reach a populated area as soon as possible, switch off the light to save some time, and switch it back on for the last stretch through Meerdael Forest. I just made it, even my back light faded out and left me in complete darkness about one K short of my home. They eyes adjust quickly even to minimal light but nevertheless I was glad to be home.
Ride stats

: 47.5K and 375 heightmeters in 2h06
15-12-2006, 20:01 geschreven door Big Bad Wolf
14-12-2006

Loosening the muscles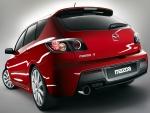 After yesterdays intense workout I just did half an hour on the rollers today. Loosening up the muscles and flushing out any acid that was left.
I had a good look at Mazda's MPS 3 this evening and next saturday I will have the opportunity to test-ride it. It looks good, even more boot space than in my present Sportswagon so no problem to take along the bikes. The car is very complete, no options except for a navigation system.
Ride Stats : 12.5K and 00h30 mins
14-12-2006, 21:00 geschreven door Big Bad Wolf
13-12-2006

Climb-it

I love to climb. I have always been good at riding uphill and while this is probably something that is heredetary I also feel that I have to train specifically on hte uphills to become even stronger, or at least remain at a certain level. Lots of mountainbikers I know

hate

the uphills. They enjoy riding downhill, riding twisty singletrack or with the wind in their hair, preferably blowing from behind.
Me I also like all those things but I also like the uphills. I embrace them, seek them out , make them my friend, and it works out between us.
Today saw me riding a particularly steep uphill in nearby Nethen, 11 times over. With a small flat recovery stretch followed by a quick downhill, the little tour was just 1.5 km long. Good thing the wind was blowing me upwards, my legs were screaming for mercy when I added 1 climb to the planned 10. Always try to do just a little more and surprise yourself, you can do it.
Ride Stats: 40K and 535 heightmeters in 2h00
13-12-2006, 22:24 geschreven door Big Bad Wolf
12-12-2006

Out in the Night again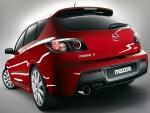 I've been having a lot on my mind lately, looking for a new car, having trouble with my digital camera and stuff like that. So I was glad to be able to go out riding in the night and clear my head or arrange my thoughts on certain subjects.
My camera has been giving me trouble with one lens, in that it won't focus on infinity. Strange thing is, it has been completely checked, recalibrated and maintenanced by Nikon and when I got it back it still behaved the same. So I'm figuring it must be the lens. I sent both camera AND lens back to Nikon Tech, I hope they figure it out. This stuff is worth several thousands of Euros so I expect it to work flawlessly in any circumstance.
As for the car, I'm checking out a shortlist of very powerful cars and my current favorite is the Mazda MPS 3 , but the Astra OPC, Leon Cupra, Megane RS Turbo or Focus St are not out of the picture yet.
Oh well, the ride went well, some cold wind blowing but overall temperature was 6 degrees C so very manageable. I made a loop over Bierbeek, Meldert , L'Ecluse, Beauvechain, Hamme Mille, Nethen, the Zoete Waters and Heverlee.
Ride Stats
: 50K and 345 heightmeters in 2h19mins
12-12-2006, 23:24 geschreven door Big Bad Wolf
10-12-2006

Valley Ride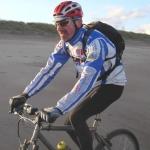 Had a good nights sleep after yesterdays jodium soaking. Waking up I still felt tired so I decided to do a road ride instead of my usual offroad stint . Taking in a few of the valleys surrounding Meerdael I managed to get a lot of heightmeters. The valleys of the Voer, the Ijse, the Lane, the Dyle and the Nethen made me go up and down gently all the while staying into LSD mode. The weather was sunny, a bit colder than yesterday but I still averaged 6 degrees C over the ride.

Ride Stats : 57K and 510 heightmeters in 2h36mins
10-12-2006, 15:08 geschreven door Big Bad Wolf
09-12-2006

Knokke Rode Lintjes Tocht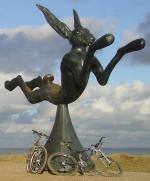 It had been a while since I last saw the sea. Must be when I was in Cap Griz Nez a few years ago, for another Rode Lintjes Tocht. Not abnormal , the sea is not really where you expect a MOUNTAIN biker, or a wolf for that matter, to be. Still I can immensely enjoy the sight, sound , taste and smell of the sea. I've always felt a strange connection to the water, from long before I was a deepsea diver, the diving only strengthened the bonding.
But that is another story, it even seems like another life at times.
Lets concentrate on today. I got up at 6 and after a long drive arrived in Knokke where Peter DB , another member of the mountainbike society known as the 'Rode Lintjes' had given rendez-vous for a ride at the coastal regions of Belgium and nearby Holland.
4 more members where at the Natienlaan where the start was to be; Philip R, Kris B, Peter L and Gunther D. It was a mere 5 degrees C but the skies were clear when we set off. The moon was still in the western corner while the sun was trying to pierce its rays through some stray clouds at the eastern horizon. Peter led us through the awaking outskirts of Knokke into the "Koningsbos" . This was a forest area with lots of twisty sandy singletrack, ondulating up and down, the trails covered with wet leaves and the occasional root . The uphills were no problem with my 9kg bike (I chose the Hilset because of its lightness and lack of suspension making it an ideal bike for the beach) but I had to dismount a few times on some steep downhill. Having no suspension is not all its cracked up to be when the going gets though.
Still I enjoyed every bit of this amazing forest, all the twisting and turning left my head spinning and also got my heartrate into gear.. Peter led us towards the North Sea dike next, and after some picture-taking session in front of some horny looking surfer statue (Philip did the honors but Peter DB and myself also took along a small camera so we should have a lot of nice pictures) we took onto the beach.
It was a first for me, and I quickly learned that the closer to the water, the better the ride is. I did not fear the salty water, after all titanium doesn't corrode, so I stayed close to the still-receding sea. Every now and then it was as if someone was pulling on the brakes when we came into some softer sand. Our tyre tracks were sweating salty water out of the sand while we rode to the north ,the wind pushing us gently along.
Every now and then we encountered some deeper sand and there the trick was to either let some pressure out of your tyre or shift to a lighter speed and make the best of it. Sometimes it worked, sometimes you had to push like hell while only burying your tyres deeper into the sand. Good training, I can tell you !
When we arrived at 'Het Zwin' we took left into the dunes to round this Natural Bird Reserve . In the dunes I quickly learned that 'Green is your friend'.. Green meaning every bit of grass, moss or other vegetation where the sand was less loose and this meant the difference between riding and walking. Great stuff here, each one of us looking to stay as long a possible on the bike, sometimes having to dismount but quickly finding a more stable underground and biking along. After riding on the remnants of the Atlantikwall and past the entrance to 'Het Zwin' we arrived in Cadzand, the Netherlands, province of Zeeland. Here we once again took to the beach for another stretch of sand. Here the sand was alltogether of better quality, less loose. We passed a Nude Beach, pity it was too cold, and rode all the way to Breskens where we had a lunch break next to a Lighthouse.
After the break we had to think about getting back. The way back would be along trails on the top of the dike, with the wind now blowing into our faces. I felt strong so I took the lead along with Peter DB and Philip. The sun was out but the temperature was around 8 degrees C which made the ride back rather chilly. We had to hold back though because Peter L was having problems with the high tempo, dropping behind more than once. Along the way back, Peter DB had another few nice singletracks up his sleeve. All the while we could enjoy the view of the Schelde, the Sea , the birds which were a LOT quicker than we were (better CX I guess) while avoiding bikes and walkers . We arrived back in Knokke, a last bit of trail along the golf course and we were back at the start.

Ride Stats : 69K in 4h23 and 240 heightmeters (yes yes ! )

Pictures :
BigBadWolf
Philip R
Peter DB

09-12-2006, 19:31 geschreven door Big Bad Wolf
06-12-2006

Rollerboy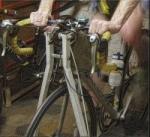 Another ride on the rollers today. Just idling along and loosing up the muscles. I'm feeling the effect of the flu injection so I only stayed on an hour.
Ride Stats : 25K and 1h
06-12-2006, 19:59 geschreven door Big Bad Wolf
05-12-2006

Rollers again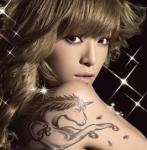 Lousy weather and not really wanting to ride outside due to a flu injection I got today, found me on the rollers again. Just idling along really but good to keep the wheels in motion.
Ayumi kept me company again .

Ride Stats: 20K in 47mins
05-12-2006, 22:42 geschreven door Big Bad Wolf
04-12-2006

Roller time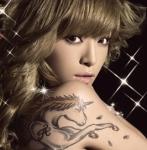 A short ride to cleanse the muscles from yesterday's ride. Short but sweet on the rollers. Had some Ayumi Hamasaki op the MP3 player.. Good voice and a great tattoo on her too.
Ride Stats
: 12.7K in 30mins
04-12-2006, 20:17 geschreven door Big Bad Wolf
03-12-2006

Pecrot

The Ride:



This is a ride I always look forward to. It is called '

Just For your Pleasure

' and this was its 10th edition already . I know from past years that the tracks laid out by Eric Anris, with a lot of organisational help of his father 'Papy' , are splendid. The weather forecast was not too good, predicting gale-force winds and rain in the afternoon. Yet, when I rode towards the start at 9.35am the sun was shining. At the "guet-a-pintes", a small local barn-cantine, I met Erics' wife Nancy at the inscriptions and said my hellos to her and her father-in-law.
Distances of 12, 24, 35 and 47K where on offer, the inscription fees ranged from 1 to 4€. It would have been nice if they had given me some little paper or sticker with the emergency number on, but either they were all gone (I was late at the start, around 10.15 am) or they were not foreseen.

There was also a chrono race over the longest distance but those guys already left at 8.30.

I did not feel too good at the start so decided to take it easy and see how my legs would evolve during the ride. The first few k's already brought a good climb into Beaumont forest and things were ondulating up and down relentlessly after that. Some nice slippery singletrack section in Nethen brought us quickly via a forest-edge passage into Meerdaelwoud and to the first rest stop in the centre of Nethen, only 7K into the ride. Bit of a surprise but this early stop was caused by the fact that they also wanted the people, mostly families, who did the 12K to have a rest stop. Lots of power drinks and some food but nothing I really fancied this early in the ride.

After the rest stop we had to go up one of those very steep trails that end up on the sandy hill overlooking Nethen. I only got up about 3/4 of the climb but had to bail out because some other biker had bike troubles and was blocking the track. Oh well, I don't think I would have made the climb anyway, or at least not the last couple of meters which were very steep with a step in them as well. Some nice singletrack followed and then a quick tarmac drop back into Nethen. We then had to ride some cobbles towards the famous 'jungle' climb that only was muddy at the very start but went without problem for the rest of the climb. It hadn't really rained for a couple of days so the trails were almost completely dry, not counting a single mudhole here and there.

The ride went over towards La Malaise , Hamme Mille and Bossut now, where we got the full force of the wind in our faces. I was following some other guys and failed to see the arrow pointing to the right. At the next crossroads , everyone of the group was looking around in every direction to see where we had to go.. bugger, no more arrows..damn.. But then a smart guy (no not me, another one ) saw some bikers taking the turn we had passed by , so we hurried back to rejoin the good path once more. It was rather crowded and I think they had a very good attendance for this ride.
The trails now took us over Archennes, Les Monts, La Motte and Gastuche towards the Bois de Laurensart and Ottenburg, still taking in about every climb there was, forcing me to strain my muscles.
But I was getting better with every kilometer. I've always been a good climber and I never had to leave the middle ring once during this ride. I made all the climbs except two; the steep and blocked one after the first rest stop and another one near the end, on the "railroad singletrack" in Florival. But we'll get to that later.For now I was enjoying the tracks , the clouds were getting darker though and I was sure we would not keep it dry. I was not wrong. The second rest stop was just after a very steep climb in the Bois de Laurensart, up to "De Tomme" . I made this one without fault on the middle ring. I think my choice of tyres, the very grippy 2.1 inch WTB

Weirwolf

, was spot-on for this type of weather. Only bad thing about the Weirwolfs is that they shed off the mud very aggressively, making for a dirty face and bottom. But they find grip where other tyres don't , even on slippery off-camber stuff. Good tyre.The second rest stop, hmm, not much left to eat and I grabbed some part of a banana and drank a well-tasting sports drink. The 35K distance split off from the 47K after this rest stop and all of a sudden I was riding practically alone. There was a fine loop coming up, dropping us down into Neerpoorten and there we followed the Overijse BLOSO track in reverse towards Sint Agatha Rode , through the Sint Agatha Rode bos. It had started to rain now and the fierce wind made me groan when I had it straight in the face climbing back up towards Ottenburg and later towards the Kouter. I knew Eric always leaves some of the toughest bits for the end, so I was still holding back on the power, riding on economy. I was not wrong. The last 9k of the ride were fingerlicking good . Some steep stuff after Florival going up the Verte Voie, back down again, following the railroad singletrack, where I had to dismount due to temporary blindness caused by the rain (yeah right, the hill was just too steep and the roots took me by surprise). After this nice track we once again faced a tough climb, starting out with a very muddy patch where I was enjoying my Weirwolfs once again while a lot of people had to walk. After that the track got steeper and steeper but yet again I made the climb, shouting my way past bikers who were walking , dazed and confused as they were by the toughness of the track and probably wishing they had chosen some shorter distance. Just a few more efforts now before I arrived back at the start, it was raining quite happily now and with some 9 more K to go to get back home, I didn't bother to stop and wash my bike.
Judging by the queue there were only two hoses anyway. The ride back had another 130 heightmeters on offer and by the time I was home, I was wet from the water spray caused by the tyres on the tarmac. Tired yes, but also very pleased I did not quit when the rain started and completed the ride.





Ride Stats : 49K and 776 heightmeters





The Lowdown:




What I liked:


+ great area
+ arrowing was sparse but without fault
+ distance splits were well marked.
+ 2 rest stops on the longer distances
+ danger markers at the really dangerous spots/downhills
+ plenty of drinks at the rest stops




What I did not like:


- Arrowing could have been better, was too sparse at places
- No emergency number leaflet/sticker was handed out (or they were out of them when I started )
- There could have been more food at the rest stops

Synopsis:
A great ride, providing distances for each level from 12K to 47K. Tricky and well-thought circuit meant you had to push until the last meter. This is one ride to look forward to.



The Bare Facts:


Ride Profile : CLICK
Some pictures taken by Schijfrem :
Results of the Chrono : CLICK

03-12-2006, 17:24 geschreven door Big Bad Wolf
02-12-2006

Road Bloso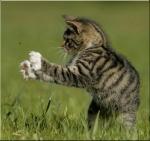 Looks like we are to have a stormy weekend, so I decided to take advantage of the relatively warm and dry saturday to have another long road training. I followed the Red Bloso route that meanders through the Nethen/Ottenburg/Leefdaal/KorbeekDyle region to span 50K and some 500 heightmeters. Some pretty steep climbing, amongst others the Smeysberg and the Moskesstraat, so good training to put some tension on the muscles. The roads were surprisingly dry and although it looked like it could start to rain any minute, it didn't and I enjoyed a dry, albeit windy, ride.
Meanwhile I got an email from the "Fiets" redaction , wherein they expressed their regrets that somehow my article got copied. They were going to take it up with the author and have taken the article offline, or at least the parts they stole from me.
Ride Stats
: 53.4K and 515 heightmeters in 2h19. Average temp 11 degrees C
02-12-2006, 13:50 geschreven door Big Bad Wolf
30-11-2006

Ludo and Plagiarism.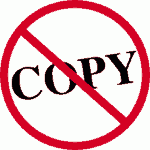 Ludo
Another beautiful autumn day so I decided to stay home from work and do a nice long ride. I did part of the Ludo Dierckxsens Classic, a ride that starts at Laakdal, loops down towards Brabant Walloon, takes a big chunk out of it and then loops back up towards Leuven and further to Eindhout. I joined the route at Bierbeek and followed it to just before Sint-Joris Weert. It was sunny and the average temperature was 9 degrees, little or no wind. I stopped again at the Warande forestry house but there was , again, no-one home.
Plagiarism
Someone alerted me today to the fact that big parts of an article I wrote for 4Bikers, explaining the use of titanium in the bicycle industry, appear to be copied into an article Menno Grootjans wrote for the famous 'Fiets' magazine. I checked out the link and indeed, about 3/4 of the article is word-for-word plagiarism of my article.
Now they do say that
"plagiarism is the sincerest form of flattery"
, but I would be even more flattered had my name been mentioned in their source list. They

do

mention my website in the article, which is great . Perhaps they thought it was enough?
I am not making too much of it - I have been copied before ( usually by the Dutch - coincidence ? ) - but the 4Bikers redaction are not too happy about it, and I can understand them.
I have written an mail to "Fiets" , curious how this will develop.
Ride Stats
: 72.5k and 515 heightmeters in 3h10mins
30-11-2006, 17:56 geschreven door Big Bad Wolf
29-11-2006

Long slow distance
Yippee, got off from work early today and I could leave a 3pm for my ride. I decided first to check out the 'arrow' situation on the red bloso route, because I have been contacting BLOSO and the Sports Office at Oud-Heverlee and while BLOSO still needs to respond(!) the guy at the Oud-Heverlee Sports office told me that the people at BLOSO told him that the situation was fixed.
I knew it was not, but I took my camera and went to the spot. Indeed, no BLOSO arrow in sight. There was an A4 format sheet with a Red Arrow that some concerned biker has probably put up, but this will only stay on until the first good winter storm.
Bloso

NEEDS

to fix this. I have also learned that I have to contact BLOSO directly and mail them the problem (with pics if possible) . BLOSO then contacts 'Waters en Bossen' , the Forestry guys , and they fix the routes.
Click on the picture next to this article

to see the crossroads in question.
I rang the bell at the nearby Forestry home, but they were out.
So I set off for the rest of my ride. This took me to Hoeilaart where I chatted up with Filip of Filip Sport and after that, dusk had set in so it was a nightride home. Good ride, temperature was around 8° C and there was no wind to speak off.
Ride Stats:

60K and 435 heightmeters in 2h43mins
29-11-2006, 19:08 geschreven door Big Bad Wolf
28-11-2006

Damn , topfit and miserable

Aargh, I just had to ride my bike today , I just had to. Left home for work at 9am this morning, got back from work at 7pm, cleaned one of my bikes then got on the rollers and rode for half an hour, just enough to get the juices flowing .


Only then

did I go to the little party my dad had for his birthday.
No, I just couldn't wait for another hour, go to the party first and ride afterwards,

stupid stupid

me.
When I arrived at the party my two sisters got up and left the room , letting me know

exactly

what they thought of my priorities. I feel

very

bad right now. I could kick myself. I have to get control of this.
Damn, I'm topfit but as miserable as can be . I had a good talk with my dad afterwards but I still feel like shit, I need to get my priorities straight.

I love you dad, Happy Birthday !!


Ride Stats
: 12.5K on the rollers in 30mins
28-11-2006, 00:00 geschreven door Big Bad Wolf
27-11-2006

Nightride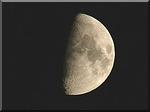 Getting used to riding at night by now. It was a clear warm evening and the wind was blowing from the southwest, steady but not too much. Had a nice ride, no problems , just enough to clear the daily cobwebs aout of my head.
Ride Stats

: 31.1K and 190 heightmeters in 1h22
27-11-2006, 21:36 geschreven door Big Bad Wolf
26-11-2006

DreckSau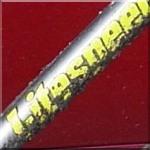 Since it had rained quite a bit during the past week, I was prepared for muddy conditions. I had cleaned my bike, put some IceWax on my chain and mounted my WTB Weirwolf tyres. I decided to stay home and do the Meerdael BLOSO loops, not the toughest of rides but certainly a beautiful ride in any season. With the windy conditions of the last few days most of the leaves had fallen down . This made some of the downhills pretty tricky. But I was confident in my bike, my tyres and my riding abilities. I was not let down by either of them.
What has been bugging me about the Meerdael trails is that there has been a crucial arrow missing for more than 6 months now. I have contacted the Oud-Heverlee Sports Office by mail several times , but other than read my mails, nothing has been done. The way I see it the fault can lie at 3 places.
1st there are the route 'godfathers', 2 people that have been appointed by the community and BLOSO, and those 2 must ride the routes AT LEAST once a month and report all missing arrows and other problems to the community (Sports Office). I have had my doubts about the godfathers from the beginning, neither of them can be contacted or bothers to read, let alone answer, any mails I sent to them.
Then there is the Community of course , they have to report the problems the godfathers report to them, to BLOSO.
And then of course there is BLOSO itself, which must fix the problem.
Next week, I will put in a few phone calls, starting with BLOSO and the Sports Office and work my way down from there. I've just about had it with this situation.
The ride, oh yes, it was great, lovely weather and yes it was muddy at places. But I thoroughly enjoyed it, speeding along and avoiding all the walkers/hikers/bikers/horses and other wildlife. It's sunday and everyone seems to be out enjoying the good weather and the call of the forest is great.
Ride Stats
: 56.5K and 490 heightmeters in 2h47mins
Oh, and I cleaned my bike afterwards. Click on the pic next to the article to check its state when I arrived and click
HERE
to look at it after I had cleaned it.
26-11-2006, 16:04 geschreven door Big Bad Wolf
25-11-2006

Aeolus meets Pluvius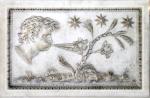 Amazingly warm this morning and dry since last evening, so I set out for a good long ride. I wanted to ride all the way to Mechelen, along the channel that runs from Leuven to Mechelen. Very flat country so I could make good speed. The wind was blowing fiercely in my back and later from the left, so after one hour I was already at Boortmeerbeek. But I had noticed some very dark clouds coming from the North (not a lot of good coming from Antwerp so that was not surprising) so had already decided to turn around at the midway point and head back, looping westerly around Leuven. The wind now came from the right obviously and after a while I fell the first drops of rain amongst the strong soutwesterly gusts.
Damn, good thing it was nearly 17°C (someone pinch me, it is nearly December, I must be dreaming) so the drops didn't cool me down but I was glad I was home because by now the drops had changed into a steady drizzle.
Ride Stats

: 47.5K and 140 heightmeters in 1h56
25-11-2006, 00:00 geschreven door Big Bad Wolf
23-11-2006

Rolling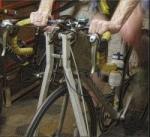 Rain, wind, autumn..
So I stayed indoor, wanting to do a little bit of exercise I got on the rollers and idle pootled along for an hour, reading some more Conan stories and listening to Roxette and Alanis on the MP3 player. I passed the 11000K mark for this year with still more than a month to go.
Ride Stats

: 21.5K and 1h
23-11-2006, 20:37 geschreven door Big Bad Wolf
21-11-2006

Little Nail and Big Flash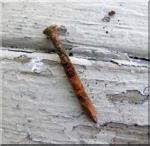 Little Nail was not happy.


He had been happy before, but one day he fell out of the hard substance he had been hammered into. He fell on some hard black slab and had been moved around several times since then , being hit, bouncing up and down, unable to grab whatever moved him from his resting place . He was eager to grab something and penetrate it. His luck decided otherwise. he would have to be patient and wait.


Little Nail was not happy.



Night had fallen for the umpteenth time, Little Nail had no notion of time really but could distinguish between light and darkness. He was prepared for another jolting around when suddenly he was grabbed by something . He bit and penetrated some soft mushy tissue, screaming with excitement when he felt he was tightly attached to something substantial again. He had found a new purpose, whilst he sensed some air escaping next to him he gently settled once more into a state of wholeness, his life's purpose once more was fullfilled.


Little Nail was happy.



The Big Bad Wolf grumbled.


I could feel something was wrong immediately , my bike began to handle differently and I realized I had a flat. Not quite flat yet but air was leaving my rear tyre fast and I was looking for a spot to stop and fix it.
I was in complete darkness on a back road . Luckily I was in the neighborhood of the Beauvechain Military complex, and I gently let my bike roll towards the light at the entrance.
Yip, my rear tyre was flat allright. No worries, get it out, get a new one in , pump it up and move along. The guards had seen me and one of them walked towards me and invited me to the guardhouse, where I could fix my wheel in full light. Thanks dudes !
7 minutes later I was back on my way, I had found and removed the rusty little nail that had worked its way into my tyre, the small little devil. I chucked it into the grass . I always carry a spare inner tyre and I have a good pump. Nevertheless I was not looking forward to a second flat, because that would mean finding the hole and fix it. Luckily I was spared from more trouble and could finish the ride without any more stops.
The nightride had something special since it had been flashing in the northeast for quite a while now. A distant thunderstorm probably and the lightning producing big eerie flashes in the cloudless sky.

Little Nail screamed when he fell he was being grabbed and pulled out of the substance he had so eagerly bitten himself into. He was being examined and then thrown away, this time falling into some soft wet substance. Hey, this was good, he touched the soft earth and came to rest, protected by some green foliage; hidden , safe , happy . This was not so bad after all. He felt secure and vaguely noticed some big flash before nodding off into happy oblivion.



Ride Stats

: 40.5K and 245 heightmeters in 1h43.


Average temperature

: 5° C.


21-11-2006, 21:52 geschreven door Big Bad Wolf
Gastenboek./.Guestbook
Druk op onderstaande knop om een berichtje achter te laten in mijn Gastenboek. / Press the button below to write in my Guestbook.
Email Me
Press the button to send me a mail