Tales from the Woods
01-06-2014

Tienen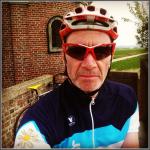 Today I felt ready for a new ride. After the 250K ride last friday my body was recovering well and I was going for an easy recovery ride. Riding out on the Vortex again I set sail towards Bierbeek, Opvelp, Neervelp and the Boutersem, whence I joined the big road towards Tienen. The wind was more or less in my favor so far so I quickly regained the Ring around Tienen. Turning right towards Hoegaarden and then upwards towards the Goudberg and further on to the Marollenkapel. A quick dip into Meldert and then I rode towards La Bruyere and Beauvechain. The wind was blowing in my face now and I was glad to turn left towards Bierbeek. Onwards to Haasrode Industrie for a quick local lap and then home over the Expressweg.

Endomondo track


Ride Stats : 55.5K and 340 heightmeters (Garmin) in 01h56mins

3205/8850
01-06-2014, 13:34 geschreven door Big Bad Wolf
30-05-2014

Kom Op tegen Kanker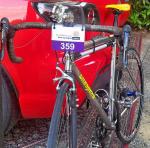 This morning saw the second day of the yearly 'Kom Op tegen Kanker' challenge, where the aim is that teams bring in 5000EUR for the battle against cancer. This buys a 4 day stint of 250km a day, to be ridden by maximum 8 persons.
Today was my day. I was to ride the second leg in this years' challenge, a 250K trip between Mechelen and Geel, and back to Mechelen again. I was a bit weary because the last couple of months were full of lower back problems and I was not sure how my lower back would cope with a 250K ride. The weather forecast was calling for dry weather, some clouds in the morning and the sun coming through after noon. I decided on wearing a couple of extra layers in the form of my Assos windbreaker and a light Moots shell. Leaving at 7.40AM it was still rather fresh but by the time we reached the first rest stop, some 2 hours into the ride, the first layer was finding its way into my back pack. At noon, when we arrived in Geel for our lunch stop, the Assos would also be packed and tucked into my shirt. I decided to keep the armlings because I didn't have any suntan with me and the sun was burning . Did not want to risk a sunburn.
The arrival in Geel was a memorable one. Long queues of people along the roads, all making a lot of noise with bells and screaming their lungs out in support. Wall of sound. Impressive !
During lunch I was able to hook up with other riders of the various KBC-b.strong teams. Some were riding the 1000K solo, which is quite an amazing feat. Me , I was part of a 4-person team, each taking 1 days and 250K in his or her stride.
My lower back in the meantime was coping very well. I had taken some paracetomol to make sure any pain would be dulled but I could not feeling anything untoward. I had to get used to riding in a big peloton again, where you need to stay in the front half, lest you want to sprint after each and every corner to join the pack again. The pace is more even, the closer you are to the front of the bunch. Lessons quickly learned. The bunch was moving at an average pace of 28kph. Police and motorcyclist were closing of every crossroads so the bunch could move without having to stop or even slow down. Like a real peloton in a race. It was a great experience to ride like this. talking to other cyclists along the way, each with his own reason to join a ride in the battle against cancer.
The lunch was a moment to join the other b.strong teams and share our experiences. Some of them would ride the complete 1000K over the 4 days, me I was more than happy to do only one leg of 250K. In the afternoon, we got back on our bikes for the ride back to Mechelen. The shoulder and neck muscles began to tyre and my legs weren't as fresh as half a day ago, but in all I was feeling OK. The lower back did not give any signals of distress. The sun was out now but there was also a bit of wind blowing from the north. We were looping towards the north and it was good to be in the peloton. The rest stop after 2 hours into the ride was a welcome relief. We were now moving towards the southwest and the wind was no longer a factor. The bunch was getting more restless but nothing the road captains couldn't handle. No flat tyres this year so I was happy about that. The arrival in Mechelen was a big party. Lots of people cheering us on and the market place was filled to the brim with enthousiastic people. Supporters and family.

Endomondo track


Ride Stats : 251.5K and 400 heightmeters (Garmin) in 09h03mins

3150/8510
30-05-2014, 00:00 geschreven door Big Bad Wolf
25-05-2014

Hottomont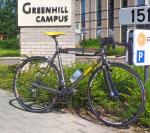 Today was election day and after doing our duty I was restless to ride out. The sun was shining and the forecast for the next couple of days wasn't very good. So after pushing the thought around for a bit I rode the Vortex out. First toward Bierbeek and Neervelp and onwards to Willebringen, Hauthem and Hoegaarden. Here I injected myself on the Ravel 2. I felt quite good despite yesterdays' ride so I could maintain a good average as I followed the Ravel slowly upwards through Jodoigne and then onwards in the direction of Eghezee. I cut to ride in Hottomont and stopped for a couple of pictures before riding onwards to the N91.
On the N91 I could make good speed, with the wind - the little there was today - half in my back. In Hamme Mille I was bothered by a Vito driver who began pushing me to the side of the road with his car, yelling and calling me names . Shouting that I should ride on the bike path instead of on the road. I joined the bikepath as soon as I could but he kept harassing me verbally until halfway up the hill . I wished him dead, kept my mouth shut and continued my way.
Just a short stretch to go now. On top of the hill I rode back on the road - the bikepath is a mess up there - but I did not see my friend anymore.
Undisturbed by other car drivers who probably understood why I was riding on the road instead of on the dump they call a bikepath here, I joined the super bikepath on the Naamsesteenweg leading all the way into Blanden. Had a good ride except for the moment with the idiot, which upped my testosteron quite a bit. But I decided to let it go, he does not deserve my attention or thoughts. This was my longest ride this year so far.

Endomondo track


Ride Stats : 71.5K and 460 heightmeters (Garmin) in 02h26mins

2898/8110
25-05-2014, 14:13 geschreven door Big Bad Wolf
24-05-2014

Haasrode Industrie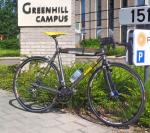 Despite the forecast for thunderstorms and rain there was not a cloud in sight when I rode off for a ride with the Vortex. I decided to stay close to home nevertheless so I rode towards the Haasrode Industrie Park for a couple of laps around the compound. The wind was blowing quite strong an after 2 small laps I decided to go for the slightly longer Lindenboom lap. This is some 8.1K and comprises a couple of ascents . The wind was really nasty only on two particular sections of a couple of 100 meters but for the rest it was not bothering me too much. The legs were slow to warm up but after a while they were fine. I moved the Arione saddle up 0.5cm and this felt a little better. After 6 big laps I decided to call it a day and ended up with a normal lap of 2.3K. On the way back to Blanden along the Expressweg I had to fight the wind which made this a very tough section near the end of the ride.

Endomondo track


Ride Stats : 62K and 385 heightmeters (Garmin) in 02h07mins

2827/7650
24-05-2014, 12:43 geschreven door Big Bad Wolf
22-05-2014

Ramillies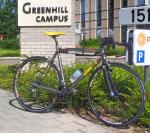 I took a day off from work today - my first this year - and when the sun came out I decided to try the Vortex on a longer ride. First riding along Meldert and Hoegaarden towards the Ravel2 , I started following that past Jodoigne up to the point where it forks towards Perwez. I stopped to take a little picture of my bike through the window of a bus stop shelter in Hedenge . Following the fork towards Perwez I arrived in Ramillies. Up to now, the wind had been blowing against me. I was sheltered from it most of the time when on the Ravel but I was nevertheless very glad when I turned towards the northwest on the N91 and I noticed the strong push in my back. Good for the legs, good for the average speed.
I flew through Dongelberg and past Pietrebais and before long I was already in Hamme Mille. The legs felt good and also my lower back seemed to be at peace with this ride.

Endomondo track


Ride Stats : 62K and 385 heightmeters (Garmin) in 02h10mins

2765/7265
22-05-2014, 12:51 geschreven door Big Bad Wolf
20-05-2014

Haasrode Industrie Laps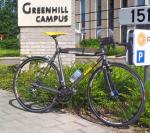 Hot fot the time of the year with around 27 degrees C when I rode out on the Vortex for a series of laps on and around the Haasrode Industrie terrain. Still testing the F:izik Arione saddle and so far all is well. I did 50K today, which was the longest distance on the Vortex this year. I made sure to concentrate on riding without using too much force on the pedals, instead concentrating on smooth and fast pedalling. The laps went well, near the end the skies became menacing but I managed to keep it a dry ride.

Endomondo track


Ride Stats : 51K and 295 heightmeters (Garmin) in 01h46mins

2703/6880
20-05-2014, 20:56 geschreven door Big Bad Wolf
18-05-2014

Haasrode Industrie Laps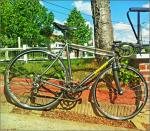 Today I felt well rested in my legs but I had some pain between my shoulders blades. I decided to ride out for a recovery ride and to check out a F:izik Arione test saddle I had on loan from Filip Sport. I was looking for alternatives to the Brooks, which turns out to be a very comfortable saddle but I feel it spreads my lower hips a little too far apart.
I rode towards the haasrode industrie terrain for 4 big laps reaching all the way to the Lindenboom, followed by 4 normal laps on the Industrie terrain itself. The sun was out in full blaze and there was a stiff breeze from the northeast. But I felt good and kept my pace, holding back on the power to avoid putting too much pressure on legs and lower back.
After more than an hour I rode back whence I came, along the Expressweg into Blanden.

Endomondo track


Ride Stats : 42.5K and 255 heightmeters (Garmin) in 01h30mins

2653/6585
18-05-2014, 12:43 geschreven door Big Bad Wolf
17-05-2014

Accro Bike revisited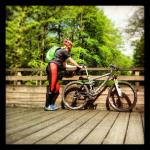 This morning I went to the Novotel in Leuven to wave out the KBC b.strong delegation which was undertaking a 7-day cycling trip to the Vosges and back. Normally I would have done this as well but the continuing problems with my lower back made me decide to throw the towel on this adventure. It hurt seeing them ride off into the sunshine.
When I got home I decided to go on a ride myself. Taking the Merlin Works 4.0 out I had a plan to ride a big chunk of the 42K Accro Bike. Making my way though Meerdael Forest and Bossut towards Grez Doiceau I started out on those familiar and well-loved trails. The first big climb into Biez was no longer rewarded by a splendid view over the valley of the Train towards the west. Some developers have been building house near the to of the slope, spoiling the view for years to come.
I rode on and dropped down towards the Rue de Royenne in Morsain. My legs were still feeling fresh even though I did do some Core Stab/Pilates workout yesterday evening. The succession of climbs and descents, which make the Accro Bike such a tough ride began to work its way through my reserves. I cut off a technically difficult and wet part in the Bois de Glabais, instead riding directly into the Bois de Bonlez and the Michelsberg site.
Into Bonlez and here I cut off another section, too wet and too tricky for my liking instead opting for an easier route into Dion Le Val. The long climb and descent into Wavre made me do an extra section to avoid a supersteep climb. Undercrossing the N25 I made my way into Dion Le Val again, and after that only two big climbs were left. My back began to manifest itself and I was glad to be back into Grez Doiceau again. Riding back over Bossut and then into Les Claines and following the N25 from Hamme Mille into Blanden where I was happy to see my home.
A super ride and the first time I went over 3 hours this year. Also nearly 900 heightmeters, and not the easy kind.

Endomondo track


Ride Stats : 58.5K and 860 heightmeters (Garmin) in 03h07mins

2610/6330
17-05-2014, 15:26 geschreven door Big Bad Wolf
15-05-2014

Meerdael and beyond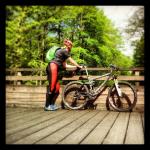 The weather was taking a turn for the better. The sun was out and it was drying rapidly. When I arrived home after a 2-hour stint in the car, covering 39km - I was happy to be able to relax my thoughts and get on the Merlin Works 4.0 for a ride into Meerdael Forest. The forest trails were still damp but not overly so. It also was not very warm so when I got at the back of the forest I decided to ride into the fields and plains of Valduc and Hamme Mille, warming up in the evening sun. The wind was blowing from the east which suited me fine because I was headign west towards Bossut and Nethen. Into Meerdael Forest again and riding towards the North now I was following the bigger forest trails, making good speed on moist roads. A U-turn along the Weertse Dreef and then back through the old army barracks area towards Vaalbeek. A last loop following the Prosperdreef and then turning left towards the Naamsesteenweg and into Blanden. The legs felt good and strong and in all I had a pretty good ride.

Endomondo track


Ride Stats : 28K and 265 heightmeters (Garmin) in 01h19mins

2552/5470
15-05-2014, 21:00 geschreven door Big Bad Wolf
13-05-2014

Tacx Satori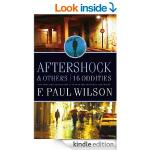 Still lots of showers but they are fewer and further apart. Should be dry the next couple of days. Until then I decided for a ride on the Tacx Satori. I even upped the resistance a notch and completed the ride on a good pace but with a little more effort than usually. Legs felt good though.

Ride Stats : 39.5K in 01h01mins

2524/5205
13-05-2014, 18:39 geschreven door Big Bad Wolf
11-05-2014

Tacx Satori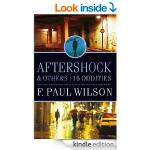 Yesterday I decided to try a new saddle on the Vortex. Went to Filip Sport to get a test saddle from Fizik. An Arione with agully down the middle. I will try it out as soon as thet weather gets better. I did 40 minutes for Nancy Farzans' Core and Pilates exercises and had a good feeling in my body whilst doing them.
Today the weather was still windy and some occassional heavy shower interspersed with sunny interludes made me decide to stay indoors and settle on a long Tacx Satori ride. Long and at a fast pace.

Ride Stats : 62.5K in 01h31mins

2485/5205
11-05-2014, 12:36 geschreven door Big Bad Wolf
09-05-2014

Tacx Satori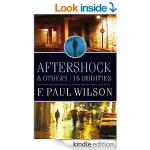 Wind, occasional rain and general unfriendly weather made me decide to take it easy and opt for an indoor ride on the Tacx Satori. Reading and listening to Spotify and spinning my legs in easy and fast circles.

Ride Stats : 54K in 01h21mins

2422/5205
09-05-2014, 18:59 geschreven door Big Bad Wolf
07-05-2014

Tacx Satori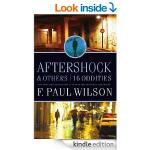 The weather was unstable with lots of wind and the occasional shower so instead of riding out I decided for a recovery ride on the Hilset on the Tacx Satori. Time to catch up with some reading as well as I ventured into F.Paul Wilsons' short story compilation - a compilation of 16 "oddities" as he calls it - Aftershock.
The legs felt fine and the ride went smoothly. Looking forward to some dryer weather in the coming days for another ride outside.

Ride Stats : 40K in 01h01mins

2369/5205
07-05-2014, 18:18 geschreven door Big Bad Wolf
05-05-2014

Industrie laps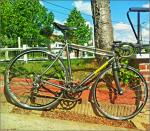 Wanted to ride to day so I chose the Vortex for a spin around the Haasrode Industrie terrain. Quite a lot of traffic made me slow down more than I normally do, but since I was only out to do some easy kilometers on the race bike I didn't mind. It was quite warm in the late afternoon and the sun was still shining with a dry wind blowing from what looked to be the east.

Endomondo track


Ride Stats : 32.5K and 195 heightmeters (Garmin) in 01h07mins

2329/5205
05-05-2014, 19:22 geschreven door Big Bad Wolf
04-05-2014

Meerdael Bloso routes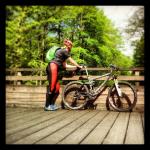 After yesterdays' road ride I wanted to do another ride today but for this on I chose the Merlin Works 4.0 and decided to do the Meerdael Bloso routes. Starting around 10am with the sun shining but temperatures only around 10 degrees C and no wind to speak of. Ideally suited for a ride.
I started out on a good pace. I would maintain this pace throughout the ride. Putting some stress on my muscles and lower back so see how they would hold out. There is no other way to find out.
Starting on the green and working my way through the relatively flat sections in Heverleebos and towards Korbeek Dyle. The climb next to the railroad in Oud-Heverlee was a brutal switch from the big chainring towards the small one. I had 2 bikers behind me so I did not slouch. I lost them on the steep bit near the end. Short downhill followed by a cobble climb. Next onto the Blue Bloso at the Zoete Waters. This is the more hilly of the tree and some strain began to build up in my body whilst the steep sections were followed by - too - short downhill sections. On the climb behind the Kluis I had another biker in my sights but despite my efforts I could not close the gap. Down towards Nethen and then settling down for the long climb next to the Savenel wall. My aim was still riding in front of me, giving me a goa. Pity he followed the Blue Bloso to the left on the split with the Red. I continued along and still was able to hold a good speed. Out of Bierbeek the long climb into Mollendaalbos was the next big challenge. The sun was shining and I felt rather good on the bike. Taking care to keep my core muscles tight during the climb to relieve some of the stress off of my lower back. Back on the big chainring after passing the highest point in Meerdael Forest. The trails were super. It had rained a bit last week which has caused the dust to settle but there was no mud. The singletrack next to the Naamsesteenweg was a joy to ride. I stopped for a little photo break at the Dikke Beuk.
From then onwards the Red offers only a couple of challenges before crossing over to the Green. Back in Heverleebos and a couple of short climbs later I was where I had inserted myself on the routes a couple of hours ago. During the ride back along the Prosperdreef I was trying to initiate a cooldown but in practise I kept maintaining a good pace until the end.

Endomondo track


Ride Stats : 54K and 560 heightmeters (Garmin) in 2h33mins

2296/5010
04-05-2014, 14:25 geschreven door Big Bad Wolf
03-05-2014

Vortex again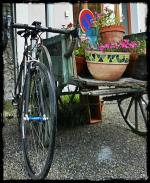 It has been a while but today I finally got the Litespeed Vortex out for a ride. Since last year I changed the cassette and 50/34 chainrings and mounted a YBN SL-210 full titanium chain. Very expensive but I have had it laying around for a couple of years now so I figured I might as well use it.
I was weary getting back on a road bike because of the added speed, racy position and lack of comfort with tyres pumped up to 100psi/7 bars. But the titanium of the Vortex does dampen the shocks quite well. Obviously I was curious as to how my lower back would react to this bike. My knees have been giving me trouble as well. Since I couldn't resist running a week and a half ago, my inner medial band is hurting. Went to the doctor and she said I have developed a slight O-leg stance so this put extra strain on that inner medial band. If I am serious about running, I should consider putting inner soles in my shoes to put my legs in a neutral position.
That being said, rediscovering this bike was a blast. It is fast, light and nimble and it demands a whole different level of awareness whilst riding in traffic and on these thin tyres. I put on a 21mm tyre in front but I changed that to a 23mm version as soon as I got home. I also put in a Joe's No Flat inner tube. Filled with Joe's No Flat racing fluid this inner tube weighs 50g more than a regular inner tube. I hope it lives up to its name. I have another one in stock in might put in my rear tyre one of these days.
The ride went well, it was fresh outside with temps just over 10 degrees C but it was sunny. A stiff breeze blowing from the north bothered me in the beginning and at the end of the ride. Doing just a quick lap to become used to the bike and after 31K I was home again.

Endomondo track


Ride Stats : 31K and 200 heightmeters (Garmin) in 01h04mins30secs

2242/4450
03-05-2014, 12:49 geschreven door Big Bad Wolf
01-05-2014

2 Valley Bloso trails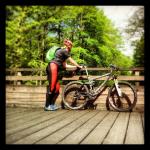 Time for a longer ride. The weather forecast called for pleasant and dry weather in the AM but in the afternoon the possibility of showers would increase. So I rode out around 10AM and made my way through Meerdael Forest and Sint Joris Weert towards Sint Agatha Rode where I picked in on the Overijse Bloso trails. The trails were super, dry except for the mudtrap near Overijse and fast. The Merlin felt right at home and I was happy to be able to ride these familiar trails again. I nearly went OTB when my front wheel got caught in a deep rut filled with water near the Overijse ponds. But I managed to prevent myself from tipping over and rode on unscathed. Through Overijse where I almost collided with a car that stopped right in the middle of the bicycle lane at a red right. Good thing my Hope disc brakes are strong and my reactions fast. I was glad I was out of Overijse and climbing along the Reutenbeek for a super section working mt way towards Tombeek. I was by this time almost 2 hours into the ride, my longest ride to date this year, and I was a long way from home. Down the Schaatboekstraat and then onwards towards the Bilande farm. Stopping for a picture break on the bridge over the Lane.
The red section was next and this is a tough one. Steep climbs and trickey descents and I thoroughly enjoyed them all. Back in Sint Agatha I made my way towards the Meerdael Forest again for a last section on forest trails. Managed to get a flat rear tyre, upon inspection a thin metallic object had perforated my tyre. I cut my finger whilst looking for it. Good thing I always carry a first aid kit because my cut finger started bleeding. Changing my inner tyre, putting some pressure in it and 5 minutes later I was home. Half an hour later a shower hit Blanden but by then I was well and truely enjoying a hot bath.

Endomondo track


Ride Stats : 53K and 660 heightmeters (Garmin) in 02h39mins

2211/4250
01-05-2014, 00:00 geschreven door Big Bad Wolf
29-04-2014

Wolventrail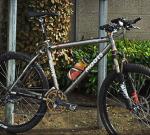 I felt rather good today, apart from the upside of the shin/inside of the knees area which still is painful. I took the Moots YBB out for a ride that would comprise a fair bit of climbing in a compact area . I tried to take in a couple of fine trails with descents and climbs and while I could do a super loop, I had to dismount here and there because of forest works which left large trees scattered over the trails.
Nevertheless I did enjoy myself during the 9K and almost 250 heightmeters Wolventrail. If you can do this 10 times in succession you are a mountainbike hero. In my current condition even doing it twice would have been too much. My knees give me pain when I'm standing up , directing the bike between my legs in the downhills. I think I should take it easy for a couple of days to allow the painful areas to recuperate and heal.
After the intense trails, I returned to easier tracks over the Kluis and the parallel to the Weertse Dreef. Some kind of cooling down. I noticed the grazers were back in the open ex-military areas whilst I was doing another loop towards the Keiberg and Vaalbeek , to enter Heverleebos for a brief stretch before returning into Meerdael following the Prosperdreef.
The weather was great. It had rained a bit during the early hours of the day which left the trails dust-free but still relatively dry. When I rode out it was still 20 degrees C.

Endomondo track


Ride Stats : 23.5K and 350 heightmeters (Garmin) in 01h19mins

2158/3590
29-04-2014, 19:26 geschreven door Big Bad Wolf
27-04-2014

Grez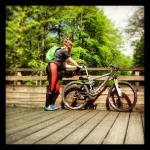 Although I felt some fatigue this morning, I decided to ride out to check how my body would react whilst riding 2 days in succession outside. I decided to ride towards the Brabant Walloon region, a region I know very well and have come to love over the last 10 years. It has been a while since I rode a mountainbike out of Meerdael Forest and into the plains of La Malaise. Into Florival and then along a small track towards Gastuche. The hills are all a bit longer here, and sometimes old tracks that lead somewhere have now been blocked. I had to turn back twice. Once because of a private forest blocked the road, another time while trying to circumvene some military installation near Grez. The road seems to have been blocked, almost comouflaged, at the top of a very steep and deeply-rutted climb. I had to dismount several times, riding up and coming down. I took plan B to make it into Grez and then dropped into the village where some kind of bric-a-brac forced me to ride back towards Archennes where I took the steep Rue de la Hocaille out of the Train valley. Along Bossut and then back into Meerdael Forest via Les Claines. The sun was shining but when some clouds obscured her, it became noticeably colder. It was fresh in the forest as well but I enjoyed some technical bits over the Warande pond before returning towards the Naamsesteenweg along some nice singletrails and bigger trails alike.
Crossing the N25 I rode home along the Margrietendreef, having enjoyed a great ride.

Endomondo track


Ride Stats : 30.5K and 365 heightmeters (Garmin) in 01h36mins

2135/3240
27-04-2014, 13:13 geschreven door Big Bad Wolf
26-04-2014

O2 Bikers Roadbook pt2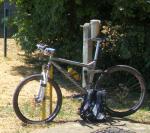 Having more or less recovered from the hurting shin/knee, I decided to take the Merlin out today for a spin along the second part of the O2 Bikers Bierbeek roadbook. Picking up where I left it last monday , the section dropping down and riding out of the Nethen valley proved to be a very physical one. Steep climbs followed by tricky descents, just the way I like it. The bike performed well and before long I was at the Hertebron drinking some fresh water.
Onwards in and out of Sint Joris Weert and another drop that took me at at bottom of a long climb out of the Borrestraat. The trail now made its way towards the Zoete Waters where I stopped at the Minnebron for another sip of cool water.
Up the Keiberg and then onwards to reach the Kluis, where another couple of fine trails were awaiting me. The steep climb on the Blue Bloso and then a left along the ridge and another left towards the Denteneerspad . I was now back in the region of the DOVO military compound and finished off the ride over the bridge across the Naamsesteenweg and the following some single track towards the Margrietendreef. Back home with a good feeling and a fine ride behind me.

Endomondo track


Ride Stats : 23.5K and 355 heightmeters (Garmin) in 01h21mins

2105/2880
26-04-2014, 13:28 geschreven door Big Bad Wolf
Gastenboek./.Guestbook
Druk op onderstaande knop om een berichtje achter te laten in mijn Gastenboek. / Press the button below to write in my Guestbook.
Email Me
Press the button to send me a mail