Rondvraag / Poll
Wat is uw favoriet muziek
De muzieksite voor de echte muziekliefhebber----------HOE MEER REAKTIES HOE MEER DE SITE WORD UITGEBREID----ALLE liedjes zijn als MP3 verkrijgbaar op aanvraag
VOOR MEER INFO MAIL ME
27-09-2010

Loggins and Messina
Loggins and Messina
Loggins and Messina are an American rock-pop duo consisting of Kenny Loggins and Jim Messina who achieved their success in the early to mid 1970s. Among their well-known songs are "Danny's Song", "House at Pooh Corner", and "Your Mama Don't Dance".

Jim Messina, formerly of Poco and Buffalo Springfield, was working as an independent record producer for Columbia Records in 1970 when he met Kenny Loggins, a little-known singer/songwriter who was signed to ABC-Dunhill

The two recorded a number of Loggins' compositions in Messina's home living room. When Columbia signed Loggins to a six-album contract (with the assistance of Messina), recording began in earnest for Loggins' debut album, with Messina as producer. Messina originally intended to lend his name to the Loggins project only to help introduce the unknown Loggins to Messina's well-established Buffalo Springfield and Poco audiences. But by the time the album was completed, Messina had contributed so much to the album - in terms of songwriting, arrangement, instrumentation, and vocals - that an "accidental" duo was born.
Their debut album was released November 1971 as Sittin' In. Although the album went unnoticed by radio upon release, it eventually found success by autumn 1972, particularly on college campuses where the pair toured heavily. Loggins' and Messina's harmonies meshed so well that what was begun as a one-off album became an entity unto itself. Audiences regarded the pair as a genuine duo rather than as a solo act with a well-known producer. Instead of just continuing to produce Loggins as a sole performer, they decided to record as a duo - Loggins & Messina.
"When our first album, 'Sittin' In, ' came out, we started receiving a lot of excitement about the music and good sales," Messina recalled in 2005. "We had a choice. It was either I now go on and continue to produce him and we do the solo career or we stay together and let this work. For me, I did not desire to go back out on the road. I had had enough of that, and I wanted to produce records. But Clive Davis (then president of the record company) intervened and said, 'You know, I think you'd be making a mistake if you guys didn't take this opportunity. Things like this only happen once in a lifetime. It may merit you sleeping on it overnight and making a decision that will be in your best interest.' He was absolutely correct. Kenny made the decision as well. It delayed his solo career, but it gave him an opportunity, I think, to have one
Kenny Loggins - Conviction of the Heart.mp3
Kenny Loggins - Danger Zone.MP3
Kenny Loggins - Footloose.mp3 1745
Kenny Loggins - for the first time.mp3
Kenny Loggins - Forever.mp3
Kenny Loggins - Highway To The Danger zone.mp3
Kenny Loggins - House At Pooh Corner.mp3
Kenny Loggins - I' m free.mp3
Kenny Loggins - I'm Alright (Theme From Caddyshack).Mp3
Kenny Loggins - Meet Me Half Way.mp3
Kenny Loggins - Swear your love 1745
Kenny Loggins - The Real Thing.mp3
Kenny Loggins - This Is It.mp3
Kenny Loggins - Whenever I Call You 'Friend'.mp3
Kenny Loggins & Michael McDonald - This is It
Kenny Loggins & Stevie Nicks - Whenever I Call You 'Friend'
Loggins & Messina - A Love song 1263
Loggins & Messina - Danny's_song
Loggins & Messina - My Music 1263
Loggins & Messina - Thinking of You
Loggins & Messina - Your Mama Don't Dance

0 1 2 3 4 5 - Gemiddelde waardering: 1/5 - (1 Stemmen)


George Harrison
George Harrison
George Harrison (Liverpool, 25 februari 1943 - Los Angeles, 29 november 2001) was gitarist van de legendarische popgroep The Beatles. Hij maakte vrijwel vanaf het begin deel uit van de groep. Hij werd geboren in het Engelse Liverpool. Volgens Harrison was hij eigenlijk geboren op 24 februari. Op zijn geboortecertificaat staat echter 25 februari als geboortedatum.
Zijn muzikale loopbaan begon op school, waar hij in de band 'The Quarrymen' speelde, samen met zijn vrienden John Lennon en Paul McCartney, die hem bij Lennon introduceerde. Met Paul, John, Stuart Sutcliffe (overleden in 1962) en Pete Best (later vervangen door Ringo Starr) vormde hij in 1959 de band 'Silver Beatles'. Daarna de Beatals en in 1960 veranderden ze de naam in 'The Beatles' en werden ze gevraagd in Duitsland op te treden. Dat was het begin van het succesverhaal van de groep, dat tien jaar geduurd heeft.
Harrison stond bekend als de wat verlegen filosoof van de groep, die ook belangstelling had voor andere zaken dan muziek. Zo zette hij zich als organisator van the concert for Bangladesh in voor de slachtoffers van de grote overstroming in Bangladesh, was gastmusicus en deed mee aan een aantal speelfilms. In 1979 produceerde hij de Monty Python-film Life of Brian. Hij verkocht zijn productiemaatschappij in 1994 voor ruim 9 miljoen euro.
George Harrison - All Those Years Ago
George Harrison - Bangla Desh.mp3
George Harrison - Dark Horse.mp3
George Harrison - Ding Dong, Ding Dong
George Harrison - For You Blue.mp3
George Harrison - Give Me Love.mp3
George Harrison - Here Comes the Sun.mp3
George Harrison - If I Needed Someone.mp3
George Harrison - Isn't It A Pity 6118
George Harrison - My Sweet Lord.mp3 6118
George Harrison - Something.mp3
George Harrison - Taxman.mp3
George Harrison - Think For Yourself.mp3
George Harrison - this song
George Harrison - What Is Life.mp3
George Harrison - While My Guitar Gently Weeps.mp3
George Harrison - You.mp3
Eric Clapton & George Harrison - Badge.live.1971
Eric Clapton & George Harrison - Can't Find My Way Home (Live 1971)

0 1 2 3 4 5 - Gemiddelde waardering: 5/5 - (2 Stemmen)


Edison Lighthouse
Edison Lighthouse
Edison Lighthouse was a UK pop group, initially a studio only assemblage that served as a vehicle for session vocalist Tony Burrows and songwriter/record producers Tony Macaulay and Barry Mason. They are best known for their 1970 UK chart-topper and million selling record, "Love Grows (Where My Rosemary Goes)
The 'original' Edison Lighthouse was Tony Burrows (lead vocalist), Stuart Edwards (lead guitar), David Taylor (bass guitar), George Weyman (drums) and Ray Dorey (guitar).The group's lone Top 40 hit "Love Grows (Where My Rosemary Goes)" (1970) was one of four near contemporaneous UK Singles Chart Top Ten hit singles by Burrows under different names, the others being White Plains' "My Baby Loves Lovin'", The Pipkins' "Gimme Dat Ding", and Brotherhood of Man's "United We Stand". Burrows was also lead vocalist on the single "Beach Baby" (1974) for another studio only group, The First Class.
"Love Grows (Where My Rosemary Goes)" was Number One for five weeks and sold 250,000 copies in the UK."Love Grows" raced to the Number One position in its second week on the chart, which was at the time the quickest rise by an act new to the chart.The United States release was in February 1970 and reached Number 4 in the Billboard Hot 100, selling a million copies there by April earning the R.I.A.A. gold disc. In Canada the song reached #3.
Edison Lighthouse - Funny how love can Be
Edison Lighthouse - I_Wish_It_Could_Be_Christmas_Everyday
Edison Lighthouse - Love Grows Where My Rosemary Goes
Edison Lighthouse - Melanie Makes Me Smile
Edison Lighthouse - My Baby Loves Lovin'
Edison Lighthouse - Never Be Anyone Else But You
Edison Lighthouse - Pretty Lady
Edison Lighthouse - Smile A Little Smile For Me
Edison Lighthouse - What's_Happening
0 1 2 3 4 5 - Gemiddelde waardering: 0/5 - (0 Stemmen)

25-09-2010

Marc Winter
Marc Winter
Ad Kraamer (Middelburg, 18 oktober 1945) is een Nederlandse muziekproducent die onder de artiestennaam Marc Winter ook enkele platen uitbracht.
Zijn grootste Top 40 hit scoorde hij met De Heilsoldaat in 1974.
Verder heeft hij een LP uitgegeven in waarschijnlijk 1975 bij platenmaatschappij "De Zilvervloot" met als titel zijn naam "Marc Winter", hierop staat onder andere Floris V, De heilsoldaat en De overwegwachter, is er een verzamelalbum uitgegeven door CNR 541.658 in 1977 met de titel "De beste van Marc Winter" en een verzamelalbum genaamd "Topper van toen" op CNR 340.015 in 1977.
In de jaren zestig maakte hij deel uit van Bob Smit & het Duke City Sextet. Bij deze groep bespeelde hij de accordeon, piano en orgel.
Hij was onder meer de producent van:
André van Duin
Zangeres Zonder Naam
Dennie Christian
De Deurzakkers
Guus Meeuwis & Vagant

Kraamer heeft een eigen geluidsstudio in zijn woonplaats Drunen.
Marc Winter - Als er storm in 't leven woedt.mp3
Marc Winter - De Heilsoldaat.mp3
Marc Winter - De kermis staat weer in de stad.mp3
Marc Winter - De man van Nazareth.mp3
Marc Winter - De Overwegwachter.mp3
Marc Winter - De straten van de stad.mp3
Marc Winter - Florence.mp3
Marc Winter - Floris V.mp3
Marc Winter - Happy Holiday.mp3 8034
Marc Winter - Heer, waar bent U.mp3
Marc Winter - Het Kruisbeeld.mp3
Marc Winter - Marche Des Bicyclettes.mp3
Marc Winter - Nico.mp3
Marc Winter - Onze club gaat nooit verloren 8068
Marc Winter - Pinkie, De Baviaan.mp3
Marc Winter - Requiem van een voetbalheld.mp3
Marc Winter - Roomijs Met Vanille.mp3
Marc Winter - The Four Seasons Shuffle.mp3
Marc Winter - The Whistling Scout.mp3
Marc Winter - Tour De Force.mp3
Marc Winter - Waar Blijft Die Ouderwetse Winter.mp3
Marc Winter - Wanneer de herfst komt.mp3
Marc Winter - Waren alle mensen wijs.mp3
Marc Winter - Wees blij.mp3
Marc Winter - Wie Rijd Er Vanavond, Jij Of Ik.mp3
Marc Winter - Winter Tune.mp3

0 1 2 3 4 5 - Gemiddelde waardering: 1/5 - (1 Stemmen)

24-09-2010

Andy Borg
Andy Borg


Andy Borg (* 2. November 1960 in Wien; eigentlich Adolf Andreas Meyer) ist ein österreichischer Schlagersänger und Moderator.
Andy Borg absolvierte nach dem Abschluss der Mittelschule eine Lehre als Mechaniker und besuchte die Berufsschule in Amstetten in Niederösterreich. Anlässlich eines Wettbewerbs des ORF wurde er von Kurt Feltz für das Schlagergeschäft entdeckt und sang zunächst in der volkstümlichen Szene.
Mit dem Schlager "Adios Amor" kam 1982 der Durchbruch im Schlagergeschäft. Es folgten weitere Hits wie "Arrivederci, Claire", "Die berühmten drei Worte" und "Ich will nicht wissen, wie du heißt".
1990 nahm er mit dem Kinderstar Alexandra am Grand Prix der Volksmusik teil. Ihr Lied Komm setz' di auf an Sonnenstrahl erreichte hinter den Kastelruther Spatzen und dem Alpentrio Tirol den 3. Platz.
Ab 1996 moderierte er die Schlagerparade der Volksmusik im Südwest-Fernsehen, später im Ersten.
Seit September 2006 moderiert Andy Borg als Nachfolger von Karl Moik den Musikantenstadl sowie am 31. Dezember 2006 erstmalig den Silvesterstadl.
Andy Borg lebt in der Gemeinde Thyrnau im niederbayerischen Landkreis Passau und ist in zweiter Ehe mit Birgit Strobel verheiratet. Aus seiner ersten Ehe hat er zwei Kinder, eine Tochter (Jasmin, *1984) und einen Sohn (Patrick, * 6. März 1992).
Andy Borg - Adios Amor
Andy Borg - Als der Morgen kam
Andy Borg - Arrivederci Claire
Andy Borg - Barcarole vom Abschied
Andy Borg - Das Mädchen von Agadir
Andy Borg - Deutscher Hitmix Disco-Fox
Andy Borg - Die Fischer von San Juan
Andy Borg - Ich hab dir nie den Himmel versprochen
Andy Borg - Ich muss verrückt sein
Andy Borg - Ich will deine tränen weinen 8051
Andy Borg - ich will nur dich
Andy Borg - Komm heim zu mir
Andy Borg - Lass es mich ganz leise sagen
Andy Borg - Laura's schönster Tag
Andy Borg - Liebe auf den ersten Blick
Andy Borg - Liebe Total
Andy Borg - lieber jetzt und ohne ende
Andy Borg - Weil Wir Uns Lieben
Andy Borg - Wo bist du
Andy Borg & Petra Frey - Ich kann nicht mehr leben ohne Dich
Andy Borg & Petra Frey - zusammen gehn

0 1 2 3 4 5 - Gemiddelde waardering: 3/5 - (2 Stemmen)


Dana Winner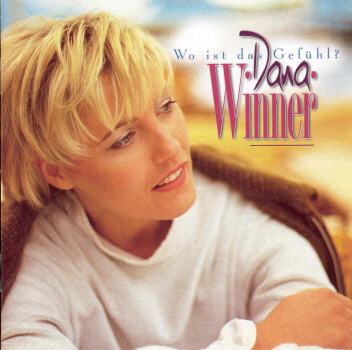 Dana Winner
Dana Winner, artiestennaam van Chantal Vanlee (Hasselt, 10 februari 1965) is een Vlaamse zangeres, wonende te Geel
Onder leiding van Jean Klüger brengt Dana Winner in 1990 een eerste single uit, "Op het dak van de wereld". Het is een coverversie van de hit Top of the world van de Carpenters uit 1973. Het succes komt in 1993 pas echt op gang dankzij haar hit Woordenloos. In 1995 scoort Winner haar tot nu toe enige Top 40-hit: "Westenwind", een cover van de Volendamse band The Cats One way wind.
In de jaren '90 van de 20e eeuw bouwt Dana verder haar carrière uit. Dat doet ze aanvankelijk hoofdzakelijk in het Nederlands, maar ze wordt ook in het buitenland een veelgevraagde artiest. In Duitsland, Nederland en vooral Zuid-Afrika is ze daarom steeds vaker te gast. Dat resulteerde vanaf het einde van de jaren '90 ook in anderstalige albums. In 2006 werd opnieuw een Nederlandstalig album uitgebracht, het eerste sinds 2000. Ook in 2006, kreeg ze in Bornem een permanent aandenken langs de SIM-route.
Dana Winner - Adios.mp3
Dana Winner - Als Jij Me Aan Raakt.mp3
Dana Winner - Beter Van Niet (Radio Edit).mp3
Dana Winner - Conquest Of Paradise.mp3
Dana Winner - Dann regnet es gluck
Dana Winner - De Oude Man En De Zee.mp3
Dana Winner - De Vlinders Achterna.mp3
Dana Winner - Duizenden Mooie Dromen.mp3
Dana Winner - Everything I Do.mp3
Dana Winner - Geef De Kinderen Een Wereld.mp3
Dana Winner - Gospelmedley.mp3
Dana Winner - Het Dorp.mp3
Dana Winner - Het Kleine Paradijs
Dana Winner - Hopeloos en Verloren.mp3
Dana Winner - Ich Hab' Noch 1000 Träume
Dana Winner - Iets Heeft Je Zachtjes Aangeraakt.mp3
Dana Winner - If I Had Words.mp3
Dana Winner - Ik Doe Het Voor Jou.mp3
Dana Winner - Ik Hou Van Jou.mp3
Dana Winner - Ik Mis Je Adem.mp3
Dana Winner - Ik Zing Vandaag Een Lied.mp3
Dana Winner - Immer, Immer Wieder En Un Instant.mp3
Dana Winner - Just When I Needed You Most
Dana Winner - Kijk Om Je Heen.mp3
Dana Winner - Kom In Mijn Armen.mp3
Dana Winner - L' Amour Ca Fait Chanter La Vie.mp3
Dana Winner - L'Amour.mp3
Dana Winner - Mijn Hart Zingt Van Liefde.mp3
Dana Winner - Moonlight Shadow.mp3
Dana Winner - Never Never
Dana Winner - Niets Te Verbergen.mp3
Dana Winner - Op Het Dak Van De Wereld.mp3 1032
Dana Winner - Regen Van Geluk.mp3
Dana Winner - Sproetjes.mp3
Dana Winner - Stand van de maan
Dana Winner - There's a kind of hush
Dana Winner - Ver Weg Van Eden.mp3
Dana Winner - Vincent.mp3
Dana Winner - Vleugels.mp3
Dana Winner - Waar Is De Tijd.mp3
Dana Winner - Waar Is Het Gevoel.mp3
Dana Winner - Waarheen, waarvoor
Dana Winner - Waarheen.mp3
Dana Winner - Waarom waarom (1989) 1032
Dana Winner - Wenn Du Lachst.mp3
Dana Winner - Westenwind.mp3
Dana Winner - Woman In Love.mp3
Dana Winner - Woordenloos.mp3
Dana Winner - Zeven Regenbogen.mp3
Dana Winner & Frank Galan - El bandido
Dana Winner & Frank Galan - Esperanza
Dana Winner & Frank Galan - I believe
Dana Winner & Frank Galan - Immer, immer wieder
Dana Winner & Frank Galan - Love song no.2
Dana Winner & Frank Galan - Margarita
Dana Winner & Frank Galan - Mijn Droom
Dana Winner & Frank Galan - Never Never Never
Dana Winner & Frank Galan - Salvane El Mundo
Dana Winner & Frank Galan - Samba
Dana Winner & Frank Galan - Te Quiero Mi Amor
Dana Winner & Frank Galan - Te Quiero Mi Amor
Dana Winner & Frank Galan - Un Tango Argentino
Dana Winner & Frank Galan - Waarom ben je zo mooi
Dana Winner & Maribelle, Gordon - Ik hou van jou
Dana Winner & piet veerman - westenwind
Dana Winner & Steve Hofmeyer - Vroeger Bracht Je Bloemen
0 1 2 3 4 5 - Gemiddelde waardering: 2/5 - (7 Stemmen)

22-09-2010

10 cc
10cc
10cc was een Britse rockgroep die voornamelijk in de jaren zeventig van de twintigste eeuw populair was. De groep werd in 1972 in Manchester gevormd en bestond uit Eric Stewart (zang en gitaar), Lol Creme (zang, gitaar en keyboard), Graham Gouldman (bas) en Kevin Godley (drums). De groep werd door muziekgoeroe Jonathan King omgedoopt van Hotlegs in 10cc en werd al snel bekend door hun grappige, hedendaagse teksten en innovatieve muziekstijl.
Paul Burgess kwam in de plaats van Godley en Creme die in 1976 de band verlieten. Godley & Creme wilden verder met de gizmo, een effectgenerator voor elektrische gitaar die zij hadden ontworpen, werden daarna beroemd als zingend duo, maar zijn veel beter bekend als de producers van videoclips. De video die ze maakten voor hun lied Cry in 1985 is bijzonder omdat het een van de eerste mainstreamvideo's is die de morphing-techniek gebruikt.
Graham Gouldman vormde samen met Andrew Gold de groep Wax (2 albums).
Het verhaal gaat dat de groep haar naam ontleende aan de hoeveelheid sperma die de gemiddelde man kwijtraakt per zaadlozing (9cc), maar aangezien zij net iets meer waren dan de gemiddelde man, moest de naam 10cc worden. In werkelijkheid echter werd de naam gegeven door producer Jonathan King, die een droom had over een wereldbekende band met die naam. Overigens komt bij de zaadlozing gemiddeld slechts 3cc sperma vrij.
In de jaren 2006 en 2007 laten 10cc leden van het eerste uur weer van zich horen. Graham Gouldman trekt uitverkochte optredens, die worden aangekondigd als '10cc - Graham Gouldman and friends'. Gouldman speelt voornamelijk 10cc hits, maar ook nummers die hij in de jaren zestig (van de vorige eeuw) voor andere groepen schreef (The Hollies, The Yardbirds, Herman's Hermits) ontbreken niet. Paul Burgess en Rick Fenn (beiden speelden ook in 10cc) maken deel uit van de band van Gouldman. De concerten van Gouldman vinden voornamelijk in Engeland plaats, maar ook in Australië, Duitsland, Denemarken en België.
In 2006 schrijven Graham Gouldman en Kevin Godley samen nieuwe nummers. Naar verwachting komt van hen een een nieuwe cd uit onder de groepsnaam 'GG06'. Lol Creme is eveneens wederom muzikaal actief in de groep 'the Producers', waarvan in het najaar een cd uitkomt. Van deze cd is al een single verschenen. Eric Stewart werkt aan een solo cd, nadat eerder van hem in 2003 de cd 'Do not bend' verscheen. Er gaan geruchten dat (ook) 10cc in oorspronkelijke bezetting weer bij elkaar komt. Eric Stewart voelt er echter nog weinig voor, in tegenstelling tot Gouldman, Godley en Creme.
10cc - Art for Art's Sake
10cc - Donna
10cc - Dreadlock Holiday
10cc - Feel The Love
10cc - Food For Thought
10cc - Good Morning Judge
10cc - I'm Not In Love
10cc - Life Is a Minestrone
10cc - rubber bullets 1260
10cc - Silly Love
10cc - The dean and i
10cc - The Things We Do For Love
10cc - The Wall Street Shuffle
10cc - Waterfall 1260
0 1 2 3 4 5 - Gemiddelde waardering: 0/5 - (0 Stemmen)


Jimmy Osmond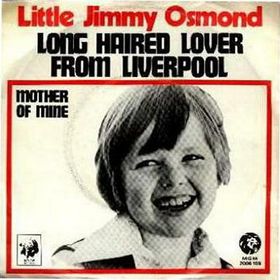 Jimmy Osmond
Jimmy Osmond (born James Arthur Osmond, April 16, 1963 (1963-04-16) (age 47), Canoga Park, California) is an American singer, actor, and businessman.
Jimmy Osmond is the youngest of his siblings and an occasional member of their musical group, The Osmonds. He is the ninth and last child of George and Olive Osmond, and his siblings are Virl, Tom, Alan, Wayne, Merrill, Jay, Donny, and Marie Osmond. He is also the only Osmond of the nine not to have been born in the family's hometown of Ogden, Utah. He remains the youngest performer to have a No. 1 single in the UK Singles Chart, with "Long Haired Lover from Liverpool" in 1972.
Osmond married Michelle Larson in 1992. Their four children are Sophia Michele (born 1994), Zachary James "Zack" (born 1997), Arthur Wyatt (born 2000), and Isabella Olive Renae "Bella" (born 2002).
Jimmy Osmond - I'm Gonna Knock On Your Door
Jimmy Osmond - Long Haired Lover From Liverpool 1257
Jimmy Osmond - mama d' know what to do 1262
Jimmy Osmond - Mother of mine 1257
Jimmy Osmond - Tweedlee Dee 1262

0 1 2 3 4 5 - Gemiddelde waardering: 2/5 - (1 Stemmen)

19-09-2010

Helen Reddy
Helen Reddy

Helen Reddy gevonden roem en succes als zangeres en actrice. Ze is het meest bekend om haar 1972 Grammy-winnende lied "I Am Woman. " Ze was 25 oktober 1941 geboren in Melbourne, Victoria, Australië business ouders te laten zien. Haar moeder, Shelly Lamond, was een soap actrice en zangeres, en haar vader, Max Reddy, was een acteur, schrijver en producer. Helen Reddy uitgevoerd op het podium in Australië vanaf de leeftijd van drie. Toen ze 25 was, verliet ze Australië naar New York na het winnen van een Australische Bandstand internationale wedstrijd.
Terwijl in New York, Reddy ontmoette en trouwde met William Morris agentschap talent manager Jeff Wald en verscheen op The Tonight Show Starring Johnny Carson . Kort na deze verschijning, Helen Reddy had haar eerste hit, "I Don't Know How to Love Him. " Maar het zou "I Am Woman ', dat nummer een in de Billboard Music Charts in oktober van 1972, dat kan uitgroeien tot handelsmerk Helen Reddy's song en ook een nummer in verband met het feminisme in de jaren 1970 hit. Reddy gemaakt controverse toen ze accepteerde haar Grammy Award voor Best Female Performance voor "I Am Woman" niet met het bedanken van God, maar door te verwijzen naar God als "She. "
Helen Reddy ondertekend met Capitol Records en bleef churn out hits in de jaren 1970 met" Delta Dawn "in 1973 en Angie Baby" in 1974. Ze concerten gespeeld en was ook te zien in nachtclubs en cabarets . Helen Reddy ook uitgevoerd in Broadway theater en uitgevoerd met symfonieorkesten.
Reddy gehost The Midnight Special in 1972 en had haar eigen ras show in 1973. Zij verscheen ook als een non in de film Airport 1975 en speelde in televisieseries als The Love Boat en Diagnosis Murder . Ze pensioen showbusiness in 2002.
Helen Reddy trouwde met haar derde echtgenoot, een drummer genaamd Milton Ruth, in 1982. Ze heeft twee kinderen uit haar eerste en tweede huwelijken. Reddy heeft motiverende spreken en haar gevarieerde loopbaan omvat drie jaar als Californië Commissaris van Parken en Recreatie. Ze is een klinisch hypnotherapeut in Australië en is de beschermheilige van de Australian Society of Clinical Hypnotherapeuten.
Helen Reddy - Ain't No Way To Treat A Lady.mp3
Helen Reddy - Angie Baby.mp3
Helen Reddy - bluebird
Helen Reddy - Delta Dawn.mp3
Helen Reddy - Emotion
Helen Reddy - I Am Woman.mp3
Helen Reddy - I Can't Hear You No More
Helen Reddy - I Don't Know How To Love Him.mp3
Helen Reddy - Keep On Singing
Helen Reddy - Leave Me Alone.mp3
Helen Reddy - Peaceful.mp3
Helen Reddy - Somewhere In The Night.mp3
Helen Reddy - You And Me Against The World.mp3
Helen Reddy - You're My World.mp3

0 1 2 3 4 5 - Gemiddelde waardering: 4/5 - (4 Stemmen)


Noordzee Duo
Noordzee Duo
Noordzee Duo - `n Kleine gouden ring.
Noordzee Duo - Als de bouzoukis klinken
Noordzee Duo - Breng me geen rozen
Noordzee Duo - Daar bij die molen
Noordzee Duo - De kristalwals.
Noordzee Duo - Die mooie tijd.
Noordzee Duo - doe het licht maar uit
Noordzee Duo - Eenzame nachten.
Noordzee Duo - Elke dag.
Noordzee Duo - Frikandel speciaal
Noordzee Duo - Harmonica Jim
Noordzee Duo - Het appeltje.
Noordzee Duo - Hoe hard is het leven.
Noordzee Duo - Hop en d`r op en d`r over.
Noordzee Duo - Ik heb van je gehouden
Noordzee Duo - Ik mag jou.
Noordzee Duo - Ik verdrink mijn verdriet
Noordzee Duo - Ik voel me prima.
Noordzee Duo - Ik vrij me te pletter
Noordzee Duo - in je ogen staat geschreven
Noordzee Duo - Jij hebt toch van die mooie blauwe ogen
Noordzee Duo - Kijken mag maar aankomen niet
Noordzee Duo - Lieveling
Noordzee Duo - Neem mij met je mee
Noordzee Duo - Oh m`n lekker ding.
Noordzee Duo - Onder de rode lantaarn 8052
Noordzee Duo - Onze ouwe staat gescheven
Noordzee Duo - Op `n Hollands terrasje.
Noordzee Duo - Op 't strand van rhodos
Noordzee Duo - Sientje laat me los
Noordzee Duo - Spaanse peper
Noordzee Duo - Tranen met tuiten.
Noordzee Duo - Willem is getrouwd
Noordzee Duo - Zie ik die regenboog.
Noordzee Duo - Zinloze oorlog

0 1 2 3 4 5 - Gemiddelde waardering: 3/5 - (2 Stemmen)

18-09-2010

Ferrari
Ferrari
Ferrari was een Nederlandse popgroep, die in de jaren '70 diverse internationale hits had.
De band, die in 1965 begon als Rock-'n-Roll groep 'Willie Ferrari and The Rollers' vond zijn oorsprong in het Brabantse Heusden. Destijds bestond de band uit een paar vrienden die het leuk vonden om met elkaar muziek te maken.
In 1967 veranderde de naam naar The Ferrari's en bestond de band inmiddels uit Ben van Wijk (gitaar, vocals, sax), Jaap Roubos (bas, trompet), Jan van Loon (drummer, vocals) en Kit Verboven (keyboard, piano). Op de bühne speelde The Ferrari's stevige muziek, soms zelfs hardrock. In 1970 voegde Frank Faas zich als leadzanger bij de band en werd de naam veranderd naar Ferrari. Langzaam maar zeker ging de band steeds meer commerciële muziek maken. In 1970 werd de single A Sunny Day dan ook de eerste hit voor Ferrari. Wederom wist Ferrari in 1971 een hit te scoren met The Girl I Need. De derde hit op rij You Are Mine werd medegezongen door de close harmony kanonnen van The Buffoons.
In 1975 met een nieuwe producer en platenmaatschappij (CBS latere Sony – Negram) brak de gouden periode van Ferrari aan. De singles Sailor Boy en Woogie Boogie werden beiden hits. Sailor Boy, geschreven door Chris Andrews, werd een top 10 hit. In 1976 bereikten ze met de single Sweet Love alleen in de Top 40 de eerste plaats; in de Nationale Hitparade kwam het nummer niet verder dan de tweede plaats. In datzelfde jaar stond de opvolger Monza in de Top 10. De laatste hit hadden ze met de single Gypsy Girl in 1977. Door veel landen maakte de band een tournee waarvan de laatste plaats vond in 1980, in de toenmalige DDR. De tour duurde zes weken waarin ze iedere dag optraden. In datzelfde jaar besloten de bandleden van Ferrari uit elkaar te gaan, ieder in een ander aspect van de muziek. Faas nam de naam Ferrari, met toestemming van de overige leden, mee en ging vervolgens solo verder onder de naam Frank Ferrari.
In december 2000 kwam Ferrari nog éénmaal bij elkaar om in de Brabanthallen te 's-Hertogenbosch hun hits ten gehore te brengen.
ferrari - amore mio
ferrari - beautiful life.mp3
ferrari - Blue bayou
ferrari - faster.mp3
ferrari - Freddy Fender Medley!!s
ferrari - goodbye.mp3
ferrari - gypsy girl.mp3
ferrari - If you give me your heart
ferrari - Krontjong Meldley
ferrari - land of loving.mp3
ferrari - live to love you.mp3
ferrari - mary lou.mp3 1497
ferrari - mexico.mp3
ferrari - Monza 1463
ferrari - Sandy 1463
ferrari - Sailor Boy
ferrari - sailors wife.mp3
ferrari - stone valley.mp3
ferrari - superstar.mp3
ferrari - sweet lisette.mp3
ferrari - Sweet love
ferrari - the sooner the better.mp3
ferrari - why.mp3 1497
0 1 2 3 4 5 - Gemiddelde waardering: 3/5 - (6 Stemmen)


Cat Stevens
Cat Stevens
Yusuf Islam (born Steven Demetre Georgiou; 21 July 1948 in London, England), originally and commonly known by his former stage name Cat Stevens, is a British musician. He is a singer-songwriter, multi-instrumentalist, educator, philanthropist, and prominent convert to Islam.
His early 1970s record albums Tea for the Tillerman and Teaser and the Firecat were both certified as Triple Platinum by the RIAA in the United States; his 1972 album Catch Bull at Four sold half a million copies in the first two weeks of release alone and was Billboard's number-one LP for three consecutive weeks. He has also earned two ASCAP songwriting awards in consecutive years for "The First Cut Is the Deepest", which has been a hit single for four different artists.
Stevens converted to Islam at the height of his fame, in December 1977, and adopted his Muslim name, Yusuf Islam, the following year. In 1979, he auctioned all his guitars away for charity and left his music career to devote himself to educational and philanthropic causes in the Muslim community. He has been given several awards for his work in promoting peace in the world, including 2003's World Award, the 2004 Man for Peace Award, and the 2007 Mediterranean Prize for Peace. In 2006, he returned to pop music with his first album of new pop songs in 28 years, entitled An Other Cup. He now goes professionally by the single name Yusuf. His newest album, Roadsinger, was released on 5 May 2009.
Cat Stevens - Another Saturday Night
Cat Stevens - Banapple Gas
Cat Stevens - Cant Keep It In
Cat Stevens - Lady D'arbanville
Cat Stevens - Mathew and son CD1
Cat Stevens - Miles from nowhere 1251
Cat Stevens - Moonshadow
Cat Stevens - Morning Has Broken
Cat Stevens - Oh Very Young
Cat Stevens - Peace Train
Cat Stevens - Ready
Cat Stevens - Sitting
Cat Stevens - Streets of London
Cat Stevens - The hurt
Cat Stevens - Tuesday's Dead 1251
Cat Stevens - Two Fine People
Cat Stevens - Wild World
0 1 2 3 4 5 - Gemiddelde waardering: 5/5 - (2 Stemmen)

16-09-2010

Geordie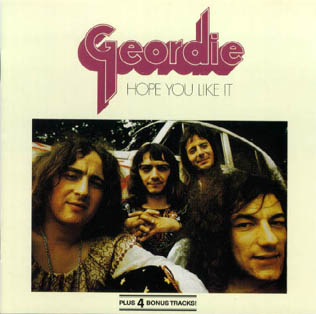 Geordie
Geordie was een glamrockband uit Newcastle-upon-Tyne die het strakke intellectuele keurslijf van de hardrock verwisselde voor een mengsel van glam, hardrock en blues, overgoten met een Geordie-muziekstijl. In twee jaar tijd scoorden ze 4 Britse hits en een live-reputatie die hen tot op de huidige dag een legendarische status opgeleverd hebben.
De leden waren Brian Gibson op drums, Tom Hill op basgitaar en Vic Malcolm op leadgitaar.
Om aan een zanger te geraken, luisterden ze vele lp's van hardrockartiesten af, waarbij de stem van de latere AC/DC-zanger Brian Johnson hen het meest beviel vanwege de rauwheid, venijnigheid en de lol die eruit klonk.
Na 1973 was het gedaan met de faam van de band, maar tot 1980 verschenen er nog steeds lp's. Toen Brian in 1980 Bon Scott in AC/DC opvolgde, ging de groep tijdelijk uit elkaar, maar kwam zonder Brian opnieuw bij elkaar in 1982 om nog tot 1985 onder de naam Geordie platen te maken. Hun nieuwe zanger was 'Doctor' Rob Turnbull. Tevens werd de band toen versterkt met een tweede gitarist, David Stephenson. De naam werd veranderd in Powerhouse en een laatste gelijknamige lp was in 1986 het laatste wat van de drie bandleden gehoord werd.
Geordie is een bijnaam voor een inwoner van de Engelse stad Newcastle upon Tyne. De vroegste geschreven bron van het woord dateert uit 1823. De herkomst is onbekend.
Ook het in Newcastle gesproken dialect wordt Geordie genoemd en de streek waarin Newcastle ligt Geordieland
In speculaties over de herkomst wordt het woord Geordie wel uitgelegd als:
--Een verwijzing naar George II. Newcastle heeft namelijk door de eeuwen heen bekend gestaan als een koningsgezinde stad.
--Een verwijzing naar de krankzinnigheid van George III. Een Geordie is in dat geval een 'gek'.
--Een verwijzing naar een door George Stephenson uitgevonden mijnwerkerslamp die vooral in Newcastle populair was.
Geordie - Ain't It Just Like A Woman .mp3
Geordie - All Because Of You.mp3
Geordie - Black Cat Woman .mp3
Geordie - Can You Do It .mp3 1250
Geordie - Don't Do That.mp3
Geordie - Electric Lady.mp3 1253
Geordie - Geordie Stomp .mp3 1253
Geordie - Geordie's Lost His Liggie.mp3
Geordie - Give You Till Monday.mp3
Geordie - Hope You Like It.mp3
Geordie - Keep On Rockin'.mp3
Geordie - Natural Born Looser.mp3
Geordie - Oh Lord.mp3
Geordie - Old Time Rocker.mp3
Geordie - Red eyed lady 1250
Geordie - Strange Man.mp3

0 1 2 3 4 5 - Gemiddelde waardering: 5/5 - (1 Stemmen)

15-09-2010

Mieke
Mieke
Geboren als Mieke Gijs op 05-05-1957
Het jonge Vlaamse zangeresje Mieke Gijs (uit Turnhout) werd in 1973 door Pierre Kartner (vader Abraham) ontdekt en gelanceerd in de Vlaamse en de Nederlandse showbizz. Ze bleef met hem samenwerken tot 1981. In die periode scoorde ze enkele grote hits. Het nummer "Een kind zonder moeder" dat Pierre Kartner voor haar in 1974 schreef was haar grootste solohit. Het stond wekenlang hoog genoteerd in de top 40 in Nederland.
Mieke zette in de jaren 70 haar eerste stappen in showbizz aan zijde Pierre Kartner (beter bekend als Vader Abraham). Om precies te zijn in 1973 bracht de zestien jarige Mieke geboren als Maria Gijs haar eerste singletje "Een Kind zonder moeder uit", later volgde ook nog nummer zoals "Mijn beste vriendin", "Charlie Chaplin", "Zomertijd" (duet met Vader Abraham) e.v.a.
De deze gingen telkens met miljoenen over de toonbank in zowel België als Nederland. In de jaren dat ze samen werkte met Vader Abraham, nam ze ook nummers op met Dennie Christiaan en Freddy Breck, de werden een voor een bekroont met een gouden plaat.
Mieke moest meer een meer in Nederland werken en het deed haar ook pijn in het hart dat haar gezinnetje met haar in 1984 geboren zoon Bart moest achterlaten.
Daardoor besloot ze haar meer op Vlaanderen te concentreren. Daar had ze toen met " Vlinders in je buik" een mooie hit te pakken. In 1993 deed ze een poging om deel te nemen aan Eurosong met het liedje "Waarom zou er vrede zijn".
Ze werkte samen met producer Marc De Coen en eind 1994 besloten ze de mooie klassieker "Laat me alleen" op te nemen, maar op 1 januari 1995 stierf haar man Hugo.
Ze belde al haar optredens af en lied de singles uit de winkel halen.
Ze wou er in die periode zijn om haar zoon Bart (10) te troosten en het verdriet te verwerken.
Optreden wou ze niet meer, maar in 1998 besloot ze wel een cd op te nemen met nummers van Dolly Parton.
Begin 2001, opnieuw enkele jaren later is Mieke er helemaal klaar voor, een nieuwe eeuw, een nieuw begin.
Mieke - 1000 Witte duiven
Mieke - 'N kleine lappenpop 8079
Mieke - 'N prachtige dag 8079
Mieke - Aan het spaanse strand 8079
Mieke - Alle kinderen 4046
Mieke - Als Ik Bergen Heb Overwonnen.mp3
Mieke - Als Ik Jou Niet Had
Mieke - Als je verdriet hebt om een vriend 8079
Mieke - Charlie Chaplin
Mieke - De Dierenband.wma
Mieke - De Hoempa - Tubaman.wma
Mieke - De Oude Visser
Mieke - Die Morgen.mp3
Mieke - Dromenland
Mieke - Duizend Witte Duiven.wma
Mieke - Een Kind Zonder Moeder 8076/8079
Mieke - Ga dan
Mieke - Ga naar die ander (1982) 1029
Mieke - Hartenbreker
Mieke - Het Dorpje
Mieke - Hij Is Een Millionair.wma
Mieke - Holderdebolder.mp3
Mieke - Ik ben een zondagskind 8079
Mieke - Ik Droom Elke Nacht.wma 8079
Mieke - Ik Heb Vandaag De Zon Besteld
Mieke - Ik Verlang Toch Zo Naar Jou.wma
Mieke - Ik Zal Je Nooit Meer Zien.wma
Mieke - ik zie de zon weer door m`n raam
Mieke - Jij bent alles voor mij 4020
Mieke - Jij Weet Heel Goed.wma
Mieke - Klein Klokje 8079
Mieke - La Provence.wma
Mieke - Laat Me Vrij.wma
Mieke - Laat Mij Gaan.wma
Mieke - Lieve Moeder
Mieke - Medley
Mieke - Mijn Beste Vriendin
Mieke - Mijn Engelbewaarder
Mieke - Mijn hart huilt om jou
Mieke - Mijn Liefdesdroom.wma
Mieke - Mijn Tranen Zijn Ook Voor Jou.wma
Mieke - Moeder je mag nu niet huilen 1029
Mieke - Morgen Zal Ik Om Je Huilen
Mieke - Neem Mij Nog Eens In Je Armen.wma 4137
Mieke - Niet Elke Oester Heeft Een Parel
Mieke - Nonnenkoor 8079
Mieke - Nu Ik Weet Wat Liefde Is
Mieke - Oh Zon, Ik Wou Dat Jij Maar Blijven Kon.mp3
Mieke - Onze liefde gaat nooit voorbij 4046
Mieke - schlagermix
Mieke - Stuur Mij Geen Rozen.wma
Mieke - Timmy.wma
Mieke - Vakantieliefde gaat veel te snel voorbij 8051
Mieke - Vaya con dios 4020
Mieke - Verleden Tijd.wma
Mieke - Visserslied 8052/8079
Mieke - Vlinders In Je Buik
Mieke - Vouw Je Handen.wma
Mieke - Vraag me niet of ik van je hou 4171
Mieke - Waarom zou er vrede zijn
Mieke - Wals Van De Lente.wma
Mieke - Wat Mijn Grootvader Zei
Mieke - Wintertijd 8079
Mieke - Zolang 8079
Mieke - Zomaar een dag in september 8042
Mieke - Zondagskind 8076
Mieke & de Heikrekels - Zou dat dan liefde zijn
Mieke & Dennie - He schat weet je dat
Mieke & Dennie Christian - De Verzonken Stad
Vader Abraham & Mieke - 'n Prachtige Dag (What A Wonderful World)
Dennie Christiaan & Mieke - Zaterdagavond
Jo Vally & Mieke - Soms is liefde

0 1 2 3 4 5 - Gemiddelde waardering: 4/5 - (6 Stemmen)


Golden Earring
Golden Earring
Golden Earring is een Nederlandse rockband. De groep werd opgericht in 1961 en is daarmee, samen met de Bintangs, de oudste nog bestaande rockband van Nederland.

Als een van de weinige Nederlandse bands heeft Golden Earring echt internationaal succes gehad, vooral vanwege hun hits Radar Love en Twilight Zone. De band heeft wereldwijd miljoenen albums verkocht en genoot in de jaren zeventig en tachtig van de 20e eeuw internationale sterrenstatus, met name in de Verenigde Staten. Tevens neemt Golden Earring een dominante positie in de Nederlandse muziekwereld in met meer dan dertig gouden en platina albums.
De band stond tot nu toe in totaal 389 weken in de Nederlandse Top 40 en is daarmee de succesvolste Nederlandse single-artiest in die lijst. Met 5 hitnoteringen in de Amerikaanse Billboard Hot 100 is Golden Earring ook de succesvolste Nederlandse act in Amerika, met Twilight Zone scoren ze zelfs een #1 hit in Billboard's Mainstream Rock Tracks.
De vier Haagse musici vormen een van de belangrijkste Nederlandse bands die nog steeds wekelijks optreden en de groep heeft een status als een van 's werelds oudste rockbands (1961) in oorspronkelijke bezetting (sinds 1970). In 2009 maakte Golden Earring zijn comeback in Engeland met concerten in Ipswich en Londen. Na een show in Ahoy op 20 Februari 2010 zijn er heel weinig optredens gedurende de rest van 2010. Er wordt gewerkt aan een nieuw studio -album, waarvoor de band al enkele songs heeft opgenomen.
Golden Earring - Another 45 miles
Golden Earring - As Long As The Wind Blows.mp3
Golden Earring - Avalanche of love 6105
Golden Earring - Back Home.mp3
Golden Earring - Big Tree Blue Sea.mp3
Golden Earring - Bombay
Golden Earring - buddy joe 6105
Golden Earring - Clear night moonlight
Golden Earring - Don't Worry.mp3
Golden Earring - Going to the run
Golden Earring - Holy holy life
Golden Earring - Hope.mp3
Golden Earring - I Do Rock 'N Roll
Golden Earring - I'm Going To Send My Pigeons To The Sky.mp3
Golden Earring - Just Like Vince Taylor
Golden Earring - Long Blond Animal
Golden Earring - Radar Love 1248
Golden Earring - See See.mp3
Golden Earring - She Flies On The Strange Wing.mp3
Golden Earring - Silver Ships.mp3
Golden Earring - Something Heavy Going Down
Golden Earring - The Loner.mp3
Golden Earring - The Road Swallowed Her Names.mp3
Golden Earring - The song is over 1248
Golden Earring - The Wall Of Dolls.mp3
Golden Earring - This Is The Orther Side Of Life.mp3
Golden Earring - This Is The Time Of The Year.mp3
Golden Earring - Twilight Zone
Golden Earring - Yellow And Blue.mp3
Golden Earring - You're Better Off Free.mp3
0 1 2 3 4 5 - Gemiddelde waardering: 3/5 - (2 Stemmen)


Focus
Focus
Focus is een Nederlandse progrockband, vooral bekend uit de jaren zeventig om zijn instrumentale muziek, een combinatie van invloeden uit klassiek, rock en jazz. De belangrijkste leden uit die tijd waren Thijs van Leer en Jan Akkerman.
Focus begon als trio, opgericht door de klassiek geschoolde organist/fluitist Thijs van Leer in 1969. Dit Trio Thijs van Leer, met bassist Martijn Dresden en drummer Hans Cleuver, begeleidde Ramses Shaffy en Liesbeth List, en de Nederlandse uitvoeringen van de Amerikaanse musical Hair. Tijdens een opname als begeleidingsgroep voor de kerstsingle 'Vier ballen en een piek' van Neerlands Hoop (Freek de Jonge en Bram Vermeulen) ontmoette het trio de Amsterdamse gitarist Jan Akkerman die toen uit de groep Brainbox kwam. Hij voegde zich eind 1970 bij de groep en nam met hen het album In and out of focus op.
Akkerman nam uit Brainbox drummer Pierre van der Linden mee die na de opnamen van de debuutelpee Cleuver verving. Dresden werd in 1971 vervangen door Cyril Havermans. In 1971 bracht Focus zijn tweede album uit, Moving Waves, dat de groep internationale erkenning bracht. De grootste hits van de band waren de instrumentele nummers Sylvia en Hocus Pocus. De titel van het laatste nummer was mogelijk een bewuste poets die dj's werd gebakken: "Dat was Hocus Pocus van Focus". Dit nummer bevatte ook gejodel van Van Leer. Sylvia had Van Leer een aantal jaren eerder geschreven voor de achtergrondzangeres Sylvia Alberts, die destijds net als hijzelf in de cabaretgroep van Ramses Shaffy werkte.
Bassist Havermans werd in 1971 vervangen door Bert Ruiter, en in deze bezetting werd op 5 mei 1973 een live-album opgenomen in Londen. In hetzelfde jaar kwam de dubbel-LP Focus 3 uit. Vervolgens kreeg Focus last van een drummerscrisis tijdens de opnamen van het album Hamburger Concerto in 1974. Pierre van der Linden verliet de groep en ging samen met met Rick van der Linden van Ekseption en Jaap van Eik (ex Cuby & The Blizzards) verder in de formatie Trace. Hij werd vervangen door Colin Allen. In 1975 verliet ook Jan Akkerman de band, die daardoor feitelijk ophield te bestaan. In mei 1976 trad een vrijwel geheel nieuwe bezetting op voor de BBC rond Ruiter en Van Leer, met Philip Catherine als gitarist en David Kemper als drummer. Deze opnamen zijn jaren later uitgebracht als Live at the BBC. In 1977 volgde nog een LP met gitarist Eef Albers en incidentele zang van PJ Proby, maar in 1978 werd de band ontbonden door Van Leer.
Focus - Anonymus.mp3
Focus - Bennie Helder.mp3
Focus - Focus (Instrumental).mp3
Focus - Focus II.mp3
Focus - Focus III.mp3
Focus - Focus IV.mp3
Focus - Glider.mp3
Focus - Harem Scarem.mp3
Focus - Hocus Pocus.mp3 1245
Focus - House Of The King.mp3
Focus - Janis.mp3
Focus - Mother Focus.mp3
Focus - Red Sky At Night.mp3
Focus – Sylvia.mp3 1245
Focus - Tommy.mp3
Focus - U.S. Single Version.mp3

0 1 2 3 4 5 - Gemiddelde waardering: 0/5 - (0 Stemmen)

13-09-2010

Ronnie Tober
Ronnie Tober
Ronald Edwin Tober (Bussum, 21 april 1945) is een Nederlands zanger.
Ronnie Tober emigreerde op driejarige leeftijd naar de Verenigde Staten, naar Albany in de staat New York en groeide daar op. Hij ging daar naar de West Albany School en Colonie Central High School. Ronnie Tober trad op in twee musicals, in de rol van Tony in de musical "The Boyfriend" en als Billy Jester in "Little Mary Sunshine". Op 29 september 1960, tijdens de campagne Kennedy versus Nixon, werd Ronnie Tober gevraagd door Senator Samuel Stratten van de staat New York, voor Senator John F. Kennedy te zingen. Tevens vroeg congressman Dean Park Taylor, Ronnie voor Nixon te zingen op 30 september 1960. Hij zong voor beiden.
Ronnie Tober in 1968In 1963 keerde hij terug naar Nederland, waar hij onder de hoede kwam van René Sleeswijk van de "Snip en Snap Revue". In 1965 nam hij deel aan het nationale songfestival met het nummer "Geweldig" en behaalde een tweede plaats, in 1966 won hij de tweede prijs op het Knokke Songfestival. Ronnie Tober werd door Eric Krans, hoofd lichte muziek AVRO Radio, gevraagd om samen met Ann Burton naar het songfestival in Sopot te gaan. Hier ontving hij een eervolle eerste plaats met zijn vertolking van "Showtime on Broadway". In 1968 deed hij mee aan het Eurovisiesongfestival in Londen en eindigde met het nummer "Morgen" op de 16de plaats.
In 2000 was hij deelnemer aan het televisieprogramma Big Brother VIPS met Anneke Grönloh, Henk Schiffmacher, Maya Eksteen, Theodor Holman en Maxine.
Op 27 december 2003 werd hij benoemd tot Ridder in de Orde van Oranje-Nassau door H.M. Koningin Beatrix deze onderscheiding ontving hij tijdens zijn 40-jarig artiesten jubileum in theater Orphues in Apeldoorn.
In april 2006 kwam Ronnie Tober met de single "De Wandelexpress". Deze titel is bewust gekozen vanwege Ronnie's deelname aan de Nijmeegse Vierdaagse 2006. In 2007 kwam het tweede vierdaagse lied op de markt met de titel "Loop met ons mee". In dat jaar haalde Tober door vier dagen 40 km. te lopen zijn eerste Vierdaagse kruisje. In 2008 zong Ronnie het lied "Wij lopen de vierdaagse".
Daarnaast heeft hij meegewerkt aan de popquiz van Rob Stenders, Stenders Late Vermaak, die in het eerste kwartaal van 2007 werd uitgezonden op Tien.
In 2008 speelde hij een kleine rol in de bioscoopfilm Sinterklaas en het Geheim van het Grote Boek van regisseur Martijn van Nellestijn.
Op zaterdag 27 december 2008 vierde Tober zijn 45-jarig artiesten jubileum in een uitverkocht theater Figi te Zeist. Vele bekende collega's gaven acte de presence waaronder: Anneke Grönloh, Ciska Peters, Tv kok en artiest Lonny en vele anderen. De presentatie was in handen van Vivian Boelen, Jacques d'Ancona en Eddy Becker. Tober ontving van de producent en regisseur van de kinderfilm "Sinterklaas en het Geheim van het Grote Boek" een "Oscar" naast een cheque van €2.500,00 voor de Ronnie Tober Foundation.
In 2009 was Ronnie te horen in de Sinterklaasfilm van regisseur Martijn van Nellestijn: Sinterklaas en de Verdwenen Pakjesboot. Voor deze film zong Ronnie de titelsong "Nederland". Dit nummer is geschreven door Harold Verwoert die in de film de rol speelt van piet Diego.
December 2009 heeft Ronnie Tober de Princess Hoffelijkheidsprijs 2009 ontvangen. Deze prijs is Ronnie overhandigd door Mies Bouwman.
Van 20 t/m 23 juli 2010 zal Ronnie wederom de Nijmeegse 4-daagse lopen. Net zoals de voorgaande jaren is er dit jaar weer een single opgenomen. "De 4-daagse is een feest" is het nieuwe Vierdaagse lied 2010 hier zingt Ronnie samen met Belinda en Patrick de Bree van het orkest Commercial Break, Erwin Fillee, Melissa Reeden, Jan Tober, Yvonne & Leo van Doorn.
Vanaf 13 oktober 2010 zal Ronnie te zien zijn als hotelgast/ Meneer Tober in de film "Sinterklaas en het Pakjes Mysterie" van regisseur Martijn van Nellestijn. Dit is de 3e Sinterklaasfilm waar Tober iets mee te maken heeft.

Ronnie Tober - Achttien jaar, goudblond haar.mp3
Ronnie Tober - Als ik speel.mp3
Ronnie Tober - Arrividerci_Ans
Ronnie Tober - Blijf nog een uurtje 4099
Ronnie Tober - Bloemen van tahiti (1988) 1028
Ronnie Tober - Breng Die Rozen Naar Sandra
Ronnie Tober - De nacht van mijn dromen (1988) 1028
Ronnie Tober - De wereld is wel tienmaal mooier.mp3
Ronnie Tober - De zomer komt weer gauw.mp3
Ronnie Tober - De zon in mijn hart 8041
Ronnie Tober - Dit moet 't afscheid zijn.mp3
Ronnie Tober - Een lied wordt oud.mp3
Ronnie Tober - Geweldig
Ronnie Tober - Hitmedley
Ronnie Tober - Iedere avond, Iedere morgen
Ronnie Tober - Ik kan je niet vertellen.mp3
Ronnie Tober - Ik zou je een kusje willen geven.mp3
Ronnie Tober - ik_ben_zo_eenzaam
Ronnie Tober - Ik_Vind_Je_Geweldig
Ronnie Tober - Je staat niet in 't adresboek.mp3
Ronnie Tober - Marijke uit krabbendijke.mp3
Ronnie Tober - Met een roos in je blonde haren
Ronnie Tober - Morgen schijnt de zon voor jou 4099
Ronnie Tober - Rosemarie
Ronnie Tober - Rozen voor Sandra
Ronnie Tober - Tien voor tien.mp3
Ronnie Tober - Verboden Vruchten
Ronnie Tober - Zij draagt mijn naam.mp3

Ronnie Tober & Anneke Grunloh - Adios amigo
Ronnie Tober & Anneke Grunloh - Speel nog een liedje orgelman
Ronnie Tober & Ciska Peters - Een witte eend
Ronnie Tober & Ciska Peters - Naar de kermis
Ronnie Tober & Dayen - Loop_met_ons_mee
Ronnie Tober & De Ronnies - Beestjes
Ronnie Tober & diverse artiesten - Jij en ik in een bootje
Bonnie St.Claire, Ronnie Tober, Ciska Peters, Nico Haak, Willeke Alberti, e.a. - Een Heel Gelukkig Kerstfeest
0 1 2 3 4 5 - Gemiddelde waardering: 2/5 - (2 Stemmen)


Steve Harley & Cockney Rebel
Steve Harley & Cockney Rebel
Steve Harley & Cockney Rebel is een Britse popgroep onder aanvoering van zanger Steve Harley. De band werd bekend in de vroege jaren 70 met hits als Sebastian en Make Me Smile (Come Up And See Me).
Harley had al enige tijd samengewerkt met John Crocker als straatmuzikant voor zij in 1972 de band Cockney Rebel oprichtten. Als drummer werd Stuart Elliott aangetrokken, als bassist Paul Jeffreys en als toetsenist Milton Reame-James. Al na vijf optredens kwamen zij onder contract bij EMI, en met het nummer Sebastian hadden zij succes in een aantal Europese landen. Als debuutalbum kwam in 1973 The Human Menagerie uit, volgens veel fans hun beste album.
Al snel werd duidelijk dat Harley de band als zijn begeleidingsband zag, en dat de band daardoor geen lang leven beschoren zou zijn. Toch bracht de band enkele hitsingles uit, waaronder Judy Teen en Mr. Soft. De band werd in 1974 verkozen tot "Most Outstanding New Act", maar aan het einde van een succesrijke toer in dat jaar namen alle bandleden op Elliott na ontslag. Harley zou vervolgens met sessiemuzikanten optredens verzorgen voor popprogramma's als Top of the Pops. Vanaf dat moment zou de band alleen in naam bestaan, en betrof het een solo-project van Steve Harley.
Het album The Best Years of Our Lives uit 1974 werd geproduceerd door Alan Parsons, waarvan de hitsingle Make Me Smile (Come Up And See Me).
Na 1974 ging het allemaal wat minder met Harley, op een paar kleine projecten in 1979 en begin jaren 80 na was het rustig rondom de zanger. Eind jaren 80 zou hij opnieuw met het oude Cockney Rebel-repertoire op het podium staan. In de jaren 90 zou hij twee solo-albums uitbrengen, waarna in 2005 weer een album onder de naam Cockney Rebel: The Quality of Mercy. Zijn huidige tourband noemt hij Cockney Rebel Mark III, maar afgezien van drummer Elliott zitten daar geen originele bandleden in.
Steve Harley & Cockney Rebel - Here Comes the Sun
Steve Harley & Cockney Rebel - Judy Teen
Steve Harley & Cockney Rebel - Make Me Smile
Steve Harley & Cockney Rebel - Mr Raffles
Steve Harley & Cockney Rebel - Mr Soft
Steve Harley & Cockney Rebel - Psychomodo
Steve Harley & Cockney Rebel - Rock and Roll Parade 1240
Steve Harley & Cockney Rebel - Sebastian 1240

0 1 2 3 4 5 - Gemiddelde waardering: 3/5 - (2 Stemmen)


Earth & Fire
Earth & Fire
Earth & Fire was een Nederlandse popgroep uit de jaren zeventig. De Voorschotense-Voorburgse-Leidschendamse groep had als boegbeeld Jerney Kaagman (zang) en de tweelingbroers Gerard (keyboards) en Chris Koerts (gitaar). De overige bandleden wisselden in de loop van de tijd. Drummer op de eerste twee hits was Cees Kalis, die daarna koos voor een baan in het onderwijs. Hij overleed in 2006.
De band werd in 1967 opgericht als Opus Gainfull, door de broers Koerts, Hans Ziech en Cees Kalis. Toen zangeres Manuela Berloth de band kwam versterken werd de naam gewijzigd in Earth & Fire. Berloth, die ook al een solocarrière had gehad onder de naam Lysett moest echter wegens een oogziekte afhaken, en haar plaats werd ingenomen door Jerney Kaagman die tot dan zangeres van de Rangers was geweest.
In die formatie brak de band door met de single Seasons (1970) geschreven door Golden Earring-gitarist en -zanger George Kooymans. Het nummer bereikte een tweede plaats, en nog in hetzelfde jaar maakte Earth & Fire hitsingles als Ruby Is The One en Wild And Exciting. Vanaf 1971 verlegde Earth & Fire de muzikale koers naar symfonische rock. Gerard Koerts introduceerde de mellotron in de Nederlandse popmuziek. Het instrument bleef jarenlang typerend voor de sound van de band.
De eerste nummer één hit in Nederland was Memories (1972). Ook in de daaropvolgende jaren scoort Earth & Fire een aantal hits, waaronder Maybe tomorrow, maybe tonight (1973) en Love Of Life (1974). Ook buiten Nederland begint belangstelling te ontstaan voor de muziek van Earth & Fire.
In 1978 werd Frits Hirschland manager, en kwamen er een nieuwe bassist Bert Ruiter (ex-Focus) en drummer Ab Tamboer. Producent Jaap Eggermont keurt echter in 1979 de demo's voor het album Reality Fills Fantasy af, en het is op een haar na gedaan met de band. Met Weekend scoort Earth & Fire echter een grote internationale hit. In Nederland werden er 210.000 singles van verkocht en stond het 6 weken op nr.1 in de Nationale Hitparade.
Na het vertrek van Chris Koerts werd met nieuwe gitarist Ron Meyes in 1982 nog een top-15 hit uitgebracht 24 hours. De groep viel een jaar later echter uiteen, waarna Kaagman een tweetal soloalbums maakt. In 1987 maakte de groep een come-backtour in een nieuwe bezetting met daarin onder andere Ton Scherpenzeel

In 2006 verscheen een groepsbiografie, geschreven door Fred en Dick Hermsen.
Earth And Fire - Hide away.mp3
Earth And Fire - I don't know why.mp3
Earth And Fire - Jack is Back.mp3
Earth And Fire - Love is to give aw.mp3
Earth And Fire - Love of life 1305
Earth And Fire - Maybe Tomorrow,maybe tonight 1237
Earth And Fire - Memories
Earth And Fire - Storm And Thunder
Earth And Fire - Strange Town.mp3
Earth And Fire - The two of us.mp3
Earth And Fire - Theme from Atlantis 1237
Earth And Fire - Tuffy the cat 1305
Earth And Fire - Twentyfour hours.mp3
Earth And Fire - Weekend
Earth And Fire - Whis you were here.mp3
Earth And Fire - Wild and exciting
Earth And Fire - In a state of flux.mp3
Earth And Fire - Dona Nobis Pacem
0 1 2 3 4 5 - Gemiddelde waardering: 4/5 - (1 Stemmen)

12-09-2010

Wally Tax
Wally Tax
Wally Tax in 1968Wladimir (Wally) Tax (Amsterdam, 14 februari 1948 - Amsterdam, 10 april 2005) was een Nederlandse zanger en componist.[bron?]
Tax werd geboren als zoon van een Nederlandse vader en een Oekraïense moeder die elkaar in een Duits werkkamp van de Arbeitseinsatz hadden leren kennen. Hij begon als zanger van de Amsterdamse band The Outsiders, die hij op 12-jarige leeftijd oprichtte. De eerste single "You mistreat me" kwam in 1965 uit. De bandleden van het eerste uur waren, naast Tax: Ronny Splinter (sologitaar), Tom Krabbendam (slaggitaar), Appie Rammers (basgitaar) en Leendert Busch (drums).
De groep brak door toen zij in het voorprogramma van The Rolling Stones speelde. The Outsiders tekenden een platencontract bij Willem Duys' label Relax, en hadden enkele hits achter elkaar: Lying all the time, Keep on trying en Touch behaalden alle een top 10-notering. Ook in 1967 scoorden Tax en zijn band hit na hit. Monkey on your back en Summer is here haalden de top-10. Wally Tax had in dat jaar ook twee solohits met I Sat And Thought And Wondered Why (6 weken Top 40) en Let's Forget What I Said (8 weken Top 40).
Vrijwel alle hits van The Outsiders zijn gezongen in een even smeuïg als uniek Mokum-Engels. In 1968 ging het bergafwaarts met de band. Tax en de andere bandleden werden het niet eens over hoe de band zich muzikaal moest ontwikkelen en in 1969 ging de band uit elkaar. Tax richtte samen met Leendert Busch de band Taxfree op, maar die samenwerking was geen lang leven beschoren. Al in 1971 scheidden hun wegen zich.
In 1973 ging Tax definitief solo. Hij scoorde vier hits in 1974, waaronder Miss Wonderful en It ain't no use. Dat jaar ontving Tax de Zilveren Harp. Zijn laatste hit als uitvoerend muzikant was in 1977 met Let's dance. Vanaf dat moment was Tax actief als schrijver voor onder anderen Lee Towers (It's raining in my heart) en de band Champagne (Rock 'n'Roll Star, Oh Me Oh My Goodbye en Valentino).
Tax was de levensgezel van publiciste Laurie Langenbach, die in 1984 overleed aan baarmoederhalskanker. Zij was in de laatste jaren van haar leven in de ban geraakt van de macrobiotische goeroe Adelbert Nelissen, directeur van het Kushi-Instituut. Nadat Roel van Duijn een strafklacht had ingediend tegen Nelissen, die Van Duijns voormalige echtgenote van de reguliere geneeskunde zou hebben weggehouden, deed Tax op 20 oktober 1998 alsnog aangifte.
Na de dood van Langenbach ging het bergafwaarts met Tax. Gevraagd in een kaas-en-wijnwinkeltje in De Pijp of hij een grote dan wel een kleine fles op het oog had antwoordde Tax, die in de jaren zeventig met zijn zilveren kostuums zo'n opzien baarde in de tram dat de controleur te verbouwereerd was om zijn "kaartje naar Mars" te controleren, "Ach, ooit was ik groot en nu ...?".
De voormalig leden van The Outsiders waren in de jaren '90 van elkaar vervreemd en onderhielden geen contact meer. Het project van Jerome Blanes om een officiële biografie te schrijven heeft de bandleden weer bij elkaar gebracht. Gelijktijdig met de uitgave van de biografie ondernamen The Outsiders een grootscheepse reünie-tournee in 1997. Een Engelse vertaling van de biografie wordt verwacht in 2008.
Tax overleed op 57-jarige leeftijd in zijn woning te Amsterdam. Na zijn dood vertelde een buurtbewoner aan AT5 dat Tax vaak een klein bedrag bij hen kwam 'lenen'. Nooit een rond bedrag, maar immer het afgepaste bedrag dat hij tekort kwam om een biertje te kunnen kopen. De buurtbewoners waren aan deze vorm van artiestenbelasting gewoon geraakt en spraken onderling van "de Wally-taks".
Tax is begraven op de Oosterbegraafplaats in Amsterdam. Na een inzamelactie en een benefietconcert in Paradiso kon precies een jaar na Tax' dood een grafmonument worden geplaatst. Het is vervaardigd door Meinbert van Soest en bestaat uit een monumentaal blok steen met aan de linkerkant 'outsider' en rechts 'entertainer'. Op het blok steen staat een kruis van gitaarhalzen.
Wally Tax - Evidently 1348
Wally Tax - last night
Wally Tax - let's forget what i said
Wally Tax - Miss Wonderful 1236
Wally Tax - She's as lovely as a breeze 1348
Wally Tax - Take me for what i am 1236
Wally Tax & The Outsiders - Let's dance

0 1 2 3 4 5 - Gemiddelde waardering: 5/5 - (2 Stemmen)

E-mail mij
Druk op onderstaande knop om mij te e-mailen.
Gastenboek
Druk op onderstaande knop om een berichtje achter te laten in mijn gastenboek