Rondvraag / Poll
Wat is uw favoriet muziek
De muzieksite voor de echte muziekliefhebber----------HOE MEER REAKTIES HOE MEER DE SITE WORD UITGEBREID----ALLE liedjes zijn als MP3 verkrijgbaar op aanvraag
VOOR MEER INFO MAIL ME
03-03-2011

Micha Marah
Micha Marah
Micha Marah, geboren als Aldegonda Leppens (Turnhout, 26 september 1953) is een Vlaamse zangeres.
Micha Marah bracht in 1969 haar eerste single uit. Zij was toen amper 16 jaar. Nationaal bekend werd Micha dankzij Canzonissima 1971. Tijdens dit programma, waarin de Vlaamse afvaardiging voor het Eurovisiesongfestival werd gekozen, presenteerde het 17-jarige zangeresje onder andere haar liedje Tamboerke. Nicole & Hugo met Goeiemorgen morgen werden echter uitverkoren om naar Dublin te gaan. Tamboerke bereikte de hitparade en werd Micha's eerste hit. Haar tweede hit was Die heerlijke wereld en dat is een bewerking van Un mundo nuevo, de Spaanse songfestivalbijdrage van 1971. Haar ster rees snel dat jaar, want zij deed mee aan het fameuze liedjesfestival Knokke Cup en stond ook in de hitparade met de liedjes Ik ben een meisje en Sterren aan de hemel.
Micha trad op in binnen- en buitenland. In 1975 waagde zij met 't Is over haar kansen nog eens voor het Eurovisiesongfestival. Zij deed dat samen met The Pebbles, een populaire band. Maar Ann Christy en Gelukkig zijn waren haar te machtig: Ann Christy ging naar Stockholm.
Inmiddels was de naam Micha Marah een gevestigde naam in de Vlaamse showbusiness.
In 1979 werd ze zonder competitie uitgekozen om België te vertegenwoordigen op het Eurovisie-podium. Tijdens de pre-selectie op 3 maart 1979 zong ze drie liedjes: Mijn dagboek, Comment ça va en Hey nana. Het laatste werd gekozen om naar Jeruzalem te gaan. Micha verfoeide het liedje echter en dreigde zich terug te trekken. De situatie dreigde te escaleren toen ze Hey nana als plagiaat wilde laten aanmerken met de bedoeling het te diskwalificeren. Zangeres Nancy Dee werd benaderd als vervangster. Uiteindelijk reisde Micha Marah toch af naar Israël. Op 31 maart 1979 zong zij het gewraakte liedje. Ze eindigde er als 18de en gedeelde laatste. Daarna wou ze Hey nana nóóit meer zingen. Het verscheen ook niet op single.
Na het songfestivaldrama ging ze onverdroten verder. Ze wisselde vaak van stijl. Zo bracht ze in 1983 een LP met kinderliedjes uit, getiteld (Alleen voor kinderen). Dit bleek een succes en er volgden er meer, deel 2 in 1984 en deel 3 in 1985. Ook was ze samen met Marijn De Valck als als tv-presentatrice te zien in het jeugdprogramma Stad op stelten. In de jaren tachtig en negentig presenteerde zij radioprogramma's als Hadiemicha en Kwistig met muziek op Radio 2. Ook was zij in allerlei televisieprogramma's te zien als zangeres, actrice of panellid.
Toen zij in september 1993 veertig jaar wordt, bracht ze daarover een single uit met de gelijknamige titel. Zij brak dan ook met de zogenaamde schlagers, die zij in met name de jaren tachtig op haar repertoire had staan.
Micha Marah is een veelzijdige zangeres. Tot in 2000 bleef ze singles en albums uitbrengen, ook in de Engelse taal. Zij raakte geïnspireerd door Ierse folksongs en bracht in 1998 een album met bewerkingen uit. De zangeres liet zich hier van een nog onbekende kant zien. Anno 2006 maakte ze samen met Alana Dante en Sandra Kim deel uit van de Soul DivaZ. Zij brengen een repertoire van hits uit de jaren zestig.
Micha Marah - Afscheid Is Een Beetje Sterven
Micha Marah - 't Is Te Gek Om Weer Verliefd Te Zijn.mp3
Micha Marah - Blijf Bij Me.mp3
Micha Marah - De Majoretten.mp3 5218
Micha Marah - Die Heerlijke Wereld.mp3
Micha Marah - Doornen En Rozen.mp3
Micha Marah - Hasta Manana
Micha Marah - Heel alleen kan ik niet leven 8033
Micha Marah - Hey Jongens.mp3
Micha Marah - Hou Me Vast.mp3
Micha Marah - Iedere Dans.mp3
Micha Marah - Ik Blijf Op Je Wachten.mp3
Micha Marah - Lange Haren.mp3
Micha Marah - Neem M'n Hand.mp3
Micha Marah - Tamboerke.mp3
Micha Marah - T'is te gek om weer verliefd te zijn 4100
Micha Marah - Vom stadtpark die laternen 4100
Micha Marah - Waar is mijn schangri-la 5218
0 1 2 3 4 5 - Gemiddelde waardering: 4/5 - (4 Stemmen)

28-02-2011

Top 40 - 1976
Alle Nr.1 Hits Uit De Nederlandse Top 40
1976

0 1 2 3 4 5 - Gemiddelde waardering: 2/5 - (8 Stemmen)


Charles Aznavour
Charles Aznavour
Charles Aznavour, eigenlijke naam (Armeens: Շառլ Ազնավուր) Chahnour Varinag Aznavourian, (Parijs, 22 mei 1924) is een Franse zanger en songwriter van Armeense afkomst.
Vaak wordt hij beschreven als de 'Frank Sinatra van Frankrijk'. Bijna al zijn liederen gaan over de liefde. Hij heeft meer dan duizend liederen en musicals geschreven, meer dan honderd albums uitgebracht en in zestig films gespeeld. Aznavour zingt in vijf talen en is in het buitenland één van de bekendste Franse zangers. Hij heeft opgetreden in de prestigieuze Carnegie Hall en andere belangrijke zalen in de wereld.
Aznavour werd geboren als zoon van Armeense immigranten. Op negenjarige leeftijd begon hij op te treden, samen met Pierre Roche, en koos spoedig de podiumnaam Aznavour. Op vroege leeftijd introduceerden zijn artistieke ouders hem in de wereld van theater. Zijn grote doorbraak kwam toen de zangeres Édith Piaf hem hoorde zingen en hem op reis in Frankrijk en de Verenigde Staten meenam. Daarna ging de reis naar Québec, waar het grote succes hem opwachtte: veertig weken lang mocht hij in enkele clubs spelen, met maar liefst elf shows per week. In 1953 brak Charles, beïnvloed door Piaf, met Roche.
In 1955 won Aznavour de Kristallen Ster voor beste Franse mannelijke acteur.
In 1993 werd hij benoemd tot Buitengewoon Ambassadeur van de Republiek Armenië. Vier jaar later werd hij om dezelfde reden Officier de la Légion d' Honneur in Frankrijk. In 1996 werd Charles Aznavour toegevoegd aan de Songwriters Hall of Fame.
Aznavour speelde in 2002 in de film Ararat, waarin hij Edward Saroyan, een filmregisseur, speelde.
In december 2008 werd hem het Armeens staatsburgerschap toegekend en in 2009 werd hij ambassadeur van Armenië in Zwitserland.


CHARLES AZNAVOUR - ALS ES MIR BESCHISSEN GING (Charles Aznavour / Herbert Groenemeyer) [German]

CHARLES AZNAVOUR - C'EST UN GARS (Charles Aznavour / Edith Piaf)

CHARLES AZNAVOUR - Comme ils disent

CHARLES AZNAVOUR - EL BARCO YA SE FUE (Charles Aznavour / Placido Domingo) [Spanish]

CHARLES AZNAVOUR - Et Pourtant

CHARLES AZNAVOUR - EVERYBODY LOVES SOMEBODY SOMETIME (Charles Aznavour / Dean Martin)

CHARLES AZNAVOUR - HIER ENCORE (Charles Aznavour / Elton John)

CHARLES AZNAVOUR - I DIDN'T SEE THE TIME GO BY (Charles Aznavour / Paul Anka)

CHARLES AZNAVOUR - IL FAUT SAVOIR (Charles Aznavour / Johnny Hallyday)

CHARLES AZNAVOUR - Je m'voyais déja...

CHARLES AZNAVOUR - JE N'AI PAS VU LE TEMPS PASSER (Charles Aznavour / Paul Anka)

CHARLES AZNAVOUR - L'AMOUR C'EST COMME UN JOUR (Charles Aznavour / Sting)

CHARLES AZNAVOUR - LA BOHEME (Charles Aznavour / Josh Groban)

CHARLES AZNAVOUR - La mama

CHARLES AZNAVOUR - LES BATEAUX SONT PARTIS (Charles Aznavour / Placido Domingo)

CHARLES AZNAVOUR - Les Comediens

CHARLES AZNAVOUR - LOVE IS NEW EVERYDAY (Charles Aznavour / Sting)

CHARLES AZNAVOUR - MES EMMERDES (Charles Aznavour / Herbert Groenemeyer)

CHARLES AZNAVOUR - MOURIR D'AIMER (Charles Aznavour / Nana Mouskouri)

CHARLES AZNAVOUR - PARIGI IN AGOSTO (Charles Aznavour / Laura Pausini) [Italian]

CHARLES AZNAVOUR - PARIS AU MOIS D'AOUT (Charles Aznavour / Laura Pausini)

CHARLES AZNAVOUR - QUE C'EST TRISTE VENISE (Charles Aznavour / Julio Iglesias)

CHARLES AZNAVOUR - QUIET LOVE (Charles Aznavour / Liza Minnelli)

CHARLES AZNAVOUR - SHE (Charles Aznavour / Bryan Ferry)

CHARLES AZNAVOUR - The old fashioned way

CHARLES AZNAVOUR - THE SOUND OF YOUR NAME (Charles Aznavour / Carole King)

CHARLES AZNAVOUR - TO DIE OF LOVE (Charles Aznavour / Nana Mouskouri)

CHARLES AZNAVOUR - TOI ET MOI (Charles Aznavour / Celine Dion)

CHARLES AZNAVOUR - TON NOM (Charles Aznavour / Carole King)

CHARLES AZNAVOUR - Tu etais trop jolie

CHARLES AZNAVOUR - Yesterday When I Was Young

CHARLES AZNAVOUR - YESTERDAY WHEN I WAS YOUNG (Charles Aznavour / Elton John)

CHARLES AZNAVOUR - YOU AND ME (Charles Aznavour / Celine Dion)

CHARLES AZNAVOUR - YOU'VE GOT TO LEARN (Charles Aznavour / Johnny Hallyday)

CHARLES AZNAVOUR - YOUNG AT HEART (Charles Aznavour / Frank Sinatra)
0 1 2 3 4 5 - Gemiddelde waardering: 5/5 - (1 Stemmen)

27-02-2011

Sandy Nelson
Sandy Nelson
Sandy Nelson (born Sander L Nelson, December 1, 1938, Santa Monica, California) is an American drummer. Nelson, one of the best-known rock drummers of the early 1960s, had several solo instrumental Top 40 hits and was a session drummer on many other well-known hits, and released over 30 albums.
His first recording, with a band called The Renegades (Richard Podolor, Bruce Johnston and Nick Venet), was "Geronimo", written by Venet, produced by Kim Fowley and released on the Original Sound Records label. Although it flopped on the national charts, it charted in some of the midwest markets. The song, along with "Charge", is part of the soundtrack of 1959 film Ghost of Dragstrip Hollow released by American International Pictures.
Nelson attended high school with Jan Berry, Dean Torrence (who became Jan and Dean), and Kim Fowley. After gaining respect as a session drummer, he played on such songs as "To Know Him Is To Love Him" (Phil Spector's Teddy Bears, 1958), "Alley-Oop" (The Hollywood Argyles, 1960), and "A Thousand Stars" (Kathy Young and the Innocents, 1960).
His song "Teen Beat", on Original Sound Records, rose to #4 on the Billboard Hot 100 chart in 1959. It sold over one million copies, and was awarded a gold disc. Subsequently he signed with the Imperial record label, and pounded out two more Top 40 hits, "Let There Be Drums", which went to #7 on the Billboard Hot 100, and "Drums Are My Beat". In December 1961, the British music magazine, NME, reported that "Let There Be Drums" had gone Top 10 in both the United Kingdom and United States. All three were instrumentals (a feat rarely repeated). Guitar playing on these hits was by co-writer, Richie Podolor (aka Richie Allen), later a songwriter and record producer.
Near the end of 1963, Nelson was in a motorcycle accident. The injuries necessitated amputation of his right foot and part of that leg. Nonetheless, Nelson continued to record into the early 1970s, releasing two or three albums a year, consisting of cover versions of popular hits plus a few original compositions.
Nelson lives in Boulder City, Nevada and continues to experiment with music on keyboards and piano.
In September, 2008, Nelson and a few friends, recording as Sandy Nelson and the Sin City Termites, released a new record of original compositions, Nelsonized, on the independent Spinout label. Other band members included Eddie Angel (guitarist for Los Straitjackets), Remi Gits, and Billy Favata of Torturing Elvis.
Sandy Nelson - Alexis
Sandy Nelson - All Night Long
Sandy Nelson - All Shook Up
Sandy Nelson - Be Bop Baby
Sandy Nelson - Bony Moronie
Sandy Nelson - Bullfrog
Sandy Nelson - Charlie Brown
Sandy Nelson - Day train [1962]
Sandy Nelson - Don't Be Cruel
Sandy Nelson - Dumplin's
Sandy Nelson - I'm Gonna Be A Wheel Someday
Sandy Nelson - In The Mood
Sandy Nelson - Jivin' Around 1-2
Sandy Nelson - La Bamba Bossa Nova
Sandy Nelson - Let There Be Drums
Sandy Nelson - Let's Go
Sandy Nelson - Limbo Rock
Sandy Nelson - Linda Lu
Sandy Nelson - Live It Up
Sandy Nelson - My Girl Josephine
Sandy Nelson - My Wife Can't Cook
Sandy Nelson - Sandy
Sandy Nelson - School Day
Sandy Nelson - Slippin' and Slidin'
Sandy Nelson - Teen Beat (59) LP8011
Sandy Nelson - The City
Sandy Nelson - The Flip
Sandy Nelson - Tough Beat
Sandy Nelson - Wiggle Wobble
Sandy Nelson - Willie And The Hand Jive
Sandy Nelson - Yakety Yak
0 1 2 3 4 5 - Gemiddelde waardering: 1/5 - (1 Stemmen)

25-02-2011

Viola Wills
Viola Wills
Viola Wills, geb. Viola Mae Wilkerson, (Watts, 30 december 1939 - 6 mei 2009) was een Amerikaans popzangeres.
Wills was gehuwd en moeder van zes kinderen, toen Barry White haar in 1965 ontdekte. Zij werd achtergrondzangeres onder meer bij Joe Cocker en Smokey Robinson.
Haar doorbraak als solozangers kwam in 1979 met een cover van Gonna Get Along Without Ya Now. Het was het begin van een verschillende dancehits die haar de titel van "disco diva" opleverden. Andere hits waren covers van Both Sides Now en If U Could Read My Mind. Haar dancehits waren zeer populair in het homomilieu. In de jaren 1980 ontwikkelde zij haar eigen muziekstijl, "jazzspel", een combinatie van jazz en gospel. Wills stierf in mei 2009 aan kanker.
In 1990 verbleef ze enige tijd in Nederland en woonde ze op kamers in Wageningen. Lokale tv omroep 'Meborah' maakte een interview met de zangeres waarin ze nadrukkelijk weigerde over haar oude successen te praten.
Viola Wills - Always Something There To Remind Me.mp3
Viola Wills - Don't Ever Stop Loving Me.mp3
Viola Wills - Gonna Get Along Without You Now.mp3 1555
Viola Wills - If You Could Read My Mind.mp3
Viola Wills - Let Me Be Your Rock.mp3
Viola Wills - Midnight Blue.mp3
Viola Wills - Secret Love.mp3
Viola Wills - Starry Eyed.mp3
Viola Wills - That Same Old Feeling.mp3
Viola Wills - Up On The Roof.mp3
Viola Wills - Your love 1555
0 1 2 3 4 5 - Gemiddelde waardering: 3/5 - (2 Stemmen)


Racey
Racey
Racey is een Britse popgroep uit de jaren 70 die glamrock met rock 'n roll uit de jaren 60 vermengde. De oorspronkelijke bezetting was Phil Fursdon, Richard Gower, Pete Miller en Clive Wilson. Opvallend waren hun danspasjes en hun keyboard-geluid.
Racey werd in 1976 opgericht en bracht een jaar later de single Baby It's You (geschreven door Chris Norman van Smokie) uit die geen indruk maakte. Het succes kwam pas toen de band ging samenwerken met producers Chinn & Chapman; Lay Your Love On Me en Some Girls (oorspronkelijk bedoeld voor Blondie) werden in Nederland hun grootste hits.
In 1981 hadden ze nog een bescheiden succesje met een coverversie van Runaround Sue maar vier jaar later gingen ze officieel uit elkaar.
In 1990 kwam Racey weer bij elkaar, maar zonder Richard Gower (die later zijn eigen Racey oprichtte); Pete Miller nam de leadzang over. In 1998 was de band te zien in een eenmalige Toppop-uitzending ter gelegenheid van 75 jaar AVRO.
Miller overleed op 6 mei 2003 aan kanker, maar Racey is door blijven gaan met optreden; naast de eigen hits worden ook covers van andere bands gespeeld.
Racey - Boy, Oh Boy mp3
Racey - Cry cry time
Racey - Hold me close 1566
Racey - Kitty mp3
Racey - Lay Your Cards On The Table 1979 mp3
Racey - Lay Your Love On Me
Racey - Rama lama ding dong
Racey - Runaround Sue 1566
Racey - Santa Claus Is Coming To Town mp3
Racey - Some Girls
Racey - Such a night 1553
Racey - There's a party going on 1553
0 1 2 3 4 5 - Gemiddelde waardering: 0/5 - (1 Stemmen)

22-02-2011

Top 40 - 1975
Alle Nr.1 Hits Uit De Nederlandse Top 40
- 1975



0 1 2 3 4 5 - Gemiddelde waardering: 4/5 - (6 Stemmen)

21-02-2011

Ottawan
Ottawan
Ottawan was een Franse discogroep die begin jaren '80 een paar hits scoorde.
Ottawan is opgericht door Jean Kluger & Daniel Vangarde, de producenten van de Ottawan songs. Ottawan scoorde in de Nederlandse Nationale Hitparade een nummer 1 hit met de Franse en Engelstalige versie van het nummer D.I.S.C.O (1980). In de Top 40 kwam de plaat tot nummer 3. In 1981 volgde nog een hit met Hands up (Give me your hand), die tot nummer 2 kwam.
Anno 2007 treedt Ottawan nog steeds op met de oude klassiekers op "disco-revival-parties".
Esther de Bijl maakte een doorstart met Ottawan en Robert Walker werd de opvolger van Jean-Patrick die inmiddels een solocarrière is gestart. Inmiddels treden ze met veel succes op, vooral in Duitsland en het Oostblok is Ottawan nog erg populair.
Ottawan - A.I.E. Is My Song.mp3
Ottawan - Comme Aux USA.mp3
Ottawan - Crazy Music mp3
Ottawan - D.I.S.C.O 1549
Ottawan - Doudou la rumba
Ottawan - Hands up baby hands up 1626/6215
Ottawan - Haut Les Mains mp3
Ottawan - Hello Rio.mp3 1574
Ottawan - Help- Get Me Some Help
Ottawan - Musique Magique
Ottawan - Shalala song 1574
Ottawan - Shubidube Love.mp3
Ottawan - Siesta For Two.mp3
Ottawan - Tant Que Durere La Nuit.mp3
Ottawan - Top Secret.mp3
Ottawan - You're Ok
Ottawan - Zoo Zoo
0 1 2 3 4 5 - Gemiddelde waardering: 0/5 - (0 Stemmen)

20-02-2011

Floyd Cramer
Floyd Cramer
Floyd Cramer (Shreveport (Louisiana), 27 oktober 1933 - Madison (Tennessee), 31 december 1997) was een Amerikaanse country-pianist die vooral furore maakte in de jaren 50, 60 en 70 van de vorige eeuw.
Cramer groeide op in Huttig, een klein stadje in Arkansas. Op vijfjarige leeftijd begon hij met pianospelen en in 1951 kreeg hij een plaatsje in "The Louisiana Hayride Band". In 1955 trok hij naar Nashville en werd bekend door zijn bijdrage aan de speciale "Nashville Sound".
Cramer heeft ook bij uiteenlopende artiesten meegespeeld als achtergrondpianist, onder andere bij Elvis Presley, Roy Orbison, Patsy Cline, Jim Reeves, Johnny Cash, Chet Atkins, Boots Randolph, Perry Como, The Everly Brothers en vele anderen.
Naast pianist was Floyd Cramer ook een fanatiek golfer en had zijn eigen "Celebrity Golf Tournament". Een van de hoogtepunten uit zijn carrière was zijn tournee door Zuid-Afrika, samen met Chet Atkins en Jim Reeves, waar bij aankomst op het vliegveld van Johannesburg zeker 60.000 mensen stonden te wachten om hen te verwelkomen. Andere hoogtepunten waren zijn hitsingles "Last Date" en "On The Rebound", die in 1961 respectievelijk nummer 2 en nummer 4 in de Amerikaanse BillBoard Top stonden.
Cramer overleed aan longkanker.
Floyd Cramer - A Time For Us
Floyd Cramer - Battle Of New Orleans
Floyd Cramer - Beautiful Dreamer
Floyd Cramer - Bee Bumble Boogie
Floyd Cramer - Behind Closed Doors
Floyd Cramer - Blue Bayou
Floyd Cramer - Blue Eyes Crying in the Rain
Floyd Cramer - Boogie Woogie
Floyd Cramer - brian's song
Floyd Cramer - Bumble Bee Boogie
Floyd Cramer - Canadian Sunset
Floyd Cramer - Cast Your Fate To The Wind
Floyd Cramer - Chattanooga Choo Choo(1961)
Floyd Cramer - Christian Instrumental - Medley Of (Piano) Hymns
Floyd Cramer - Could I Have This Dance
Floyd Cramer - Danny Boy
Floyd Cramer - Flip Flop And Bop
Floyd Cramer - For The Good Times
Floyd Cramer - Green Door
Floyd Cramer - Green, Green Grass Of Home
Floyd Cramer - Have I Told You Lately That I Love You
Floyd Cramer - He Stopped Loving Her Today
Floyd Cramer - Hello Darling
Floyd Cramer - How Great Thou Art
Floyd Cramer - Just A Closer Walk With Thee
Floyd Cramer - King Of The Road
Floyd Cramer - Last Date
Floyd Cramer - Medley- When They Ring the Golden Bells, Rock of Ages
Floyd Cramer - Moon river 6093
Floyd Cramer - Music Box Dancer
Floyd Cramer - on the rebound 6093
Floyd Cramer - Paper Roses
Floyd Cramer - Release Me (And Let Me Love Again)
Floyd Cramer - San Antonio Rose
Floyd Cramer - Spanish Eyes
Floyd Cramer - Swinging Safari
Floyd Cramer - the most beautiful girl
Floyd Cramer - The Old Piano Roll Blues
Floyd Cramer - Try To Remember
Floyd Cramer - Vaya Con Dios
Floyd Cramer - You Were always on my mind
Floyd Cramer & Duane Eddy - Waltz of the Wind 50n- Boots Randolph
0 1 2 3 4 5 - Gemiddelde waardering: 1/5 - (2 Stemmen)

17-02-2011

Carpenters
Carpenters
The Carpenters was een Amerikaans muziek- en zangduo in de jaren zeventig van de twintigste eeuw. Het duo bestond uit broer en zus Richard en Karen Carpenter. Ze hadden talloze hits zowel in de VS als in Europa met hun melodieuze popliedjes.
Karen (2 maart 1950 - 4 februari 1983) en Richard (15 oktober 1946) werden geboren in New Haven, Connecticut. In 1963 verhuisde het gezin naar Downey, een voorstad van Los Angeles. Richard was al vroeg geïnteresseerd in muziek en begon al op jonge leeftijd piano te spelen. De verhuizing van Connecticut naar Californië was dan ook deels om hem de gelegenheid te geven zijn muzikale carrière te ontwikkelen. Karen toonde aanvankelijk weinig interesse in muziek; die interesse openbaarde zich pas op de middelbare school toen ze deel ging uitmaken van de schoolband en leerde drummen. Rond die tijd bleek ook dat ze een goede zangstem had.
Meer info op Wikipedia
Carpenters - Baby Baby Baby
Carpenters - Bless The Beasts And Children
Carpenters - Breaking Up Is Hard To Do
Carpenters - Calling Occupants Of Interplanetary Craft 1
Carpenters - Close To You
Carpenters - For All We Know
Carpenters - Goodbye To Love
Carpenters - hurting each other
Carpenters - I have you 1542
Carpenters - I Need to Be in Love
Carpenters - I Won't Last A Day Without You
Carpenters - it's going to take some time
Carpenters - Jambalaya
Carpenters - Medley
Carpenters - Only Yesterday
Carpenters - Please Mr. Postman
Carpenters - Santa Claus Is Comin' To Town
Carpenters - Sing
Carpenters - Solitaire
Carpenters - Superstar
Carpenters - Sweet sweet smile 1542
Carpenters - This Masquerade - 1973
Carpenters - Top Of The World
Carpenters - Touch Me When We're Dancing
Carpenters - We've Only Just Begun
Carpenters - Yesterday Once More
0 1 2 3 4 5 - Gemiddelde waardering: 1/5 - (1 Stemmen)


Clout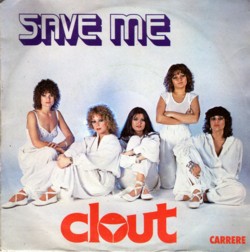 Clout
Clout was een Zuid-Afrikaanse, uit vijf vrouwen bestaande rockband. De band werd in 1977 opgericht. Hun grootste hit was het nummer Substitute.
Substitute was een cover van een onbekend nummer van de Righteous Brothers. Het nummer bereikte in april 1978 de tweede plaats in de Nederlandse Top 40 en in juni van datzelfde jaar de eerste plaats in de BRT Top 30. Het nummer werd in de Verenigde Staten ook opgenomen door Gloria Gaynor, maar de diskjockeys prefereerden de B-kant van die single (I Will Survive) en "Substitute" werd daar voor Gaynor geen hit, en voor Clout slechts een hele kleine (nummer 67).
Een jaar later haalde het nummer Save Me de negende positie in de Nederlandse Top 40.
Clout - A Threat And A Promise.mp3
Clout - Don't Stop.mp3
Clout - Feel my need 1537
Clout - Gimme Love.mp3
Clout - Hot Shot.mp3
Clout - Let It Grow.mp3
Clout - Lovers On The Sidewalk.mp3
Clout - Oh How I Long To Be With You Again.mp3
Clout - Oowatanite.mp3
Clout - Portable Radio.mp3
Clout - Save Me.mp3
Clout - Since You've Been Gone.mp3
Clout - Substitute.mp3
Clout - SUNSHINE BABY mp3
Clout - The Best Of Me.mp3
Clout - Tom-morrow.mp3
Clout - Under Fire mp3
Clout - When Will You Be Mine.mp3
Clout - Wish I Were Loving You.mp3
Clout - Without Love.mp3
Clout - You've got all of me 1537
0 1 2 3 4 5 - Gemiddelde waardering: 3/5 - (2 Stemmen)


Armand
Armand
Herman George van Loenhout (Eindhoven, 10 april 1946) beter bekend als Armand, is de Nederlandse protestzanger die ook wel "de Nederlandse Bob Dylan" genoemd wordt. Zijn hit "Ben ik te min" is een klassieker.
Armand brengt zijn eerste single "En nou ik" uit in 1965. Die wordt een grote flop, maar Armand geeft het niet op en brengt de single "Een van hen ben ik" uit. Hiermee bereikt hij in eerste instantie alleen de tipparade, totdat drie maanden later Radio Veronica de b-kant op de radio laat horen en die een succes wordt. In de zomer van 1967 breekt Armand door met het nummer "Ben ik te min". Deze single wordt als controversieel gezien door het establishment. Armand wordt vanaf dit moment beschouwd als de Nederlandse protestzanger. In dat zelfde jaar komt Blommenkinders in de Top 40, met als hoogste positie nr. 19.
In 1969 stopt Armand, hij is dan zwaar verslaafd aan harddrugs. In 1971 is hij weer terug als artiest en in 1973 komt de plaat "De oorlog woedt in jezelf" in de tipparade, maar een hit wordt het niet. Hierna is het Armand nooit meer gelukt in de hitparade te komen. Wel blijft hij albums uitbrengen met maatschappijkritische teksten, veelal geïnspireerd door de hippie-ideologie.
In 1981 betuigt Armand zijn steun aan de demonstratie tegen de kruisraketten, met het lied "Liever een Rus (in de keuken dan een raket in de tuin)". Tijdens de grote demonstratie in Amsterdam vlogen er vliegtuigjes boven de stad met de tekst "Liever een raket in mijn tuin dan een Rus in mijn keuken". Dit nummer werd in die tijd zeer vaak ten gehore gebracht op de radio en het is ook zijn laatste lied dat succesvol was in de media.
In 1990 onthult Armand in de vara-gids 'Nee, ze naaien me niet meer', waarin hij aangeeft geen albums meer te maken bij een platenmaatschappij, omdat hij stelt dat hij zo geen volkomen vrijheid van muziek uitbrengen heeft. En zo verschijnt in 1994 het album One of eur Kind enkel te koop bij zijn live optredens, en Armand slaat zo een bewust nieuwe weg in, enkel nog albums uitbrengen voor zijn liefhebbers en fans.
Armand - Ben ik te min.mp3
Armand - Blommenkinders.mp3
Armand - Dat is juist de pest.mp3
Armand - De oorlog woedt in je zelf.mp3
Armand - Een van hen ben ik.mp3
Armand - In de kosmos.mp3
Armand - Lijpe Harrie.mp3
Armand - Ma, je hebt gelijk.mp3
Armand - Makker word us wakker.mp3
Armand - Marijke.mp3
Armand - Nooit, ik ben benieuwd.mp3
Armand - Op de tandem naar Marokko.mp3
Armand - Vrijheid.mp3
Armand - Want er is niemand.mp3
Armand - Wat het klootjesvolk wil weten.mp3
Armand - Zoek je zo eenzelfde verschijnsel mens.mp3
0 1 2 3 4 5 - Gemiddelde waardering: 4/5 - (4 Stemmen)

14-02-2011

The Surfers
The Surfers
The Surfers was een Haarlemse popgroep die bestond van 1978 tot 1981. De groep was een studioproject van Cat Music die in elke zomer een singletje uitbracht met als voornaamste thema windsurfen. De liedjes werden ingezongen door Breeze en The Internationals, maar voor de televisie werd een podiumact gecreëerd met als leadzanger Nico Fontijn. De groep is vooral bekend van de hit Windsurfin' uit 1978.
Eind jaren 1970-1979 werd het windsurfen over de hele wereld een rage. Willem van Kooten (uitgever), de mannen van Catapultenproducer Jaap Eggermont leek het in 1978 een leuk en commercieel idee een liedje te schrijven over deze nieuwe rage: Windsurfin' . De groep Catapult had net de single Zuipen uitgebracht. Omdat het in het Leids dialect gezongen nummer niet binnen het repertoire van de groep paste, werd het nummer uitgebracht onder de naam Rubberen Robbie. Zo werden andere nummers die niet geschikt voor hun eigen repertoire werden geacht, geschreven voor nieuw gecreëerde groepen. Voor het liedje Windsurfin' werd onder leiding van manager Han Meijer de groep The Surfers bedacht. Het nummer werd in de studio opgenomen door de Nederlandse groepen Breeze en The Internationals. Als podiumact werden echter zeven personen bij elkaar gezocht om het nummer op televisie en tijdens optredens te playbacken. De frontman van de groep werd de Zaandijker Nico Fontijn en hij werd bijgestaan door Paul Braaksma, Iwan Groeneveld, Patrick Elalouf en de drie danseressen Esther Oosterbeek, Marijke Meyer en Cathy Leonupun. Van dit zevental had Groeneveld al landelijke bekendheid onder de naam Spooky (van Spooky & Sue).
Zowel in Nederland als Vlaanderen bereikte Windsurfin' de tweede plaats in de hitparade. In beide landen werd het van de eerste plaats gehouden door You're the one that I want van John Travolta & Olivia Newton-John. In Nederland werden van de single zo'n 200.000 exemplaren verkocht. Ook in de rest van het Europese vasteland werd het nummer een zomerhit. Zo was het nummer ook populair in onder andere West-Duitsland, Polen, Frankrijk en Denemarken. Voor optredens werd er nog een aantal nummers bijgeschreven die net als Windsurfin' in de stijl van The Beach Boys waren en er werden ook nummers van andere artiesten en medleys ingestudeerd. Door veel optredens in het buitenland duurde het tot de volgende zomer voordat de opvolger verscheen. Dat was het nummer Windsurfing-time again, dat veel weg had van hun debuutsingle. The Surfers konden het succes ervan echter niet evenaren en de single werd een top 20-hit.
In de lente van 1980 verscheen hun zomerhit voor dat jaar Girls on the beach. The Surfers bestond toen nog maar uit vijf personen. Elalouf en Oosterbeek, die het te druk kreeg als lid van de Dolly Dots, hadden de groep verlaten. De single strandde in de tipparade. In 1981 maakten The Surfers hun vierde en laatste single Let's go surfing, dat weer heel veel leek op hun eerste twee singles. Toen dat nummer flopte, werd besloten de groep op te heffen.
The Surfers – Windsurfin' 1534
The Surfers – Nite at the beach 1534
The Surfers - Alone by a tree.mp3
The Surfers - Anything from you.mp3
The Surfers - Australia.mp3
The Surfers - Cause it's me.mp3
The Surfers - Going.mp3
The Surfers - Hawaii.mp3
The Surfers - If.mp3
The Surfers - Never.mp3
The Surfers - Not your slave.mp3
The Surfers - Spill.mp3
The Surfers - Two gether'.mp3

The Surfers - Wipe Out mp3
0 1 2 3 4 5 - Gemiddelde waardering: 3/5 - (3 Stemmen)


Christian Anders
Christian Anders
Christian Anders (* 15. Januar 1945 in Bruck an der Mur, Österreich als Antonio Augusto Schinzel-Tenicolo) ist ein österreichischer Schlagersänger, Musiker und Komponist. Auch im Filmgeschäft und als Schriftsteller ist Anders in Erscheinung getreten.
Zum Kriegsende wanderten seine Eltern mit ihm nach Italien, der Heimat seines Vaters, aus. Die ersten neun Jahre seines Lebens verbrachte er auf der Mittelmeerinsel Sardinien, wo er in Cagliari eine italienische Klosterschule besuchte. Als er zehn Jahre war, zog seine Familie mit ihm nach Deutschland und lebte in einem Asylheim in Offenbach am Main. Anders schloss die mittlere Reife ab und begann eine Ausbildung zum Elektroinstallateur.
In seiner ersten Band Christian Anders and the Tonics spielte er Gitarre, sang in einem amerikanischen Klub und schloss sich einer Band an, mit der er umherreiste und sein erstes Geld verdiente. 1966 nahm er ein Tonband auf, schickte es an eine Plattenfirma und erhielt einen ersten Schallplattenvertrag.
Bei dem Koreaner Chong Minh Kwack lernte er in München jahrelang die asiatischen Kampfsportarten (Kampfkünste) Karate, Taekwondo und Aikidō, errang den Schwarzen Gürtel (Dan) in ersterem, wurde Lehrer in diesem Sport und leitete in München eine eigene Karateschule.
Meer info : Wikipedia
Christian Anders - 6 Uhr früh auf der Straße
Christian Anders - Am strand von Las Chapas 1533
Christian Anders - Der Brief
Christian Anders - Der letzte Tanz
Christian Anders - Du gehörst zu mir
Christian Anders - Einsamkeit hat viele Namen
Christian Anders - Es Fährt Ein Zug Nach Nirgendwo
Christian Anders - Geh' nicht vorbei
Christian Anders - In Chicago (In The Ghetto)
Christian Anders - In den Augen der andern
Christian Anders - Las Chapas 1533
Christian Anders - Love Dreamer
Christian Anders - Nie mehr allein
0 1 2 3 4 5 - Gemiddelde waardering: 3/5 - (4 Stemmen)


Rob de Nijs
Rob de Nijs
Robert (Rob) de Nijs (Amsterdam, 26 december 1942) is een Nederlands zanger en acteur.
De Nijs werd geboren als zoon van een rijschoolhouder. Toen hij 6 jaar was, ging hij vanwege zijn astmatische bronchitis naar de openluchtschool in het Oosterpark. Toen hij acht jaar was, kreeg hij zijn eerste accordeonles.
Rob de Nijs & the Lords zingen Ritme van de regen in het AVRO-programma Rooster in 1963De Nijs won in 1962 op 19-jarige leeftijd een talentenjacht met zijn band Rob de Nijs & The Lords. De eerste prijs was een platencontract. De eerste (De liefste die ik ken) en tweede (Jenny) singles flopten, maar het nummer Ritme van de regen uit 1963 werd een grote hit, waarvan in totaal bijna 100.000 exemplaren verkocht werden. In 1963 deed hij mee aan het songfestival in Knokke.
In juni 1963 werd zijn eerste "Rob de Nijs en the Lords fanclub" opgericht. In november 1965 gingen De Nijs en The Lords uit elkaar. Hij ging werken bij Circus Boltini. Op 30 juli 1968 trouwde hij met de dochter van een clubeigenaar in Bergen op Zoom.[1] De Nijs ging in 1968 werken in een tweetal clubs van zijn schoonvader.
Eind 1969 kreeg hij een rol in Oebele als Bello Billy Biggelaar. Dat leverde hem in 1971 de rol van Bertram Bierenbroodspot op in de tv-serie Kunt u mij de weg naar Hamelen vertellen, mijnheer?. Deze serie liep tot 1976. In 1970 deed hij mee aan een musical 'Salvation', en kwam hij in contact met Lennaert Nijgh. Nijgh besloot een aantal nummers voor De Nijs te schrijven, samen met Boudewijn de Groot, om zo zijn carrière weer op gang te brengen.
In mei 1973 kwam de eerste vrucht van deze samenwerking, Jan Klaassen de trompetter, in de hitparade, in september gevolgd door Zuster Ursula. Er volgden mindere successen met Mirella en Hé speelman. Hierna komt zijn waarschijnlijk bekendste hit uit: Malle Babbe een nummer dat De Groot ook zelf regelmatig zal spelen tijdens concerten. Na de albums In de uren van de middag en Kijken hoe het morgen wordt, beide ook geproduceerd door De Groot, beëindigden de twee de samenwerking. Nijgh bleef wel betrokken bij de carrière van De Nijs als tekstschrijver.
In seizoen 1974-1975 kreeg hij een eigen programma voor de televisie. De titel was NL Tippers waarin diverse Nederlandse artiesten hun lied ten gehore brachten. Dit familiemuziekprogramma werd later overgenomen door Ferry Maat en de naam veranderde in Disco Circus. Het programma was te zien bij de TROS.In 1976 werd hij door het NIPO uitgeroepen tot populairste zanger van Nederland. In 1977 kreeg hij zijn eigen special bij de VARA. In 1980 werd hij door de Hitkrant uitgeroepen tot populairste Nederlandse zanger.
In december 1980 ontmoette hij Belinda Meuldijk die veel teksten voor hem zou gaan schrijven. Ze hebben een
autistische zoon Yoshi, over wie ze ook een lied hebben geschreven. In juli 1984, na de scheiding met zijn eerste vrouw, trouwde hij met Meuldijk. Dit huwelijk zou de jaren hierna een belangrijke rol gaan spelen in de roddelbladen.
In 1985 scoorde hij zijn grootste hit tot dan toe. Het vredeslied Alles wat ademt, geschreven door Gerard Stellaard, Nijgh en Meuldijk, stijgt tijdens de kersttijd naar de tweede plaats. In 1996 scoorde hij zijn eerste en enige nummer 1 hit met Banger hart, dat 5 weken op de toppositie in de Mega Top 50 staat.
In 2001 werd De Nijs onderscheiden met de Radio 2 Zendtijd Prijs. Deze prijs wordt toegekend door Conamus en Radio 2 aan een uitvoerend artiest die van blijvende betekenis is voor de Nederlandse radio. Diverse artiesten waaronder Boudewijn de Groot, Hans Vermeulen, Frédérique Spigt en Skik brachten live een eerbetoon aan De Nijs, door een van zijn nummers te vertolken.
De Nijs en Meuldijk gingen in 2006 uit elkaar. Volgens hun advocaat zagen de twee geen toegevoegde waarde om deze samenlevingsvorm vanuit een huwelijkse staat voort te zetten.
In 2008 hertrouwde De Nijs met zijn voormalige persoonlijk assistente.
In mei 2007 nam hij met Julien Clerc voor zijn nieuwe album Chansons diens "This melody" op in een dubbelhertaling van Jan Rot. De release van het album met enkel Franse liedjes werd diverse keren uitgesteld vanwege de perikelen tussen Meuldijk en De Nijs. Het album lag vanaf 14 maart 2008 in de winkels.
Op 16 maart 2008 gaf De Nijs een jubileumconcert met het Metropole Orkest in een uitverkocht Carré. Het concert werd gegeven vanwege het 45-jarig artiestenjubileum van de zanger en het bereiken van de pensioengerechtigde leeftijd. Tijdens dit concert werd bekend dat er een tulp naar hem vernoemd zou gaan worden. De burgemeester van Anna Paulowna (waar ook Wieringerwaard onder valt) maakte dit bekend. De tulp werd begin mei, tijdens de Bloemendagen in die gemeente, gedoopt.
In 2009 nam De Nijs deel aan het eerste seizoen van het EO-programma De Mattheus Masterclass waarin niet-klassiek geschoolde artiesten een deel van Bachs Matthäuspassion uitvoerden in de St. Vituskerk in Hilversum.
In 2010 werkte Rob de Nijs aan een nieuw album. De cd Eindelijk vrij is geproduceerd door Daniël Lohues en bevat composities en teksten van onder anderen Mike Boddé, Jan Rot, Huub van der Lubbe en Joost Nuissl. De plaat is opgenomen in New Orleans.
Op 21 september 2010 ontving De Nijs uit handen van couturier Frans Molenaar in Amsterdam de Gouden Eeuw Award voor zijn gehele carrière.
De Nijs' repertoire blijkt nog steeds volop gedraaid te worden op de diverse radiozenders getuige het feit dat hij nog steeds in de top 10 staat van meest gedraaide Nederlandstalige artiesten/groepen
Rob de Nijs - Afscheid.mp3
Rob de Nijs - Alleen is maar alleen
Rob de Nijs - Alles wat ademt
Rob de Nijs - Anna Paulowna (guantanamera).mp3
Rob de Nijs - Banger hart
Rob de Nijs - Bla bla 4178
Rob de Nijs - Bo
Rob de Nijs - Dag Zuster Ursula 5257
Rob de Nijs - Dat Is Alles
Rob de Nijs - De liefste die ik ken (point of no return).mp3
Rob de Nijs - De pieper 8043
Rob de Nijs - Hé mama.mp3
Rob de Nijs - Hé Rob, hé Trea.mp3
Rob de Nijs - Hé, speelman 8060
Rob de Nijs - Het werd zomer 8063
Rob de Nijs - Hoe heet je (blue velvet).mp3
Rob de Nijs - Hou me vast (want ik val)
Rob de Nijs - How do you do it.mp3
Rob de Nijs - Kiek kadoo.mp3
Rob de Nijs - Linda.mp3
Rob de Nijs - Loop naar de maan (quando vedrai la mia ragazza).mp3
Rob de Nijs - Malle Babbe
Rob de Nijs - Meisje in engeland 5257
Rob de Nijs - Oh, had ik 'n hamer
Rob de Nijs - Rendez-vous 4178
Rob de Nijs - Ritme van de regen (rhythm of the rain).mp3
Rob de Nijs - Stil verdriet.mp3
Rob de Nijs - Trees.mp3
Rob de Nijs - Troela troela troela-la.mp3
Rob de Nijs - Voor sonja doe ik alles.mp3
Rob de Nijs - Vriend voor een dag (yesterday man).mp3
Rob de Nijs - Want zij begrijpt me (she understands me).mp3
Rob de Nijs - Wit satijn (white on white).mp3
Rob de Nijs - Zet een kaars voor je raam
Rob de Nijs - Zondag
Bonnie St Claire & Rob de Nijs - Weerzien
0 1 2 3 4 5 - Gemiddelde waardering: 0/5 - (0 Stemmen)


Robert Gordon
Robert Gordon
Robert Gordon (born March 29, 1947) is an American rockabilly musician. Performing on the guitar and adding his own vocals, Gordon rose to fame performing in several genres including alternative rock, punk rock, and rock and roll. He also gained some celebrity in minor acting roles.
Robert Gordon grew up in a wealthy Jewish family in Bethesda, Maryland, a suburb of the nation's capitol of Washington, D.C.. At the age of nine (1956) he was affected greatly by the Elvis Presley song Heartbreak Hotel playing on radio, and decided to attempt a career as a Rock & Roll musician at that young age. His influences included Gene Vincent, Jack Scott, Billy Lee Riley, Eddie Cochran and other notable rock 'n roll music artists of the period. He made his recording debut at age 17 in 1964 with a group called the Confidentials. The Confidentials, with Robert (called Bob at the time) as main singer recorded hit songs including, "Summertime", "Money", and "There is something on your mind". These rare tracks were not released until 2004 on a 40th Anniversary Celebration (a special promotional CD released by Dutch author/collector Arjan Deelen).
While attending Bethesda-Chevy Chase High School, Gordon played Tony in a school production of West Side Story.
When asked how he related to the 1960s, Robert replied "I didn't." He didn't care much for the British Invasion but he identified with soul singers such as James Brown and Otis Redding whom he saw, among other great R&B acts, performing at Washington DC's famous Howard Theatre. During the turbulent times of the late 1960s, with the rioting and anti-war protests of the period, Robert served in the National Guard in Washington, D.C. "I didn't want to be sent to Vietnam," he recalls.
Meer info op Wikipedia
Robert Gordon - All By MyselfA.mp3
Robert Gordon - Am I Blue.mp3
Robert Gordon - Black Slacks.mp3
Robert Gordon - Blue Christmas.mp3
Robert Gordon - I Just Found Out.mp3
Robert Gordon - I Just Met A Memory.mp3
Robert Gordon - It's Only Make Believe.mp3
Robert Gordon - Love My Baby.mp3
Robert Gordon - Rock Billy Boogie.mp3
Robert Gordon - The Catman.mp3
Robert Gordon - Walk On By.mp3
Robert Gordon - Wheel Of Fortune.mp3
Robert Gordon & Link Wray - Red Hot
Robert Gordon & Link Wray - Seacruise 1529
Robert Gordon & Link Wray - The way i walk 1529
Danny Gatton & Robert Gordon - Love My Baby
Danny Gatton & Robert Gordon - Mystery Train
Danny Gatton & Robert Gordon - Ubangi Stomp
0 1 2 3 4 5 - Gemiddelde waardering: 0/5 - (0 Stemmen)

13-02-2011

Blondie
Blondie
Blondie is een Amerikaanse popband, die is voortgekomen uit de Newyorkse new-wavescene.
Blondie wordt in 1974 in New York opgericht, waar de groep zijn invloeden in de beroemde punkrockclub CBGBs opdoet. Andy Warhol bedenkt het uiterlijk van Debbie Harry, geblondeerd en slechts gekleed in een wit t-shirt en onderbroekje. Het eerste album, getiteld Blondie, speelt sterk in op het punk-ethos. De muziek doet denken aan meidengroepen uit de jaren zestig, een soort vrouwelijke versie van de Ramones. Blondie maakt zes albums tussen 1976 en 1982, waarvan Parallel lines door velen als het hoogtepunt wordt gezien.
Ze breken in 1978 door in Europa met het tweede album Plastic letters, met daarop het op de stijl van Buddy Holly geënte liedje Denis (oorspronkelijk van het jaren-zestigduo Randy and the Rainbows alias Vinni Careller en Mike Zero) dat in Nederland drie weken lang op de eerste plaats staat. "Denis" is geschreven door Neil Levenson. Het succes wordt vervolgd met Presence dear. Op het derde album Parallel lines staan hun grootste hits Picture this en Hanging on the telephone en het disco-achtige Heart of glass. Daarop volgt het album 'Eat to the Beat' (1979) met de hits 'Dreaming' en 'Atomic'. Dit album wordt opgevolgd door het wederom door Mike Chapman geproduceerde Autoamerican met de reggaecover The tide is high (oorspronkelijk van The Paragons), dat de vierde plaats haalt in Nederland. Ook maakt Blondie het eerste blanke rapnummer dat een grote hit wordt, Rapture. Nu nog worden ze zeer gewaardeerd door hun zwarte collega's, en menig artiest heeft Rapture gecoverd.
De groep valt in de loop van de jaren tachtig uiteen, met bittere rechtszaken over royalty's als gevolg. Debbie Harry en haar levenspartner Chris Stein waren al die tijd de motor achter de band en de andere bandleden voelen zich door hen financieel benadeeld. Een ernstige ziekte zorgt ervoor dat Stein vanaf eind jaren tachtig helemaal niet meer muzikaal actief kan zijn, en Debbie geeft haar solocarrière op om twee jaar lang voor Stein te zorgen.
Blondie - Atomic
Blondie - Call Me
Blondie - Denis 1526
Blondie - I'm Gonna Love You Too
Blondie - In the flesh 1526
Blondie - Island of lost souls
Blondie - Rapture
Blondie - Sunday girl
Blondie - The Tide Is High
Blondie - War Child
0 1 2 3 4 5 - Gemiddelde waardering: 1/5 - (1 Stemmen)

12-02-2011

Top 40 - 1974
Alle Nr.1 Hits Uit De Nederlandse Top 40
- 1974


0 1 2 3 4 5 - Gemiddelde waardering: 3/5 - (2 Stemmen)


The Sunstreams
The Sunstreams
The Sunstreams was een Nederlands zangkwartet uit Groesbeek.
The Sunstreams werd in 1965 opgericht en bestond uit Wim Liebers, Johnny Meijers, Theo Vissers en Freek Wijers. Ze brachten meerdere singles uit en hun platenmaatschappij was CNR
The Sunstreams - Aan De Grens Van De Duitse Heuvelen
The Sunstreams - Afscheidsbrief
The Sunstreams - Als de boeren weer gaan hooien.mp3
The Sunstreams - Als Jij Trouwen Gaat
The Sunstreams - Annelies, meisjelief
The Sunstreams - De gevangene.mp3
The Sunstreams - De grenssoldaat
The Sunstreams - De onderduiker.mp3
The Sunstreams - El bandido.mp3
The Sunstreams - Griekenland
The Sunstreams - Heb ik jou verloren
The Sunstreams - Ik doe een tukkie in m'n truckie.mp3
The Sunstreams - Laat me niet alleen
The Sunstreams - Laat me toch blijven tot de morgen 4074
The Sunstreams - M'n oudershuis.mp3
The Sunstreams - Memories.mp3
The Sunstreams - Mijn allerbeste vriend 4074
The Sunstreams - Mina houdt van slokkies.mp3
The Sunstreams - Nee nooit geen oorlog meer.mp3
The Sunstreams - Nog veertien dagen.mp3
The Sunstreams - Sla je armen om m'n schouders_
The Sunstreams - Sla je armen om m'n schouders.mp3
The Sunstreams - Van je hoempapa.mp3
The Sunstreams - Vannacht heb ik jou verloren
The Sunstreams - Ver in den vreemde
The Sunstreams - Walspotpourri zeemansliedjes
The Sunstreams - Zuiderzee ballade
0 1 2 3 4 5 - Gemiddelde waardering: 2/5 - (9 Stemmen)

11-02-2011

Meat Loaf
Meat Loaf
Meat Loaf, geboren Marvin Lee Aday (Dallas, 27 september 1947) is een Amerikaanse rock and roll-zanger en acteur. Hij werd vooral bekend door zijn rockhit Paradise By The Dashboard Light van zijn album Bat Out Of Hell (1977), die hij zong met Ellen Foley. De teksten en muziek zijn van Jim Steinman.
Meat Loafs optredens worden gekenmerkt door theatrale acts. In een interview in de Volkskrant in 2003 zei hij: "De meeste rockbands denken dat het voldoende is gewoon hun liedjes te spelen. Ik niet. Mensen moeten meegesleept worden in een drama. Ieder hoekje van het podium moet worden benut. [...] Een beetje op en neer springen is niet genoeg. Je moet alles uit de kast halen en je inleven in een rol, elke dag weer."
In 1994 won Meat Loaf de Grammy Award for Best Rock Vocal Performance, Solo voor zijn "I'd Do Anything for Love, But I won't do that".
Meatloaf - A Kiss Is A Terrible Thing To Waste mp3
Meatloaf - Bat Out Of Hell mp3
Meatloaf - Heaven Can Wait mp3
Meatloaf - Hot Summer Nights mp3
Meatloaf - I want you, I need you mp3
Meatloaf - I Will Do Anything mp3
Meatloaf - I Would Do Anything For Love mp3
Meatloaf - It's All Coming Back to Me Now mp3
Meatloaf - Medley mp3
Meatloaf - Modern Girl mp3
Meatloaf - Not a Dry Eye in the House mp3
Meatloaf - Paradise By The Dashboard Light
Meatloaf - Rock 'N' Roll Medley
Meatloaf - Rock and Roll Dreams Come True mp3
Meatloaf - Total Eclipse Of The Heart mp3
Meatloaf - Two Of Out Three Aint Bad mp3 1525
Meatloaf - You Took the Words Right Outta My Mouth 1525

0 1 2 3 4 5 - Gemiddelde waardering: 2/5 - (1 Stemmen)

E-mail mij
Druk op onderstaande knop om mij te e-mailen.
Gastenboek
Druk op onderstaande knop om een berichtje achter te laten in mijn gastenboek