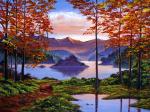 _________________
Meer BEZOEKERS op je blog:
_________________
Inhoud blog
_________________
Categorieën
_________________
Archief per maand
_________________
Zoeken in blog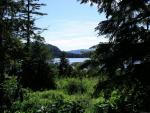 Willekeurig Bloggen.be Blogs
jennyenwill
www.bloggen.be/jennyen
Willekeurig Bloggen.be Blogs
zoemdebij
www.bloggen.be/zoemdeb
Willekeurig Bloggen.be Blogs
evertsuitlaatklep
www.bloggen.be/evertsu
Willekeurig Bloggen.be Blogs
tilloenk
www.bloggen.be/tilloen
Willekeurig Bloggen.be Blogs
lvfr
www.bloggen.be/lvfr
| | |
| --- | --- |
| | Als uitlaatklep gebruikt. Om de dingen te zeggen die moeten gezegd worden, om de dingen te zeggen die niet gezegd of gehoord mogen worden. (To express some feelings. To say the things that must be said, to say the things that can't be said or heard.) |
14-03-2010
Vzw Poezenopvang Cat Shelter Limburg. - NPO Cat Shelter Limburg.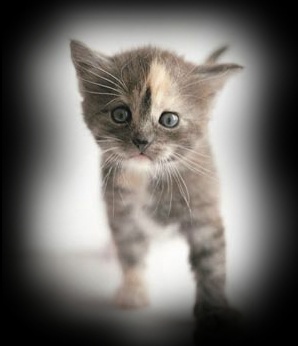 Ik wilde het vandaag eens hebben over een poezenopvangcentrum/ziekenhuis in Limburg, België. Ik vind dit een superinitiatief.
Vzw Poezenopvang Cat Shelter Limburg heeft twee hoofddoelen:
Het opvangen van gedumpte en verwaarloosde kittens en huiskatten om deze terug gezond te maken en in een adoptiegezin te plaatsen.

Zij engageren zich om katteneigenaars te sensibiliseren om hun poezen te laten steriliseren of castreren.
Cat Shelter Limburg is opgestart in juli 2003. Jaarlijks worden in een 30-tal opvanggezinnen meer dan 400 katjes verzorgd, vertroeteld, opgevangen en nadien geplaatst in een goed thuis. Een opvanggezin vangt tijdelijk een kitten of een nestje op tot ze klaar zijn om geplaatst te worden.
Kittens zijn er van 3 daagjes jong tot 12 weken oud. Het opvanggezin geeft zelf aan welke leeftijdsklasse ze willen opvangen omdat de noden van een papfleskitten (om de paar uur papflesmelk) sterk verschillen met de oudere kittens. De organisatie zorgt voor de materialen, zij betalen ook alle onkosten voor eventuele materialen en medische verzorging van de kittens. Het opvanggezin houdt zich enkel bezig met de socialisering en verzorging.
Het gaat vooral om gedumpte, ongewenste kittens in de verlofperiode en verwaarloosde en achtergelaten huiskatten in de winterperiode. Bij aankomst worden zij ontvlooid en ontwormd, zij worden ook eerst in quarantaine gehouden. Zij worden terug op krachten gebracht en in afwachting van hun nieuwe thuis verblijven zij in een veilige en liefdevolle omgeving. Ondertussen krijgen zij nog de nodige inentingen en als ze 6 maanden zijn worden de katers gecastreerd en kattinnen gesteriliseerd.
Zwerfpoezen, die al mensenschuw zijn, zijn moeilijker in de opvang te houden. Zij worden het best steriel gemaakt en dan nadien in hun natuurlijke omgeving teruggezet.
De uiteindelijke bedoeling is natuurlijk dat de katten en kittens geadopteerd worden. Nu, als je een kat of kitten wilt adopteren (en ook andere dieren) en in huis wilt nemen, dan moet je daar eerst goed over nadenken, en vooral ook overleggen met het hele gezin. Een huisdier is niet voor even, maar voor jaren. Trouwens, je moet ook de nodige tijd, ruimte en financiële middelen hebben om de kat (of een ander dier) de nodige zorgen en voeding te geven.
Indien je na grondig overleg beslist om toch een kat te adopteren, dan moet je gaan nadenken wat voor een kat het moet zijn. Iedere kat heeft zijn eigen karkater en noden. Wil je een rustige kat, een kat die veel vriendschap geeft, een speelkameraad voor een andere kat of hond, een levendige kat, een binnenhuiskat, of een kat die buiten kan in een rustige omgeving? Ik wil toch benadrukken dat het niet zo slim is om een kat buiten te laten als je in de buurt van een drukke weg of dergelijke woont! Je moet natuurlijk ook er rekening mee houden dat de kitten niet de hele dag alleen moet zitten, dat kan je het diertje toch niet aandoen. Je kan natuurlijk als je nog geen andere huisdieren hebt ook twee kittens adopteren, dan houden ze elkaar gezelschap, spelen, slapen en eten samen, … Het is ook beter als je niet enkel op het uiterlijk van een kat afgaat bij je beslissing welke je neemt. Het moet ook klikken en je moet natuurlijk ook weten welk karakter de kat heeft en wat zijn/haar noden zijn.
Op de site van Cat Shelter Limburg is een rubriek 'adoptie' waar de katten (en/of kittens) die je kan adopteren staan, met foto en hun verhaal. Als bij de kitten (kat) de status 'adoptie' staat kan je inlichtingen vragen bij Cat Shelter Limburg. Zij zullen je dan verder helpen. Katten (kittens) waar de status niet op 'adoptie' staat (bijvoorbeeld 'besproken' of 'in behandeling') zijn katten (kittens) die nog niet geadopteerd kunnen worden en het is dan ook zinloos om daarover al adoptie-informatie te vragen. Nu, momenteel staan er nog niet zoveel katten (kittens) tussen, maar dat gaat niet lang meer duren en dan is er keuze te over. Het is natuurlijk ook zo dat kittens niet geplaatst kunnen worden voor ze minstens 8 weken oud zijn, voor ze gezond zijn en voor ze ingeënt zijn. Het is natuurlijk ook wel zo dat als je een kitten adopteert dat je nadien zelf ook nog voor de nodige inentingen (niesziekte) moet gaan naar je dierenarts en het kitten moet gecastreerd of gesteriliseerd worden als hij/zij 6 maanden oud is. Het is natuurlijk ook wel zo dat je voor de adoptie een medische bijdrage dient te betalen, maar deze valt heel goed mee als je ziet wat je er voor terugkrijgt!
Trouwens, ondanks dat zij een poezenopvang zijn, gebeurt het toch dat zij een hond, een konijn of dergelijke in nood helpen!
Linda Mertens van Milk Inc. is de meter van Cat Shelter Limburg (te Leopoldsburg). Zij is héél begaan met alle dieren en was al een hele tijd op zoek naar een vereniging of organisatie die zich inzet voor verwaarloosde dieren. En zo kwam ze bij Cat Shelter Limburg uit.
In het artikel daarover dat ik las zei Linda Mertens één zin die ik prachtig en juist vind: 'Het lot en de levenskwaliteit van de dieren liggen in de handen van mensen. Wij moeten ervoor zorgen dat ze tenminste een eerlijke kans krijgen.' Mooi gezegd toch!
Als u zwerfpoezen heeft in uw buurt, bel dan naar de milieudienst van uw gemeente. Indien zij nog géén sterilisatiebeleid heeft, dring dan aan op een diervriendelijke aanpak van het probleem in uw gemeente!
Wat kan Cat Shelter Limburg nog gebruiken:
kattenbakvulling

blikvoeding voor volwassen katten en kittens

vlooiensprays en vlooienpoeders

ontsmettingsproducten Dettol en Javel

medicatie: antibioticum, oogzalf, ontwormingsproducten, …

krabpalen

slaapmandjes

dekentjes

speelgoed

grote badhanddoeken voor in de quarantainekooien

financiële steun is ook altijd welkom vermoed ik
Zij brengen ook jaarlijks een verjaardagskalender uit met poezenfoto's. Mooie kalenders trouwens, ik heb er ook een.
Je kan ook lid (gewoon, steunend, beschermend, ere) worden en zelfs meter of peter van een poes die reeds lang op een baasje wacht. Info kan je op de site van Cat Shelter Limburg vinden, alsook de contactgegevens. Je kan er ook het 'nieuws' op de voet volgen, filmpjes bekijken en dergelijke. Het is zeker de moeite om deze site eens te bezoeken en misschien …
Ik vind het werk dat zij doen (vrijwilligers) gewoonweg prachtig! Ik vind het zelfs zo mooi dat ik besliste om er een bericht over te maken.
Trouwens, op hun site, bij de rubriek 'pers' vind je ook links naar 'de poezenparade' (December 2009), deze hier staat in het teken van katjes die al lang op een thuis wachten. Moet je ook zeker eens bekijken. En deze twee links ook: Trinny & Tornado (Februari 2010). Het goede nieuws is dat deze katjes ondertussen een fijn thuis gevonden hebben, maar ik vond hun verhaal en de 'parade' het vermelden waard.
---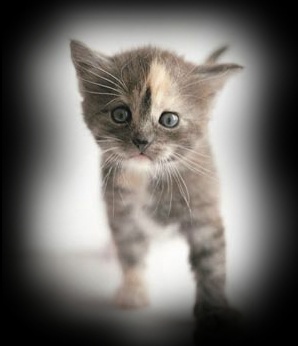 I wanted to talk about a cat shelter/hospital in Limburg, Belgium. I find this a super-initiative.
NPO Cat Shelter Limburg pursues two principal objects:
The catching of dumped, abandoned and neglected kittens and house cats to make them healthy and to place them in adoptive family.

They become engaged to instil cat owners to let castrate or sterilize their cats.
Cat Shelter Limburg began in July 2003. Annually roughly 30 foster families give shelter, take care of and pamper more than 400 kittens, after that, when old enough they are adopted by loving families that give them a good home. A foster family temporary gives shelter to a kitten or a litter until they are old enough and ready to be adopted.
There are kittens of only 3 days old until 12 weeks old. The foster family decide which age classes they want to give shelter to because the needs of a too young kitten (bottle or syringe fed) is very different of an older kitten. The organization pays for the materials, they also pay all the expenses for possible materials and medical care of the kittens. The foster family mainly does the socializing and care.
It mainly goes about dumped, unwanted kittens during the vacation leave and neglected, abandoned house cats during winter period. When arriving at the shelter they become treated for fleas, wormed, and they stay in quarantine first. They are cleaned up, they get proper food (recover his/her strength) and awaiting their new home they remain in a safe and loving surrounding. Meanwhile they get the necessary vaccinations and when they are 6 months they are castrated (tom) and sterilized (queen or molly).
Stray cats that are already unsociable are more difficult to keep in the shelter. They preferably are made sterile and after that placed back in their natural surroundings.
The ultimate goal is that the cats and kittens become adopted. Now, when you want to adopt a cat or kitten (and also other animals) you have to consider it well and above all you have to talk it over with your family. A pet isn't for a while, but for years. Besides, you have to have time, space and the financial means to give the cat (or another animal) the proper care and food.
When you decide, after you thoroughly considered it, to adopt a cat, then you can start to think about what kind of a cat you want (or need). Every cat has its own character and needs. Do you want a calm, relaxed cat, a cat that gives a lot of friendship, a playmate for another cat or dog, an indoor cat or a cat that can go outside in a calm neighbourhood? I really have to emphasize that it wouldn't be clever to let a cat outside when you live in a busy neighbourhood with a lot of cars and such! You have to take into account that the kitten isn't alone at home the whole day (or too long), this isn't good for the kitten (loneliness, distressed, grieving, …). It's of course possible (when you haven't got another pet) to adopt two kittens, they keep each other company, they play, sleep and eat together, … It's also preferable that you don't decide simply by the looks of the cat. You have to like each other (yes, the kitten has to like you too), and you have to know what character the kitten has and what the needs of the kitten are.
On the website of Cat Shelter Limburg (Dutch website) is a section 'adoptions' where the cats (and/or kittens) one can adopt are placed, with picture and their story. When a kitten (cat) has the status 'adopt' you can ask more information at Cat Shelter Limburg. They will help you along. Cats (kittens) with a status other than 'adopt' (for instance 'reserved' or 'in treatment') are cats (kittens) that can't be adopted and it's useless to ask information about them. Now, currently there aren't that much cats (kittens), but this won't last long any more and then there are enough cats (kittens) to choose from. It of course is a fact that kittens can't be adopted before they are at least 8 weeks old, before they are healthy and before they are vaccinated. It also is a fact that when you adopt a kitten that you still have to go to the veterinarian for the necessary vaccinations afterwards and the kitten has to be castrated or sterilized when they are 6 months old. It's logical that one has to 'pay' a medical contribution for the adoption, but it isn't that much and it's worth it!
Besides, despite the fact that they are a cat shelter it happens that they give shelter to a dog, a rabbit or such in need of help!
Linda Mertens of Milk Inc. is the godmother of Cat Shelter Limburg (Leopoldsburg). She is very committed to all animals and she was looking for an organization or a voluntary association that is passionate about neglected animals. And so she ended up at Cat Shelter Limburg. In the article that I read Linda Mertens said one sentence that I find very beautiful and exactly said: 'The destiny and the quality of life of animals is in the hands of the humans. We have to see to it that they at least get a fair chance.' Nicely said isn't it?
If there are stray cats in your neighbourhood, call the environmental service of your community. When they haven't got a sterilization policy yet, stand out for an animal friendly approach of the problem in your community!
Things Cat Shelter Limburg can use:
cat litter

canned food for adult cats and kittens

flea spray and flea powder

disinfecting products like Dettol and Javel

medication: antibiotic, eye ointment, worming products, …

scratching posts

pet beds

blankets

toys

large bath towels for in the cages for quarantine

I think financial support is welcome too
They make annually a birthday's calendar with pictures of kittens and cats. It are beautiful calendars, I have one.
You also can become a member (usual, supporting, protecting, honorary) and you even can be a godmother or godfather of a cat that already waits a long time for a new family. You can find information on the website of Cat Shelter Limburg, also the address and phone number (Dutch). You also can follow the 'news' on the site, look at movies and such. It's worth while to visit this site and maybe …
I find the work they do (volunteers) downright formidable! I found it this formidable that I decided to make a message over it.
Besides, on their site in the section 'press' one can find links to 'the cat-parade' (translation)(December 2009), this here is specially for cats that already are waiting for a long time on a new family. You have to see this and also these two links: Trinny (translation) & Tornado (translation) (February 2010). (I translated it because the text is in Dutch). The good news is that these cats found a good home in the mean time, but I found their stories and the 'parade' worth mentioning.
Bijlagen:
cat shelter in.JPG (23.2 KB)
poezenparade cat-parade.pdf (1.2 MB)
Tornado.doc (38.5 KB)
Tornado.jpg (439.4 KB)
translation cat-parade.doc (44.5 KB)
Trinny.doc (40.5 KB)
Trinny.jpg (424.3 KB)


Categorie:DIEREN - ANIMALS
Tags:Poezenopvang ziekenhuis Cat Shelter Limburg Leopoldsburg kat kitten adoptie adopteren Linda Mertens Milk Inc. hospital cat adoption adopt

05-03-2010
Aziatische Zwarte Beer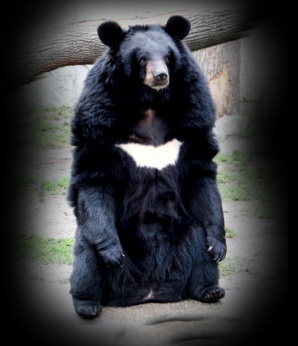 De Aziatische Zwarte Beer wordt ook wel Maanbeer en Kraagbeer genoemd, soms zelfs ook Tibetaanse beer of Himalayabeer, Formosaanse Beer,
De Kraagbeer (Ursus Thibetanus) komt voor van Iran tot Japan, zelfs in de Himalaya's op grote hoogte kunnen ze voorkomen. Hij behoort tot het geslacht Ursus van de familie Ursidae (beren). Hierin zitten ook de Amerikaanse Zwarte Beer, de Bruine Beer en de IJsbeer Volgens wetenschappers zou de Kraagbeer het dichtst aanleunen bij de prehistorische beer.
Er zijn verschillende ondersoorten bij de Ursus Thibetanus: Formosanus, Gedrosianus, Japonicus, Ianiger, Mupinensis, Thibetanus, Ussuricus, … (?)
De Aziatische Zwarte Beer is nauw verwant met de Amerikaanse Zwarte Beer. Er word wel eens gezegd dat de Aziatische Zwarte Beer nauw verwant is met de Panda, en beiden behoren natuurlijk tot de familie Ursidae, maar de Panda is van het geslacht Ailuropoda en niet van het geslacht Ursus.
De Kraagbeer heeft een totale lengte van 1.5 meter tot 2 meter (rechtopstaand) en als hij op vier poten staat kan hij tot 1 meter hoog worden. Hij heeft lange haren in de nek, op de schouders en aan de zijkanten van de hals, vandaar de naam 'Kraag'beer. Hij wordt ook wel 'Maan'beer genoemd en dit komt door de opvallende V- of Y-vormige (halve maanvormige) geelkleurige tot witte vlek op de borst. Hij heeft een ronde kop met grote en beweeglijke oren die ver uiteen staan. De kleur van de dikke ruigharige vacht kan bruin en zwart zijn. Zij hebben korte maar stevige klauwen (ideaal voor het klimmen)
De mannetjes wegen tussen de 140 en 200 kg, de vrouwtjes tussen 50 en 125 kg. Mannetjes worden ook dubbel zo groot als vrouwtjes. De gemiddelde leeftijd van de Kraagbeer is 25 jaar.
Kraagberen zijn de beren die het beste op hun achterpoten kunnen staan, wat voor hen ook een nadeel is (gebruikt voor dansen, circus, …).
Kraagberen zijn vooral schemeractief (crepusculair). Zij leven meestal alleen. Kraagberen zijn goede klimmers op rotsen en in bomen, zij klimmen naar hoogtes om te eten, te rusten, te zonnen, om vijanden te ontwijken en zelfs om te overwinteren. De helft van hun leven brengen ze door in bomen. Kraagberen breken takken van de bomen en plaatsen die onder zichzelf als ze in een boom zitten (voor te eten bijvoorbeeld), hierdoor ontstaan een soort van nesten in deze bomen. Zij verkiezen ook bosrijke gebieden om in te leven.
Een Kraagbeer kan ook ontzettend goed zwemmen, zij houden dan ook van water, zwemmen en in het water plonsen en spelen.
De winterslaap doen ze in holle bomen, grotten of holen in de grond, zij slapen soms ook in verlaten nesten van andere beren. De winterslaap duurt meestal van November tot Maart.
Ze trekken ook naar hogere gebieden in de warme maanden en dalen af tijdens koudere maanden.
De Aziatische Zwarte Beer is een omnivoor, dit is een alleseter, een dier dat zowel planten als vlees eet. De Aziatische Zwarte Beer eet fruit, noten, planten, grassen, bessen, maar ook vissen, vogels, knaagdieren, termieten, larven en natuurlijk honing dat zij zelfs tot op 5 km afstand kunnen ruiken. Maar indien er voldoende plantaardig voedsel voorhanden is, zal de Aziatische Zwarte Beer vooral planteneter zijn.
Kraagberen hebben een groot aantal geluiden, een soort van klokken, brommen, loeien, sissen, brullen, knorren, slobberen, kijven, een soort van snoeven, een 'tut-tut-tut' geluid, …
Het voortplantingsseizoen start meestal in midden Juni en loopt tot midden Augustus. Meestal word er een tweeling geboren en dit gebeurt rond April, Mei, doch het gebeurt ook wel rond Januari tijdens de winterslaap. Het pasgeboren jong weegt tussen de 350 en 400 gram.


Ik heb foto's toegevoegd van de Aziatische Zwarte Beer, dan kan je zien dat het een prachtdier is. Gewoon de link volgen. ('Aziatische Zwarte Beer - Asian Black Bear')
Naar schatting zouden er maximum nog maar 16000 tot 25000 Kraagberen zijn wereldwijd. Voor de IUCN is de Kraagbeer een bedreigde diersoort. De IUCN (International Union for the Conservation of Nature – Internationale Unie voor Natuurbescherming) is een internationaal samenwerkingsverband dat zich bezig houdt met natuurbehoud en het verantwoord gebruik van natuurlijke middelen. De IUCN nam ook het initiatief tot de oprichting van de WNF (Wereld Natuur Fonds). De IUCN publiceert 'Rode Lijsten', op deze lijsten staan bedreigde soorten die beschermd dienen te worden.
In CITES (Convention on International Trade in Endangered Species) staat de Kraagbeer vermeld als een Appendix 1 soort, dit is de categorie van de meest bedreigde diersoorten.
Nu, de natuurlijke vijand van de Kraagbeer zijn de tijger, maar de grootste vijand is de mens.
Waarom zijn er zo weinig Kraagberen over en waarom dienen ze beschermt te worden?
Ik haalde al een paar dingen aan eerder in dit bericht. Het is namelijk zo dat Kraagberen ontzettend goed en gemakkelijk op hun achterpoten kunnen staan, zij kunnen zich voortbewegen als 'tweevoeter'. Dit trekt circussen en dergelijke natuurlijk aan en Kraagberen worden (spijtig genoeg) gebruikt (of nog beter, misbruikt) voor entertainment (dansende beren, vechtende beren, circus-beren, …).
Dan is er het gebruik van Kraagberen (en andere natuurlijk ook) in dierentuinen en dergelijke. Velen zullen mij hierin ongelijk geven, maar een wild dier hoort niet in gevangenschap te leven!
De jacht op deze dieren is ook een reden.
Er is natuurlijk ook het verdwijnen van hun leefgebied.
En dan is er het gruwelijkste van het gruwelijkste, een schande, een pijnlijk iets dat mij een hele dag (en langer) van mijn stuk brengt. Het gebruik van Kraagberen voor medicijnen, meerbepaald beergal.
En er zullen nog wel redenen zijn, maar die wat ik opnoemde zijn al genoeg om het voortbestaan van deze prachtige beer in gevaar te brengen.
Op beergal wil ik nu toch even verder gaan. Volgens de Chinese traditie bevat berengal geneeskundige krachten en het wordt gebruikt tegen kwaaltjes als hoofdpijn, nierstenen, katers en hoge koorts. Dit gebeurt al héél lang in China, vroeger werden de beren in het wild gedood voor hun gal, maar dan ontdekte men dat men de beren niet hoefde te doden, en sindsdien is de gruwel alleen maar erger geworden. De beren krijgen een katheter ingeplant en zo kan men 24 uur op 24 uur tot 25 jaar lang gal aftappen. Gewoon gruwelijk en barbaars is het, zeker als je weet hoe die beren 'gehouden' worden. Zij worden in kleine metalen kooien, vaak niet groter dan hun eigen lichaam opgesloten. Elke dag opnieuw word er via een ingeplante katheter gal van de beren afgetapt, en er is zelfs een methode waarbij via een open wond constant gal uit de beer drupt. Dit gebeurt niet alleen in China, maar ook in Vietnam. En Kraagberen zijn niet de enige dieren die gebruikt worden voor traditionele Chinese geneeskunde, ook tijgers, neushoorns, … en andere beren.
Ik heb toch enkele foto's toegevoegd.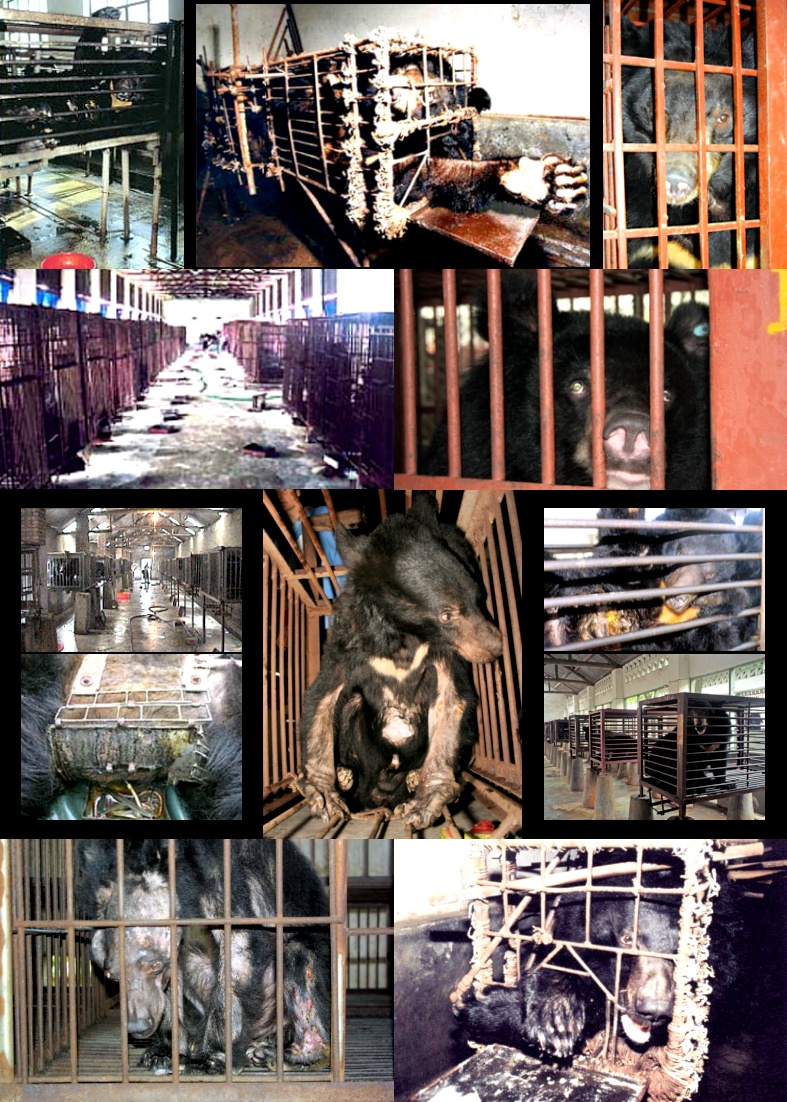 En een video.
En je kan deze link volgen naar een ander filmpje op YouTube.
In China zijn nu nog meer dan 60 beergal-boerderijen. Dit is nog steeds veel (te veel, eigenlijk zouden er géén meer moeten zijn), maar het is al heel wat minder als voordien, in het midden van de jaren '90 waren er meer dan 500 van die boerderijen met meer dan 10000 beren.
De reden dat zoveel van deze boerderijen verdwenen is heeft (grotendeels) te maken met Animals Asia Foundation.
Animals Asia Foundation is in 1998 opgericht door Jill Robinson MBE. Zij voelde zich genoodzaakt om een organisatie op poten te zetten nadat zij zag hoe gruwelijk de situatie van Kraagberen, die gebruikt werden voor hun gal, was. Zij werkte voordien voor het IFAW (International Fund for Animal Welfare).
Animals Asia Foundation staat voor:
Dieren eerst: Hun prioriteit is het welzijn van alle dieren. Passioneel proberen ze wreedheden te stoppen en het respect voor dieren in Azië te herstellen.

Integer: Zij fungeren ethisch, aansprakelijk en eerlijk met betrekking tot mensen en dieren.

Verantwoordelijkheid: Zij zorgen ervoor dat alle donaties adequaat en doeltreffend gebruikt worden.

Verbintenis tot de missies: Ondanks de uitdagingen die onoverkomelijk lijken slagen zij er toch in deze te overwinnen en dit door altijd achter het motief en de missie te blijven staan.

Respect: Zij zullen samenwerken met regeringen en gemeenschappen en hen raadplegen en streven naar oplossingen die rekening houden met het dier op zich, de soort en de mensen die getroffen zullen worden.
De missie van Animals Asia Foundation is zorgen voor de noden van wilde, 'getemde' en bedreigde diersoorten en het verbeteren van het leven van alle dieren in Azië.
In Chengdu, China heeft Animals Asia Foundation een groot opvangcentrum (Moonbear Rescue Center) voor beren voorzien, de meeste beren die gered worden uit zo'n beergal-boerderij en die het overleven (de gruwel van hun gevangenschap) kunnen namelijk niet terug in het wild leven. Veel beren hebben handicaps, hebben lange tijd verzorging nodig. Beren in gevangenschap zijn het gewoon dat de mens hen voedt, dat mensen bij hen in de buurt komen, en onder andere dit zou kunnen zorgen voor conflicten tussen mens en beer als men hem in het wild loslaat. Trouwens, zolang de jacht en de beergal-industrie niet volledig verboden is ginder vind ik het ook niet echt slim om ze in het wild los te laten.
Ook in Vietnam heeft Animals Asia Foundation een opvangcentrum.
In 2000 ondertekende AAF samen met CWCA (China Wildlife Conservation Association) en Sichuan Bosbouw een overeenkomst om 500 Kraagberen te bevrijden in de provincie Sichuan en om samen te werken om te proberen om alle beergal-boerderijen te sluiten.
In 2009 hebben al 18 provincies (of districten) op het vasteland van China zich geëngageerd om hun provincie (of district) vrij te houden van beergal-boerderijen, dit is zeer moedig en goed van de bestuurders van deze provincies (of districten). Meer dan de helft van China is nu vrij van beergal-industrie (nu de rest nog).
Animals Asia Foundation heeft al meer dan 260 beren gered van hun gruwelijk bestaan op die beergal-boerderijen in China en meer dan 30 beren in Vietnam.
Beergal word ook gebruikt bij Traditionele Chinese Geneeskunde (TCG) en zelfs sommige artsen en specialisten ginder die zich bezig houden met TCG verbinden zich ertoe om manieren te vinden om het gebruik van bedreigde diersoorten voor TCG te stoppen.
Het werk van Animals Asia Foundation heeft dus wel degelijk effect, maar er is nog heel wat werk te verrichten om de beergal-industrie volledig te stoppen!
Ik kan niet wachten op de dag dat die gruwelijke beergal-industrie volledig verdwenen is! En dit liefst zo snel mogelijk!
Ten eerste moet de beergal-industrie sowieso verdwijnen en moeten de beer-boerderijen worden gesloten en verboden(denk maar aan de foto's die ik plaatste).
Ten tweede is die beergal (van de beergal-boerderijen) helemaal niet gezond voor mensen, de beergal is namelijk vervuild doordat de dieren ziek zijn, er zitten etter, bloed en zelfs uitwerpselen in, vuiligheid dus. Trouwens, de beren in beergal-boerderijen worden volgepropt met antibiotica om ze in leven te houden, dit kan nooit gezond zijn voor de mens (trouwens ook niet voor de beren zelf!). Dus feitelijk zouden de beergal-boerderijen moeten verdwijnen omdat het een risico voor de gezondheid van de mens inhoudt (en ik spreek nu nog niet van het risico voor de beer).
Ten derde, er zijn vele alternatieven voor beergal (synthetisch en plantaardig). En die alternatieven zijn dan ook nog eens goedkoop en doeltreffend. Dus feitelijk zouden de beergal-boerderijen beter verdwijnen want het is onnodig vermits er andere goedkopere, diervriendelijkere en even doeltreffende alternatieven zijn.
Maar ja, er zijn in zulke landen wel meer dingen in verband met dieren die het daglicht niet mogen zien. En zelfs als ze aan het licht komen doet men gewoon door en ontkent men alles. Maar later meer hierover.
Ik kom op dit onderwerp dankzij Beestjes.org, en het greep mij aan dat zo een prachtig dier zo gebruikt (misbruikt) word, verschrikkelijk gewoon, en ik had dus al snel beslist om de Aziatische Zwarte Beer in de spotlights te zetten en de mensen te laten weten wat een vreselijke dingen mensen deze dieren aandoen! En ik ben er zeker van dat ik niet de enige ben die vind dat deze mishandelingen volledig moeten stoppen! Er zijn natuurlijk nog meerdere organisaties die zich inzetten voor de dieren in Azië (en ook zij doen natuurlijk goed en nuttig werk), maar ik wilde het vooral hebben over de Kraagbeer zelf en de AAF.
Wat kan je doen voor de Kraagberen?
Je kan geld inzamelen op verschillende manieren en dat doneren, doneren door leuke spulletjes te kopen, petities ondertekenen, …
En VOORAL, laat het weten aan vrienden, kennissen, familie, spoor hen aan om hetzelfde te doen …
Help mee deze waanzinnige situatie te stoppen!
Goede sites waar je héél wat informatie om te steunen kan vinden zijn:
http://www.moonbears.nl/ (Nederlands)
http://www.animalsasia.org/ (Engels)
http://www.beestjes.org/ (Nederlands)
http://www.wspa.org.uk/wspaswork/bears/bearfarming/default.aspx (Engels)
http://www.endbearfarming.org/en/ (Engels)
Via AAF kan je zelfs een Kraagbeer sponsoren en je kan een vriend zijn voor hen en zo geef je hem/haar wat extra's ('adopteren').
Ik weet zeker dat als je één van bovenstaande contacteert dat zij je ook verder kunnen helpen.
Moest je met de Engelse pagina's problemen hebben of vragen hebben over de vertaling van iets mag je het me altijd laten weten … Als ik ergens mee zou kunnen helpen laat je het maar weten.
Bijlagen:
amerikaanse zwarte beer.jpg (13.3 KB)
aziatische zwarte beer - asian black bear.JPG (637.1 KB)
gruwel-atrocity.JPG (441.6 KB)
kraagbeer - moonbear.jpg (15.6 KB)
kraagbeer in pagina.JPG (33.9 KB)
panda.jpg (24.2 KB)


Categorie:DIEREN - ANIMALS
Tags:Aziatische Zwarte Beer Maanbeer Kraagbeer Beergal-industrie Galblaas Ursus Thibetanus omnivoor bedreigde diersoort Animals Asia Foundation Jill Robinson MBE AAF CWCA IFAW TCG

Asian Black Bear.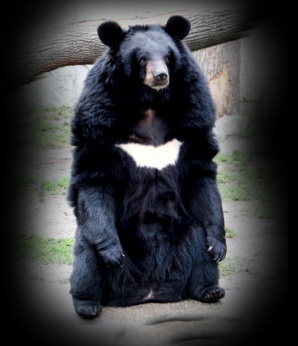 The Asian (Asiatic) Black Bear is also known as Moonbear, White-Chested Bear, the Himalayan Black Bear, the Tibetan Black Bear, Collared Bear and the Formosan Black Bear.
The Moonbear (Ursus Thibetanus) lives from Iran to Japan, even in the Himalayas on higher altitudes. They belong to the genus Ursus and that's in the family Ursidae (bears). In this genus are also the American Black Bear, the Brown Bear and the Polar Bears. According some scientists the Moonbears are the least changed of Old world bears. There are different subspecies in Ursus Thibetanus: Formosanus, Japonicus, Gedrosianus, Laniger, Mupinensis, Thibetanus, Ussuricus, … (?) The Asian Black Bear is closely related with the American Black Bear. Some say that the Asian Black Bear is closely related with the Panda, both are part of the family Ursidae, but the Panda is of the genus Ailuropoda and not of the genus Ursus.
The Moon Bear has a total length of 1.5 meters to 2 meters, 4 to more than 6 feet tall (upright) and when standing on four feet he can be 1 meter high. He has long hairs in the neck, on the shoulders and on the sides of the neck, hence the name 'Colar' Bear in Dutch. He is named 'Moon' bear and this is because of the striking V- or Y- shaped (shaped like a crescent moon) yellowish to white mark on their chest. He has a round head with large and mobile ears that stick out sideways from the head. The colour of the thick and shaggy fur can be brown and black. They have short but strong claws (ideal for climbing).
Males can weight between 140 and 200 kg., the females between 50 and 125 kg. Males can grow twice as large as females. The average age of the Moonbear is 25 years. Moonbears are the bears that are the most bipedal of all the bear species, but this is also a disadvantage for them (used for dancing, circus, …).
Moonbears are mostly crepuscular (active at dawn and dusk). They tend to be solitary. Moonbears are good climbers on rocks and in trees, they climb to eat, to rest, to sun, to avoid enemies and even to hibernate. Half of their life they spent in trees. Moonbears break branches and twigs to place under themselves when feeding and such on trees, they create nest-like structures. They prefer to live in a forest habitat.
A Moonbear can swim very good, they love the water, to swim and to splash around.
The hibernation happens in hollow trees, caves or holes in the ground, sometimes they use nests of other bears. They hibernate between November and March. They also go to higher altitudes in the warm months and descend to the lowlands during colder months.
The Asian Black Bear is an omnivore, this is an animal that eats as well plants as meat. The Asian Black Bear eats fruit, nuts, plants, grass, berries, but also fish, birds, rodents, termites, larvae and of course honey, they can smell it from up to 5 kilometres away. But when there is sufficient vegetable food on hand, the Asian Black Bear will especially eat plants.
Moonbears have a large vocabulary, some sort of clucking, huffing, grunting, whining, roaring, slurping, hissing, an 'tut-tut-tut' sound, …
The breeding season starts most of the times in the middle of June and takes to the middle of August. They tend to give birth to twins in April or May, but it also happens around January during the hibernation. The newborn cub weighs between 350 and 400 grams.
I added pictures of the Asian Black Bear so you can see it's an amazing and beautiful animal. Just follow the link.
At a rough estimate there are only 16000 to 25000 Moonbears left worldwide. The IUCN says that the Moonbear is an endangered species. The IUCN (International Union for the Conservation of Nature) is an international organization dedicated to the natural resource conservation. The IUCN took the initiative to found the WWF (World Wide Fund for nature – World Wildlife Fund). The IUCN publishes the 'Red Lists', on these are named the endangered species that need to be protected.
CITES (Convention on International Trade in Endangered Species) places the Moonbears in Appendix 1, this is the category with the most critical category of Endangered Species.
Now, the natural enemy of the Moonbear is the tiger, but the humans are the most dangerous enemy.
Why are there so few Moonbears left and why are they endangered?

I already quoted some things in this message. It's namely so that Moonbears appalling good and easy walk and stand on their hind legs, they can move as a 'bipedal'. And this is (unfortunately) often cruelly exploited for entertainment, such as dancing, fighting and for the circus.
Then there is the use of Moonbears (and other animals of course) in zoos and such. Many probably think otherwise, but a wild animal doesn't belong in captivity!
The hunt on them is also a reason.
And there is the disappearing of their habitat.
And then there is the most horrible, a shame, a painful thing that brings me a day (and longer) dispirited. The use of Moonbears for medicines, more precise bile.
And there will be more reasons why there they are endangered, but those I named are enough to endanger the continued existence of those beautiful animal.
I will talk a little about bile now. According to the Chinese tradition bile contains medical powers and it is used against complaints as headache, kidney stones, hangover and fever. This takes place very long in China, previously the bears were killed in the wild for their bile, but then they discovered that they don't have to kill the bear, and since then the horror worsened. They 'implant' a catheter and so they can 'tap' the bile 24 hours on 24 hours and this they can do for 25 years. Just horrible and barbarously, certainly when you know how they 'keep' these bears. They are held in small metal cages, often not much bigger than their body. Each day they drain bile by this implanted catheters and there even is a method where it drips out of the bear through an open wound. This doesn't only happen in China, but also in Vietnam. And Moonbears aren't the only animals that are used for traditional Chinese medicines, also tigers, rhinos, … and other bears.
I added pictures.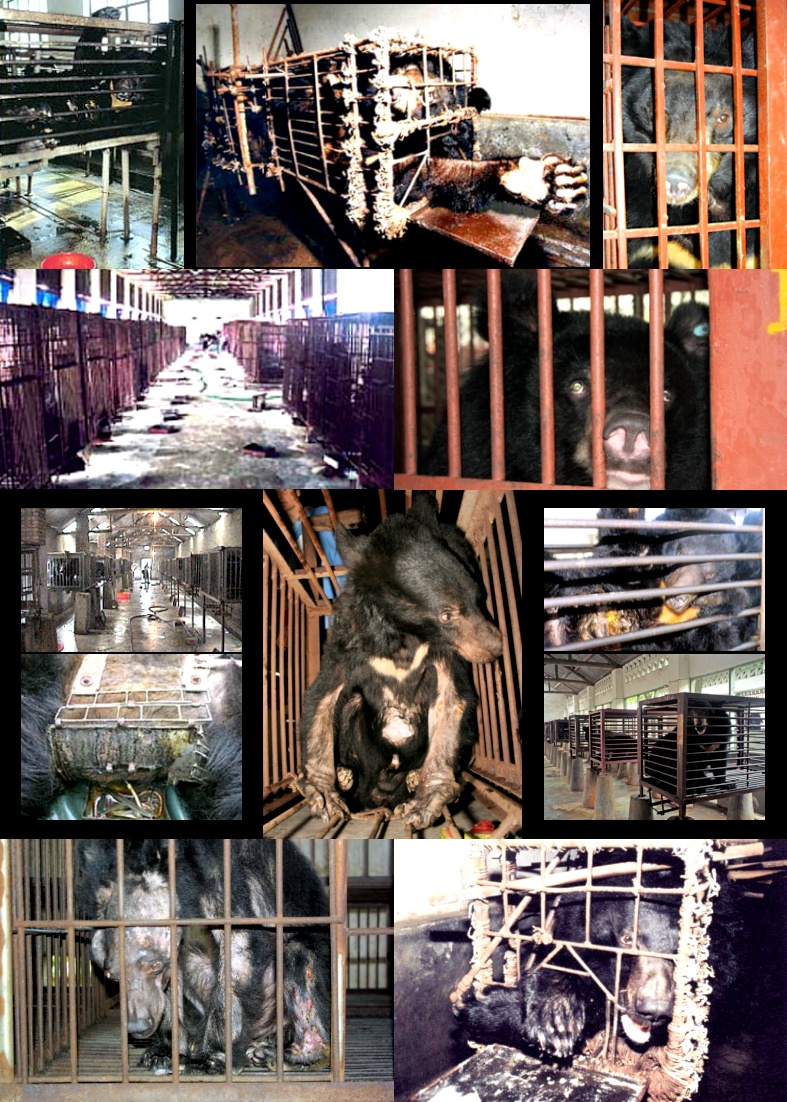 And a movie.
And you can follow this link to a another movie on YouTube.
In China there are still more than 60 bear-farms. This is still much (too much, actually there shouldn't be any bear-farms), but it's already a lot less than before, in the mid-1990's there were more than 500 of those farms with more than 10000 bears. The reason that so many of these farms disappeared is (largely) because of the work and devotion of Animals Asia Foundation (AAF).
Jill Robinson MBE has founded AAF in 1998. She felt compelled to create the organisation after learning of the plight of the Asiatic Black Bear, they were used for their bile. Before she worked for the IFAW (International Fund for Animal Welfare).
Animals Asia Foundation stands for:
Animals first: Their priority is the welfare of all animals. They are passionate about ending cruelty and restoring respect for animals in Asia.

Integrity: They believe in acting ethically, responsibly and fairly in all dealings with people and animals.

Accountability: They see to it that all donations are used in the most effective way.

Commitment to missions: Despite the seemingly insurmountable challenges they drive themselves to overcome them and they remain committed to the cause.

Respect: They will consult and work with governments and communities and they will strive to find solutions that take into account the individual animal, the species and the people affected.
AAF is devoted to the needs of wild, domesticated and endangered species throughout the Asian continent and to improve the lives of all animals in Asia.
In Chengdu, China AAF has 'build' a large rescue centre (Moonbear Rescue Centre) for bears, the most bears that are saved from bear-farms and that survive (the horror of their captivity) can't be placed in the wild again. Many bears have handicaps and need long-term veterinary. For bears in captivity its 'normal' that humans feed them, that humans come in their neighbourhood. And so the bear is dependent on humans and this would give a conflict between humans and bears when one release them in the wild. Besides, as long as the hunt and bear-bile-industry isn't completely illegitimate and gone it wouldn't be smart to release them in the wild.
Also in Vietnam AAF has a rescue centre.
In 2000 AAF signed an agreement together with the CWCA (China Wildlife Conservation Association) and Sichuan Forestry to rescue 500 Moonbears in the province Sichuan from the worst farms and to work towards ending the industry.
In 2009 18 mainland provinces (or districts) of China have committed to remain bear-farm free and rooting out any hidden farms. This is a brave and good thing that the leaders of those provinces (or districts). More than half of China is now 'free' of bear-farms (now the other half).
AAF has rescued more than 260 bears from their farms in China and more than 30 bears in Vietnam.
Bear-bile is used in Traditional Chinese Medicine (TCM) and even some practitioners and specialists committed to finding ways to end the use of endangered species in TCM.
The work done by Animals Asia Foundation properly has effect, but there still is a lot of work to be done to completely stop bear-bile-industry!
I can't wait till the day that this horrible bear-bile-industry is completely disappeared! And this gladly as fast as possible!
Firstly the bear-bile-industry has to disappear and all bear-farms have to be closed and when they are illegitimate (think about the pictures I placed).
Secondly that bear-bile (from the bear-farms) isn't healthy for humans, the bear-bile is contaminated because the animals are sick, there's pus, blood and even faeces in it and the bears in bear-bile-farms are pumped with antibiotics to keep them alive, this can't be healthy for humans (besides it isn't healthy for the bears either!). So actually the bear-farms should disappear because it means a health risk for humans (and I don't speak about the health risk for the bears).
Thirdly, there are many alternatives for bear-bile (synthetic and vegetable). And those alternatives are also cheaper and they are effective. So actually the bear-bile-farms can disappear because they are unnecessary because the alternatives are cheaper, better for the animals and as effective as bear-bile.
But yes, there are in such countries more things concerning animals that may not be known by the public. And even when they are known they go one doing it and one denies everything. But later more about this.
I decided to talk about this thanks to Beestjes.org (a Dutch site for animal welfare and animal rights) and it struck me that an animal this beautiful is used (abused) like this, it's just terrible (horrible) and I knew immediately that I wanted to put a spotlight on the Asiatic Black Bear and that I wanted to let people know what a horrible things one does with these animals! And I'm certain that I'm not the only one that finds that this terrible abusing has to stop! There are of course other organisations that 'fight' for the animals in Asia (and they also do good and useful work) but I especially wanted to talk about the Moonbear and the AAF.
What can you do for the Moonbears?
You can collect money on different ways and donate that, donate by buying articles, signing petitions, …
And ABOVE ALL, let your friends, acquaintances, family know what's going on with Moonbears, urge them to do the same as you …
Help them end this barbaric practice!
http://www.moonbears.nl/ (Dutch)
http://www.animalsasia.org/ (English)
http://www.beestjes.org/ (Dutch)
http://www.wspa.org.uk/wspaswork/bears/bearfarming/default.aspx (English)
http://www.endbearfarming.org/en/ (English)
At AAF you even can sponsor a Moonbear, you can befriend a Moonbear and so you give him/her a special treat ('adopt').
I'm certain that when you contact one of the above that they can help you along.
When there are problems with the Dutch pages or when you have questions … let me know … When I can help with something … let me know.
Bijlagen:
amerikaanse zwarte beer.jpg (13.3 KB)
kraagbeer - moonbear.jpg (15.6 KB)
panda.jpg (24.2 KB)


Categorie:DIEREN - ANIMALS
Tags:Asiatic Asian Black Bear Moonbear Bear-bile-industry gall-bladder Ursus Thibetanus omnivore endangered animal species Animals Asia Foundation Jill Robinson MBE AAF CWCA IFAW TCM

21-02-2010
Canis Lupus!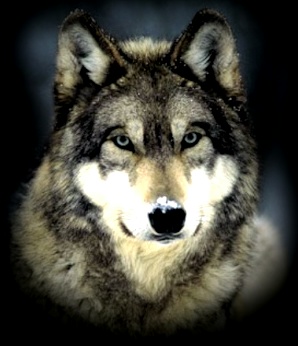 Een Canis Lupus (wolf) is van de familie van de Canidae. De Canidae omvat vossen, wolven, jakhalzen, ... De 'gewone' wolf behoort tot het geslacht 'Canis', waaronder ook de jakhals, de coyoté, … Maar je hebt nog twee (erkende) andere soorten wolven, de Ethiopische Wolf en de Rode Wolf.
Er zijn verschillende ondersoorten van de Canis Lupus, bijvoorbeeld de Witte Wolf, de Poolwolf, de Dingo, de Timberwolf, … en natuurlijk de hond (Canis Lupus Familiaris). De hond is een gedomesticeerde ondersoort van de wolf, toch blijft het een roofdier. De Wolf is de voorvader van de hond.
Een wolf kan een kop-romplengte hebben van 80 tot 160 centimeter. De staart kan tot 50 centimeter lang worden. Een wolf kan een schouderhoogte hebben van 80 centimeter en een mannetje kan tot 80 kg wegen, een vrouwtje tot 50 kg.
Net zoals onze honden heeft de wolf een sterk ontwikkeld gehoor en zichtsvermogen en een sterk ontwikkelde reukzin. Een wolf kan gemakkelijke een andere dier ontdekken dat zich op 6 kilometer van hem bevind en hij kan uitstekend zien in het donker.
Een wolf kan een bijtkracht hebben tot 350 kg/cm². Een volwassen leeuw kan een bijtkracht tot 800 kg/cm² hebben, een mens tot 100 kg/cm². Een krokodil kan een bijtkracht tot 1250 kg/cm² hebben.
Het gebit van een wolf is stevig en spits. Met de grote hoektanden grijpen ze de prooi en verscheuren het. De kleine snijtanden zijn om het prooidier te stropen en de botten af te schrapen. Met de kiezen verbrijzelen de botten en kauwen het vlees.
Een wolf kan een snelheid tot 65 km/u halen en ze kunnen op een dag enorme afstanden afleggen (tot 75 kilometer). Wolven worden gemiddeld 10 jaar oud.
Een wolf eet haasachtigen, hoefdieren, vogels en knaagdieren, grote prooidieren zoals elanden, wilde zwijnen, rendieren, … En natuurlijk niet te vergeten, veedieren en vooral dan schapen zijn ook een eenvoudige prooi. Wolven eten ook vissen, krabben en soms zelfs bessen.
Wolven zijn heel sociale dieren en ze leven in roedels. Deze roedels hebben een strikte organisatie en worden geleid door het alfa-paar. De reu hoeft niet speciaal het grootste dier of het oudste dier uit de roedel te zijn. Doch, zij zijn de meest dominante van de roedel en hebben een koninklijke uitstraling. Na het alfa-paar zijn er de ordehandhavers van de roedel. Zij zijn meestal wel de grootste en brutaalste dieren uit de roedel. Dan is er het 'middenkader'. En uiteindelijk is er ook nog de omega, hij/zij is de laagste in rang. De omega mag als laatste eten, en word herhaaldelijk van het voedsel weggejaagd. Maar als de rest gegeten heeft is er altijd wel voedsel voor de omega 'bewaard'.
In de roedel heb je nog 2 'specialisten', de jagers en de babysitters. Jagers zijn vaak wolvinnen omdat ze sneller en wendbaarder zijn, maar bij grotere prooien zijn er natuurlijk ook reuen nodig vanwege hun kracht. Babysitters zijn door de alfawolvin uitgezocht om voor de welpen te zorgen en ze op te voeden.
In de meeste gevallen heeft het alfa-paar het alleenrecht om zich voort te planten. Een gemiddelde roedel bestaat uit 10 dieren. Elke roedel heeft zijn territorium en de gemiddelde grootte is 200 km².
Wolven zijn altijd aanzien als een gevaar. Vooral bij boeren en dergelijke met vee. Doch, al een hele tijd is duidelijk dat de schade die zij toebrengen aan de veestapel best meevalt. Wolven zijn ook niet in staat om hun prooidieren uit te roeien. Doch, voor een boer die het meemaakt dat zijn veestapel aangevallen wordt is het natuurlijk nooit leuk.
Wolven hebben op uitsterven gestaan, vooral doordat de mens hem 'vermoorde' omdat men wolven als een gevaar zag (ziet?). Van nature zal een wolf vluchten voor de mens, doch wolven zijn ook nieuwsgierige dieren en kunnen zelfs 'contact' zoeken met de mens. Dit zal natuurlijk eerst van op afstand gebeuren.
Het is natuurlijk al voorgevallen dat wolven mensen aten, doch, het gaat hier meestal om al overleden mensen, mensen die gekwetst (bloed) zijn, of natuurlijk als zij zichzelf bedreigd voelen, of als zij vinden dat hun welpen bedreigd worden.
Men noemde de wolven zelfs bloeddorstig, maar als je een roedel observeert zie je dat ze veel met elkaar spelen, ze elkaar veel aanraken, likken, … Ze zijn héél beschermend tegenover de welpen en gewonde wolven in de roedel. Als je ze ziet spelen en zorgen voor de welpen dan ga je heel anders denken over de wolf. Want bloeddorstig? Dat zie ik er echt niet in.
Wolven worden nog steeds gedood, vaak uit angst. En er zijn nog landen waar de jacht op wolven toegestaan is. En dit vind ik schandalig!
Een ander probleem dat de wolf 'bedreigd' is dat zijn leefgebied alsmaar kleiner wordt. De grote oppervlakten van vroeger zijn er niet meer.
Ooit was de wolf een normale verschijning in het gehele Noordelijk halfrond. Maar zoals ik al zei is hun leefgebied (door toedoen van de mens) drastisch ingeperkt en natuurlijk is er ook de jacht en het doden van de wolf (ook door toedoen van de mens) dat er voor zorgt dat zij niet overal meer te vinden zijn.
De wolf is een intelligent zoogdier, hij gebruikt vele signalen om met andere wolven te communiceren. Een wolf huilt om de roedel bij elkaar te brengen, om te weten waar de andere wolven van de roedel zich bevinden, om hun aanwezigheid kenbaar te maken aan andere wolven, … Iedere wolf heeft een eigen 'huilgeluid' en het gehuil is te horen tot op meer dan 10 kilometer.
Andere 'communicatiemiddelen' van de wolf zijn de lichaamshouding, de stand van de oren en de staart, gezichtsuitdrukkingen, geuren en het keffen, blaffen, grommen, …en natuurlijk de geur.
Een dominante wolf zal de staart en oren omhoog houden (of staart horizontaal), ook zal zijn 'kraag' opgezet zijn. Een dominante wolf kan zijn status aan een wolf met een lagere rang laten 'weten' door de bek en neus van de wolf met de lagere rang in zijn/haar bek te nemen. Een vorm van bijten is het, maar natuurlijk niet bijten om te verwonden of te doden. Een onderdanige wolf daarentegen steekt zijn staart tussen de poten, houd zich héél laag (plat tegen de grond, zich zo klein mogelijk maken), hij/zij zal de oren plat leggen en aan de bek van een wolf die hoger in rang is likken.
Wolven zijn feitelijk belangrijk voor hun omgeving. Wolven zullen zieke, oude en zwakke prooien 'doden' en zo kunnen de gezondste 'prooidieren' overleven en zich voortplanten. De overschotten van de prooi zijn een voedselbron voor beren, arenden, veelvraten (gulo gulo's), … Wolven herverdelen de horden 'prooidieren' (vooral elanden) zodat bepaalde gebieden zich kunnen herstellen. Wolven doden coyotes, en zo komt er géén overbevolking van coyotes, en de prooien van de coyotes zijn hierdoor 'geholpen'.
De reden dat ik besloot over wolven te schrijven is omdat ik altijd al een enorme bewondering voor wolven heb gehad. Het zijn gewoonweg prachtdieren! Ik had al een tijdje het idee om er iets over te schrijven, maar doordat ik 'Living with Wolves' op televisie zag heb ik er echt eens werk van gemaakt.
'Living with Wolves' is een documentaire over (en van) Jim & Jamie Dutcher. Jim krijgt de toestemming om in de Sawtooth Mountains in Idaho een observatiekamp op te zetten waar hij met jonge welpen een roedel gaat proberen 'vormen'. Zijn bedoeling was om de gewoontes en het gedrag van een roedel wolven te bestuderen en te documenteren. Later kwam zijn latere vrouw Jamie hem te hulp. Deze roedel wolven is 'bekend' geworden onder de naam 'Sawtooth Pack'. Ik vond het een prachtige documentaire, en heel aangrijpend.
Ik heb enkele links opgezocht over de 'Sawtooth Pack':
http://www.livingwithwolves.org/
http://www.youtube.com/watch?v=-DsiEbRJDW4
http://www.youtube.com/watch?v=qvoxqXYtSx8
http://www.youtube.com/watch?v=oZMXQW-09F0
Wolven zijn dieren die in het wild moeten kunnen samen leven! Niet in gevangenschap, ook niet in dierentuinen vind ik! En ik vind al helemaal niet dat men ze moet of mag doden, nergens niet. Zelfs niet als ze het vee hebben aangevallen! Iemand die vee heeft en woont in een buurt waar wolven kunnen zijn moet maar zorgen dat zijn vee beschermd is of er niet gaan wonen. Indien de wolven een probleem zijn dan moet men maar een organisatie contacteren die het probleem diervriendelijk zal oplossen. Ik vind trouwens ook dat wolven niet als huisdier gebruikt mogen worden, het zijn dieren die in het wild moeten leven en in een roedel!
Maar waarschijnlijk zullen velen het niet met me eens zijn, maar dan vraag ik me gewoon af, waar is de menselijkheid dan?
Hier nog wat andere links en ik heb ook nog wat foto's ('Wolf') bijgevoegd van wolven. Gewoon omdat ik het prachtige dieren vind, hun uitstraling, hun blik, hun vacht, hun manier van leven (in het wild natuurlijk), hun omgaan met elkaar, hun zorg voor soortgenoten en welpen uit de roedel, … Alleen al de pracht van het alfamannetje is onbeschrijflijk!
www.wolf.org
http://www.everythingwolf.com/
http://www.youtube.com/watch?v=QFro0Lf0Ws8
http://www.youtube.com/watch?v=dK4mzOKKPME


---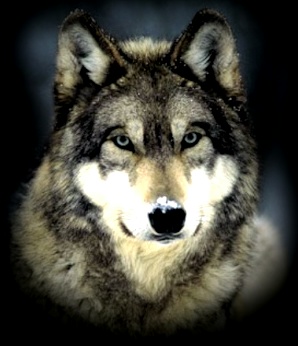 A Canis Lupus (wolf) belongs to the family of the Canidae. The Canidae consists of foxes, wolves, jackals, … The 'normal' wolf is part of the genus 'Canus', also the jackal, the coyote, … But there are two other (approved) kinds of wolves, the Ethiopian Wolf and the Red Wolf.
There are multiple subspecies of Canis Lupus, for instance the Arctic Wolf, the Tundra Wolf, the Dingo, the Timber Wolf, … and of course the dog (Canis Lupus Familiaris). The dogs are a domesticated subspecies of the wolves, but it stays a predator. The wolves are the ancestors of the dog.
A wolf can measure 1.3 to 2 meters (from nose to tip of the tail. The tail can be 50 centimetres long. A wolf can have a height (shoulders) to 80 centimetres and a male can weigh to 80 kg, a female to 50 kg.
Just as the dogs the wolf has a very good developed hearing, sense of smell and even sight. A wolf easily can smell another animal when it's 6 kilometres away and he can see very good in the dark.
Wolves can have a bite force of 350 kg/cm². An adult lion can have a bite force of 800 kg/cm², a human 100 kg/cm². A crocodile can even have a bite force of 1250 kg/cm².
The dents of a wolf are solid and sharp. They use the large canines to grab the prey and tear it up. The small incisors are used to strip the prey and to scrape the bones. With the molars they crush the bones and chew the meat.
A wolf can reach a running speed of 65 km/hour and when needed they can travel great distances (to 75 kilometres).
Wolves reach an average age of 10 years.
Wolves feed primarily on medium to large sized ungulates, but also lagomorphs, birds, wild boar, … And of course, cattle-animals are an easy prey, especially the sheep. Wolves also eat fish, crabs and sometimes even berries.
Wolves are social animals and they live in packs. These packs have a strict organization and are led by the alpha-pair. The alpha-male isn't necessary the largest animal or the oldest animal of the pack. But they are the most dominant of the pack and have a royal charisma. Below the alpha-pair one finds the 'enforcers', they are the largest and most bold animals of the pack. Then there are the subordinate animals. And last there is the omega, he/she is the lowest in rank. The omega usually is allowed to eat last and he/she is repeatedly driven away from the food. But when all animals have eaten there always is some food 'kept' for the omega. In the pack there are yet 2 'specialities, the hunters and the babysitters. Hunters usually are female wolves because they are faster and more manoeuvrable than male wolves. But when chasing a larger prey they need the male wolves because of their power. Babysitters are 'picked' by the alpha-female to look after the cubs and raise them.
In most cases the alpha-pair are the only ones allowed to reproduce. An average pack consists of 10 animals. Each pack has its own territory and the average size of the territory is 200 km².
Wolves always are associated with danger. Especially by farmers and such with cattle. But, it's clear already that the damage that they inflict at the cattle might have been worse. Wolves aren't capable 'extinct' their prey. But, for farmers it isn't pleasant when wolves attack their cattle.
Wolves were in danger to become extinct themselves, especially because the humans 'killed' them because they thought they were (think they are?) dangerous. By nature a wolf will flee for humans, but wolves are also curious animals and they even can seek 'contact' with humans. Of course this will happen from a distance first.
Okay, it already happened that wolves ate men, but mostly it goes about people that were already dead or people that were hurt (blood). And also when they feel threatened, or when they think that their cubs are threatened.
One even named wolves bloodthirstily, but when you observe a pack and you see how they play with each other, how they touch, lick, … each other. They always protect the cubs and wounded wolves in the pack. When you see them play with and take care of their cubs you have to think different about wolves. Cause bloodthirstily? I don't see it.
Wolves still are 'killed', often out of fear. And there are countries where the hunting on wolves is allowed and I find this scandalous!
Another problem that 'threatens' the wolves is the fact that their habitat keeps getting smaller. The great surfaces of the past aren't there any longer.
Once the wolf was a normal appearance in the entire Northern hemisphere. But as I already said, their habitat (humans are responsible) is restricted and of course there still is the hunt and the killing of wolves (also here humans are responsible). Those are the reasons that wolves aren't seen anymore in great parts of the Northern hemisphere.
Wolves are intelligent animals, he uses many signals to communicate with other wolves. A wolf howls to assemble the pack, to know where the other wolves of the pack are, to let other wolves know that they're there, that it's their territory, … Each wolf has a different sound of 'howl' and the howling can be heard further than 10 kilometres away.
Other 'means of communication' of the wolf are expressions, the position of the ears and the tail, face expressions, barking, growling, yapping, … and of course the smell.
A dominant wolf will hold its ears and tail upwards (or tail horizontal), a bristling hackle. A dominant wolf can make his status clear to a wolf that stands lower than him/her by taking the mouth and nose in their own mouth. Some kind of biting, but of course biting without wounding or killing. A subservient wolf on the other hand sticks its tail between the legs, he/she will put himself/herself low to the ground, make himself/herself as small as possible, he/she will lay the ears flat and lick the mouth of the wolf that has a higher status.
Wolves actually are important for their surroundings. Wolves will 'kill' ill, old and weak preys and so the healthiest 'prey animals' can survive a reproduce. The remains of the prey are a food source for bears, eagles, wolverines, … Wolves redistribute the herds of 'prey animals' (especially elks) so that particular areas can recover (repair itself). Wolves kill coyotes and rodent populations increase, also the preys of the coyotes are helped by that of course.
The reason I decided to write about wolves is because I always have an enormous admiration for them. They are so beautiful and special animals! I already had the idea to write about them, but I saw 'Living with Wolves' on television and I decided that it was time to write about them now.
'Living with Wolves' is a documentary about (and from) Jim & Jamie Dutcher. Jim gets the permission to set up an observation camp in the Sawtooth Mountains in Idaho and he'll try to 'form' a pack with young wolf cubs. His intention was to study and to document the behaviour and customs of a pack of wolves. Later on (later she became his wife) Jamie came to help him. This pack became 'known' as the 'Sawtooth Pack'. I found it a beautiful documentary and it was quite moving too.
I added some links about the 'Sawtooth Pack':
http://www.livingwithwolves.org/
http://www.youtube.com/watch?v=-DsiEbRJDW4
http://www.youtube.com/watch?v=qvoxqXYtSx8
http://www.youtube.com/watch?v=oZMXQW-09F0
Wolves are animals that have to live in the wild together! Not in captivity, even not in zoos! And I find that it can't be that people kill them, that shouldn't be allowed anywhere. Even not when they attacked the cattle! Someone who has cattle and lives in the neighbourhood of wolves has to make sure that its cattle is protected or one shouldn't move there. If the wolves are a problem one should contact an organization that will solve the problem in a kind manner for the animals.
Besides I find that wolves can't be used as pets, it's an animal that has to live in the wild and in a pack!
But probably many won't agree with me, but then I ask myself, where is the humanity then?
Here are some other links and I also added some pictures ('wolf') of wolves. Just because I find it such beautiful animals, their charisma, their eyes, their coats, their way of living (in the wild of course), their social intercourse with each other, their care for congeners and cubs from the pack, … Just the beauty of the alpha-male is beyond words!
www.wolf.org
http://www.everythingwolf.com/
http://www.youtube.com/watch?v=QFro0Lf0Ws8
http://www.youtube.com/watch?v=dK4mzOKKPME
Bijlagen:
canis lupus.jpg (23.6 KB)
ethiopische wolf ethiopian wolf.jpg (23.4 KB)
poolwolf arctic wolf.jpg (20.9 KB)
rode wolf red wolf.jpg (23.7 KB)
timberwolf eastern wolf.jpg (26.9 KB)
Witte wolf Tundra Wolf.jpg (22.4 KB)
wolf in pagina.JPG (36.4 KB)
wolf.JPG (580.7 KB)


Categorie:DIEREN - ANIMALS
Tags:Wolven wolf wolves canis lupus prooi roedel prey pack bloeddorstig bloodthirstily alfa alpha omega huilen howling Jim Jamie Dutcher Living with wolves Sawtooth Pack canidae jagen hunting


| | |
| --- | --- |
| | |
____________________
Welkom op de blog van Bob "Štaka", Sergei "Listonosz", Emil "Hallulooz"
Als uitlaatklep, om dingen kwijt te kunnen.
Groetjes en veel leesgenot ;-)
____________________
Welcome on the blog of Bob "Štaka", Sergei "Listonosz", Emil "Hallulooz"
Used to express some feelings, to say what must be said.
Greetz and enjoy reading ;-)
____________________
____________________
! VERGROOTGLAS !
100%
150%
200%
  
____________________
____________________
____________________
____________________
E-mail mij
Druk op onderstaande knop om mij te e-mailen.
____________________
____________________
Gastenboek
Druk op onderstaande knop om een berichtje achter te laten in mijn gastenboek
____________________
____________________