| | |
| --- | --- |
| | Jouw informatiebron voor Kodaline interviews, foto's, songteksten,.. allemaal op 1 site |
26-07-2013

kodaline


helemaal klaar voor Phil's trouwfeest.
#philsbestday #allinsuits


26-07-2013 om 00:00 geschreven door Kodaline Fansite
0 1 2 3 4 5 - Gemiddelde waardering: 0/5 - (0 Stemmen)
Categorie:Kodaline

25-07-2013

interview
Interview with kodaline
How did you came up with the name kodaline?
Mark: We came up with the name on a night out when we were in London and that's just the name that stuck.
Steve: We did go through loads of other names. The first time we came up with the name Kodaline we didn't like the name and then we came back to it.
What was the first name you came up with?
Mark: Rather not say otherwise we'll never see the light of day.
Jay: We had some embarrassing names.
Steve: I think they were so bad that they've been blocked out of our minds.
So, who came up with 'Kodaline'?
Steve: I can't remember..
Mark: Well the thing is: we were having a few beers and we can't really remember.. But the main goal when we were trying to come up with a name was to come up with a name that had no connotations. Like Kodaline. What comes to mind when I say Kodaline? What do you think of?
I don't know..
Steve: It is what it is.
Vinny: That's what we wanted
Steve: It doesn't actually mean anything but we hope it's the music that people will associate it with the music that we make, Kodaline.
Mark That could've been a shorter answer.
Steve: Sorry!
Vinny: Every answer is going to be that long.
Your debut single has done so well and the video is amazing. Who came up with the story line and how much creative control did you have with it?
Mark: None at all. A friend of us heard the song and just dreamt the whole idea and sent us the script.
Steve: initially when we go the idea for the video, it was just a photo of a monster and we're going: 'where us this going?' There was no connection to the song but then we read through the script and were like definitely: 'let's do it!'
Mark: The first time we saw the video when it was complete, and we loved it. We all had the same reaction everyone else did.
Steve: We were all in it actually and we got all of our friends to be extras in the office, all our mates from school. It was fun.
How long did it take to do monster's make-up?
Steve: Not too long, I think.
Mark: He kept in on for three days.
Vinny: He slept with it on. He did it on Thursday and the video was filmed on Friday.
Jay: the director is the monster.
Steve: Funnily enough Stevie, the director, his dog is the dog in the video and straight away when his dog saw him with the make-up it scared him because he didn't recognise him. So he had to actually hang out with his dog until it got comfortable with him again.
The make-up looks really realistic though.
Mark: My mom thought it was real.
Steve: when we saw him he was like: 'how's it going lads, what's the crack?' He had the make-up on and it was really weird.
You guys are abouty to embark on your first headline tour and you've already sold out in Hoxton bar & kitchen and have just sold out Sebright Arms.
Vinny: And we sold out the Dublin show as well.

Well, that's your hometown. What can people expect from a Kodaline live show?
Mark: We're releasing a second EP in the New Year so there will be some songs from that. So.. We'll just be playing our own songs and maybe some suprises.
Vinny: Fireworks?
Mark: We're excited because it's our first headline tour.
Steve: Baby elephants .. Clowns ..
Vinny: A massive production. We're going to spend all our money on it.
Steve: If you're a fan of star wars.. Something like that..
A star wars circus show, sounds cool. You're track 'Lose your mind' is one of my personal favourites. It reminds me of psychedelia and 90s alternative bands. Will Kodaline be going for that psychedelic sound in the debut album?
Steve: it's a funny thing, when we write and record songs we just look at the song as each song has it's own thing.
Vinny: Every song on the EP sounds different from the next so we don't have one sound for the album.
Steve: Yeah, that song was written on a night when we had a few beers
Mark: A LOT of beers..
Is 'a few beers' where everything always starts from?
Mark: well with that song we just threw everything at it and had fun. And the next day we listened back to it and we were like: 'this is going to be so sh*t'. We played it back and what you hear is what we did that night.
Steve: We were out of our minds.
Mark: It was the easiest one.
Jay: The quickest one.
Steve: Glad you like it.
Yeah, it's such a good track. So how is the album coming along?
All: It's all done.
What? It's all done already?
Mark: we just need to sparkle some dust on it then it's good to go. By Christmas we'll have the CD and the artwork done but the songs will be ready.
Steve: We were in Rockafield studios, down in Wales, and we just finished off the last four tracks so the track listening is here.
How many tracks are there?
Mark: We're try to figure out..
Steve We've got more songs then we need.
Mark: When you're buying an album and there's 16 songs and you're like; 'there should be 10..'
Vinny: You loose interest after a certain time.
Mark: 10 to 12, 12 songs max.
So where do you draw your insperation for your song writing from?Is it what you see happening around you or is it what happens to you?
Mark: You nailed it!
Jay: We're just going to answere 'Yes' to everything.
Steve: it's people, events and everything that happens to us. It's all about true life stories and things like that. Every song that we write has some sort of background behind it about a person or some one who affected us. And life really, as cheesy as it is.
So, does the music comes first or the lyrics?
Steve: it depends. If it's just something you want to get off your chest then both really. We usually write stripped down on a piano, then the whole song is done acoustic and then we add on the music after once the song is written.
Mark: Every song happens differently.
Fair enough.
Mark: Sorry, another sh*t answer!
Steve we're really good at sh*t answers.
Here's another one: discribe what Kodaline represents in 5 words.
All: We give shit answers always or Four guys who play music.
Who would you love to collaborate with?
Steve: dead or alive? Sam cooke, LCD soundsystem, Bob Dylan..
Mark: Daft punk
Vinny: Nicolas Jaar
Steve: Jackson Browne, Bruce Springsteen..
Just keep on going..
Mark: Jay.. Lorraine.. We can collaborate with you.
Yes, let's do that!
Jay: Jojoline
Steve: Does it have to be a musician? Arnold Schwarzenegger, Barack Obama..
You just can't stop Steve..
Steve: Kenny Rogers .. Not in music, just in general .. Just in life.
Mark: I'd love to paint a house with him.
Steve: That's a collaboration!
Source: Thewhitenoise
Interview: 15-11-2012

25-07-2013 om 12:57 geschreven door Kodaline Fansite
0 1 2 3 4 5 - Gemiddelde waardering: 0/5 - (0 Stemmen)
Categorie:interviews written


Kodaline cover
Kodaline deed een cover van Gabriël van Roy Davis Jr.


25-07-2013 om 12:44 geschreven door Kodaline Fansite
0 1 2 3 4 5 - Gemiddelde waardering: 5/5 - (1 Stemmen)
Categorie:Kodaline


All comes down to you


Een geweldige live versie van het nummer 'All comes down to you'. Ons favoriet moment in het
lied is vanaf 3:20 wanneer de hele band in harmonie het refrein zingt. Dit wordt één van de
vele kippenvel momenten van Kodaline op Pukkelpop, dat is zeer zeker! :D
25-07-2013 om 00:26 geschreven door Kodaline Fansite
0 1 2 3 4 5 - Gemiddelde waardering: 0/5 - (0 Stemmen)
Categorie:Live


Interview


Interview over Kanye West, samenleven met elkaar en hun vriendinnen.
25-07-2013 om 00:11 geschreven door Kodaline Fansite
0 1 2 3 4 5 - Gemiddelde waardering: 0/5 - (0 Stemmen)
Categorie:interviews taped

23-07-2013

Mark & Steve VS Tent
The battle of Mark/Steve Vs. The Tent:




10 minuten later:




#loveformarkandsteve
23-07-2013 om 22:54 geschreven door Kodaline Fansite
0 1 2 3 4 5 - Gemiddelde waardering: 0/5 - (0 Stemmen)
Categorie:Kodaline


Mark en Steve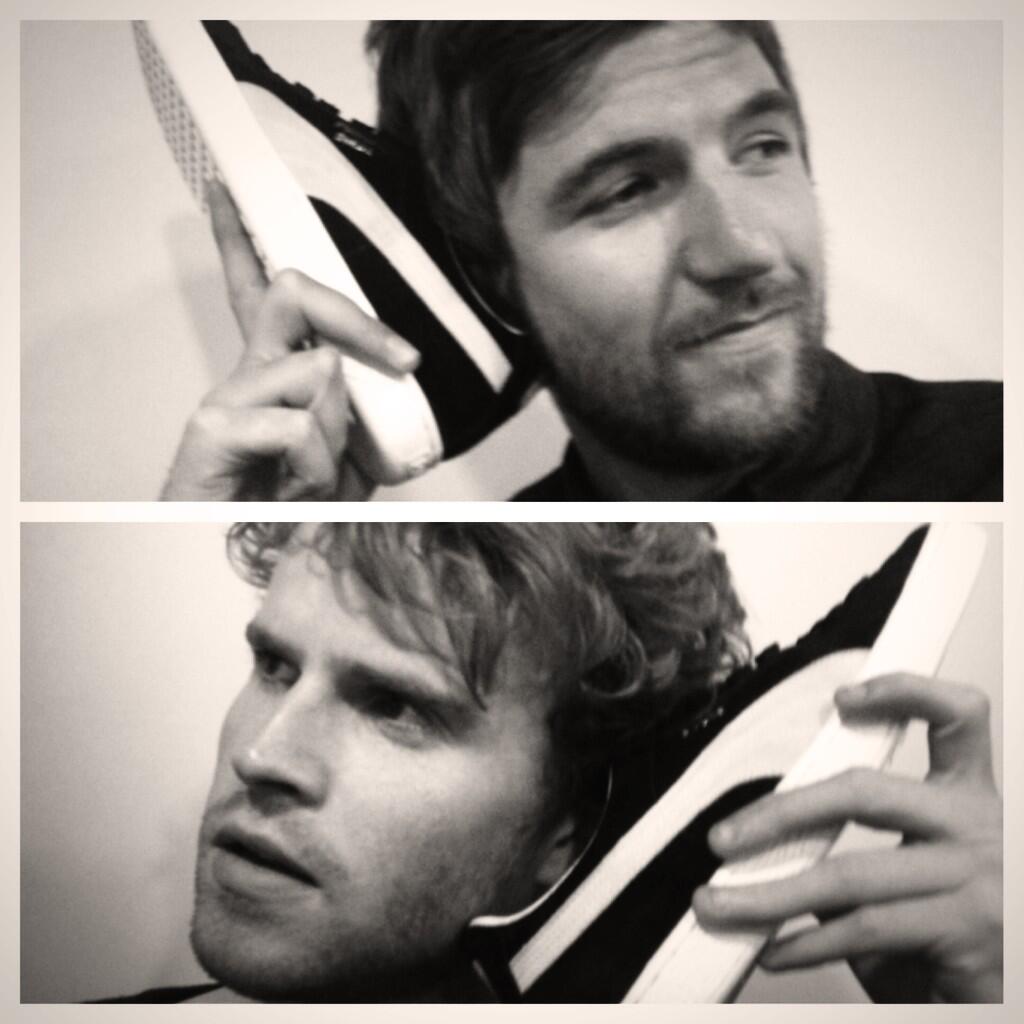 Wat kunnen we zeggen? We houden van Mark en Steve!!
#awsomelads
23-07-2013 om 21:55 geschreven door Kodaline Fansite
0 1 2 3 4 5 - Gemiddelde waardering: 1/5 - (1 Stemmen)
Categorie:Kodaline


inteview Kodaline


Interview met Kodaline vanop het Longitude festival.
23-07-2013 om 21:13 geschreven door Kodaline Fansite
0 1 2 3 4 5 - Gemiddelde waardering: 0/5 - (0 Stemmen)
Categorie:interviews taped


interview
Interview met Mark en Steve
What do you think about Birmingham?
Mark Birmingham is our back garden! It's our home away from home. We moved here about six months ago.
Steve: We're planning on staying here. We've just booked another sic months. It's so handy for touring and travelling. And Moseley's great. The hare and Hounds is good. There's so many little good places to go, and we've got a group of friends to hang out with now.
Mark: We rehearse in Selly oak, so we're always there too.
Steve: We've meant to play at an open mic at the Soak so many times but we just keep missing it!
High hopes has gone to nr 1 in Ireland and you've gained nomination nods from BBC and MTV in 2012. How does that feel?
Mark: It's very cool. We went home to Ireland on St Paddy day, there was a big buzz there.
Steve: Most people know who you are there, so we getting there gradually England's bigger so i's taking more time.
You've got a pretty extensive tour lined up between now and November. How is it going so far?
We've been everywhere in England the last few weeks.
Mark: Every gig's been really good and really different. We're not getting very much sleep. We went out the other day in Glasgow and we did an acoustic after show-show in the smoking area of a pub.
Steve: It wasn't a wild night out, we just chilled and met some fans. It was pretty cool.
Mark: people now know two songs when they come to our shows so you do have to go for it every night. But we do that anyway. It's good fun.
Steve: We've played shows before when there was no one there, so it's just good to have people actually come. It's important that they do. And we're doing a bunch of festivals.
Mark: we're doing little bits as well: regular shows, shooting videos, doing a television program in France, going to America..
Steve: we're touring indefinitely really. But our album's out in june, which we really looking forwards to.
Mark: I love the randomness of touring. Every night you meet loads of new people. We'll sometimes just do an open mic somewhere.
Steve: We're still trying to get our heads around in different accents in different areas of England. We walked into this pub the other day and the guy at the bad said: 'Whadya havin' and I was like 'wow, that's an accent!' But he goes: 'we ain't got no accent around here!' it's great to have new experiences and visit new cities. This is the first headline gig we've done in Birmingham.
Most of your videos have such a tragic story. Do you have a hand in shaping the storyboards?
Mark we just approve then, we don't write them.
Steve: We had a guy called Stevie Russell from Dublin do the 'High Hopes' video on the isle of weight. All we wanted was the song and the video to compliment the sound. Just random visuals which works for some kinds of music, I know. It works for rap, doesn't it?
Mark: yeah, the MGMT video with the dolphins (Time to pretend) that's amazing. That wouldn't really work for us.
Steve: We wanted out videos to have a message and to compliment th sounds, which
we're still tryng to do. We're shooting a new video next week and for the first time we're actually going to be in there. (Love like this) I've never acted before in my life so I'm a little bit scared. Hopefully it works out well. It looks good on paper.
Mark: High hopes was a shock when I first saw it because the actor Liam Cunningham (game of thrones) is in it and he's one of those persons that you recognise. We have no idea how we got him.
Steve: When we initially got the outline information for the video, Liam Cunningham was an example of the kind of person who would be perfect for the role. Then I just think he heard the song and he liked it and was just.. in it. He's a bit of an Irish hero, plus our bassist Jay is a massive Game of Thrones fan.
At the start of your career, you were called 21 demands. Why the name change?
Steve: people talk about the occasionally. Cause we grew up together we've always played together plus everything else in between like skateboarding and stuff. When we sere playing together when we were about 16 or 17 we called ourself 21 demands. We didn't really know what we were doing and didn't really had a voice. Our songs were terrible. In Ireland we did a TV show and we ended up having a mr 1 hit, but then after hat we just completely shied away from everything.
Mark: We still don't know what we're doing.
Steve: Yeah, you're always learning. But back then we really didn't know what we were doing. Our music now is very much our diary. Things that have happened to us. You have to grow older a little in order to write about experiences and stuff like that.
Tell us about working with producer Steve Harris (U2, Kaiser chiefs, ..) on the new album In a perfect world.
Mark: Another Brummie!
Steve: he's a good guy
Mark: he's like, our friend now.
You sound surprised that you have friends.
Steve: yeah, well, we've felt like outsiders in england for a while, but we're working our way in. We're best friends with Steve Harris.
Mark: He lives in Yorkshire, so we spent quite a lot of time up there recording. He and Martin from our label are the ones that suggested we move here.
Steve: the album was written over the past eighteen months to two years. We wrote a lot of it in the middle of Ireland at mark's parents house. In the back end of nowhere. But a lot of our EP photo's where taken there.
Mark: We recorded in a few studios.
Steve: we did a bit in rockafield studios in Wales. It was cool because the pixies where recording there when we were. They'd be playing next door. And then we'd walked along, passing them with a cup of thee saying: 'hay, how y'a doing?' we finished it before Christmas, so we've been sitting on it for ages.
Mark: We closed the album in Birmingham, did the final mixes here. In highbudy studio with a friend of ours called John Mostyn.
Steve: It's a bit daunting as the release date approaches, because it's our first album. But the more people who hear it, the better. At the end of the day it's up to them to decide if they like it or not. The response to next songs in the live shows has been good so far.
Mark: and we still love playing them, which is good.
What do you feel you're bringing to the music scene right now that sets you apart from other artists whom you might be compared with.
Both: That's a really good question.
Mark: Eum.. Brilliance? (laughs) No.. Eum..
Steve: That's really.. Strange because music is only any one person or a group of people's opinion. All we have is our opinion. It's pretty vague answer, but I don't know. It's what our music is.
Mark: It's honest with a kick of Irish irony as well.
Steve: It's four Irish guys.. with no friends (laughs). Nah, we do have friends now, they've said that they're coming tonight s they should be coming.. And given that this show is sold out, I'm pretty sure they did!
Source: Brumlive
Interview: 11-04-2013
23-07-2013 om 20:22 geschreven door Kodaline Fansite
0 1 2 3 4 5 - Gemiddelde waardering: 1/5 - (1 Stemmen)
Categorie:interviews written


Big bad world


Live sessie van 'Big bad world'.
23-07-2013 om 20:12 geschreven door Kodaline Fansite
0 1 2 3 4 5 - Gemiddelde waardering: 0/5 - (0 Stemmen)
Categorie:Live


Interview Steve en Mark


Interview met Steve en Mark vanop het Isle of Weight-festival.
23-07-2013 om 20:10 geschreven door Kodaline Fansite
0 1 2 3 4 5 - Gemiddelde waardering: 0/5 - (0 Stemmen)
Categorie:interviews taped


Interview Steve en Mark


Interview met Steve en Mark vanop Hard Rock Calling.
23-07-2013 om 20:09 geschreven door Kodaline Fansite
0 1 2 3 4 5 - Gemiddelde waardering: 0/5 - (0 Stemmen)
Categorie:interviews taped


Kodaline live


We zijn verliefd op deze video. Kodaline wou tijdens een concert in Nederland 'bring it on home'
van Sam Cooke coveren maar in plaats daarvan begint het publiek 'Proud Mary' te zingen, met
grappige beelden ter gevolg!
23-07-2013 om 19:23 geschreven door Kodaline Fansite
0 1 2 3 4 5 - Gemiddelde waardering: 0/5 - (0 Stemmen)
Categorie:Live
Tags:sam cooke - bring it to me cover, live in holland


Steve en Mark


Mark en Steve van Kodaline mogen bier proeven in een interview..
Good boys! :)
23-07-2013 om 19:13 geschreven door Kodaline Fansite
0 1 2 3 4 5 - Gemiddelde waardering: 0/5 - (0 Stemmen)
Categorie:Kodaline


Kodaline @ Pukkelpop




Bericht aan alle pukkelpoppers!!

Vanaf vandaag staat het uur schema van Pukkelpop online.
Voor al de Kodaline fans in België (en Nederland) of voor alle mensen die een uitstekende
live band aan het werk willen zien: van 16.10 tot 17 uur staan de jongens van Kodaline
in de Marquee. Voor wie we nog moeten overtuigen, bovenstaande filmpjes zeggen alvast
genoeg over hun zang kwaliteiten.

Wij zullen alvast paraat zijn!

23-07-2013 om 18:14 geschreven door Kodaline Fansite
0 1 2 3 4 5 - Gemiddelde waardering: 0/5 - (0 Stemmen)
Categorie:Kodaline


Mark Prendergast


Source: twitter
23-07-2013 om 02:34 geschreven door Kodaline Fansite
0 1 2 3 4 5 - Gemiddelde waardering: 0/5 - (0 Stemmen)
Categorie:Mark Prendergast


Steve Garrigan
Ben ik de enige die dit grappig vind? :D


23-07-2013 om 02:32 geschreven door Kodaline Fansite
0 1 2 3 4 5 - Gemiddelde waardering: 2/5 - (2 Stemmen)
Categorie:Steve Garrigan


Interview met Kodaline


Jullie EP is nog maar pas uit. Daar is twee jaar tijd in gekropen. Dat is langer dan normaal. Hoe komt dat?
Steve: We moesten gewoon een beetje opgroeien. De songs handelen over het leven en dingen die echt met ons gebeurd zijn. Daar gaat altijd wel wat tijd over.
Steve, je hebt ook je universiteit studies overboord gegooid om je hiermee bezig te houden. Zorgt dat voor extra druk?
Steve: Niet echt, Ik zou zoiezo altijd muziek zijn blijven spelen net zoals de rest van de band. Het is wat we altijd al gedaan hebben. Ik heb één jaar gestudeerd en ik kon er niet meer tegen en was toen al de hele tijd met muziek bezig. Dus heb ik het besluit genomen om muziek te spelen en de rest vaarwel te zeggen.
Hier zit je dan, zonder studies maar met Kodaline. Wat is het doel van de groep?
Mark: Simpel: muziek maken en op plaatsen komen waar we nog nooit zijn geweest. We hebben de laatste vier maanden al zoveel kunnen reizen en hebben daardoor al voor zoveel mensen kunnen spelen. Al mag daar nog altijd bijkomen natuurlijk. Het is altijd fijn om nieuwe plaatsen te ontdekken.
Wil je Ierland daarmee ontvluchten?
Mark: Daar zijn we misschien een beetje in geslaagd. Ach, hoewel het altijd leuk is om terug thuis te komen heeft het toch wat om eens vier maanden weg te zijn. We hebben er enkele uitverkochte optredens in Nederland opzitten. Binnenkort staan er ook not België, opnieuw Nederland, Duitsland, Frankrijk en heel van in het Verenigd Koninkrijk op het programma. We gaan gewoon naar waar we kunnen.
Steve: We hebben ook voor het eerst optredens in New York en L.A, das toch ook iets waar je naar uitkijkt. Het is cliché en mooi tegelijk. We zijn een gloednieuwe groep, niet veel mensen kennen ons tot nu toe, maar toch komen ze massaal naar onze optredens kijken. Daar doe je het als band voor. We zijn al blij dat we voor mensen mogen spelen. Daarna is het aan hen om te bepalen of ze ons tof vinden.
Kodaline is nieuw, maar tegelijkertijd ook niet, want jullie hebben eigenlijk al een verleden in de muziekwereld?Steve: Inderdaad. Wat we deden als 21 demands is wel helemaal niet te vergelijken met wat we nu doen. Het verschil is dat we volwassen zijn geworden. Iedereen schaamt zich wel voor de dingen die hij deed toen hij 17 was. We hadden een song die het tot nummer één in de hitlijst schopte maar eigenlijk was dat een verschrikkelijk lied. Ach, we hebben er tenminste plezier aan beleefd, maar daar blijft het wel bij. Je moet geen songs uit de periode in één van onze optredens verwachten, bijvoorbeeld. We hebben een beetje aan 'soul searching' gedaan. Kodaline is wie we nu zijn, 21 demands behoort tot ons verleden. Stel je voor dat je op je 17de een dagboek schrijft en je zou dat nu opnieuw lezen, hoe zou je daarover denken?
Jullie hebben heel persoonlijke teksten, over stukgelopen relaties en meer universele thema's. Is er een grens aan hoe diep jullie willen gaan met jezelf bloot te geven?
Steve: niet echt. Eigenlijk onderwerpen we in onze muziek ons dagboek aan het oordeel van de mensen. Daar dient muziek toch voor?
Is het een doel om 16 jarige meisjes aan het huilen te brengen?
Jay: Dat is slechts een neveneffect. (lacht)
Steve: Het spijt ons als het gebeurd. We schrijven gewoon op wat we voelen, zo eerlijk mogelijk. Dat is ook hoe je muziek vers en origineel houdt. Elke relatie en elke persoon die daardoor gaat heeft zijn of haar eigen visie. Ik zie mezelf niet in staat om over andere dingen te schrijven. Je hebt nergens zo'n goede voeling mee als met je eigen gevoelens. Voor ons is dat ook helemaal niet cliché.
Probeer je daarmee ook persoonlijke wraak te nemen? Als je zingt over stukgelopen relaties, denk je dan bij jezelf: 'Ah, kijk eens waar ik al sta!'
Jay: Das is dan weer een beetje vijandig en zo zijn we helemaal niet. We beschrijven gewoon hoe we ons voelen op een bepaald moment, zonder het in het gezicht van die persoon te willen wrijven. We proberen eerlijk te blijven tegenover onszelf.
Een krantenartikel omschreef jullie als een mix tussen Coldplay, Mumford & Sons en de vroegere naïviteit van U2. Nogal wat adelbrieven, hoe staat jullie daar zelf tegenover?
Mark: we hebben die vergelijking nog al gehoord. We liggen daar niet meer echt wakker van. Het gaat altijd wel zo: als er een nieuwe band opduikt dan moet doe plots vergeleken worden met andere groepen. Ik denk dat mensen een soort houvast zoeken wanneer ze iets nieuws horen, een ankerpunt. Ons steken ze in die hoek, we staan er niet voor te springen maar het stoort ons ook niet.
Steve: ik snap het ook wel. Niet veel mensen kennen ons, en ze weten sneller waarover het gaat als ze ons ergens mee kunnen vergelijken. Da''s tof, dat zijn allemaal grote bands, dus is het wel een eer om daarmee vergeleken te worden. Onszelf valt die link eigenlijk niet op. Wanneer we in de studio zitten, denken we bijvoorbeeld niet hoe het volgende nummer als Coldplay zal klinken.
'All I want' groeit langzaam uit tot een radio hit. Komt dat als een verrassing?
Jay: toch wel, het kan succes niet voorspellen. Je denkt bij het maken van een EP niet: 'dat zal onze eerste hitsingle worden.' Je brengt ze gewoon uit en je ziet wat er gebeurd.
Mark: Succes voorspellen is een riskante bezigheid; Alles komt neer op persoonlijke smaak en die is zo divers dat je dat onmogelijk vooraf kunt inschatten. We hadden zelfs niet verwacht dat 'All I want' een single zou worden. We hebben een EP gemaakt met een video voor 'All I want' en plots pikten enkele radio deejays die op. We zijn onder meer langs geweest bij BBC radio 1, en dat heeft absoluut geholpen. Nadien is het langzaam maar zeker op gang gekomen in de UK.

Zou je een jaar geleden voorspelt hebben dat je nu persdagen zou houden in België?
Steve: niet echt, België is een geweldige stad trouwens. We verwachtte niet dat..
Mark: Zei je nu dat België een schitterende stad is?
Steve: Excuseer, ik ben al sinds zeven uur op vanmorgen. We zijn nooit echt bezig geweest met waar we binnen afzienbare tijd zouden staan of hoe populair we zouden kunnen zijn. Opnieuw, het enige wat we ons voorhielden was gewoon de hand op het hart leggen en vertellen wat we te zeggen hebben. Voor al de rest ben je afhankelijk van persoonlijke smaak van mensen. Dan blijf je gewoon beter jezelf in de hoop dat andere mensen dat appreciëren.
Wanneer zijn jullie door een groot label als Sony opgepikt?
Mark: ergens in de zomer. We werden eind 2011 opgepikt door een klein indielabel 'B-unique, en daar heeft sony ons opgemerkt. Veel verschil geeft dat niet. Mensen vinden leuk wat we doen en dat proberen we zolang mogelijk vol te houden.
Steve: Het leuke is ook dat we volledige controle behouden over wat we doen. We kunnen dus niet meepraten over grote labels die je vrijheid afnemen.
Jay: Ze duwen ons ook niet in een bepaalde hoek. Geen idiote discussies over wat we mogen dragen en wat niet, geen problemen met plaatsen waar we willen optreden enzovoort. Sony was trouwens ook al onze verdeler toen we nog bij B-unique zaten dus op dat vlak is er niet veel veranderd.
Jullie hebben ook op het eurosonic-showcase festival in Groningen gespeeld. Is dat een goede manier om je als band bekend te maken met het grote publiek?
Steve: dat is niet zeker, maar het was alleszins een geweldige ervaring. 300 acts speelden daar dus je kon altijd en overal naar een groep gaan kijken. We hebben negen optredens op twee dagen gespeeld. Dat was hectisch maar wel fijn. De reactie van het publiek was meer dan behoorlijk, dus we zouden het gerust een miljoen keer opnieuw doen. Het is natuurlijk niet gemakkelijk om op te vallen tussen zo een groot aanbod, maar meer dan het beste van jezelf geven kan je toch niet doen.
We hebben in de coulissen opgevangen dat een meisje in de catering bij iedereen wel in de smaak viel maar dan Dan Smith van Bastille ermee ging lopen. Is die klap al verwerkt.
Steve: Daar willen we niet over praten! (lacht)
Vinny We spreken niet meer met Bastille.
Mark: We hebben eigenlijk niet eens met Bastille kunnen spreken. Dat is het probleem van een festival met zoveel bands. Het is onmogelijk om iedereen te ontmoeten terwijl dat net het fijne is aan festivals. Maar we hebben genoeg kunnen eten en drinken met andere artiesten.
Steve: En heel wat goede groepen gezien: de villagers, die net als wij Iers zijn of Bastille was ook zeer goed. En nog een groep maar de naam ontglipt me even. Waren ze Nederlands? Nee, ze waren Engels.. Nee, sorry, vergeten. Kijk uit naar een goede Engelse groep! (lacht)
Heeft Dublin een bruisende muziek scene?
Mark: wel, zoals gezegd heb je de Villagers, daar hebben we tonnen respect voor.
Steve: Het tweede album stond non-stop op terwijl we onderweg waren op onze tournee. Geweldige plaat.
Mark: Ierland is zo'n klein land dus iedereen kent al snel iedereen in de muziekwereld. Als er een goede, nieuwe groep opkomt, praat iedereen daar vrijwel meteen over. Er is nog zo'n nieuwe groep 'Little green cars', zij stonden ook op Eurosonic en zijn zeker het uitchecken waard.
Steve: In Ierland heb je als band op een week tijd zowat elke goede zaal bezocht, met een weekendje rust tussenin.
Vinny: de markt is klein en dus is de sector dat ook. Toch bied de Ierse muziekbranche nog veel kwaliteit. Ik vind dat we redelijk wat goede groepen hebben.
Steve: Al zijn wij meer op het Verenigd Koninkrijk gericht. We wonen daar ook, er zijn meer zalen en het is er groter. Als band heb je meer mogelijkheden. Het is dan ook in de UK dat we echt opgepikt zijn.
Steve, ik heb je zowel de piano als de gitaar zien spelen, welk instrument verkies je?
Steve: Dat is zo'n moeilijke vraag. Ik schrijf het meeste van de songs op de piano dus misschien dat ik dat verkies. Ik weet het niet, ik speel ook heel graag gitaar en andere instrumenten. Maar ik speel het meeste op de piano. Het is zelfs voor Mark een hele moeilijke vraag en jij bent onze guitarist!
Mark: Ja, ik zou niet goed kunnen kiezen. Een mooie piano sound is heel moeilijk te kloppen.
Steve: Ik zie mezelf nog wel een piano-gitaar aanschaffen, een keytar noemen ze dat. Verschrikkelijk is dat. Degene die dat heeft uitgevonden moet van zichzelf gedacht hebben dat hij een geweldige ingeving had. Maar hoe belachelijk is dat?
Ze zijn enkel goed voor Stevie Wonder en Matt Bellamy!
Vinny: Die kan spelen met wat hij wilt en er nog mee wegkomen, dat is geen eerlijke vergelijking.
Dus je kan de nieuwe Matthew Bellamy worden?
Steve: Niet te veel druk, asjeblieft! (lacht)
Source: Indiestyle
Interview: 25-02-2013
23-07-2013 om 00:15 geschreven door Kodaline Fansite
0 1 2 3 4 5 - Gemiddelde waardering: 0/5 - (0 Stemmen)
Categorie:interviews written


In a perfect world


Live vesie van 'In a perfect world'.

Voor diegene die zich afvragen wat het lied op het laatste is, geen idee.
Ik veronderstel een nog niet uitgebracht lied.
Hier is alleszins het stukje lyrics ervan:

Leave this place for good when your daddy's dead.
So I walked trough the streets and I felt into those cracks
Oh, surrounded by good, Oh yeah, but I never looked back
I felt victim of a whole in my heart, the girl never mentioned me
Pray for me, oh now her daddy's dead.
She said: 'son, don't leave, you're a kid still sleeping with the lights on.'
'Son, don't leave, you're a kid sleeping with the light on.'
just you remember what your daddy said:
Leave this place for good when your daddy's dead.
23-07-2013 om 00:00 geschreven door Kodaline Fansite
0 1 2 3 4 5 - Gemiddelde waardering: 2/5 - (11 Stemmen)
Categorie:Live

22-07-2013

interview
Interview met Steve Garrigan


Who are your heroes?
Bruce Springsteen, Paul McCartney, Dave Groh, Sam Cooke, to name a few.
What is your favourite place in Ireland?
Swords is a great town, we also spend a lot of time at the Old Bailey in Howth. It's beautiful. Anywhere in Galway or Kerry, my nana will be happy I mentioned Kerry.
What is your most treasured possession?
My phone, I lost it a few times and lost a lot of notes and lyrics I write, which is a killer.
What makes you angry?
Animal cruelty, racism, small mindedness in general. But on a lighter note: stepping on a plug barefooted first thing in the morning.
What book influenced you the most?
Bob Dylan's 'Chronicles' really opened up my eyes to the power of music. It also made me fall in love with New York without ever being there.
If you could change one thing in your life, what would it be?
There are too many things to mention, I wish I wasn't so insecure.
What gives your life meaning?
Music, family, friends
Can you tell me a joke?
What's big, red and will kill you it it falls out of a tree?
A firetruck.
It's not a very good joke, sorry about that.
Can you recommend an interesting website?
Www.huffingtonpost.com, for all your non-real word news. When everything else gets a little bit too heavy, I'd recommend a look at that.
What's the best advice you've ever been given?
Listen to and take in advice but follow your own instincts.
When did you last cry?
I got a bit emotional at a gig a few weeks ago. I was singing one of our songs and it just hit me hard, really didn't see it coming.
What do you see when you look in the mirror?
A shy, blonde haired boy in desperate need of a haircut.
What is your favourite film and why?
It's a wonderful life. It really is the simple things in life that matter the most. It's very easy to get caught up in things that don't matter. Just watch it.
What is your passion?
Music
What do you have hanging on your walls at home that you like looking at most?
A few landscape paintings and a big photograph of New York City skyline in the nighttime. There are also a few famous quotes of general encouragement stuck in random places.
What was your most formative experience?
Probably being heartbroken or dropping out of college. Until then I really hated what I was doing but I was too scared to drop out, it was soul destroying.
What do you believe in?
Ghosts, God and aliens, anything that can't be proved or disproved. I'm a true believer in following your own instincts.
What trait do others criticise you about?
I can obsess over things if they're not right. Sometimes it's frustrating for others.
What is the funniest thing you've even seen or heard?
It changes from time to time. Youtube is a gold mine for random videos.
What is your favourite word one-liner of retort?
'Yeah, that' cool man' or 'nah man'.
What would your motto be?
Positive thinking is the most powerful think in the world.
As a child, what did you want to be when you grew up?
I think a fireman or a lawyer but I think those choices where put into my head by other people. Music was and is what I love
What are the best and the worst things about where you live?
We live in Moselei in Bermingham at the moment. Although we haven't got to see the place properly as we've never there, but it's a very cool vibe about it.
Which Irish work of art would you recommend most highly?
Astral weeks by Van Morrison
The best thing about the past 12 months was?
Meeting new people, travelling to new places, playing sold out shows and writing music.
My biggest goal over the next 12 months is?7
That we play to as many people as possible or that music reached the ears of many people as possible.
Source: Irishpost
Photo: Contactmusic
Interview: 1-04-2013
22-07-2013 om 20:22 geschreven door Kodaline Fansite
0 1 2 3 4 5 - Gemiddelde waardering: 1/5 - (1 Stemmen)
Categorie:interviews written


| | |
| --- | --- |
| | |
Message!
Leave a message for us!
Dropbox
Seen an interesting interview you wanna share? a photo? A lyrics of Kodaline? Send it to us!
Mailinglijst
Leave your email adress here,and we'll contact you if we've post something new
E-mail mij
Druk oponderstaande knop om mij te e-mailen.
Wil je links uitwisselen met je eigen site?
E-mail me!