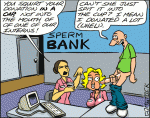 Je spuit je donatie in een beker, en niet in de mond van een van onze stagairs!
Kan ze het niet gewoon in het bekertje spuiwen? Ik bedoel, het was een grote donatie.....
You squirt your domation in a cup, not into the mouth of one of our interns!
Can't she just spit into the cup? I mean i donated a lot.....
30-10-2008 om 13:55 geschreven door xcartoon