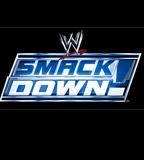 The Major Brothers def. Deuce & Domino, Jesse & Festus, Drew McIntyre & William Regal and Jimmy Wang Yang & Shannon Moore (10-Man Battle Royal)
Victoria def. Michelle McCool
Finlay def. Rey Mysterio
ECW Champion CM Punk vs. Jamie Noble (No Contest)
WWE Tag Team Champions Matt Hardy & United States Champion MVP def. The Major Brothers
Undertaker def. The Great Khali (No Holds Barred Match)

BAKERSFIELD, Calif. – As the partnership between Acting SmackDownGeneral Manager Vickie Guerrero and ECW's GM Armando Estrada continues, Friday night saw ECW's brightest star shine when its champion, CM Punk, visited SmackDown. As Punk traded greetings with Guerrero, they were interrupted by Jamie Noble. The cruiserweight offered a gift to Vickie, and the Straightedge Superstar took the opportunity to have some fun at Noble's expense.
However, the ECW Champion's humor was not well received by Noble, who exclaimed he could defeat Punk in the ring. SmackDown's GM agreed that a match between Punk and Noble would be a delight to our fans, and the two made their way to the ring to compete. Noble held his own against the top of the ECW chain, until John Morrison and The Miz interfered, leading to a no contest.
Morrison and Miz are both hoping to become the next ECW Champion at Survivor Series, and each was hoping to make a strong statement by attacking CM Punk. The champion would not go down without a fight, though, and he found a way to incapacitate both the self-proclaimed Shaman of Sexy and The Miz. Noble, seeing an opening, delivered a devastating gut-buster to Punk, leaving the ECW Champion in the center of the ring.
Love-hate relationships
Michelle McCool and her friend Chuck Palumbo were chatting with Torrie Wilson in the locker room when Victoria and Kenny Dykstra showed up and insulted the duo, insinuating there was more than friendship between Michelle and Palumbo. McCool headed to the ring seeking a measure of revenge on Victoria for the comments, but she was unsuccessful as the dangerous Diva picked up the win. The hotly contested rivalry between Victoria and Michelle McCool has run rampant in the women's division, with each able to claim a victory over the other. Will the two Divas continue to bring their battles to the ring –and will their confrontations continue to rev-up Palumbo and Dykstra?
A warning from The Animal
The World Heavyweight Champion Batista came to Bakersfield Friday night with a stern message for Mark Henry. Watch the WWE.com exclusive video of the champion's comments regarding the World's Strongest Man and his involvement in The Animal's beatdown during last week's Tag Team Match.
Battle to the tag titles
The Major Brothers made the most of a 10-Man Battle Royal on SmackDown, defeating four other teams en route to earning the No. 1 contender position, plus an opportunity at the WWE Tag Team Championship held by Matt Hardy & MVP. In their first taste of golden dreams, Brett & Brian hoped to take advantage of the building tension between the Ballin' Superstar and Hardy. MVP had ideas of his own, however, and the Franchise Playa made certain he and Matt held on to their shared bling. Read the full story…
Celtic carnage
The intense rivalry between Finlay and Rey Mysterio saw another chapter written on Friday night when the two men squared off in a one-on-one contest. The high-flying Rey has had success in the ring recently against the Irishman, but on this night the Master of the 619 was grounded by the original smashmouth style of Finlay. After the win, the physically brutal Irishman refused to stop, punishing Rey with a vicious attack. Read the full story…
No holds barred or broken
When the two behemoth forces, Undertaker and The Great Khali, clashed in a No Holds Barred Match, our fans witnessed to two of WWE's largest Superstars going head-to-head in one of sports-entertainment's most vicious contests. The Phenom and the Punjabi giant both looked to destroy each other in the match, but just as it appeared Khali literally had the upper hand, Undertaker unveiled a devastating maneuver that brought the towering colossus down and sealed the victory. Read the full story…
10-11-2007 om 15:50 geschreven door jefken
0 1 2 3 4 5 - Gemiddelde waardering: 5/5 - (4 Stemmen)