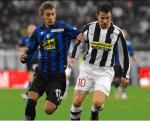 Nickname(s)
La Vecchia Signora (The Old Lady)
La Fidanzata d'Italia (The Girlfriend of Italy)
I bianconeri (The white-blacks)
Le Zebre (The Zebras)
Founded
1 November 1897
Stage of Glory
The Delle Alpi Stadium hosted Juventus' home matches from the year it was unveiled, which coincided with the 1990 World Cup, up until the 2005/06 season. On July 15 2003 the Club signed a 99-year contract worth 25 million Euro for the Delle Alpi's rights of surface.
The Delle Alpi Stadium has been the stage of many a triumph since 1990.
This was the Stage of Glory, where Juventus, in front of their fans, won League titles and matches that have become part of the history and legend of the Club.
7 League titles, 1 U.E.F.A Cup, 1 Italian Cup, 1 U.E.F.A Champions League, 1 Intercontinental Cup, 4 Italian Super Cups, 1 European Super Cup, were won and celebrated first and foremost on this pitch.

Il passato e il presente
The Olimpico (Olympic) Stadium, formerly known as Comunale, is owned by the city of Turin, who carried out extensive restoring of the facility for the 2006 Winter Olympics; the Stadium hosted the opening and closing ceremonies of the event.

As from the 2006/07 season, both city clubs, Juventus and Torino, play all their home matches there. The Stadium can hold 25,442 people.

The former Comunale Stadium was built in the Thirties. The first match played there, on June 29 1933, was Juventus vs. Ujpest (6-2), the return leg of the quarter finals of the Central European Cup, a tournament of the time featuring clubs from Italy, Austria, Czechoslovakia and Hungary.

Juventus played 890 games at the Comunale Stadium between 1933 and 1990, and won 17 League titles there in that same period.

15-12-2007 om 18:42 geschreven door Sport Angel
0 1 2 3 4 5 - Gemiddelde waardering: 0/5 - (0 Stemmen)