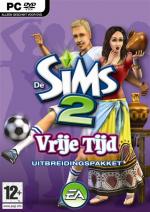 Hello everybody!!!
Did you know that there is a new game of the Sims?
Well, it is the Sims 2 free time...
But what can you do with this game?
Your Sims can discover how lovely free time is. Awaken your Sims' true passions in life as they discover and excel at all-new activities. Whether they're tossing a football with the family, practicing ballet, restoring cars with friends, or building train sets, your Sims now have more ways to build skills, make their friendships better, and make their lives more successful. Your Sims going to have lots of hobbies and their hobbies will change their life!!!

27-12-2007 om 12:10 geschreven door Orly-Xtina
0 1 2 3 4 5 - Gemiddelde waardering: 3/5 - (278 Stemmen)