Inhoud blog
Zoeken in blog
15-11-2006
the first photographs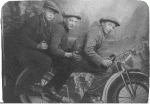 click the image

15-11-2006, 18:16 geschreven door hyhs

05-11-2006
the office in extra(sic)
first coffee...............

05-11-2006, 18:41 geschreven door hyhs

start in extra(sic)
Hairy breaking in in extra(sic) saturday 4-11-2006 2pm

05-11-2006, 18:36 geschreven door hyhs

03-11-2006
start
Hallo beste kunstenaars e.a., Papieren affiches en flyers zijn te vinden in Factor 44 en op verschillende locaties in Antwerpen. Hieronder in het kort alle informatie: ************ EXTRA (sic) opent op zaterdag 11 november om 19.00 uur. Vanaf 21.00 uur begint een programma met live acts onder de naam Extra Sucky. Hierna is er een afterparty met dank aan Radio Centraal. Op zondag 12 november is de tentoonstelling te bezichtigen van 14.00 - 18.00 uur. EXTRA (sic): Mexicostraat Kattendijkdok Kaai 44 Antwerpen, ingang aan de voormalige Fakebar aan de achterkant. ************ Verder een kleine mededeling: vanaf maandag 6 november begint in principe de opbouw. We zijn aanwezig vanaf elf uur. We proberen genoeg koffie, thee en broodjes te voorzien, maar u mag natuurlijk ook uw eigen voeding meebrengen. Er is niet echt een verwarming, dus kleed u goed aan. Vergeet uw gereedschap en verlengkabels e.d. niet! Voor de mensen, die ter plaatse gaan bouwen of al een afspraak hebben gemaakt met Harry of mij, is er een bijeenkomst op zaterdag 4 november om 13.00 in het pand. Voor vragen, mail even of bel: Factor 44: 0032 (0)3 2316878 Alexandra: 0032 (0)494 287503 Hello dear artists, Paper flyers are to be found in Factor 44 or in several places all over Antwerp. This is all the information: ************ EXTRA (sic) will be open on saturday the 11th of november at 19.00 hrs. Live acts will start at 21.00 hrs, this program is called Extra Sucky. Afterwards there will be a party with thanks to Radio Centraal. On sunday the exhibition will be opened from 14.00 - 18.00 hrs. EXTRA (sic): Mexicostraat Kattendijkdok Kaai 44 Antwerpen, entrance is on the backside where the Fakebar used to be. ************ Then a small announcement: the build up will start on monday the 6th at 11 o'clock in the morning. We will try to provide tea, coffee and sandwiches, but you can always bring some food of your own ofcourse. There's no heating, so bring good sweaters and such. Don't forget tools and electricity cables! For people who will build installations on the spot and people who have already made arrangements with Harry or me there is a meeting this saturday, the 4th, at 13.00 at the building. If you have any questions you can mail me or call: Factor 44: 0032 (0)3 2316878 Alexandra: 0032 (0)494 287503

03-11-2006, 13:16 geschreven door hyhs

30-10-2006
FLYER SURPLUS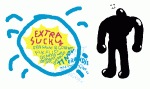 SECOND FLYER SPECIAL FOR THE LIVEBANDS ON 11 NOVEMBER IN EXTRA(SIC) BY JELLE CRAMA

30-10-2006, 22:21 geschreven door hyhs

22-10-2006
26 jaar RADIO CENTRAAL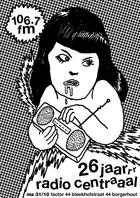 31 OKTOBER, VERJAARDAG RADIO CENTRAAL IN FACTOR 44 OM20 UUR

22-10-2006, 11:56 geschreven door hyhs

21-10-2006
psychologische sponsering

Thanks-mercie for the psychological & morale support-soutin-ayuda-unterstützung

21-10-2006, 11:42 geschreven door hyhs

L'affiche est arrivé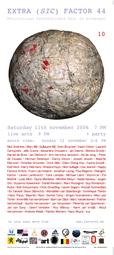 21-10-2006, 11:27 geschreven door hyhs

19-10-2006
probleem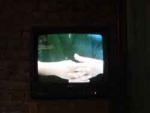 Er is geen nachtwinkel in de buurt van extra(SIC) There is no nightshop in the neighbourhood of extra(SIC) Il n y a pas un nuitmagazin dans le quartier de extra(SIC)

19-10-2006, 00:15 geschreven door hyhs

16-10-2006
ULTIMO JOUR FIXE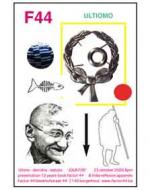 Woensdag 25 oktober....JOUR FIXE 20UUR..................... ultimo..????????????,,,,,,,,,NO FLOWERS, PAS DE CADEAU, ONLY ART ,,,,,,,,,,,,,,,,,,,,,,,,,,,,,,,,,,,,,,,,,,,,,,,,,,,,,,,,,,,,,,,,,,,,,,,,,,,,, PRESENTATIE 10 JAAR BOEK +++++++++++INDIA REPORT by cs@factor44.be - LL - Pacquéééééé

16-10-2006, 00:00 geschreven door hyhs

08-10-2006
F44 Bol-archieve in Hasselt
Yesterday in Zaal Belgie in Hasselt, performances happening organisted by Audiobot & Ultra eczema, f44 show a file/archive convex

08-10-2006, 11:03 geschreven door hyhs

06-10-2006
provisional artists / les artistes provisoires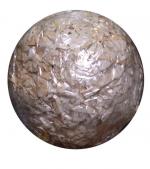 Nick Andrews I Marc Bijl I Guillaume Bijl I Sven Bruyneel I Vaast Colson I Laurent Cartuyvels I Jelle Crama I Alexandra Crouwers I jan Daems I Harold de Bree I Jan Dietvorst I Ann Veronica Janssens I Ad de Jong I Peter de Ceulaer I Herman Delahaye I Danny Devos I Joseph Jessen I Maartje Fliervoet I Christian Gmunder I Chris Gillis I Chien Cheng Hou I Carina Goselé I Kati Heck I Harry Heirmans I Romeo Hoornaert I Roeland Huys I Nick Hullegie I Lisa Jeannin I Happy Famous Artists I Foam Lab Holland I Jonathan Leung I Paul Illegems I Dialogist-Kantor I Lieven Lambrecht I Tuire Lampila I Michael Laird I Sturm-Lie I Pol Matthé I Ludo Mich I Djuna Michielse I Michèle Matyn I Nadia Naveau I Jurgen Ots I Suzanna Ouwerkerk I Daniel Renders I Marc Rossignol I Guy Rombouts I Rufus I Rolf Schuurmans I Chris Straetling I Lieven Segers I Koosje Schmeddes I Ito Takashi I Bavo Olbrechts I Wendelien van Oldenborgh I Dominique Thirion I Hans Theys I Maarten Tibos I Dennis Tyfus I Jörgen Voordeckers I Marc van Tichel I Anne-Mie Van kerckhoven I Bart van Dijck I Marc Vanderleenen I Jan Verpooten I Pietertje van Splunteren I Jan Van Gorp I Geert Verbeke I Roy Villevoy I Harm Jan Vrolijk I Wout Vercammen I Andrew Webb I Patries Wichers I Hans Wuyts

06-10-2006, 00:00 geschreven door hyhs

05-10-2006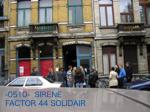 FACTOR 44 SOLIDAIR 0110 Beeldend project Sirene Beste Bezoeker, Vandaag zult u exact om 15 u. het brandalarm horen afgaan in dit gebouw. Gelieve niet te panikeren. Dit maakt deel uit van een nationaal project, waarbij alle culturele instellingen van het land gevraagd werd deel te nemen aan 0110-Beeldend. Het alarm zal 15 minuten aanhouden en men zal tevens het gebouw evacueren. Iedereen zal samen post vatten op straat. Kunstenaars zullen eveneens de rangen vervoegen. Nadien kunt u uiteraard uw bezoek hervatten. ___ Cher visiteur, Une alerte au feu se déclenchera aujourd'hui à 15 h dans ce bâtiment. Veuillez ne pas paniquer. Il s'agit d'un projet national -0110 Beeldend, auquel les institutions artistiques belges ont été invités à participer. Les musées, centres artistiques, académies,... seront évacués et les 'travailleurs de l'art' présents ainsi que les visiteurs occuperont la rue pendant 15 minutes. Les artistes soutiendront l'action par leur présence. Après vous pourrez évidemment continuer votre visite. ___ Geehrter Gast Die Brügger Museen partizipieren an der 0110-Aktion Kunstprojekt. Heute präzis um 15.00 wird der Feueralarm im Museum ausgelöst. Bitte keine Panik. Der Alarm ist Teil eines belgischen Projektes, bei dem alle kulturellen Institutionen zur Teilnahme gebeten wurden. Der Alarm wird 15 Minuten dauern und das Gebäude wird evakuiert. Jeder soll sich dann auf der Straße postieren. Auch Künstler werden anwesend sein. Anschließend können Sie Ihren Museumsbesuch natürlich fortsetzen. ___ Dear visitor A fire alarm will be activated at 3 p.m. in this building. Please, don't panic. This action makes part of an national project called 0110-Beeldend. All the cultural institutions of the country were asked to participate. Workers and visitors will be asked to leave the building and gather for 15 minutes together on the street. Artists will support this action by being present too. Afterwards you will be able to continue your visit. ___ Dank u I Merci I Danke I Thank you Info: www.nicc.be

05-10-2006, 00:00 geschreven door hyhs

04-10-2006
Expo Factor 44 In zaal Belgie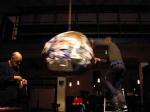 Bescheiden expo Factor 44 , 10 jaar archief in zaal Belgie............................................................................. meer info click foto

04-10-2006, 23:00 geschreven door hyhs

28-09-2006
Platonisch atelier-project
-Een platonisch project-voor 100 kunstenaars De sfeer is wat scherper geworden een maand voor de gemeenteraad verkiezingen in Belgie.De profileringsdrang ten top.De wereld draait in photoshop met gladde jongens Vijf jaar na het dramatisch spektakel in NY gaat het mediacircus ongenuanceerd door. 90 000 euro verdwenen uit extra money city. De gebouwen waar de rest van de subsidie in werden opgezwolgen , gaan einde dit jaar terug - contractueel bepaald - naar de stad Antwerpen, de concessie van de gronden is afgelopen, zodat de stad eigenaar wordt op 1 januari 2007, een geschenk of een historisch vergiftigd contract, de toekomst zal daar uitspraak over doen. De wetten daarover zijn soms duidelijk en soms interpreteerbaar naar gelang in welke context, de context van de stad Antwerpen of andere gegadigden. Wettige zelfverdediging van kunstenaars zonder dak Een strategie (wettelijk) We delen de ruimte op in 100 ateliers en verhuren die aan 100 kunstenaars voor 1 euro per maand, met een 3-6-9 contract ten laatst op 1 december 2006, dat wil dus zeggen dat de stad vanaf 1 januari 2007 die contracten moet overnemen en respecteren, want je zet niet zomaar iemand op straat. Praktisch 100 huurcontracten en 100 sleutels, en de stad Antwerpen heeft een oplossing voor haar falend atelier beleid. Een wettelijk addertje Geert Verbeke is eigenaar van de gebouwen en de stad Antwerpen eigenaar van de gronden, de concessie van de gronden loopt af, maar wat met de gebouwen, zwerfvuil? Luc de Pauw(advocaat) heeft samen met Guy Rombouts en Geert Verbeke de mogelijkheden onderzocht om dit wettelijk te onderbouwen, maar dit lijkt niet zo simpel en een advocaat die gespecialiseerd in dit soort materie is onbetaalbaar.Het blijft voorlopig bij een platonisch project of er moet voor 1 december 2006 nog een wonder geschieden.

28-09-2006, 22:40 geschreven door hyhs

16-09-2006
first meeting
xxx

16-09-2006, 00:00 geschreven door hyhs

first meeting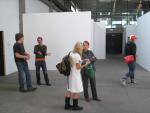 xxx

16-09-2006, 00:00 geschreven door hyhs

The space / first meeting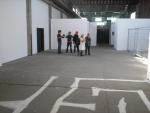 xxx

16-09-2006, 00:00 geschreven door hyhs

17-07-2006
10 jaar Factor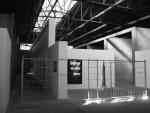 extra (sic) 11 november 2006..................................................................................................................................................................................................................... click photo

17-07-2006, 00:00 geschreven door hyhs