Inhoud blog
Zoeken in blog
Beoordeel dit blog
28-10-2012
my life goes on...
Dear All,

After a very long period of silence, I am sure that some of you will wonder what has happened to me in the last months. Fact is that I have been travelling a fair bit in New Zealand, exploring different parts of the country while job hunting at the same time.




I have decided to leave Auckland behind to try my luck elsewhere and that is how I ended up in Napier, a lovely town on the east side of the North Island. I enjoy exploring a completely new environment. This, in combination with gorgeous weather, colours my days in a very pleasant way.




This is a message to thank you all for having walked with me during the last months. I have enjoyed writing my story down and I do hope that you have enjoyed reading it. This is not a final goodbye, but I would like to take a break from the blogging in order to concentrate fully on my future. For those who would like to learn where I am, what I am doing, you are more than welcome to contact me via my e-mail address. In case my inbox ends up being inundated with mails, I can always pick up the blogging again ...




My long journey through the world has changed me. Fear for the unknown has converted to certainty. The doubt, which reigned in me, has changed into the knowledge that there is a life for me after Varlet Farm. As much as I have loved running the B&B, as much as I miss the contact with that many guests, who have become friends over the years: it was time to move on, searching for new challenges and goals in life. Not for a split second have I regretted my decision and whilst I am very much aware of the fact that the future might not be as easy as initially anticipated, I have found the belief in myself.




Before drawing to an end, I wish all those people who live with doubts in their hearts, the strength to take decisions. I have learned that there are that many men and women, who feel themselves trapped in a situation but seem to be lacking the courage to do something about it... Belief in yourself, follow your dream, life is too short to let it pass by with the risk of ending up, having nothing but regrets.




Warm wishes

charlotte






0 1 2 3 4 5 - Gemiddelde waardering: 3/5 - (62 Stemmen)

28-10-2012, 00:00 geschreven door charlotteofvarlet
27-08-2012
very warm memories
Dear All,
There are still people on this planet, who really care about others. I can only praise myself lucky, having been welcomed by two of them...
Strange how a story sometimes starts up. Jumping back in time: in October last year, I welcomed 2 Kiwis, who literally had no idea of where they were. From the very moment, they walked through my door, we all sensed some connection. That connection grew stronger the following morning, when I learned that Ellie had lost a great uncle on October 12th ,1917. When I was able to point out to her, where her relative must have been at that time, she was moved to tears. All in all, the contact we had, was very brief, since Murray and Ellie were just passing through the area, nevertheless it was a very intense one. Before they left, both of them assured me that, if I would ever make it down under: there was a bed waiting for me in their house. Little did I know at the time, that less than I year later, I would take them up on that offer....
To my surprise I received a message to stay with them last week? How on earth they knew I was in Christchurch at the time (we hadn't been communicating at all) was a bit of a mystery to me. The answer was provided by Ellie's sister: having seen the interview on the local TV, she contacted her sister to find out whether the Charlotte she had seen could be the same, Ellie had been talking about so often? One and one is two... so the next thing was an invitation to stay in Greta Valley: an invitation I have gladly accepted. On hindsight, I can only say that this has been a very special stop in my long journey. The days I have spent at Greta Valley will be treasured as a very warm memory.
Murray used to run a garage but is now retired although there is no way he wants to hear that word. All in all, he proves to be a very active man: working as a volunteer in the local fire brigade, doing the work of a handy man on the local golf course and to top it up: he drives the school bus twice a day. I had barely arrived, as I was invited for a ride along with the school bus. Considering the commitment of Murray in the local school community, I asked him whether they would be interested in hearing the story of the Great War. My offer of a free lecture, once proposed to the head master, was accepted with open hands, so it was organised for me to return the following morning. Once that was sorted out, we started the 50 km long journey to drop off 4 children ( the total number of children at this school is 30). I know I have commented on the landscape on quite a few occasions, so on the risk of repeating myself; I keep on writing on what I see... this journey takes me along steep ravines, rocky coastlines, rolling hills and hidden valleys. As a Fleming, who has seen a large range of different views over the last couple of months, I have to underline that this is the jewel on the crown. "Breathtaking" is the best adjective that comes to my mind.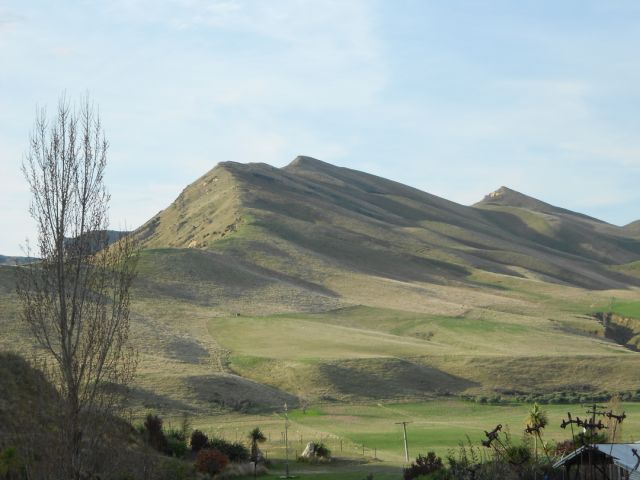 Once back home, we chat time away. Murray has a very good sense of humour and Ellie seems to be the perfect sounding board. These people are more than just a couple: they are soul mates, who understand each other without words and who have given each other the space to develop as individual human beings.
Next morning, we leave in good time (and good mood) for Greta Valley School. I might well be in good spirits, clear enough my little notebook isn't! That piece of technology leaves me completely in the lurch. Not to worry: although this school is small and remote, when it comes to technology, it proves to be very up-to-date. In less than no time an alternative laptop is presented and I am all set to go, ready to take these children on a fascinating journey through history;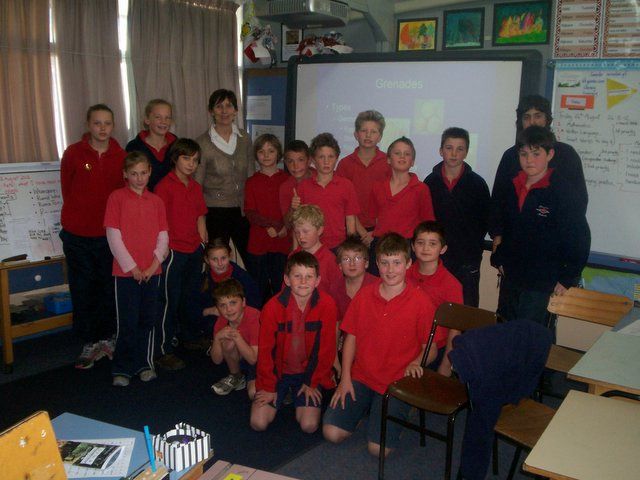 The time I spend here, teaches me how happy people can be. I enjoy the tranquillity my hosts radiate. As far as I am concerned, many psychologists could learn more than one lesson from people like Ellie and Murray. They read my soul and without judging or condemning, they give me the confidence that one day the sun will shine again on me. Oho, I am ready to bet that some of my readers will jump into the conclusion that I am struggling? Wake up from that dream please: I have found my inner balance, which allows me to feel better from one day to the other. What lies ahead of me is to deal with the practical side of my life and then to move on to develop myself more and more.
On Saturday, I am being invited for a tour of the area, which takes us to a local restaurant in "the middle of nowhere". This place has been bought by the inventor of ultrasound, an American which I presume to have no financial worries to deal with. Whenever he feels like breaking away, his private helicopter just drops him off here. Each to their own world...
The meal which is presented here, surely classifies as "upmarket kitchen". I am enjoying a stew, served with gravy based on homemade red wine. A New Zealand version of Belgian stew since we prepared it with brown beer...
Next stop on our journey takes us to a local artist, who has settled in and amongst the hills. From business point of view, there is simply no logic to be found, why someone could even consider to start a business here. Something which has really struck me is the large amount of art galleries: even the smallest village in the country seems to have one. Belgians are focused on food first of all and then perhaps some art: down under, I am left with the impression that it is the other way round. Raymond Herber (www.raymondherber.com ) prefers to work with stainless steel and iron. Blood is thicker than water as Raymond (just like his sister) is a born artist. Being a very rational thinking female, I wonder whether I will ever come to understand the mind of an artist, which doesn't mean I don't enjoy his work. In his workplace we discover a horse, made of stainless steel: a magnificent piece of art that is.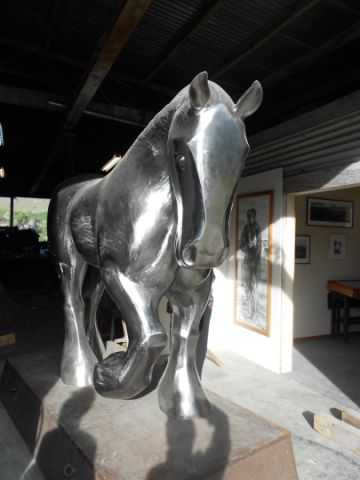 Wandering around is his garden (a big pasture in reality) we come across other pieces of art, showing the brain of the man behind these. Raymond was trained as an engineer: several of his constructions are revealing his skills as such. I do prefer the draft-horse though: less technique but that much more feeling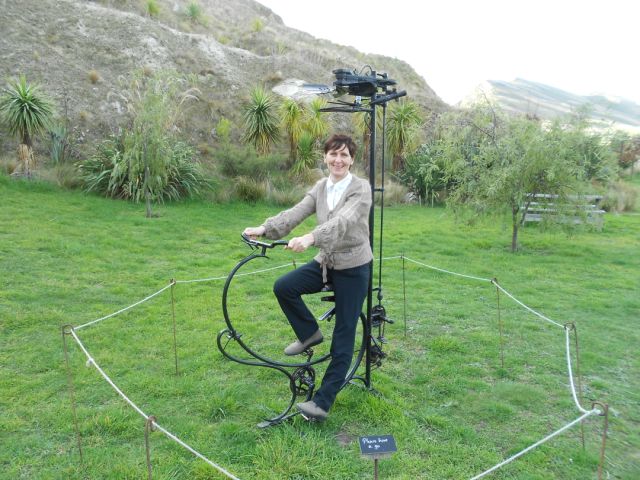 Much too soon my last day in Greta Valley takes a start. Already I know that saying goodbye won't be easy as I do feel at home here. Am I right in saying that Ellie and Murray don't look forward to the coming goodbye either? Fact is that they are planning to give me excellent last day and that is how I end up in the Hanmer Springs for the second time: a day in those hot water baths... take it from me that there is not much better than that!
Hanmer Springs is showing itself in a very different way compared to last week. Whereas most shops were closed last week, there is a pleasant crowded atmosphere in the one street of the village this week. Walking to the restaurant, my eyes spot something shiny on the pavement: it proves to be a golden ring with a beautiful diamond. Most likely an engagement ring... I wonder about the poor girl, who will come to realise that she has lost her ring! In an attempt to find the owner, we wonder in the restaurant but no one has inquired there. On to the police station then, to find it is closed, with a note hanging on the door, instructing to use the red phone in case of emergency. According to Murray, this can be classified as an emergency but gosh.... half an hour later; he is still on the phone in order to learn there is no one at the police station (something we already knew after 2 minutes!). So we are kindly being asked to drop off the ring at the police station of the next village, on our way to Christchurch tomorrow morning. Alas, no one to be found there either... The ring is finally going to end up in the police office of Christchurch at some 134 km of the place where it was initially found!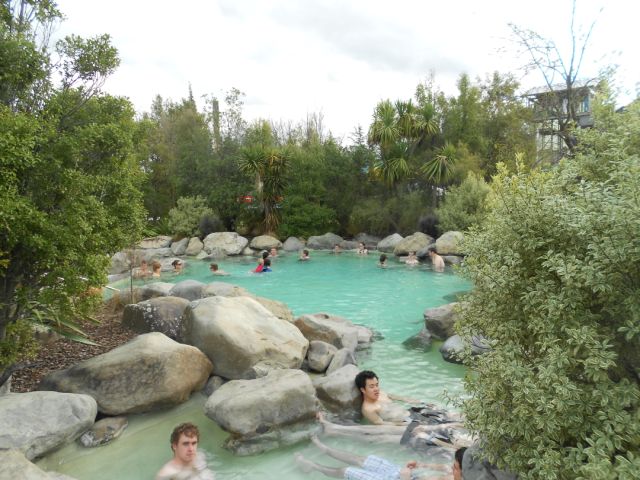 I have been taken back to Jo's house this morning by Ellie and Murray, who were on their way to court. Plans have been revealed to build a wind farm on the hills behind their village, something which is of great concern to them. Initially I reacted in the way that their fear was not justified (since the windmills will be at a fair distance) but soon I came to learn that there is a lot more involved, other than the disturbance of the views. To start with, there is the issue of erosion: if the plans go ahead, it means that a new road has to be established on these hills. This intervention will inevitably involve some rocks coming down; to eventually end up in the river. Some of these rocks contain sediment that may pollute the river. To build these giant wind mills, thousands of litres of water will be required, water, which is a precious commodity, since on the eastern side of the Alps, the rainfall is (usually ) limited. Fact is that NZ already has several wind farms and that studies have proven the investment cannot be justified when looking at the return. High winds result in a much higher maintenance bill than initially anticipated. Add to that the nuisance of shade and noise and one starts to understand the concern of the local residents. I don't want to preach the devil's word, however I do believe that renewable energy is the way to a better future. Something both my hosts agree on: their argument is that solar energy is far more sufficient. The lawsuit is a story of David and Goliath or how people are willing to fight for their ideals.
Just a couple of hours to go before I will on the plane to Auckland... I stand at the threshold of a new life.
Warm wishes
Charlotte
Copyright: Charlotte Descamps 2012
0 1 2 3 4 5 - Gemiddelde waardering: 3/5 - (17 Stemmen)

27-08-2012, 00:00 geschreven door charlotteofvarlet
22-08-2012
a little break in between
Dear All,
Back to the (home) base after a foray into the world, that is where I am... Don't get me wrong: I am not referring to a return to Europe. It just refers to the fact that I have returned to Jo and Murray's home after a trip to Mount Somers.

I spend Monday in an entirely different world: the beehive where Jo works daily. This vibrant lady has just been promoted to head of the news department of the local TV, she has her own show and, op top of that all, she is the editor of a newspaper as well. So I guess there is no need to explain that Jo seems to have an energy level, which puts everyone else's to shame. We definitely have some things in common, but there is no way I can compete with this lady when it comes to achieving goals. No doubt about it, that I am the better organised one but somehow she compensates that by an extraordinary creative mind, when it gets to the point of coming up with a contingency plan!
Monday morning means that three shows on a row are being taped: the first one to go live one hour later, whilst the two other episodes are for the following days. No time to get nervous really, since I ended up being the first guest in the first show. The presenter, Kineta, clearly knows the tricks as from the very moment the countdown starts; she switches to professional mode and starts with the introduction of the program and the announcement of the guests. So far so good... so the first question came my way. I had barely said 5 words, when the frame, behind the presenter, just dropped to the floor! Enough to make me burst out in laughter! This is a take for the blooper section... up to take 2. Kineta had to repeat the whole introduction, asked me the first question... and I simply started laughing again. I just looked up and I had to start giggling again. So no TV career for me, unless in the blooper department! Take 3 ended up to be the right one, even though the questions were different from those that were supposed to be asked. All in all, it has been a very nice experience, which still makes me smile on hindsight!
Once that was over and done with, a short interview for the news had to be taped followed by another interview by a newspaper journalist. I consider myself highly experienced now...
In the afternoon, I have been picked up by the mayor of Waimakariri in order to present my lecture to the councillors. O that was something, which wasn't in my planning! Considering it was a small group I was talking to, we did diversify a fair bit: not only World War One history has been covered but the huge difference in agriculture between both our countries was a interesting point of discussion just as well. With a good half an hour delay, I made it back to Christchurch, ready to leave for my next destination. Mount Somers: to Belgian standards, a tiny little village. Despite her more than busy schedule, Jo had agreed to cover part of the way. The deal being that Philip would come to collect me for another hour drive. Surely, the weather tries to convince me never to move to this part of the world: it just rains nonstop and that, in combination with mist, doesn't turn the drive into a fun one. Philip is British by birth but decided to move to NZ, when realising that he had better job opportunities as a teacher in this country. Although the job comes with a house in the centre of the village, Philip prefers to live in the countryside, so the journey takes me to a cottage nearby a farm, far away from the outside world...It feels quite strange to me to be in such a remote place on earth: no internet connection here, not even connection for a cell phone. My new host has a passion for history, hence the fact that he is filling the long evenings, studying to get his history degree at Massey university. Bonus is that there is nothing that can possibly distract him from his books here.
To my surprise 80 children come to the local school, which is more than I would have expected. This is partly to be explained by the fact that they have the second longest bus ride of the country: one of the children is being picked up at 55 km distance. Not to forget that this boy has already covered 20 km to get to the bus stop. Travelling a 150 km on a daily base to get to school; that can't be fun!
The schedule was as such, that I was going to talk for about one hour to the 11 year old in the morning and for about the same length of time to the 9 and 10 year old in the afternoon. The teacher worried that I might struggle to keep the attention any longer, where I knew I was going to struggle to get it all said in such a limited time. However, master Philip, had assured me that it was OK to keep on going as long as the children were interested. Well, that proved to be as long as lunchtime. What a great experience that was! Whereas I had dealt with 11 years old before, I had never been put in front of younger children. Even so, it has not turned out to be "a mission impossible" as they too, kept the attention till the bell made clear that the day was over...
Clear enough, I haven't been sticking to the history of the Great War only. In a rural community as this is, only 2 children out of 20 weren't from farming backgrounds. Needless to say that they were just as much interested to learn about the difference in farming as well. I will never ever forget that New Zealand farmers are more and more focussing on cattle ( until a couple of years ago, NZ had over 60 million sheep, a number which has now dropped to about 30 million): long before day-break, a herd of calf, had made clear to me that they had been separated from the cows. No alarm clock needed here...
With vocal cords that make in a painful way clear, that chatting for that many hours, isn't the best of ideas, I return to my home stead in Waikuku Beach. A good 2.30 hours later, I am chatting again whilst enjoying some good wine at the same time.
Today, I am wearing my other hat: the one of a house-wife. Whilst Jo had an early start, I take Connor for a long walk on the beach. Sure enough I have become his best friend now and guess what: I even managed to wear him out! After that time for some window cleaning, this girl wants to remain active. Next stage is dealing with the laundry and the ironing before treating Connor on a second walk. This dog must be convinced that all Christmas have come at once.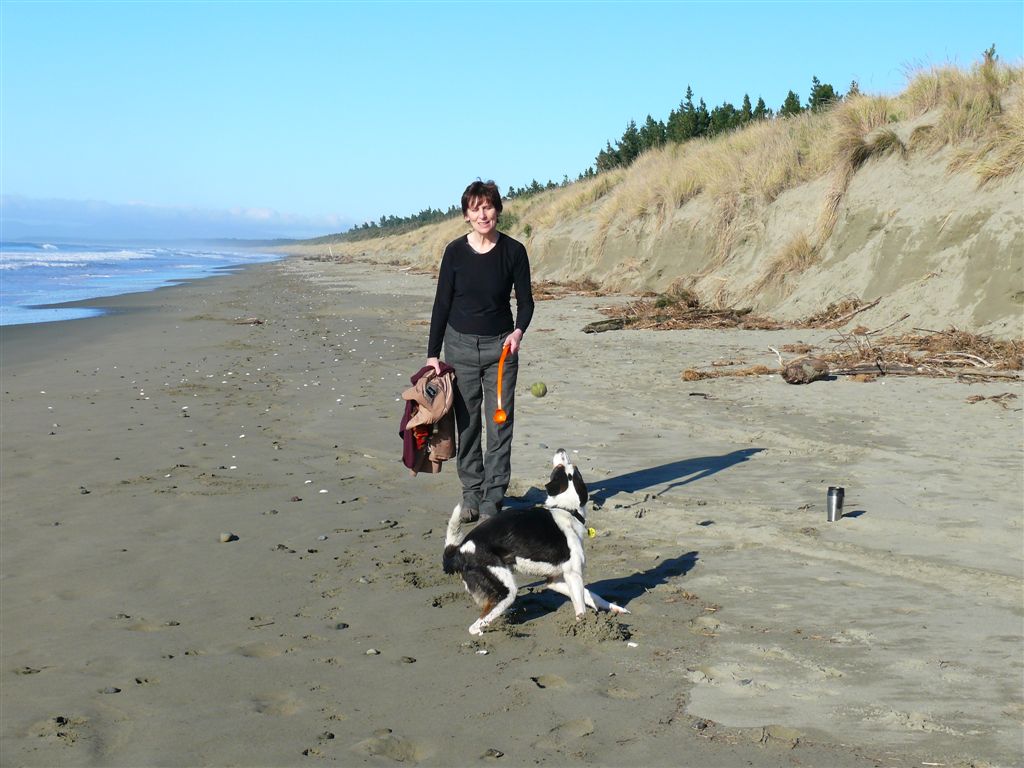 Almost time to say goodbye once more. Tomorrow, I will be leaving for Greta Valley, a village at one hour drive North of Christchurch. On my way to yet another adventure.
But before that, my last night in Waikuku Beach awaits me.
Warm greetings
Charlotte
Copyright: Charlotte Descamps 2012
0 1 2 3 4 5 - Gemiddelde waardering: 2/5 - (8 Stemmen)

22-08-2012, 00:00 geschreven door charlotteofvarlet
19-08-2012
it can not get much better than this!
Dear All,
Relaxing in bed after a very special day... that is how I start this blog entry.
Again I have moved on: this time to stay with a lady, who proves to have an energy level that puts mine to shame. Over the years I have met thousands of people but sure enough, there is only one like Jo! This vibrant lady, who has so much on her plate already, has surely given me a couple of extra grey hairs (she was planning my lectures in Christchurch but seem to forget to inform me about it!) . Nevertheless, I am the first one to admit that, given the circumstances, she has done a remarkable job. Okay, I had my panic moments when the planning went pear shaped but Jo wouldn't be Jo if she couldn't come up with a last minute plan... and I mean: VERY last minute...
After have been made familiar with my new home for the next couple of days, we went for a walk along the beach. Gosh, this is something we can only dream off in Flanders: miles of very fine sandy beaches wide enough to lose thousands of tourists on. One major difference though: apart from a lonely wanderer, there is not a living soul to be spotted. This is heaven on earth for those lucky ones who can walk freely here but just as well for Connor, the dog that Jo adopted from an asylum. There she has been told that this more than lively quadruped has some Border collie breed in his blood. I would bet that he is 50 % greyhound: that dog is faster than an arrow from a bow when collecting the ball, Jo keeps on throwing. No way will someone ever wear out this Duracell bunny! After a good hour of running like wild, he still looks as fresh as from the start: I wish the same could be said of us!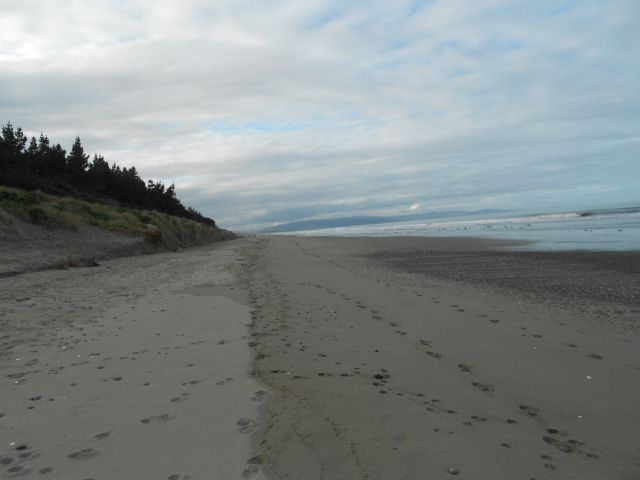 Once home from the walk, we just killed the time chatting away. There was so much to catch up, since it was several years ago when we met for the first time in Flanders. I remember so well that already then, Jo had left a lasting impression on me. With vocal cords on the edge of cracking down, we had to make a move. The Belgian consul in Christchurch was celebrating her 50th birthday: to mark this milestone in her life, a lot of guests had been invited for a drink in her house. It proves to be a beautiful place, right on the other side of town... so I am in for a (to Belgian standards) long drive.
The house, situated on top of a hill thus having breathtaking views across the bay, suffered from the earthquakes too. The large windows had just exploded, covering the whole place in glass. No one, who has actually gone through this, could ever understand what a devastating effect an earthquake can have. Fact is that I expect my guardian angel to be on duty: only a couple of days before my arrival, there was another shock which was sufficient to make sure that all the frames on the wall were out of balance. The trembling earth is still very much in the headlines here. What struck me is that many elder inhabitants of Christchurch tell me about the buildings, which have disappeared, taking along dear memories too. I have always replied that memories are saved in the heart and not in bricks. Coming from a place on earth, which at some point, was completely wiped off the map, I am convinced that this city will rise from its ashes. However, that might be a small consolation to many locals as it will take many years to rebuild a lively city...
An occasion as yesterday proves to be an ideal way to meet other Belgians. Not that I have an urgent need to catch up with compatriots (if that were the case, I should have stayed in Belgium) but I am eager to learn what has brought them to the other side of the world. The answers can be divided in two camps: some of them followed the love of their lives whilst other were fed up with Belgium and decided to look for a better alternative. Either way, none of them regrets having moved to New Zealand. Even stronger: none of them plans to return ever. Having said that: I did come across one Dutch couple, planning their return to the Netherlands. Their career had come to an end and having no children here, they felt the need to go back to their roots. All in all, the evening has been a very enriching experience for me.
For today, Jo came up with a very last minute plan. The lunch, which was initially scheduled, was to be replaced by a visit to Hanmer Springs. This appears to be a hot spring, where a real spa complex has been built. The "Baden-Baden" in New-Zealand... With outside temperatures of barely 10°C, I couldn't really fancy the idea of walking around in a swimsuit. Kiwis are just that more hardened than Europeans, who are too spoiled by their heated houses. I was about to change in an icicle before I reached the warm water! Needless to say that Jo and Raylee had great fun when seeing this Belgian shivering. But gosh, it was worth being brave! Once emerged in the warm water, it felt like heaven: 100% enjoyment! The centre has developed several pools with different temperatures, the hottest being over 38°C. This pool had sulphur in it, meaning you wouldn't choose it for the smell but... it simply beats everything to relax is such hot water. So think of me, enjoying the heat, whilst looking at the Alps, still covered in snow. I felt almost surreal...


Relaxing in that pool, a young couple joined in. I couldn't prevent myself from hearing their conversation in an accent, I recognised as being European. Since he had jet black hair and matching eyes, my guess this man was Spanish. Dead wrong, as he proved to be Belgian, even Flemish. Having arrived here a good year ago, he fell in love with the country and decided to stay. Sounds familiar to me! In all of my travels, this is the first Belgian, I stumble across by chance... I guess it only confirms the fact that they don't travel very well.
I really like my bright red swimsuit (a souvenir from Tampa). However, Jo came to "rescue" me from the pool, saying that I looked like a boiled lobster: it had become difficult to tell where the swimsuit stopped and where the skin started! I might not be good with cold but heat: no problem at all!
Something entirely new on my list tomorrow: a studio interview with a local TV and another interview with a newspaper journalist. Knowing that cameras are not my best friend, I warn Jo for the fact this might not work out too well. Waste of time of course, as my confident hostess, claims I will do well. Just do as you're told, and you'll be fine... that is the given advice. I already hold my breath!
In the afternoon, I will be collected by the mayor of Waimakariri for a guided tour, before making my way toward Mount Somers. Could it be that one is born with a travelling gen? If so, it must have entered my blood one way or another... I simply enjoy this time of my life more than I could have imagined in my wildest dreams!
Warm wishes,
Charlotte
Copyright: Charlotte Descamps 2012
0 1 2 3 4 5 - Gemiddelde waardering: 3/5 - (4 Stemmen)

19-08-2012, 00:00 geschreven door charlotteofvarlet
16-08-2012
Gosh, I feel so loved...
Dear All,
Do not worry: I do not walk on by vanity. The sequel to the title of my blog is… by hackers! Having had one of my gmail accounts hacked whilst I was still in Oz, now my Facebook account has been hacked. Since yesterday, I can no longer access my Varlet Farm account on Facebook (for those amongst you who would like to connect with me again, search for Charlotte Descamps) since some friendly Belgian (my password was changed in Belgium) has hacked my account. Am I really naïve when being shocked by the fact that there are people who clearly do not show respect to others? I guess I am, as my upcoming divorce has made more than clear that people can have two faces…
This computer ignorant has therefore engaged in recovering my account. And although I am the first to admit that I wasn't born with a built-in technology nodule, I honestly wonder who on earth manages to understand the procedure. Clear enough I don't as I remain unsuccessful in all my attempts.
Some positive news to be shared too though: today, I have seen the sun. The rain is gone, instead we had a pleasant 14 °C, quite enjoyable on a winter day.
Two appointments in my diary for today: one which might open a door to a new future and one with a former guest of Varlet Farm. Two meetings of completely different calibre, different nature and with totally different people. But both of them left me with a good feeling…
The day came to an end with a lecture in the Papanui RSA club. Since my host was having such high expectations, I really started getting nervous as well. This was definitely not my best presentation ever but nevertheless it was well appreciated. The best compliment was given by someone who does lectures on a regular base. He simply said: you are a natural! Enough to colour my day…
No load of pictures today (even none) but a warm feeling of satisfaction. That is what I want to add to this blog.
Warm regards
Charlotte
Copyright: Charlotte Descamps 2012
0 1 2 3 4 5 - Gemiddelde waardering: 3/5 - (14 Stemmen)

16-08-2012, 00:00 geschreven door charlotteofvarlet
15-08-2012
Christchurch looking for a new future
Dear All,
Frustration, frustration.. since once again I am caught I a situation without WIFI which means that I can not update my blogs. That was the case on Sunday but in the meantime, we are a few days further…


One of the most popular topics for a chat worldwide must be the weather. By now, this has given me sufficient inspiration to publish a novel. The title would have to be " The drowned land of Canterbury". Being Belgian, I am entitled to say that I am used to rain. Whatever has been pouring down without any interruption for the last 24 hours, can no longer be described as such though. Never before in my life have I seen a downpour as this.


Just like Flanders, the Canterbury plains have a layer of clay below the surface. The main difference proves to be the lack of a drainage system. Not that this would have sorted out the problem in the short term. With half the normal amount of rainfall coming down in a couple of days, even with the best possible drainage system, it would still take days to get the fields dry again.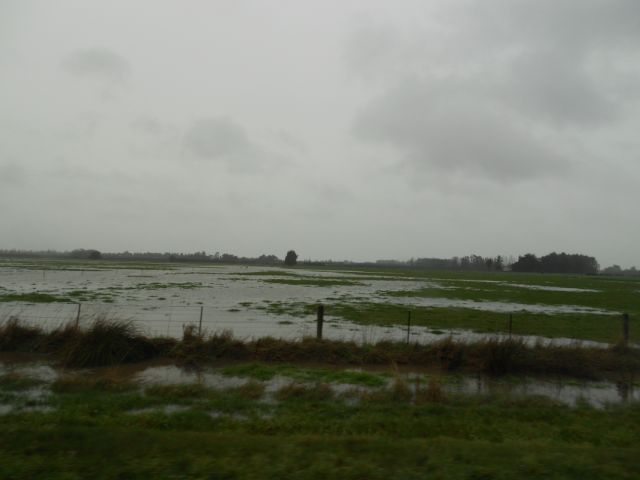 My host, Kevin, is the deputy mayor of an area called Waimakariri. Just as has been the case in Belgium many years ago, the villages merged, meaning that the present council is now responsible for some 48000 inhabitants, living in an area of about 2200 square km. Comparing that to West Flanders (with its 1.164.000 inhabitants in 3140 square km) it become clear what a large but sparsely populated area this is. Being a deputy mayor in such bad weather conditions is not an enviable position: all day long, Kevin is being contacted by people experiencing problems with flooding.


It would be sheer madness to go walking in this type of weather, so Kevin takes me for a tour of the area in his car. Rivers, which are normally meandering harmless through the landscape, are instantly transformed into fast-flowing rivers, overflowing their banks everywhere. Cattle and sheep are looking dazed at so much wetness surrounding them: the quadrupeds are facing a long and very wet night…


Something very typical for this area are the shelter belts: pine trees grown as a high hedge. Initially used to break the wind but at the same time providing shelter for the cattle. However, in the given weather conditions, even shelter belts can not fulfil this task : this is a situation of hoping for quick improvement.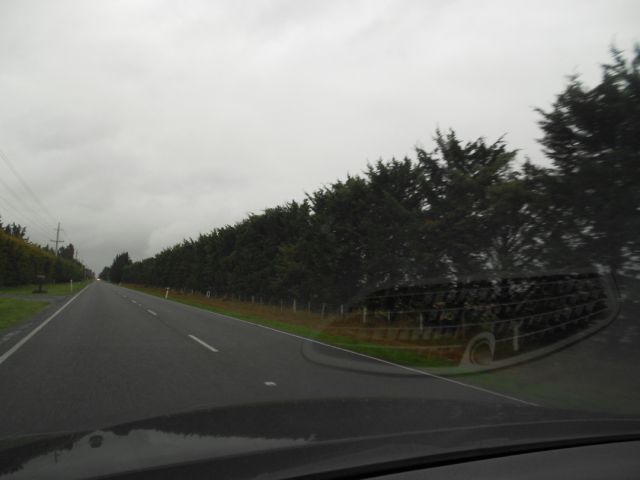 Milk and other agriculture products represent the bulk of NZ's export: no wonder that investments are being made in this sector. Although, I can not deny that this sometimes leads to strange situations. What to think of a cow tunnel under the main road? Because the flock of a local farmer was gradually increasing in size in combination with the fact that part of his meadows were across a busy road, it was decided to construct a tunnel under the street. Not a matter of providing more safety for the cows of course, more a case of providing an answer to motorist becoming more and more impatient.


Another surprise to me was the size of the irrigations systems : huge installations which can be as long as 2 km! All wheels are individually controlled by a computer because the giant system runs around in a semicircle. Top of the bill is a recently installed system that simply goes over the house! No dirt of that roof ever… but laundry that has to dry in the tumble dryer is the price to be paid.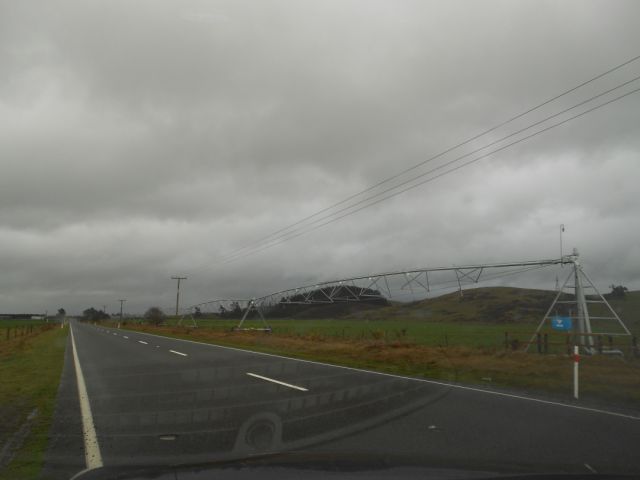 Another country, so other laws. On our way, we passed a farm that was divided into building lots, making 25 lots of 5 acres available for hobby farmers. No endless procedures to change the use of the land here: down under one seems to be using common sense in a better way

After having spent 2 night at Kevin and Maree's house (who eagerly look forward to their first European trip) I end up to visit Murray, who takes me to his sister later in the day. In the company of a sociology professor, I am guaranteed of an evening filled with interesting discussions about society, different culture and… life tout court.


Raylee is a native resident of the devastated city, which Christchurch still is. She takes me on a walking tour through the old town centre: it turns out to become an account of what is already gone and what is still there to be demolished. Tears spring to her eyes when referring to the groundswell of support that came to Christchurch in the weeks after the devastating earthquakes. Since there were no casualties after the first heavy shock in September 2010, the locals were left with a false sense of security. The second big earthquake in February 2011, came as a huge shock. None less than a 185 people died, most of them in 2 towers which had collapsed as a house of cards.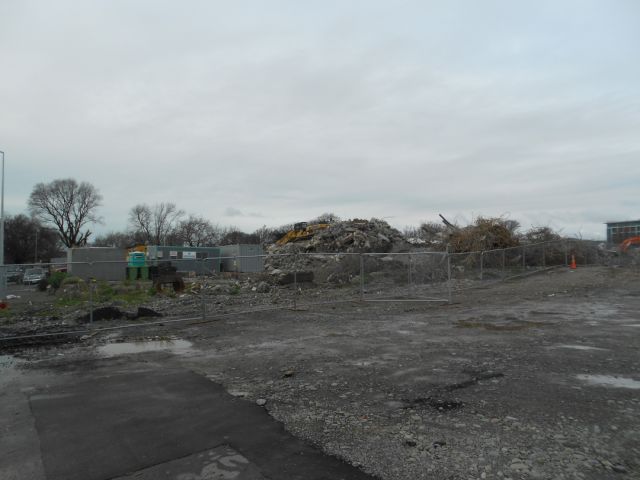 Cranes are working day and night, seven days a week. Entire neighbourhoods are closed to city dwellers with soldiers in place to make sure that no one passes these points unauthorised.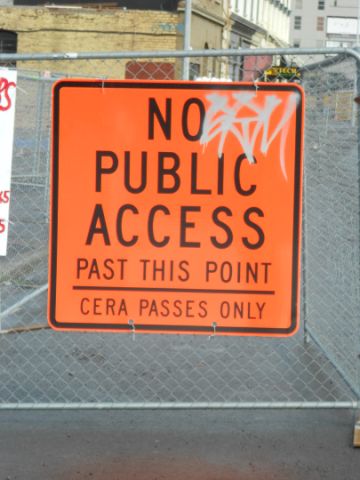 It is a sad story: the story of a whole city which disappears of the map, taking many precious memories with it. Fortunately, people have a resilience that can not be underestimated. Making sure that businesses could keep on going, a shopping centre made of sea containers, has been built in the centre of town: coloured containers, brought together in a random way, were very artistically converted into shops and coffee shops. Sad to hear that a Brit has put down a complaint because he felt that his idea was stolen. Having started a shop in a container in Great-Britain, he consider to hold the exclusive rights to this concept. "Run to hell" is the anser the Kiwis have, most rightly, given him…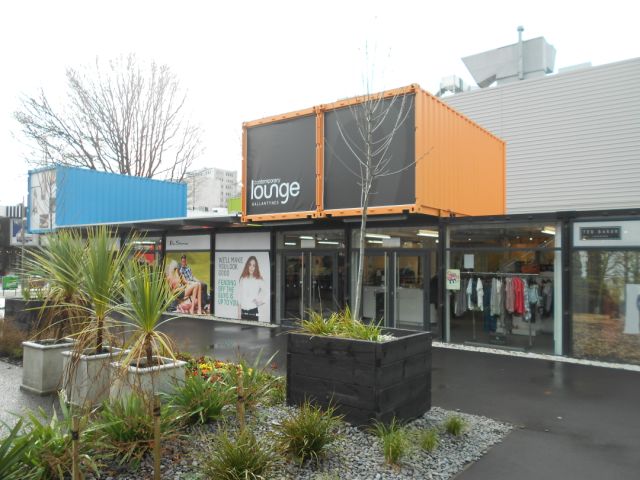 I can't believe what I see next: further down the street, I spot a man in a medieval outfit. Intriguing enough for me to approach him in order to find out what he is up to. It appears to be the town crier, proclaiming the news, three to four hours a day. He adds in a cynical way that his job now mainly exists to announce one or other exhibition in a particular building, followed by the announcement that the building is not accessible until further notice… Black humour… every deals with the tragedy in their own way.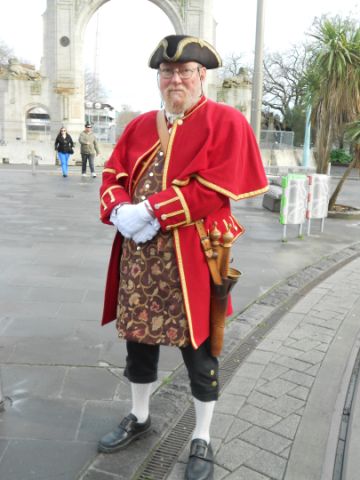 My trip would even render a hardcore Bedouin jealous… Off I go again, on my way to my next hosts: Michael and Lesley welcome me with great warmth in their beautiful home. I soon come to learn that Michael has planned to fill my days in a useful way as I am taken to meet two history professors at Canterbury university. A visit which ends up to be so much more than a pure history lesson: these people have given me advice, of which I know it will determine my future a great deal. To be continued…


Bedtime for me: with loads of new impressions stored in my mind, I know it will be a relaxing sleep.


Best wishes,
Charlotte


Copyright: Charlotte Descamps 2012
0 1 2 3 4 5 - Gemiddelde waardering: 3/5 - (11 Stemmen)

15-08-2012, 00:00 geschreven door charlotteofvarlet
12-08-2012
catching up with old friends...
Dear All,
Time seems to be flying by faster and faster, at least that is how I am experiencing it right now. My short stop in Dunedin is one which I will remember for a long time, mainly because I have found the right balance between work and leisure.
Even before setting foot on the ground in Dunedin, I had a picture in my mind of the place. Many Kiwis had told me that this is the city where the Scottish feel is still strongly present. Indeed, in one way or another, this city feels very European.
A strong tailwind results in the fact that my coffee grinder (domestic flights are all handled with relatively small aircraft) lands some 10 minutes earlier than planned. And that means that my new host, Sean, is nowhere to be found. Not that this presents any problem since I was already chatting time away . Sean must have realised from the very First minute that I am not exactly a shy person.
We head for Sean's house, driving through a beautiful green landscape, where I will spend the next 3 nights. I did got the morning free to update my blogs but as you see, I did not succeed… I have barely finished replying my mail, when it is time to hit the road again. First to the local TV studio as they had asked for an interview with the Belgian visitor. It ends up being the fastest recorded interview ever, not in the studio but in the nearby railway station, where a brass plaque on the wall reminds of Passchendaele. The plaques (one on either side) were initially installed on a locomotive but later on ended up on the wall of the railway station. The second one is to be seen in Christchurch.
Then becomes a matter of running, walking and running to make it in time to the cinema where a film about a Maori pilgrimage was shown. I have already mentioned that the indigenous population of this island has integrated in a much better way than in Australia. I assume that the film was produced to make clear that the Maori culture has also determined the image of this country. It brings the story of a group of Maori children from the Northern Island on a pilgrimage to the Southern Island, walking in the steps of their forebears. Along the way, the group stops at several places where their ancestors had also halted on their forced journey South. I am most likely the only European in the theatre (which is sold out), so perhaps I look through different eyes. Somehow, I feel uncomfortable as some parts come across as if they want to throw a sense of guilt on "the angry white man". "Political correctness in a fashion word today… does this film fit under this umbrella???
On Thursday, I had my first "college" experience waiting for me. Another lesson learned for me: check where the light switches are! Halfway through my lecture, the lights suddenly switched on, resulting in the fact that the laser beam is no longer visible. Since no one seems to know where to find the switch to turn the light off, I have to continue without the use of the laser. Somewhat different from the usual talk…The group was smaller than expected (about 15 in total) but that was compensated by the attention with which my lecture was followed.
After my talk, Don McKay was introduced to me. In a way, his path resembles mine a bit: from a farm to becoming a historian (with that difference that he has a university degree). He takes me to the local army museum, where I get to see a lot of WW II artefacts. Our next stop is a local pub, where I am being presented a local beer. Another reason why Dunedin has more of a European feel to it: there is a brewery and … a chocolate factory bang in the middle of town. The amber beer actually goes down very well. Having said that, I am pleased that I only asked for a half a pint. Had I gone for the full pint, I would have ended up being a singing Belgian!
On Friday, an interview with the national radio was scheduled, followed by a visit to a local artist who makes brooches of bullets and pieces of brass. Can you imagine my surprise when recognising the cards on the table, showing the design? In 2007, NZ head of Defence in London stayed at my place, asking me to distribute those cards amongst my Kiwi guests. And now I am here, meeting a most charming man with whom I would have loved to chat for a longer time. No time to be wasted though: my next stop is the Otago museum. A flying visit this is but long enough to make clear to me that an art-loving soldier had brought back to the homeland, a wide range of Egyptian art pieces, including 2 mummies!
Just enough time for changing outfit: minutes later, this lady in red is ready for a lecture in the local library. The talk is being organised by the Settlers museum but since the building is still in refurbishment, it has been moved to the library. No one has any idea of the number of people that will attend but it soon becomes clear there isn't sufficient space to seat the more than 100 interested ones showing up. Sean had informed me that a talk here never lasts longer than one hour… well, that is as good as asking for the impossible to happen. So my start was a warning followed by a joke and the promise that I would not return in the near future. Good enough to get the group on my side immediately. It has turned out to be a beautiful evening, followed by a chat with many of the audience afterwards. To that extend that we were kindly asked to leave the room because they wanted to close. A lovely dinner is a local restaurant put a very nice capstone on this visit. Thanks everyone!
Another ungodly start yesterday: I am already closing my suitcase at 5 am. On to the airport then where Sean waved my out on my way to my new adventure, one that has brought me to Christchurch.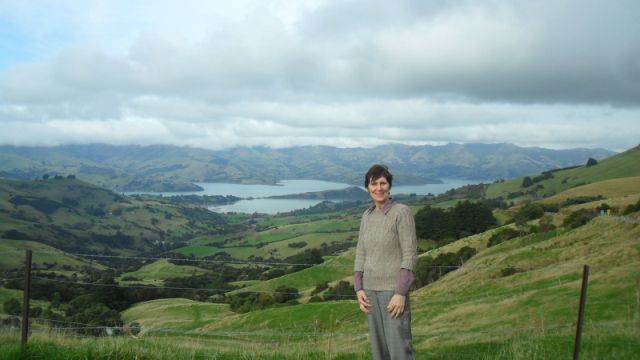 John and Olive… what a wonderful reunion with loyal guests of Varlet Farm. First stop is a restaurant to enjoy a very filling breakfast, after which we head down to the coast. The journey takes me along breathtaking landscapes. Every tourist has to agree with me: this is nature at its best: hills, a beautiful coast line with idyllic villages dotted in between… this is what New Zealand has to offer, topped up with warm hospitality.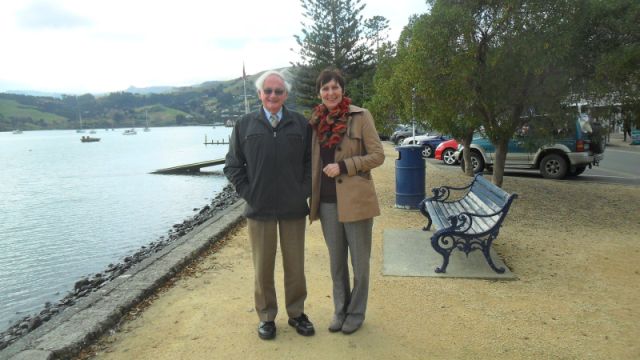 Exhausted I retreat to my room. Just before sleep gets me in its grip, I realise that I have just learned what it really means to live life to the fullest.
Warm regards
Charlotte
Copyright: Charlotte Descamps 2012
0 1 2 3 4 5 - Gemiddelde waardering: 1/5 - (4 Stemmen)

12-08-2012, 00:00 geschreven door charlotteofvarlet
08-08-2012
Dunedin, here I am!
Dear All,
No better environment to write a blog than an airport: so here I am again. After a very short night, constantly interrupted by heavy rain on the tin roof, I am once again waiting for a flight. Heading for Dunedin this time…
On my journey, it has become clear to me that kiwi hospitality is more than a step higher than in any other country. The plan was to spend the night in a hotel since I need to be at the airport by 6 am. Well that didn't happen. As soon as John and Elizabeth learned that I had returned to Wellington, I received an invitation to stay with them again. On top of that, Elizabeth was so kind to take me to the airport too. This is a country with 2 faces: on the one hand side, there is the more than relaxed atmosphere but I stand in amazement when hearing that every week, the eldest daughter is getting out of bed at 5 am to play water polo! As there is only one swimming pool in town, which is suitable for this sport, school teams are booking their training ungodly early in the morning. This young lady is playing water polo at 6 am in the morning, going to school after that in order to finish the day with a hockey training. Her mother proves to be equally active: either she goes walking for an hour or on a day as today (with heavy rain) she kills time with swimming.
Fact is that the school culture, where sports fills a much bigger part of the curriculum, appears to bear fruit. If the newspapers got it right, NZ currently holds the highest number of Olympic medals per capita. So it pays to get up early in the morning: that is the conclusion I draw.
Today's flight will bring me to Dunedin, the second last stop on my planned route. As Dunedin is a relatively small city (120.000 inhabitants of whom 20.000 students) , I have only planned a 3 day stop. Busy days by the sound of it, as I have two scheduled lectures: one in the Otago University and the second one in the library. The Settlers museum, who is organising the second lecture, could not host my talk, due to major refurbishments.
A new challenge here: it will be my very first talk in an university auditorium. Having said that, the auditoriums of some of the museums I have lectured in, are most likely not inferior than the one I will be presenting in tomorrow…
Meanwhile, I have safe and well arrived in Dunedin. A strong tail wind brings me here 10 minutes before the official timing. This city has the reputation of being a bit of Scotland down under. Never having been to Scotland, I have no grounds to compare. All I see are endless pastures where countless heads of cattle are grazing in the most scenic landscape. Milk and butter are main products in NZ export. As I understand, almost the whole quota ends up being bought by China. Is it this high demand which keep the prices relatively high? With a price of 65 cents for a litre milk, it sits above the Belgian price. Or do I have that wrong? I learn that farmers would love to increase their live stock. However, New Zealand shows to be a very conscious country on environmental issues ( gradually that shows in the building regulations as well) hence the fact hat no more licences for more cattle are being handed out. As far as I am concerned : a very courageous decision of the government. They look on long term instead of going for the quick gain.
Being picked up by a stranger surely has its charms… Except for a name, I have no information on my new host. The best attitude is to wait till someone steps forward to me. Sean soon appears in order to bring me to his home, where I will be staying the next couple of days. Not much time to sit and relax though since I am being expected for a TV interview this afternoon. Already I start sweating: as talkative as I might be, a camera still has that paralysing effect on me. I can only hope that this will become an experience of which I will be able to think off in a pleasant way in the years to come. One thing is for certain: this journey is one that I couldn't have dreamt of in my wildest dreams!
Rainy greetings
Charlotte
Copyright : Charlotte Descamps 2012
0 1 2 3 4 5 - Gemiddelde waardering: 0/5 - (0 Stemmen)

08-08-2012, 00:00 geschreven door charlotteofvarlet
07-08-2012
a Belgian get together...
Dear All,
Travelling teaches you to look at the world through different eyes, that is for sure. When leaving Belgium behind, I took that uneasy feeling with me: the gnawing insecurity, which constantly reminded me that I had left a safe haven behind in order to walk in a dark night to an uncertain future.
Months later, I understand that there are times in everyone's life, when one just have to overcome the fear to jump. In that respect, my choice to explore the world, was the best decision I have ever made. Even though I have no idea which direction my life will move to: the fear is gone, I am now convinced that one door has closed but another will open for me.
The past few days, I have spent with a mixed Belgian-British couple. Just before arriving there, I had a little taster of the local mentality. The plan was for me to take the train to Featherston where David was going to collect me from the railway station. Already I know that I would be able to write a book on the Australian trains… perhaps I might add a small chapter on NZ trains? What about a train not departing because of a problem to connect the locomotive to the carriages. The various attempts left me with a " brown suspicion" that they did their very best to lull us to sleep. One gentle bump after the other… till finally 15 minutes later, we were ready to depart. The 4.25 train from Wellington is the first one in the evening and proves to be completely full. Jenny, the train conductor ( a cheerful lady, born of Dutch parents, who came to NZ at a young age) approached a grandmother, travelling with her 4 year old grandson, to ask if the little boy could sit in the hall as there was an elderly lady with no seat. To my utter surprise, the grandmother responded very agitated and refused point blank to take the little boy on her lap or to seat him in the hallway (which I am sure he would have loved since there were more children in the corridor). I immediately volunteered to give up my seat but in the meantime the problem had been solved by a mother who had no problem to take her toddler on her lap. What's wrong with society, I wonder. Life doesn't always go over a path of roses… However, with a bit of good will from everyone, the world could be so much nicer.
Once arrived in Featherston, I was to discover to discover the beautiful house, where I will be staying for the next four days. Strangely enough I could almost feel the "Flemish" touch that had decorated this place as soon as I walked in. Moments later, Patsy arrived home and from then on there was nothing that was going to stop us : we literally chatted till our vocal cards were raw! For Patsy, I prove to be the first Belgian visitor she sees ever since she left the country some good three years ago. Needless to say that she wouldn't let go of the opportunity to communicate in her mother tongue. I soon learn that this couple is living proof of the fact that fairy tales sometimes do become reality. They met each other while Patsy visited New Zealand… a meeting that would change her life for ever after since they are now happily married. This young woman left everything behind in Belgium in order to discover her piece of paradise down under. The happy look in her eyes tells me that she has taken the right decision for sure!
Featherston and Greyston are quiet villages, settled in the most picturesque landscape. However quiet these villages end up to be during weekdays, they turn into a busy hive during the weekend as a lot of city people venture out here in search of that authentic feeling, that is still hanging around here. The economical crisis has hit here too as I spot a number of shops to rent as well as an unusual second hand shops. And guess what I find in one of those… LP's from Bouwdewijn de Groot (Belgian singer), Rob de Nijs (Dutch) , Gilbert Bécaud (French) and Nana Mouskouri (Greek) .. a piece of long time gone European culture.
Disaster, o disaster , on Sunday morning as one arm of my glasses just slated. Without them I am as blind as a bat when it comes to reading. No optician in the village, so I need to try my luck in Wellington. The first optician, gives me a very worried look before informing me that it will take at least one week to have my glasses fixed. Given the fact, that I am leaving for Dunedin tomorrow, this is not really an option. Next shop, same story which leaves me ultimately with no other option but to buy a new frame. Not a blessing for my budget as I soon discover that frames are a lot more expensive than in Europe. However there is some blessing in disguise, since I find a frame with exactly the same dimensions, allowing me to recycle my lenses. This lady can read again without any problem!
Meanwhile I am staying overnight in Wellington in order to catch the plane early in the morning. Although, hearing the news this morning, in which was announced a volcanic eruption in the northern island and that this was going to affect air traffic, I started having doubts. Fortunately, I am heading South, so hopefully the ash cloud will not interfere.
So many times, I have left a place with the feeling that I will return sooner or later. Not different here… Wellington has a special charm, which is tempting me. Without any fixed schedule, I have no clue whether I will ever settle here . However a voice deep down inside tells me that Wellington will surely welcome me with open arms…
Warm greetings
Charlotte
Copyright: Charlotte Descamps 2012
0 1 2 3 4 5 - Gemiddelde waardering: 3/5 - (4 Stemmen)

07-08-2012, 00:00 geschreven door charlotteofvarlet
02-08-2012
Wellington, Masterton, Featherston, Wellington....
Hello All,
Late at night… however, I hope to be able to share some of my impressions with you.
After having stayed with numerous host families, I am still being touched by the warmth of all those people, who welcome me into their house. Having been on the other side, as hostess of Varlet Farm for many years, I finally understand what my guests meant when saying that I provided " a home away from home". After months of travelling, I have been fortunate enough to experience this on many occasions. Am I born under a lucky star to find myself exposed to that many positive experiences?
On Saturday afternoon, I am being expected in the local RSA of Masterton. I have been introduced to a mixed group of people, all of them bitten by the history bug. No official lecture is scheduled here: instead, I have a lovely chat with all this people after which I am being guided in their own small museum, that proves to be a labour of love.
Paul and Angela are real animal lovers: Two dogs and three cats are part of the family. Where as I would describe myself much more as a dog person, I often end up getting the attention of the cats. In this case a British Blue (which wasn't blue at all but did have the typical flat nose) decided that I would make good company during the night : to that extend that she woke me up, snoring next to me ear, to convince me of her choice in the middle of the night!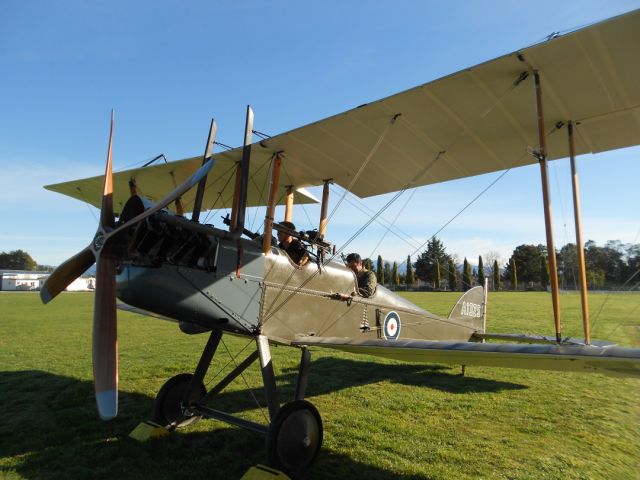 Hm, being a guest surely offers some advantages. On Sunday, I had been invited to a guided tour in Peter Jackson's (yes the one of "The lord of the rings"!) collection of WW I planes. My host couldn't believe his ears, when learning that I was to be taken around by a guide. Fact is that I have been able to render at least one Kiwi happy, since my guide didn't mind that my host joined in. To Paul this was the cave of Ali Baba! The collection of planes on display is beyond belief: 3 authentic WWI planes, nicely on a row, next to a long row of rebuilt ones, all with an original engine. Just to blow me over completely, the guide announced that all of these planes were still flying. I don't know whether I must have looked with too much disbelief on my face but fact is that 2 of these old machines were pushed out of the hangar, in order to take off only minutes later. This journey has been a long succession of highlights, but I guess this experience scores really high on my scale!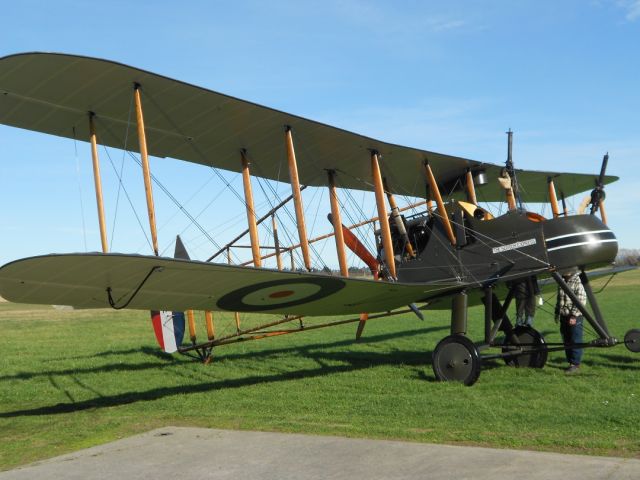 Every now and then one has to relax, so it is essential to reserve some time for that too. In this case my spare time was nicely filled in by an invitation to attend a birthday party. Jack, who has gone a long way to build up my Wellington schedule, turned 65, good enough reason for a true party. However, they do even better since Jack's wife gets to 65 just a week later: in other words, I am in for a double party! And that is how I end up, as a single Belgian, in and amongst a group of celebrating Kiwis. Or wasn't I? At some point a lady walked towards me, addressing me very friendly with " Hoe maak je het ? " (how do you do?) . Loes, a Dutch lady had followed the love of her life as far as the other side of the world. Born in Brunsem, she learned to know a very different world here. No doubt, she liked what she saw, since 40 years down the road, she is still here.
When one is feeling fine, saying goodbye isn't fun. That was no different on Monday : I regret having to leave Paul and Angela's house, on my way to my next destination. Wairarapa College had shown some interest in my lectures and has been so considerate to invite the students of some private schools as well. So instead of presenting my lecture three times to different schools, I end up doing one lecture for three schools. My vocal cords are grateful to them!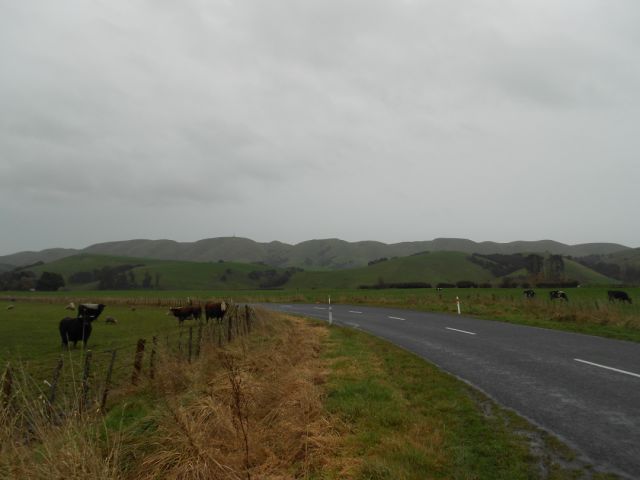 After a lunch stop with Loes and John, we head to Featherston. The road winds through a landscape that could serve as backdrop in a movie. I simply can not describe the different shades of green. And don't I just have to agree with my NZ hosts, telling me there are more sheep than people in this country: the number of wool producers, I have seen here, undoubtedly surpasses the entire Belgian arsenal.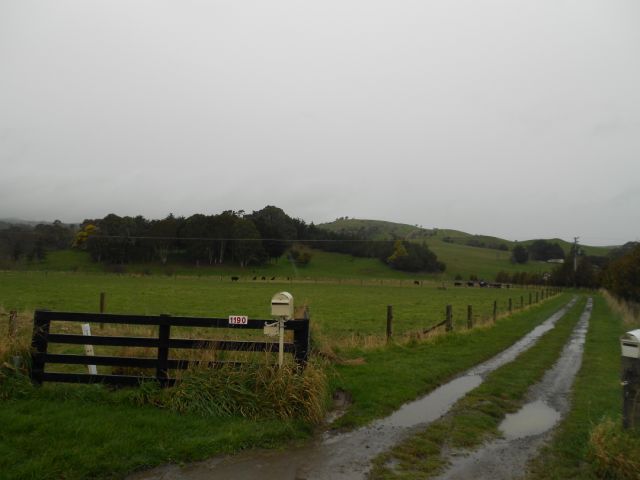 Arriving in Featherston: priority number one is to get rid of that big red suitcase before I have to head to my next appointment, which is a lecture in Anzac Hall. This historic building was for so many Kiwis the place where they had their last dance. Thousands of young men have dreamed of the big adventure that awaited them. A few months later, that dream tuned out to be their worst nightmare.
In a young country, where there are few historic buildings, it would be such a shame not to cherish this piece of preserved history. Considering that the centenary of the Great War is approaching quickly, I can only hope that the NZ government will recognise the importance of Anzac Hall in such a way that they will assure that this jewel on the crown is being preserved for future generations.
It seems like I keep repeating myself: the hospitality of this country is unlimited. In the evening, over a glass of excellent Sauvignon Blanc (and that alone is good enough reason for me to consider immigration!), we reflect over the day. Not only do Adrienne and Don offer me wonderful accommodation but, more importantly, a listening ear and a lot of advice. I feel so fortunate that fate has brought me this way.
Time is putting the days like pearls on a string: the cord of my journey is one, which is determined by the many impressions and experiences I have encountered. I will wear it for the rest of my life as a symbol of the total transformation my life has gone through. Meeting people, that is the mainspring of my existence… needless to say that travelling provided the ideal platform for this.
Today, I am being introduced to Marcus who is about to pick up a job at the Auckland War Memorial Museum. A driven man with a vision and a palpable enthusiasm to fulfil his job to the best of his ability. When saying goodbye, it crosses my mind, how lucky a man he is: his career has been given an unexpected twist, which gives him the chance to develop himself to the most. It doesn't take long to make the link to my own life: perhaps I am, just like Marcus, on the eve of a new direction in my life?
Although New Zealand is a lot smaller than Oz, it is still a lot bigger than Belgium. Is that why it doesn't even amaze me any more when Don tells me, it takes more than one hour to drive to his office. The winding road we follow, runs along steep cliffs on one side and deep ravines on the other. Too bad the clouds are hanging so low, making it impossible to take any pictures. When my host tells me that he likes to hit the accelerator, it brings a smile to my face: my brother used to drive a rally car, so when it comes to speed, I am used to something!
Back in Wellington, I am heading to the Ministry of Heritage and Culture since I have a lecture scheduled for the historians working there, reason enough to render me nervous. Well known names such as Glyn Harper, John Crawford and Ian McGibbon are in the audience: all of them being experts in military history. Lecturing to such an audience always sets me sharp: I just want to prove that I know my stuff too!
Yesterday, I ended up in a new family: Elizabeth and John and their 2 lovely teenage daughters, who undoubtedly deserve an award for most active girls in the region: hockey, polo, ballet… they do it all! Fact is that I need to start up a database with all the names of the families which have hosted me over the last 6 months… quite a long list that will end up to be.
A very early start this morning, since I have a lecture in a school in Lower Hutt. A teacher, with the unusual name Corone, collects me in order to take me to this private school. A beautiful building, a disciplined public and grateful teachers: enough for me to leave for Wellington again with a very happy feeling.
Every now and then, I reflect on the past. Two years ago I had no travel experience at all; I knew nothing of that great world surrounding me. My journey has not only proven to be one of many miles, more than that, it has become a journey of emotions. Everyone, who has been in a similar situation, will recognise that it is not all that simple to leave everything behind. It is not all that easy to close the door behind you, knowing only too well that it will never open again. It is quite frightening to come to the realization that suddenly you end up being all alone in the world. Of course I have my children but as long as they can not see that life is more than just black or white, I have to sit back patiently. I can still feel the uncertainty weighing on my shoulders, when realising that from now on, I have to guarantee my own future. At the age of 53 and with no degree, I am very much aware of the fact that the path, I have chosen to walk on, will not always prove to be a smooth one.
For those amongst you, who doubt what life has to offer , I have only one advice: follow your heart. My heart told me that I was dying of loneliness. And no, I have no alternative (although the gossip in the village was that I have someone waiting for me in every country) but I ended up being trapped in a situation, where I had nothing more to lose: either I died a little more from day to day … or ventured to leap from the cliffs, hoping that I could swim by the time I hit the water. I am going for option nr 2 and can now whole heartedly say that I have no regrets.
Enough talk for now. Soon I will take the bus (always a fun exercise to find out which one) to return to the family I am staying with. Provided I can get online, I will upload this story, hoping it can captivate you… Charlotte's story is one of many episodes!
Warm greetings,
Charlotte
Copyright: Charlotte Descamps 2012
0 1 2 3 4 5 - Gemiddelde waardering: 3/5 - (132 Stemmen)

02-08-2012, 00:00 geschreven door charlotteofvarlet