19-06-2010

Inleiding
Dag allemaal,




hier zal je binnenkort mijn belevenissen kunnen lezen. Ieder avontuur dat ik beleef tijdens een reis doorheen enkele vreemde landen.

Je leest dit natuurlijk enkel als je zin hebt en je mag altijd een reactie achterlaten.




deze kaart zal gebruikt worden voor een visuele weergave van de reis, je moet wel even uitzoomen voor je alles kan zien. Hoe dit te verhelpen wordt aan gewerkt, als je suggesties hebt zijn deze altijd welkom:

kaart

dit webalbum zal gebruikt worden voor een andere manier van visualisatie van de reis, dit webalbum is vol. Over een paar weken volgt een nieuw album, ondertussen moet je het doen met de foto's die hier te vinden zijn:

foto's


veel plezier




Toon




Hi all,




soon you'll find here the stories of my trip troughout some foreign countries. You don't have to read this and you are always allowed to leave a comment.




this map will be used for a visual representation of the trip, right now I have some problems with initializing this map so you will have to zoom out yourself. If anyone knows how to solve this problem please let me know:

map

pictures will be available here, this album is full, currently I am not uploading any picturs but a new album will come soon:

pictures




have fun




Toon
19-06-2010, 00:00 geschreven door zoriander
0 1 2 3 4 5 - Gemiddelde waardering: 0/5 - ( Stemmen)

13-06-2012

China part 1
The 20th I took the bus back to Ha noi and then it was time to sell my bike. It served me well and I still think it's the best way to travel. You get to see things that a regular tourist misses. You get to experience the true Vietnam while doing some exercise so if you have the time and you want to fully explore a country: take a bicycle with you. It opens doors!




I sold the bike to a bike travel organization in Hanoi and then booked my train ticket into China. A night train would bring me from Hanoi to Nanning, the train itself was really good and comfortable. I had a softsleeper and I just slept till the border and continued my sleep after the border check. In the morning I woke up in China, ready for the next part of the trip.




In Nanning I was going to couchsurf at an American who was teaching English at the university. She lived on campus so that was ideal for me to get to know the student life and taste the food :P. My host introduced me to her class where I could talk about just anything, so that they would get to hear a different English accent. The students were really enthousiastic and after the class some of the students took me into town.

My host is a fan of cycling so we had a bond and talked a lot, it was very interesting to me. And of course as a teacher she knew lot's of students. And she even had a bible reading group. All new experiences for me! Also in this way I would like to thank her for the great time she gave me.

Some students of the other class took me out to drink after class and soon it became late. Oh and Chinese can't stand much alcohol...




My time in Nanning was coming to an end so after 5 days I went to Guangzhou. 2 days after the Asian games, the town was still ornamented and the parcs were soo pretty. I checked in at the riverside youth hostel; a recommendation is in place. And closeby there is a great noodlerestaurant owned by Muslim. They make great noodles so I went there pretty much all the time.

In Guangzhou there is the possibility to rent bikes from one place to the other like in many european cities. It was really nice to bike from parc to parc and to the expo. There even is a beer museum owned by inbev; something a Belgian can never resist!

The best parc was the sculpture parc, a must see for anyone who goes to guangzhou!!!
13-06-2012, 11:03 geschreven door zoriander
0 1 2 3 4 5 - Gemiddelde waardering: 0/5 - (0 Stemmen)

31-05-2012

rest of the trip
I should write about the rest of my trip, starting with the 19th of november. The problem I have is that I lost all my pictures of the trip except for the ones that are online. The reason why I stopped writing my blog was because of a mixed-feeling experience and because I bought a flight home so there was only limited time left.




19th of november:

in the morning my host took me on a walk around the village with the occasional stop to drink tea at the home of some friends. It was an idillyc town with lots of rice paddies and banana trees. The last stop was at a fisherman's place, there is this river flowing through the town and the people fish there in a special way. They have a car battery in an improvised backpack and then they have to pins connected to it and they electrocute the fish. Saying that the fish doesn't suffer as much as in the traditional way. Pretty impressive to see. (they use rubber boots to keep themselves from being electrocuted).




After breakfast and loading my backpack with some fruits for on the way I headed back to where I came from but first I wanted to visit a mountain village. The problem was that there aren't any on the map so I turned in some sandy roads along the street. Most of them just stopped at one house until I got lucky. A motorbike with some traditionally dressed people passed me. I tried to follow them and it didn't take long before they went in another dusty path. The path went through the river (no bridge), the motorbike had to be manually pushed through so I did the same with my bike. I got off, took the bike on my shoulder and went across. The motorbike was long gone now but there was only one path which went straight up the mountain so I went. Then got tired, but kept going. 2 more motorbikes with traditionally dressed people passed me. They saw that I was getting really tired and they waited behind every corner to see if I was still following and then giggled when they saw me come round the corner. This gave me enough energy to reach the top of the first mountain. I expected to see a village in the valley but there was nothing. The road went a bit down and then up the next mountain. The motorbikes left me while climbing the second mountain. It was really steep, good thing that I didn't do this with my trailer. On the top of the second mountain I got an even better view than I could have dreamt of. It was amazing, straight out of a movie.




About 15 wooden houses with smoke coming out the chimney laid scattered on the mountain flanks, surrounded with fields. When I came closer I saw kids running around with the pigs and chicken. it didn't take long before someone asked me in, the house was build on pillars, below there was a dog, some chicken, a few pigs and hay. In the house there was a part that could be used as a kitchen, an empty space which becomes the bed in the evening and a storage area for dried meat, beans,... My phrasebook came in handy and the camera was a great toy for the people. More and more villagers came to the house to have drinks with me and a chicken got slaughtered. While the wife was preparing the lunch, I followed the man on a trip through his fields, stunning views!




When we got back lunch was ready, it's touching how these people while not having much still share everything with you.

We went for a tour through town after the dinner, it was very interesting, but they were shy and ran away from me.




It was a great experience but when I came back at the main street and wanted to eat some of the fruit they gave me, I couldn't find my pocket knife. I'm pretty sure they took it since all pockets were closed and I left my bag at there house before taking the tour through town. Before that it was still in there. This experienced ruined my day... They said no when I wanted to pay them but then they take my swiss army knife, hmmm....




Soon I will add more stories about china, I left vietnam as soon as I got back to Hanoi...
31-05-2012, 11:52 geschreven door zoriander
0 1 2 3 4 5 - Gemiddelde waardering: 0/5 - (0 Stemmen)

21-11-2010

18th of november
In the morning we went back to the aunt to eat sticky rice and afterwards I left to the bus station so that I could go to the mountains. After some bargaining about the price to take my bicycle I wanted to get on the bus. However somebody pulled a scam on me: I apparently paid the wrong guy and he just took off with my money… I've had to pay some guy around the bus in other cities before but apparently here they are just thieves! I told the bus driver that I already paid the other guy and he called the police. I described the person and as a miracle the police gave me back my money. However for some reason I don't think they caught the thief… Something like this can ruin your morning! I really don't understand it, I've never had any problems like this until I came to the north; there clearly is a difference in mentality. After only 90 km the surrounding nature was so beautiful that I forgot about it. After a mandatory lunch we arrived at Moc Chau (5 hours for 200 km). I wanted to pick up my helmet and my backpack but the helmet was gone! Someone must have taken it while I was asleep; I really don't understand these people. It was attached to my backpack so it couldn't have just disappeared, anyway I checked the entire bus. This was the place where I would need my helmet!




I put my bicycle together again and called the guy where I would be staying for directions to his house. It was 24 km downhill from here. The road was quite steep downhill and the scenery stunning so I drove pretty fast and enjoyed! According to a motorbike who was following me I drove 55 km an hour but I think his speedmeter was wrong it didn't seem that fast… I arrived at a beautiful hut; he lived at a farm filled with banana trees, vegetables and lots of animals. I took a look around before we had dinner: a great meal with 6 different dishes and soup! Afterwards I played a little with the two little kids and then it was time to go to bed. I loved how quiet it was out here.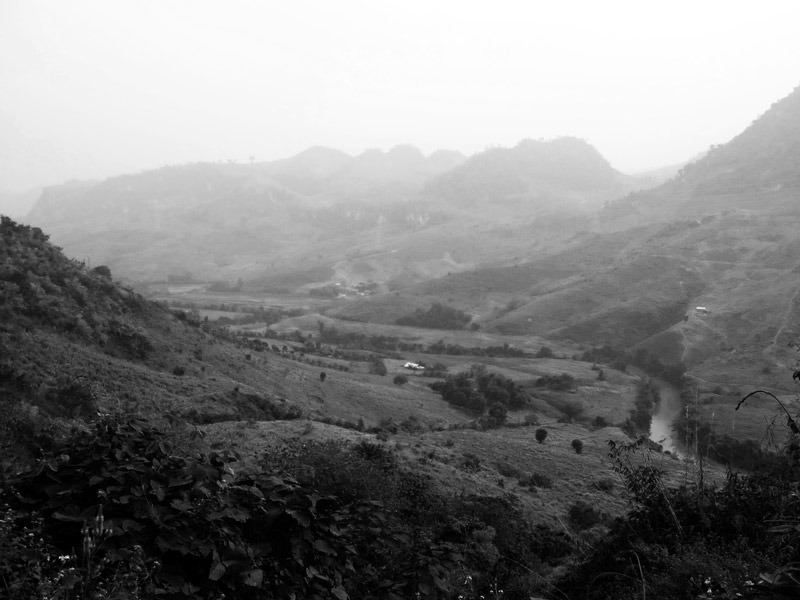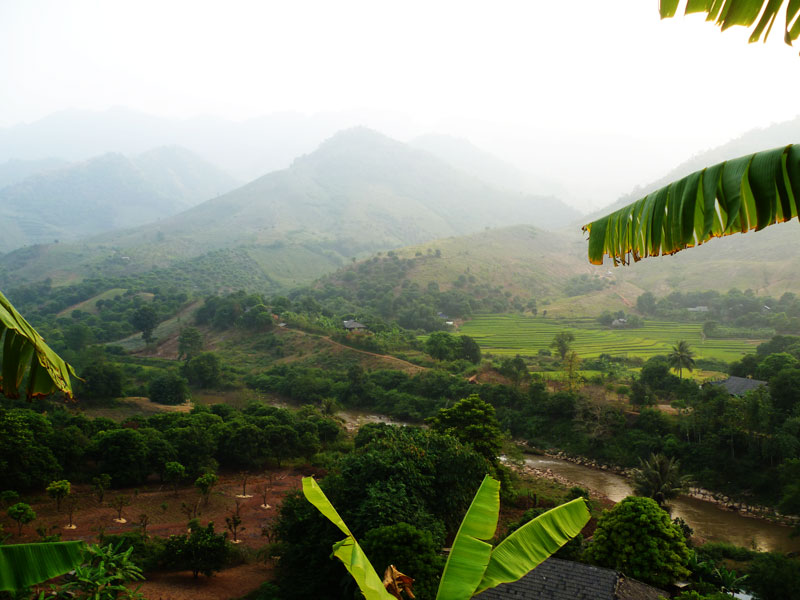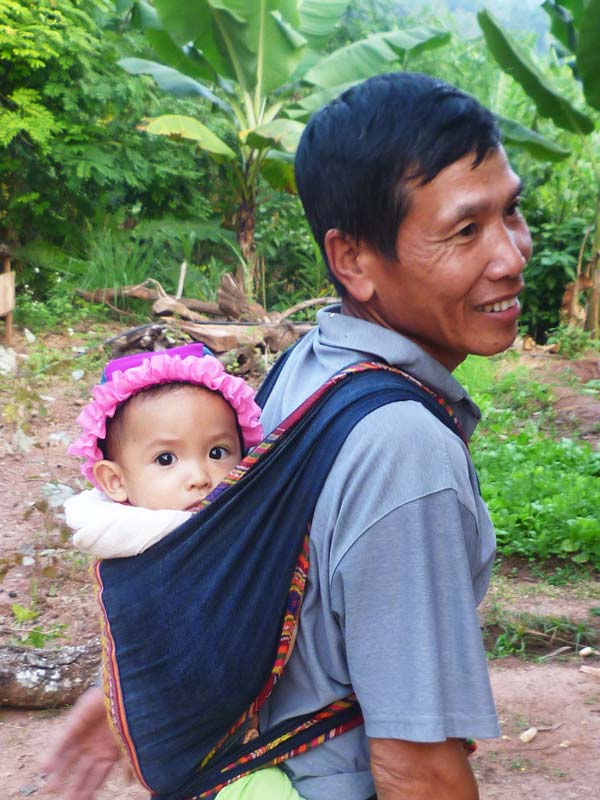 21-11-2010, 07:19 geschreven door zoriander
0 1 2 3 4 5 - Gemiddelde waardering: 0/5 - (0 Stemmen)


17th of november: Hanoi, a busy city!
For breakfast we went to the aunt of Can and had sticky rice, hmm sooo delicious that I ate a double portion! After that I went to check out Hanoi center and look for a bus to go to the mountains. I also came past some people who are willing to buy my bicycle. First I went to a wifi café, then I passed the giant west lake before trying to make my way towards the old city. The small streets of the old city are really charming but it's the perfect scenery for thieves and apparently they are numerous. Everyone I met warned me about them but I didn't have any problem. I learned that the city is really big and the first people sent me to the wrong bus station so I had to go to the other side of the city: 13 km! 13 km of pure racing since it can be really dangerous so I had to keep up with the motorbikes if not pass them. I saw a few accidents but didn't have one myself so I was lucky… At that bus station I got the information I needed: every hour there is a bus to Moc Chau. I went back past the west lake instead of taking the shortest way since I still had some time and I noticed before that it was rather beautiful. There were quite some people on the lake kayaking, some of them were even going very fast.

We had dinner with the 4 of us: Can's little sister, dad and mom. The food was again delicious, I am getting worried about not liking the food when I go home :( .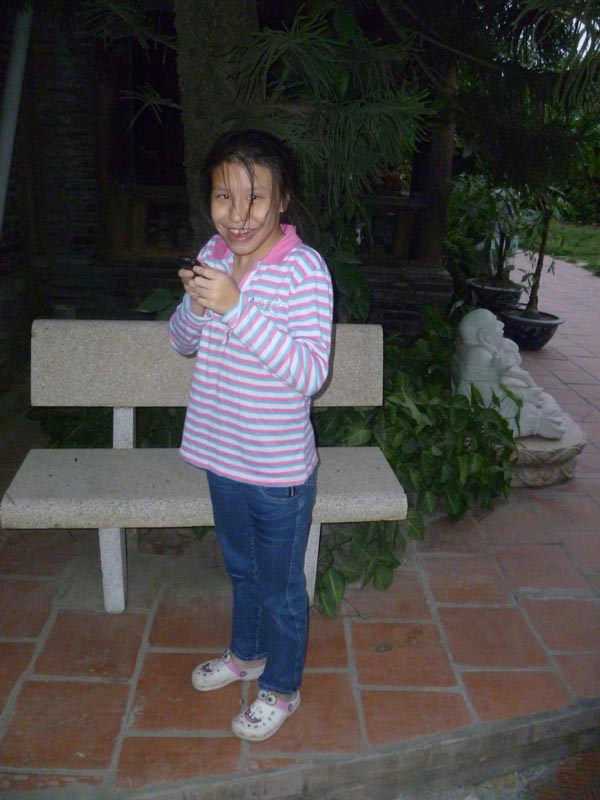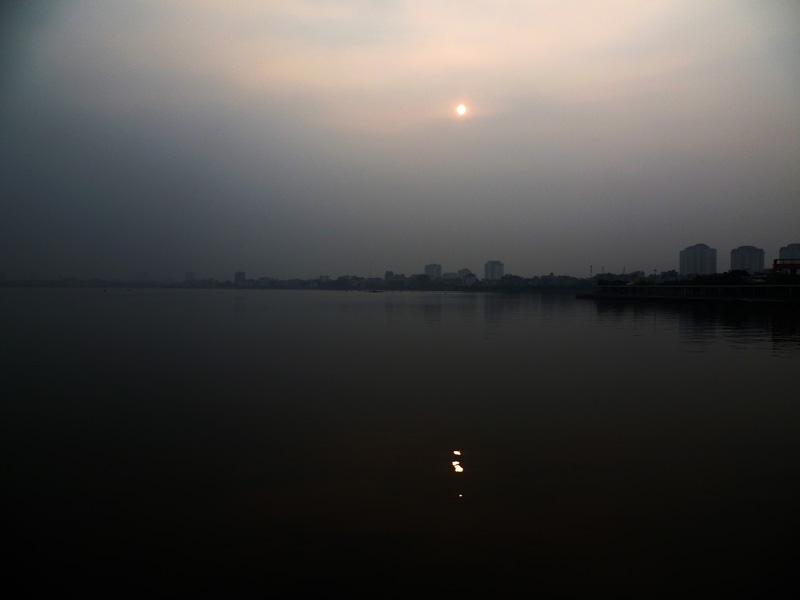 21-11-2010, 07:17 geschreven door zoriander
0 1 2 3 4 5 - Gemiddelde waardering: 0/5 - (0 Stemmen)


16th of november: let's go to Hanoi...
Knowing that it would be my last cycling day with the trailer I wanted to push myself and that worked: I felt full of energy and was racing passed everything. There wasn't much to see around here and I had plenty of water so I only had to stop for food once in a while. At 12.30 I reached Hanoi: 65 km done! Now I still had to find the house of Can's parents which is the total other side of the city. I had to go on the internet to find the exact route description. A few moments later I was making my way through traffic, Luckily I had decided to only take major roads so I had to follow the big road 12 km north. There I was looking for the house, but couldn't immediately find it; Can told me that there was this kind of factory around but nobody knew it. He forgot to mention the name of the restaurant: there were signs everywhere but I didn't know that that was it. After passing it 3 times I decided to go in and ask; I didn't have to ask: they already knew who I was. This was the place where I had to be. They have a lovely garden! His mother prepared a great meal and afterwards we went out to meet the family…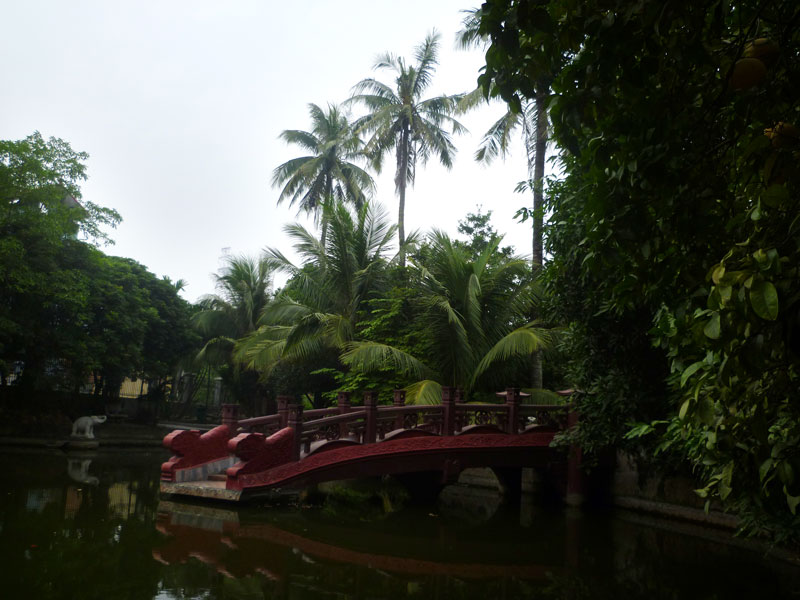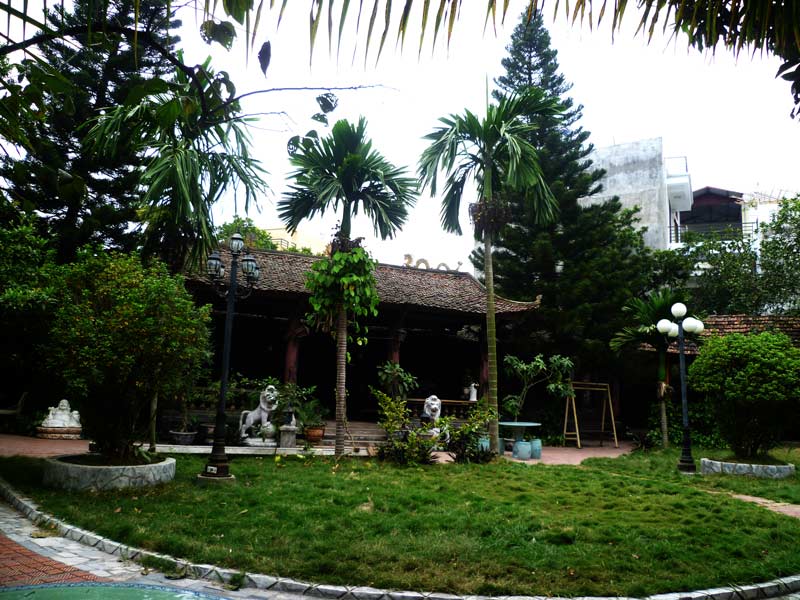 21-11-2010, 07:15 geschreven door zoriander
0 1 2 3 4 5 - Gemiddelde waardering: 0/5 - (0 Stemmen)


15th of november: a day of detours and bad roads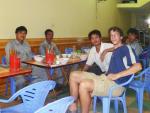 After a short night sleep I had to wake up the owner of the hotel to be able to leave. It's strange that here people don't get up before 7 am while only 30 km away they all get up at 6 or earlier… I arrived at the house that Dong and Sôn pointed out as being theirs but there were other people sitting outside so I texted them and they let me up to their room. I have to say that they are poor: it was smaller than my last place in Leuven and they lived there with 5 people! They had 2 wooden beds, some blankets, 1 rope to hang their clothes, a pipe with some tobacco and everyone had a toothbrush. That was really everything they had! I felt bad about them treating me a beer 2 nights ago (ok, I returned the favour last night but still). We went out to eat Pho at the same restaurant, apparently the owner was really happy that I had been there a couple of times and we didn't have to pay. People can be soo nice!


Anyway time to head out and I packed my bicycle and checked out. But I couldn't leave yet, I met a Canadian who I had met up with for the past few evenings and he wanted to check whether we could do some trekking together in the North-West… We went over some possibilities with the guide and finally I set of towards Hanoi (it was already 11 am so I missed 4 good cycling hours). I wanted to avoid highway No.1 at all cost so that meant going east, then turning onto some small road, which was full of potholes, then going some more east, again north and finally west. Totally shaken up but with quite a good average speed I reached highway No.1 35 km north of Ninh Binh. This was a primary goal but then it wasn't late yet so I continued looking for road 21 B. I couldn't find it so I asked where it was and he said 2 km back. The milestones indicated that it was 7 km back so that was a detour of 14 km! If I had known I would have taken another road… Once on 21 B I forgot all the trouble, it was a very nice road trough the fields on an elevated road: lovely. I soon arrived in the city where I wanted to sleep: 60 km from Hanoi but as it seemed there was no hotel or guesthouse in this city. I couldn't believe my ears: such a big city and no guesthouse or hotel? So I asked for homestays but nobody seemed willing so I had to go back to the previous city. Another detour of 12 km but I found a pretty nice guesthouse.
21-11-2010, 07:14 geschreven door zoriander
0 1 2 3 4 5 - Gemiddelde waardering: 0/5 - (0 Stemmen)


14th of november
I slept long today since I didn't have that much on my planning and it got pretty late last night. I first did some extra research on the internet before going to the restaurant because I have learned that they start serving the daily rice dishes at around 10 am so I went and yes it tasted even better than the evening before since everything was still warm! After a good breakfast I headed towards the touristy sights of Ninh Binh area: Karsts mountains and a few old pagodas. They call this place Halong bay in the rice paddies… When I arrived there were already quite a few tourists around so I tried to get away from them, which didn't work that well, the paths I took always ended in the middle of nowhere so I had to turn back. Finally I found a place where the scenery was nice and where there are no tourists around. Completely surrounded by nature I took my flute and started to play some tunes, the mountains had a nice echo on the high tones… After a while I went to some pagodas, when I drove past the river again it was traffic jam of all the boats with tourists. These boats are pretty interesting to see/ they have a special way of rowing with their feet as you can see below on the picture.


I saw around 50 big busses at the parking lot and it was white from the tourists, unbelievable how many people do the daytrip from Hanoi. Luckily they were all first taking the boat trip so I hurried to the pagodas, which weren't that special at all so not really worth it. It was getting crowded again so I went back still passing one last temple. This temple is said to be a great sunset spot but it was too early for sunset so I didn't go up (they have a pretty big entrance fee and it's said to be not worth the effort if it's not time for sunset). Instead I heard some traditional music from another temple nearby so I went to take a look. There was a ceremony going on which I believe is very interesting and they invited me in to watch. I noticed that it was similar to the one that I had seen 9 years ago and then took for a 'bachelor party' which as I learned is a ceremony for strength and power. It can be done before they get married but it is more general. I watched for a while and listened to the music but it is always the same thing with different clothes so I went back to the guesthouse. I didn't have wifi for quite a long time so now that I have a hotel with wifi I want to use it! For dinner I went back to the same restaurant (the food changes all the time and it tastes good) and met up with Dong, Sôn and the others. We made an appointment for breakfast (anh sang or something similar) at 6 am next morning at their house. In the evening I met some guys from Antwerp and later in the evening a couple from Holland, it was nice to speak dutch again!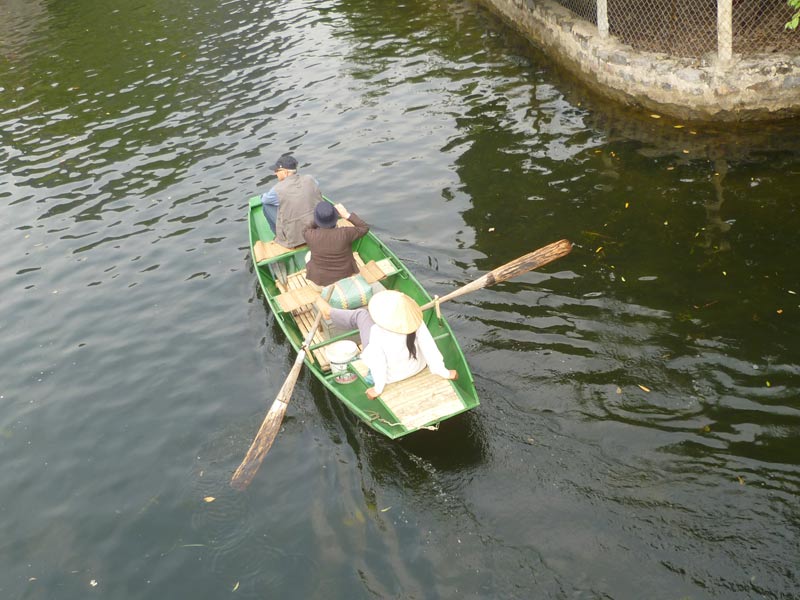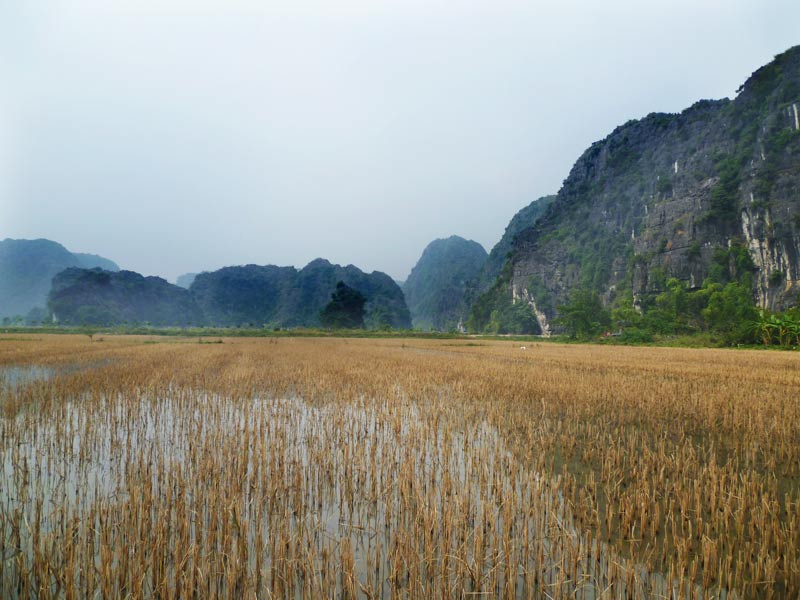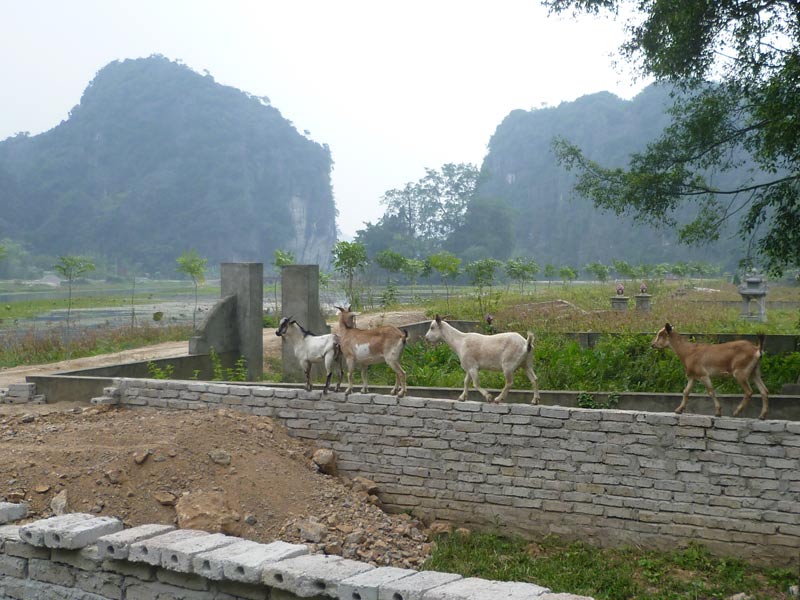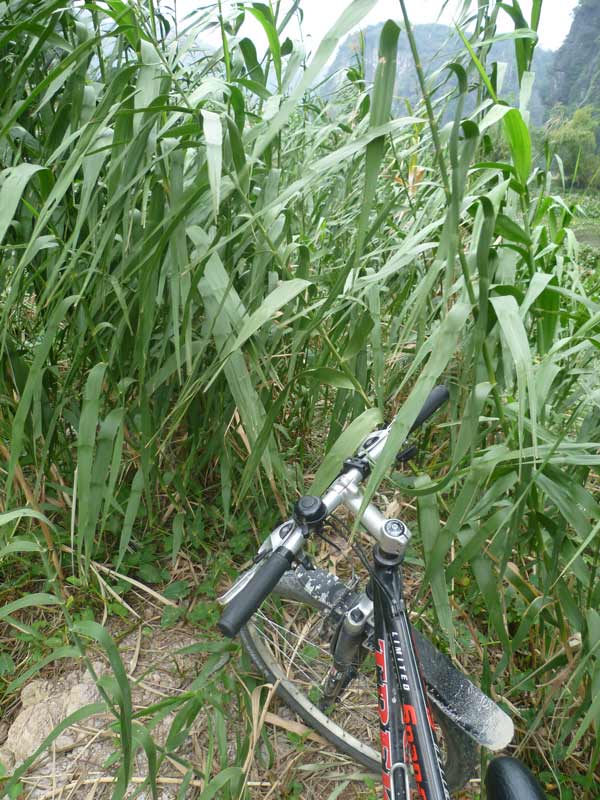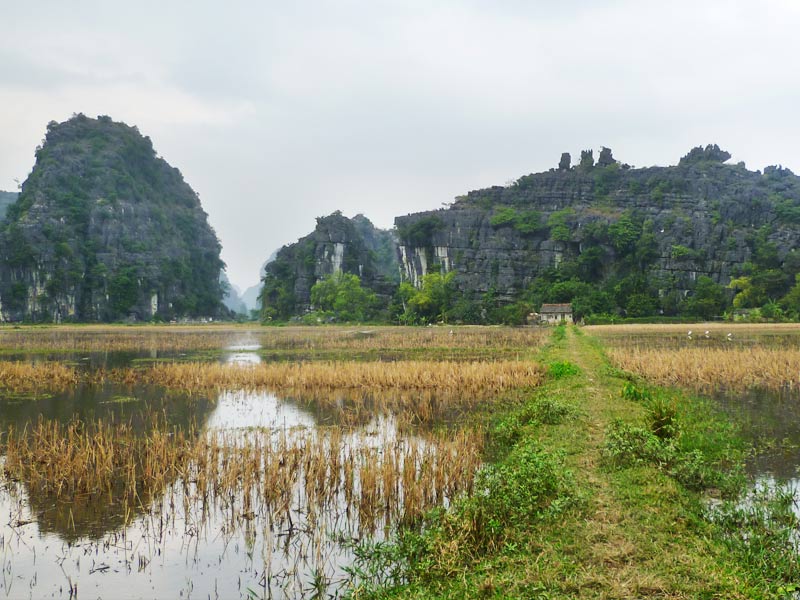 21-11-2010, 07:13 geschreven door zoriander
0 1 2 3 4 5 - Gemiddelde waardering: 0/5 - (0 Stemmen)


13th of november
In the morning I went to Kim Son, there should be a festival out here so I wanted to check it out. It is about 30 km from Ninh Binh but it didn't seem that far: the road was very good and on the way I could see some interesting things: the church (see picture below) was the most interesting. After asking for directions a few times, I arrived at the temple and was right in time for the devotions. I got a book with prayers and after a while I could join a few sentences. 2 hours later, the devotion was finished and they gave me some bananas and sticky rice for lunch. I enjoyed it together with the monks and afterwards they showed me a lock and signed that I had to leave. Apparently that was it, no sign of the swimming competition/ folk games/ folk singing/ … I went to an internet café and checked the website. I asked the owner whether or not this was going on and where it was, he had no clue what it was about (100 m from the temple). I tried to call the tourist information service but they didn't answer…
Anyway I found out that Kim Son is famous for its straw weaving: basketry, carpets and such things. With a new mission I drove through the town, I wanted to learn as much as possible about this weaving and maybe I could get something small as presents? 500 meter further I found some women finishing off the baskets with leather handles. Another 500 meter further I drove past a 'factory' where they were painting the straw but that was it. I wasn't satisfied so I drove into some smaller suburb of the city, apparently the wrong one because there was nothing going on. However I ran into some churches so it was worth it… School was about to start again after lunchbreak and thus I could follow the stream of students into another suburb. This time I found a 'factory' where they were making baskets from scratch, tons of baskets! In the storage rooms thousands of baskets where piled up and you could find them in all sizes and colours. All work was put on pause and they guided me around, which was not good for taking pictures so I kindly asked them to keep on working and not be disturbed by me wandering around. After a glass of tea with the owner I continued my exploration through the straw fields. A bit later I found a lot of straw on a street so I gave it a closer look and found a weaving tool, the owner was on his afternoon nap so I couldn't see him in action :( . A bit further I found some people working again and the entire inner square of the house was filled with straw handicrafts, they invited me in so of course I followed my curious nose…
The people were very nice and we had a 'talk' (with the use of my phrasebook and pen and paper…) with some tea. They had some really nice handicrafts that I wanted to buy but instead of buying them I received them and quite a few more handicrafts. I was invited to stay for dinner but I was 33 km from my hotel so I had to go back before it was dark. Back in Ninh Binh I found a nice restaurant where I enjoyed some rice and met a few locals: Sôn and Dong are the two names that I remember. They all worked in the same company and lived together. I ended the day with some beers and tourists at the guesthouse, finally some decent English. I notice that mine is deteriorating… :(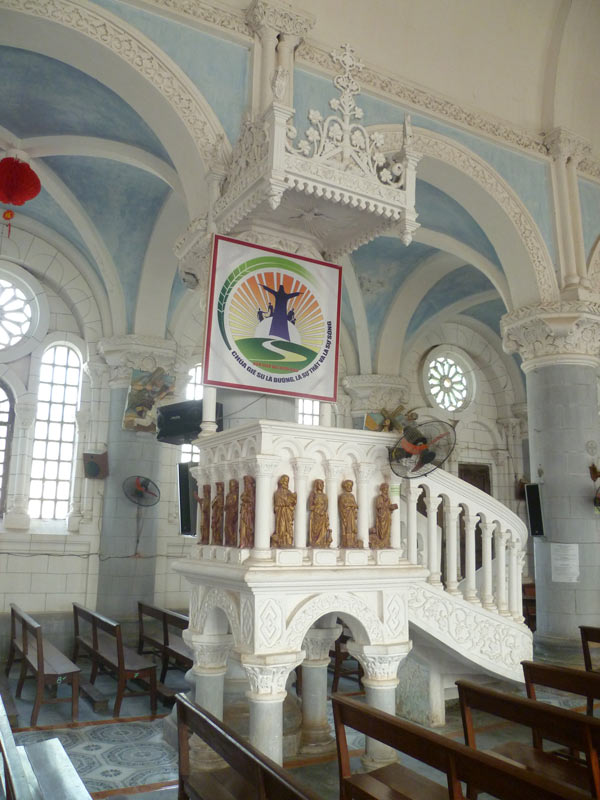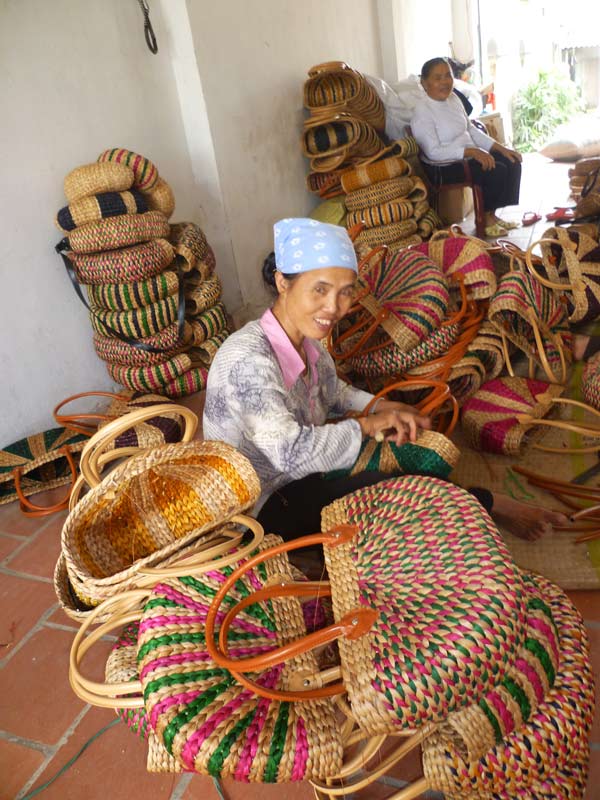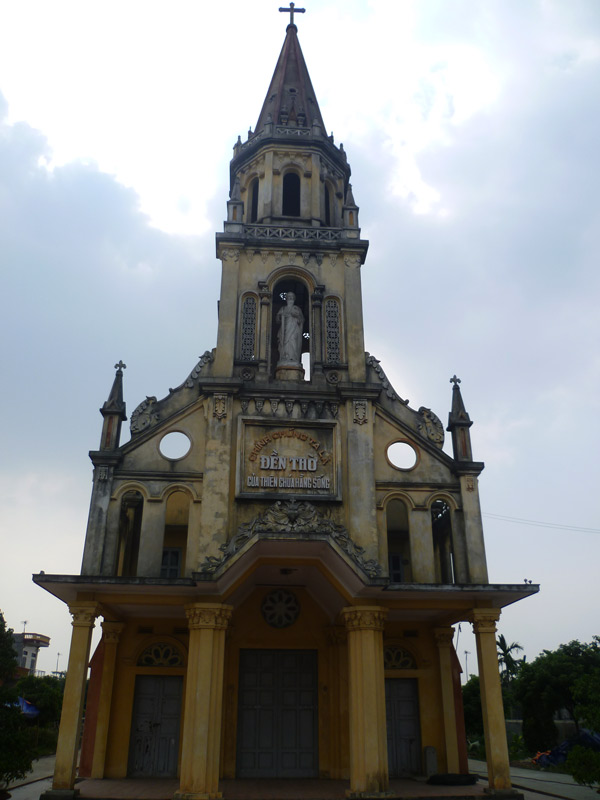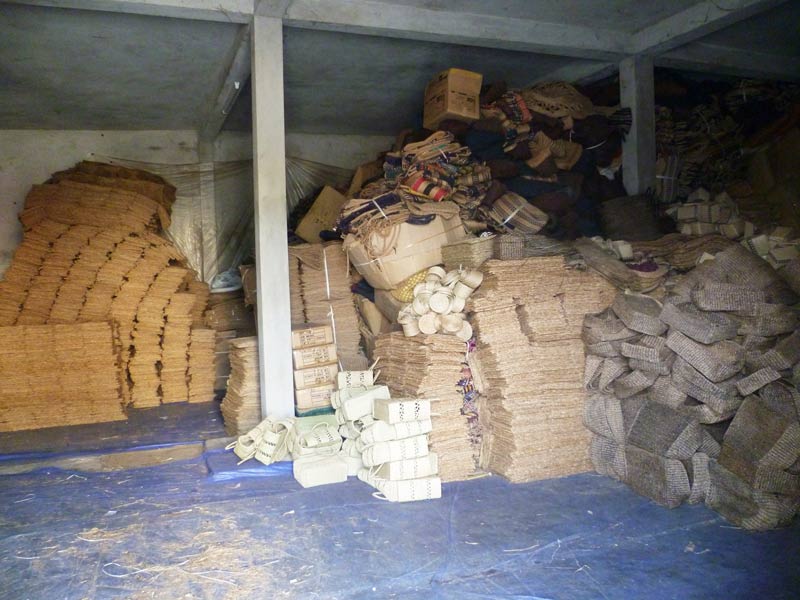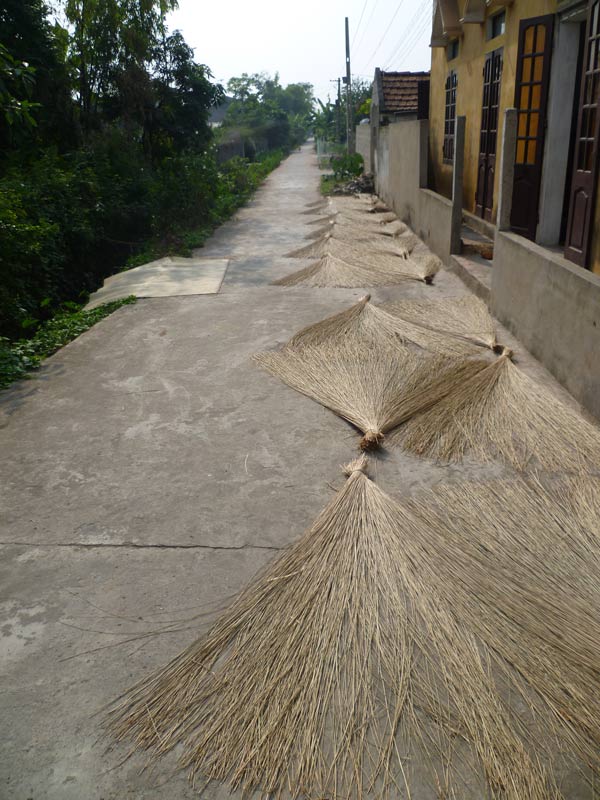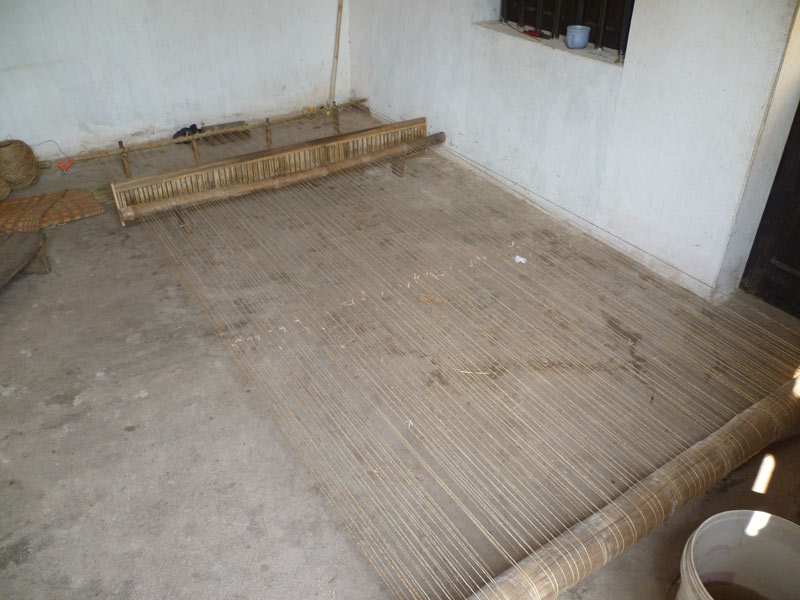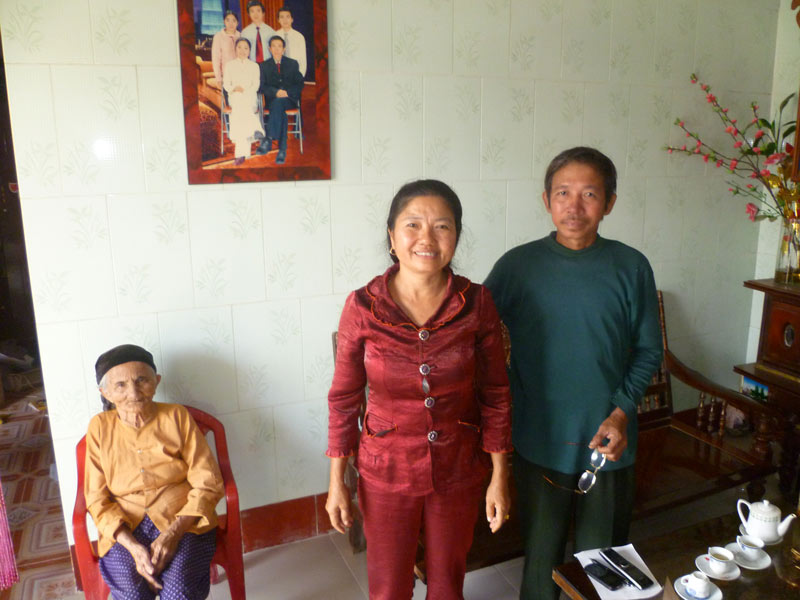 21-11-2010, 07:08 geschreven door zoriander
0 1 2 3 4 5 - Gemiddelde waardering: 0/5 - (0 Stemmen)


12th of november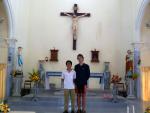 I woke up not knowing that today would be a day that I'll never forget! In the morning I took my usual shower and went for breakfast as I do every day. I had Pho bo as I do most of the time, for dessert I went to get some ice cream in a local store. To my surprise the owner spoke German so we had a little talk; he used to work in germany for 2 years. I was really impressed about his German: it was very fluent and he said that he hadn't used it in 8 years! Anyway this is not the event that I will never forget no, no. After I loaded everything on my trailer, I went to check out; I got my passport back but when I wanted to pay, she returned the money and said that she needed more. I told her that I negotiated with the son and that this would be it, so I put the money on the desk and got on my bicycle. She ran to the gate and locked it so that I couldn't leave; then it happened: she came after me with a knife. Not a table-knife but a big meat-chopping knife and waved it in front of my nose then towards my bicycle and yelled money! I got my coat and my camera (the valuable things in sight; my coat contains my wallet since I have no pockets) and ran for the gate, still being chased by a woman with a knife. I climbed over the gate and ran across the street to the police station; the woman stopped when she noticed that everyone could see her and walked back.




At the police station I encountered a problem: nobody speaks English around here and I had had to leave my phrasebook with my bicycle.

After a few phonecalls with someone that spoke a few sentences English I had my story together and surrounded by a police force I headed back towards the hotel. The gate wasn't locked anymore so we could walk in and I found all my stuff untouched (except for the bicycle; they always mess with my bicycle, luckily it is very durable).

It was now 1 pm and I still had to leave! Luckily I only had 40 km planned and soon I was surrounded by beautiful rock-formations! The rest of the day was a beautiful tour along a good road until I reached highway 1. It's pure evil for a cyclist: a lot, a lot of trucks, busses and cars that constantly honk. I raced along this road and then took a break halfway where I met a guy who wanted to show me around his neighbourhood. He paid for my ice-cream and was really nice so I followed him and met a bunch of his friends in his back yard (he made a phone call after I said that I would go with). They all worked together to make full questions and then asked them to me. I enjoyed the peace and quiet neighbourhood but it was getting late so we quickly visited his church and then I had to go again. In Ninh Binh I had some difficulties finding a cheap hotel or guesthouse but finally I ended up in this 'German-speaking' hotel where I had a very small room but they had wifi and a beergarden. The beergarden is the main attraction and is always filled with Germans! I met some nice people in the evening and got a chance to contact home.
21-11-2010, 07:04 geschreven door zoriander
0 1 2 3 4 5 - Gemiddelde waardering: 0/5 - (0 Stemmen)

E-mail mij
Druk op onderstaande knop om mij te e-mailen.
Gastenboek
Druk op onderstaande knop om een berichtje achter te laten in mijn gastenboek
Rondvraag / Poll
was the fish that kevin saw really 1 meter?