Today she too pictures of my little puppies, laying on their back.
This way you can see clearly the white spot on their breast. She gives them temporarely names, acccording to the form of the spots... or the color of their hair.
So here they are... 7 tiny wonders, after feeding...
I love them so much...

The first born one, was a boy. He is as good as black, so they call him 'Black', but I don't think he will stay that way...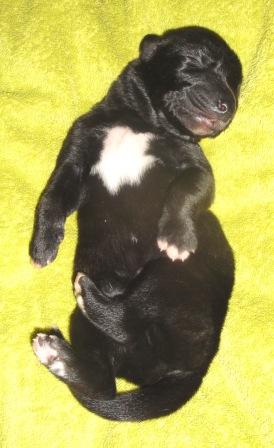 The second one they call 'two crowns', because she has two turnarounds from the hair in her white spot. Later on this spot will start to look like a heart, then they will call her 'little Heart'. (hartje)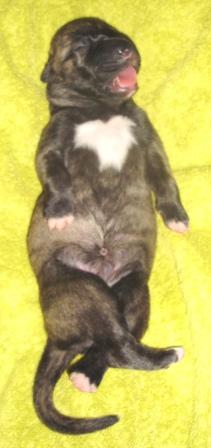 This is quite clear, isn't it? Yes: 'Horseshoe'! A girl.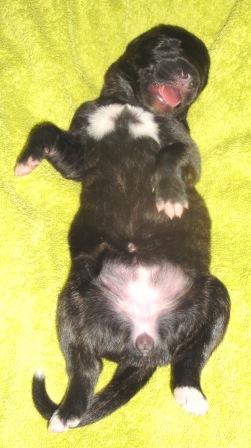 The fourth puppy was another male, with gold all through his coat. So they call him 'Gold'.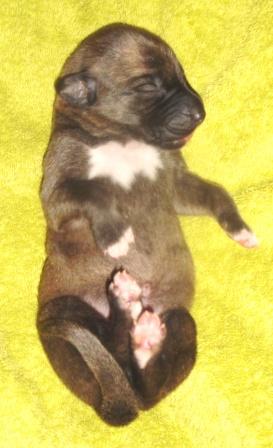 After him came another girl... They say this spot looks like an atomic explosion. Her tempoarely name is 'Atomic'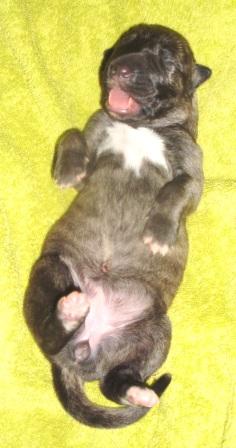 A long triangle, a little spot on her throat... and then they call her 'Snowwhite'???
They explained me this was because she fell into the snow while I was making pipi. In a closed sack she was jiggling on her back in the snow... Maybe they should call her Jiggles, that starts with a 'J', as obliged by our Kennel Club.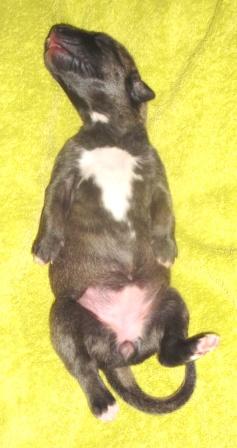 And last but not least, another male with a perfect 7 on his breast. He has been called 'Grey', because this sounds better together with Gold and Black... Enjoy their names, but in a few weeks time, they will get other names... starting with J, minimum 3, maximum 10 letters long.
I wonder how they will call my little loved ones...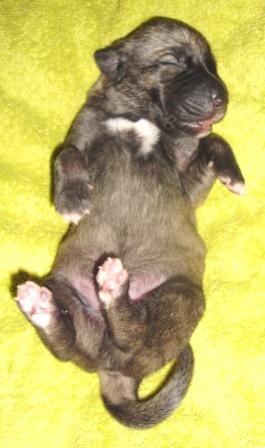 22-01-2010 om 00:00 geschreven door Faith of Beltine
0 1 2 3 4 5 - Gemiddelde waardering: 0/5 - (0 Stemmen)