Irish Blessing:

Like the warmth of the sun
And the light of the day,
May the luck of the Irish
Shine bright on your way.


| | |
| --- | --- |
| Irish Wolfhounds of Beltine | |

Litter from Faith of Beltine and Wolfhouse Umberto

19-02-2010
5 weeks old! A stressy day...
My little sweethearts are 5 weeks old today.
I still feed them, but only if they are carefull with their teeth... So in the morning I decided it's better to wait until they have eaten. Then I lay me down and they enjoy a drink after their meal.
Today was a ver stressy day for them.
Early in the afternoon they had to practice for show... on a table!! I was not allowed to assist...
Later in the afternoon Voltaire came to do the first character-test.
We all know Voltairre since we were born. He has been doing this job for thirteen years now... so, long before I was born. He is a dominant, neutralised Labrador. His destination was to become a Guide-Dog for the blind. Radius Curvus (bended forlegs) changed this destiny, but he still managed to make himself usefull by testing a whole lot of Irsih Wolfhound puppies for more then a decade now. He never fails to recognize the leader of the pack. Of course... it was a girl!!!
The last 6,5 years he has some assistence of an Irish Wolfhound lady, Cwynfyd (Cheeky) of Beltine and 3 little children!
And again, during this test... I was not allowed to assist.


Here they come, in order of birth...
This is 'Black', but don't get him wrong, it's just the name they gave him for the time being, his color is not totally black!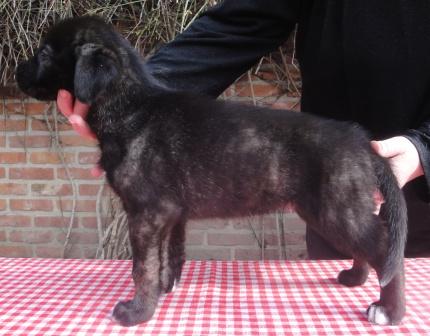 This is a girl, with a white heart on her chest, so they call her 'Heart'.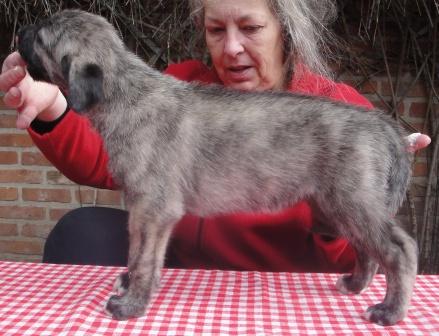 This is 'Horseshoe', yes she als has this mark on her chest.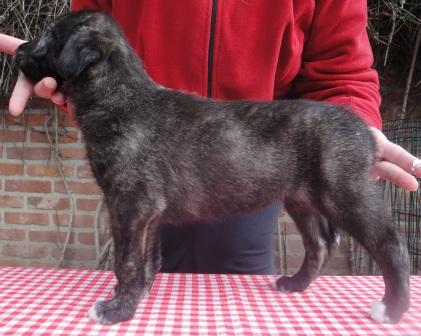 Another boy, 'Gold', because of the golden shine in his color.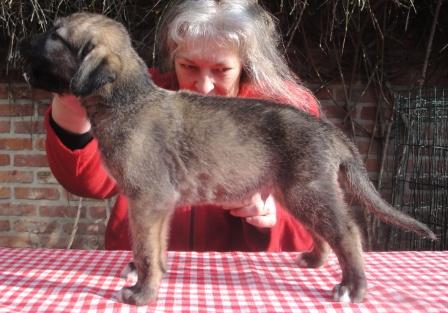 Another girl, they named her 'Atomic'. She has a white spot on her chest that really looks like an atomic explosion...
and... she is without any doubt, the leading lady of the pack.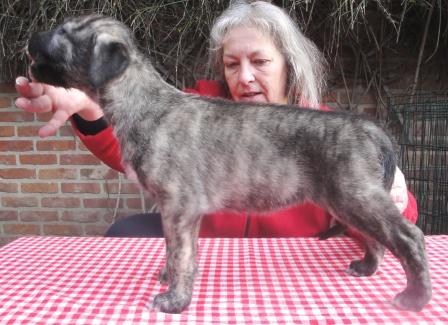 They named this girl 'Snowwhite', not because of her color... because she just fell into the snow when she was born... while I was making pipi outside.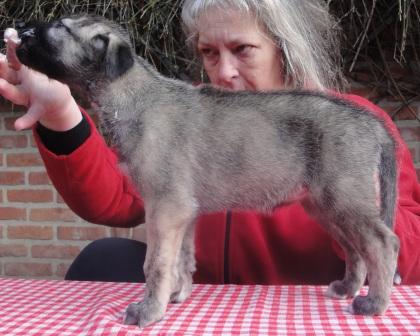 The last one is another boy, they call him 'Grey'.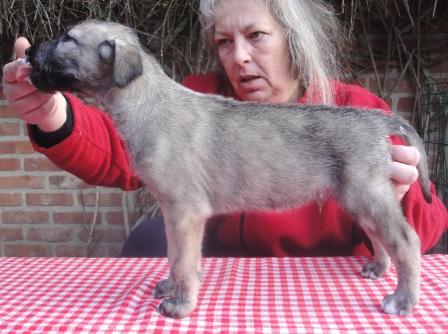 And here we start again, from the other side!!!
Black (boy)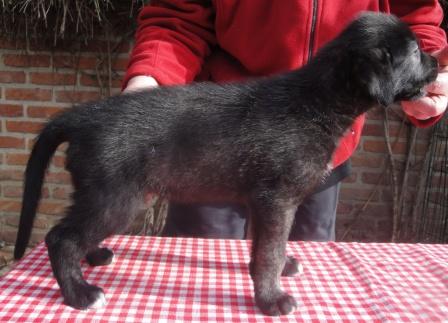 Heart (girl)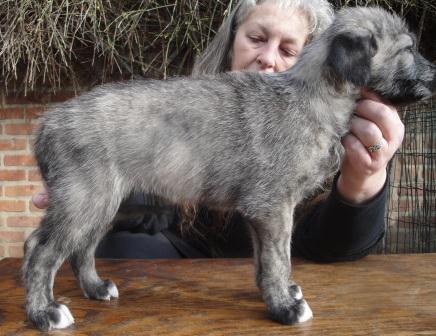 Horseshoe (girl)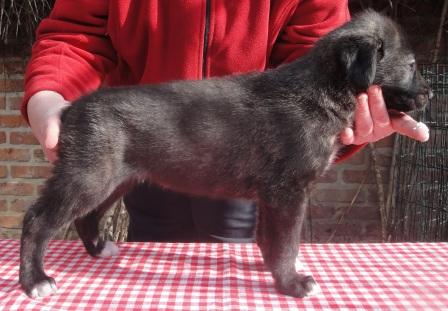 Gold (boy)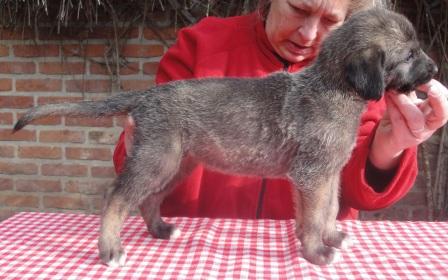 Atomic (girl)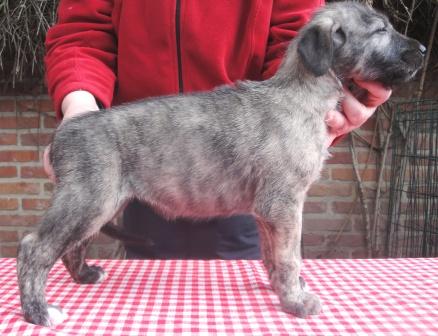 Snowwhite (girl)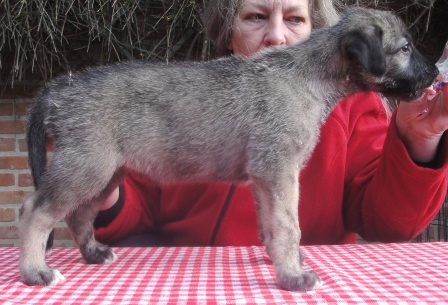 Grey (boy)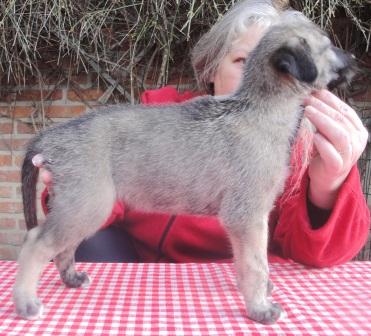 It took some time for them to get these pictures, you can sse why on these examples... Gold didn't want to stand still, unless on 3 legs...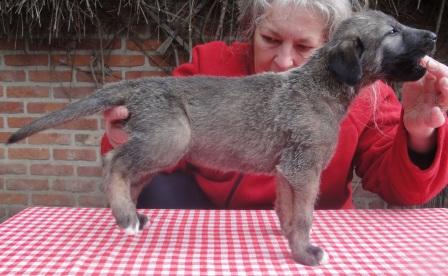 Horseshoe wanted to play and bite...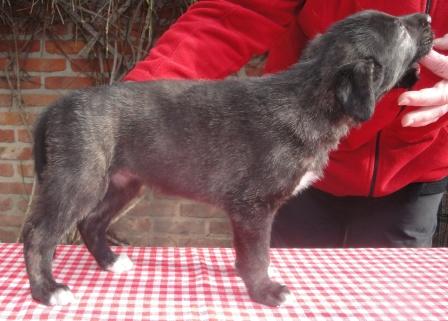 Ianina was a little jealous, so in the end, she was also allowed on the table. She is born on the 4th of November 2009, so 3,5 months now.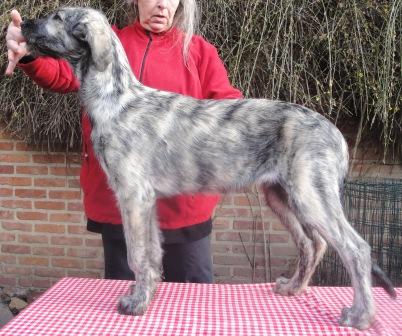 And finally they took a picture of me, breastfeeding for 5 weeks long now...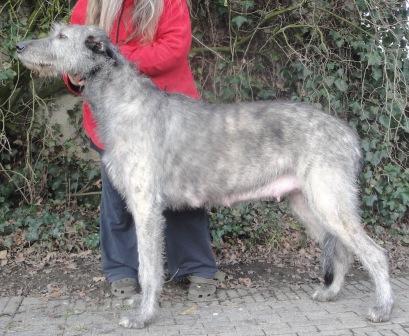 During the time they took all the pictures, they were lucky that Gwen was so sweet to keep an eye on the rest of the puppies... and clean the pipi...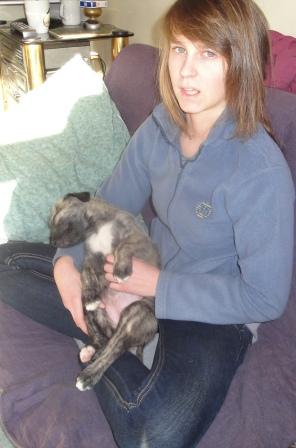 You see how glad she was, when we finished the job?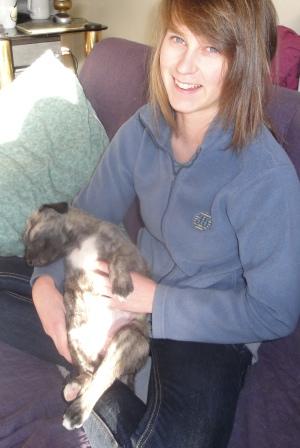 I was very pleased when I was allowed back in the sacred room... and I greeted the photographer with lots of love and kisses!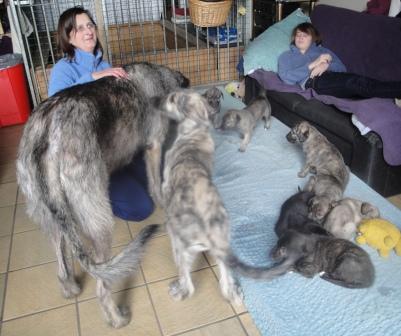 19-02-2010 om 00:00 geschreven door Faith of Beltine
0 1 2 3 4 5 - Gemiddelde waardering: 4/5 - (3 Stemmen)

22-01-2010
May I introduce to you? ... 7 tiny wonders.
Today she too pictures of my little puppies, laying on their back.
This way you can see clearly the white spot on their breast. She gives them temporarely names, acccording to the form of the spots... or the color of their hair.
So here they are... 7 tiny wonders, after feeding...
I love them so much...

The first born one, was a boy. He is as good as black, so they call him 'Black', but I don't think he will stay that way...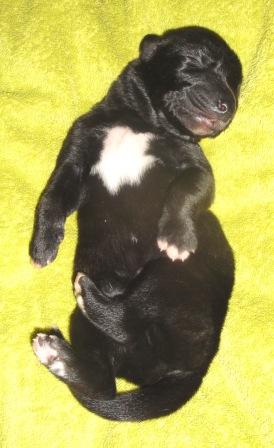 The second one they call 'two crowns', because she has two turnarounds from the hair in her white spot. Later on this spot will start to look like a heart, then they will call her 'little Heart'. (hartje)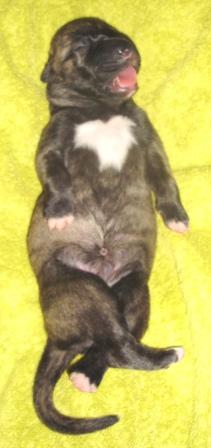 This is quite clear, isn't it? Yes: 'Horseshoe'! A girl.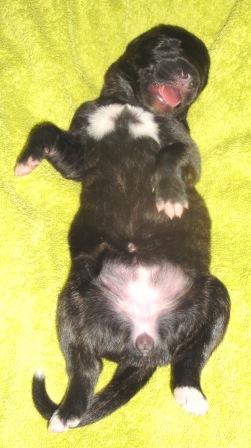 The fourth puppy was another male, with gold all through his coat. So they call him 'Gold'.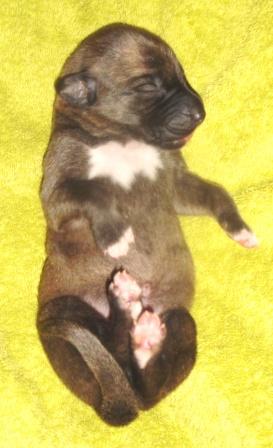 After him came another girl... They say this spot looks like an atomic explosion. Her tempoarely name is 'Atomic'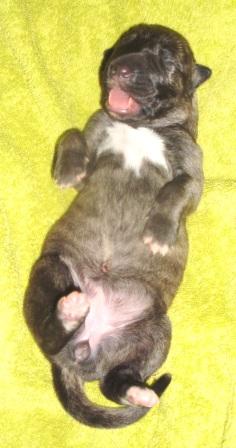 A long triangle, a little spot on her throat... and then they call her 'Snowwhite'???
They explained me this was because she fell into the snow while I was making pipi. In a closed sack she was jiggling on her back in the snow... Maybe they should call her Jiggles, that starts with a 'J', as obliged by our Kennel Club.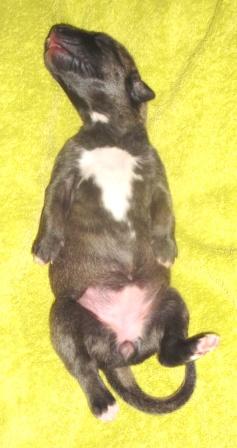 And last but not least, another male with a perfect 7 on his breast. He has been called 'Grey', because this sounds better together with Gold and Black... Enjoy their names, but in a few weeks time, they will get other names... starting with J, minimum 3, maximum 10 letters long.
I wonder how they will call my little loved ones...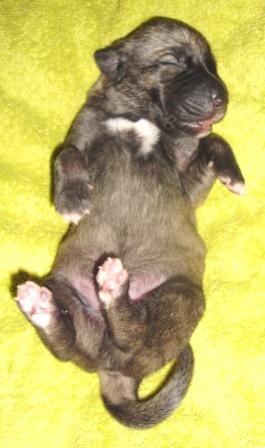 22-01-2010 om 00:00 geschreven door Faith of Beltine
0 1 2 3 4 5 - Gemiddelde waardering: 0/5 - (0 Stemmen)

15-01-2010
In labour.
I didn't feel well this morning, I could only eat half my breakfast.
She knew immediately what that might mean and she left for work with a worried look on her face.
He was sure she was being overanxious again.
Ena was being very sweet. She had a litter last year, I guess she understood exactly how I felt.
When she came home from work she looked at me again with big eyes. Then I overheard her telling him that it might be better to call Icewolf's new owners. They planned to come and get him tomorrow, but she explained to them that they would have to wait, if I was giving birth that day, until all my puppies would be born.
I wanted to skip the evening meal as well, but he did put something special in it, so I forced myself to almost finish it.
Early that evening Icewolf's people came and took him with them, and afterwards he started to prepare my whelping-quarter.
He was convinced I would wait until Sunday to start delivering. I was due for the 18th of January.
She said we could not wait any longer and so I was moved to that special part of the house.
She introduced me to the little light grey whelp from Devlynn and Embassador, the one that would stay with us. They call her Nina.
I didn't like it when she tried to suck, but once she understood I was not just another mother to her, we did get along quite well.
Nina felt something was wrong with me, so she did do her best to support me all night.
She also staid awake, but sometimes she left me for a while to play with her washing- and other machines, which I didn't like at all!
I slept a little bit that night, in between contractions, but only when she staid awake to watch over me.

Icewolf's last evening with Nina...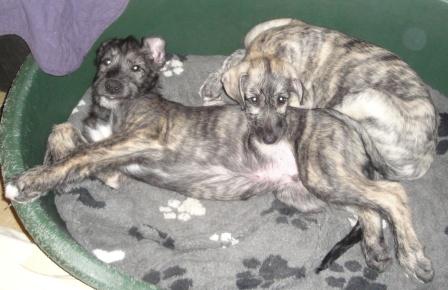 When he was gone Nina cried a little, while they cleaned and rebuild the giant wooden box the other way 'round... and then finally... I could return to my favourite place!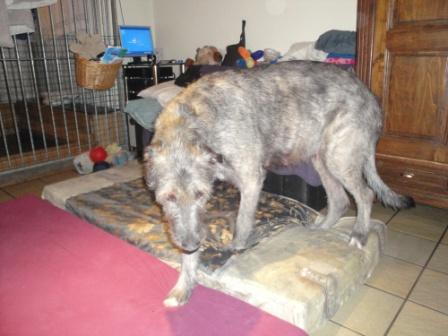 Oh lord, they really want me to share the place with this little one ?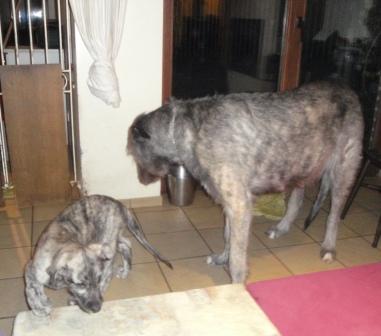 Once I was there I realized I've also had a lot of fun with Ena in the kitchen.. mmm.... indeed a very nice place to be.. you never knew what would come up before your nose, or fall out of the air! But I don't feel hungry now... My belly seems kind of full...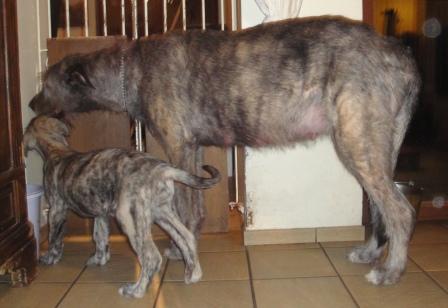 So it might be for the best to get adjusted over here... the little one seems to have respect for adults...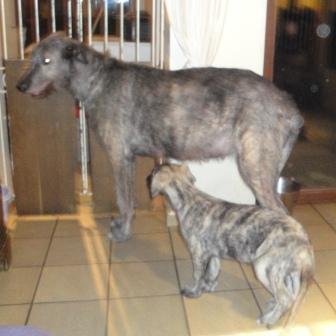 I hope he will keep her on his knees, so I can take a nap... I feel tired...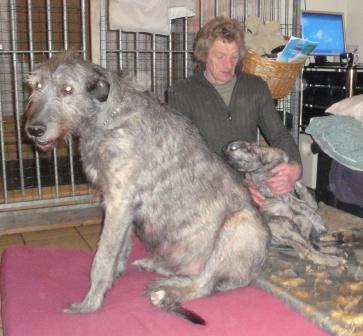 I wonder how long he will be able to keep her, you see him losing his attention? He likes to watch TV....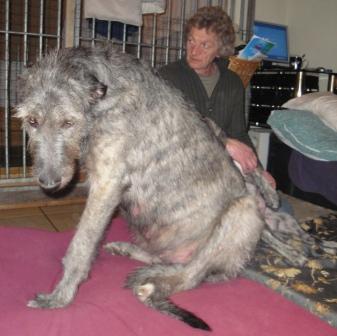 I''l have a chat with the little one myself...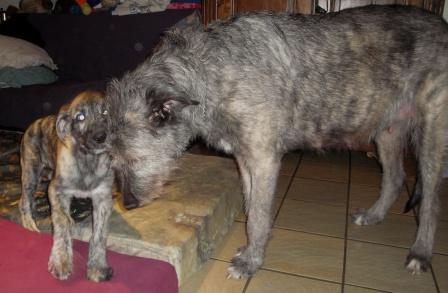 Ok.! She's a clever one! It didn't take her long to understand!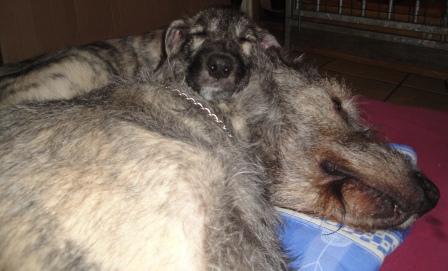 15-01-2010 om 00:00 geschreven door Faith of Beltine
0 1 2 3 4 5 - Gemiddelde waardering: 0/5 - (0 Stemmen)

10-01-2010
Love at first sight!
I was not happy they took me away from Deus and Arttu, just as they finally noticed how beautiful I was. They were following me all of the time, washing my ears, and even my heels... I had a slight preference for Deus, the leader of course...
But, as soon as we arrived in the Wolfhouse Kennel in Denmark and I saw Umberto... I didn't think of them anymore!
I guess you can call it love at first sight. Umberto wanted to run and play just as much as I did...
I must admit I had some problem with him jumping on my back... but hey...
Hmmmm, sometimes I still dream of him... I really liked him a lot, and I believe this was mutual...

Here he is, my loverboy, waiting like a gentleman, because I wanted a drink...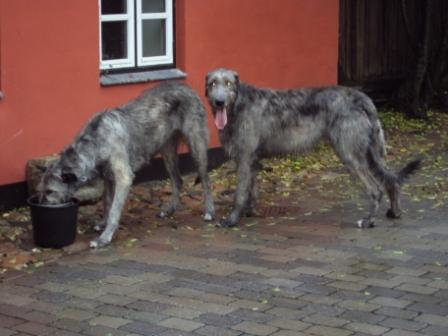 Then I wanted to play some more...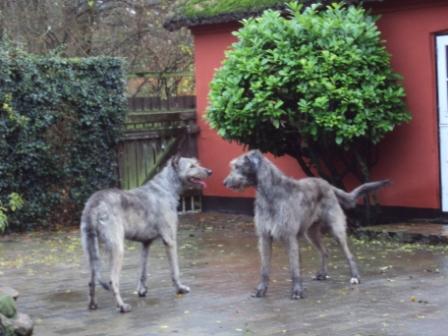 See what I can do with my ears?... only when I'm in a crazy mood... I wanted to impress him. I do hope he still remembers...:oops: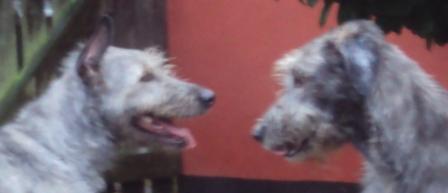 10-01-2010 om 00:00 geschreven door Faith of Beltine
0 1 2 3 4 5 - Gemiddelde waardering: 2/5 - (2 Stemmen)

My name is Faith, Faith of Beltine.
I am an Irish Wolfhound, at least that's what I'm told...
My mother was Zygryn of Beltine and my father Wolfman's Kingscourt.
I grew up with a lot of other Irish Wolfhounds and I have many Irish Wolfhound friends as well.
I also like most human beings and some really make me jump from joy!
If they don't want to bend over to caress me, no problem, I will jump on their shoulders to help them get to me!
I like driving, but she always claims the driver's seat. I know the way to all places we attend to regurarly. I always tell her when she picks the wrong direction, but... sometimes I believe she's really stupid.

Two months ago they took me away from home and drove for hours. They already left in the wrong direction, so it was impossible for me to get them on track again. Besides, Luc, a friend, was driving, and he did not seem willing to obey me.
After driving for hours, they stopped and taklked to a man in a cage. He gave them a paper and we drove a little bit further. A few people started waving at us... but we drove by... on a narrow bridge and then inside of a long room, filled with cars. I had never seen anything like that before.
They took me out of the car, telling me 'not to make pipi'... strange, usually they want me to do it straight away when they take me out of the car...
I learned to climb the stairs, take an elivator, and when they took me outside, I discovered we were surrounded by water!!!
So they took me on a boat?
Half an hour later we started driving again, for some more hours.
In the middle of the night we stopped in the dark... in the rain... They begged me to make pipi... but, hey... if you don't need to... how can you?
They arranged the car inside and I enjoyed the soft bed and the company and tried to sleep. I wonder if they also managed to sleep???
They looked quite tired in the morning, complaining about the space I took...

Hey, I didn't ask for all this.... But I must admit... if I knew what was going to happen... I would have begged for it !
In the morning we drove again, a very short while and.... There he was : A handsome young man, a Danish Irish Wolfhound, and... he liked me just as much as I liked him!!!!!!!!!!!

10-01-2010 om 00:00 geschreven door Faith of Beltine
0 1 2 3 4 5 - Gemiddelde waardering: 3/5 - (8 Stemmen)


| | |
| --- | --- |
| | |
Guestbook
Push the button below to leave a message in my guestbook. I will enjoy reading it!
E-mail mij
Druk op onderstaande knop om mij te e-mailen.