30-12-2012
House of Hardcore Students At TNA Live Event


House of Hardcore is a recently launched wrestling promotion owned and operated by former TNA talent Tommy Dreamer. Dreamer revealed on his twitter page that his students are helping out at the TNA houseshow in New York. He tweeted ;




Quote

My @HouseofHardcore students r at TNA in Poughkepsie NY setting up ring doing security paying their dues. Proud of them. Enjoy the show
30-12-2012 om 20:16 geschreven door jefken
0 1 2 3 4 5 - Gemiddelde waardering: 0/5 - (0 Stemmen)

29-12-2012
Uitslagen smackdown 28 december

Thanks to Eric "Blade" Haber of Monday Night Mayhem for sending in this report.
WWE Smackdown for December 28:
* Show opens with Sheamus calling out Big Show. Big Show tells Sheamus he comes up short when it counts the most. Booker T announces that a random drawing will take place tonight to see who will face Big Show. Santino's name is picked. Santino's music hits and he never comes out. Big Show heads to the back.
* Brodus Clay def. Epico.
* Backstage, Sheamus is giving Santino tips to beat the Big Show tonight. He tries to teach him how to use the Brogue Kick and Santino hurts himself.
* Wade Barrett, Damien Sandow and Cody Rhodes def. WWE Intercontinental Champion Kofi Kingston and WWE Tag Team Champions Kane and Daniel Bryan.
* Backstage, Booker T says Santino is out. He promises a title match tonight and picks another random name. Booker says Big Show will find out who it is later tonight.
* Backstage, we see that Ricardo Rodriguez is the one who gets the shot tonight against Big Show. Big Show shows up laughing, puts his belt on Ricardo and demands Ricardo announce himself as the new champion. Big Show then knocks out Ricardo. Booker T is upset.
* WWE United States Champion Antonio Cesaro def. Zack Ryder.
* Dolph Ziggler w/ Big E. Langston and AJ Lee def. The Miz.
* Backstage, Booker T is still upset. Brad Maddox wants another opportunity. He gives him one last chance tonight. Alberto Del Rio shows up and is upset about what happened to Ricardo. Booker T makes Del Rio vs. Big Show tonight for the title.
* Sheamus def. Brad Maddox.
* The Usos def. The Prime Time Players.
* WWE World Heavyweight Champion Big Show vs. Alberto Del Rio ends when Big Show tries to walk out and Sheamus tosses him back in the ring. Del Rio with a kick to Big Show and Sheamus finishes him off with a Brogue Kick.
29-12-2012 om 20:34 geschreven door jefken
0 1 2 3 4 5 - Gemiddelde waardering: 0/5 - (0 Stemmen)

Update sin cara mysterio and orton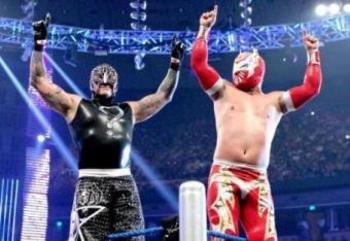 Randy Orton and Sin Cara are expected to be back in action at tonight's WWE RAW tapings from Washington, DC to air on New Year's Eve. Orton has been out with a dislocated shoulder while Cara had minor knee surgery. No word yet on Rey Mysterio's status but there are people within WWE who insist he is injured while others stick to the story that he's still dealing with major personal or family issues.

29-12-2012 om 15:57 geschreven door jefken
0 1 2 3 4 5 - Gemiddelde waardering: 0/5 - (0 Stemmen)

Former WWE Tough Enough Star Making Her MMA Debut


Former WWE Tough Enough Star Making Her MMA Debut
Posted by Steve Carrier on 12/29/2012 at 09:13 AM
- The following press release was sent out:
DECEMBER 28TH,2012-Chicago, IL Fight Card Entertainment looks to shock the MMA world & the wrestling industry with the signing of former WWE star Ivelisse "The Huntress" Velez to make her MMA debut at FIGHTCARD48:RUTHLESS.
The Puerto Rican native, Velez has been wrestling in the independent circuit for years from Puerto Rico, New York and all over Chicago. She was turned onto MMA with a local gym & home for 2011 Team Fighting Champions "Team 110″ literally around the corner from where she lived in Chicago in 2010. "I was totally hooked. Don't get me wrong, wrestling is an intense & brutal training regiment but in there with Coach Franco & Team 110, it's a whole another world." Velez states.
After several months of MMA training, "The Huntress" was slated to make her fight debut at the end of 2010 when the pinnacle wrestling company, the WWE, came calling . Velez would be side by side with big names as Stone Cold Steve Austin & Trish Stratus as a contestant on WWE's reality show Tough Enough. She was quickly signed with WWE in November 2011 and took on the role under "Sofia Cortez" that most relates to her as the "anti-diva".
" I didn't want to be known as a pretty face. I've busted my ass all these years to prove to everyone I'm a wrestler not a model."
Although wrestling in big shows in Florida due to relocation, Velez's new passion of MMA still held her attention. "I would always have (Muay Thai) mitts with me or first chance I get to hit the bag, I was there. On nights of wrestling events, I'd warm up hitting mitts sometimes." Velez stated. Ivelisse would also train from time to time at Gracie Fighter in Tampa to continue to work on her ground game.
In August 2012, Ivelisse Velez was released with unknown reasons from the WWE and although still wrestling on other shows, looked to get back to her original plan of stepping in the cage and reached out to the one promotion that really made an impression, Fight Card Entertainment. "I've always respected Brian and Fight Card Entertainment. When I was living in Chicago, I went to their shows, went backstage and never pressured into anything or asked for anything. In the wrestling industry and I'm sure in the MMA industry, the talent is always treated like a piece of meat. I didn't get that from them." Velez responds about FIGHTCARD
Although an opponent has not been announced yet. Ivelisse looks to train hard and go out and give it her all. FIGHTCARD48 is scheduled on Saturday March 2nd, 2013 at the 2200 seated venue Cicero Stadium with the expectancy of a SOLD OUT show. No other match ups are announced but a Light Heavyweight 4 Man Grand Prix for the vacant title will kick off. Stay tuned and mark your calendars for the biggest crossover event to take place in Chicago.

29-12-2012 om 15:52 geschreven door jefken
0 1 2 3 4 5 - Gemiddelde waardering: 0/5 - (0 Stemmen)

28-12-2012
Uitslagen tna impact wrestling 27 december

TNA Impact Wrestling Results - 12/27/12


We look back at the last several weeks as Aces & Eights targeted Kurt Angle and got involved in last week's World Title match between Jeff Hardy and Austin Aries, which ended because of interference from Bobby Roode.

Bully Ray starts the show off by saying it's no secret that he and Hulk Hogan don't get along, but he wants to know what it'll take to earn Hogan's trust. He has nothing but respect for Hogan, but he wants to call him out here, not to fight, but to talk. Hogan's music hits, but Brooke comes out to the ring instead and tells Bubba that her father isn't here. She tells "Mark" that he knows, Bubba asks how he knows and she says she's not sure, but she says this isn't where to settle it. She says they need to talk to Hulk privately so she can show her dad that Bubba's the man she knows he is. "Mark" steps out of the ring and walks off, Brooke comes after him to try and talk, but the annoying TNA cameramen won't get out of their faces so they just walk off.

It's Open Fight Night, and that means that any challenge has to be answered no matter what! Austin Aries comes out to the ring (apparently just missing Bubba and Brooke in the back on his way out) and says he's going to make this short and sweet. Everyone saw that he had Hardy beat and that he should be the TNA World Champion right now, but the man he's about to call out screwed him, and that's Bobby Roode. Aries says he can't be mad at him because he did the same thing to him and now they're even. But tonight, they're going to settle things in the ring like men and see who deserves to be the World Champion and who deserves to face Jeff Hardy for the title. They're not going to do it right now because the only place Austin Aries and Bobby Roode should be wrestling is in the main event, and since this is the last main event of 2012, let's take the two greatest wrestlers in the universe to determine who will take out Jeff Hardy once and for all. Great promo!

Samoa Joe comes out and says he came here to pick a fight, so since Aces & Eights likes to send someone out to hit people in the head with a hammer, he's going to see how hard he hits face to face and calls out the big masked man from Aces & Eights so he can choke him out and take his mask off.

Samoa Joe vs ??????

Joe jumps the big man as soon as he gets in the ring, pummeling him with punches and kicks and nailing him with a leaping enziguiri. Joe goes for the mask, but the big man sticks his thumb in Joe's eyes and runs him over with a clothesline. The big guy puts Joe over the middle rope and gives him the Boss Man Straddle for 2, then goes to a rear chinlock. Joe escapes and dodges a charge, then sits the big man on the top rope and goes for the Muscle Buster. The big guy blocks, but Joe hits a Manhattan drop, a running big boot, and a back senton. Joe gets the rear naked choke right in the middle of the ring and the big man goes out.

Winner: Samoa Joe

Joe motions that he's going to take the hood off, but the rest of the gang runs in and Joe hits the bricks. Aces & Eights makes angry faces at Joe as he backs his way up the ramp.

Robbie E and Robbie T are backstage and they get into a confrontation with Jesse Godderz. Robbie E says that since tonight is Open Fight Night, they should have a Bro Off. Okay.

Kenny King is backstage telling Christian York that he's impressed with the way he came in and took it to everyone because it's so much like the way he came in. He knows Rob Van Dam is going to call someone tough out tonight, so he tells Christian to watch and take notes. King walks off and York shakes his head and wonders where they find these guys.

Robbie E and Robbie T come out to the ring where E tells us that it's Open Bro Night, and he's calling out the fake Robbie E, Jesse Godderz. He tells Jesse to get out here so he can show him what it's like to be a real bro. Jesse comes out and tells E that he can refer to him as Mr Pectacular, but E reminds him that this is a Bro Off, and there's three rules in a Bro Off: 1)it's every Bro for himself, B)everything he does has to end in a bro. Since E is the Bro veteran, bro, he's going to go first, bro, so he tells the DJ to hit his music, bro.

Bro Off: Robbie E vs Jesse Godderz

Robbie E's music hits and he dances. E tells Jesse to top that, Bro. Jesse's music hits and he does his Chris Masters posing routine while Tara drools and fondles him. Jesse tells E that this is how you Bro Off...dude. E says it wasn't as bad as he thought it'd be, but there's two problems: it's bros not hos (meaning Tara), and number three is that Jesse is automatically disqualified because he ended with dude instead of bro, Bro. So the winner of the 2012 Bro Off is...wait a minute, Robbie T grabs the microphone and says there's one more bro to go. T flexes to Jesse's music, but then some new music hits and he does back rolls, one armed pushups, and pumps his fist at the crowd. Jesse and Robbie E's jaws are on the ground as he takes the microphone out of E's hand and goes "BRO!" T walks up the ramp as Jesse, Tara, and E stare at him in shock.

Winner: Robbie T

Rob Van Dam is backstage, and he's...WALKING!

Rob Van Dam comes out to the ring and says that his efforts have obviously elevated the X Division, and this next X Division competitor is having everyone rave about his moves and his athleticism, so come on out to the ring...Christian York! We see backstage as King looks shocked that RVD didn't pick him, and York does an in your face at King and comes out to the ring for...

X Division Title Match: Rob Van Dam vs Christian York

They go back and forth right off the bat with a fast paced exchange, RVD goes for the stepover leg lariat but York counters to a half nelson suplex. York hits a flying headscissors that sends RVD out to the floor, then quickly rolls him back inside and comes off the top rope with a missile dropkick. York hits a rolling neckbreaker on RVD for a close 2, RVD whips York to the corner and goes for the rolling monkey flip, but York drills him in the face with a knee to block the move and goes up top and hits a double stomp to the back of RVD for another close 2. RVD dodges a charging cannonball in the corner and counters a flying headscissors to a side suplex. York kicks out of a split legged moonsault at 2, but RVD follows up with a springboard thrust kick and then Rolling Thunder. RVD goes to the top rope and hits the five star notebook splash for the win.

Winner: Rob Van Dam

We go to the Aces & Eights clubhouse where Devon again says that the guy he has in mind tonight is a prima donna, but can be a big help to the group if they decide to bring him in. Doc comes in with a couple of girls and Devon asks him if he thinks they'll do for tonight.

We then check in on Joseph Park's progress at OVW where Park says he came from a long line of fighters like his brother Chris and his great grandfather Jebediah, who fought George Hackenschmidt in a bare knuckle fight and almost won. Danny Davis says he doesn't want to crush anyone's dream, but he sucked except when he got that nosebleed and went nuts last week. If he can channel that, he's on to something because it got his attention.

Christopher Daniels and Frankie Kazarian are at the merch stand seeing that they still have no merch there even though they have Kurt Angle shorts. The annoying cameraman asks them what their plan for tonight is, and they made their usual evasive answer before dumping AJ Styles' t-shirts in the trash.

We look back at last week when Hulk Hogan told us to vote for TNA's Wrestler of the Year, then Bobby Roode says that he knew Aries would call him out because he's so predictible. He's going to beat Aries and then go on to Genesis to beat Hardy for the title like he should have at Final Resolution.

By the way, Sting is coming back on 1-3-13 and he wants Doc!

Christopher Daniels comes out to the ring and says that he knows they told the fans that he and AJ Styles were doing it one last time at Final Resolution, but they really meant one last time until the next time. He gives the fans what they want, so he's calling out AJ Styles! Frankie Kazarian comes out dressed like AJ Styles and does a dead on impersonation of him where he says he'd love to fight Daniels one more time, but he knows he can't beat him. Daniels beat him with his own Styles Clash, and he's just some dumb hick from Georgia and Daniels is from Cali-frickin'-fornia. This has been the worst frickin' year of his life, so he's going to go find Claire Lynch, but Daniels interrupts him and says that nobody wants to see that. He apologizes to the fans for not giving them Styles vs Daniels one second last time, but they can feel free to worship them now. Chavo Guerrero Jr and Hernandez come out and say they can make fun of people having a bad 2012, but Chavo and Hernandez had a pretty good 2012 since they beat them for the TNA World Tag Team Title. They're going to finish 2012 with their foot up Daniels and Kazarian's rears. They enter the ring, the bell rings, and we're off!

TNA World Tag Team Title Champions Chavo Guerrero Jr & Hernandez vs Bad Influence

The champions tear right through Daniels and Kazarian, with Hernandez hitting a splash on Kazarian for 2. Daniels tags in and he gets ping ponged between the champions before Hernenadez pops him up into an overhead release suplex. Daniels is in the wrong part of town as Chavo stomps him down and Hernandez chokes him from the floor. Hernandez comes in and hits a splash in the corner on Daniels and then backdrops him almost to the moon. Daniels begs for mercy as we go to commercial.

We're back and Chavo is dumping AJ...er, I mean Kazarian to the floor as Hernandez has Daniels up in a really long delayed vertical suplex. Hernandez tackles Kazarian off the apron and then clotheslines Daniels out to the floor. He quickly rolls Daniels in and goes for a slingshot shoulderblock, but Kazarian pulls Daniels out of the way and Hernandez crashes and burns. Now Hernandez is in trouble and Bad Influence tag in and out while working the big man over. Daniels and Kazarian hit a series of double teams and repeatedly go after Chavo to draw him into the ring and prevent Hernandez from making a tag. Hernandez finally shoves Daniels across the ring and hits a Pounce to create some space and make a tag to Chavo, who comes in and cleans house on Kazarian. Chavo with a flying headscissors and a big monkey flip, followed by a tilt-a-whirl backbreaker for 2. Chavo with his uncle's Three Amigos on Kazarian, but Daniels and Kazarian hit a Hart Attack on Chavo for 2. Hernandez comes in and dumps both of them to the floor and the champions take them out with stereo dives, then Chavo rolls Kazarian inside and hits a slingshot rolling senton for 2. Kazarian goes for AJ's springboard forearm, but Chavo dodges and hits a top rope frogsplash for the win.

Winners: Chavo Guerrero Jr & Hernandez

Jeff Hardy is backstage telling the cameraman that he has all the respect in the world for Aries and Roode in the ring, but no respect at all for them outside the ring. Revenge is coming real soon, but he'll enjoy watching the two of them beat the hell out of each other tonight.

Gail Kim comes out and says she knows exactly who she's calling out. 2012 was her year and she was the longest reigning Knockouts Champion until someone came along and scored a fluke victory. She's ready to end that chapter and erase those memories before she regains her gold in 2013, and she's calling out Miss Tessmacher.

Gail Kim vs Miss Tessmacher

Gail goes right after Brooke's arm, but Tessmacher gets a quick jackknife rollup for 2, then dodges a charge in the corner and unloads with forearms and stomps in the corner. Brooke gives Gail a stinkface, then knocks her to the floor when Gail tries to roll to the apron to escape. Brooke rolls her right back in but gets caught with a DDT, then Gail hits a back suplex for 2. Brooke blocks a top rope Frankensteiner and she gets Gail in a hanging Dragon Sleeper on the top rope, then releases Gail and wipes her out with a top rope clothesline for 2. Gail catches Brooke with a boot to the face and whips her to the corner for the charging crossbody. Now Gail rubs her ass in Brooke's face and goes for another back suplex, but Brooke converts it to a bulldog. Brooke nails Gail with a series of running clotheslines and forearms, then nearly turns Gail inside out with a Frankensteiner. She mounts Gail in the corner and goes "OH YEAH GAIL UH UH UH" while humping her face. What a sense of humor that Brooke has. Brooke hits an inverted bulldog and then goes to the top, but takes so long that I just know whatever she's going to try won't work. Indeed, Gail rolls out of the way of Brooke's top rope elbowdrop and hits Sole Food for the win.

Winner: Gail Kim

Austin Aries is backstage, and he's...WALKING! Bobby Roode is also backstage, and he's...ALSO WALKING!

Bobby Roode vs Austin Aries

Roode takes Aries to the corner and tries a right hand, but Aries ducks out of the way. Aries says it's cool, then they tie back up and do some mat wrestling. They end at a stalemate and Roode tries for a handshake, Aries takes it and they both kick each other in the gut. Roode hits the ropes and Aries tries a leapfrog but appears to hurt his knee. Roode says he's not buying this crap, and he kicks Aries in the knee and tries a spinning toehold. Aries kicks Roode off to the floor, dances around to show that the knee is fine, and he gets ready to try a dive to the floor, but Roode pops back in the ring and they go nose to nose. We go to commercial, but not before we go INSIDE JEFF HARDY'S HEAD!!! He's at ringside surrounded by animals (as he says) as he watches two men who don't deserve to challenge for the World Title.

We're back, and Roode and Aries are trading back rakes until Roode gets a vertical suplex. Aries dodges a kneedrop and then dropkicks Roode's knee out from under him. Roode dodges an elbowdrop, and this match is so even that I just know they're going to do some kind of draw and make it a three way at the PPV. Roode goes for a superplex, but Aries blocks and they box each other's ears repeatedly on the top rope, then thumb each other in the eyes before going back to boxing their ears. Aries finally gets three ear boxes in a row to knock Roode off the top, but Roode dodges a missile dropkick and tries a spear. Aries sees him coming and hooks him into the Last Chancery, but Roode goes to the eyes to escape and gets Aries in a Crippler Crossface. Aries goes to Roode's eyes to get out and they trade punches and chops, Roode begs for mercy and tries a rollup with his feet on the ropes. The referee sees and stops the count, and Roode takes too long arguing with the referee and allows Aries to roll Roode up with a handful of tights. The referee sees again and stops the count, and Roode hits a spinebuster for 2. Roode tries to use a chair on Aries, but the referee takes it away and opens Roode up to a roaring forearm from Aries that gets 2. Now Aries gets the chair and the referee takes it away, so the referee finally has enough and loses his mind yelling at both men that he's sick of this crap. Aries and Roode look at each other and then hit stereo kicks to the referee before dumping him out to the floor. They share a brief look of satisfaction before racing each other to the chair. Jeff Hardy's music hits, and he comes in through the crowd and lays out both men. Hardy's music is playing, so I guess we'll call this...

NO CONTEST











28-12-2012 om 15:34 geschreven door jefken
0 1 2 3 4 5 - Gemiddelde waardering: 0/5 - (0 Stemmen)

Uitslagen roh 22 DECEMBER


Ring of Honor on Sinclair
December 22, 2012
Report by: Jason Namako of Wrestleview.com



Hello everyone and welcome to this week's ROH on Sinclair recap. If you all are ready, then let's get on with the show!

Its a "Best of" show this week, as Kevin Kelly welcomes us to the show in the ROH studios.

Kelly says this week we will see the 3 best matches to air on ROH television this year.

We kick off by looking at the storied rivalry of Davey Richards & Eddie Edwards throughout 2011 with clips of their 2 matches at Best in the World & Final Battle of last year.

We now go to their 3rd match that took place this past June on ROH television.

From the June 9th edition of Ring of Honor on Sinclair in the "Die Hard Challenge": "American Wolf" Davey Richards vs. "Die Hard" Eddie Edwards

Both men adhere to the Code of Honor as the bell sounds to kick off Richards-Edwards IV. Lock-up and both men each jockey for position in the lock-up before Richards backs Edwards in the corner and breaks clean. Another lock-up and Richards with a wristlock. Edwards spins out, kips up and reverses into his own wristlock. Richards spins out, does a cartwheel and then takes Edwards down with an overhead wristlock takedown. Edwards with a headscissors to counter, but Richards kicks out of that. Edwards with an armdrag, but Richards then with one of his own. Edwards misses a chop, Richards then gets a kick blocked by Edwards, then both men go for kicks and catch each other's foot and we are at a stalemate as they release each other's foot and back away.

Crowd chants for Edwards as they lock-up again. Richards with a hammerlock, then switches to a snapmare takeover, but Edwards slips out and gets Richards in his own hammerlock. Richards backs Edwards into the corner and Edwards is forced to break the hold. Edwards breaks, but then Richards with an Irish whip. Edwards then goes up & over, followed by a front kip-up. Richards charges, but Edwards takes him down. Edwards goes off the ropes, Richards leapfrogs, but then when Richards goes off the ropes and Edwards tries his own leapfrog, Richards catches him in mid-air with a spinning heel kick. Richards then starts playing to the crowd, especially the fans who were chanting for Edwards beforehand. Edwards goes out to the outside as Richards begins to get a head of steam. Richards charges, but Edwards slides back in the ring. Edwards goes off the ropes, but Richards comes back in the ring and nails Edwards with a boot to the head. Richards goes off the ropes, but Edwards slides back out to the outside. Richards goes out after him, but again Edwards slides back into the ring. Edwards then goes off the ropes and as Richards gets onto the apron, Edwards nails him with a running Yakuza Kick, sending Richards off the apron and crashing hard into the barricade. The crowd continues to chant for Edwards as he goes to the outside. Edwards with a series of chops to Richards around ringside, then sends him back into the ring. Edwards then hits a running kick, almost a version of a Shining Wizard, for a close nearfall. Irish whip by Edwards, but he runs into a boot by Richards. Richards goes up to the middle rope, but Edwards nails him with an enziguri. Edwards goes for the Chin Checker, but on the way down, Richards grabs a hold of Edwards' arm and turns it into a cross armbreaker. However, Edwards is able to get his feet onto the ropes to force Richards to break the hold.

Edwards rolls out to the apron as Richards goes out after him. Both men exchange kicks & chops, until Richards gains the advantage with his kicks. Richards goes for another kick, but Edwards catches his leg and nails him with a pair of chops. Edwards goes for another chop, but this time its Richards who catches Edwards' hand, then grabs a hold of his other arm and proceeds to do an arm whip, sending Edwards' shoulder that was in the cross armbreaker previously, to land square on the apron. Richards walks around the ring as the crowd boos him and points at Corino on commentary, almost sending a message to Kevin Steen. Edwards is writhing in pain on the outside as we go to commercial.

Commercial

Back from commercial as Richards props up Edwards on a chair at ringside and begins to unload with a series of kicks to Edwards' injured arm & shoulder. Richards with another kick to the shoulder, then goes back in the ring as this is a completely different Davey Richards than what we are used to seeing. Richards continues to mock the crowd who is cheering for Edwards as Edwards is still down in pain on the outside. Edwards tries to get back in the ring as the fans, through digitized blurring, are showing Richards what they think of him. Edwards rolls back in the ring, but Richards goes right back on the attack, with an elbow to the injured arm, followed by a hammerlock and finally a back suplex while Edwards' arm was still in a hammerlock position. Richards gains a nearfall, then hooks both of Edwards' arms in a unique manner and then proceeds to bridge backward, putting all of Richards' body weight onto the arms of Edwards. Richards breaks, then stomps the arm before hooking in the Thames Barrier (reverse Short Arm Scissors). The crowd wills on Edwards as he is able to get Richards' shoulders on the mat, while still in the hold, for a nearfall. Richards then hammerlocks Edwards and sends him shoulder first into the top turnbuckle. Richards continues to have words with the crowd and even a dirty look for the referee before Edwards begins to fight back with a pair of chops. However, Richards comes back with an arm wrench, followed by a pair of elbows to the shoulder of Edwards. Richards with another elbow to the shoulder, then goes for a suplex, but Edwards drops down to a knee to block it. Both men jockey for position to get the other over for a suplex until Richards tries to take Edwards down, but Edwards rolls through it. However, Richards comes right back with a kick to the gut, followed by an Irish whip. However, Edwards reverses it and then when Richards tries to do a handspring move, Edwards catches him and hits a reverse Falcon Arrow and now both men are down.

Both men get back to their feet as Edwards charges, but runs into a boot by Richards. Richards charges, but Edwards nails him with a chop. Edwards goes off the ropes, but Richards catches him with a kick to the chest. Richards charges, but Edwards sidesteps him and sends Richards through the ropes and to the outside. Edwards then gets a head of steam and nails Richards with a tope dive that sends both men crashing into the barricade. The crowd is fired up as both men are down on the outside, with Edwards clutching onto his injured shoulder. Edwards is able to get to his feet first and sends Richards back into the ring. Edwards heads up top and then connects with a front missile dropkick on Richards for a close nearfall. The crowd continues to chant for Edwards as he nails Richards with another chop. Edwards with a pair of chops, but Richards fights back with a series of kicks to the injured arm of Edwards. Richards with a spinning back kick to the gut, but then misses a spinning roundhouse as Edwards then hooks both of Richards' arms and hits a Tiger Suplex for another close nearfall.

Edwards can't believe it, but then goes to head back up top. Richards is able to get back up and stop Edwards on the ropes with a left-handed gut shot. Richards then goes up with Edwards and hooks him in a Kimura. Edwards fights out with gut shots, followed by knocking Richards off the ropes with a series of headbutts. Richards then comes back with a kick to the head and then goes back up with Edwards. Richards unloads with a flurry of headbutts to the back of Edwards' head while doing damage to himself in the process. Both men are now on the top rope as Richards hits a superplex, followed by holding on to the front facelock and finally hitting a Falcon Arrow back into the cross armbreaker on the injured arm of Edwards. Somehow, Edwards is able to escape the hold by getting to his feet and then locking Richards in the Achilles' Lock. However, due to the damage done to Edwards' arm, he doesn't have the hold completely cinched in and that allows Richards to reverse out into the Ankle Lock. Edwards is able to kick off Richards to break the hold, but then both men nail each other with running boots to the head. Both men nail each other a 2nd time, then Richards comes back by hooking Edwards with a flying armbar right in the center of the ring. Edwards gets to his feet and tries to hook Richards in a Jackknife Pin, but Richards rolls through and then hooks both of Edwards' legs for a nearfall. Edwards then reverses into a pin attempt for his own nearfall. Richards then with a Jackknife pin for a nearfall. Then, Edwards counters into another pin attempt for another nearfall. Edwards now with his own Jackknife Pin for a nearfall, but then Richards bridges out and turns it into a backslide for a close nearfall.

Edwards with a chop, then goes off the ropes, but Richards throws him up and nails him with the Alarm Clock kick on the way down. Edwards then comes back with a superkick, followed by Richards nailing him with a spinning roundhouse kick, followed by Edwards drilling Richards with a chop to the face, followed by Richards turning Edwards inside out with a discus clothesline and both men are down. The referee begins his 20 count as the crowd is fired up, enjoying what they are seeing. The crowd wills on Edwards as he begins to get back to his feet. Both men get back to their feet as Richards then charges, but he runs into a boot by Edwards. Edwards heads back up top, but Richards again stops him with a left-handed gut shot. Richards with a chop, then goes back up with Edwards. Richards setups for a super rana, but Edwards lifts him on his shoulders and hits a super fallaway facebuster. Edwards then hits the C.Y.F.(Chop Your Face), but Richards just barely kicks out. Edwards goes back up top once more and this time leaps off, going for a double stomp, but Richards moves out of the way as Edwards lands on his feet, clutching his leg. Richards with a wheelbarrow roll through back into the Ankle Lock in the center of the ring. Richards is yelling at Edwards to tap as the crowd wills on Edwards, who is trying to crawl to the ropes. Edwards kicks Richards off again, but the momentum sends Richards off the ropes, where he proceeds to drill Edwards with the running kick to the head. All of a sudden, Richards goes out to the apron and goes for the running kick on someone, who turns out to be Jimmy Jacobs, but Jacobs is able to duck. Richards heads up top, but Jacobs hops up the apron and Richards kicks him off.

Richards leaps, going for a front missile dropkick, but Edwards catches Richards' feet and then hooks him in another Jackknife Pin for the victory.

Winner: "Die Hard" Eddie Edwards by pinfall (Jackknife Pin)

Jacobs does the "Shhh" signal with a sick smile on his face as Edwards does not know what happened. Richards & Edwards adhere to the Code of Honor after the match and Richards raises Edwards' hand.

Back in the ROH studios, Kelly mentions that at last week's Final Battle iPPV, Richards & Edwards reunited as the American Wolves and hypes up the iPPV replay of Final Battle on ROHWrestling.com.

Kelly also hypes up the next ROH television tapings on January 5th, back at the Du Burns Arena in Baltimore, Maryland.

We then see a clip from the "Brew City Beatdown" show back in July where in that show's main event was a crazy brawl between The Briscoes against ROH champion Kevin Steen & Jimmy Jacobs that saw Mark Briscoe jump off a balcony in the venue into the ring, splashing Steen through a table in a moment that has to be seen to be believed.

Commercial

Back from commercial and before our next match, we see video of the 1st 2 matches between "The Prodigy" Mike Bennett and Canadian wrestling legend Lance Storm at Showdown in the Sun and Border Wars this year,