23-09-2012
McIntyre Comments on Stable

McIntyre Comments on Stable
Posted by Steve Carrier on 09/23/2012 at 12:14 AM
- Drew McIntyre, Jinder Mahal and Heath Slater have apparently formed a new stable on SmackDown, seen on Friday night's episode. Slater referred to them as a "band" while McIntyre is using the nickname Encore. McIntyre tweeted Saturday night:
"We are damn sick of the same song and dance in the WWE, if you feel the same and want a new track then lets hear you scream for an #Encore"

23-09-2012 om 17:10 geschreven door jefken
0 1 2 3 4 5 - Gemiddelde waardering: 0/5 - (2 Stemmen)

Velvet Sky still with TNA?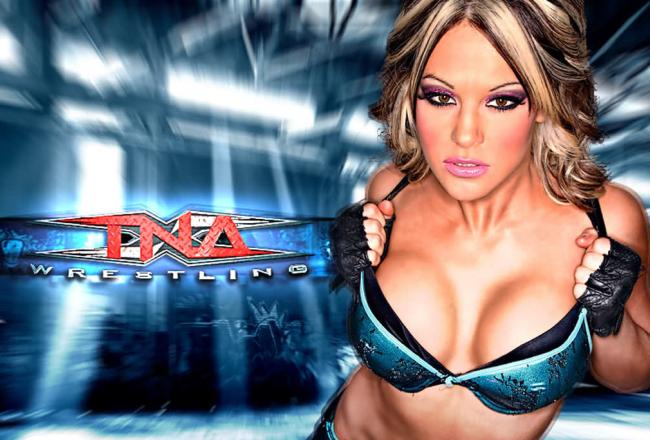 For what it's worth, a TNA employee was telling fans at last night's live event in Raleigh, North Carolina that Velvet Sky is still employed by the company, just not on TV right now.
23-09-2012 om 17:06 geschreven door jefken
0 1 2 3 4 5 - Gemiddelde waardering: 1/5 - (3 Stemmen)

22-09-2012
Phoenix Update

- Several sources have confirmed the news of Beth Phoenix leaving WWE next month. PWInsider reports that she has given notice to WWE that she's leaving and is finishing up her dates. She's expected to leave WWE by the end of October.
Sources in WWE weren't surprised to see Phoenix give notice as she seemed to be "going through the motions" over the last year. Phoenix has been spending time with her boyfriend Edge at his home in North Carolina. If she decides to wrestle outside of WWE then she would be able to use the Beth Phoenix ring name because she used it before joining WWE.

22-09-2012 om 21:11 geschreven door jefken
0 1 2 3 4 5 - Gemiddelde waardering: 1/5 - (5 Stemmen)

Antonio Dumps Aksana

As seen on last night's SmackDown, Aksana got involved in a match between Antonio Cesaro and Santino Marella, which ended in Santino getting a non-title win. After the match, Cesaro broke up with Aksana in 5 different languages. The United States Champion commented on Twitter:
"Regarding my actions on @wwe #SmackDown, the #USChampion does not tolerate failure. Punkt, aus, fertig."

22-09-2012 om 21:06 geschreven door jefken
0 1 2 3 4 5 - Gemiddelde waardering: 0/5 - (1 Stemmen)

Uitslagen smackdown 21 september

SmackDown Results: As Edge returned to SmackDown, Kane & Daniel Bryan opted to give the tag team division the chair

•The Rated-R Superstar got swept up in a therapeutic moment between WWE Tag Team Champions Daniel Bryan & Kane
•Damien Sandow def. WWE Tag Team Champion Kane
•Layla def. Natalya
•World Heavyweight Champion Sheamus & Randy Orton def. Alberto Del Rio & Dolph Ziggler
•Cody Rhodes def. WWE Tag Team Champion Daniel Bryan
•Brodus Clay def. Heath Slater by Disqualification
•Santino Marella def. United States Champion Antonio Cesaro in a Non-Title Match
•WWE Tag Team Champions Kane & Daniel Bryan def. Cody Rhodes & Damien Sandow by Disqualification
22-09-2012 om 21:01 geschreven door jefken
0 1 2 3 4 5 - Gemiddelde waardering: 0/5 - (0 Stemmen)

New names for HOH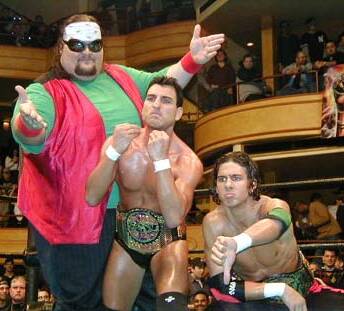 - Tommy Dreamer announced that The FBI (Tony Mamaluke and Little Guido) vs. Danny Doring and Roadkill has been added to his October 6th House of Hardcore debut in Poughkeepsie, NY. Both teams had a lengthy feud in the original ECW and this will be the last time they meet in the ring. This will be Roadkill's first match since leaving WWE developmental a few years back after breaking his neck and undergoing surgery.

22-09-2012 om 20:53 geschreven door jefken
0 1 2 3 4 5 - Gemiddelde waardering: 0/5 - (0 Stemmen)

Top Diva Reportedly Leaving WWE Next Month

Top Diva Reportedly Leaving WWE Next Month
Posted by Steve Carrier on 09/22/2012 at 07:20 AM
Raj Giri of WrestlingINC.com reports that WWE Diva Elizabeth Carolan, a.k.a Beth Phoenix, will be finishing up with the company shortly. According to a source, Phoenix will be retiring in October.
Phoenix made her WWE debut in 2006 as an ally to Trish Stratus during her feud with Mickie James. She would go on to hold the WWE Women's Championship three times, as well as the WWE Diva's Championship.
Phoenix was en route to displacing Maryse Ouellet as the longest reigning WWE Divas Champion in history earlier this year, however lost the belt a week before she could break the record to Nikki Bella on the April 23rd episode of Raw.

22-09-2012 om 20:51 geschreven door jefken
0 1 2 3 4 5 - Gemiddelde waardering: 1/5 - (1 Stemmen)

Barrett Disses The Corre

- WWE's website has a new article up wondering if Wade Barrett would re-form The Nexus. Barrett commented on Twitter and says one group he would not re-form is The Corre. Barrett tweeted:
"I certainly wouldn't reform The Corre, Mr. Journalist. In fact, 'The Corre' is my greatest regret in almost 9 years of wrestling at every level. I'd burn the history books if I could. "The Corre are equals" they cried. Kiss my English backside, you clowns. #BarrettBarrage"
22-09-2012 om 20:48 geschreven door jefken
0 1 2 3 4 5 - Gemiddelde waardering: 0/5 - (0 Stemmen)

TNA Star Suffers Injury At House Show
TNA Star Suffers Injury At House Show
Former World Champion Bobby Roode revealed on his official twitter page that he broke his nose during last nights live event in North Carolina. He will wrestle at tonight's house show in Raleigh, NC.
22-09-2012 om 20:41 geschreven door jefken
0 1 2 3 4 5 - Gemiddelde waardering: 0/5 - (0 Stemmen)

TNA Knockout Rosita Interview: Gives Status With TNA, Losing Her Father in 9/11 And More
TNA Knockout Rosita Interview: Gives Status With TNA, Losing Her Father in 9/11 And More
Busted Open satellite radio show with Rosita
Host: Dave Lagreca and Doug Mortman
Airs Mondays, Wednesdays, and Fridays on Sirius 94 and XM 208 from 2-4 ET
Visit Facebook.com/bustedopen for more informationRosita on what's the story with TNA and not being on TV in a while:
"Unfortunately it has been awhile, and I know everyone was going crazy a couple weeks ago when it came to me being taking off the knock outs gallery page, but, I will finally tell all of you, I am still with TNA. I will hopefully be brought back soon. I am doing a lot more training and a lot of fresh new things. If I do come, relatively soon back to TNA, there will a new finisher, and a whole new look really. It's going be very fresh, very new. No matter where you see me, whether it is TNA or independent show you're going to get all of me and I guarantee you it's something you're going to want to see."
Rosita on being fan friendly and being a heel:
"It was something that was very new for me because, to be quite honest, on the independence scene I was always a face. It was something very new and I basically had to learn on the job. Sarita, she did an amazing job with me and took me under her wing completely. It was fun though, I can say that, it was definitely fun being a heel. When you first look at me, you're like oh she's so small and she's not very intimidating. I mean, I was known as the spicy chili pepper Chihuahua-ish chick. It was different for me, but I would love to just come out as the real me and just be the natural baby face that I think I am."
Rosita on becoming a fan of wrestling:
"It's funny cause of a lot people ask me that, they're like, 'Oh is the story with your dad really true?' 'Was he really in the towers?' 'Was he really a wrestler?' Absolutely. He was an amateur wrestler in high school; I still have his trophies in my attic. He took me to wrestling events all time when I was younger. I will never forget the time he brought us to an ECW event; it was the scariest thing ever. I've been a wrestling fan since I was really young, I think that around 4 years old I was telling my dad, 'I want to be a wrestler dad, I really want to!' He was the one that actually taught me how to put on a proper headlock so whenever people compliment me on that I always give props to him.
"And my uncle was a pro wrestler in Puerto Rico so it was definitely a family thing. I grew up in it and couldn't wait to start. My mom was very hesitant, she didn't want me to do it, but when I was 17 that's when I got into pro wrestling school but the thing is that my dad always wanted to be a pro wrestler, and I knew that. But the thing is when he had a night job, and a day job, kids, and a wife, there was just no time to do anything. And when he passed away, and it may sound corny, but when he passed away I said, you know what, everyone is breaking down right now, and it's a world tragedy but for me, I always try to flip it to a positive. I always say from tragedy to triumph. I do wrestling for me and I am doing it for him."
Rosita on 9/11:
"It was so much pressure; I think that once I brought this forward and once people knew who I really was and why I got into wrestling. You were going to get the good with people who support and feel a certain way either happy or sad and want to share their stories with you. Because I have gotten that with fans all the time, 'oh my uncle was in this' or 'I served in the military during this time.' And I've gotten such great feedback from fans, and I also knew there was a chance I was going to get hate form it to, and I did. Especially on my Youtube video, I've gotten people saying 'the U.S deserved it' and all this stupid stuff. I've gotten the good and the bad. I knew that once I did on the day at a pay per view it was going to be something that was going to be big.
"When they brought it to my attention they said will you come through with this and I said, 'Yeah, I think I can.' And when they asked me I just finished crying my eyes out with Micky James and Tara, like right before, because I was listening to the names being read. It was around 9:00 in the morning and 9:04 was when he called, so that was he called and 9:14 was when he got cut off. It definitely took me a long time to be okay and talk about it. Right now sitting here with you guys I can talk about and be strong with it. When I got the PWI inspirational wrestler of the year, I was like you know what, I'm helping and this is good for people to hear, I have no problem with it. That day happened like any other day. He had called, and I just remember my mom frantically pacing and saying 'no Michael, what are you talking about! What are you talking about! She turns on the TV, and I'm just watching her and she was like 'what do you mean you're there? I didn't know you worked there.'
"I knew my dad worked in the World Trade Center but my mom didn't. He had so many jobs in and out so she never knew what he was doing day to day. He would take us to that building all the time. My little brother and I would play with the walkie talkies, we were there all time. And she had no idea, I was like, 'oh that's where dad works, why is it on fire? What's going on?' I had no idea what was happening it looked like a movie, and she was like your dads in there right now! And I'm just listening to the whole thing. And my mom used to work there too, she worked on the 99th floor and he worked on the 103rd floor of the North Tower. She was just saying can you take this stairway? And I remember hearing saying him saying no it's too dark and it's hot, it's really hot, and I can't go this way and I can't go that way.
"And I'm just, for some odd reason, I wasn't in my body, like I was watching from afar, watching myself just frozen and listening to the whole conversation. Everyone else's story starts out with I was at school that day and my mom pulled me from school. I was home because I had a doctor's appointment, 10 years old at the time. I was watching it on the TV and listening to my dad's voice on the phone. I couldn't speak. I never spoke to him that day. But me and my brother had a great weekend with him prior to that. So it happened on that Tuesday, so the weekend before we had a great weekend with him. It's crazy to think back to be quite honest. I didn't get to speak to him that day, but I also think its best that I didn't. Because I had such a great weekend with him prior, I think it was the perfect way to say goodbye. I still think back and think what didn't I say, 'Dad let me speak to you let me speak to you! Let me say bye!' I still think would it have been better? But now I think, no I think we said goodbye in the perfect the weekend before. So I don't regret it at all."
Rosita on who her influences were growing up:
"Most of them were guys, but there was one female wrestler that I look up to completely, and that's where my finisher, the moonsault came from, it's in dedication to Lita. Right off the bat, I remember seeing Rey Mysterio, a long time ago, and he was the one I was like, 'wow I want to be just like him!' I want to be the female Rey Mysterio, mask or not I want to do what he can. So Rey Mysterio and Eddie Guerrero, Halloween Havoc 97' was my favorite match, it was absolutely awesome. I definitely say those two. I always liked Shawn Michaels, there was something about that dance, besides the fact he was amazing, I think when I was younger I was like that dance is awesome, that little shimmy he does with his hips. Rey Mysterio, Eddie Guerrero, HBK, and the Hardy's. When I was younger I went through a little bit of a rocker stage and it was because of them."
Rosita on a three hour show and doing taped shows:
"It was difficult some days because regardless of how good a match can be, some of those fans are so spoiled and have seen everything they weren't going to react to really much. And some of the people were tourists and didn't even know what wrestling was. It was very difficult. There were some nights that were really great but some nights when they have just seen everything. That's why I loved when we went on the road, when we did pay per views on the road, or tapings on the road. It was amazing, not only did you get a bigger venue but a mix of different people who are waiting to see their favorite stars and when they finally do and see how much we put into it, it's great to see how much they give us back. When it's live, it's just brings a better feel, not just to the people working, because there are no edits, no cuts, nothing. It brings the best out of the wrestlers and has a better flow."
22-09-2012 om 11:48 geschreven door jefken
0 1 2 3 4 5 - Gemiddelde waardering: 0/5 - (0 Stemmen)

21-09-2012
Uitslagen wwe superstars 20 september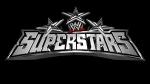 WWE Superstars on WWE.com Results (SPOILERS) - Taped for September 20, 2012
1. Drew McIntyre def. Jinder Mahal.
2. The Prime Time Players (Darren Young and Titus O'Neil) def. Usos.
3. David Otunga def. Tyson Kidd.
21-09-2012 om 14:34 geschreven door jefken
0 1 2 3 4 5 - Gemiddelde waardering: 1/5 - (2 Stemmen)

WWE Star Undergoes Surgery

- Alex Riley noted that he underwent knee and elbow surgery earlier this week. Here is what he wrote on Twitter.
"Thought I would let u guys know that i had to have knee and elbow surgery earlier this week, thank u for all your support. I will be back as soon as humanely possible #MakeItHappen"
21-09-2012 om 12:36 geschreven door jefken
0 1 2 3 4 5 - Gemiddelde waardering: 5/5 - (1 Stemmen)

Uitslagen tna impact wrestling 20 september

This week's live TNA Impact opened with a video package recapping recent events including Tara turning on Miss Tessmacher, Al Snow confronting Joey Ryan, James Storm and Bobby Roode picking up their feud, Joseph Park vowing to present Hulk Hogan with Aces & Eights evidence, Aces & Eights warning Hogan about an internal issue, and Jeff Hardy advancing to Bound for Glory.

Backstage: In the hallway, Hulk Hogan greeted Shaquille O'Neal. Hogan plugged a new show for Shaq, then talked Aces & Eights with Shaq, who vowed to have Hogan's back tonight. Shaq looked into the camera and said he'll take care of Aces & Eights. After walking off, Hogan shouted, "Game on!" in the background as Shaq showed off a tattoo.

Impact Zone: A.J. Styles's music played to start the show inside the arena. Kurt Angle joined Styles on-stage before the duo walked to the ring. Once in the ring, Angle took a mic and noted they were tag champs a few months ago, but were screwed by Kaz and Daniels. Then, they were screwed again at No Surrender. But, last week, Styles defeated Kaz to give them another Tag Title shot. The problem is, Chavo Guerrero & Hernandez also have a Tag Title shot. So, since tonight is Open Fight Night, Angle wants to find out who the real #1 contenders are. Angle called out Chavo and Hernandez, who were shown backstage already ready to wrestle. Chavo and Hernandez then made their way from the back to the ring, setting up the opening bout.

A.J. STYLES & KURT ANGLE vs. CHAVO GUERRERO & HERNANDEZ — #1 contender match to Tag Titles

Styles and Chavo started things off with a basic feeling-out process. A vocal portion of the audience picked up a "Chavo sucks" chant, then Chavo tagged out to Hernandez. Styles then tagged out to Angle, who dominated Hernandez until Hernandez smashed him with a chest bump. Hernandez then brought in Chavo, who took control of the action on Angle. Angle then came back with an overhead belly-to-belly suplex before TNA cut to a shot of Kaz & Daniels standing atop the entrance ramp getting a closer look at the action. Impact suddenly cut to break with Tenay mid-sentence.

[Commercial Break]

Back from break, Styles and Chavo were battling in the ring. Chavo back body-dropped Styles, then brought in Hernandez, who ran over both Styles and Angle.

Hernandez wanted his big powerbomb move on Styles, but Angle cut off Hernandez to save his partner. But, Hernandez came back with a double clothesline on Styles and Angle. Chavo then took a tag from Hernandez and hit a top-rope dropkick on both opponents. Chavo and Styles then battled mid-ring, leading to Styles kicking Chavo in the head to break free and tag in Angle.

Angle cleaned house on the other #1 contenders before the action broke down with all four men in the ring. A bunch of kicks ensued before Angle grabbed Chavo's ankle for the Anklelock, but Chavo flung Angle away. In the process, Angle fell backward into a tag to Styles. More action with all four men in the ring followed. No order here.

Chavo delivered the Three Amigos to Styles, then pointed to the sky and got booed. Chavo went to the top rope, but Angle cut him off. Hernandez then clotheslined Angle and himself over the top rope. Back in the ring, Chavo went for a frogsplash, but missed when Styles moved. Styles followed with a Pele Kick, then wanted the Clash, but Daniels and Kaz hit the ring to beat down both Styles and Chavo. The heel tag champs continued to beat down Styles and Chavo until Hernandez chased them off.

WINNERS: Match thrown out at 12:25.

As the heels celebrated outside the ring, Hulk Hogan's music played to bring out Impact GM Hollywood Hogan with a baseball bat over his shoulder. Hogan posed on-stage for a bit before noting he has 99 problems, which includes Aces & Eights and Kaz & Daniels. Hogan then booked a Tag Title match at Bound for Glory – a triple threat tag match of Kaz & Daniels vs. Styles & Angle vs. Chavo & Hernandez. Hogan told them to come get some if they don't like it. Daniels & Kaz ranted and raved

The roving cameraman asked Al Snow about getting a haircut. Riveting. The conversation turned to tonight's Gut Check event. Snow said tonight's contestant is a 19-year-old guy. The scene got serious when Snow was asked about Joey Ryan, who Snow said acts entitled and sucker-punched him. Snow said he's been "called into the principal's office" to find out if he crossed the line attacking Joey a few weeks ago.

This month's Gut Check contestant, Evan Markopoulos, was shown warming up.

[Commercial Break]

Hulk Hogan was shown on the phone talking to Joseph Park. He told someone off-camera to let him know when they're back from commercial. According to one side of the conversation heard, Hogan wants Park to come right to security and come meet him in the building. Hogan acted excited when he heard that Park has the evidence in his hands right now. So, will Aces & Eights jump Park on the way to the building?

BFG Memory: Samoa Joe jumping out of the skybox in Chicago in 2008.

Gut Check video package: Evan Markopoulos. Impact then went to break.

[Commercial Break]

TNA president Dixie Carter was shown talking to Bruce Prichard about an unidentified topic. Carter then mentioned Aces & Eights having them locked in to where they can't do their jobs. Prichard said he doesn't know if them locking out Aces & Eights is the best option. The audio was thrown off at some point, then Al Snow walked into the office. Dixie said they will discuss this later.

Evan Markopoulos was in the ring, where Jeremy Borash introduced this month's Gut Check segment. Markopoulos did some bit pretending to be surprised by the camera in the ring before posing for the crowd. Random music then played to bring out Douglas Williams as Evan's audition opponent tonight.

DOUGLAS WILLIAMS vs. EVAN MARKOPOULOS — Gut Check try-out match

Once the bell sounded, Markopoulos led the crowd in a slow clap before locking up with Williams, who controlled him on the mat. Williams then slapped Markopoulos across the face before the announcers discussed whether Evan is ready for this opportunity at 18-years-old. Williams continued to toy with Evan before cutting off a teased comeback with a knee to the mat as Taz gave a speech about what being a pro wrestler is about.

Evan tried to make a comeback from his knees, but Williams cut him off before delivering a delayed vertical suplex. Evan then ducked a corner attack and landed jabs, but made the mistake of looking into the crowd for approval. Williams then destroyed him and slapped on a submission for the win.

WINNER: Williams via submission at 4:06. Evan didn't embarrass himself and he showed hints of charisma, but he's about five years away from being a national TV star needing to fill out physically and get his timing down.

James Storm was shown walking down the hallway. Tenay said Storm is going to call out Bobby Roode next. 42 minutes into the show, nothing new on the TNA World Title main event at Bound for Glory, which feels like an afterthought at this point.

[Commercial Break]

Video package: Storm-Roode feud and Storm's failed quest to win the BFG Series because of Roode's interference at No Surrender earlier this month.

James Storm's music played to bring out the BFG Series regular season winner dressed to wrestle. Storm quickly made his way to the ring before asking for a mic. Storm waited out a "Cowboy" chant before talking about how he's good at talking. But, he backs up his trash-talking with his fighting. Storm said he made it clear last week that he would be calling out a coward of a man this week. He wants to see pain on Roode's face and blood on his hands.

Storm continued that this is not going to be a wrestling match, but a man kicking a coward's ass match. Storm said the man is in the ring, so he just needs the coward to come on down. Storm turned to look toward the entrance, but no sign of Roode. After a pause, Roode's music played and they cut backstage to show Roode dressed for a board meeting, not to fight. On-stage, Roode told Storm to hold on a minute. He asked Storm if he really wants him to get in the ring and fight him. Roode noted he's a bit over-dressed and not prepared to fight. He also wanted Storm to know that he will never, ever be as good as him or duplicate his success. And, Storm will never be a World Hvt. champion as long as he's around. So, if Storm wants to fight on Open Fight Night, then he's barking up the wrong tree because he's not going to fight him. Roode said he's done with Storm as far as he's concerned. "Are you kidding me?" Tenay asked on commentary before noting Storm gave him one-week notice for the fight.

TNA cut backstage to show Hogan reminding Roode what the concept of Open Fight Night is. Roode shouted at Hogan that he can't tell him what to do. Hogan then told Roode if he wants the night off, then he can have the month off, the year off, and the rest of his career off, which means no money and no more title shots. Hogan gave Roode three minutes to make up his mind. Hogan waved him off, then Roode frustratingly entered a contemplative state.

[Commercial Break]

Back live, James Storm was in the ring still ready to fight. Storm told Roode to get his ass out to the ring so he can kick it. Roode's music played again and the former TNA World champion emerged on-stage still dressed in a business suit. On-stage, Roode slowly removed his jacket before unbuttoning his cuffs, removing his tie, and starting to remove his dress shirt. Storm left the ring to tease getting a piece of Roode, but the assigned ref held him back. Finally, Storm had enough and tackled Roode on the entrance ramp to blast him with Roode's dress shoe.

On-stage, Roode turned things around with a head shot into the staging, but Storm turned things around to blast Roode across the stage area. The fight moved to the area below the stage, where Roode blasted Storm with his shoe. "Not the shoe!" one fan sarcastically called out. Roode dragged Storm back to ringside, then tossed him into the ring. As Roode entered the ring, the ref called for the bell for some reason despite Storm making it clear a segment ago that this would not be a match.

BOBBY ROODE vs. JAMES STORM

The "match" spilled out to the outside, where both men traded control of the action. Roode then whipped Storm back-first into the guardrail before dragging him around ringside to deliver another guardrail shot. Roode then grabbed a beer bottle out from under the ring and tried to spew it in Storm's face, but Storm blocked and poured the contents inside the mouth of a person on the front row of the hard camera side. Roode and Storm then traded control again before Storm took control and asked for the randomly-involved people on the front row to hold up their feet for Storm to blast Roode face-first into the soles of their shoes.

Roode and Storm continued fighting ringside before a lady shouted "F— you, Roode" on-camera. Her second FU bomb was caught by the sensors. Roode reversed a suplex into a suplex of his own, which put both men on the floor. They returned to the ring, where Roode dominated before tossing Storm out of the ring to the outside again. The fight continued ringside, so ref Brian Hebner had enough and threw out the "match."

WINNER: Match thrown out at 6:25.

After the bell sounded, Roode and Storm continued to fight ringside before Storm found an opening in the guardrail to fall into the floor area outside of the Impact Zone. Ref Hebner tried to separate them, but he got tossed into the side of the bleacher seats for his troubles. Storm and Roode fought to a back-door exit, then disappeared out of sight. TNA then cut backstage.

Hulk Hogan was apparently not watching the Roode-Storm fight, as he was in the middle of a conversation with a backstage assistant asking where Joseph Park is. The man said Park has his credentials to enter the building, but he hasn't seen him yet. Hogan suddenly got buzzed on his phone by Aces & Eights. According to the one-sided conversation, A&E has hired a corporate lawyer to represent them. Hogan said he'll play their game, no wait, he'll think about it. Hogan told Aces & Eights he'll get back to them. Hogan then shouted after the backstage assistant not to look for Park because he knows where he is.

[Commercial Break]

TNA World champ Austin Aries and #1 contender Jeff Hardy 74 minutes into the show. Aries approached Hardy to discuss their TNA Title match at the BFG PPV. Aries said everyone thinks it's about Hardy going after his title belt, but he wants what Hardy has since he's accomplished a ton in his career. Aries said he wants Hardy's Hall of Fame career and bank account. He said he wants mindless sheep following him, just like Hardy. Aries said he wants to prove that anything Hardy has done, he can match. Aries told Hardy it's not about Hardy chasing his title, but about him chasing what Hardy has accomplished. Hardy didn't take the bait on Aries's back-handed remarks, then Aries walked off.

Tara's music played to bring out a heel Tara after she turned on Knockouts champion Miss Tessmacher last week. After a replay of Tara turning on Tessmacher last week, Tara took the mic in the ring and said the people disgust her for even asking about her actions. She said everyone uses her, including a guy with a sign. Tara said her new boyfriend, who lives in Hollywood, California, opened her eyes to remind her that she is the best female wrestler there is. "Boring!" chant. Tara called out Brooke Hogan, saying she used her, too.

Tara then called out her victim for tonight, Christy Hemme. Off-stage, Hemme wondered what's going on here. Tara told Hemme to get in the ring now. Tara mockingly told "saddle bags" not to let her fans down. Hemme entered the ring and told Tara she's an announcer, which Tara shot down. She told Hemme to show her some respect. Asked who her favorite Knockout is right now, Hemme replied it's Tessmacher. Tara slapped Hemme, so Tessmacher hit the ring to make the save.

Hulk Hogan was shown walking down the hallway. He's up next. Remember those quotes from Dixie Carter a few months ago about being upset when people say Hogan takes up too much TV time on Impact? Apparently enough time has passed where the thought process is people won't remember and Hogan can fill up the show again.

[Commercial Break]

Another Hogan, Brooke Hogan, called out Tara in the hallway. Brooke asked Tara what she was thinking calling out Christy Hemme, who isn't even a wrestler. Brooke said she respects Tara, but she doesn't like her right now. Brooke said there will be consequences next week.

BFG Memories: RVD talked about wrestling Abyss and Jerry Lynn at past BFG PPVs.

Tenay said it will be Championship Thursday next week on Impact. He said the Television Title will be decided. No mention of current titleholder Devon, whose contract expired last month, or if that means a tournament to determine a new champ.

Hulk Hogan made his way out on-stage before slowly coming to the ring as TNA went to crowd shots. Once Hogan entered the ring, Hogan took the mic and vowed to spraypaint everyone in the building. Hogan then addressed Aces & Eights, saying they grabbed Joseph Park and are holding him hostage. He said as long as he knows the rules, he doesn't mind playing. Hogan said Aces & Eights wants him in their clubhouse next week, so he'll play. Hogan said the word on the street is that even though they are bottom-feeders, they keep their word. He told the group to release Joseph Park out of good faith…and he wants him back now.

A garbled voice interrupted the proceedings. On the video screen, an Aces & Eights member addressed Hogan. He accepted Hogan's invitation to meet them at their clubhouse next week. Aces & Eights addressed Joseph Park, saying he's gotten too close. He said after looking at his computer, they've determined that Joseph is pretty good. Some other guy then bashed Park's computer. Trapped inside a cage, Park shouted that it's three weeks of work. He blurted out something about having the information backed up, then one of the members smashed him with a hammer. Park sold unconsciousness, the crowd groaned, and Hogan flared his nostrils in the ring before Impact went to the break.

[Commercial Break]

Moments Ago: Tenay recapped the Hogan segment with Aces & Eights and Joseph Park before the break. … TNA introduced a graphic promoting Aries vs. Hardy at Bound for Glory, then Tenay fed to a documentary-style video on Hardy chasing after the TNA Title. In the video, Hardy said winning the title is the last chapter of his redemption.

Austin Aries's music played to bring out the TNA Champ dressed to wrestle. Once in the ring, Aries removed his cape and acknowledged the "nice, little video package" on Jeff Hardy. He said that was nice of the producers to put that on right before he came out here. Aries said his thought process going into BFG is that he's the hunter and not the hunted because Hardy is the target. Aries repeated that he wants to prove that he can do everything that Hardy can do. Tonight, he will prove that by beating a "big, bad bully." Aries called out Ray to prove it wasn't luck, but skill when he beat him before.

Backstage, Bully Ray acted shocked that he just got called out. Ray asked a production assistant if that's correct, intimidated him, and marched up the steps to the stage. On-stage, Ray adjusted his cap before shouting that he can't believe what he just heard. Ringside, Ray requested his music be shut off before making sure he heard correctly that Aries called him out. Aries confirmed Ray's hearing is good, then Ray vowed to beat the crap out of Aries for a second time. Ray said Aries has a lot of nerve and audacity calling him out here.

Someone touched Ray on the back, so Ray stopped to yell at him never to touch him again. Ray said he must be a no-brain Aries fan. Aries told Ray that's not his kind of fan, then Aries ripped the guy, which drew a confused reaction from the crowd. Apparently Aries is playing a C.M. Punk tweener role before Bound for Glory. Ray kept walking around the ringside area talking to himself, so Aries caught him out of nowhere with a flying splash to shut up Ray. Aries put on Ray's cap, then inflicted more punishment before rolling Ray into the ring to officially start the un-promoted main event.

TNA World Hvt. champion AUSTIN ARIES vs. BULLY RAY — non-title match

Aries controlled the action for 45 seconds before Ray kicked Aries out of the ring to the floor. Ray posed for the hard camera, then Impact went to break at 1:00.

We're back as Bubba is gouging at the face of Aries while yelling at him for calling him out. Bubba puts Aries in a modified surfboard, but Aries escapes with a questionable kick to the inner thigh/groin area. Bubba quickly lays Aries back out and hits a big splash for 2, then slams Aries for another 2. Bubb with a big elbowdrop for 2 and then drops elbowsmashes to the head of Aries before dropping another big elbow and proclaiming "Damn, that was TIGHT!" Bubba covers for 2, then yells at the referee about how much he sucks as a referee because he's old and he sucks. Earl Hebner starts yelling back at Bubba as Aries hits a couple of chops and some forearms, but a big right hand from Bubba floors Aries. Aries pops up and goes after Bubba again, but another shot from Bubba drops Aries. Aries pops up and goes back after Bubba, rocking him with a roaring elbow, he charges Bubba and gets backdropped to the apron, but snaps bubba's neck over the top rope and comes off the top with a missile dropkick for 2. Aries tries a sunset flip, Bubba tries to counter by dropping his posterior on Aries' chest, but Aries moves and goes back after Bubba. Aries tries an Irish whip, Bubba reverses and Aries crashes into the referee and knocks him out. Aries dropkicks Bubba's knee out from under him and gets the Last Chancery, but the referee's out. Bubba gets his chain and wraps it around his fist as Aries check on the referee, then uses it to knock Aries out as he comes in for the IED. The referee revives as Bubba covers Aries and gets 3.

Winner: Bully Ray

Bubba is so happy that he crawls on top of Earl Hebner and hugs him while telling him what a great ref he is. Aries is out as Bubba is on cloud nine because he just beat the champ. Bubba gets Aries' title belt and holds it up in the air, but Jeff Hardy comes in and takes Bubba out before he can knock Aries out with it. Now Hardy picks the belt up and holds it in the air before Aries snatches it back and shoves Hardy, and they go fce to face as we call it a week.

Source: PWTorch.com












21-09-2012 om 12:30 geschreven door jefken
0 1 2 3 4 5 - Gemiddelde waardering: 0/5 - (0 Stemmen)

Mrs. Jeff Hardy's response rumors.

Mrs. Jeff Hardy's response to that rumor.
Quote
Internet "rumblings" are so silly.

21-09-2012 om 11:57 geschreven door jefken
0 1 2 3 4 5 - Gemiddelde waardering: 1/5 - (2 Stemmen)

Jeff Hardy back to WWE?


Rumors goes that apparently Jeff Hardy might want to return to WWE when his TNA contract is up, for one more big run and to make a lot of money because he had to spend a lot on his legal troubles.

would WWE really want him back? and if WWE did want him back, would he really get a big run?
21-09-2012 om 11:55 geschreven door jefken
0 1 2 3 4 5 - Gemiddelde waardering: 2/5 - (2 Stemmen)

*RUMOR* Jeff Hardy's Contract Expiring Soon?

According to The Wrestling Observer, TNA wrestler Jeff Hardy's contract with TNA is set to expire soon. TNA set Hardy to win the Bound For Glory Series in order to make him happy in hopes that he will re-sign with the company.
21-09-2012 om 11:43 geschreven door jefken
0 1 2 3 4 5 - Gemiddelde waardering: 0/5 - (0 Stemmen)

20-09-2012
Mysterio vs. Sin Cara News

Mysterio vs. Sin Cara News
- More news on the bad Sin Cara vs. The Miz match from last week's SmackDown, the one where Cara went backstage disappointed and disappeared for a little while after it was over. A lot of the blame was put on Cara. After the match, there was more of a push to do Rey Mysterio vs. Sin Cara at WrestleMania with the feeling that Rey will be able to carry Cara to a good match in front of a live crowd on the biggest show of the year.

20-09-2012 om 16:00 geschreven door jefken
0 1 2 3 4 5 - Gemiddelde waardering: 3/5 - (5 Stemmen)

Regal Disappointed with Bryan

Regal Disappointed with Bryan

- William Regal wrote the following on Twitter about Kane and Daniel Bryan hugging:
"What happened to my protégée @WWEDanielBryan?I wanted him to be all the things I haven't been and now he's giving hugs to monsters.Let down."
20-09-2012 om 15:56 geschreven door jefken
0 1 2 3 4 5 - Gemiddelde waardering: 0/5 - (0 Stemmen)

Timetable For John Cena's Recovery Extended

Timetable For John Cena's Recovery Extended
Posted by Steve Carrier on 09/19/2012 at 08:01 PM
John Cena could be kept out of the ring for as long as two months after undergoing surgery to remove bone chips in his elbow Tuesday. The official WWE website announced Wednesday at 5:40 p.m. that the prognosis for his recovery is now six to eight weeks.
Their statement reads, "The information published about John Cena's recovery was given to WWE.com prior to surgery. In speaking to Dr. Andrews after the procedure, in light of the amount of work that needed to be done and the number of bone chips removed, the prognosis for recovery is closer to six to eight weeks. Knowing John Cena, the former WWE Champion will do everything he needs to get back in the ring as soon as possible."
In a Twitter message Wednesday, Cena disputed WWE's report Tuesday that he would be sidelined for two to three weeks. He wrote, "I spoke in depth with my surgeon Dr James Andrews and he specifically told me due to the amount of fragmentation, SIX WEEKS is a safer time table for recovery. I apologize on behalf of a website whos credibility is now equal to #theonion please @wwe web guys, get your monkey frankin facts straight!"
20-09-2012 om 15:54 geschreven door jefken
0 1 2 3 4 5 - Gemiddelde waardering: 1/5 - (2 Stemmen)

Dreamer's HOH Debut

Dreamer's HOH Debut

- The updated line-up for Tommy Dreamer's House of Hardcore debut on October 6th looks like this: Rhino vs. Sami Callihan, The Young Bucks vs. Paul London & Brian Kendrick, Jazz vs. Winter and Chris Masters in a $500 Open Master Lock Challenge. Others appearing include Mike Knox, Tony Nese, Big Daddy V, Dreamer, Carlito, Mikey Whipwreck, Eddie Kingston, Sandman, Luke Gallows, Daivari and others. Making signing appearances will be Edge, Maryse and others.
20-09-2012 om 15:53 geschreven door jefken
0 1 2 3 4 5 - Gemiddelde waardering: 0/5 - (0 Stemmen)

Sin Cara's Bad SmackDown
Sin Cara's Bad SmackDown
We noted before that the match with Sin Cara vs. The Miz from last week's SmackDown had to be edited heavily because of botches and that Sin Cara disappeared backstage after the match. Someone was looking for him and couldn't find the masked Superstar. One of the agents asked Justin Gabriel if he had seen Cara and Gabriel said, "I think he quit." They later found Cara as he filmed a backstage segment.

20-09-2012 om 15:50 geschreven door jefken
0 1 2 3 4 5 - Gemiddelde waardering: 0/5 - (1 Stemmen)

Booker T Ribs Brodus Clay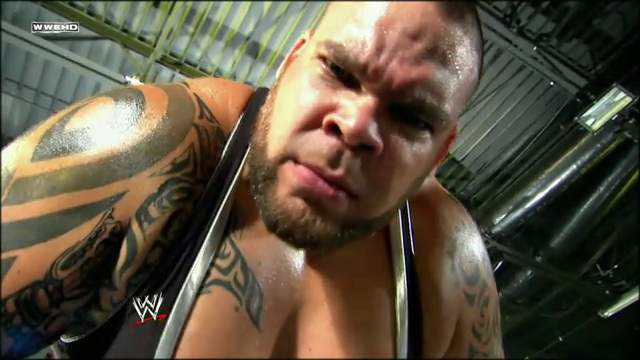 - A funny story about Brodus Clay is at the RAW in Montreal, he was legitimately sad that he did bad in the viewers choice segment to pick an opponent for CM Punk. Booker T saw how he was acting and started ribbing him about it until Clay told Booker to leave him alone.
20-09-2012 om 15:47 geschreven door jefken
0 1 2 3 4 5 - Gemiddelde waardering: 0/5 - (0 Stemmen)

WWE Signs New Wrestler

WWE has signed 6'8" 280 lb. Jacob Southwick to a developmental deal. Southwick, who wrestles as Big Jake South, is a two-time NCAA All American wrestler from Ashland University College in Ohio according to a report by The Examiner.

20-09-2012 om 15:45 geschreven door jefken
0 1 2 3 4 5 - Gemiddelde waardering: 3/5 - (1 Stemmen)

Press Release: WWE & Silvervision Part Ways
Press Release: WWE & Silvervision Part Ways
Posted by Steve Carrier on 09/19/2012 at 12:16 PM
European DVD distributor Silvervision announced this week that they are ending their relationship with WWE after 22 years. This press release went out this week:
"After 22 years of dedicating Silver Vision exclusively to WWE, the WWE and Clear Vision Ltd will part company on the 31st December 2012. Silvervision.co.uk (owned by Clear Vision Ltd) will continue to sell WWE DVDs, Blu-rays and WWE films after this date while stocks last, but we will not be able to offer new releases for sale on our site. SummerSlam 2012 and nWo: The Revolution will be the last new WWE releases we will be producing ourselves."
"Clear Vision and its staff are saddened by this news as we have worked very hard over the years to bring the best possible service to all WWE fans and we would like to thank you all for your continued support over the years."
"Silvervision.co.uk is looking forward to a new future which will amalgamate all the products and some new programmes of its mother company, Clear Vision Ltd, on one site."
"Please be assured this will not affect your current and future orders in any way and you will continue to receive the same great service."

20-09-2012 om 15:42 geschreven door jefken
0 1 2 3 4 5 - Gemiddelde waardering: 0/5 - (0 Stemmen)

WWE Star Returning from Vacation

- Big Show disappeared from WWE TV after the SummerSlam pay-per-view in August but he is not injured and there is no kind of heat on him or anything like that. Show simply requested some time off and has been taking a mini-vacation. He was originally scheduled to return in a week or so but will be returning early to work this weekend's live events, likely because John Cena is injured.
20-09-2012 om 15:40 geschreven door jefken
0 1 2 3 4 5 - Gemiddelde waardering: 0/5 - (0 Stemmen)

19-09-2012
Uitslagen ROH 15 SEPTEMBER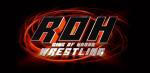 Ring of Honor on Sinclair
September 15, 2012
Report by: Jason Namako of Wrestleview.com
Hello everyone and welcome to this week's ROH on Sinclair recap. Its a "Road Rage" edition this week, so if you all are ready, then let's get on with the show!
We see video highlighting what happened last week in the show closing brawl between the House of Truth & S.C.U.M. before the usual intro.
Kevin Kelly & Nigel McGuinness welcome us to the show, from the Rhode Island Convention Center in Providence, RI as this week is a "Road Rage" from last month's "Boiling Point" Internet PPV.
We see video of comments from Charlie Haas, who calls the House of Truth a dysfunctional family. Haas says that the nucleus of the problem is Michael Elgin because he is a crybaby. Haas says that when his kids act up, he takes them behind the woodshed and that is what he is going to do to Elgin tonight.
Before the 1st match, Truth Martini wants Kevin Kelly in the ring for an interview. Martini says he can predict the future and that tonight, Kevin Steen will retain the title but at Death Before Dishonor, Rhino will face Steen and the World Title comes home to the House of Truth. Kelly brings up the dissension between Elgin & Strong, but Martini blows it off. Elgin has an announcement and says he will face the World Champion at Glory by Honor, but Strong cuts him off and says Martini promised him it. Strong says he is now officially on strike from the House of Truth. Strong then says he will sit in the front row and watch Elgin fail, then walks away before the next match.

From the "Boiling Point" iPPV in a Death Before Dishonor IX Return Match: "Unbreakable" Michael Elgin vs. "The Outlaw" Charlie Haas
Elgin wants to adhere to the Code of Honor, but Haas spits at him. Crowd chants "We Want Shelton" at Haas. Elgin with a slap, then drives Haas into the corner before unloading with right hands. Elgin with a hard corner whip, followed by an avalanche. Elgin sends Haas into the turnbuckle, then hits a 2nd rope shoulder tackle for a nearfall. Elgin with a 30 second delayed suplex for another nearfall. Haas with a right hand, followed by a headbutt, but Elgin catches him with an overhead belly to belly suplex. Strong comes back out and distracts Elgin, allowing Haas to kick Elgin's leg out from under him.
Elgin goes to the outside and is hurting, but Haas goes out after him and drives Elgin's leg multiple times into the barricade. Elgin kicks off Haas, sends Haas into the barricade, breaking it off the hinges. Elgin with a right hand, then goes to the middle rope and while Haas is on the apron, Elgin tries for a deadlift superplex, but Haas knocks him off the ropes. Haas takes off Elgin's kneepad from his injured leg and drives it into the ringpost multiple times. Haas with a boot to the head, then goes back in the ring, with a sadistic look on his face. Haas stomps away at Elgin's leg as Elgin tries to fight back. Haas with another boot to the head, then drives Elgin's knee into the mat. Haas continues to stalk Elgin, then unloads with right hands in the corner. Haas stakes out Elgin's leg in the ropes and drives all his body weight into it. Haas does it again as Elgin is writhing in pain. Haas with shots to the leg before locking in a deathlock while Strong gives a beer to Veda Scott on the outside. Elgin fights off Haas as the crowd wills him on. Elgin with some right & left hands, but Haas takes him back down. Haas with some more right hands as the crowd voices their disapproval. Haas with more stomps to the injured leg, then drives his body weight across Elgin's leg, then locks in another deathlock as the crowd chants "Elgin". Haas breaks, but then with more stomps to Elgin. Haas goes to drive his body weight across Elgin in the ropes, but Elgin moves and both men are down.
Elgin, on the apron, boots Haas in the head, then hits a slingshot shoulder tackle back in the ring. Elgin moves on Haas' charge, then hits clotheslines in the corner. Elgin with a running knee for a nearfall. Elgin goes for a deadlift German, but Haas breaks free. Elgin counters a lariat and hits a German Suplex for a nearfall. Elgin goes for a powerbomb, but Haas counters it. Elgin comes back with an enziguri, sending Haas to the outside. Strong tries to will on Haas with beer as Elgin is thinking about a dive, but Strong stands in the way. Strong distracts Elgin again, allowing Haas to sweep out Elgin's leg. Haas grabs Strong's beer and throws it in the face of Martini. Elgin then drives Haas into the barricade, crushing Strong in the process. Elgin now with 2 beers and drenches Strong in them. Back in the ring, Elgin says its over as he sets Haas for the 360* Powerbomb, but Strong sprays beer in Elgin's eyes.
This distraction allows Haas to rollup Elgin for the victory.
Winner: "The Outlaw" Charlie Haas by pinfall (Roll-Up)
After the match, Elgin gives a stare to Martini, who backs off as Elgin leaves the ring while we go to commercial.
Commercial
"Inside Ring of Honor"
• The 1st topic is that at the next iPPV "Glory by Honor XI: An Unbreakable Hope" on October 13th from Mississuaga, Ontraio, Canada as Michael Elgin finally cashes in his World Title shot from winning Survival of the Fittest last year as he challenges Kevin Steen for the ROH World Title.
We go to comments from Steen, who says that October 13 is the match a lot of people have been waiting for. Michael Elgin calls himself "Unbreakable" and a lot of people have hope that he will take the title from him. It does not matter that Elgin calls himself "unbreakable" because he will show people that Elgin is not unbeatable. Steen says that he will walk out of Toronto the same way he walked out last time . . . as Ring of Honor World Champion.

• The next topic is that also at Glory by Honor XI, "No Fear: Mike Mondo will face "The Prodigy" Mike Bennett.
We go to comments from Mondo, who says that we know how this all started in New York. Mondo tells Bennett to cover his ears because Maria was the one to put her tongue down his throat. Mondo says he will finish what he started at Glory By Honor. Maria needs a real man and it is "No Fear" Mike Mondo.

• The next topic is that Adam Cole will defend the TV Title at Glory by Honor XI against a recent tag team partner of his, "Die Hard" Eddie Edwards.
We go to comments from Cole, who says that he will be facing a partner and friend in Eddie Edwards. Eddie taught him a lot in Ring of Honor. When you work so hard, you don't let it go. Cole says he has worked hard for the Television Title. Eddie was a tremendous Television champion and he wants to be as good as Eddie was. They will bring out the best in each other and on October 13th, the best man will walk out as the champion.
Also at Glory by Honor XI, the new ROH Tag Team champions will defend their titles.

• The final topic is the Survival of the Fittest Tournament, which will take place in October on Ring of Honor TV. Survival of the Fittest will feature 12 men in 6 matches with the winners facing off in an elimination match. The winner of Survival of the Fittest 2012 will earn a future ROH World Title Match. There will be 2 matches on the shows airing the weekends of October 6 and 7, October 13 and 14, and October 20 and 21. Finally, the final 6 man elimination will be on the weekend of October 27 and 28.
Lastly, as part of the "Road Rage" edition of ROH TV next week, we will see the Mixed Tag Team Match between Eddie Edwards & Sara Del Rey against Mike Bennett & Maria Kanellis.
Commercial
From the "Boiling Point" iPPV in a Tag Team Grudge Match: #DemBoys The Briscoes (Jay & Mark) vs. S.C.U.M. ("The Zombie Princess" Jimmy Jacobs & "The Trouble King" Steve Corino)
Corino & Jacobs have new music. No Code of Honor in this match. "Man Up" chants for #DemBoys. Jay & Corino will start things off. Jay with a side headlock, but Corino goes not go down on a shoulder tackle. Corino with a side headlock, followed by a shoulder tackle. Jay then with a leg lariat, followed by tagging in Mark. The Briscoes with the football style shoulder tackle for a nearfall. Mark with a series of headbutts to Corino, but Corino puts on the brakes and goes to the outside. Mark with a baseball slide to Corino, then goes after Jacobs. Jay puts on the brakes, but Corino dumps him to the outside. Mark now in and hits a spinning heel kick, sending Corino to the outside. Jacobs & Corino go for a pow-wow, but Mark with a top rope dive on them both as the crowd chants "ROH". On the outside, Mark with a series of strikes to Corino, then sends him into the barricade. Jacobs is hotshotted on the apron by Mark as Corino is thrown back in. Mark with a DDT, then goes to the 2nd rope and does his dance before hitting the back senton. Mark chokes Corino with his boot, but Corino fights back by choking Mark.
Tag to Jacobs as Mark goes into Jacobs' boots, followed by a Corino dropkick. Jacobs mocks Mark's goofy dance and chokes Mark. Tag to Corino, but Mark lands on his feet off a backdrop and tags in Jay. Jay with shots to both Jacobs & Corino, followed by a backdrop on Corino. Jay with a boot to Corino, but Jacobs fights off the Death Valley Driver. S.C.U.M. with a double team combo for a nearfall. Tag to Jacobs, who hits a club off the ropes. Jacobs with right hands to Jay in the corner, then tags in Corino. S.C.U.M. with a double right hand for a nearfall. Corino with an elbow, but runs into a boot, followed by Jay hitting a Flatliner, sending Corino into the corner.
Jacobs & Mark get the tags in and Mark with some Redneck Kung Fu to Jacobs. Mark with a running mule kick to Jacobs for a nearfall. Mark with a headbutt, followed by a corner whip. Jacobs gets his boots up, but Mark stops him from going up the ropes. Jacobs with a Tornado Suplex, then tags in Corino. Corino with a running knee in the corner, but Mark blocks a backdrop. Corino then with the Colby Shock for a nearfall. Mark blocks a lariat, but Corino is still able to drill him with one. Corino hits 2 backdrop drivers, but Jay breaks up the pinfall. Mark blocks another lariat with a jawbreaker, then tags in Jay. Jay with jabs to Corino, followed by a Death Valley Driver for a nearfall. Jay with a neckbreaker for another nearfall. Corino with a backdrop driver to Jay, then tags in Jacobs. Jacobs goes for the back senton, but Jay gets his knees up. Jacobs then with a spear, but Mark breaks up the fall. S.C.U.M. go for double shoulder tackle, but Mark sends Corino into the barricade. Mark with the Froggy Bow, but Corino breaks it up. Inward Ace Crusher by Jacobs for a nearfall. Jacobs goes for the Contra Code, but Jay stops him.
The Briscoes then hit the Doomsday Device on Jacobs for the victory.
Winners: #DemBoys The Briscoes by pinfall (Doomsday Device)
Commercial
Back from commercial, we close the show by seeing a video highlighting the main event World Title match from "Boiling Point" between champion Kevin Steen & CHIKARA's Eddie Kingston before we go to credits.

19-09-2012 om 11:36 geschreven door jefken
0 1 2 3 4 5 - Gemiddelde waardering: 0/5 - (0 Stemmen)

18-09-2012
WWE reports that John Cena has surgery

WWE reports that John Cena has surgery
Posted by Aaron Rift on 09/18/2012 at 01:57 PM
From WWE.com:
WWE.com has learned John Cena had surgery to remove bone chips in his elbow today. Dr. Andrews removed several pieces of bone cartilage from Cena's elbow through a scope. A surgery like this will take four to six weeks to recover.
As more information comes available, WWE.com will inform the WWE Universe.
18-09-2012 om 20:10 geschreven door jefken
0 1 2 3 4 5 - Gemiddelde waardering: 3/5 - (2 Stemmen)

Updat on fan who got the mic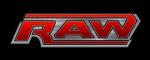 - In an update from last night's RAW, the fan who was accidentally thrown the live microphone by Ryback was not ejected by security. As noted before, Ryback threw the mic into the crowd when he was tearing up MizTV. The fan grabbed the mic and began yelling "Goldberg!" before WWE's ring crew chased him down and took it back.
18-09-2012 om 20:05 geschreven door jefken
0 1 2 3 4 5 - Gemiddelde waardering: 0/5 - (0 Stemmen)

News on Orton Turning Heel

Sources close to Randy Orton note that he desperately wants to go heel and that may be happening before the year is over. The plan has been for Orton to turn once Sheamus was popular enough to carry SmackDown on his own.

18-09-2012 om 20:02 geschreven door jefken
0 1 2 3 4 5 - Gemiddelde waardering: 1/5 - (1 Stemmen)

Lawler Released From Hospital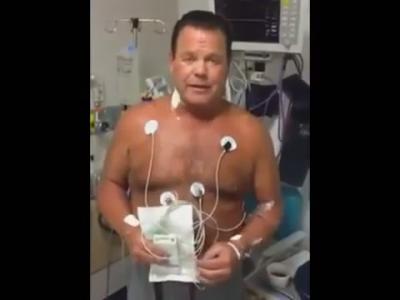 Lawler Released From Hospital
Posted by Steve Carrier on 09/17/2012 at 04:53 PM
- The official WWE website announced Monday at 3:55 p.m. that Jerry "The King" Lawler has been released from a Montreal hospital and will be heading home in the next several days after suffering a heart attack last Monday.
"We continue to wish Jerry all the best, and we look forward to him returning to WWE in the future," the sports-entertainment organization notes.
18-09-2012 om 20:02 geschreven door jefken
0 1 2 3 4 5 - Gemiddelde waardering: 3/5 - (2 Stemmen)

Fan Gets A Live Mic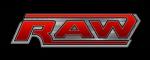 Tonight on Raw as Ryback was tossing everything out of the ring during Miz TV, he tossed a live ring mic into the crowd. A fan grabbed it and began yelling "Goldberg! Goldberg!" into the mic, with the comments going out over the sound system live. WWE's ring crew chased the fan down and took the mic away. No word as to whether they ejected the fan from Bridgeport, CT.

18-09-2012 om 19:55 geschreven door jefken
0 1 2 3 4 5 - Gemiddelde waardering: 0/5 - (0 Stemmen)

Update on orton

- As covered last night, the cameras caught Randy Orton flipping off some fans during his match with Dolph Ziggler at Night of Champions. Several fan reports noted that during the match, Orton got into a pretty heated argument with some fans.

The argument continued after the match and both sides were said to be very animated. More than one fan reported that Orton told the fan that he would "kick his ass" after the show.

18-09-2012 om 19:46 geschreven door jefken
0 1 2 3 4 5 - Gemiddelde waardering: 0/5 - (0 Stemmen)

Photo of John Cenas Injured Ankle at Night of Champions
John Cena revealed that he rolled his ankle early in the match against CM Punk at last night's WWE Night of Champions pay-per-view. Cena commented and posted the following photo:




"Wild night tonight, nuthing to do now but move forward. This is my left ankle. It was rolled early in match... Thru all the bumps and bruises, a heartfelt thanks to all those supporting #riseabovecancer thank u."

18-09-2012 om 19:45 geschreven door jefken
0 1 2 3 4 5 - Gemiddelde waardering: 0/5 - (0 Stemmen)

UPDATE LAWLER

- PWInsider reports that there has been no talk within WWE of Jerry Lawler not returning to commentary but there has been talk of him never wrestling again. While doctors told Lawler that he could get in the ring if he wanted to, doctors are not advising it for his longterm health.
On a related note, they add that Vince McMahon told Lawler to do what he needs to do so he can get better and that his commentary job is safe. Vince was said to be shaken up and very concerned over the whole situation with Lawler's health.
18-09-2012 om 19:39 geschreven door jefken
0 1 2 3 4 5 - Gemiddelde waardering: 0/5 - (0 Stemmen)

Orton Flips Off Crowd
- Randy Orton pulled a Fred Durst and flipped off the crowd at the Night of Champions pay-per-view Sunday night.




Moments after his match, Orton took to Twitter to apologize:

@RandyOrton
Had a blast tonight. Great crowd in Boston, sorry if I offended anybody with that inappropriate gesture!

18-09-2012 om 19:33 geschreven door jefken
0 1 2 3 4 5 - Gemiddelde waardering: 0/5 - (0 Stemmen)

Uitslagen raw 17 september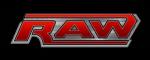 WWE Monday Night Raw
Bridgeport, Connecticut
September 17, 2012
Commentators: Jim Ross, Michael Cole and John Bradshaw Layfield
Report by: David Stephens of Wrestleview.com

Are you ready? Then stop questioning your heart and join me because it's time for Monday Night RAW!

CM Punk's music hits, but it is Paul Heyman who struts down to the ring. He introduces himself to the crowd and says that last night he saw history being made as CM Punk successfully defended his Championship against John Cena. He admits that the ending of the match was broiled in controversy, so he'd like Chad Patton, last night's referee, to come down to the ring and explain his decision.

Patton makes his way into the ring, and via a picture supplied by Heyman, reaffirms his Night of Champions decision. Heyman commends him for that bravery and then shows footage from a fan's cell phone. Because it was a draw, Punk retains his Title.

John Cena's music hits and he makes his way down to the ring. He tells Paul to shut up. He says that he agrees with the referee and Heyman. Cena says that he doesn't have a problem with the decision, but he has issue with the fact that the PPV ended in a draw. Cena wanted the match to continue. Cena says that Punk has always clamored for respect, but doesn't think that by retaining by a tie Punk earned that respect. Heyman disagrees.

Cena says that respect is earned by beating anyone on any given night, not by attacking someone with a Title belt after a draw. Respect is being able to hold your head high after a definitive decision. Cena's ankle is injured tonight, but he wants a rematch nonetheless.

Heyman says that CM Punk will tell Cena to his face... when he gets here tonight. Heyman says that he speaks for Punk because he is the voice of the voice of the voiceless.

Alberto Del Rio's music hits and he walks out onto the ramp with a neck brace wearing Ricardo Rodriguez. He says that Cena needs to stop complaining because he too deserves a rematch.

AJ's music hits and she comes down to the ring. She announces that Cena & Sheamus v. Alberto Del Rio & CM Punk will be tonight's main event. That match will help determine if anyone deserves a rematch, and who that #1 Contender might just be.

****Commercial****

Michael Cole updates the audience on Jerry Lawler and also announces that he will be interviewing him for RAW next week. Justin Roberts introduces JBL as he once again joins in for commentary tonight. As does... Jim Ross!

Rey Mysterio & Sin Cara v. Primo & Epico

Cara and Primo start the match. Cara hits a nice leaping arm drag. Rey gets the tag and gets on his knees for Cara to leap and hit a crossbody. Cara gets the tag again and hits a double kick with Rey. Cover, but Primo kicks out.

****Commercial****

Rey puts Epico in position for the 619 and Cara puts Primo right next to him. Rey runs and connects with the 619! Rey leaps out of the ring with a seated senton on Primo. Cara is the legal man and hits a Swanton in the ring from the top rope and picks up the win.

Winners: Rey Mysterio & Sin Cara

After the match The Prime Time Players run down to the ring and attack the victors. They grab mics and declare themselves the rightful Tag Team Champions and say that they will take what they want.

****Commercial****

Eve Torres v. Beth Phoenix

Eve flips over the back of Beth put is met with a hard clothesline. Eve pushes Beth into the corner and scores a roll up.

Winner: Eve Torres

After the match Eve flaunts her Title in front of Layla, who was on commentary for the match. (I probably should have mentioned that before but.. eh... Divas...)

****Commercial****

Antonio Cesaro joins in for commentary during the next match.

Brodus Clay v. Heath Slater

They exchange blows back and forth. Slater tries to get in a bit of offense but it is short lived. Slater leaps from the second rope only to get swatted away. Clay hits the Splat and this match is over.

Winner via Splat: Brodus Clay

****Commercial****

Miz TV

Miz walks down to the ring and flaunts his stature as the most must see WWE Superstar. His guest tonight is the GM of Smackdown, Booker T.

Miz asks Booker T why he is against him. Why did Booker T put Miz against 3 other guys last night? Miz brings up a couple of other questionable decisions and says that he thinks Booker misses the spotlight. It makes Booker insane that his time is over.

Booker has the mic and says that Miz likes to talk, but it is time for Miz to get a new guest for his show. It'll be someone that thrives on beating multiple opponents at the same time.

Ryback's music hits and he makes his way down to the ring. Ryback starts to freak out and tosses the set everywhere and out of the ring.

****Commercial****

Josh Mathews walks up to Heyman and Punk in the back. He asks Punk about teaming with Del Rio tonight. Punk goes off on a mini diatribe about wanting respect.

Santino v. Dolph Ziggler w/ Vickie Guerrero

Santino pushes Ziggler down to the mat as the match begins. Ziggler is unhappy and hits a dropkick right to the jaw. Santino power walks the ropes and then goes for a cover! Ziggler kicks out. Santino connects with an arm drag. Ziggler takes back control and stop the cobra from emerging. He tosses the fabric across the ring. Ziggler connects with a couple of punches. Santino starts to fight back and dodges a clothesline. Santino hits the headbutt and goes to look for the cobra. Vickie pulls it out of the ring. . Ziggler hits the Zig Zag and this is over.

Winners: Dolph Ziggler & Anti-Cobra Activists

****Commercial****

Wade Barrett v. Justin Gabriel

Gabriel starts the match of fast with a series of kicks, but Wade moves out of the way and punches right back. Justin rolls out of the ring and Wade follows after to bring him back in. Wade pulls Justin's side against the steel post. Back in the ring, Wade goes for a cover. Gabriel kicks out. Another cover off of a punch, but Gabriel kicks out. Wade locks on a side headlock as the crowd chants *We Want Nexus*. Justin gets free and kicks him in the gut. Justin hits a nice springboard moonsault and goes for a cover. Wade kicks out. Wade tosses Justin high up into the air and goes back to work the neck area from behind. Wade pulls Justin into a forearm and this match is over.

Winner: Wade Barrett

****Commercial****

Kofi Kingston is in the back and walks up to R-Truth who is talking to Little Jimmy. Truth wishes Kofi a Happy Birthday. Kofi says it isn't his birthday. Truth says that he knows, but it is Subway's birthday! Jared appears and offers them sandwiches. Damien Sandow gets a Meatball Parm. Zack Ryder and then Ryback also get sandwiches.

In the locker room, Sheamus is speaking to Cena. Cena seems disinterested by Sheamus' tale.

****Commercial****

WWE Tag Team Championship
Daniel Bryan & Kane v. Kofi Kingston & R-Truth

Kofi and Bryan start the match. Bryan hits a shoulder block but gets met with an elbow. Kofi tags in Truth who rakes the arm. Bryan responds in kind and then goes to tag Kane. Instead he shouts no in his face. Truth tags Kofi. Kingston flies in with a crossbody and goes for the cover. Bryan kicks out and Kane gets the tag. Kane misses a punch and Kofi kicks him into the corner. Kane tosses him to switch positions and unloads with punches. Kofi is lifted off the mat and head-butted. Kofi connects with a couple of kicks. He sends Kane out of the ring and then tosses a charging Bryan right over and into him. They argue on the outside.

****Commercial****

Kane and Truth are in the ring as we come back from the break. Kofi tries to employ his weak strikes. He flies off the top with a crossbody. He prances around the ring and hits the Boom Drop. Kane catches Kofi in a chokeslam position to counter the Trouble in Paradise. Kofi runs away but flies off the second rope directly into a right fist. Kane signals for the chokeslam, but Bryan tags himself into the match. Truth comes in and is able to wear down Daniel Bryan. Kane comes in off a tag to make the save. He leaps form the top rope and connects with a rolling clothesline. Kane hits a Sidewalk Slam. Kane puts his hand up for a chokeslam and again Bryan looks to tag in but Kane stares him down. Kane grabs him, but Bryan pulls his neck down on the rope. Truth goes for a cover, but Bryan runs in to make the save. Kane hits a chokeslam out of desperation. Bryan tags himself in and applies the No Lock. This match is over.

Winners & STILL Tag Team Champions: Daniel Bryan & Kane

****Commercial****

Randy Orton v. Tensai

Tensai uses his power to knock Orton down to the mat. He lifts Orton high up into the air and slams him down to the mat. He lifts Orton back up and applies a bear hug. Orton falls to the mat so Tensai hits him with a series of knees to the back. He continues the slow attack. Orton hits an RKO out of nowhere and this match is over.

Winner via RKO: Randy Orton

****Commercial****

David Otunga is with Alberto Del Rio in the back and approaches Heyman and Punk. He tries to speak for Rio and says that he'll be taking the lead in tonight's match. This does not go over well. Punk reminds Del Rio via proxy of the time he defeated Del Rio.

Damien Sandow is in the ring and starts to educate the crowd on some new vocabulary words.

Zack Ryder's music hits and he says that he has some vocab for Sandow... Shut. Up. Now.

****Commercial****

Damien Sandow v. Zack Ryder

Back from the break, Ryder sends Sandow over the top rope. Ryder flies out over top. Sandow applies a side headlock and chokes the life out of Ryder. Sandow drops him headfirst out of a Russian Leg Sweep. Sandow goes for a cover, but Ryder kicks out. They start to exchange blows in the ring. Ryder is pushed into the corner and met with a couple of elbows. Ryder fights back and sets up and connects with the Broskie Boot. Cover, but Sandow kicks out. Sandow responds by hitting his finisher and this match is over.

Winner: Damien Sandow

****Commercial****

John Cena & Sheamus v. CM Punk & Alberto Del Rio

Punk looks to start the match against Cena, but quickly leaves it to Del Rio. Punk starts to conference with Heyman outside the ring. Del Rio is sent towards the corner. Cena hits a monkey flip followed by a back body drop. Sheamus gets the tag and throws Rio towards the corner. He starts to unload on Rio. Sheamus hits a rolling Samoan Drop.

Cena gets the tag as does Punk. Cena knocks him to the ground so Punk holds on to the ring apron to try and resist the clutch of Cena. Cena lifts him up for the AA, but Punk scurries off. Rio gets the tag as Punk holds back Cena. Punk comes back in but the tag is again quickly exchanged to Del Rio. Sheamus gets the tag from Cena and places Del Rio on the apron to brutally club him. Sheamus brings him back in the ring and hits the Celtic Cross. Sheamus looks for the Brogue Kick, but Punk distracts. Del Rio tries to sneak in a cover, but Sheamus kicks out.

CM Punk gets the tag and starts to work on the legs of Sheamus. He takes him down to the mat and applies a surfboard variation! Sheamus counters and tries a pin. Punk kicks out and tags in Del Rio. He continues the control of Sheamus. Sheamus responds by hitting a brutal backbreaker. Punk and Cena both get the tags. Cena starts his 5 moves of doom. Punk tries to kick Cena but gets put in an STF. Del Rio makes the save, only to get clobbered by Sheamus and knocked out of the ring. Punk charges and knocks down Sheamus. Cena hits him with an AA and picks up the pin! Heyman is furious as Punk's leg was clearly on the rope.

Winners: John Cena & Sheamus

After the match CM Punk follows the referee all the way up the ramp complaining about his foot being on the rope.

---

David's Thoughts

Heyman makes perfect sense as the voice of the voice of the voiceless. I kind of adore that moniker.

Remember a couple years ago when commentators and the like were not allowed to refer to referees by name? That's over apparently.

AJ's outfit was much better tonight. It was simply, her. It worked for her character and included the bit of spunk that she has been missing as the GM.

I never appreciated how good Rosa Mendes looks until tonight. Guess that's what happens when I fall asleep during the Diva matches 99% of the time. I'm a fan.

Prime Time Players are starting to grow on me a tiny bit, but man they still gross me out. And they're sloppy.

I'm ready for Brodus Clay to move on to better opponents. Antonio Cesaro is a step in the right direction.

They put a bit of production into MizTV, so I expect to see it again. Much like Clay, it will be refreshing to see Ryback in a real feud.

I like Wade's facial hair. I suppose I should have gotten a bit more about him out of this match, but that's what I'm left thinking.

Daniel Bryan and Kane are undoubtedly silly. You don't hug in a Championship match, but hey it works. They are the epitome of successful sports entertainment. They really make the show enjoyable to watch.

Randy Orton straight up bores me. I legitimately fell asleep during his match last night. Which is a shame cause I missed the whole flipping off the fan incident, but it was a nice little nap so I'm not too upset. Speaking of which, I'm so over his utilization of the RKO out of nowhere to win a match.

Woo Woo Woo. Ryder made it onto RAW. Didn't win a match or anything, but hey he was there.

CM Punk yelling at the referee was hysterical. The fact that he kept saying he knew that the ref didn't see it but was still mad was great. At least a rather boring RAW ended with a laugh.



















18-09-2012 om 19:27 geschreven door jefken
0 1 2 3 4 5 - Gemiddelde waardering: 0/5 - (0 Stemmen)

'Released' TNA Star Attacks Again At House Show

'Released' TNA Star Attacks Again At House Show
Today, 03:58 PM Posted by Tiltman in Latest TNA Wrestling News & Rumors
The following may contain spoilers for upcoming episodes of Impact Wrestling. Click on the "show" button only if you absolutely want to read the spoiler.

Spoiler
For the second consecutive night "released" wrestler Matt Morgan "crashed" a TNA live event. This time Morgan appeared at the Impact Wrestling live event in Wilkes-Barre, Pennsylvania. Morgan came down through the crowd during a Miss Tessmacher vs. Tara match and argues with Atlas Security before taking a seat.
Later after James Storm vs. Jeff Hardy ended in a 15 minute time limit draw, fans were booing referee Brian Stifler for more time. Storm and Hardy left the ring but Morgan ran down from the crowd and destroyed the referee with a Carbon Footprint. Morgan received a big pop from the crowd and was led out of the arena by security.

17-09-2012 om 20:32 geschreven door jefken
0 1 2 3 4 5 - Gemiddelde waardering: 2/5 - (1 Stemmen)


| | |
| --- | --- |
| | |
Over mijzelf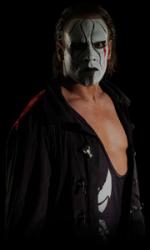 Ik ben
Boon Kenneth
, en gebruik soms ook wel de schuilnaam
Sting
.
Ik ben een man en woon in
Dworp
(Belgie) en mijn beroep is .
Ik ben geboren op 05/06/1989 en ben nu dus
30 jaar
jong.
Mijn hobby's zijn: Worstelen en films.
Gastenboek
Druk op onderstaande knop om een berichtje achter te laten in mijn gastenboek
E-mail mij
Druk op onderstaande knop om mij te e-mailen.