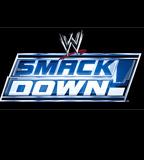 TAMPA, Fla. – The day after Thanksgiving is the busiest retail shopping day of the year, earning it the nickname "Black Friday." On SmackDown, however, Black Friday took on a new meaning, as Superstars from the Land of the Extreme made their presence felt against the Blue Crew.
Second verse, same as the first
The monstrous rivalry between Kane and Big Daddy V exploded once again on SmackDown, as the two monsters met in singles action. Kane was looking for payback for ECW on Sci Fi, when he defeated Big Daddy V & Matt Striker in a Handicap Match.
Kane was victorious again on SmackDown, this time by disqualification. As the Big Red Monster was seemingly on the road to victory, Striker got involved with a steel chair – getting his protégé disqualified in the process. However, Kane thwarted Striker's attempted chicanery, clobbering him with a clothesline before smashing the chair across Big Daddy V's ample back. (WATCH)
Irish eyes are crying
As another act of "tough love," Mr. McMahon put son Hornswoggle into a match with another massive opponent – this time, the World's Strongest Man, Mark Henry. Finlay, however, had a problem with that, telling McMahon that this wasn't part of their "deal." Instead, the WWE Chairman set up a Handicap Match – Finlay & Hornswoggle vs. Henry. Thanks to a little help from their trusty shillelaghs, the Irish duo picked up the victory. After the bout, however, Finlay's past of helping Hornswoggle finally caught up with him. As The Great Khali – who the ornery Irishman assaulted with a shillelagh during his Survivor Series Match with the lil' leprechaun – approached ringside, the World's Strongest Man assaulted Finlay from behind. Khali then added a devastating choke bomb to the Irishman's misery, as poor, frightened Hornswoggle could only look on in horror from the corner. (WATCH)
A night of seconds
WWE Tag Team Champions The Miz & John Morrison made the second defense of their newly won gold, taking on The Major Brothers. Brett & Brian Major had hoped their second WWE Tag Team Title Match would end better than the first, but unfortunately, once again, they came up just short. The brothers from Long Island fought valiantly, though, even with Brett Major busted wide open by John Morrison. Miz & Morrison seemed to show no ill effects from being opponents at Survivor Series, retaining their gold after Miz gave Brian Major a Reality Check.
Engine failure
Jamie Noble may have put his foot in his mouth once again on SmackDown, but this time, he ended up getting the last laugh. Prior to Noble's match with Chuck Palumbo, Michelle McCool caught him straddling Palumbo's chopper. Noble tried to sweet talk the beautiful blond Diva, but his advances were quickly spurned. No matter for Noble, who survived a tough match and pulled out a surprising victory, using the motorcycle enthusiast's size against him to gain the pinfall with a roll-up.
Going 2-for-2 in the Sunshine State
After being on the winning side of a 10-Divas Tag Team Match at Survivor Series, Torrie Wilson once again found the winner's circle on SmackDown. This time, the blond bombshell from Boise showed off her ring prowess in solo action against Victoria, one of the Divas on the losing end at Survivor Series. Moments after escaping Victoria's dreaded Widow's Peak, Torrie dropped her opponent with a neckbreaker to seal the victory.
The Champ is still here … sort of
Jesse & Festus also made a SmackDown appearance, but not in the ring. Instead, they came as fans … well, fans and perhaps merchandisers, as Jesse extolled the virtues of the new John Cena – My Life DVD with his big buddy Festus in tow – dressed to the nines in Cena gear, of course. Unfortunately, their time was cut short thanks to Festus' insistence of another DVD viewing, but before leaving, the burly country boy made it known that if you don't follow The Champ's virtues of hustle, loyalty and respect, then perhaps you can't see him. (WATCH)
Rated "T" for Tombstone
Edge said that SmackDown would be where he answered all the questions about why he screwed Undertaker. It was learned that Edge's actions were the culmination of four months of planning with "the love of his life," Acting SmackDown General Manager Vickie Guerrero. Once the two revealed they were in cahoots, Vickie named Edge the new No. 1 Contender to the World Heavyweight Championship, granting him a match against Batista next week. But when The Animal was the guest on the return edition of The Cutting Edge, all Hell broke loose. The angry champion manhandled the smitten Rated-R Superstar, while Undertaker made his presence felt by giving Edge's main squeeze a taste of Tombstone. Read the whole story…
Most valuable presentation
United States Champion MVP was primed for a big night, as JBL was set to award him the first-ever "United States Championship Championship Ring" on behalf of the United Nations. That wouldn't be the only ring MVP got a feel for on this night, however; after listening to the Ballin' Superstar run down Matt Hardy, Rey Mysterio had enough and challenged MVP to a non-title match. Rey nearly was able to pull off the victory, but a little help from one of the U.S. Champion's true friends – the top rope – helped Porter pick up a victory in his home state. Read the whole story…
24-11-2007 om 20:44 geschreven door jefken
0 1 2 3 4 5 - Gemiddelde waardering: 0/5 - (1 Stemmen)