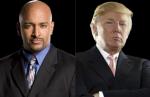 Written: February 21, 2007The Battle of the Billionaires pitting Donald Trump and Mr. McMahon and their respective 'dos against one another at WrestleMania 23 has generated buzz worldwide. Trump and McMahon will be represented by the Superstar of their choice in the highly anticipated match. (McMahon has chosen new Intercontinental Champion Umaga while Trump will announce his choice next week on Raw.)
With the loser slated to get his head shaved, there is a lot more than ego on the line for these two billionaires. In this week's edition of Superstar to Superstar, Mr. McMahon's Executive Assistant, Jonathan Coachman, confronts his boss' WrestleMania foe. Would McMahon's executive suck-up show his undying loyalty, or would he audition to become Trump's "apprentice"? Find out below:

Coachman: First of all, Mr. Trump, I'm "The Coach," Mr. McMahon's executive assistant. So don't think for a minute that I'm envious of sitting here next to you. How's business for you these days?

Trump: Business is great. It's been amazing, it's been the best it's ever been for me. I know it's been the best for Vince, and we're going to put some of that business on the line come time for WrestleMania.

Coachman: Now on Raw Jan. 29, you literally dumped thousands of dollars on our audience. Mr. McMahon wasn't too happy with what you did, but then McMahon gave our fans what we like to call "value." Why are you so hell-bent on, for lack of a better term, "Trumping" our audience?
Trump: Well, I like to give back to the fans. I don't like the way Vince treats them – he takes advantage of them. And come time to have our showdown, I think it's going to be a very interesting little dilemma he's got. I like the fact that I'm giving something back to the fans after years of him taking advantage of them.

Coachman: Now you are aware that Mr. McMahon is nothing like Rosie O'Donnell. Vince was on the cover of Muscle & Fitness. It's going to be a completely different animal you're going up against at WrestleMania.
Trump: Well, look, I'll tell you what: I am a big fan of what you've done with WrestleMania. I'm not a fan of Rosie O'Donnell. As you know, I called her a degenerate. I called her lots of other things. She's just not a smart person, and she is certainly not an attractive person. In fact, I think Vince is far more attractive than Rosie. If it came down to having to kiss one of them goodnight, I think any male would have to choose Vince over Rosie. But … It's going to be something spectacular, and already everybody is talking about it.
Coachman: Now I wouldn't be myself if I didn't give you props for being part of our show and bringing the star power that you bring. But just for a second, let's talk about The Apprentice. I know you're very proud of the show, and it's in California this year. What can we expect in the next several Sundays on The Apprentice?
Trump: Well, it's been really terrific. It's in L.A. this year … There have been 15 copycats of The Apprentice, and every one of them have been off the air almost immediately. [Dallas Mavericks owner] Mark Cuban tried and failed. Richard Branson, so many others … Tommy Hilfiger. … We're now in our sixth season, so it's been a really amazing thing for me, and it's been a lot of fun. And I think it's just more of the same. It's just a formula that seems to work. They seem to like the boardroom the most. Frankly, if you could make an entire hour of the boardroom, people would like it better than the task. But you need the task to get to the boardroom. But The Apprentice has been something that's really been fun for me. It became the No. 1 show on television for a long period of time, so I've had a great time with it.

Coachman: You know, I was thinking before I came over here today that you need an idea guy, someone that helps you not just become a billionaire, but a trillionaire. And I know somebody like that. I can set up a meeting between you and me - er, him, him. If you'd be open to something like that …
Trump: I am totally open to that. You sound like the right guy.
Coachman: Don't let Mr. McMahon hear that. Now, last question: If your guy wins at WrestleMania, will you actually go through with shaving Mr. McMahon's beautiful head of hair?

Trump: Absolutely. There's no question about it. Now, people accuse me of wearing a hairpiece. I don't wear a hairpiece, but I've been accused of it for years. I've also heard them accuse him of wearing a hairpiece. Now, I've never thought in terms of him wearing a hairpiece. I know he doesn't wear a hairpiece. Because frankly, if he wore a hairpiece, then it would be a lot easier. I could just rip the hairpiece off. But it's not going to be that way because I know he doesn't wear a hairpiece. But I look forward to shaving his head – that's something I really look forward to. My wrestler damn well better win.
Coachman: I'll ask one more question, if you don't mind. What made you agree to be a part of this? I know you said you have a tremendous amount of respect for WrestleMania. It could be one of the biggest we've ever had, one of the biggest crowds we've ever had …
Trump: Not could be. This will be the biggest you've ever had because I'm a part of it. This will be your highest-rated. This will be your biggest crowd. This will be your most exciting. This will be talked about far beyond just the realm of wrestling, which is a big realm. But this is going to be talked about all around the world. This will be, without question, the biggest WrestleMania.
22-02-2007 om 19:27 geschreven door jefken
0 1 2 3 4 5 - Gemiddelde waardering: 4/5 - (1 Stemmen)