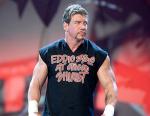 Name: Eddie Guerrero
Height: 5 foot 8
Weight: 220 pounds
From: El Paso, Texas
Signature Move: Frog Splash; Lasso from El Paso
Career Highlights: WWE World Heavyweight Title (defeated Brock Lesnar at No Way Out on February 15, 2004); WWE Tag Team Titles (3 times); WWE Intercontinental title (2 times); WWE United States Title (defeated Chris Benoit in tournament final at Vengeance 2003); WWE European Title (2 times); WCW United States Title, WCW Cruiserweight Title, ECW Television Title (2 times

Eduardo Gory Guerrero Llanes (9 oktober 1967 – 13 november 2005), beter bekend bij zijn bijnaam, Eddie Guerrero, was een Mexicaans Amerikaanse professioneel worstelaar. Als telg van de legendarische Mexicaanse worstelfamilie, wist Guerrero de roem van de Guerrero familie groot te houden. Gedurende de jaren 90 werkte hij voor bijna elke grote worstelpromotie in de Verenigde Staten; Extreme Championship Wrestling, World Championship Wrestling en World Wrestling Entertainment.
Guerrero's karakter in de ring was die van een creatieve, vindingrijke worstelaar die alles wilde doen om een wedstrijd te winnen. Zijn fameuze mantra werd "Cheat to Win." Ondanks, of mogelijk dankzij, het feit dat hij een heel was gedurende de grootste periode van zijn carrière, werd hij extreem populair dankzij zijn charisma en het feit dat zijn karakter grotendeels een weerspiegeling van zichzelf leek te zijn.


Guerrero kwam van een legendarische worstel familie. Zijn vader, Gory Guerrero, was een van de oprichters van Lucha Libre, een prominente worstel trainer en een invloedrijk figuur in het Mexicaanse professionele worstelen. Zijn drie broers, Chavo Guerrero, Hector Guerrero en Mando Guerrero volgden allen in hun vaders voetsporen en werden professionele worstelaars. Guerrero's neefje, Chavo Guerrero, Jr. werd ook worstelaar, terwijl zijn oom Enrique Llanes en neef Javier Llanes in Mexico worstelden. Als een jongetje liet Guerrero's vader toe dat hij en Chavo Jr. tegen elkaar worstelden in de pauze van de worstel Arena die Gory bezat.
Guerrero is opgegroeid in El Paso, Texas en ging naar de Universiteit van New Mexico en de New Mexico Highlands University met een sportbeurs, waar hij universitair worstelde, voordat hij terugkeerde naar El Paso om te trainen voor professioneel worstelaar. Hij debuteerde in 1987 in de Mexican Empresa Mexicana de Lucha Libre promotie. Hij werd een ster in Mexico lang voordat hij in de main event stond in de Verenigde Staten.
Op 13 november 2005, werd Eddie Guerrero dood in zijn hotel kamer gevonden in Minneapolis, Minnesota, in het Marriott City Center Hotel door zijn neef, Chavo. Hij was 38 jaar oud. Een aantal uur later schreef WWE.com het volgende op zijn website:
"WWE is diepbedroefd door het nieuws dat Eddie Guerrero is overleden. Hij werd vanmorgen dood gevonden in zijn hotelkamer in Minneapolis. Eddie wordt overgeleverd door zijn vrouw Vickie en zijn dochters Shaul, 14, Sherilyn, 9, en Kaylie Marie, 3."
Dezelfde dag hield WWE een pers conferentie met een speech van zijn neef Chavo die sprak over Eddie Guerrero's vier jaar van geheelonthouding die zou komen op 15 november 2005. Chavo verdedigde zijn oom door te zeggen dat hij zijn "persoonlijke demonen" had verslagen. WWE Voorzitter Vince McMahon weigerde om te speculeren over mogelijkheden van Eddie Guerrero's dood en beide mannen zeiden dat Guerrero zou willen dat de show door zou gaan.
Reden van zijn dood
Door een autopsie werd onthuld dat Eddie Guerrero was gestorven als resultaat van acuut hart falen, veroorzaakt door een ongediagnostiseerde arteriosclerotische cardiovasculaire ziekte en vergroting van het hart als een resultaat van eerder anabolen steroiden misbruik. Hoewel Eddie Guerrero al meer dan vier jaar geen alcohol of verboden medicijnen had genomen heeft zijn vroegere overmatige gebruik bijgedragen aan zijn hart falen. Gedurende de tijd van zijn dood had hij onlangs narcotische pijnstillers gebruikt.
Eddie Guerrero's vrouw Vickie zei dat bij onwel was de week die vooraf ging aan de week voor zijn dood, maar dat hij dit had toegeschreven aan de stress van het continue reizen en optreden. Ze voegde toe dat de doktoren haar hadden verteld dat Eddie Guerrero's bloedvaten geraveld en verzwakt waren door een ongediagnostiseerde hartziekte en dat hij in een diepe slaap was geraakt.
Op de 30 november 2005 editie van WWE Byte This! zei Chavo Guerrero Jr. dat Eddie Guerrero heel hard had gewerkt en op de top van zijn fysieke kunnen was door dagelijkse cardiovasculaire en gewichten training oefeningen. Er waren geen symptomen of redenen tot bezorgdheid benadrukte Guerrero Jr., terwijl andere mensen die voor meer dan 10 jaar drugs gebruiken geen enkel effect hebben. Eddie Guerrero kreeg ondanks dat hij het drugs gebruik 4 jaar eerder had opgegeven hart complicaties die niet op tijd waren ontdekt om zijn dood te kunnen voorkomen.


Eddie Guerrero's begrafenis vond plaats op 17 november 2005 in Phoenix (Arizona), Arizona op de Green Acres Begraafplaats. De besloten ceremonie werd voorgezeten door de gepensioneerde worstelaar "Superstar" Billy Graham. Chris Benoit, Dean Malenko, Chris Jericho, JBL, Vince McMahon, Tom Prichard, alle broers van Eddie Guerrero, een van zijn zusters, Chavo Guerrero Jr. en Valerie Coleman Graham spraken op zijn begrafenis. Een groot aantal worstelaars en worstelpersoonlijkheden waren ook aanwezig.
Als een direct antwoord op de dood van Eddie Guerrero kondigde WWE Voorzitter Vince McMahon aan dat drugs testen zou worden aangevangen voor WWE worstelaars, die begonnen in maart 2006. Eddie Guerrero werd toegevoegd aan de WWE Hall of Fame op 1 april 2006 door Chris Benoit, Rey Mysterio en zijn neef Chavo Guerrero in Chicago, op de vooravond van Wrestlemania 22. Zijn vrouw Vickie Guerrero nam deze eer in ontvangst.
21-12-2006 om 23:36 geschreven door jefken
0 1 2 3 4 5 - Gemiddelde waardering: 1/5 - (10 Stemmen)