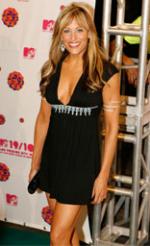 Lilian Garcia at the MTV Latin VMAs
By Kara A. Medalis
October 20, 2006
RAW ring announcer Lilian Garcia was
part of a star-studded
evening Thursday night at the MTV Video
Music Awards Latin
America 2006. The event, which was held
at the Palacio de los
Deportes in Mexico City, was Garcia's first
awards show appearance,
and it's something she won't soon forget.
"The VMAs were incredible. It was mayhem,
but it was unbelievable,
" Garcia told WWE.com.
"The stars that showed up, the WWE fans
that were there, the photographers,
the press, everything – it was just unbelievable."

Garcia said the busy red carpet
(which was actually green) was the highlight of
the night, since she was able to meet some of
today's hottest musical acts.
"I got to meet Nelly Furtado.
I got to speak with Shakira.
I had met her before, but I got to really
speak to her for a while.
And then I got to meet Robbie Williams,
Fall Out Boy –
we talked to them for a while,
so that was pretty cool."
Garcia pointed out that many WWE fans
had gathered
around the red carpet before the show
and gave her a warm reception.

22-10-2006 om 10:36 geschreven door jefken
0 1 2 3 4 5 - Gemiddelde waardering: 2/5 - (14 Stemmen)