Het blijven die 10 zelfde pups maar iedere dag is er toch wel een duidelijke evolutie of een ander verhaaltje.
Doordat de pups heel veel buiten vertoeven, bij de laatste dagen mooi weer, zijn er een aantal zaken weer op zijn plooi gevallen. Zo kunnen Indigo en Emona terug eten op hun vertrouwde plaats. Zij kunnen ook, als ze er zin in hebben terug gaan uitrusten op hun Leo-bed in de veranda tussenin de pups. Alleen als er bezoek komt dan wilt Emona op de eerste plaats staan en is ze wat ontstuimig. Zij vinden het trouwens fijn dat veel bezoekers ook hen eens willen van nabij zien en aaien. En als dat niet zo is dan vragen ze er wel om.
Je ziet ook dat de pups hun leefwereld willen verruimen: zo willen ze het tuinmateriaal inspecteren, willen ze ook eens op de oprit gaan snuffelen en haasten zich soms om mee te kunnen tot aan de voordeur.
Gisterenmorgen en ook deze morgen lokten we ze allemaal, bij het ontwaken, mee naar buiten en toch wel ¾ haastte zich naar het hondentoilet om hun behoefte te doen (en daar hebben we géén beelden van wegens de pivacy). Maar er was er ook eentje die terug naar binnen liep en het daar deed, o ja, anders zouden wij geen opkuiswerk meer hebben. Beginners geluk of puur toeval, de natuur bewaart soms zijn geheimen heel goed.
Het spelen met elkaar breidt zich uit naar Neenah, soms met Emona maar nu beginnen ze ook wel interesse te tonen voor heel wat speeltjes die ze bij zich hebben. De tunnel heeft voor hen ook geen geheimen meer en of het nu Ramstein, de Heideroosjes, Axelle Red, The Tellers, Monsoon, Deep Purple, Pink Floyd, Mozart of Clouseau is………. het maakt hen allemaal niet uit. Zelfs het onweer van deze namiddag met enkele donderslagen en de cd's met alle mogelijke geluiden, brengen hen niet van de kaart. Maar ze genieten wel van een rustig muziekje, op schoot van hun baasjes terwijl ze gekamd worden.
De bezoekers zijn al allemaal meerdere keren langs geweest en iedereen heeft zo wel een beetje zijn voorkeur……spannend……….nu moeten we nog zien dat het klikt tussen de nieuwe baasjes en hun toekomstige pup want dat vinden ook wij heel belangrijk. Je kan een voorkeur hebben maar wat doe je als de pup echt géén interesse zou hebben voor jou?........... Afwachten dus en observeren en praten met de mensen en hun kinderen (of is dat nu beroepsmisvorming?).
Ils restent les 10 même chiots, mais chaque jour il y a une évolution ou une autre histoire.
Parce que les chiots restent en dehors les derniers beaux jours, il y a un certain nombre de chose qui devient assez normal. Ainsi, Indigo et Emona mangent en nouveau sur leur lieu familier. Ils peuvent se reposer, en nouveau sur leur lit dans le veranda entre les chiots. Seulement quand il y a visite qui entre, Emona doit avoir tout l'attention possible donc à ce moment elle est un peut hyperactive. Et si la visite ne le carresse pas, elle le demande!
Nous verrons aussi que les chiots aiment à élargir leur cadre de vie: alors ils inspectent les utiles de jardins, veulent explorer le l'allée du garage et qu'ils veulent se dépêcher pour aider ouvrir la porte quand il y de la visite.
Hier matin et le matin avant, à l'aveil, nous les avons mis en dehors dans la toilette special pour nos chiens. Environs ¾ ont fait leur pipi dans cette toilette mais il y en a un/une qui rentrait dans le veranda pour faire pipi. (Là nous n'avons aucun image d'en raison de privacy). Chance des debutants ou pur hazard, en effet la nature garde ses secrets très bien.
Ils jouent l'un avec l'autre mais aussi avec Neenah et de temps en temps avec Emona, mais maintenant ils commencent à être interesser dans les jouets autour d'eux. Le tunnel n'a aucun secret pour eux et si c'est Ramstein, de Heideroosjes, Axelle Red, The Tellers, Monsoon, Deep Purple, Pink Floyd, Mozart ou Clouseau……….c'est égale. Même cette après-midi avec les tonnerres de tempête et le cd avec tous les sons possible, ça ne leurs intéresse pas. Mais ils aiment d'être brosser de leurs propriétaires.
Les candidats acheteurs sont déjà venus plusieurs fois et tout le monde a sa préférence……excitante…. Maintenant il faut regardé si ça fait le 'click' entre chiot et candidat. Ca nous trouvons très importante. Vous pouvez avoir une preference, mais que faites-vous si le chiot n'est pas intéressé pour vous? …. Donc, attendre, observer et parler avec les gens et leurs enfants (ou c'est une deformation professionelle?).
They remaine that 10 same pups but every day there is quite an evolution or another story.
Because the puppies stay much more outside, at the last days the weather was fine, there are a number of things that become normal again. Indigo and Emona eat on their familiar place. They may also, if they feel like it go back to rest on their Leo-bed in the veranda in between the pups. Only if there's visi then Emona wants to come first. They find it besides fine that many visitors also like to see them and hugh them. And if not then they will ask them.
You'll also see that the pups like to widen their living environment: so they want to inspect the garden equipment check out in the driveway, they want to go sniffing around and hurrying to take part sometimes down to the front door
Also yesterday morning and this morning we were lurning them all, upon awakening, to put them outside and yet ¾ rushed to the special dog toilet to do their dogs need (and there we have no images because of the pivacy). But there was one as well who ran back inside and did it there, Oh yes, otherwise we would have no more cleaning work. Beginners luck or pure chance, The nature save sometimes his secrets very well. Playing with each other extends to Neenah, sometimes with Emona but now they start to show also be interested for quite some toys they have. The tunnel has no secrets for them too and wheter it's Ramstein, de heideroosjes, Axelle Red, The Tellers, Monsoon, Deep Purple, Pink Floyd, Mozart or Clouseau is .....it doensn't matter. Even this afternoon with some storm thunders and the CD's with all possible sonds, did not disturb them at all. But they enjoy o fa quiet tune, on the lap of thier owners while they are combed.
The visitors came already several times and some of them have already a preference.......exciting....... now we need to see is there is a "click" between them; because we find that also very important. You can have a preference but what do you do if the puppy is not interested in you? ............ so wait and see and observe and talk to the people and their children (or is that now a professional deformation?)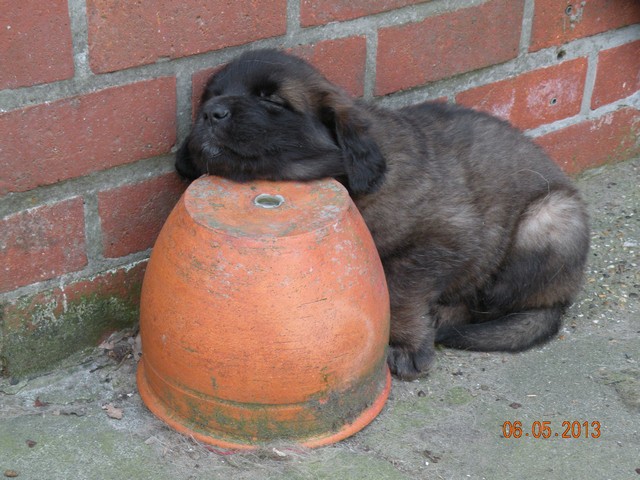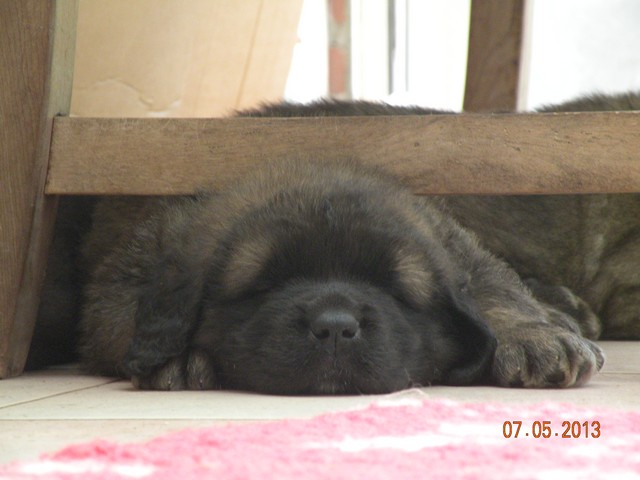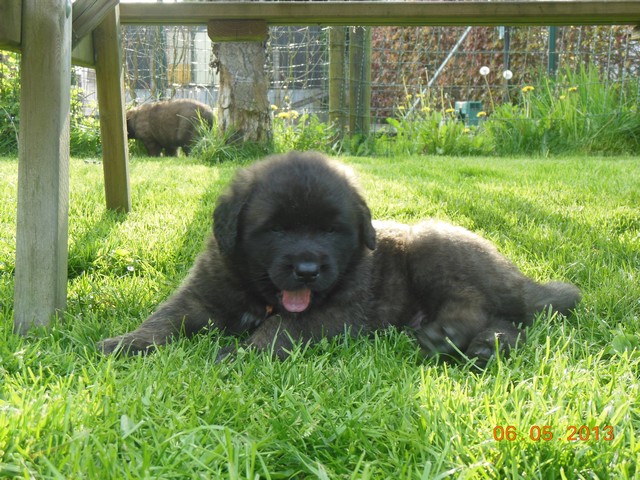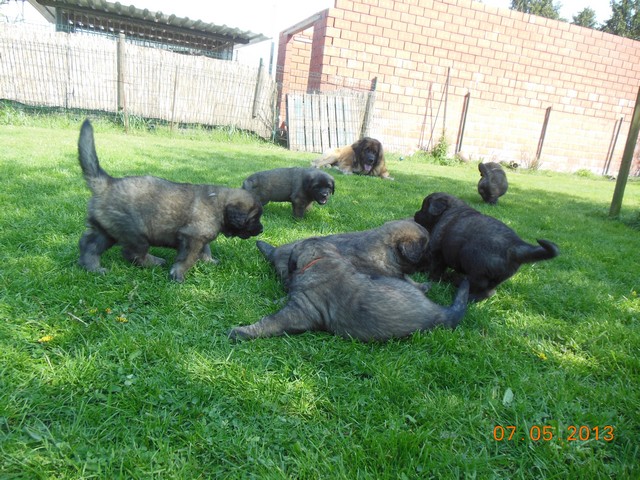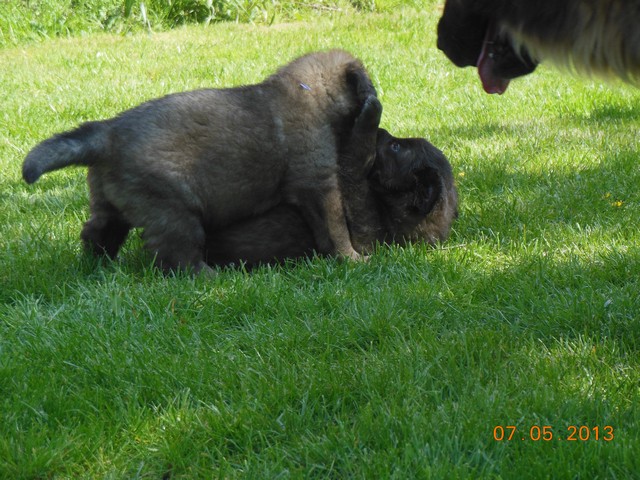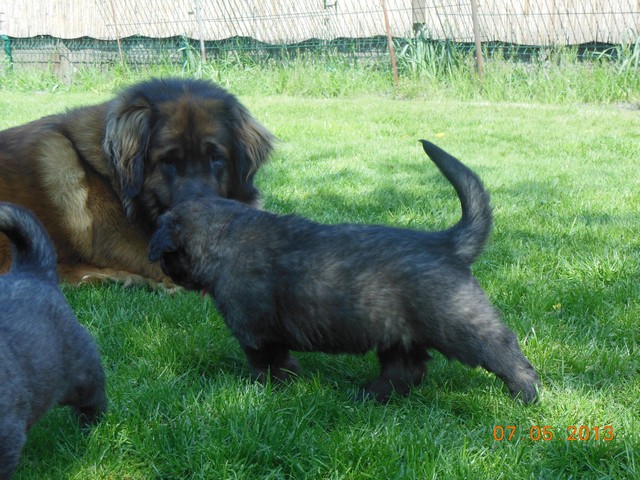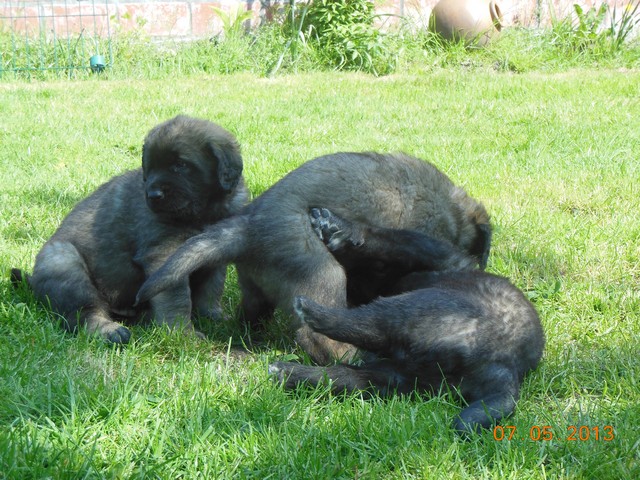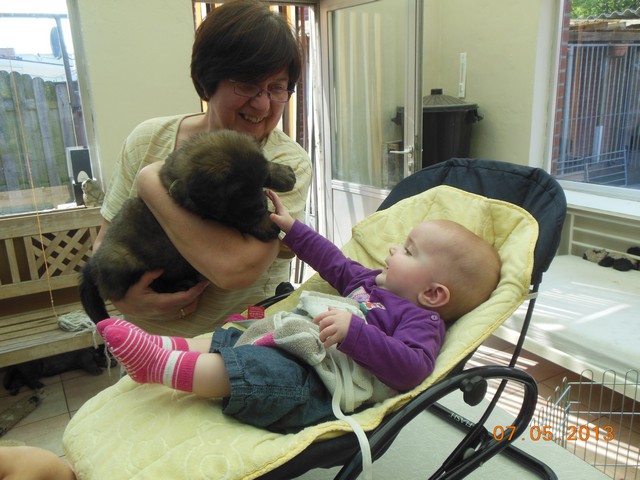 09-05-2013 om 13:01 geschreven door Dirk