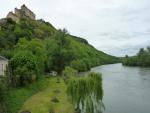 So, today I celebrate my first month on French battlegrounds where i've spent the night almost at 30 different locations
Well, I must admit...almost 30, beceause i've spent 2 nights at the same location (St.-Foy) but i promise not to do it again for the rest of my life
For the last week i've been walking without any mobile contact to the outerworld due to a heavy rainstorm which destroyed my GSM, so sorry if you haven't yet recieved any message back if you tried to contact me...


I will try to have a new GSM, but finding a decent tourist-respectfull store in France is the main issue first...well, i explain this a little bit more:


Buying a GSM in France to use with your own pincard is as rare as being able to tank gasoline during the night in a French town where you don't need that shitty "Carte Blue" to be able to tank
So, the major companies like Orange & SFR have blocked the GSM's so they can't be used with pincards from other countries which obliges me to find a deblocked GSM somewhere or ask to use my pincard in a GSM from a pelgrim college of not-French origin...i hope maybe in Spain i can buy a new one...
If I would have the final vote for introducing Highway taxes in Belgium, i would vote yes, but only for French people
29 april (Visiting day Bergerac)
Today I took the train through the Valley of the Dordogne to visit the wonderfull city of Bergerac which i haven't seen yet even when it's the 4th time i'm in this region of France...
I must admit that the old 'Historical Center' of Bergerac is of outstanding beauty and i maybe ran some twenty times through it to admire it in every kind of perspective..this is and will certainly be the most lovely citypart i've visited during this hiking journey through France...not being able to find a decent tourist-respectfull GSM-store in Bergerac is largely compensated by it's beautyness ofcourse
I spent the evening at a nice&old cottage near Bergerac where the hosts made me a good meal and we watched the movie 'Ben Hur'...i must admit I hadn't seen this magnificent movie yet, but seeing it now feels like the perfect timing i think
But dam'n the movie lasted almost 3,5hours...
30 april (Visiting day of the Dordogne Valley)
After a good breakfast, the host brought me to the station of Bergerac where a took the train further on eastwards through the Valley of the Dordogne...I got off in St.Cyprien where I made a 20km walk towards the lovely towns of Beynac, Castelnaud and Sarlat to admire the Dordogne region at it's best part. This region always seems to impress me like I came for the 1st time...
In Sarlat I took the train back to St.Foy where I arrived two days ago and made this break to visit the Dordogne Valley..So there i spent the night for the 2nd time at the same gîte which was now occupied by 8 other pelgrims, so i was obliged to sleep in the hall...Damn those older pelgrims!! Some of them always wake up at 6am so everybody started to pass my bed in the hall so early in the morning...
1 may (St. Foy - La Reole 48km)
Well, then i too got up that early (6am) and decided to do a monstruous long walking of 48km today...Please don't try this at home
I've been walking through the region of the Gironde now, which is the region where the large vinyards are located which deliver you some of the best wines of France, the Bordeaux's...
The landscape was lovely to walk through and i'm impressed by the vast amounts of vinyards
It's after a week again very sunny day and I got burned a little bit because after a whole week of rain/grayiness you make quickly the mistake of not putting enough sunscreen...But I also forget that i've made already quite a lot of progress in the southern part of France..
In the evening I stayed at La Reole with a Duth women and a Suiss which I had seen in Vézelay, but not anymore since then..so we've exchanged a lot of stories during the evening.
2 may (La Reole - Bazas 28km)
The 28km of this day felt quite heavy because of the long day before, but after more than a month walking you don't know anymore the word "giving up"
Again a nice almost-summer day of 23degrees and blue sunny sky to let me largely enjoy the day
I slept in an old school place which they had transformed into a gîte for pelgrims
3 may (Bazas - Bouriot 40km)
Yep, it's me crazy walking again for 40km...I've passed today Forrest Gump, he's no match anymore for me
Today I entered the region of the Landes, which was one of the few regions in France I hadn't seen before...I've always regarded the Landes as a region with very long&flat megatouristical beaches with a lot of towns which are probably "villes jumellées avec Blankenberge"
...the landwart part is completely flat with extensive areas of pinetree forests
But walking through these extensive areas of pinetree forests was quite okay for some time...it was also quite a climbing adventure since a very heavy storm in january had destroyed vast areas of the forests and a lot of walking paths were still barricaded by many fallen pinetrees...it was sometimes quite an impressive view to see al those big trees brought down by the storm, which according to some people must have had wind speeds of up to 200km/h
4 may (Bouriot - Bougue 33km)
Last day of long walking with lots of fallen pinetrees which I've refused not to count anymore...
5 may (Bouriot - St. Sever 19km)
A short walking day and I arrived now at noon in this lovely town where i will rest for the rest of the day


6 may (St. Sever - Hagetmau 17km)

And today again a short but very satisfying walk so I arrived at noon at Hagetmau were I can relax again&enjoy this amazing summerday with 27°C !!

At almost the end of the walk I got a very special moment when suddenly on top of a small hill (yes, the Landes are almost done and becoming more hilly now) I got a view on the snowy peaks of the Pyrennees which are still at some 90km distance...when seeing them so suddenly it gave me a "chicken feeling moment"..This was really THE moment I've realised that I've progressed so far in France!!

The next days will provide me very beautifull views on the Pyrennees which I will cross within 5days
Sooooo, there's only 4 days left on French territory and it gets already clear that i've accomplished a major part of my hiking journey...
Some 1100kms in France will be history within 4days and some 800kms in Northern Spain have still to be conquered:wink
Much sunny greetings
Pascal
06-05-2009 om 00:00 geschreven door Scali