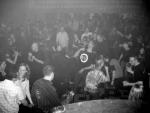 -In the summer of 2007 Zanni, as a dedicated lover of dark 80's tunes, decides that the time has come to organize a new wave party.
Together with Snake they present their upcoming party as a reunion party for Moorsel's mid-age generation.
Location was set at the famous 'Zwette zoal'.
Peter Tokkelaar and Invisigoth are invited to join the organization team which will be known from now on as "4DJ's".
Few weeks before D-day the proposal came from Belgian greatest gothic-rock band Erato to perform a live set at the first new wave party.
Due to this Erato concert a lot of people from the Belgian underground scene found their way to Moorsel on November 24th 2007 for the first New Wave Party.
Together with the Moorsel mid-agers target group this leads to a huge number of attendees, which made NWPI to be an enormous success!
-After this first party Snake left the organization for personal reasons.
The name 4DJ's only lasted for one party and was replaced by "New Wave Party Aalst".
-After this first successful edition we decided to turn the concept into a spring and winter edition.
Date for NWP II is set at April 12th 2008.
Former Carrera and Ckomilfoo superstar-DJ Teecee is hired to perform a special retro wave set and again the number of attendees is beyond expectations.
-This facilitated the decision for NWP III: November 22th 2008 was the date and the goal was to check out whether or not we would be able to fill a theatre without any special acts !
-Few weeks before kick-off Tomazo joins the organization team.
-Despite a snow storm passing over Belgium that weekend the attendance was again very satisfying with over 150 people finding their way to the 'Zwette zoal' from all parts of the country.
-After NWP III Peter Tokkelaar declares that he needs new challenges and leaves NWP Aalst.
-From now on Tomazo is also considered as a resident DJ of NWP Aalst together with two remaining founding members Zanni and Invisigoth.
-New wave party IV was a sort of try-out party for us as we had complete new dj line-up but it was the proof for us that the label 'New wave party Aalst' was known in the meanwhile as a true oldskool underground party.
-The question now was not if but when we will organise New wave party V because the big revival had exploded and some mega-events were planned in our prefered November month. But we are very happy now we took the risk and learned that New wave party Aalst is a party with an own idendity and apparently there are more than 200 people thinking the same way we do. The target is to improve each edition and we believe we have reached that target taken into consideration we hired more professional sound and light equipment. And let's not forget the great dj-set of our guest Reggy SpacE.
-Invisigoth will leave our organisation in order to create more time for his family and his own organisatons under the flag of A darker dancefloor! This was the message at our evaluation meeting after Party V.
We considered several options but came to the conclusion that New Wave Party Aalst is not about persons but about atmosphere, music, fun and the tie of friendship between like-minded people.
-This brought us to the moment to present our sixth party at 29/05/10, location is well known in the meanwhile.
- Invited guest-dj's are Xa4 who will make his debute behind the turntables by opening our party. He will be followed by Filip Delie, professional dj and inspirator of the New wave classix concept. After his set Botske aka Filip from New wave fuif Aarschot will regale us on the best tracks of his wave collection. At 01:00 resident dj's Zanni and Tomazo will take over until dawn....