Rabbiner Samson Raphael HIRSCH
(1808-1888)
Rabbiner Dr. Mendel HIRSCH
(1833-1900)
Rabbiner Dr. Salomon BREUER
(1850 - 1926)
Rabbiner Dr. Raphael BREUER
(1881-1932)
Reb Julius HIRSCH
(1842-1909)
ברוך הבא! السلام عليكم!
Welkom op de blog van de studievereniging JESJOEROEN, Jodendom tegen Zionisme

Thoratrouwe antizionistische inzet en anti-imperialistische solidariteit. U vindt hier Rabbijnse teksten (vooral Samson Raphael HIRSCH strekking), nieuws en achtergrondinfo.
Bienvenue sur le blog de l'association d'étude YECHOUROUN, Judaïsme contre Sionisme.
Nous proposons des textes rabbiniques, (surtout de l'école de Samson Raphael HIRSCH) ainsi que des infos et documentations, le tout avec engagement antisioniste et solidarité anti-impérialiste, inspirés par la fidélité à la Torah. Visitez notre blog similaire en langue française: www.bloggen.be/yechouroun .
Willkommen im Blog des Studienverbandes JESCHURUN, Judentum gegen Zionismus.
Wir bieten Rabbinische Texten (hauptsächlich von der Samson Raphael HIRSCH Tendenz – meistens in deutsche Originalfassung), sowie Nachrichten und Hintergrundinformationen, im ganzen mit Thoratreues antizionistisches Engagement und anti-imperialistische Solidarität.
Welcome to the blog of the Study Association YESHURUN, Judaism against Zionism.
We propose Rabbinical texts (mostly from the S R HIRSCH tendency), news and information, the whole inspired by Thora-true anti-Zionist Commitment and anti-imperialist Solidarity.
NOG MEER INTERESSANTE LINKS
NOCH MEHR INTERESSANTE LINKS
Rabbiner Josef Chaim SONNENFELD
(1849-1932)
Dr. Jacob Israël DE HAAN
(1881-1924)
Dr. Nathan BIRNBAUM
(1864-1937)
Rabbiner Pinchos KOHN
(1867-1942)
Rabbiner Ernest WEILL
(1865-1947)
IVJ exposes the vicious Zionist oppression of religious Jews who object to serve in the IDF, or protest its regime.
10-10-2007
Professor Yakov M. RABKIN: Gap among Jews widens on question of Zionism
Opinion op/ed
Gap among Jews widens on question of Zionism

By Yakov M. Rabkin
Originally published March 8, 2007

A profound division has developed between Zionist advocates of Israel and Jews, secular and religious, who reject or question Zionism and actions taken by the state of Israel.

Public debate about Israel's place in Jewish continuity has become open and candid.

Advertisement
Many Jews try to come to terms with the contradictions between the Judaism they profess to adhere to and the Zionist ideology that has taken hold of them. This coincides with serious concerns expressed across Israel's political and religious spectrum about the future of Israel.
Quite a few Jews now publicly ask whether the chronically besieged ethnic nation-state in the Middle East is "good for the Jews." Many continue to be concerned that militant Zionism destroys Jewish moral values and endangers Jews in Israel and elsewhere. This debate has entered pop culture as well: The recent film Munich by Steven Spielberg sharply focuses on the moral cost of Israel's chronic reliance on force.

The Israel lobby in the United States, aligned with the nationalist right in Israel, viciously attacked the Jewish director and his film even before it was released. It also lashed out at several books published over the past few years - Prophets Outcast, Wrestling With Zion, The Question of Zion, The Myths of Zionism - all authored by Jews who are concerned about the same essential conflict between Zionism and Jewish values.

A few weeks ago, the Israel lobby (through its constituent American Jewish Committee) issued a report alleging that Jews who criticize Israel endanger its "right to exist" and foment anti-Semitism. This provoked a number of prominent Jews in Britain, Canada and the United States to speak out, moving candid debate about Israel into mainstream, even conservative, publications. In January, the eminently pro-establishment Economist published a survey of "the state of the Jews" and an editorial that called on rank-and-file Diaspora Jews to move away from the "my country, right or wrong" attitude adopted by many Jewish organizations.

Making a stand for Jewish emancipation from the state of Israel and its policies has bridged some old divides and created new ones. Thus, an ultra-Orthodox critic of Israel, usually antagonistic to Reform Judaism, commended a Reform rabbi for saying that "when Israel's Jewish supporters abroad don't speak out against disastrous policies that neither guarantee safety for her citizens nor produce the right climate in which to try and reach a just peace with the Palestinians ... they are betraying millennial Jewish values and acting against Israel's own long-term interests."

Their relationship with the state of Israel and with Zionism has polarized the Jews. The axis along which this polarization has taken shape does not correspond to any of the habitual divisions: Ashkenazi/Sephardic, observant/nonobservant, Orthodox/non-Orthodox.
In each of these categories are Jews for whom national pride, even arrogance (chutzpah), is a positive value, and who give their enthusiastic support to the state that incarnates what they identify as a life force, a triumph of the will and a guarantee of Jewish survival.
But each of these categories also includes Jews who believe that the very idea of a Jewish state, and the human and moral price that it demands, undermines all that Judaism teaches, particularly the core values of humility, compassion and kindness. They, along with Israel's staunchest supporters, point up the paradox that has seen Israel, often presented as an ultimate haven, become one of the most precarious places for Jews. Israeli media report unprecedented levels of concern not only for the future of the state but also for the physical survival of its inhabitants.
Some attempt to redefine "Israel's national purpose" as a means to revitalize Israel's largely demoralized society.

Divisions about Israel and Zionism are so acute that they may split Jews as irremediably as did the advent of Christianity two millennia ago. Christianity, which embodies a Greek reading of the Torah, eventually broke away from Judaism. Like Christianity, Zionism, reflecting a nationalist, romantic reading of the Torah and Jewish history, has come to fascinate many Jews.

It remains to be seen whether the fracture between those who hold fast to Jewish moral tradition and the converts to Jewish nationalism may one day be mended. However fateful for Jews and Judaism, this fracture may not necessarily affect Israel, which nowadays counts many more evangelical Christians than Jews among its unconditional supporters.

Yakov M. Rabkin, author of "A Threat From Within: A Century of Jewish Opposition to Zionism," is professor of history and associate of the Centre for International Studies at the University of Montreal. His e-mail yakov.rabkin@umontreal.ca.

Copyright © 2007, The Baltimore Sun | Get Sun home delivery
10-10-2007 om 20:49 geschreven door Naphtali HIRSCH
S R HIRSCH ZERSTREUUNG UND ERLÖSUNG IM LICHTE DES PROPHETEN JESAJAS
"SAMSON RAPHAEL HIRSCH zs"l
ZERSTREUUNG UND ERLÖSUNG
IM LICHTE DES PROPHETEN JESAJAS
…Nicht also das Aufgehen Israels in die Völker und Nationen liegt im Schosse der zu erwartenden Zukunft, vielmehr das Aufgehen der Völker in Israel! Der Berg des jüdischen Gotteshauses steht dann an der Spitze und auf dem Gipfel aller Berge und ist getragen von den Hügeln: entweder es sinken alle anderen Berge, alle Größen, zur Bedeutung von Hügeln gegen ihnen hinab, oder: alle Hügel und Berge, alle kleinen und großen Menschengrössen vereinigen sich zum Piedestal dieser einzigen Hoheit – zu ihm hinan strömen alle Völker, alle fühlen den Zug, von dort herab sich ihr Licht und ihr Leben zu holen.
Ferner: nicht über die Erde zerstreut, vielmehr um die Höhe des Gesetzesheiligtums gesammelt, in Palästina findet die Zukunft Israel. Dort suchen es die Völker auf. Und dorthin ist es nicht zurückgekehrt, um dort etwa die in der Zerstreuung von den Völkern gelernten Weisen zu üben; sondern dort ist es wieder gesammelt, um die von Gott gelehrten Sitten des Menschen und Wegen des Bürgers zur vollen Verwirklichung zu bringen, und so durch die Kenntnis und Erfüllung des Gesetzes und des Gotteswortes, sich zum Priestervolk für die Menschheit zu befähigen. Nicht die europäische Kultur wird nach Palästina getragen, sondern die Kultur der Menschheit durch Gottes Gesetz und Wort wird aus Palästina geholt.
Nicht endlich den Sieg des Glaubens, sondern den Sieg des Gesetzes bedeutet diese Zukunft. Der Sieg des Glaubens, das siegreiche Durchbrechen des Gotttesbewußtseins in der Brust aller Menschen und Völker mag vorangehen; die Huldigung der ausschließlichen Gotteswaltung in Natur und Geschichte, das Beugen vor der Gotteshoheit, die Verehrung seiner Macht und Größe, das Bewußtsein der völligen Abhängigkeit mag vorangehen und die Vorbedingung sein um die Rückkehr der Menschheit zu Gott zu vermitteln. Allein solange diese Verehrung und dieses Bewußtsein die Menschen nur in die Tempel führt, um "Gott ihre Verehrung und Anbetung zu bezeugen", um ihm "den Zoll ihres Dankes zu bringen", um an seinen Altären Trost für die Gegenwart und Hilfe für die Zukunft zu suchen, kurz solange die Menschen nur mit ihrem Geschicke, nicht aber auch und zwar in allererster Linie mit ihrer Tat mit Gott in Verbindung treten, immer nur Trost und Hilfe, nicht aber zu allererst Gesetz und Lehre von Gott erwarten, und zwar nicht nur für das individuelle Menschenleben, sondern Gesetz und Lehre für das ganze Menschen- und Volksleben-: solange dämmert auch noch nicht ein Strahl von jenem Bewußtsein durch, das einst am Ziele der Tage die Völker hinaufrufen wird zu Gott, um durch die Huldigung seines Gesetzes im Menschen- und Volksleben sich den wirklichen und wahrhaftigen ewigen Frieden auf Erden zu sichern. Nicht in den "Glauben an Gott", sondern in dem seinem Gesetze gehorchenden Pflichtbewußtsein winkt die Erlösung der Menschen und Völker. Gesetz und Lehre soll von Zion-Jeruschalaim ausgehen!
.... ....
Die Tatsache aber, daß Israels und der Menschheit Zukunft in der Vollendung Israels als das Priestervolk des göttlichen Gesetzes gipfelt, verbürgt und besiegelt uns die Wahrheit, daß nur durch eine immer tiefere und vollere Erkenntnis und eine immer treuere und vollere Erfüllung dieses Gesetzes wir uns für die Zukunft vorbereiten, und der Geüla würdig machen können. Und diese Tatsache bricht allen sogenannten, das Gesetz antiquierenden Reformbestrebungen einerseits, sowie allen in neuester Zeit auftauchenden Bestrebungen, die Geüla auf materiellem Wege der Besitzergreifung und Agrikultur des heiligen Bodens zu fördern, unerbittlich den Stab. Wir haben das Land nicht für uns, sondern uns für das Land zu gewinnen und zu bilden im Gesetze und durch dasselbe.
Alle diese Züge: die endliche Verwirklichung der Priestermission Israels an die Völker, deren Vermittlung durch Wiederauferstehung des jüdischen Staates und das Gesetzheiligtum in Zion und Jerusalem, dieses Heiligtum sodann das Heiligtum der Menschheit und von ihm aus das endlose Reich des Friedens auf Erden, alle diese Züge kehren in allen ferneren Geüla-Verkündungen Jesajas' wieder.
...
( Einleitung zum Propheten Jesajas. Kapitel III: Jesajas Verkündigungen über die Zerstreuung und die Erlösung. In: Gesammelte Schriften, Zweiter Band S. 321 u. 322, Frankfurt a.M. 1904) "
10-10-2007 om 00:00 geschreven door Naphtali HIRSCH
MENDEL HIRSCH: DAS GEHEIMNIS DER WELTGESCHICHTE
"Rabbiner Mendel HIRSCH sz"l
(1833-1900)
DAS GEHEIMNIS DER GANZEN WELTGESCHICHTE
" Aus allen Stürmen und Erschütterungen des socialen und religiösen Lebens Israels und der Brudervölker tönt die Stimme Gottes, des gnadenvollen, seine Menschenkinder rettenden und deshalb alle dem Menschenheile Feindlichen schwer treffenden Gottes. Die Weltgeschichte ist nicht bloß das Weltgericht; ihre Erschütterungen, ihre Krampfeswehen sind zugleich die Geburtswehen, aus denen neues, wahres, verjüngtes Leben hervorgehen soll. So für Israel, so für die Gesamtmenschheit. So lange hoffen vergebens das ruhelose Israel und die friedlose Menschheit auf Ruhe und Frieden in den Verhältnissen des bürgerlichen und religiösen Lebens, bis sie sich unter der Einwirkung der Waltungs- und Belehrungsthaten der göttlichen Erziehung zur Rückkehr zu Gott, Israel in der Verwirklichung seiner menschheitspriesterlichen Bestimmung, die Brudermenschheit in der Verwirklichung des reinen Menschentums, erhoben haben werden.
Dieses Ziel aber wird von der Gotteswaltung mit Sicherheit erreicht, wie dies für Israel in VV. 7 bis 9 ausgesprochen ist. Mag es immer für menschliche Kurzsichtigkeit und Kurzlebigkeit lange dauern, bis es erreicht ist. Das unerleuchtete Auge des gelehrtesten Geschichtsforschers sieht in den Gängen der Geschichte nur den Pragmatismus physischer und politisch-socialer Ursachen und Wirkungen. Die Hand der höchsten Waltung schaut er nicht. Unmerklich aber reifen dennoch in von Jahrhundert zu Jahrhundert fortschreitender Entwicklung das neue Israel und die neue Menschheit ihrer Vollendung entgegen. Und ist endlich der große Tag der Verjüngung, der Neugeburt gekommen, so wird es eine Geburt sein, bei der man die Wehen nicht wahrgenommen, weil man sie nicht als solche erkannte. Was man für geschichtliche Revolutionen und Evolutionen ansah, waren in Wahrheit die Geburtswehen Israels und der Menschheit. Mag auch noch so oft der kurzsichtige edle Mensch, der in seiner Brust das Menschheitsideal hegt, verzweifeln ob des scheinbar stets sich wiederholenden Rücksinkens der Menschheit, so oft ein mächtiger Fortschritt gethan schien. Dem Zagenden und Zweifelnden tönt das Beruhigungswort Gottes entgegen: "Ich sollte nur zum Kreißen, aber nicht zur Geburt bringen? Wenn ich der zur Geburt Führende bin, da sollte ich sie zurückhalten?" – Das Geheimnis der ganzen Weltgeschichte wird mit diesen Worten gestreift. "
(Die Haftoroth übersetzt und erläutert, Frankfurt am Main 1896: S. 404-405 Kommentar zu Jesaja 66, vv. 6 bis 9)"
10-10-2007 om 00:00 geschreven door Naphtali HIRSCH
S R HIRSCH "Gijzijt het Palestijnse volk niet en Palestina is niet het Joodse land"
"Rav Samson Raphael HIRSCH z"l:
"GIJ ZIJT HET PALESTIJNSE VOLK NIET EN PALESTINA IS NIET HET JOODSE LAND"
De Duitse Rabbijn Rav Samson Raphael HIRSCH (1808-1888), gezegend is zijn aandenken, die de Yiddishkeit redde van de algehele vernietiging door de Reform, schreef in zijn Commentaar over de Pentateuch 'Humesh (Devorim 4, 5 - Va es'honon) ieder zionisme, in het bijzonder ieder 'religieus' zionisme op voorhand weerleggend:
"…Gij [de Joden] zijt het enige volk op aarde die wetten had, nog eer het een land bezat, en deze wetten zijn de enige waarvan de toepassing geen middel voorstellen om een volksleven en een nationale onafhankelijkheid en welzijn vanuit een nationaal grondgebied te verwezenlijken, maar een middel op zichzelf zijn.
Ieder ander volk, wordt een volk door zijn land en schept zich wetten voor zijn land. Maar gij zijt een volk door de Wet en krijgt een land door de Wet. Alle andere wetten hebben hun oorsprong in de particulariteiten die het land aan het volk geeft en aan hun veranderende ontwikkelingsbehoeften. Uw wetgever [Mausche onze Meester], de man uit wiens handen gij uw Wet ontving, heeft nooit een stap gezet op zijn bodem, heeft Uw land nooit gezien. Hij was enkel degene die de Wet doorgaf. Zijn graf in de woestijn is de zegel van G'd op de Wet, dat hij doorgegeven heeft, en tegelijk de waarborg voor haar eeuwigheid en onveranderlijkheid.
De Wet is het absolute, gij en het land zijn het voorwaardelijke. Niet volgens het wisselend lot van U en van het land moet de wet zich ontwikkelen, maar volgens Uw groeiende getrouwheid tegenover de Wet, ontwikkelen zich Uw lot en dat van het Land. Met de Wet op uw arm, staat gij als een volk aan de grens van het land, dat gij zult betreden, om daar de Wet tot haar volle verwezenlijking te brengen. Met de Wet op Uw arm, zult gij –ooit tijdelijk beroofd van het land – steeds en steeds opnieuw een volk zijn dat geen andere bestemming heeft als de verwezenlijking van deze Wet te leven, en het ogenblik af te wachten waarop U opnieuw de toegang tot het land geopend wordt, dat U gegeven werd ter volledige verwezenlijking van deze Wet.
Gij zijt het volk van de Wet, Palestina is het land van de Wet, maar gij zijt niet het Palestijnse volk en Palestina is niet het Joodse land. -"
10-10-2007 om 00:00 geschreven door Naphtali HIRSCH
MENDEL HIRSCH : VÖLLIGE GOTTESABHÄNGIGKEIT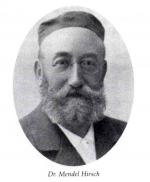 "Rabbiner Mendel HIRSCH sz"l
(1833-1900)
ISRAELS STELLUNG: VÖLLIGE GOTTESABHÄNGIGKEIT
Das Prophetenwort weist das gottvergessene, die eigne Kraft vergötternde Volk auf die Bescheidenheit seines Ursprungs hin und zeigt, wie parallel mit der Geschichte Vater Jakobs auch in der des Volkes die Gotteswaltung allein der schützende, errettende und erhaltende Faktor ist, wie des Volkes Geschick von Gott stets gestaltet wurde und werde je nach seiner Treue oder Untreue gegen das Gottesgesetzt (K. 13, 1-4). Es beklagt sodann die Verblendung, mit der es Gott, seinen Erlöser und Erhalter, als seinen ärgsten Feind betrachtet (K. 13,9), dagegen seinen Abfall als teure Errungenschaft sorgsam hegt (V.12), wodurch eine Abwendung der schweren Verhängnisse unmöglich werde (V.14). Denn unter diesen Umständen kann nur durch sie Israel zur Erkenntnis geführt werden, bei wem allein "Vatererbarmen finde das Verwaiste" – (Kap.14,4), so dass es, befreit von Vergötterung der Menschenhülfe und der eigenen Macht, sich dem "Tau der göttlichen Wahrheit" öffnet und damit "Blüte und Schönheit wie die Rose" und "Festigkeit und Bedeutung wie der Libanon" gewinnt (V.6). Damit erfüllt es seine Sendung im Kreise der Menschheit (V. 7 und 8), und die Schule seiner Leidenserziehung ist vollendet(V.9).
Kap.12, V.13 en 14 Als Flüchtling kam Jakob nach Aram und er, der "Israel", d.i. durch Leben und Geschick "Verkündiger der Gottesherrschaft" werden sollte, musste, um ein Haus zu gründen, Knechtesdienste thun und um es zu erhalten, im Knechtesdienste verharren, "um sein Weib dienen und für sein Weib dienen", und nur das unmittelbare Einschreiten Gottes schützt ihn auf seiner Rückkehr aus Aram (1 B.M. 31,29). Flucht seine Auszug aus der Heimat, Flucht seine Rückkehr aus der Fremde. Und als für seine zum Volke herangereiften Kinder die Stunde der Befreiung gekommen, da traf sie diese Stunde als Sklaven. Und nicht durch einen König, nicht durch einen Feldherrn wird Israel die Freiheit, sondern durch "einen Propheten hat Gott Israel erlöst und durch einen Propheten wurde es beschützt". Nicht durch einen Mann der Macht, ja nicht einmal durch einen Mann der Rede, der etwa mit dem Feuerworte der Begeisterung sein Volk zum Kampfe zu entflammen gewusst und es dann, ein zweiter Abraham gleich, zum Siege über die krieggeübten Unterdrücker geführt hätte. Vielmehr fehlte diesem Propheten mit der Macht der Rede auch gänzlich jenes Selbstvertrauen und jener Glaube an die eigene Befähigung, die für jeden Volksführer unerlässliche Vorbedingung des Erfolges sind. Dadurch gerade wurde er für seine Sendung der Geeignetste, denn nur so erschien er auch als das, was er war, nämlich als Werkzeug und Bote Gottes. So bilden äußere Abhängigkeit, und Rettung und Erhaltung nur durch Gott die Signatur der Geschichte Jakobs und Israels, das seine irdische Wohlfahrt nur von Gott erhält. Auf diese Stellung Israels weist der Prophet das gottvergessene Volk fortwährend hin.
(Die Haftoroth übersetzt und erläutert, Frankfurt am Main 1896: Kommentar zum Prophet HOSEA)"
10-10-2007 om 00:00 geschreven door Naphtali HIRSCH
09-10-2007
INGEZONDEN: ANNUAL Al Quds Day in London 07 10 07
INGEZONDEN
:
Annual Al Quds Day in London October 7, 2007
For more pictures and the speech of Rav A L COHEN
surf to
www.nkusa.org
09-10-2007 om 00:00 geschreven door Naphtali HIRSCH
08-10-2007
INGEZONDEN: 'JODEN BIDDEN VOOR SNELLE VREEDZAME ONTMANTELING ISR STAAT' Ria CABUS MO
INGEZONDEN:

Joden "bidden voor een snelle vreedzame ontmanteling van Israël".
Wie opkomt voor Palestina krijgt al te vaak het verwijt "tegen de joden" te zijn. Nu de Oxfam Wereldwinkels palestina centraalstellen in hun klantendag, hoorde ik die vrees ook bij sommige wereldwinkeliers. Het is een veel voorkomend misverstand. Wie solidair is met Palestijnen is nochtans niet tegen een groep mensen met een bepaald geloof. Wie de Palestijnen verdedigt, voert actie tegen een politieke strekking waar ook vele joden niet tevreden over zijn.
Joden pleiten tegen Israël op de VN-conferentie
Ook op de VN-conferentie kon ik dat ervaren. Van de meeste aanwezigen had ik het raden naar hun geloofsovertuiging, maar op de foto kan je zien dat dat van sommigen wel opviel. Omdat ik wist dat Israël erg tegen deze conferentie was, was ik aanvankelijk verrast door de aanwezigheid van die joden. Waren dat misschien Israëli die heel kritisch kwamen luisteren?
Niets was minder waar. Op een van de sessies pleitte een vertegenwoordiger van de "Jews for Justice for Palestinians" uit Groot Brittannië voor een Israël waar beide bevolkingsgroepen het recht hebben als evenwaardige burgers samen te leven. De twee-statenoplossing was daar een voorlopige oplossing voor, maar op lange termijn zou er een niet-zionistische staat moeten komen. Ik noteerde: "het globale opbouwen vanuit het lokale".

In de pauze sprak ik een orthodoxe jood aan: ik dacht van het Zionisme geleerd te hebben dat Jahweh het land aan de joden beloofd had. De Jood reageerde schamper. In hun Bijbel is wel sprake van het recht om in Israël te wonen. Daar staat echter niet bij dat alleen Joden dat recht hebben. Een goede jood kan met anderen samenwonen in hetzelfde land.
Op de receptie merkte ik dat de jood ook goed overeenkwam met een Duitse non. Toen er een fotograaf langskwam, excuseerde hij zich heel uitvoerig omdat hij niet met haar of mij op de foto wou. Samen met vrouwen op een foto, dat was net iets teveel van het goede. Daar konden wij mee leven.
Joden voor Rechtvaardigheid voor de Palestijnen en Joden tegen het Zionisme.
Vandaag ging ik op internet op verkenning naar die joden die in hun geloof een basis vinden voor de verdediging van de rechten van de Palestijnen.
Op de website van de "Jews for Justice for Palestinians", stond een "Refusnic Watch" met het aantal Israëlische dienstweigeraars. Vandaag 5 oktober 2007 stond het op 1681.
Daarnaast een brief voor David Miliband, minister van Buitenlandse Zaken van het Verenigd Koninkrijk: een oproep tot stopzetting van de Israëlische sancties tegen de Gaza. (Op de website van APP kan je een gelijkaardige oproep tav minister De Gucht ondertekenen. www.actieplatformpalestina.be/content/meeracties/petities/petitie_gaza_2007-09_petitie.php) De joden publiceerden hun petitie als advertentie in the Times van 28 september. Tot mijn vreugde vond ik op de website ook een oproep om olijfolie te kopen bij PARC, de partner waar ook de Oxfam Wereldwinkels hun olie kopen.
Op de website van "Jews United Against Zionism", die ook op de conferentie waren, las ik: het Jodendom en het Zionisme zijn tegengesteld. Jodendom is een spirituele strekking, het zionisme is de omvorming ervan in materialisme met nationalistische aspiraties. Theologisch gezien hebben joden geen recht op een eigen staat, want zij werden verbannen bij een goddelijk gebod. Deze goddelijke verbanning mag niet verbroken worden door menselijke tussenkomst. (Talmud, Tractate Kesuboth, p.111). Het joodse volk mag bovendien geen andere volkeren onderdrukken. Toch ontstond de Israël door diefstal, onderwerping en verdrukking van het Palestijnse volk.
In mijn digitale zoektocht vond ik ook de website van de "Jews Against Zionism", verdedigers van de "ware" Thora. Zij voeren nog een vuriger discours om de wereld te informeren dat de Zionistische Staat Israël diametraal ingaat tegen de traditionele joodse leer. Ze zijn niet politiek gemotiveerd, maar bezorgd over de vrede en de veiligheid van alle mensen, inclusief de bewoners van Israël. Zij bidden voor hen, maar erkennen niet hun staat. Pas als de wereld zal inzien dat het Israëlisch beleid niet in overeenstemming is me het traditionele joodse geloof, zullen de joden wereldwijd in vrede kunnen leven.
Ook zij verwijzen naar de diaspora als een straf van God en de onrechtmatige pogingen van het Zionisme om deze goddelijke bestemming in eigen handen te nemen. Treffend zijn hun citaten van Zionisten die in de vorige eeuw de lijdensweg van de joden zouden goedgekeurd hebben. Zij zouden de antisemieten "vrienden van het Zionisme" genoemd hebben, omdat de onderdrukking het karakter van de joden vormde en de weg baande voor het Zionisme.
Scheiding van kerk en staat
Ik leerde in mijn digitale zoektocht veel bij over de verschillende Joodse strekkingen. De aanpak van de Jews for Justice sprak mij meest aan, omdat die dichtst aanleunt bij mijn eigen culturele achtergrond. Het was echter leerrijk te lezen dat ook mensen die hun godsdienst ten gronde beleven, daarin een basis vinden om het Zionisme radicaal af te keuren.
Als niet-jood kan ik mij bezwaarlijk mengen in de theologische discussie. Maar ze voedt wel mijn sympathie voor een goede scheiding tussen kerk en staat. Er zijn veel verschillende godsdiensten op de wereld. Heel veel mensen vinden daarin een goede basis om harmonieus samen te leven. Maar wanneer overheden de mensen eigenhandig in een gelovig keurslijf willen dwingen, loopt het snel mis. Wanneer zij bovendien naar de godsdienst verwijzen om hun eigen beleid te rechtvaardigen, is het hek helemaal van de dam.
Ik vermoed dat president Bush het wel met mij eens zal zijn dat het fundamentalisme in Iran niet de beste politieke basis is. Maar hij steunt wel het Zionistische regime. Bovendien verwijst hij zelf graag naar "in God we trust" om zijn eigen oorlogen te rechtvaardigen.
---
Gepost op 06.10.07
08-10-2007 om 00:00 geschreven door Naphtali HIRSCH
03-10-2007
Uriel ZIMMER: Ivrith and Loshon haKodesh: Ivriet vs. heilige Taal
URIEL ZIMMER



"IVRITH" AND "L'SHON HAKODESH"

In the course of transformation and "normalization" of the Jewish people, the language naturally had to be transformed likewise. The "Holy Tongue" which, as we have earlier explained, plays such a fundamental role in the Torah, must also have its place assigned to it under the new "normalized" set up. Just as Yisroel became "the Jewish Nation", just as the Holy Land became first the "Vaterland" and later "the State", just as Torah became a "religion", in the same manner, "the Holy Tongue" had to become "the national language".

To be sure, a separate language is not an indispensable ingredient of a "nation" in non-Jewish thought. All South American nations, for instance (except Brazil), speak Spanish. England and America, not always on very friendly terms and certainly now two different nations, both speak English. Arabic is spoken everywhere between Morocco and Iraq, between Syria and Saudi Arabia, by a dozen nations that often quarrel with one another. On the other hand, the Indian nation has five entirely different "national languages" so that until this day English is frequently spoken in the Parliament of New Delhi as it is the only language generally understood by all deputies. The Swiss nation, too, has three national languages, and so forth.

Yet, in nationalism the promotion of a "national language" is an important propaganda factor. During the recent half-century or so, some nations have tried to revive ancient languages that had survived in common usage only in rural and mountainous areas, etc. We can witness the process in all parts of the world, on both sides of the Iron Curtain, Kazakhstan, Uzbekistan, Indonesia, Viet Nam, the various African countries that are striving for or have obtained political independence, all are working hard to readapt their languages to modern civilized

usage. This process began around the time when Zionism came into being. Relatively few people know, for instance, that the Roumanian language only 50 years ago had no established spelling and had only shortly before adopted the Latin alphabet (instead of the Cyrillic which is, incidentally, now being reintroduced by the USSR in the "Moldavian SSR", better known to Jews as Bessarabia).

Moreover, the Hebrew language did not have to be "dug up" as was the case with Gaelic, Lithuanian, etc., from the speech of remote mountaineers and villagers. In writing and reading, it had never ceased to be used. Although Yiddish was spoken in Eastern Europe, it was considered a sign of ignorance to use it even for business or private correspondence; and every Jew who hoped to avoid being considered an ignoramus, would try, however hard it may have been, to write or to have his letters written in Hebrew, no matter how poor was the level of his stylistic attainments.

Thus, the "revival of Hebrew" or, more precisely, its transformation from the status of the Holy Tongue into the "national language" became almost a sport with early Zionists. During the early stages of Zionism, it constituted the easiest part of its task for, in those days, every Jew had some idea of Hebrew through his prayer-book and Chumash. It is only after estrangement from Torah Judaism, largely due to that very same Zionism, that learning Hebrew seems to have become a task of exceptional difficulty for Zionists residing in the diaspora . . . .

Though perhaps less noticed and less discussed, this transformation of the Holy Tongue constitutes a violation of Torah teaching no less serious than all the other transformations, namely, those of the Jewish People, Torah and Eretz Israel. The reason why this fact is less discussed is very simple. A language is not a tangible matter; and in this case the transformation needs a minimum of linguistic insight for it to be noticed. It is not our purpose here to go into every detail of it; but it will not be superfluous to devote at least a few brief paragraphs to this interesting subject.

Every language has what we may call a body and a spirit. This is not merely a metaphysical concept, but a principle generally recognized by linguistic science. The body of the language is its vocabulary, its grammatical structure, etc. The spirit of the language, similar to the spirit of man, is that intangible something that animates the language, that lends it its specific, distinct character, appearing here and there, sometimes in the syntax, sometimes in other grammatical features, and particularly in its irregularities. It is the spirit of the language that reflects the spirit of the nation speaking it. In most cases, the spirit and body of the language are compatible for they emanate from the same people. In some cases, however, a language whose body belongs to one family may have the spirit of another, mostly for historical reasons. One typical example is provided by Amharic, the language predominant in present-day Ethiopia. It belongs to the Semitic group, and originates from Ge'ez, the ancient language of Ethiopia (still used by the Church). Ge'ez is a typical Semitic language, closer in some respects, within the Semitic family, to Hebrew than, say, to Arabic. The grammar of modern Amharic and its vocabulary are also typical Semitic in their structure. The language has three-letter "roots", several "aspects" (binyanim) of verbs, and, basically, a vowel-less script (though different from Hebrew, Arabic and Syriac in its manner of insertin vowel-marks) like other Semitic languages, with which it shares many other characteristic Semitic features. Yet, in truth the language is not a Semitic one, since the nation using it is a Negro nation, which had adopted the language for historical reasons. The original spirit of the African nation breaks through the Semitic skeleton of the language and reveals its characteristic traits. This is an undisputed fact. I have purposely chosen such a distant example in order to be able to speak of it more dispassionately. But, basically the same thing has happened to Modern Hebrew.

The Language has been transformed from a Divine Language to a European not even a Semitic language.

In this connection, it might not be out of place to mention that this fact has been recognized even by quite impartial linguists. The famous German Semitologist, Bergstrasser, in his book on Semitic Languages (Einführung in die Semitischen Sprachen, Munich, 1928) divides his discussion of Hebrew into three parts: Ancient Hebrew (Biblical Language); Middle-Hebrew (Mishnaic language) and Modern Hebrew. To him Hebrew is but one language amidst Assyrian, Syriac, Arabic, Maltese, etc. When discussing Modern Hebrew, he says (page 47): ". . . . ein Hebräisch, das in Wirklichkeit eine europäische Sprache mit durchsichtiger hebräischer Verkleidung ist . . . mit nur ganz äusserlich hebräischem Charakter. (".. . . a Hebrew which is in reality a European language with a transparent Hebrew disguise . . . . with only a purely superficial Hebrew character").

Let us quote several examples from the Modern Hebrew vocabulary which, innocent though they might seem, reflect some of the real trends automatically emanating from the "nationalization" of the Hebrew Language.

"Chashmal", for instance, is the usual Hebrew word for electricity. This word originally appears in the Book of Ezekiel (1, 4) in the chapter describing the Divine vision of the prophet. This chapter, which is usually referred to as "maase merkovo", is one of the most hallowed and most mysterious of Biblical passages. Only the very great and devout are allowed to delve into theses secrets outlined in the prophetic vision of the Almighty. In that vision, the prophet saw a great fire, "and out of the midst thereof as the colour of 'chashmal' ". What "chashmal" really means is, to say the least, a subject for scholarly research. The Septuagint translates it as "elektron" which is the Greek for amber (a mineral by the friction of which a flash is derived, hence the association). It is, of course, not our purpose here to go into exegetic deliberations or etymological research. Practically, however, the fact remains that, throughout Jewish history, the very mention of "chashmal" aroused a feeling of awe in the mind of every Torah-true Jew, child or adult, seeing that "chashmal" is automatically associated with the most Divine, the most sublime, whereas in our time the Modern-Hebrew-speaking child or adult knows only that "chashmal" means electricity, something which he uses and encounters a hundred times a day, something devoid of any sanctity and associated only with his living-room, television, radio or bathroom.

Another example can be taken from the post-Biblical Hebrew vocabulary, the word "Aggadah". In the mind of the Torah, true Jew, learned or even illiterate, Aggadah meant the assembly of Talmudical moral teaching, which is described by Hassidism as "the interior of Torah".The word used to arouse in every Jew a feeling of warmth, of moral strength, of faith, of love and affection for his ancient Sages and for his people. In modern Hebrew, the word "Aggadah" designates merely a legend or folk-tale. Little Red Riding Hood or the Story of the Three Little Bears are "Aggadah" in Modern Hebrew. Subconsciously, therefore, the hallowed teachings of the Talmud also become nothing more than fairy-tales, part of the "national mythology" if you wish, and again, this is exactly what Zionism wants. May I conclude this section by quoting a true story, amusing but all the more typical, once related to me by an esteemed friend in Jerusalem. His grandchildren live in a small town near Tel Aviv. Their mother-tongue, of course, is Hebrew but they also speak Yiddish quite fluently, particularly with grandpa and grandma. My friend once asked his little granddaughter: What do you answer when you are asked "how are you"? "Well, grandpa" was the prompt answer, "when you are asked in Hebrew "ma shlomech", you answer "tov me'od" (very good), and when you are asked in Yiddish "vos machste", you answer "boruch Hashem" (praised be G-d) . . . .Out of the mouth of babes . . . .

Furthermore, the "transformation" of Loshon Hakodesh into Modern Hebrew has incurred the particular danger that, as language is an intangible, abstract thing, it might be, as it so often was and still is, presented as a "substitute" for the longing for some "spiritual content" to fill the spiritual gap left in human souls by the abandonment of Torah.

Indeed, the study of "Ivrit" soon became a favourite pastime with the "enlightened" Zionist youth of the little towns and townlets of Eastern Europe. To make it more attractive on the one side, and to emphasize the distinctness from the "L'shon Hakodesh" of the Beth Hamidrash, somebody invented a special device: the so-called "Sephardic" pronunciation (which, as we shall soon see,is not Sephardic at all). This made the study of Hebrew more attractive by giving it an exotic flavour. The reason given for the selection of the "Sephardic" pronunciation was that it is the more ancient and the more original and correct way of pronouncing Hebrew.

Scientifically speaking, this entire reasoning is, to say the least, somewhat amateurish. Firstly, one must not confuse all Oriental Jews with those originating from Spain (Sephard). "Sephardi" pronunciation, in the loose popular use of the term, is as varied as Ashkenazi. Secondly, its "antiquity" as compared with the varieties of Ashkenazi pronunciation is, again, to say the least, a fact which has yet to be proved. Even if this were so, it would still be questionable, even from a purely nationalist view-point, without any consideration for the traditional Jewish principle of "Do not forsake thy mother's teaching" whether the antiquity of a pronunciation necessarily means that it must continue to be followed in the present and future. Only in the remote hills and highlands of Scotland may English be pronounced in exactly the same way as it was in the days of Chaucer, for example, and the same, of course, applies to all languages.

Moreover, there is no scientific proof that the allegedly "Sephardi" pronunciation really is the older one. The accepted scientific opinion, and I am referring here to linguists and not necessarily to orthodox Jews, is rather that both trends of pronunciation derive from ancient dialects, the one having been used in the Southern part and the other in the Northern part of Palestine. In any event, it remains a fact, for instance, that the pronunciation of Hebrew of the Yemenites approximates to the "Ashkenazic" pronunciation, as far as the vowels are concerned, of Lithuanian Jews (inasmuch as the "cholom" is pronounced "ay"). Nor has anyone ever claimed that Yemenite Jews had once been under any influence of German Jews. According to their own tradition, the Jewish community of Yemen dates back to the era of the First Temple. Incidentally, most languages have dialects involving important differences of pronunciation. In Syriac one of the very few living remnants of ancient Aramaic, which is still used by C ristian sects in Northern Iraq and Lebanon, there are two methods of vocalization, known as Nestorian and Jacobite, as well as differences of pronunciations similar "lehavdil", to the case of Hebrew ("kometz" being pronounced as "a" or "o" respectively).

The Zionist adoption of the "Sephardi" pronunciation meant a double loss, again, from the purely linguistic viewpoint, without any other consideration. Ashkenazi pronunciations make a clearer distinction between the vowels patach and kometz and distinguish between the aspirated and the unaspirated "tav". The "Sephardi" pronunciation, on the other hand, has the advantage of distinguishing between the various gutturals (alef and ayin, khof and het) but this distinction is made only by Jews who live in the sphere of the Arabic language where these consonants are also distinctly pronounced. There is, of course, no organic connection between the "Sephardi" (kamatz-a) pronunciation and the distinct pronunciation of gutturals. (Yemenites, who, as has been said, cling in some respects to the "Ashkenazi" way of pronouncing vowels, pronounce consonants even more distinctly than Sephardim inasmuch as they distinguish also between the aspirate and inaspirate of d, g, and t). Modern "Ivrit" pronunciation, even from the purely linguistic viewpoint, combines the disadvantages and shortcomings of all groups. Like "Sephardim", it disregards the distinctions between pathach and kamatz and between aspirate and inaspirate tav, while retaining the Ashkenazi disregard for the pronunciation of gutturals and the distinction between the kaf and qof, etc.

All this, of course, has caused little concern to anybody; but, seen in a profounder light, "the rebirth of the language" is merely another of the ways leading to the one and central purpose i.e. the transformation of the "Holy Tongue", into a "national language" as part of the transformation of Ysroél into "a nation as other nations".

(Excerpt from Uriel ZIMMER: Thora-Judaism and the State of Isr-l Maurosho Publications 5732/1972 pp.34-42)
03-10-2007 om 00:00 geschreven door Naphtali HIRSCH
10-09-2007
LOST IN TRANSLATION: AHMADINEJAD AND THE MEDIA
NEWS YOU WON'T FIND ON CNN
Send this page to a friend
Lost In Translation: Ahmadinejad And The Media

By Ali Quli Qarai

09/28/07 "ICH" -- - First I want to make some remarks about that now world-famous statement of President Ahmadinejad at xml:namespace prefix = st1 ns = "urn:schemas-microsoft-com:office:smarttags" />Columbia: "We do not have homosexuals in Iran of the kind you have in your country." The American media conveniently ignored the second, and crucial, part of his sentence as something redundant.

Obviously he was not saying, We don't have any homosexuals whatsoever in Iran—something nobody in the world would believe, not even in Iran. And by implication, he was not telling his audience, I am a plain liar! —something which his audience at Columbia and the American media construed him to be saying.

What he was saying is that homosexuality in the US and homosexuality in Iran are issues which are as far apart from one another as two cultural universes possibly can be. They are so dissimilar that any attempt to relate them and bring them under a common caption would be misleading. "Homosexuality is not an issue in Iran as it is in present-day American society." This was, apparently what was saying in polite terms.

Homosexuality in the US is a omnipresent social and political issue which crops up in almost every discourse and debate pertaining to American society and politics. So much so that I think it was a major issue, if not the deciding factor, in the last two presidential elections which paved Bush's way to the White House and saddled the Democrats with defeat, because a large so-called conservative section of the American public (the red states) felt wary of the pro-gay liberalism of the Democratic Party.

By contrast, homosexuality is a non-issue in Iran and is considered an uncommon perversion (except as an occasional topic of jokes about a certain town). Prom the viewpoint of penal law, too, it is does not receive much attention as the requirements for a sentence (four eye-witnesses, who have actually seen the details of the act) are so astringent as to make punishment almost impossible. (It would be interesting to know how many have been accused of it during the last two decades)

By contrast adultery and homosexuality are legalized forms of behaviour in most of Europe and America, and regarded not as criminal acts but as perfectly acceptable forms of sexual behaviour and as legitimate natural human rights which need to be taught even to all Asian and African societies as well.

There was also a subtle hint in his remark that he wanted to move on from this topic to more serious and relevant matters, a point which would be obvious to anyone conversant with Persian language and culture (like his another hint concerning the disgraceful conduct of Columbia president, when, while formally inviting Columbia academics to Iran, he added that "You can rest assured that we will treat you in Iran with hundred percent respect."

Iranians, being linguistically a very sophisticated people, speak a lot in hints which are invisible to outsiders. Americans in comparison tend to be straightforward and often as primitive.

(In general the Persians, like other civilized societies, have developed the art of making and responding to harsh remarks in soft and friendly words. Americans, as Prof. Bollinger proved, have still much to learn from civilized nations concerning the civilities of civilized hostility.)

Mr Bollinger's hostility towards President Ahmadinejad had obviously been fed by devious translations and interpretations of his earlier—also world-famous—remarks about Israel and the Holocaust. As if, as one commentator has remarked, the professor had been watching only CNN and Fox News.

· Unfortunately for more than an year these remarks have given a ready-made excuse to his critics to demonize him and attack Iran's foreign policies. Although he has made some attempts (unjustifiably belated, I think, and not quite adequate) to clarify himself, we who hear these remarks have also an intellectual duty to ourselves and others to see exactly what he exactly meant.

It is a basic linguistic principle of civilized discourse that so long as there is an acceptable and upright interpretation for someone's remark, it should not be given a devious meaning. Moreover, as one of my teachers often says, it is easy to reject and denounce the statements of others, but the worthy task of every intelligent seeker is to try to understand people who hold different opinions. This is particular necessary when such statements originate in a different linguistic and cultural domain.

When Ahmadinejad repeated Ayatullah Khomeini's words that "Israel baayad az bayn beravad," (which literally means that Israel should cease to exist), what is critically important for understanding is to see how Iranian people understand these words of their president. I don't think any mature Iranian with some awareness of regional politics has ever thought that the late Leader of Iran, or the present president of the country, were advocating some kind of military objectives against Israel. By citing the example of the Soviet Union and the Apartheid regime in South Africa Ahmadinejad, too, has clarified what he meant by 'Israel ceasing to exist.' By the rules of civilized discourse, every speaker's clarification concerning what he means is authoritative as he is entitled, before all others, to state and clarify what he means by his statements. In this case, Ahmadinejad has also clarified as to how he thinks that my happen: a general referendum in undivided Palestine with the participation of its Arab, Jewish and Christian population.

As for his statement that the Holocaust in a myth, we all know that the word "myth" has several meanings in the dictionary. One of its meanings is "A fiction or half-truth, especially one that forms part of an ideology" (The American Heritage Dictionary of the English Language). Thus a myth is not something necessarily untrue and Ahmadinejad has not denied outright that the Holocaust did occur, although he seems to have—what he considers to be legitimate—doubts about its exact extent, doubts which are prone to be strengthened, rightly or otherwise, by attempts to persecute or prosecute scholars whose research leads them to conclusions different from main-current historiography. What he basically appears to question is that the Holocaust should be made an ideological tool for the pursuit of unfair and inhuman objectives—something which most of us acknowledge has happened in the case of Palestine. Why should the people of Palestine be made to pay the price for the guilt and failings of Europe? He asks. I think that is a legitimate question.

The savants of the media are free to interpret Ahmadinejad's statement with the purpose of demonizing him and excoriating Iran, but there are better and alternate paths for those who strive for understanding and peace between nations, and to an objective like this should institutions like universities, including Columbia, contribute.

I hope that Mr Bollinger will advance a courageous apology to Mr Ahmadinejad and take advantage of his standing invitation for continuing the exchange of ideas with academic circles in Iran. Iranians generally are a large hearted people, like most Americans, and I hope the bitterness which has arisen from the unfortunate event of the past week will soon be forgotten with the sincere efforts of well-meaning intellectuals and officials on both sides. I cannot think of any other way in which good will between these nations as well as the good repute of an outstanding institution of higher learning such as Columbia can be salvaged.

Ali Quli Qarai is an Iranian scholar. He has published several books, including a translation of the Quran. He can be reached at altawhid@gmail.com
10-09-2007 om 00:00 geschreven door Naphtali HIRSCH
07-09-2007
GELEZEN IN HET LAATSTE NIEUWS
Ulfkotte stapt uit anti-islambetoging, procedures voortgezet
xml:namespace prefix = v ns = "urn:schemas-microsoft-com:vml" />xml:namespace prefix = w ns = "urn:schemas-microsoft-com:office:word" />
Udo Ulfkotte
Hugo Coveliers

In Terzake (Canvas) liet Udo Ulfkotte weten dat hij zich terugtrekt als organisator van de betoging. De Duitse oud-journalist stelde ook dat hij door het Vlaams Belang om de tuin geleid werd. Hij heeft gisteren een fax naar de Brusselse politie gestuurd waarin hij zegt geen verantwoordelijkheid te nemen voor de betoging. Naar eigen zeggen zette hij die stap omdat de betoging nog steeds verboden is en hij signalen heeft opgevangen dat rechts-extremisten naar Brussel zouden afzakken.

Procedures voortgezet
Ondanks het afhaken van de Duitse organisator Udo Ulfkotte worden de lopende procedures tegen het verbod van de anti-islambetoging dinsdag 11 september in Brussel voortgezet. Dat stelt Vlott-senator Hugo Coveliers, die als advocaat van Ulfkotte optrad voor de Raad van State en de Brusselse kortgedingrechter.

Angst
Volgens Hugo Coveliers had Ulfkotte hem gisteren laten weten dat hij angst had om naar Brussel te komen. De Duitse politie had hem laten weten dat ze hem niet in België kon beschermen. Volgens Coveliers betekent één en ander niet dat alles nu stopt. De Deense en Britse organisatoren gaan volgens hem voort. Dinsdag 11 september, de dag dat de betoging gepland was, wordt om 16.30 uur in het Europees Parlement een persconferentie gehouden, aldus nog de Vlott-senator.

Kortgeding
De betoging van de organisatie "Stop the Islamisation of Europe" (SIOE), een Europese koepelorganisatie met onder meer de Deense anti-islampartij SIAD, het Britse No Sharia Here en het Duitse Pax Europa, werd op 9 augustus verboden door burgemeester Thielemans (PS). Organisator Udo Ulfkotte stapte naar de Raad van State om dat verbod te laten schorsen maar kreeg daar ongelijk. Daarop wilde hij het opnieuw voor de Brusselse kortgedingrechter proberen. De uitspraak wordt morgen verwacht. (belga/hln)
HLN TV: Geen anti-islambetoging op 11/09?
Mail een vriend Printversie i.s.m.
06/09/07 21u17
MP 5
Antwerpen (2000)
pepijn jij bent een goei voorbeeld van wat ik bedoelde dat vrijheid van mening enkel geld voor als je westerling bent.
Beledigend? Ongepast? Meld het ons.
Pepijn dever
gent
mr . mordche , U klinkt gekwetst arrogant , blij uw mening te horen , zeggen mag u ze van mij zeker ... maar met die verbitterde toon heb ik er mijn bedenkingen bij. Mvg
Beledigend? Ongepast? Meld het ons.
Shmiel Mordche BORREMAN
Antwerpen (2000)
Een welverdiende mep voor het uiterst rechts populistisch OnVlaams Belang en voor Meester in de Demagogie Hugo COVELIERS! Van die kant hadden de heerschappen, die alleen maar hun eigen "vrijheid van mening" willen om deze van de anderen te kunnen verbieden of minstens in vraag te stellen, het zeker niet verwacht. Niet getreurd: in vergelijking met gelijkwelke zionistische politieke partij in geroofd Palestina is het VB nog altijd een respectabele centrum rechtse partij.
Beledigend? Ongepast? Meld het ons.
07-09-2007 om 00:00 geschreven door Naphtali HIRSCH
04-09-2007
PALESTINA : VAN BEZETTING TOT APARTHEID
DS 07 09 04 (artikel alleen voor abonnees toegankelijk)


dinsdag 04 september 2007
PALESTINA
IEPER - Onder de noemer Van bezetting naar apartheid wordt vanavond in de conferentiezaal van het stadhuis een infoavond over Palestina georganiseerd. Sprekers zijn Myriam Vandecan van het Centrum voor Ontwikkeling Documentatie en Informatie Palestijnen, de Palestijn Numan Othman en Shmiel Mordche Borreman van de Studievereniging Jesjoeroen (Jodendom tegen Zionisme). (pli)
04-09-2007 om 00:00 geschreven door Naphtali HIRSCH
25-08-2007
TRUETORAHJEWS QUESTIONS CHRISTIAN ZIONISM
Press Release
TRADITIONAL JEWS QUESTION EVANGELICAL SUPPORT OF "ISRA-L"
xml:namespace prefix = st1 ns = "urn:schemas-microsoft-com:office:smarttags" />Brooklyn, NY, August 23, 2007.

Recent claims by Evangelical Christians that the State of Israel is the fulfillment of a biblical prophecy and the upcoming series on Christian Zionists airing on CNN beginning this week has caused great alarm among many in the traditional Jewish community.
Torah-true Jews feel that these Christians' sympathy is misplaced. They are putting their resources into strengthening Jewish settlements in the West Bank, which in reality is a battlefield where many Jews have lost their lives. Traditional Jews believe in the Talmudic teaching that one should not "put all the eggs in one box." G-d did the Jewish people a kindness when He scattered them around the world; bringing all Jews to one place only endangers them and is no blessing.
We are commanded by the prophet Jeremiah (29:7), "Seek the peace of the city where I have exiled you, and pray to G-d on its behalf, for with its peace you will have peace." The Jewish people can be redeemed from exile only by Divine redemption; only then can there be world peace.
The often-quoted verse, "And I will bless those who bless you" (Genesis 12:3), means that all people in the world should bless and befriend the Jews if they want to earn G-d's favor. Historically, those gentiles who welcomed Jews into their country and allowed them freedom to practice the Torah and full rights were considered friends of the Jews. Anti-Semites were those who expelled Jews from their country and wanted them elsewhere. "Gentiles who wish to merit G-d's blessing are encouraged to continue being good neighbors to the Jews in their home countries, not send them off to the State of Israel," said Rabbi Hersh Lowenthal of True Torah Jews.
Additional information concerning the position of the Anti-Zionist Orthodox Jews may be found at www.truetorahjews.org
ABOUT TRUE TORAH JEWS
True Torah Jews is dedicated to informing the world and in particular the American public and politicians that all Jews do not support the ideology of the Zionist state called "Israel" which is diametrically opposite to the teachings of traditional Judaism. We are concerned that the widespread misconception that all Jews support the Zionist state and its actions endangers Jews worldwide.
- END -
25-08-2007 om 00:00 geschreven door Naphtali HIRSCH
21-08-2007
AANKONDIGING: INFO AVOND PALESTINA IEPER 05/09/07
AANKONDIGING:

IEPER VREDESSTAD

Info avond Palestina (05/09/2007)
Aanvang: 20u00 Einde: -
Locatie: VConferentiezaal stadhuis Ieper
Organisator: INTAL ism Osfam Wereldwinkel
Type: Samenleving
Met : MyriamVandecan Centrum voor Ontwikkeling Documentatie
en Informatie Palestijnen
Numan Othman Palestijn
Shmiel Mordche Borreman Studievereniging Jesjoeroen
Jodendom tegen Zionisme
Vrije toegang
Initiatie INTAL , met steun van OxfamWereldwinkel
Instemming van raad voor Vrede en Ontwikkeling Ieper

Info: geert@vredesloop.be
21-08-2007 om 00:00 geschreven door Naphtali HIRSCH
PALESTINIAN INFORMATION CENTER
21-08-2007 om 00:00 geschreven door Naphtali HIRSCH
07-08-2007
REACTIE OP CENSUUR
In tegenstelling tot wat de geobsedeerde zionistische Islamhater D VDP denkt, is Nadia NORDEN helemaal geen Moslima. Na haar reactie op de aantijgingen van Zionist Danny VDPerre aan haar adres, die niet gepubliceerd werd, werd ze door de "objectieve" moderator van HLN reacties Danielle uit het Forum gewezen. Ook Enissa KELIF werd uit het forum geweerd, beiden zonder verweer, zogezegd dat hun reacties niet overeenkomen met de gedragscode. Daarop werd het helemaal niet meer mogelijk om te reageren op dit artikel. Ronduit schandalig.
07-08-2007 om 00:00 geschreven door Naphtali HIRSCH
07-07-2007
The UNITED STATES of ISRAL by Margaret KIMBERLEY 07 07 07

THE UNITED STATES OF ISRA-L
By Margaret Kimberley

07 July, 2007
Black Agenda Report www.countercurrents.org
The 4th of July is supposed to be a celebration of xml:namespace prefix = st1 ns = "urn:schemas-microsoft-com:office:smarttags" />U.S. independence. But no one can honestly claim that the U.S. is independent of Israel and its immensely powerful domestic lobby. Certainly not the Congressional Black Caucus, all of whose members voted for a resolution charging Iran with "genocide" because of a deliberately misquoted statement by the Iranian president. Israel's interests override the truth every time. The pro-Israel lobby terrorizes presidential candidates, threatening them with political death if they utter a hint of criticism of the regime.
Americans celebrate their nation's independence on the Fourth of July. On that day in 1776 a group of propertied, nearly all slave holding, white men declared that Britain's American colonies no longer existed as such. America was an independent nation and would fight to retain that status. How ironic that in July 2007, America is anything but independent from foreign influence.
The Israeli government tells the American government and by extension, the American people, what they will do and when they will do it. Israel's influence was always immense, but the Bush administration's desire for endless empire makes that nation a perfect partner in crime. Israel's allies determine how that country is portrayed in the media, what elected officials can say and do about Israel, and even determine whether elected officials will stay in office.
The Israeli example of successfully lobbying against the interests of the American people is not unique in politics. The pharmaceutical industry, the NRA and many other lobbies are among the deep pocketed interest groups that get their way regardless of the effect on the public good.

Israel's influence is so great that it gets Congress to act when no action is required. Charging genocide in the absence of any violence is an amazing feat, but not when a nation that holds unprecedented levels of power wants to say that a lie is the truth.
In 2005, Iranian president Mahmoud Ahmadinejad said that Israel should be "eliminated from the pages of time." That often repeated wish for an end to zionism was deliberately misquoted and turned into a declaration of war by the neocons, their Israeli allies, and the neutered media.
Nevertheless, Israel's allies never cease whipping up the case for war against Iran. The United States Congress disgraced itself by passing a resolution "calling on the United Nations Security Council to charge Iranian President Mahmoud Ahmadinejad with violating the 1948 Convention on the Prevention and Punishment of the Crime of Genocide and the United Nations Charter because of his calls for the destruction of the State of Israel."
The public hear a constant drumbeat that Iran's nuclear ambition will be the death of Israel. Israel has been a nuclear power since the 1970s yet the media simply never mention that salient fact. Every expert says that Iran will not have a nuclear weapon for at least five years. Israel has nukes now and is in no danger from Iran or any other nascent nuclear power.

The vote was lopsided to say the least. Only two members of Congress, Dennis Kucinich and Ron Paul voted no. Both are presidential candidates, but Kucinich is consigned to media designated lower tier status and Paul was literally kicked off the Republican debate stage.
Every member of the Congressional Black Caucus who voted was in the "yeas" column. There can be no doubt that successful efforts to defeat non-compliant black members of Congress, Earl Hilliard and Cynthia McKinney, have essentially gagged the rest of the membership.
Iran is not at war with any nation. The United States is responsible for genocide in Iraq. Israel violates the U.N. charter and Geneva Conventions on a regular basis by waging collective punishment on civilian populations in Palestine and Lebanon. Yet every call to censure or boycott Israel is met with scorn and an inevitable charge of anti-Semitism.
While Congress disgraced itself by charging peaceful nations with genocide, the media disgraced itself by not reporting a violation of United States campaign law by an Israeli newspaper. The right wing Jerusalem Post emailed fundraising appeals on behalf of Mitt Romney and Rudy Giuliani.
Numerous campaign fundraising violations were committed in one fell swoop. Foreign nationals are not allowed to contribute to American political campaigns but the Post emails left out that minor detail in a message that went to many non-Americans. Corporations are not supposed to make campaign contributions, even in-kind contributions such as the fund raising appeal.
Both men declared their unquestioned support of Israel but also smeared Democrats in their appeals to the Post's American and foreign readers. Not only was the story ignored by the media, but it was ignored by the Democratic candidates as well.
A foreign newspaper made a blatant appeal to one political party and the other party remained mute. If that newspaper is an organ of the Israeli government, the silence is not surprising. The threat from Israeli interests is too great for any presidential candidate to withstand. In the 2004 presidential campaign Howard Dean merely said that the U.S. should be evenhanded in the Middle East. That statement was one of the reasons the establishment banded together to oust him from the process.
Most Americans have ceased to find any meaning in national holidays. The Fourth of July is seen as merely the beginning of the vacation season and an excuse to over eat. It is just as well that it isn't really taken seriously. America is not independent at all. A foreign nation calls the shots at every turn.
Margaret Kimberley's Freedom Rider column appears weekly in BAR. Ms. Kimberley lives in New York City, and can be reached via e-Mail at Margaret.Kimberley(at)BlackAgandaReport.Com. Ms. Kimberley' maintains an edifying and frequently updated blog at freedomrider.blogspot.com. More of her work is also available at her Black Agenda Report archive page.
07-07-2007 om 00:00 geschreven door Naphtali HIRSCH
23-06-2007
Rabbiner Samson Raphael HIRSCH Komm. Wochenabschnitt KAURACH
Rabbiner Samson Raphael HIRSCH
קרח
Aus seinem Kommentar zur Wochenabschnitt Kaurach
Kap. 16, V. 4: Mosche hörte und warf sich auf sein Angesicht
Kap. 16 V. 4: וישמע משה וגו': Moses hörte oder vielmehr: verstand das Ziel und das Motiv dieser gegen ihn erhobenen Behauptungen und Anklagen. Es war eine Leugnung der Göttlichkeit seiner Sendung und zwar nicht aus irregegangener Gedankenrichtung, die einer Belehrung zugängig gewesen wäre, sondern aus ehrsüchtigem Neide, der unter dem Deckmantel der Vertretung des allgemeinen nur die Befriedigung eigener selbstsüchtiger Interesse verfolgt und zu diesem Ende durch blendende, der Eigenliebe des Volkes in allen seinen schmeichelnden Sophismen Moses und Aharon aus ihrer Stellung zu verdrängen suchte. Sind doch die Prämissen, die Sätze, die Kaurach seinem Aufruhr zu Grunde legte, falsch und die Schlüsse in ihrer Anwendung auf die Verhältnisse, denen es galt nicht minder…
V 11: Darum, du und dein ganzer Verein, ihr seid die wider Gott Versammelten! Aharon aber, was ist der, daß ihr wider ihn Aufruhr erregt?
VV. 8-11: .. … Davon ja auch עדה: die durch eine gemeinsame Aufgabe und in ihr vereinigte Gemeinde. …
V.22 Da fielen sie auf ihr Angesicht und sprachen: Gott! Gott der Geister allen Fleisches! Der eine Mann sündigt, und über die ganze Gemeinde willst du zürnen?
V.22 .אל אלקי הרוחות וגו' .ויפלו וגו' Du weißt, wie leicht die Geister einer Volksmenge durch blendende Behauptungen und Vorspiegelungen eines geistig überlegenen und bis dahin unangetastetes Vertrauen genießenden Mannes, wie Kaurach, zu einer Verirrung hingerissen werden können. Wenn Massen zu Verbrechen aufstehen, liegt in der Regel die wahre Schuld auf einigen wenigen höherstehenden Agitatoren. Bei menschlichen Einschreiten blutet gar oft dann die weniger schuldige, nur irregeführte Menge und die Verführer, die eigentlichen Schuldigen bleiben frei. …
23-06-2007 om 00:00 geschreven door Naphtali HIRSCH
08-06-2007
STUDIEPROGRAMMA ZOMER 5767 (2007)
"JESJOEROEN BELGIË
JODEN TEGEN ZIONISME
STUDIEPROGRAMMA ZOMER 5767 (2007)
Ons permanent studieprogramma behelst
§ Rav Samson Raphael HIRSCH: Kommentar, Psalmen, Chaurew, Ges.Schriften
§ Rav Mendel HIRSCH: Haftoroh van de week
§ Rav Salomon BREUER: Belehrung und Mahnung (Wochenabschnitt)
Vanaf deze zomer komt ook het exposé van Rav Dr. Raphael BREUER
"Nationaljudenthum ein Wahnjudenthum! Ein Wort zur Verständigung"
(Mainz 1903) centraal in ons studieprogramma te staan.
Korte Inhoud: Rav Raphael BREUER verdedigt in dit exposé de identiteit van de Thora en het Thoratrouwe Jodendom tegen het Zionisme. Reeds in zijn Sturm und Drang periode zocht het "nationale Jodendom", dat in zekere zin een reactie op de assimilatie van de Reform was, zich op te dringen als "vriend van de Orthodoxie". De al te opdringerige vriendschapsbetuigingen waren (en zijn) niets anders dan sluwe politieke berekening, daar het Zionisme op het mensenreservoir van de Orthodoxie aangewezen is, zegt Rav R. BREUER. De Orthodoxie kan deze 'vriendschap' echter in geen geval aannemen zonder ontrouw te worden aan zichzelf en de Thauro. De eerste reden is dat het Zionisme ervan uitgaat dat "Religion Privatsache" (godsdienst is enkel een privé-aangelegenheid) zou zijn, op zichzelf al een verloochening van de Thauro. En dit niet enkel vanwege de Drievoudige Eed uit de Talmoed, waarop Rav R. BREUER zich ook beroept, maar omdat Thauro en uitsluitend Thauro onze Joodse identiteit bepaalt en onze leidraad tot handelen is. Compromissen kunnen met het nationalistische Waanjodendom evenmin gesloten worden dan met de Kfiroh (ketterij) van het "liberale Jodendom". "Neen! Want hun gedachten zijn niet onze gedachten, en hun wegen zijn niet onze wegen!" (blz. 32) Dat is de boodschap van dit exposé (37 bladzijden) In het aanhangsel wordt de leugenachtigheid van de Mizrachi ("nationaal religieuze" zionisten ) beweging aangeklaagd.
Actualiteit: Dit rabbijnse strijdschrift heeft honderd jaar later niets aan actualiteit ingeboet. Het is zelfs actueler dan in de periode van het Sirenengezang van Max NORDAU en Co. Vandaag de dag stelt een deel van de agnostische (goddeloze) zionistische intelligentsia zich vragen. Ze zoekt zich te positioneren volgens de normen van het humanisme en internationale recht. De zogenoemde postzionisten halen zich de woede op de hals niet enkel van de talloze nationaal religieuze rabbijnen, maar nog meer van rabbijnen en rebbes van de "ultra-orthodoxie", die hen "verraad" aan het Zionisme verwijten. De religieuze zionistische leiders in kwestie beperken zich niet tot collaboratie met het Zionisme maar belichamen zelfs ideologie en praktijk van het Zionisme. Zijn zijn de vurigste verdedigers en propagandisten ervan geworden.
Het is dan ook geen wonder dat dit rabbijnse antizionistische strijdschrift, zoals ook dat van Rav Mendel HIRSCH Zionismus (1898), uit de circulatie verwenen is, door de zionistisch religieuze rabbijnen doodgezwegen wordt.
Het is dan ook onze taak om dit rabbijnse exposé een zo breed mogelijke bekendheid te geven en ons ervan te inspireren in onze heilige strijd tegen de Zionistische afgoderij en ketterij.
Biografische gegevens: Rabbijn Dr. Raphael BREUER (1881-1932) is de kleinzoon van Rav Samson Raphael HIRSCH en zoon van Rav Salomon BREUER (1850-1926). Rav Raphael BREUER werd opgeleid in de Jesjive van zijn vader en later door R' Sholom KUTNA van Eisenstadt en R' Y.FÜRST van de Schiffschul in Wenen. Hij schreef zeer veel artikels en boeken, waaronder een commentaar op ieder der vijf Megilles, een vertaling van de Profeten Esra en Nehemia en de Sammelband 'Unter seinem Banner' (1908, over Rav S.R. HIRSCH). Rav Raphael BREUER diende van 1910 tot 1932 als rabbijn in Aschaffenburg. Een portret en geschriften van Rabbijn Dr. Raphael BREUER bevindt zich in Band 2 van de – evenzeer verdwenen en verzwegen – verzameling van het agoedistische tijdschrift Nachalass Zwi (1931-1938)."
08-06-2007 om 00:00 geschreven door Naphtali HIRSCH
22-05-2007
The heretical notion of 'Jewish Superiority'
The Heretical Notion Of 'Jewish Superiority'
By: Rabbi Moshe Ben-Chaim
Tuesday, May 22, 2007 JEWISH PRESS
Maimonides (Rambam), one of the world's greatest minds, was more accomplished in Torah thought and codification than any rabbi alive today. It is no wonder that Rabbi Yosef Caro based much of the Shulchan Aruch on Rambam's positions.
Maimonides praised Aristotle as reaching the height of intellectual perfection. He did not offer this praise about a Jew. So we wonder: Do some Jews have it wrong if they consider gentiles "second-rate humans"? Was Maimonides correct in his praise of a gentile?
Too often we hear the term "Jewish soul" used as an expression of baseless Jewish arrogance. Others accept the belief that God literally blew a "piece" of Himself into man, derived from such verses as "He breathed into his nostrils a living soul" (Gen. 2:7) and "…God created man in His image; in the form of God He create him [man]…" (ibid, 1:27).
Certainly Maimonides, Ramban, Rashi, Unkelos and virtually all other leading rabbis considered such anthropomorphisms to be false and heretical, and so we must therefore fully understand why these geniuses reinterpreted those verses – and then we must adopt these truths for ourselves.
Maimonides teaches that since God is not physical, He possesses no physical qualities (13 Principles; Principle III; Yesodei HaTorah 1:7) All rabbis agree – God has no "parts"; thus, metaphors like the "tzelem Elokim" ("form of God") placed in man must be understood as simply indicating the higher status humans enjoy over all other creations.
God attached His name to the phrase "tzelem Elokim" to underscore the great potential of our souls. For only with our souls can we learn about God. But in no way can God have parts, and, therefore, man's attempt to abandon responsibility by feeling God is "inside" him is a fallacy. (This pantheistic view has led Jews to believe that God existed even inside sin, as well as other absurdities.)
Ironically, Jews claiming Jewish "superior" souls contradict themselves, since they derive this view from the verses cited above – which address the "gentile" Adam Harishon.
God's selection of the convert Ruth as the forerunner of our future Messiah and of Kings David and Solomon clearly teaches us that God finds no favorite in the Jew. In fact, God created man only once, and all humans are direct descendants of that first gentile couple. God never recreated man or the soul, giving the Jew some kind of new and improved model.
We all share the exact same design and potential. It was only due to mankind's idolatrous sins and Abraham's monotheistic lifestyle that God selected Abraham and his children to receive and guard the Torah…for all mankind. God's plan was, and remains, that "All sons of flesh call His name." (Alenu prayer) Further, since God planned to give His Torah to descendants of gentiles, this means that gentiles are fully capable of practicing Judaism and obtaining Torah perfection. The born Jew has no advantage.
It is not the receipt of Torah that perfects humans, but our adherence to its commands – and this applies to Jew and gentile alike. Human perfection is not a Jewish birthright, but a human accomplishment, available to all God's creatures.
If a gentile is wise, he will love the Torah as does a knowledgeable Jew, and he will take on more than his mere seven Noachide laws. He will see that God's commands perfect a human, and he will wish to share in that lot. Gentile converts throughout history showed themselves as the wisest members of their cultures – and ours – with many becoming great Jewish leaders.
Those seven commands are not a limit for the gentile or, as some say, "their" system. The Noachide laws are the bare essentials that entitle a human being to retain his right to life. Noachide laws are a starting point rather than an exalted destination. Since the gentile is no different from the Jew, he too benefits equally by adhering to the Torah's commands, as the Torah teaches: "One Torah and one statute you shall have for yourselves, and the convert who dwells among you." (Numb. 15:16, Exod. 12:49) This proves all humans share the identical design and potential.
The view that converts always had some Jewish "spark" is equally arrogant and baseless. All the Talmud means by "future Jews and future converts are also part of the covenant" (Shavuos 39a) is that any person who sees the truth of Torah is "as if" he or she witnessed Revelation, which proves Torah beyond all doubt. Just as those witnessing Sinai lost all doubt of God's existence and the Divine nature of Judaism, those today who realize this truth are "as if" they too stood at Sinai. Equally true: a Jew today who abandons Torah is "as if" he was not at Sinai.
Abraham was no more Jewish than Sodom's sinful inhabitants who were annihilated by God. But Abraham's difference was in his use of his tzelem Elokim, extricating himself through reason alone from an idolatrous youth and discovering and teaching monotheism to his fellow man. He viewed all humans as equal expressions of God's will. All men are created equal.
Abraham was a prophet, and more perfected than anyone alive today, Jews – even rabbis – included. He was not born Jewish, yet God loved him. The Talmud (Sanhedrin 59a states: "A gentile who studies Torah is akin to a High Priest." And the prophet Isaiah 2:2 teaches that in messianic times gentiles will literally stream to Jerusalem to learn Torah.
But gentiles cannot simply wake up one day and desire Torah – and therefore Moshiach cannot arrive – if Jews hide the Torah from gentiles by voicing acceptance of other religions. No, that deludes gentiles into believing we view their religions on par with Torah.
The Torah teaches, "From a false matter distance yourself" (Exodus 23:7). Hence we must be honest and clear: Judaism views all other religions as imposters, since no other religion was God-given.
This explains why others preach faith, not proof as does Judaism. Our core tenet is that Judaism alone is divine, proven by the mass witnesses at Sinai – the same manner in which all history is proven. Mass revelation is absent in literally all other religions, and that is why we do not accept their baseless claims.
If we recognize any other religion, we violate God's words: "Do not add to it [Torah] and do not subtract from it" (Deuteronomy 13:1). All other religions defy this fundamental directive of God in their addition to or subtraction of Torah law.
Again, God said, "One Torah…for yourselves, and the convert." This means no other laws are acceptable, for any people.
One other popular misquotation used to support Jewish superiority stems from a gross misreading of Job 31:1,2: "A treaty have I made with my eyes; for what shall I gaze at a virgin? And what portion of God above shall I have, and an inheritance of God on high?" Job rightfully defends himself, claiming that he never gazed at a woman for any reason other than examining her qualities to determine if she was a fit bride for his sons. For by gazing longer, it would be out of lust, and he would forfeit his share of God's reward.
But many misquote this verse, isolating the words "portion of God above" ("chelek Elokim mima'al") to mean that God placed a "part of Himself" into man: truly an inexcusable corruption of Torah. This is also an outright denial of our greatest rabbis, who state such beliefs forfeit our olam haba, our afterlife.
And this all in the name of feeling that as Jews, we are better? Since when does illiteracy and denial of God's Torah and rabbis elevate one's soul over the gentile?
It was Ruth's humility that attracted Boaz. In truth, Jewish arrogance is the exact opposite trait of that which Ruth the convert expressed and which earned her the selected role as ancestor of our great kings David and Solomon, and of the Messiah.
Think about that – our daily prayers (Psalms), our greatest kings, and our soon-to-be Messiah are all due to the gentile Ruth. God does not favor a person simply because his or her parents are Jews, for this is no merit to a sinful person. And God has no disdain for the gentile, as we see in God's selection of Ruth, and in Maimonides's praise of Aristotle.
God did not create gentile and Jew; He simply created "man and woman." The "Jew" was not a new creation, but simply a new designation, affixed to the same original design. Each human being possesses equal potential to achieve perfection and God's love.
May we abandon false ideas of Jewish superiority and ego gratification, and replace them with the humble truth that God created every human with a soul for a reason – and that He loves all His creations equally.
"One Torah…for yourselves, and the convert."
Rabbi Moshe Ben-Chaim is founder of Mesorah.org.
22-05-2007 om 00:00 geschreven door Naphtali HIRSCH
23-04-2007
AIPAC and US FOREIGN POLICY debated By PETRAS and FINKELSTEIN
NEWS YOU WON'T FIND ON CNN

"THE LOBBY" : AIPAC and US FOREIGN POLICY

A debate - James Petras and Norman Finkelstein:
TRANSCRIPT:
The Pro-Israel Lobby Debate by Hagit Borer, James Petras, and Norman Finkelstein www.dissidentvoice.org April 17, 2007 Send this page to a friend! ...
www.dissidentvoice.org/Apr07/Borer-Petras-Finkelstein17.htm - 68k - In cache - Gelijkwaardige pagina's
23-04-2007 om 00:00 geschreven door Naphtali HIRSCH
Wir beten für die Auflösung der zionistischen Entität
Shmiel Mordche BORREMAN,
Uw nederige dienaar
© Sine Van Menxel
Solidarität mit antizionistische Widerstandskämpferin Ahed TAMIMI
AL JAZEERA = ZIONIST DESINFORMATION!
Gastenboek
Druk op onderstaande knop om een berichtje achter te laten in mijn gastenboek
Be hopeful but be prepared for the worst. Welcome to the post-Gaza world.
Palestine Liberation is Inseparable from the Fight against the Arab Regimes