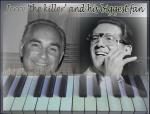 IN THIS BLOG YOU'LL FIND,YEAR PER YEAR OF PERFORMANCE DATE , LIVE VIDEO CLIPS OR LIVE AUDIO CLIPS OF THE LAST MAN STANDING : JERRY LEE LEWIS. (BORN 1935)
TODAY 19 MAY 2009 I'M STARTING THIS UP AND IT WILL TAKE SOME TIME BEFORE I HAVE FILLED UP ALL THESE YEARS WITH LIVE CLIPS.
I'LL TRY TO ADD A FEW CLIPS NOW AND THEN. KEEP ON SURFING AND ROCKING WITH THE FERRIDAY FIREBALL : JERRY LEE LEWIS.
I ALSO TRY TO MENTION THE NAMES OF THE MUSICIANS THAT ARE APPPEARING WITH JERRY IN THE CLIPS.
YOUTUBE , UNFORTUNATELY, REMOVES NOW AND THAN CLIPS FOR ONE REASON OR ANOTHER. I TRY TO REPLACE THOSE CLIPS BUT SOMETIMES IT DOESN'T WORK. SORRY FOR THAT.
GERMAIN VAN DE WEGHE , RUISELEDE, BELGIUM. TEL BELGIUM 051/688 688 GSM 0475/573018 - COVERBAND THE SHADOOGIES.
EMAIL g.vandeweghe@telenet.be
WEBSITE THE SHADOOGIES : http://blog.seniorennet.be/shadoogies
WEBSITE BACK TO THE SIXTIES : http://blog.seniorennet.be/sixties
YOUTUBE LIVE VIDEOS OF ROCK 'N ROLL BAND THE SHADOOGIES : http://www.youtube.com/user/shadoogies



1958



1974



2008
19-05-2009 om 00:00 geschreven door JERRY LEE LEWIS
0 1 2 3 4 5 - Gemiddelde waardering: 2/5 - (8 Stemmen)
Categorie:0-CONCERT DATE UNKWOWN