Federico Mompou en
Francis Poulenc
Mompou en Clara Janes
Carmen Bravo
| | |
| --- | --- |
| Federico Mompou (1893-1987) | |



15-04-2007
Muziek van Federico Mompou in Vredenburg Utrecht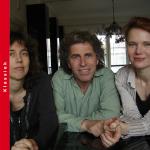 In muziekcentrum Vredenburg een erg mooi concert bijgewoond van kamermuziek van Federico Mompou, uitgevoerd door Marcel Worms en het ensemble. Het programma was overeenkomstig met de stukken zoals die op cd zijn vastgelegd.
Ik kan de cd: Chambermusic, El Pont van Federico Mompou door Marcel Worms en het ensemble bij iedereen van harte aanbevelen o.a. te bestellen op de website van Marcel Worms zie: http://www.marcelworms.com/discografie.html
Over de avond in Vredenburg vond ik nog een artikel op het weblog van Bert Overbeek over betweterig publiek, zie:
http://www.pitchersupport.nl/blog/pivot/entry.php?id=352#body



Federico Mompou en Clara Janés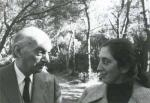 Federico Mompou en Clara Janés



Instituto Cervantes Utrecht
http://www.utrecht.cervantes.es/




FREDERIC MOMPOU: DE MUZIEK EN HET UNIVERSUM

Frederic Mompou is een van de grote Spaanse componisten van de twintigste eeuw. Música Callada vormt het hoogtepunt van zijn oeuvre. Pianist Marcel Worms voert het vanavond uit, voorafgegaan door een lezing van de Spaanse dichteres, romancière, essayiste en vertaalster Clara Janés. Haar poëzie werd in meer dan twintig talen vertaald. Bovendien is ze de auteur van de biografie Het stille leven van Frederic Mompou. De voertaal is Spaans, met simultaanvertaling in het Nederlands.

Datum: woensdag 6 juni. Tijd: 19:00. Locatie: Instituto Cervantes, Domplein 3, Utrecht. Entree: €5/€3 met korting.


Die warme avond begon met een uitgebreide lezing van Clara Janés gevolgd door de gehele Música Callada uitgevoerd door Marcel Worms.
De openstaande grote ramen vanwege de warmte in het Instituto Cervantes in Utrecht, zorgden ervoor dat stadsgeluiden en fluitende vogels zich vermengden met de pianoklanken van de Musica Callada. Precies aan het einde van de Música Callada klonken kerkklokken.
Wel heel erg toevallig, als je bedenkt dat Mompou zich o.a. liet inspireren door geluiden uit z'n omgeving en z'n vader klokkenmaker was.







14-04-2007
Alicia de Larrocha, F. Mompou en Rosa Sabater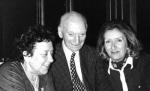 Mompou



Manuel Blancafort - Complete pianomusic Vol. 1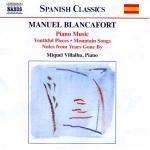 Manuel Blancafort (1897-1987) Complete Piano Music, Vol. 1 Manuel Blancafort i de Rosselló was born on 12th August 1897 in the spa town of La Garriga, near Barcelona, into an educated, middle-class Catalan family. His parents owned a famous hotel in the town which was frequented by many artists, intellectuals and politicians. An enterprising man, and an enthusiast for technological innovation, his father had also set up a factory in La Garriga to produce pianola rolls, and this in effect became Blancafort's music school. Blancafort studied music first with his father, and then with Joan Alsius, who taught him the basics of composition. Then, as a teenager, he began to work in the family factory. It was his job to examine music scores in minute detail and convert the notes into series of perforations on rolls of paper. He was therefore able to learn all about different styles of writing, from the classical composers to the latest works by Debussy, Ravel and Schoenberg, among others, and to complete his musical education — to all intents and purposes he was self-taught. Life at the hotel also gave him the opportunity to meet a number of musicians and composers, including Joan Lamote de Grignon and Frederic Mompou, both of whom gave him advice and looked over his early compositions. It was his meeting with Mompou, in 1914, that was to prove the most significant for the young Blancafort, not only musically but also aesthetically and spiritually. Mompou took on the rôle of elder brother, supporting Blancafort and guiding him as he took his first steps as a composer, as well as helping him find his way around the rich and innovative musical scene of 1920s Paris. The première of Blancafort's El parc d'atraccions (The funfair), given by the pianist, Ricardo Viñes, in Paris in 1926, was enthusiastically received by that city's demanding public, and Maurice Sénart, one of the leading French publishing houses, took an interest in the young composer and went on to publish most of his works. Unfortunately, a promising career was soon brought to an end: the demands of family life (he was to have eleven children), the closure of his father's factory (caused by the growing success of the gramophone), and problems arising from the Spanish Civil War combined to oblige Blancafort to set up home in Barcelona and spend most of the rest of his life working for an insurance company. Despite the restrictions this entailed, he was nevertheless able, with the support of his remarkable wife, to find a few precious moments in which he could compose, eventually building up a sizeable catalogue of works which represent "the living synthesis of Catalan musical culture" (Manuel Valls). Spanish isolation during the Franco years, and in particular the closure of the French border, made it difficult for Blancafort to achieve any international fame for his work, but he won prizes and official distinctions in his native country from 1949 until his death in Barcelona on 8th January 1987. Blancafort's work is clearly rooted in Catalan traditions, and its emotional and aesthetic content is always bound to a stable formal structure. This "classical" approach, in the strict sense of the word, where intellect reigns over sentiment, is present in even his earliest works. In these, despite numerous touches of Romanticism, the composer succeeded in creating, in his own words, "something that stands up". His music has a clarity and simplicity far-removed from the German transcendentalism in fashion at the time, his aim being to compose music which was "tonal, logical and concise". To this end he took French music as his model, although he believed it was not a question of "giving Catalan music a French flavour … it has to speak of things Catalan in a European idiom". Blancafort's choice of the piano for his first compositions was quite natural, given his years of close contact with the pianola, his feeling for French aesthetics and his friendship with Mompou, a fine pianist. The early works (1915–19) recorded for this first volume demonstrate Blancafort's preference for short pieces, either complete in themselves or as sections of a cycle, and for the simple form of the Lied, as well as his interest in everyday subjects and intimate feelings, influenced by the natural world and by a sense of nostalgia and longing: "I have always loved silence and isolation … I grew up in a world of melancholy which I myself created". The young composer was setting his imagination to music as he searched for a personal idiom. The seven Peces de joventut (Youthful pieces), most of which are written in minor keys, are a good example of this fundamentally romantic attitude, and are a direct introduction to the composer's world. His first work, Record (Memory), was probably written and rewritten many times before reaching this final version. It brings together the aspects typical of his later production, simplicity of language, and a fine melodic and harmonic sensibility within a well-structured framework, and owes a clear debt to Grieg's Lyrische Stücke. The mysteries of nature were an inexhaustible source of inspiration for Blancafort, as can be seen for instance in the nine Cançons de muntanya (Mountain songs — genuine songs without words) in which we hear the gentle lullaby of the wind caressing the branches (I) and a soothing snowfall on to a frozen landscape (III); we are present at sunset (VI and VIII) and in a valley covered by a dawn mist (II); we feel the sadness of remembrance and farewell (IV and VII) and the joy of reaching the summit in the dazzling light of day (V and IX). The eight pieces that make up Notes d'antany (Notes from years gone by) are steeped in the same introspective atmosphere as the previous works and are strikingly mature. Lament (Lamentation) and La lluna brilla (Moonlight) anticipate the Nocturns (written 20 years later), Record d'infantesa (Childhood memory) expresses nostalgia for a bygone age, while the autumnal light which opens the cycle, En arribar la tardor (When autumn comes), with a russet carpet of fallen leaves, Al jardí (In the garden), dissipates and is swept aside by the merriment of friends in Els joiosos companyons (The happy friends) and the spring birdsong of Ocells al cel d'abril (Birds in the April sky). Blancafort often turned to song in his early days, attracted by its miniature structure and popular nature. This can be seen in his 12 Cançons, as can his interest in traditional Catalan tunes. He believed strongly in the importance of nationalism in music and was keen to follow in the footsteps of Albéniz, Granados and Falla, but with a Catalan bias. The last four songs, like the Tema popular from Notes d'antany (which takes its theme from the traditional Catalan song La filla del carmesí), are full of rich and inventive harmonies. Cançó en la solitud, Cançó del capvespre, Cançó en l'ermita and Cançó a la platja (Song of solitude, Song of twilight, Song of the hermitage and Song of the beach) once again set to music the poetic vision of a young man inclined to solitude and with a love of nature. The composer was also fascinated by the theme of childhood. In the same way as Debussy's Children's Corner, Cançó de la canalla (Children's song) and Cançoneta per adormir (Lullaby) take us back to our younger days, using the carefree joy of a children's round and the soporific effects of a gently monotonous song, while in Cançó del pastoret (The little shepherd's song), the shepherd plays his flute in harmony with the echo from the mountains. Miquel Villalba English version: Susannah Howe



Manuel Blancafort - Cant intims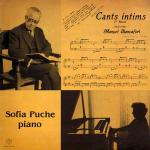 Manuel Blancafort
Federico Mompou en Manuel Blancafort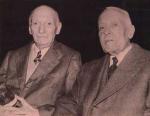 Federico Mompou en Manuel Blancafort




Manuel Blancafort en Federico Mompou
Blancafort



Manuel Blancafort - L'absencia
Blancafort



Impressions intimes van Federico Mompou
Mompou



Stephen Hough speelt 'Secreto'van Federico Mompou
Mompou



Carmen Bravo
Carmen Bravo, weduwe Mompou geeft aanwijzingen aan Mac McLure (piano) en Marisa Martins (sopraan) m.b.t. 'Comptines'




Stephen Hough plays Mompou
Stephen Hough speelt 'Jeune fille au jardin' van Federico Mompou




13-04-2007
Federico Mompou en pianiste Eugenia Gassul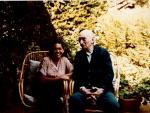 mompou



Federico Mompou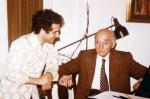 Mompou



21-03-2007
Gabriel Pierné - Etude Symphonique op. 40 no. 3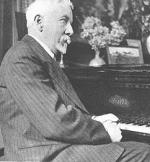 Van de Franse componist Gabriel Pierné (1863-1937) bestaat een opname van het pianostuk Etude symphonique opus 40 nr. 3 gespeeld door Annie d' Arco (1920-1998), uitgegeven door de Franse platenmaatschappij Calliope op lp.
Deze uitvoering vind ik erg mooi en is helaas niet op cd verschenen.
Dit pianostuk is wel op cd verschenen maar dan gespeeld door Enid Katahn (cd Music for piano) bij Universe maar deze uitvoering is m.i. te snel gespeeld en haalt het ook niet qua spel en pianoklank bij die van Annie d'Arco.
Voor het beluisteren van fragmenten van de cd van Enid Katahn, ga naar:
http://www.cduniverse.com/productinfo.asp?pid=1163450&cart=501231686&style=classical
Ik hoop dat de opname van Annie d'Arco ooit nog eens op cd verschijnt want ook de lp kan ik niet meer vinden.
Heb slechts het nummer op een oud cassettebandje staan.
Mocht iemand toevallig de lp met de pianomuziek van Gabriel Pierné gespeeld door Annie d'Arco (uitgebracht op het Calliope label) in huis hebben dan heb ik daar zeker belangstelling voor. Helaas heeft de Centrale Fonotheek in Rotterdam deze lp ook niet en op internet heb ik ook nauwelijks iets kunnen vinden m.b.t. deze plaat.
Heb het nummer van cassettebandje gedigitaliseerd en op YouTube gezet.
Ga naar:
http://www.youtube.com/watch?v=AqWq2kfBqh0





05-03-2007
Heleen van den Hombergh met Zeppelin Zone
Gisterenmiddag getuige geweest van een onwaarschijnlijk mooi optreden van Heleen met haar nieuwe band genaamd: Zeppelin Zone. Dit concert in P60 te Amstelveen vond plaats in een intieme sfeer en was een try out. Er werden acht nieuwe nummers gespeeld.
Het begon al meteen geweldig goed door een schitterende intro op contrabas door Frans van der Hoeven. De geluiden die hij uit zijn contrabas weet te halen middels wat technische hulpmiddelen zijn verbluffend te noemen. De band Zeppelin Zone was erg goed op dreef en Heleen? Zij zong heel erg mooi, bescheiden, gevoelig maar ook met heel veel passie en interaktie met de band. Heb van begin tot eind m'n oren gespitst om zo veel mogelijk mee te krijgen van de nuances en er erg van genoten.
Een nummer als: "So that's what you're worth?" stond als een huis! Hoezo een try out?
Dit was geen try out meer, helemaal perfect, niets meer aan toe te voegen.
Geweldig mooie gitaarbegeleiding van Erik Rutjes en een zeer overtuigende voordracht, grote klasse! Tot mijn verbazing werden ook nummers van Rush in the woods gespeeld.
Zo klonk All the Gold in "uitgeklede" versie (met alleen Erik Rutjes op gitaar) ook erg mooi.
Beauty in Blue etc. was ook zeer de moeite waard.
Soms had ik het gevoel dat Heleen's stem iets "verzoop" in o.a. de ingewikkelde capriolen van Frans op z'n contrabas, waardoor het soms wat rommelig klonk, maar dit lag ook af en toe aan het geluid, want alles was in deze kleine ruimte heel goed hoorbaar, hoe subtiel moet je dan wel niet spelen?
Zeppelin Zone maakte met de nieuwe nummers het meeste indruk op me met o.a. "Silence please", Ïnvisible wings"en "Calling the rain" met prachtige achtergrond zang van percussionist Bart Fermie (gekscherend de tweede stem genoemd). Bart zorgde voor erg veel mooi percussie-werk waarbij evenals bij de rest van de band de nadruk lag op de verschillende klankkleuren.
Eén van de beste nummers hadden ze voor het laatst bewaard. In "Beautiful world" gingen ze wederom helemaal los met o.a. een schitterende percussie-solo van Bart Fermie, subtiel swingend in een ietwat Braziliaans aandoende sfeer.
Verwacht dat dit alles gaat uitgroeien tot een prachtige nieuwe cd!

Zwaar onder de indruk ging ik weer naar huis, dit beloofd nog wat voor de toekomst!

| | |
| --- | --- |
| | |
Gastenboek
Druk oponderstaande knop om een berichtje achter te laten in mijn gastenboek
Overzicht van cd's
met muziek van
Federico Mompou

Overzicht cd's met
muziek van
Manuel Blancafort