Federico Mompou en
Francis Poulenc
Mompou en Clara Janes
Carmen Bravo
| | |
| --- | --- |
| Federico Mompou (1893-1987) | |



22-11-2008
Lorna G. Pollock about Mompou
When my Father was dying, I played Mompou exclusively during the drives to be with him. The music allowed me to be with my grief and to restore balance with my rather jagged emotions. I find that Mompou's music has great emotional healing influence on my life in general. I play it frequently and hear subtle nuances each time. It is very inward music, and you must be involved with it. That is why I play it and why I wish to become more proficient in interpreting it. I also play Satie. His music asks invites a person to reflect, but there is a difference. Mompou's music is more abstract, personal and solicitous.
Lorna G. pollock, Mariposa, CA

On Youtube she plays Prelude No. 4 of Mompou and pieces from Satie.
She will try to play and upload a better version of Prelude No 4 in the future.
For more information about Lorna G. Pollock see:
http://nl.youtube.com/user/musicamusement

Thank you Lorna for this contribution.






01-11-2008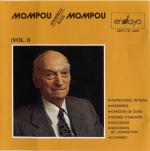 think this CD is a kind of jewell. Beautiful pieces.
Maybe another piano player could interpret this music with more virtuosity but they dont need that. Mompou, old when he recorded those Cants màgics filled that music with kind of poetry and, obviously, sincerity.
Its like listening him in a small room, drinking a cup of tea in absolute silence. By James D. Fanuzzi
29-10-2008
Nog onbekend vroeg werk van Mompou gevonden!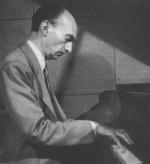 Pianist Mac McClure deelde me o.a. het volgende mede:

there is so much work to be done and so little time
I am swamped with work
they found a bunch of early works of Mompou that seems he never played in public and that is taking up alot of my time at present

I will be playing a group of them in a concert i about 10 days

they dvd is sort of stuck in the translating part of the process and that is out of my hands!!!
thanks for the positive coments
be well
MAC






DVD over Mompou?
Er wordt al geruime tijd gewerkt aan een DVD over Federico Mompou met daarop uitvoeringen van zijn muziek door Mac McClure en Marisa Martins, waarschijnlijk ook het interview met Carmen Bravo, de weduwe van Mompou door Mac McClure.
Hij liet me weten dat de Spaanstalige DVD Engelse ondertitels zal krijgen. Het vertalen laat kennelijk erg lang op zich wachten want bijna een jaar later is er nog niets bekend over of en wanneer de DVD zal worden uitgebracht.
Hopelijk staan op de DVD ook de Franse documentaire over Mompou er op, met de meester zelf aan het woord en achter de piano en opnamen van Mompou van de de Spaanse tv.



28-10-2008
Rein Bloem m.b.t. de muziek van Federico Mompou
Over de poezie van Rein Bloem m.b.t. de muziek van Federico Mompou schreef Arie van den Berg in het NRC (1 mei 1998) het volgende:

"Liever dan de titelcyclus is mij de andere reeks in De troost van de pelgrim: 'Federico Mompou / 1893-1987 / leven en werken.' Ook deze reeks heeft weliswaar een notenapparaat, maar de inleiding daarvan is nuttig voor wie de Catalaanse componist niet kent. De cyclus zelf becommentarieert in achtentwintig gedichten van elk drie terzinen de Música Callada (Zwijgende muziek) van Mompou. Terloops verwerkt Bloem hierbij zijn biografische en musicale kennis. Een belangrijke rol is weggelegd voor de klank van klokken - van de campanas uit de klokkengieterij van Mompous grootvader tot:

De meesterproef: zonder omwegen

op geen doel af, het onhoorbare.

Eenzaamheid doen klinken als de klok.

Dat is een rake typering van Mompous muziek, en zo staan er wel meer in deze cyclus.



Op het spoor van Mompou
Een persoonlijk verhaal over de muziek van Mompou is altijd welkom op dit weblog.
Dit kan bijv. via het gastenboek.
De schrijfster van onderstaand verhaaltje wenst anoniem te blijven.

"Mijn grootvader heeft me op het spoor van Mompou gezet. Hij bestierde de DMD, afkorting voor Dordtse Muziek Dienst, een fictief eenmans-radiostation. Opnames van Radio 4 zette hij op cassettebandjes, die hij voorzag van zijn eigen droogkomische af- en aankondigingen. Als de opnames ruis bevatten was het bijvoorbeeld: 'Op de achtergrond horen wij duidelijk het ruisen van de Maas, hier in de studio's aan de Wolwevershaven', en als hij het opname-apparaat te laat had aangezet: 'Horowitz speelde prachtig, begon alleen wat onverwacht, zodat onze technici moeite hadden op hem in te springen'.

De DMD-bandjes kregen binnen kleine kring in Dordrecht een legendarische status; grootvader bracht ze rond op de fiets en verspreidde ze ook onder zijn (klein-)kinderen, waarvan ik de gretigste afneemster was. Sommige bandjes waren dan ook opgedragen aan 'een 16-jarige luisteraarster die zelf beweert niet onverdienstelijk het klavier te beroeren.'

Naast Mompou hield hij van Chopin, Mahler en Rachmaninov. Met deze laatste componisten maakte ik ook kennis via mijn pianolerares, maar Mompou heb ik in die tijd nooit gespeeld. Onlangs heb ik een vleugel aangeschaft en mijn pianospel na jaren weer opgepikt, en nu dacht ik ook eens aan Mompou te beginnen; zijn werk intrigeert me en ik denk dat ik er nu, op 33-jarige leeftijd, meer van begrijp dan op mijn 18e. Zijn composities vergen, denk ik, een zekere emotionele rijpheid."









27-10-2008
Francesco plays - Charmes - pour le querisons
Mompou



Francesco plays Mompou - Young girls in the garden
Mompou - Jeunes Filles au Jardin




25-09-2008
Federico Mompou
April 16, 1893–June 30, 1987

Born into an old Catalan family with rich musical antecedents (for centuries one of the leading makers of church bells in medieval Europe) the composer Federico Mompou Dencausse can be regarded as the leading composer of his native Cataluña. He himself described his musical style as primitivista and critics knew him as a "poet of the pianoforte" an appelation also bestowed on Chopin and Schumann. In truth, if indeed his music does incorporate primitive elements, at the same time it achieves a subtle sophistication and modernity that retains its freshness and originality and in the end reveals an immortal composer.

Federico Mompou, born on April 16, 1893 in Barcelona, was to receive his first musical contact with the piano imitating his brother José who was taking piano lessons. This same brother was to become a painter; it was he who drew the simple farmhouse sketch which was to grace the title pages of all of Federico's compositions (here reproduced above). Virtually self-taught at the piano, Mompou's compositional gifts grew naturally out of the inherently self-effacing introspection of his personality. By the time he was ready to enter the Paris Conservatory as a piano student he had already begun composing fragments which were later to be developed into some of his most well-known works.

In the fall of 1911, at the age of 18, Mompou, having readied himself for serious study in Paris, went about gathering contacts and letters of introduction to prominent teachers and musicians in the French capital. Among the more interesting of these was a letter from Enrique Granados, the great Spanish virtuoso pianist and composer who was head of a conservatory in Barcelona, to Gabriel Fauré, then director of the Paris Conservatory. According to Mompou's recollections of his interview with the great Spanish pianist and between the lines of the still-extant letter can be inferred that Granados was under no illusions concerning the virtuosic potentialities of the young pianist. But he did speak highly of his talent, especially with regards to his sensitive touch and already apparent individuality, traits which were soon to manifest themselves in Mompou's compositions. Curiously, the letter was never recieved by Fauré; although admitted to the Paris conservatory (with another Spaniard, José Iturbi) Mompou's natural shyness and reserve coupled with Fauré's absence from Paris at the time ultimately prevented the letter from arriving at its intended destination. In later years, Mompou would relish the irony of this non-contact as almost symbolic in character, quite in accordance with the reticence of his own personality.

Two years of study in Paris were enough to convince Mompou that, rather than a piano virtuoso, his greatest gifts lay in composition. Since childhood his personality had reflected a powerful introspection and playing even his own compositions in public was a torture that remained unconquered until much later in life. Composition on the other hand, which in his own view consisted more in the discovery of harmonies and melodies than in their invention, allowed his musical imagination free rein. Indeed, many of his most well-loved compositions, the Canciones y Danzas, are free renditions of traditional Catalan folk tunes. Nevertheless, the difficult economic circumstances of the life of a composer were not to be completely surmounted until much later.

Mompou's first success came in 1921. After two years of study in the French capital he had returned to his beloved Barcelona where he had already written a number of his more important compositions. When his piano teacher, Ferdinand Motte-Lacroix, former student and disciple of the founder of the French school of piano playing, Isidore Philipp, began including compositions by Mompou in his programs in France, the critical response was instantaneous. Mompou found himself the idol of artistic and musical Paris. Although initially surprising even to the artist himself, this success is easier to understand viewed in the context of the times. Debussy had only been dead for three years and the forces reacting against impressionism were already at work. Cubism (1909) and the Dadaists (1918) had made their appearances; Schönberg had written his "Treatise on Harmony" (1911) and Stravinsky had turned the musical world upside down with his "Rite of Spring" (1913). The instinctive values pervading Mompou's music resonated profoundly in this environ. Based in Catalan and Spanish traditional music, the piquant harmonies "discovered" by their composer, delicately pulsating rhythms, introspective themes; Mompou himself would write "I make music like this because art has reached its limits...my art is a return to the primitive...no, not even a return, it is to begin again (recomenzar)." This recomenzar helps us understand one of Mompou's primary objectives; simplicity. As he himself would never tire of saying to students, "the maximum expression with the minimum of means". Like Satie, Mompou searched within himself seeking nothing less than the very origens of music: the clear and pure expression of human instinct faced with absolute solitude, in the process touching within himself the mysterious, the incomprehensible. After all, had not music, in its origens been a principal instrument of magic and religion?

Always a solitary figure (he did not marry until age 64) Mompou found his artistic life disrupted for the ten years beginning in 1931. During this time no single completed work found its way from his pen. These were chaotic years in Spain: the Republic, civil war and the first dark years of World War II. Non-political, nevertheless Mompou could only have agreed with Spanish poet Miguel de Unamuno: "It is not a matter of ideology, there is none of that; and not even barbarity, boorishness, or evil instincts. Rather only what, at least for me, is worse...stupidity, stupidity, stupidity." In addition to the horrors swirling around him on the world stage, Mompou experienced during this time the death of his father and the serious illness of his brother, with whom he had always been close. His own personal economic situation, exacerbated by the desperate economic conditions following the civil war, led him from art into various business ventures including an attempt to revive the traditional family bell foundry.

Blessed with long life (he lived to the age of 94), Mompou in his later years was showered with honors and recognition. The National Prize for Composition as well as the prize "City of Barcelona", honorary doctorates, gold medals and countless concerts organized in his honor bear witness to the high esteem in which the man and his music came to be regarded. Like Chopin, Mompou the composer never ceased to think in terms of the piano. Even his compositions for voice and piano, guitar and several large works for orchestra, are thoroughly pianistic in concept and inspiration. None more than so than his Variations on a Theme by Chopin. Dedicated to Mompou's "great friend Pedro Masaveu", the banker who generously offered his house in which to compose, the work had been initiated in 1938 together with cellist Gaspar Casadó who wanted to collaborate with Mompou on a work for violoncello and piano. The joint project got no further than the sketching out of the first three variations. But in 1957, when asked to write another ballet to capitalize on the success of his first ballet, La Casa de los Pájaros, which had been premiered at the IV Festival de Música y Danza at Granada, Mompou offered to complete the Variations. Although the ballet was never produced, the music, including an orchestration by the composer, was eventually completed at this time.

Consisting of twelve variations (and an epilog) based on the Chopin"s Prelude No. 7, the work draws on themes and forms used by that earlier "poet of the piano". Thus, variation No. V is a Mazurka, No. IX a Valse and No. VI a Recitative, while at the heart of the work, the Evocation (Variation No. X) quotes directly from the slow section of the Fantasy Impromptu and Variation No. VIII paraphrases the Prelude No. 4 in e minor. The third variation is for the left hand alone (although the listener might never be aware of it) and the concluding gallop is pure Mompou, sparkling with audacious harmonic disonances (and consonances) and providing the perfect setting for the concluding epilog marked Lento.

The Quatro Quejas (Four Complaints) which form the first movements of Mompou's Impresiones Intimas (Intimate Impressions) date from 1911 and thus represent one of the composer's earliest completed compositions. The exact nature of each complaint is best left to the listener, although it is known that No. 4 (Agitato) was entitled El miedo (Fear) in an early version. Pájaro Triste, (Sorrowful Bird) written in 1914, can almost be seen as a premonition anticipating his ballet score of 1956, La Casa de los Pájaros (The House of the Birds) based on one of Grimm's Fairy Tales. Four more movements La Barca (The Boat), Cuna (Cradle), Secreto (Secret) and Gitano (Gypsy) date from 1912 and 1914. The work as a whole aptly illustrates his self-denominated style of "primitivism".

The first two movements of Paisajes (Landscapes) date from 1942 and are dedicated to Carmen Bravo, the young pianist whom Mompou had met in the fall of the previous year and who, 16 years later would become his wife. La Fuente y la Campana (The Fountain and the Bell) and El Lago (The Lake) are descriptive pieces drawn from Mompou's beloved Cataluña. The third piece of the set Carros de Galicia (Oxcarts of Galicia) dates from 1962.

Mompou's Canciones y Danzas were written at various times throughout his life and represent among the most charactaristic of his compositions. For the most part they are based directly on traditional Catalan melodies and dances, some of which are believed to have been in existence at least three centuries before Christ. Although faithful to the original versions, they are transformed and elevated by Mompou's treatment. Never intended as a single opus, each one stands alone.

Interestingly, the song which forms the basis for the introduction of Canción y Danza Nº. VIII, (El Testament d'Amèlia) is one which has been found not only in Cataluña, Valencia and Mallorca but in the folkmusic of countries as far away as Sweden. It describes the tragic drama of death from a broken heart of a young woman who sees her husband stolen from her by her own mother. The sadness and pathos of this theme is strongly contrasted by the dance which follows. The lighthearted La Filadora (the knife sharpener) has been sung to countless children by countless mothers. Its protagonist is the nightingale, eternal delight of maidens, lovers and heroes since the middle ages and before.

For Canción y Danza Nº. VII Mompou uses the song Muntanyes Regalades. It is said that this song is so well-known in Cataluña that there is no single person who has not sung the melody; if in fact he does not also recall the words. The dance which follows, L'hereu Riera is found in various regions of Cataluña. In walz tempo, it is traditionally danced over and around a wooden cross placed on the ground. One of only two original Canciones y Danzas fully-composed by Mompou, Number VI is probably one of his most widely-known compositions. (PH)
07-09-2008
Mompou - Cancion Y Danza 6
Mompou



22-06-2008
Federico Mompou (1893 - 1987) Federico Mompou, Catalan composer and pianist, was born in Barcelona in 1893. He studied piano at the Conservatorio del Liceo in Barcelona and gave his first concert at the age of 15. However, his shy and reticent nature did not predestine him to be a virtuoso performer, and he decided to become a composer after hearing Gabriel Faure perform his Quintet. Three years later, with a letter of recommendation from Granados, he went to Paris to study harmony and piano with Isidor Philipp and Ferdinand Motte-Lacroix. In Paris, he became influenced by the French impressionism of Debussy Satie. At the outbreak of World War I in 1914, Mompou returned to Barcelona, where he wrote his first works for the piano. In 1921 Mompou returned to Paris where he remained for 20 years and became a respected composer. In 1941 he settled permamently in Barcelona. He was made a Chevalier des Arts et des Lettres by the French government, elected to the Royal Academy of San Jorge in Barcelona and of San Fernando in Madrid, and made Doctor Honoris Causa at the University of Barcelona. He married the Catalan pianist Carmen Bravo in 1957, and died in Barcelona on June 30th, 1987. Mompou was a modest, quietly spoken, and thoughtful person and this is reflected in his music. He wrote no operas, concertos or symphonies, and some choral works are as close as he got to producing large-scale works. He was predominantly a composer of lyric songs and piano miniatures. The music is imbued with the colours, sounds, and images of his beloved Catalonia, the style ranging from elegantly impressionistic to simplistic and minimal. Here we see the influence of Satie in using the utmost economy of means, doing away with key signatures and bar lines, and occasionally inserting silly comments. As a young man, Mompou worked briefly in a bell factory, and the sound of bells can be heard throughout his works. For Mompou, less is more, and one needs a finely attuned ear and a responsive state of mind to properly appreciate his music. Among his vocal works, we mention the songs Comptines I-VI (1931, 1943), Combat del somni (1942-48), and Llueve sobre el rio, Pastoral (1945) and the choral works Cantar del alma (1951) and Improperios (1963), the latter with orchestra. The bulk of his large piano oeuvre (which Mompou recorded completely for the Spanish label Ensayo), is organized into sets of pieces. The smaller sets being Pessebres (1914-17), Scènes d'enfants (1915-18), Cants mágìcs (1917-19), Fêtes lointaines (1920), Charmes (1920-21), and Suburbis (1916-17). Some larger sets were composed over long time spans : the 12 Cançons i dansas (1921-28, 1942-62), the ten Préludes (1927-30, 1943-51), Variaciones sobre un tema di Chopin (1938-57), the brilliant and evocative Paisajes (1942-60), and the four books of Música callada (1959-67).



21-06-2008
Judit Bardolet plays Toldra

Judit Bardolet, viool
Vic Catalunya, piano
Componist: Eduard Toldra
nr. Soneti de la Rosada




20-06-2008
Christian Ferras plays Faure
Berceuse



03-03-2008
Raffaelle Mani plays F. Mompou - Suburbis
Mompou



28-12-2007
Mompou
Mompou



27-12-2007
Mompou
Mompou



02-12-2007
Ara no se si et veig encar van Mompou
Mac Mclure, piano en Marisa Martins, sopraan, opgenomen in Barcelona




Damunt de tu nomes les fleurs van Mompou

Mac McLure, piano en Marisa Martins, sopraan opgenomen in Barcelona



Drie Comptines van Mompou door Mac McClure en Marisa Martins
Mompou



Gastenboek
Druk oponderstaande knop om een berichtje achter te laten in mijn gastenboek
Overzicht van cd's
met muziek van
Federico Mompou

Overzicht cd's met
muziek van
Manuel Blancafort