Dromen ?
Oeganda Waar De Zon Altijd Schijnt
12-02-2013

De mensen achter het project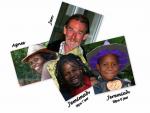 Hallo,
voor de mensen die ons niet kennen, hier een foto van ons gezin.

Klik op de foto om te vergroten

Mijn vrouw Agnes, dochter Jemimah, zoon Jeremiah en ikke.
Dit bericht zal altijd bovenaan blijven staan ter kennismaking, in de rest van de blog staat steeds het meest recente bericht bovenaan en het oudste bericht onderaan.
Tot later Jan




Inmiddels zijn de kinderen 9en 10 jaar oud.



12-02-2013, 00:00 geschreven door Jan PauŽlsen
12-08-2017

3th and last story Uganda trip July 2017
Hello there,




this last week was actualy quit calm accept the last day, I was only 2 times nearly kild this week.




The building went very smooth, accept some arguments with the builders, so they had to breakout a peace of the dooropening to the bedrooms, that had to be 4 feet and they made it 3 feet..

It was going real good.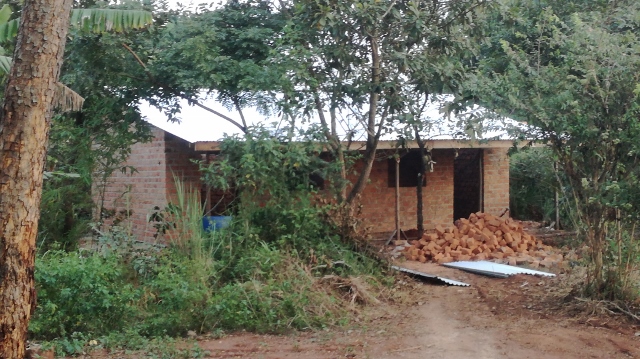 Most of the roof on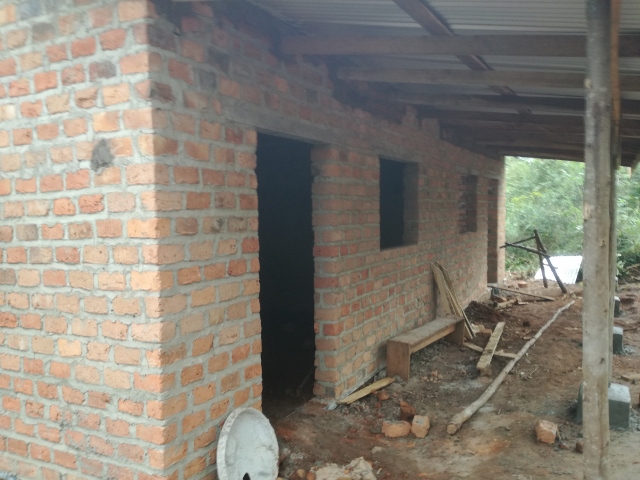 Under the veranda. The houses are small but big enough for a boy alone. They are each 5 x5 mtr plus a veranda.
In the meanwhile the windows and doors were arrived, so the builders can put them in too.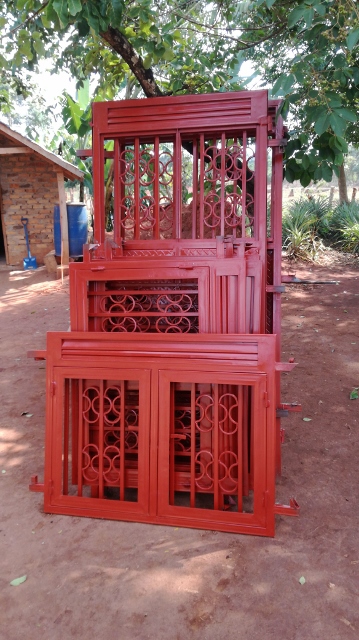 Now it was a lot more calm for me I enjoyed my self more on my lost days of this trip. And most of the time I do that by walking very quit trough my forrest and that is not always a good idea in African bush. Today I stept or nearly stept on a snake, with a lot of noise from the grass he was running instead of attacking. It was my lucky day because I think it was a Black Mamba from about 1.2 mtr. I hurt my hip a bit by the reflex movement at the moment I heard and saw the snake. DONT WALK IN THE BUSHES WITHOUT MAKING ANY NOISE.This was the first time this week I nearly died. But it gives a lot of adrenalin and everything looks much more beautyfull after.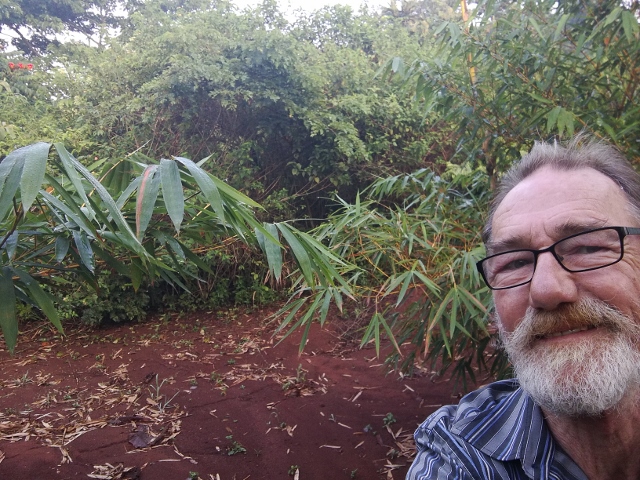 Were I feel good, my nieuw planted forrest.
In the meanwhile I started to make concrete pole's for the fenche. The wooden one's get eaten by the termite's all the time.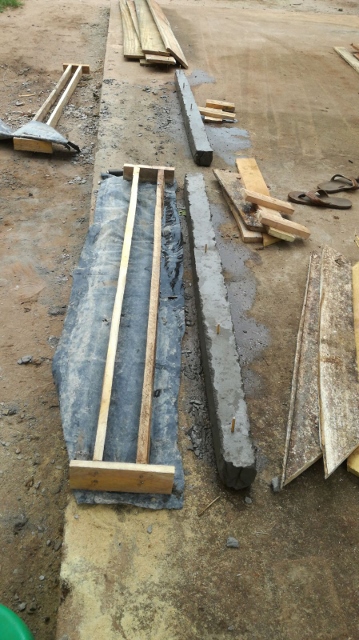 I made a mould from timber, I put 4 wire's from 5 mm in, put in the concrete and next day I take of the mould and start to make 2 more.
In my last day's I made 6 of them another 500 or so to go. The fench is arround 1300 mtr long!
The day before I had to go home I learn myself to prune and thin the bamboo.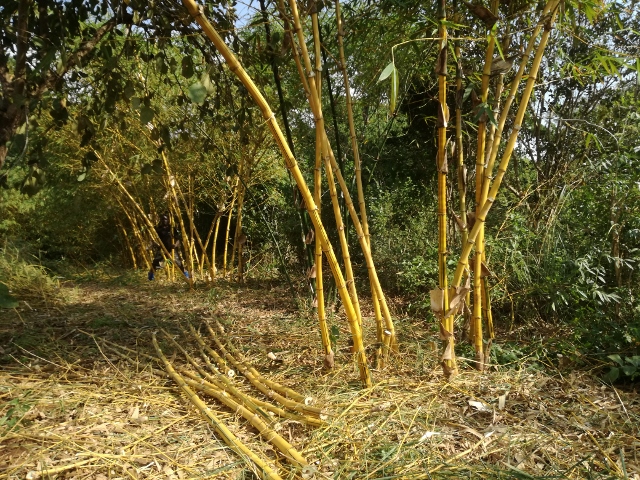 I did it with a fine saw usualy used for iron, after I tought I know how to do it I learned my boy's so they can do the rest. About 80 culm's.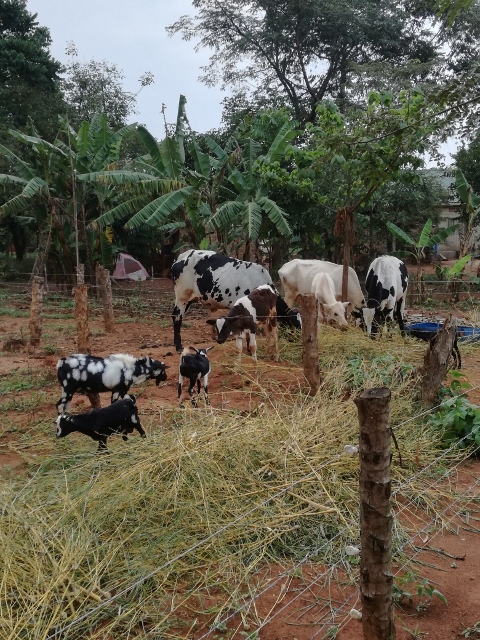 The fodder we gave to the Cow, Goat and Rabbits and they all like it, so we found an other sourch of food.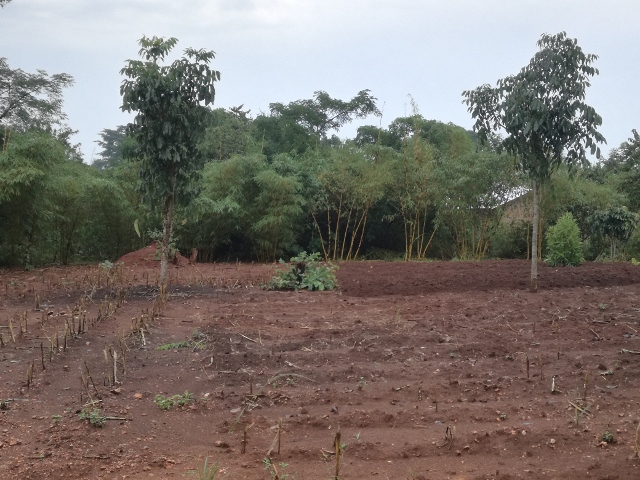 This is the result after some pruning, on the right pruned, on the left still to do, the tree's in the middle, more in front are Mahogeny Tree's I planted them about 4 - 5 years ago. The house you see on the right in the background is the new house from the boys that we are building this trip.
On one of my walks I found this beautyfull white Snale, never seen it before.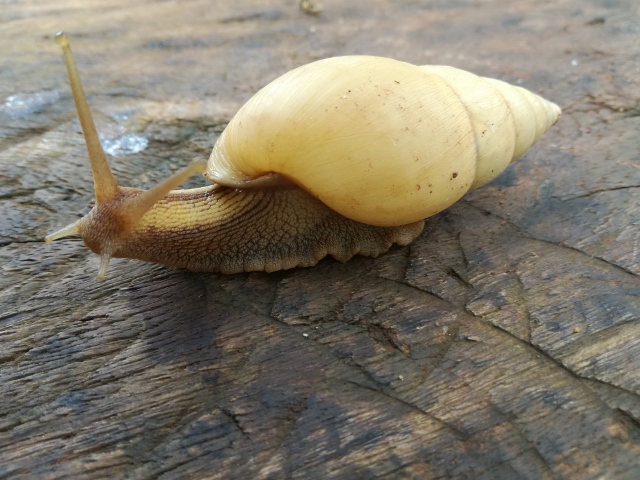 And than the as good as finished house, tommorrow 28/07 the day I have to go home the builders starting with the plastering and than a smooth cement floor, we dont want the boy's get Jiggers.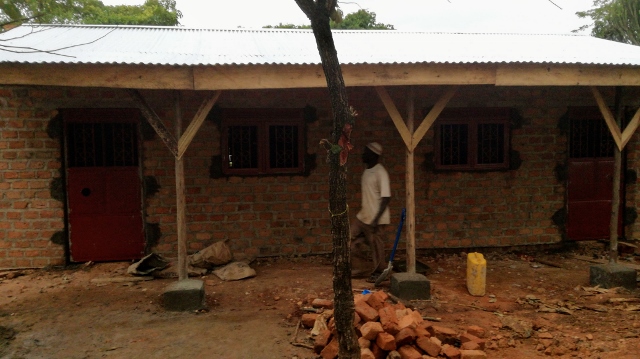 My last day (28/07) was the most creepy day of all, aspecialy noon and evening.
In the morning I went to Luwero to buy more cement and lime for the builders, maisbran for the chicken seeds from MaÔs, Patato, Beans, Oignon, Carrots, Cabbage, Tomato for the boys to plant. And I was buying Advocado, Matooke, and Fresh Beans to take home for my wife.
And than the horror started.
My rental car stopped, about 3 km from my house in Magoma. Nothing anymore.
I phoned the owner and he tought it had to do with the connection from the battery.
In Uganda you are never long alone when your car breaks down, in les than 10 min the first "mechanic" was working on the car, regular on the phone with the owner of the car. After maby 1.5 hour they phoned a "real mechanic", he came and he started with an other battery, than working on the start engine and than after an other hour he found out that the timingbelt was brooken.
In the meantime ( it was very hot and no shade) I said, guy's I go home I still have to pack my lugage and I have to get a plane. By than it was arround 17.30 and I had to leave here arround 23.30 so they had 6 hours to fix the car and it should be dark in one hour.
I took a boda boda and went home. The owner of the car promssed me to come with an other car if the first one should not be fixt ontime.
He had to come because I still had to pay UGX 600.000,00 . He came at 23.30 and we drove to the place were they were still busy fixing the car. And than it started, shouting, yelling, the car owner and the mechanic, why did it took you that long and ofcourse about the price. Than the carowner wanted me to pay, no way my friend I hired your car, if the timingbelt is breaking its you to pay. But to end this long story, we left to the airport at 00.30 hour in the morning; End good all good? No!!!
The driver was driving a bit strange but it went reasenoble good till we past Kampala. After there on Entebbe road he realy looked very tired and sleepy, I tried to wake him up now and than, but he said there is nothing wrong. But the driving got very worse, slowing down, speeding, breaking on the last moment. In the end from one side of the road to the other , I had to grab the wheel a few time's. I said come let me drive the last few km, no, no there is nothing wrong and he also diddend want to stop, I tought I am going to die on this road.
At that moment I all of a sudden I understand what was wrong, the further we came the more he was drinking from his little bottle of water, only it was no water but Waragi. I took the botle from him he went a bit mad but admitted that he was drinking and wanted his botle back. I said I give you your bottle back when uou bring me the last few km slowly to the airport.
I reached the airport and I emptyed the bottle on the street.
This was the end of my July trip 2017.
End was it all enough now you will ask,
No I like trills and I am planning my next trip proberbly 1ť week of october for a whole month.
In the meantime the builders finshed the wallplastering and the floor and my friend Bernard made the electricity.
See you later.
12-08-2017, 22:16 geschreven door Jan PauŽlsen
10-08-2017

week 2 Trip Uganda July 2017
Hallo,




Thursday night I took the hard decision to fire one of my workers, the one that was with us from the beginning, family of my wife. Our relation was troubled for some time and I had my reasons to fire him. I gave him UGX 1.000.000,- to make a fresh start somewere else.

So one worker left, Joseph. We dont know him very well but he was a hard worker, he was working with us for 1.5 year now, and I trusted him. THAT WAS A MISTAKE.

Next morning Joseph started to work as usual, first brought the cow to a place were they had enough grass and than helping the builders.

When I came back from my short walk with coffee in the forrest, I diddend saw Joseph he was not with the builders anymore.

When I came in the house I saw my bedroom was open and yes my litle safe was gone, toghetter with Joseph.

All my money, pasport, ID, bankcards, everything was stolen.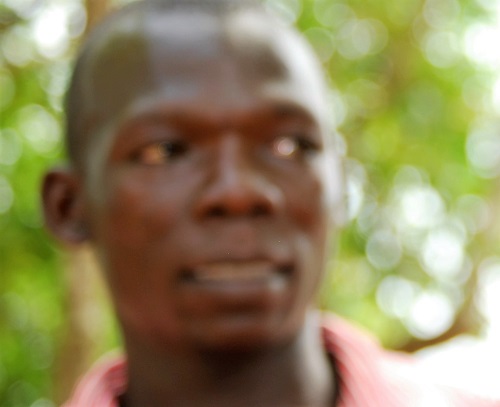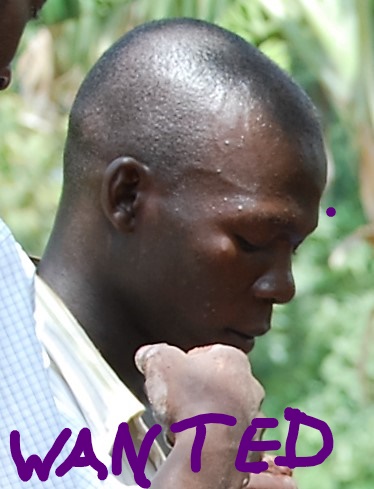 I went with one of the builders to the police station in Kiwoko, they wrote done everything. Are you going to search now was my question, because there were 3 patrol cars in front of the office and about 10 coffee drinking policeman. But that was wrong thinking of me, searching was a very expencive thing, petrolcars, manpower. They were not asking but I had to pay, Joseph just stool everything, I had NOTHING left.
Back home there was a nice surprise, when I was at the police station Joseph came back to my house and trough a bag with all my papers in front of the door and ran back in to the bushes. The builder that saw it happen was ofcourse to afraid to follow him.
After a phonecall with Agnes, she send me 50 euro with Western Union so atleast I had some money in the pocket.
After this last ( it was UGX 3.500.000,-) I had to go to work. I had to do everything alone now, first I had to find the cow and bring them back to the prairy and then take care of all the other animals.
And I had to prepare things for the house, I was making concrete beams for above the doors and windows; see next pic.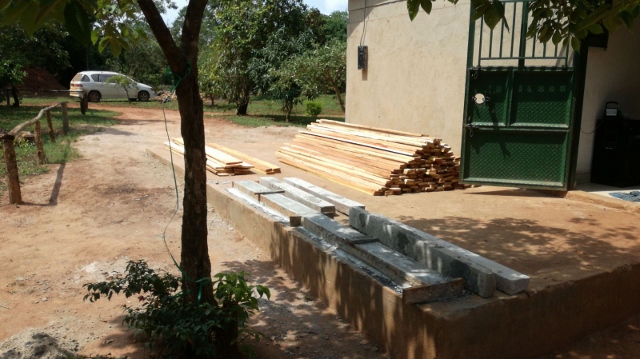 After I finished the beams I had to make the roof constructions, because the builders were going fast.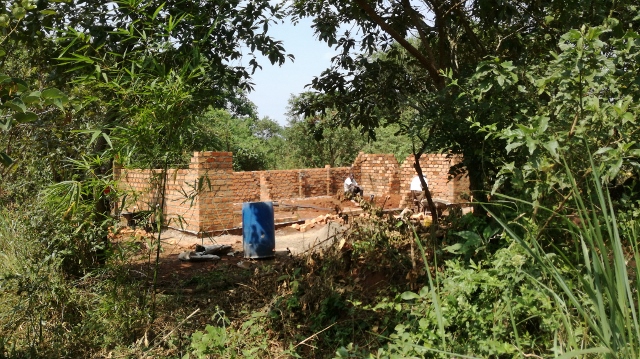 Next day 1 new worker was coming and I was willing to give it a try, atleast he could take care of the animals.
2 days later my second worker will come, he worked for me before but was chased away by the worker that I fired now. He was happy to come back.
In the meantime the builders were rushing.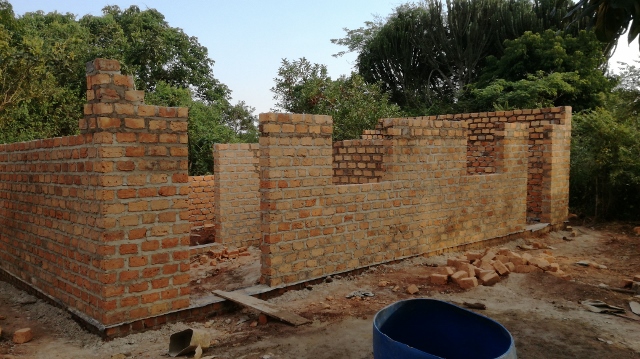 I worked hard to finish the roofconstructions on time, I had to make 11 of them.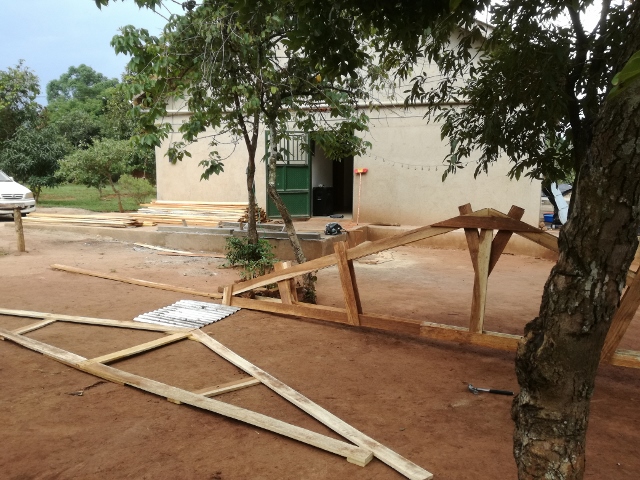 In one of my breaks, I always walk a bit in the forrest to clear the mind, I met this little guy.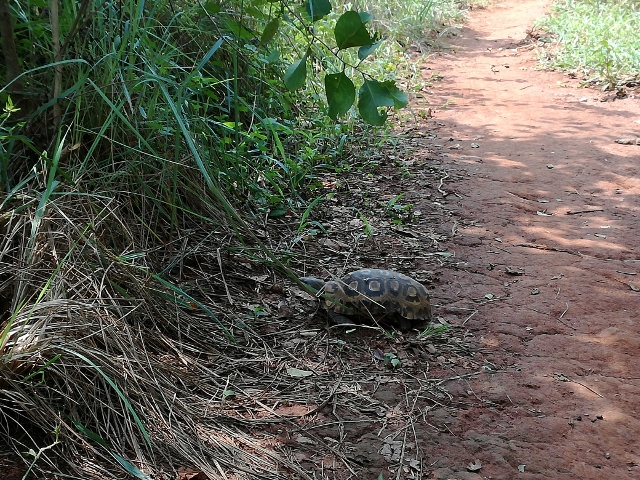 I had to hurry with the roofconstruction.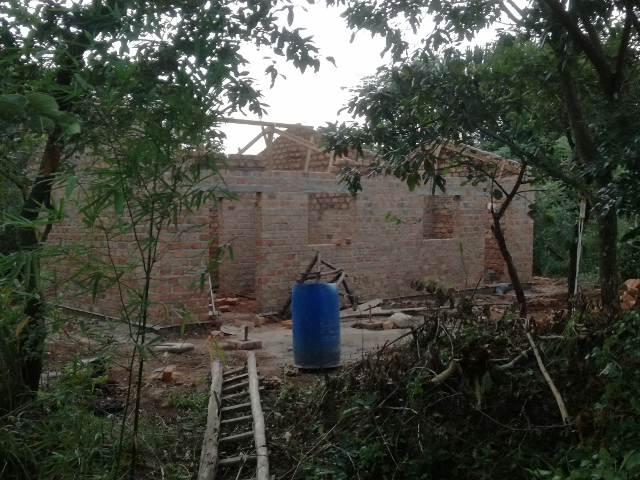 For the last one they had to wait a bit.
They brought the HDPE tank and we were putting it in.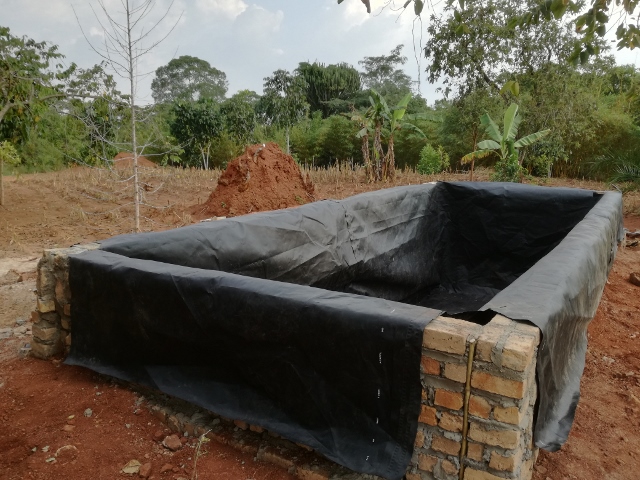 After some arguing with the builders during this week, they made the doors to the bedrooms to small, they wanted to do the roof different and so on, the week ended peacefull in my head thanks to the BAMBOO. I had two workers again, next week we put the roof on the houses and the windos and doors are ordered.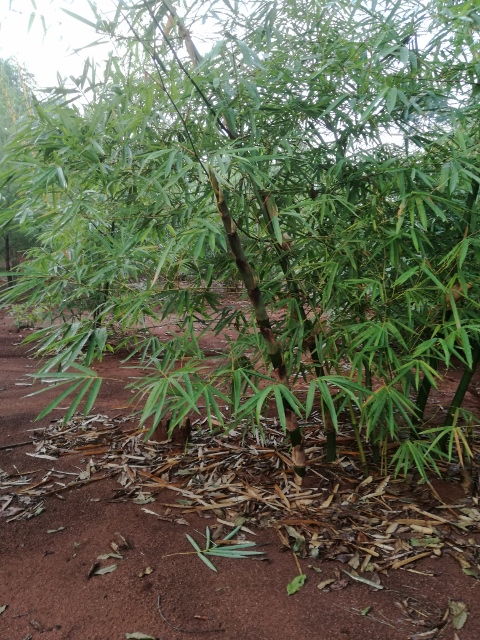 This shoot came just above the ground first day I was here, now about 2 meter.
Very soon the last episode of this trip.
10-08-2017, 23:16 geschreven door Jan PauŽlsen

My second week Magoma July 2017
Hallo,




There is one thing I forgot when I told my story from the first week, it was also something that went wrong so it belongs in this row of disasters that happend this visit.

Because I come often to Uganda and all the time I am coming I have to apply for a visa, I tought I will apply for a multple entrance visa.

But when I worked on that on internet I contacted the office of external affairs and they advised me ( because I am married with a Ugandan woman) to apply for a residential visa. After sending all the papers they needed there was only one thing to do, I had to appear before the workpermit office. So I went there at 14.00 hours, it took me 4 hours to get there because of a accident that happend just before I arrived at Kampala. After 1 hour waiting I went inside for the second time and asked the lady there if I was on the right day and hour because I travelled 8000 km to be on time for my appearing before the workpermit office, and after an other half hour I went in again with the same question. In the end I just wanted to leave they called me in, there was the officier that I was spotting for 2 hours walking arround chatting, drinking coffee and fanciing the lady's, that means he was very busy! He asked for my pasport I fogot to put money in, he looked in it and said we can not give you a residential visa because you dont stay long enough in the country. I answered you knew excactly how long I was in the country before and I want to stay longer periods from of next year, and your office advised me to go for this type of visum. I asked, why did I had to appear for your office, WE WANTED TO SEE YOUR FACE.
A whole day spoiled, I was home in Magoma just before dark and could just see that the buikders made the fundation wrong.
10-08-2017, 20:57 geschreven door Jan PauŽlsen
30-07-2017

Week 1 Uganda trip 7/7 - 28/7 2017
Hello,




this was a very, very BAD trip, everything that could go wrong went wrong; But it was also a very, very GOOD trip, everything I planned to do, I did, so end good all good.




When I arrived early friday morning toghetter with Godfrey from Aqua Tech everything looked very much ok, only dry, very dry.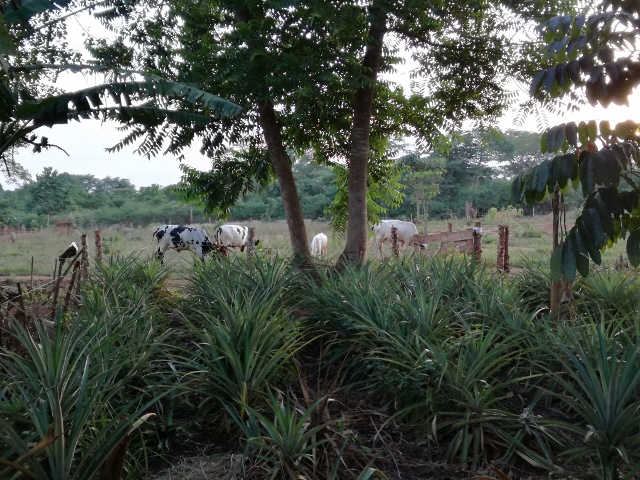 Reason Godfrey was with me ( I picked him up in Kampala when coming from the airport) is, he had to measure for the HDPE tank that have to go in our tank of 45.000 ltr that we were going to construct.
Still on friday I contacted the "builders" and they were starting next day. I still had bricks and sand I only had to go for cement.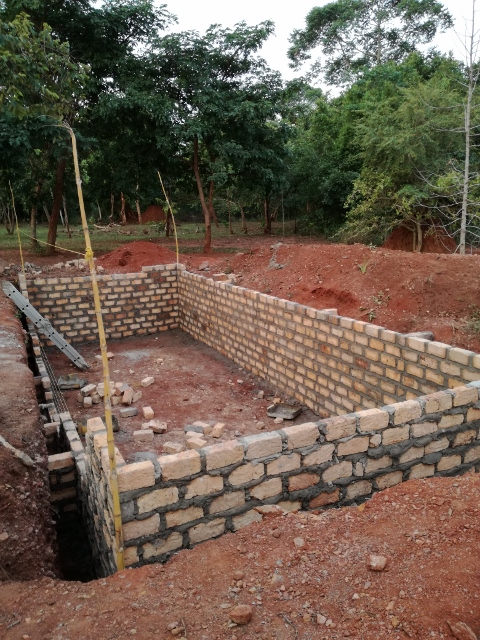 Saterday I spend most of the day inspecting the land, tree's, bamboo, animals and looking for the best place to build the double house for my workers. Not to far from our house, so they can watch it, and not to close, for privacy. In the end I choice a place about 25 mtr from our house, that was a good place because I diddent had to cut tree's ( thats a sin) only some bushes.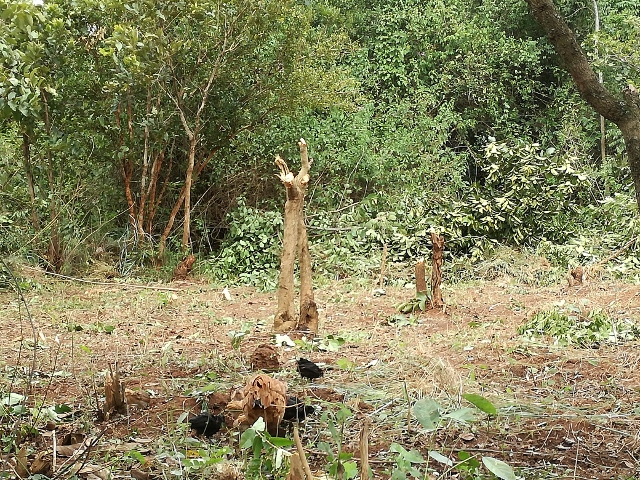 This is the place were the house will be.
In between enjoying a nice big mango.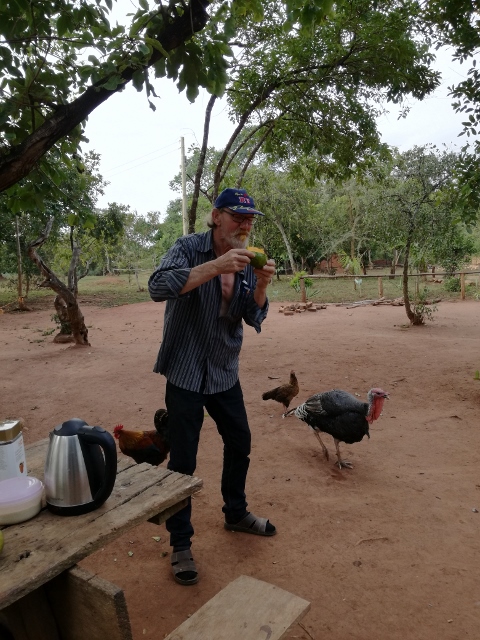 I was very much surprised with my biggest orange tree, about 25 oranges on it. We have 10 more orange tree's but much smaller 1 of them have 4 oranges the others nothing but they are groing.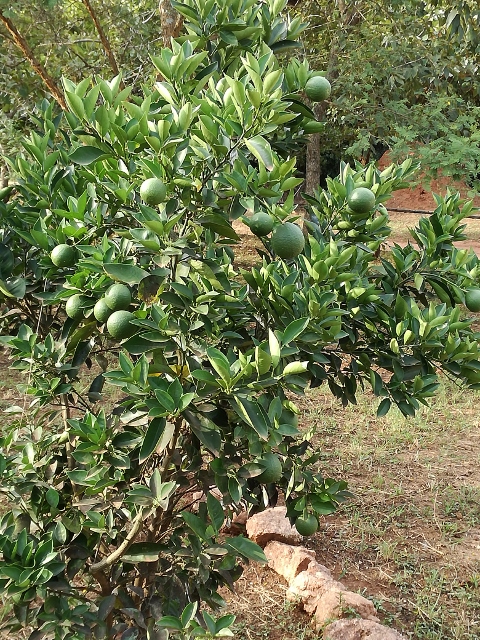 Fundation digged and first brick's delivered. They were finishing the tank and started to work on the fundation.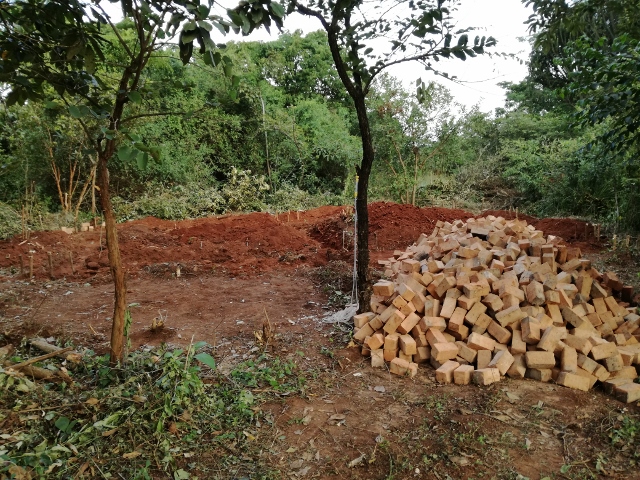 Than the first of many things went wrong! Rain came with hail, not a lot at first but after 10 min it became a flood, we wanted rain but not this much, i had river's on my land. And yes it happend, one of the walls of the tank collapsed by the pressure of the water.
And the fundation of the new houses was under water. So we knew what to do the next day.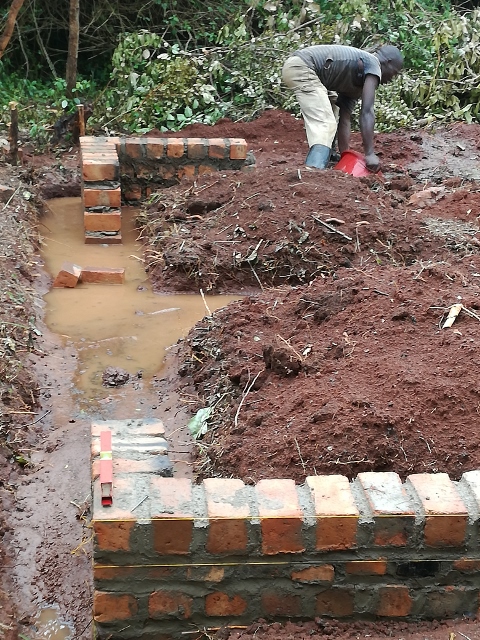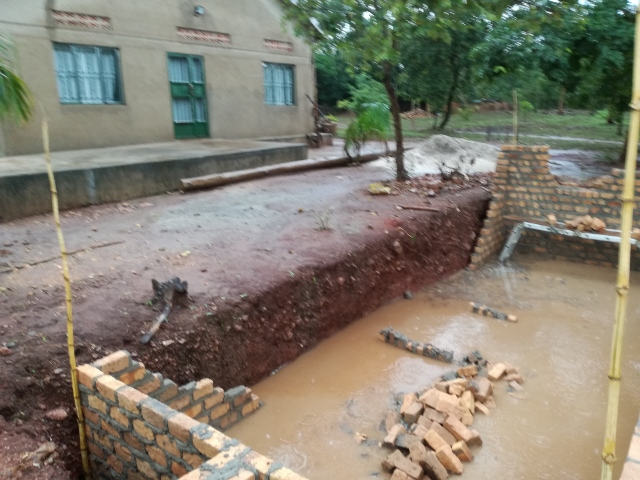 After draing the water from the foundation they finished the foundation. That was the second thing that went wrong. I put out all the measures of the foundation but they removed all the ropes because they work on an other way than I do. Ok they are the builders! But when they were finished and I came to look, I saw rightaway that there was something wrong, they put the left fundation a half mtr to far inwards. I gave them a drawing with all the measures! So next day they had to start again.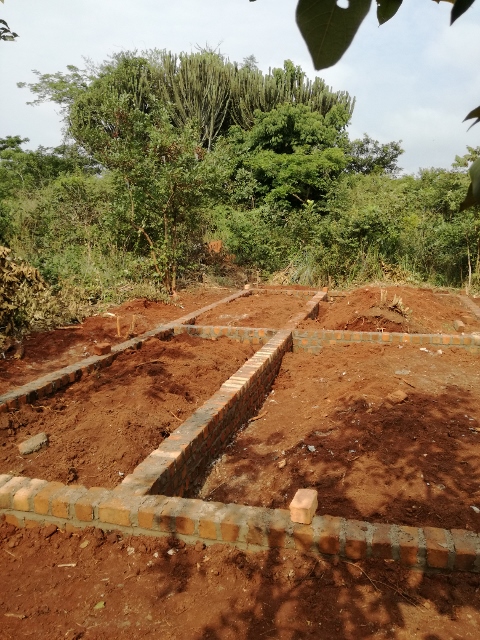 In the meanwhile they finished to rebuild the tank and we wait for the HDPE tank to put in.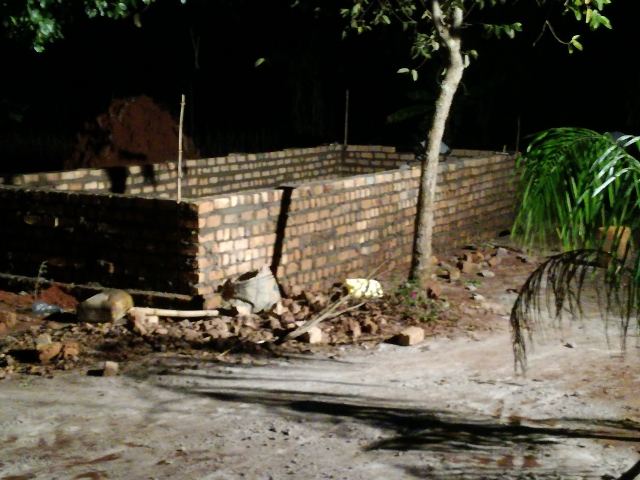 This was my first week and when I look back now it was ectually the most easy week of the 3 weeks.
One of this days, weeks more.
30-07-2017, 20:58 geschreven door Jan PauŽlsen
11-11-2016

2ť verslag van oktober 2016
Hallo,




de reden dat ik deze keer naar Oeganda ging en dat voor maar een week, was niet om te bouwen of te relaxen maar om een van mijn werkers te ontslaan. De chef dan nog wel.

Er waren ons geruchten ter ore gekomen dat hij het niet meer zo nauw zou nemen met de regels en misbruik maakte van zijn positie. Diefstal,werkverlet, onheus gedrag tegen de 2 anderen (hen laten werken en opjagen en zelf op zijn luie kont zitten), en misbruik van vertrouwen.

Nu moet je weten dat hij familie is en voor veel mensen moet zorgen, dus is ontslaan een zeer moeilijke keuze.

Ik ben daarom gegaan zonder dat iemand wist dat ik kwam. Op heterdaad betrappen was het plan.

Maar toen ik daar aankwam, zondag morgen om 6.30 uur, zag alles er goed en netjes uit, hij was thuis ( de jongens wonen in ons huis) en hij ontkende alle aantijgingen. Mijn probleem is dat ik niet met de andere jongens kan praten omdat zij geen Engels spreken en ik geen Lungandees ken.

Dus had ik geen enkele reden om hem te ontslaan, wat dan gedaan met een week Oeganda, juist aan de slag en bouwen.




Dezelfde dag, zondag, een bouwer uit het dorp laten komen om het te bespreken, vooral de prijs. Prijs overeen gekomen en de volgende ochtend zouden ze beginnen. We hadden nog zand liggen, gauw wat cement gehaald en maandagmorgen waren ze aan het werk. Ze gingen als een speer want ik had een forfait met ze afgesproken omdat ik de stal in een week af wilde hebben. Zij hebben goed verdiend en ik had mijn stal tegen het eind van de week.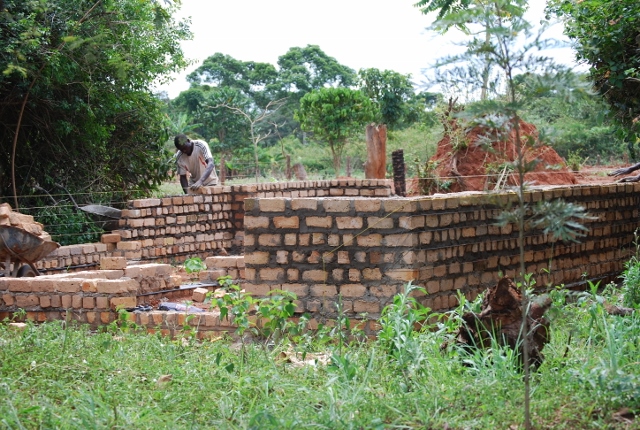 Goed opgeschoten na 1 dag.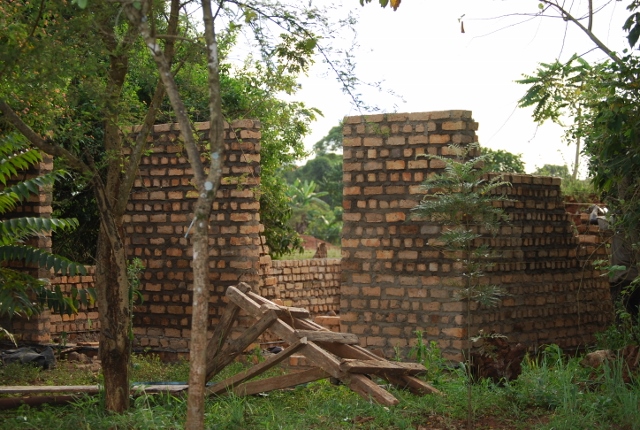 Dag 2, de achterkant een deur naar de stal en een deur naar het gereedschaphok.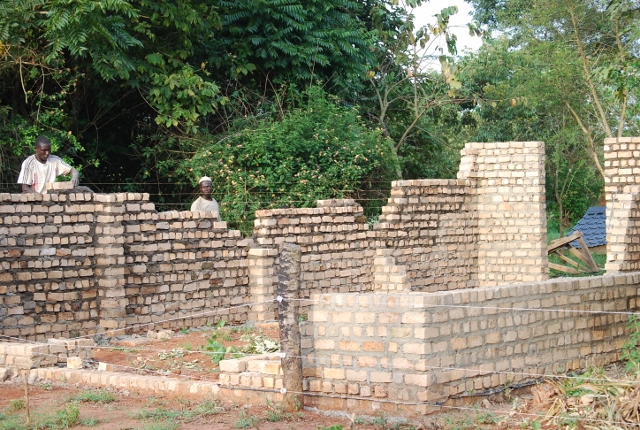 Dag 2, ingang vanaf de weide gezien. Er staat nog altijd geen gras op de weide vanwege het uitblijven van de regen.
Nu ik zag dat de bouwers het wel gingen halen om uiterlijk donderdag de muren af te hebben, moest ik in gang schieten om de dakconstructie te maken want dat ging ik zelf doen. Ik was al een paar dagen aan het teken, op zich was het niet zo moeilijk maar ik kon maar hout van 3 mtr lang krijgen. De overkapping is 6 mtr en mijn hout 3 mtr, daar heb ik dus wel enige uren denk en tekenwerk in gestopt. Maar dat was leuk. Daarna heb ik twee dagen in de brandende zon, bij 32įC die constructies in elkaar gespijkerd. De eerste 2 heb ik ook helpen opzetten, 2 man op de muren en 4 man aangeven en opzetten, ze waren ontzettend zwaar.
Daarna was het over en uit voor mij, totaal kapot!
Ik zou ook zelf het dak afwerken met de dakplaten maar het ging echt niet meer, echt totaal kapot. Zonneslag?
Een deal met de bouwers gemaakt dat zij het dak zouden afwerken en dat hebben ze prima gedaan.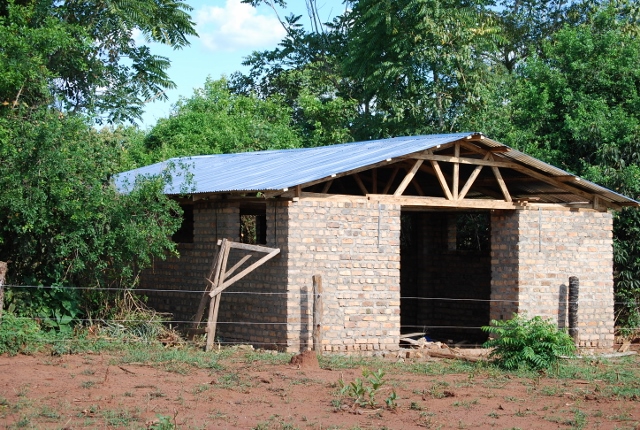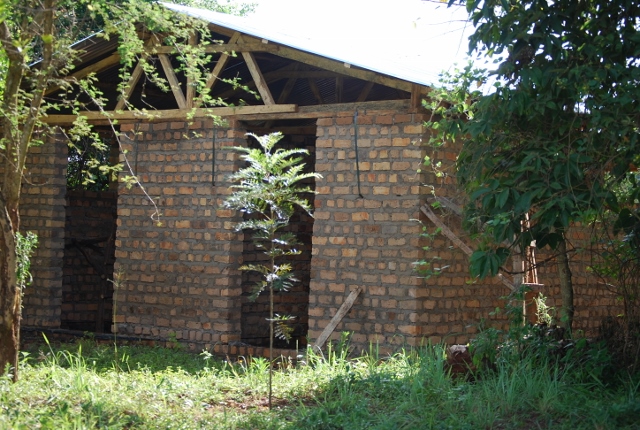 De stal staat tussen de bosjes we hebben wat moeten kappen om comfortabel te kunnen bouwen maar het zal snel genoeg weer dicht groeien en voor voldoende schaduw zorgen.
De koeien en de geiten hebben een mooier huis dan heel veel mensen hier!
Het geeft soms een beetje onprettig gevoel dat ik mijn dieren beter huisvest dan veel dorpelingen zijn gehuisvest. Wat moet ik doen?, een slechte stal bouwen? Er zijn trouwens al veel dorpelingen die door onze activiteiten een iets beter leven hebben.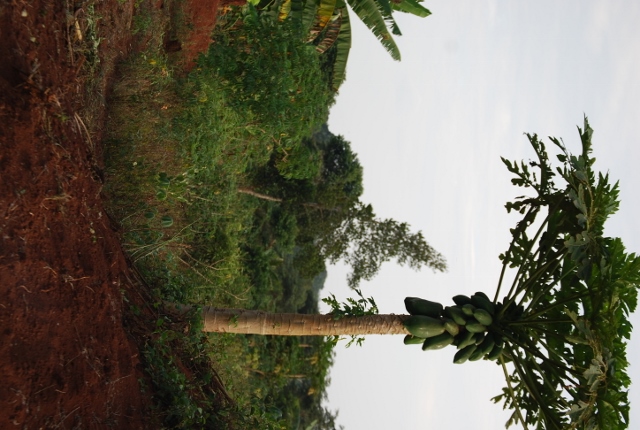 Een mooie Pow Pow ( spreek uit: Poo Poo) op ons land, een smakelijke vrucht.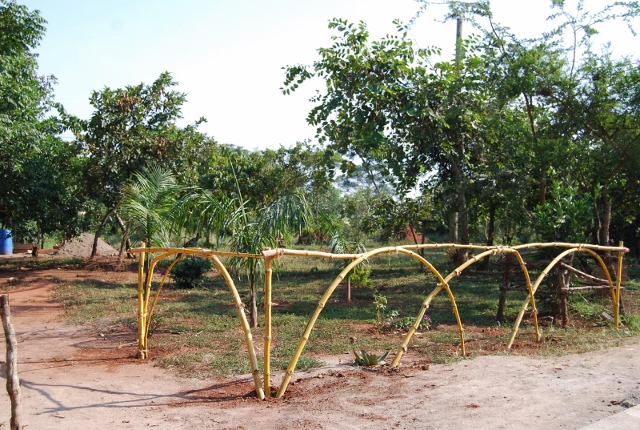 De eerste bamboo constructie van onze eigen aangeplante bamboo, het lijkt nog nergens op maar ik moet nog leren hoe het te bewerken.
Tot de volgende, misschien rond Kerstmis. Groeten, Jan
11-11-2016, 15:07 geschreven door Jan PauŽlsen
01-11-2016

Oktober 2016
Hallo,




Terug van een weekje Oeganda.

Het was maar een week maar wel veel gedaan in die tijd.

Maar eerst nog wat foto's van de vorige keer.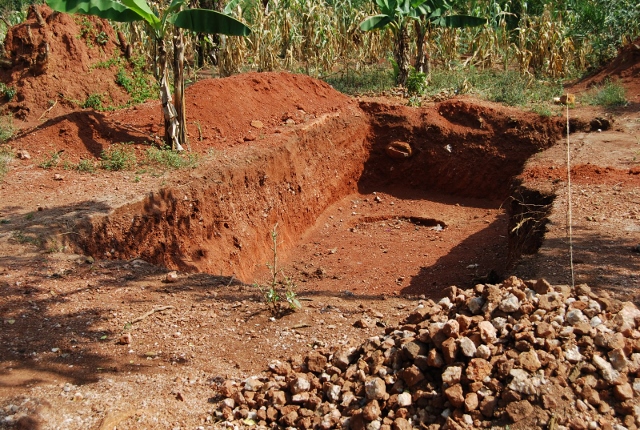 De toekomstige regenwater tank, ongeveer 50.000 ltr. Mochten we later toch een goed werkende borehole hebben gaan we deze tank gebruiken om vis te kweken voor eigen consumptie. Vanwege de hoge kosten zit een borehole er momenteel niet in.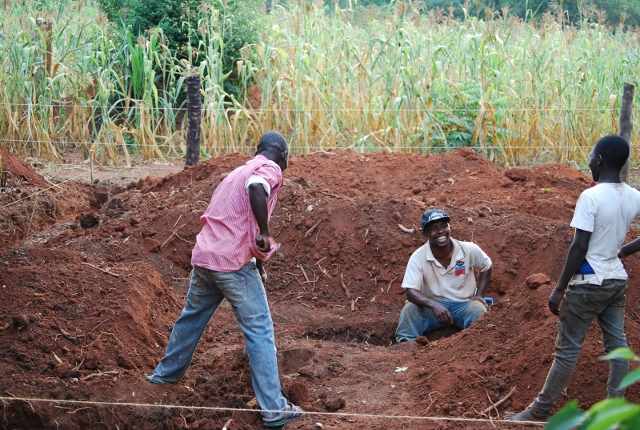 De vorige keer zijn we ook begonnen met de fundering van de stal, hier de graaf werkzaamheden.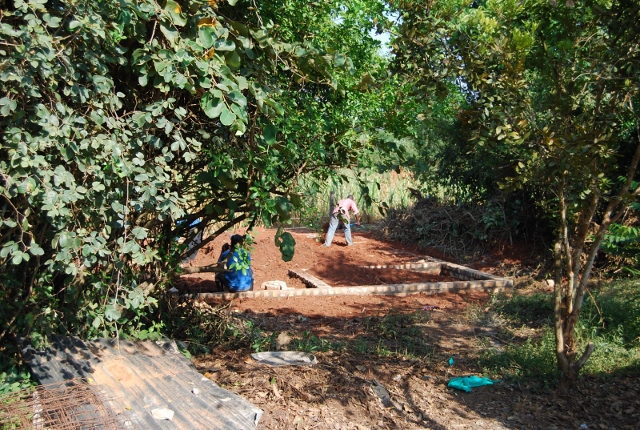 Hier is de fundering gemetseld.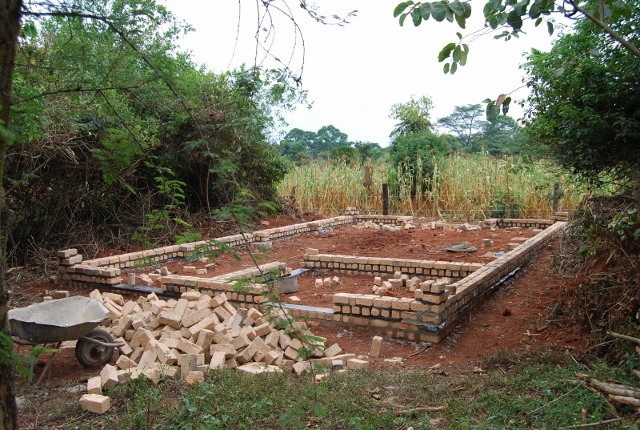 Hier heb ik de eerste twee lagen van de muren van de stal opgemetseld en dat was ook meteen het laatste dat ik de laatste keer heb gedaan, ik was ziek en ben vervroegd naar huis gekomen. Eigenlijk was toen de bedoeling om de stal te bouwen.
Het eerste wat me deze keer opviel toen ik aankwam op 23/10 was een van onze bomen die mooi in bloei stond, we hebben meer van deze en andere bloeiende bomen maar ik had er nog nooit een vol in bloei gezien. Toch niet bij ons, wel in de omtrek.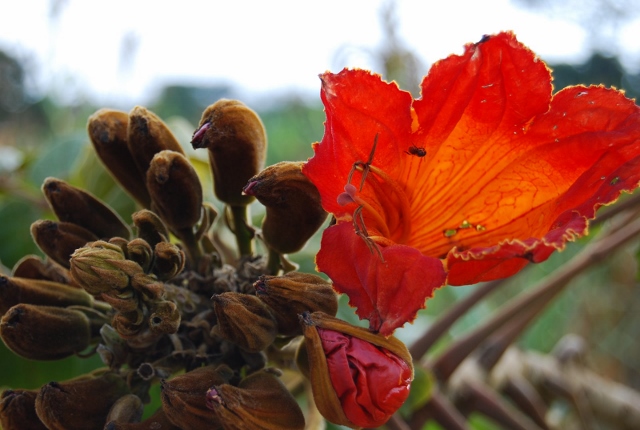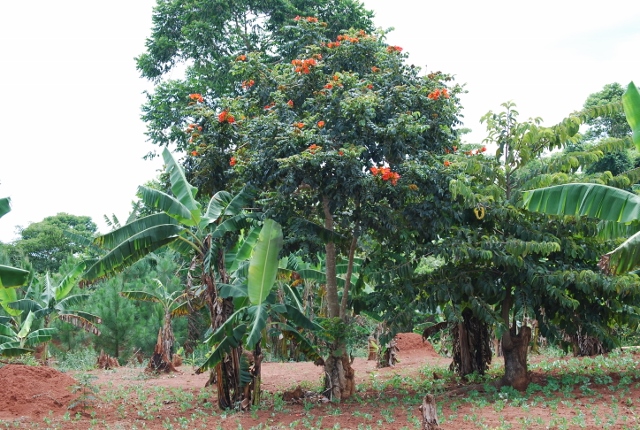 Een van de lokale namen van de boom is Ugandan Flame.
Verder draagd onze Jackfruit voor de eerste keer vruchten, er hangen nu 5 mooie vruchten in van ongeveer 30cm maar ze moeten nog zeker 2 x zo groot worden, het is een heerlijk fruit.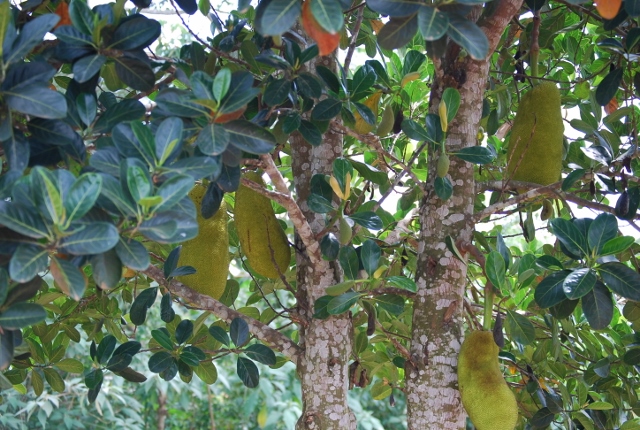 Jackfruit.
Ook een van onze sinaasappelbomen heeft vruchten maar ik ben niet zeker of ze zullen blijven hangen. Veel zal afhangen van de hoeveelheid regen die valt.
Dat was het voor nu, de rest is voor van de week of komend weekend.
Groeten Jan
01-11-2016, 20:29 geschreven door Jan PauŽlsen
05-08-2016

Juli 2016
Hallo,




Ik ben alweer 5 dagen terug, een week vroeger dan gepland.

Ik was oververmoeid en ziek en had beter thuis gebleven. Helaas kan ik ook weinig foto's tonen, ik heb de gewoonte als ik foto's upload naar de computer, direct de kaart te formatteren. Normaal ging ik altijd met de laptop en bracht dus de foto's mee naar huis maar nu heb ik daar een desktop en ik heb er niet bij stil gestaan dat ik de computer niet mee naar huis nam en ik had ook geen geheugen stick mee.

De laatste foto's op de camera waren een paar foto's van een boekenkst die ik daar gemaakt heb en van het interieur van het huis.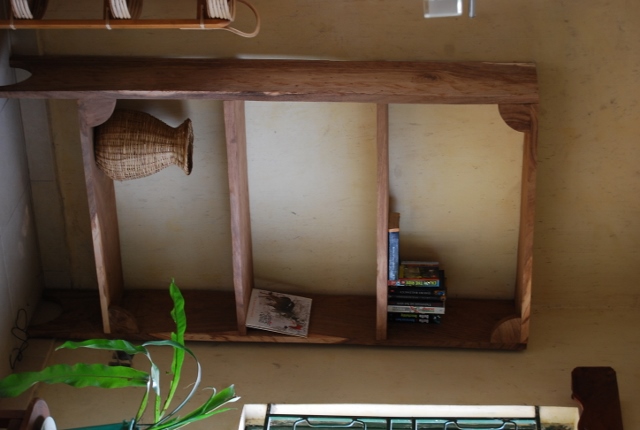 De boekenkast die ik daar met weinig middelen gemaakt heb van mahony hout dat ik de vorige trip gekocht had.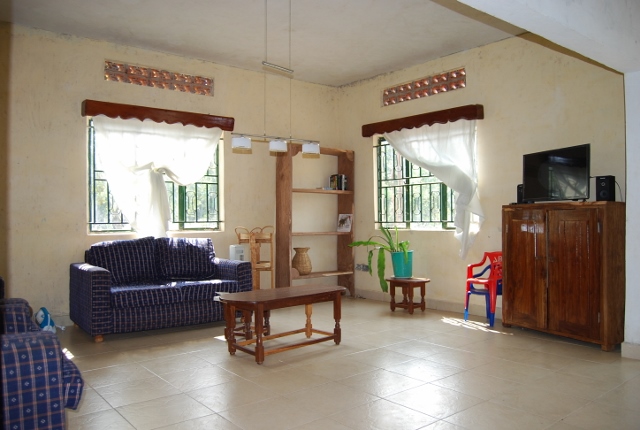 De woonkamer met de nieuwe kast en het nieuwe cementen plafond. Het begint een echt thuis te worden, het plafond hebben ze een maand geleden gemaakt het moet nog geschilderd worden en de muren moeten ook opnieuw geschilderd worden want die zaten vol cement.
Verder heb ik een paar foto's van de buitenkant van het huis, opgestuurd en gemaakt met een GSM ( slechte foto's);
De buitenkant is ook helemaal bepleisterd, nu moet ik alleen de 2 veranda's nog maken en dan is het huis klaar.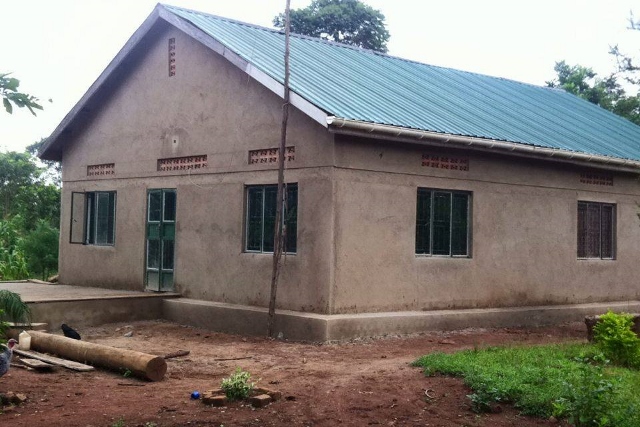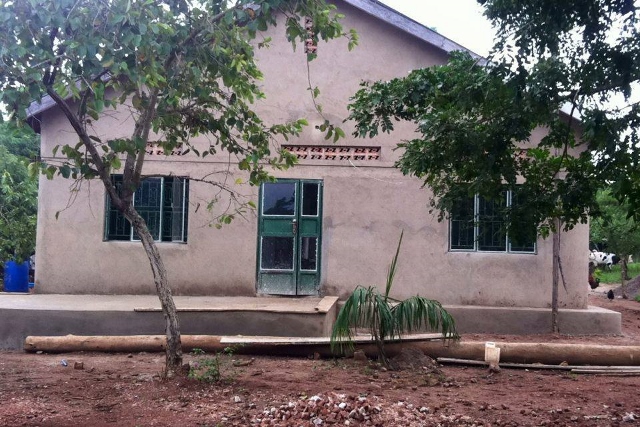 Verder zijn we begonnen aan de bouw van de nieuwe stal voor de koeien en de geiten, we hadden eerst de fundering gegraven, de stal wordt 6 x 10 mtr inclusief een gereedschap hok van 2.5 x 3 mtr. Daarna heb ik een "builder" uit het dorp gecontacteerd om de fundering te metselen en daarna de opbouw. Ik had mijn vrouw beloofd zelf geen fysieke arbeid te verrichten.
Ik had nog niet met deze mannen gewerkt dus was het afwachten wat het zou worden. Het werd dus niets, hoeken niet in de haak maatwerk kompleet verkeerd, na twee dagen en verschillende herstellingen was de fundering klaar en heb ik ze naar huis gestuurd.
In een grote kolere meten gebeld naar de luchtvaartmaatschappij om mijn ticket te veranderen, het was dinsdag, maar ik kon niet vroeger vertrekken dan zondag dus had ik nog 4 dagen over.
De volgende dag ziek en een oververmoeid lichaam toch maar zelf beginnen te bouwen.
In 2 dagen twee lagen gemetseld dat is ongeveer 20 cm hoog, nog 2 mtr te gaan, maar geen werk voor mij meer mijn moegetergde lichaam kreeg af te rekenen met enorme pijnen in de nek en de schouders, einde werkzaamheden voor Jan.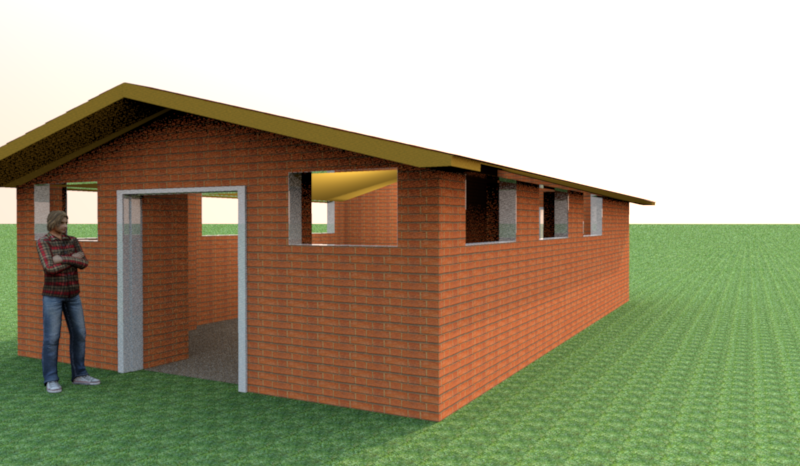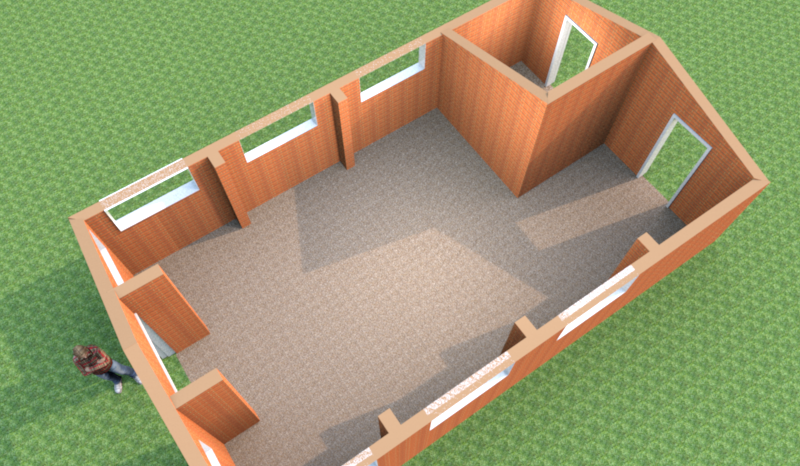 Zo zal de stal er ongeveer uit gaan zien.
In de 2 resterende dagen hebben we dan toch nog een ander werk gedaan, de jongens willen niet op een gewoon toilet en ze zeurden al lang om een buiten toilet, juist een gat in de vloer niet meer.
We hadden nog een mislukte boorhole van ongeveer 20 mtr diep en een diameter van 1 mtr, Daarop hebben we een grote betonplaat gegoten met een gat in van ongeveer 15x15 cm, voldoende groot en voldoende ijzer erin. Nu moet daar nog een gebouwtje omheen gebouwd worden en ze kunnen 100 jaar schijten voordat die put vol is.
En dat was het einde van een rot trip.
05-08-2016, 18:07 geschreven door Jan PauŽlsen
08-05-2016

3ť bijdrage Maart, April 2016
Hallo,




toen ik net 3 dagen terug thuis was kreeg ik bericht dat ons jongste kalf, vorige zomer geboren, plots overleden is. Toen de jongens merkten dat er iets niet goed was hebben ze de dierenarts gebeld maar die was op verplaatsing en kon niet direct komen. Tegen de tijd dat hij wel kwam was het kalf al overleden.

Twee weken eerder had ik onze stier al verkocht, dus de veestapel is behoorlijk gekrompen.

We hebben nu nog 3 koeien, waarvan 2 drachtig, en 10 geiten. En dan natuurlijk nog de kippen, kalkoenen en konijnen.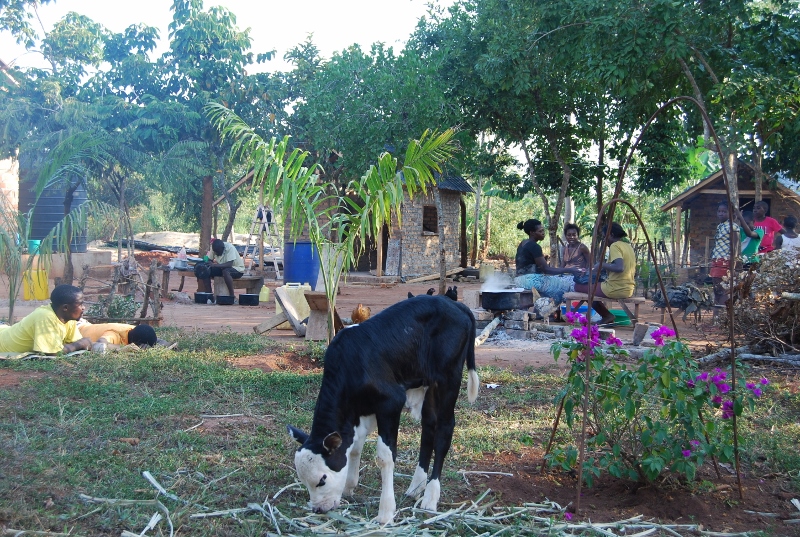 Het kalf in betere tijden, ongeveer 1 week oud. R.I.P.
De crowdfunding was zeer teleurstellend dus heb ik mijn verwachtingen en plannen bijgesteld.
In plaats van het hotel in aaneengesloten bebouwing te bouwen heb ik een nieuw ontwerp gemaakt, zie hieronder.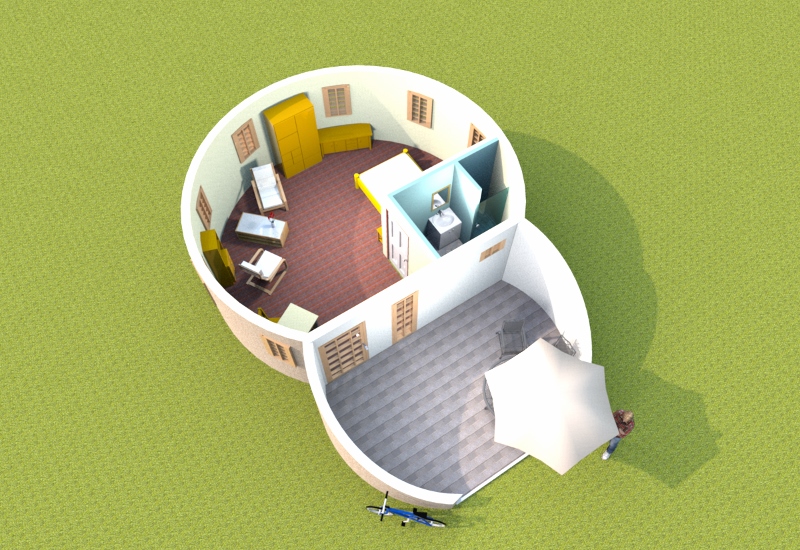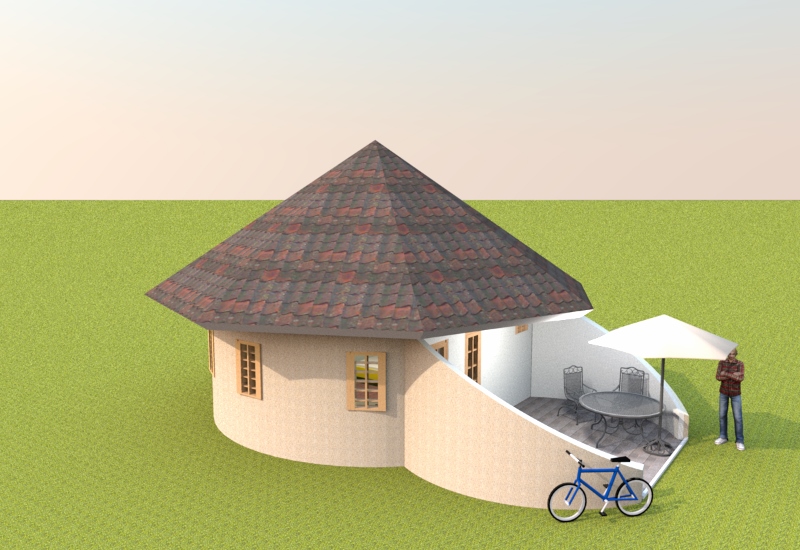 Aparte bungalows, voldoende ruim (de meubels zijn op werkelijke schaal) en eenvoudig te bouwen.
Het voordeel is dat ik met relatief weinig middelen een bungalow kan afwerken en als er een af is kan die meteen in de verhuur.
Persoonlijk denk ik dat dit ook leuker is voor de gasten, je eigen bungalow in de bush.
.
Als er verder nog nieuws is dat zal ik het nog laten weten en anders tot in Juli, Augustus.
Groeten, Jan
08-05-2016, 17:43 geschreven door Jan PauŽlsen

2ť verslag Maart,April 2016
Hallo,




de derde week is er voldoende water gevallen om de 10.000 liter regenwatertank weer helemaal te vullen maar we hebben toch 1 dag zonder water gezeten.

De volgende keer dat ik ga (dat is half Juli) dan gaan we een ondergrondse tank bouwen van ongeveer 40.000 liter. Ik hoop alleen dat ik er tijd voor zal hebben want ik moet ook nog een onderkomen voor de koeien bouwen. Ik moet de buiten keuken ook nog afmaken, we moeten nog 1 km afsluiting plaatsen rondom ons land, tot nog toe hebben we misschien 150 mtr geplaatst op de meest strategische plekken ( waar enige onenigheid was over de preciese grens en ongeveer 200mtr van het weiland dat twee zijden aan de buitenkant van ons land heeft).

Verder heb ik geleerd om bananensap te maken op traditionele manier.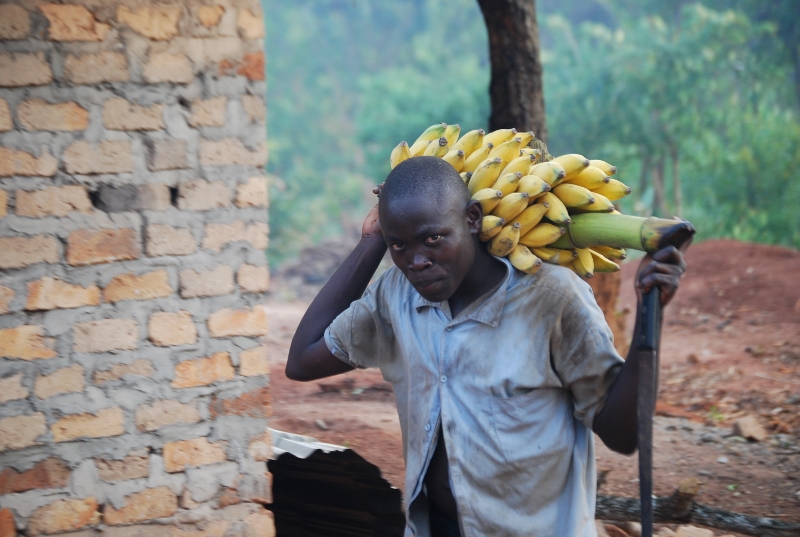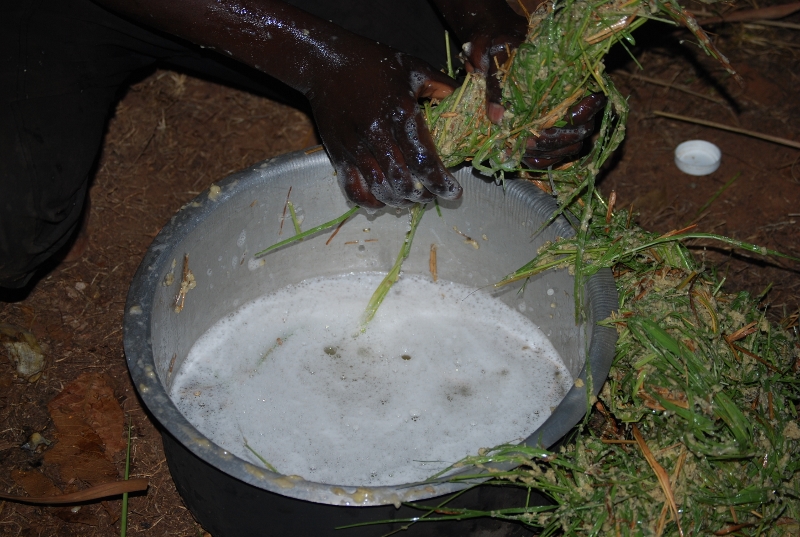 Tim komt met de jusbananen, dat is een speciale soort die niet zo gegeten worden, ze zijn speciaal voor sap.
Ze doen de bananen in een grote pot en mengen daar lang scherp gras bij. En dan maar kneden, uiteindelijk het gras uitwringen en wat water er bij, klaar is kees. Erg lekker maar ook erg zoet.
Op het moment hebben we meer dan genoeg bananen (kook,-eet,-en sapbananen, alsook ananas) voor eigen gebruik en om af en toe wat weg te geven.
Hier wat sfeer foto's.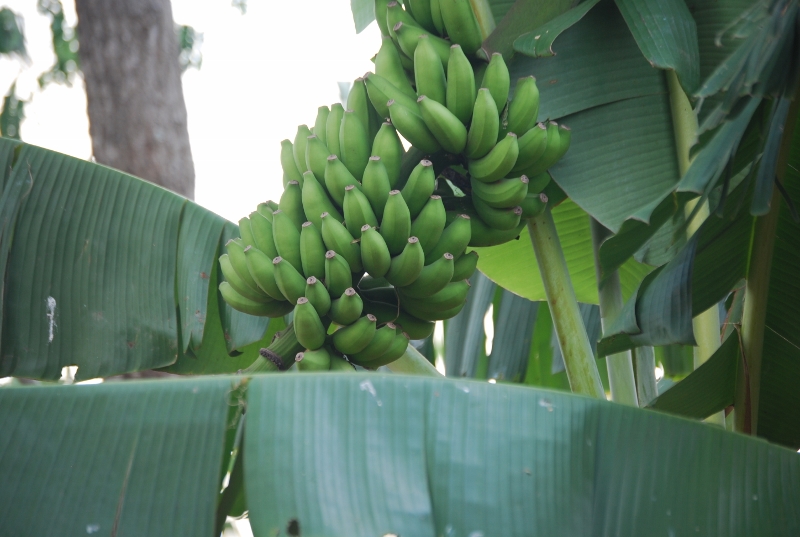 Bananen vlak naast ons huis.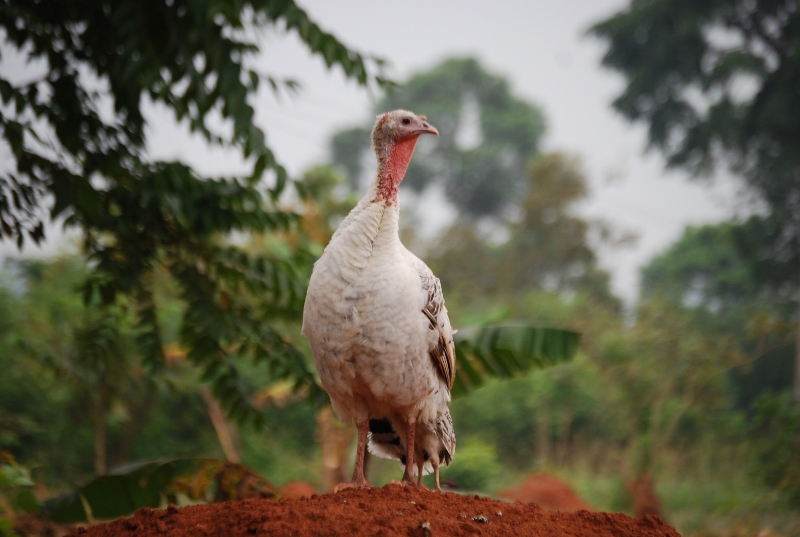 Onder moeders paraplui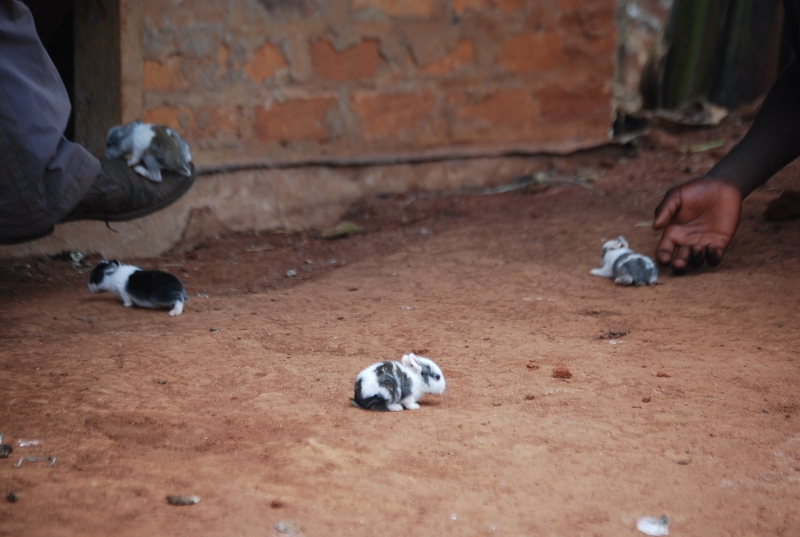 Jonge konijnen.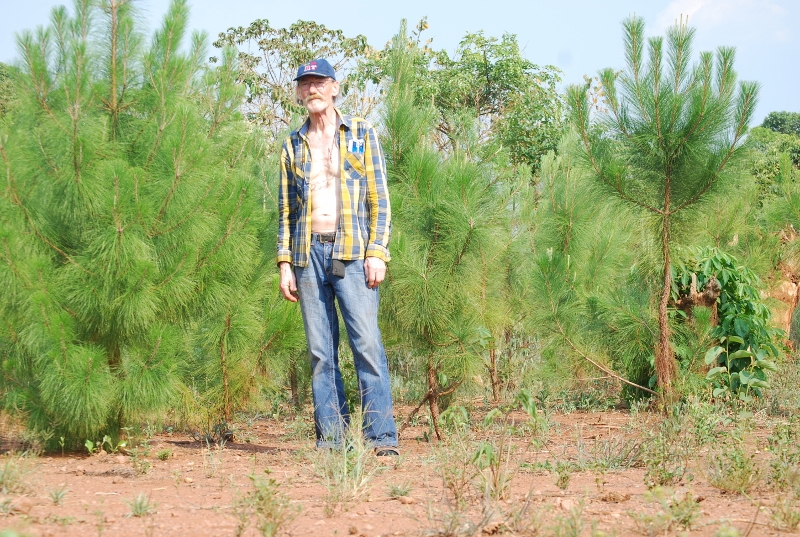 Het dennen bos groeit goed.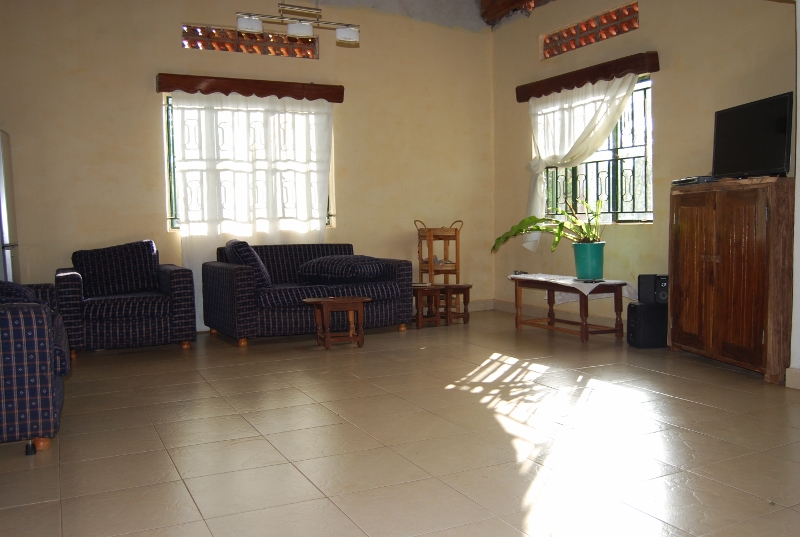 Het huis begint op een "thuis" te lijken, rechts een TV meubel dat ik nu gemaakt heb.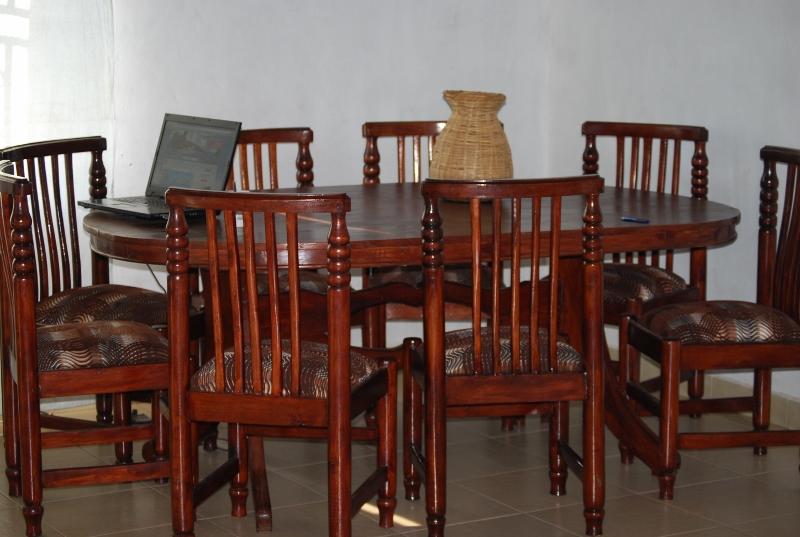 De eethoek gemaakt door onze plaatselijke timmerman.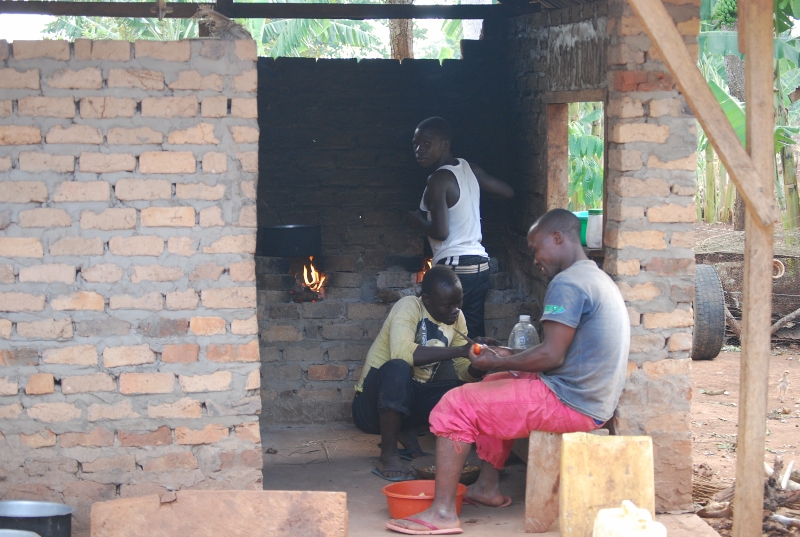 De jongens aan het werk in de buitenkeuken.
Tot de volgende, Jan
08-05-2016, 17:03 geschreven door Jan PauŽlsen
E-mail mij
Druk op onderstaande knop om mij te e-mailen.
Gastenboek
Druk op onderstaande knop om een berichtje achter te laten in mijn gastenboek